This post may contain affiliate links. Read my disclosure policy here.
Classic board games are one of the best ways to spend quality family time. These days we're all spending far more time than normal on our screens, so it's an awesome idea to take breaks and play family board games.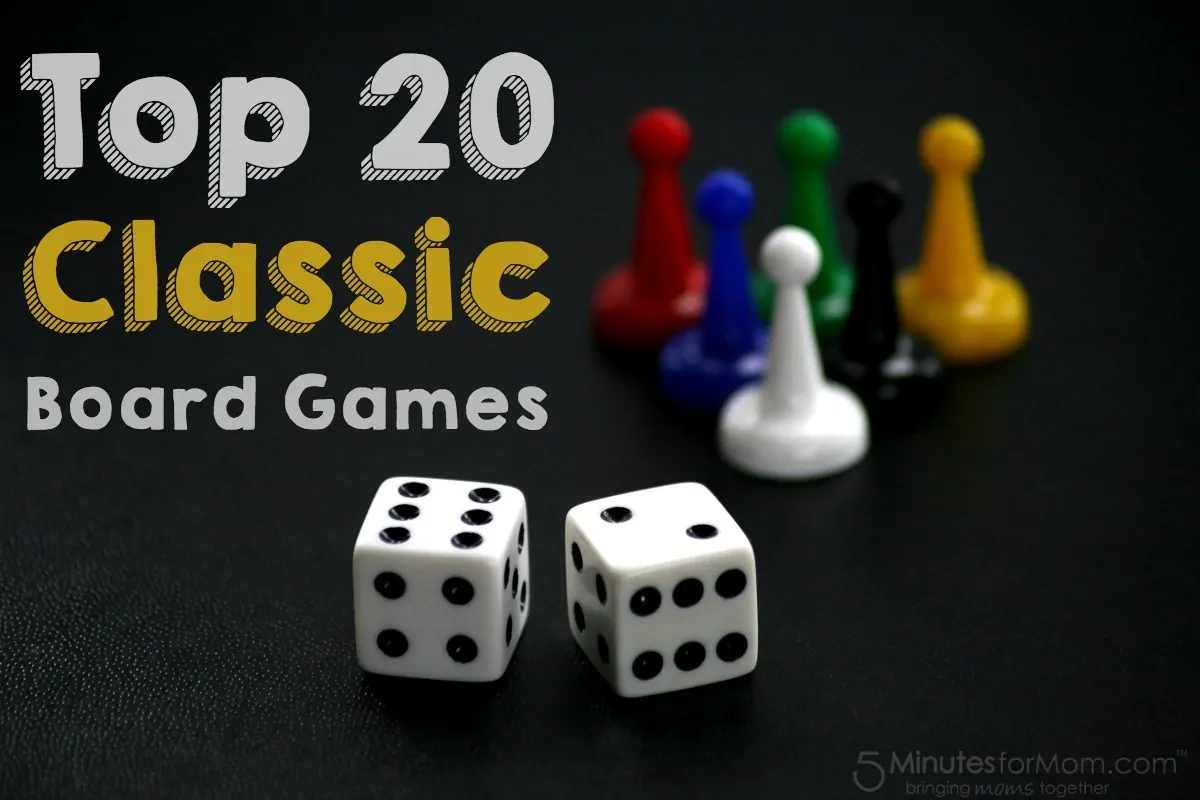 When Janice I were growing up, we spent countless hours at our family cabin in the wilderness with no electricity, no running water, no indoor plumbing and no nearby neighbors with kids. We were born in 1973, so we grew up in the best years to be a kid… the 80s.
(I've been thinking a lot lately about those childhood days… it's hard to imagine my kids lasting 3 weeks without a phone, TV or screen of any sort.)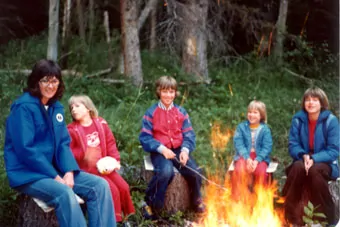 Some of my strongest childhood memories are waking up to pancakes cooked on a wood burning stove and playing Monopoly all evening with my sister and our parents as we sat by the fire to stay warm.
I loved playing board games. While I didn't appreciate everything about our off-the-grid vacations, I adored having my parents' undivided attention and devotion to playing games as a family.
At home, my parents were so busy with work and the typical demands of life, we rarely sat down as a family to play games. But we went to our wilderness cabin several times a year and sometimes we'd stay there for two or three weeks at a time.
So we played lots of games.
We logged the most hours playing Monopoly of course. I rarely won — Janice seemed to do far better than I did at stocking up on hotels and properties — but I loved that game so much!
I fondly remember playing Clue, Risk, The Game of Life, Connect 4, Operation and more. We also played Scrabble and Yahtzee… especially with my Nana, whom we would stop by and visit on our drive to the cabin. She was an expert at both Scrabble and Yahtzee. One of my favorite games — not a board game, but I must include it — was Uno.
I have a few of those exact same game boards still to this day. It is so fun to share these classic board games with my own girls.
Our 40 year old UNO deck is missing a few cards, but it's incredible to think how many games we played with those same cards 40 years ago!
I couldn't believe it when I pulled out our original Perfection game, added some new batteries, and discovered it still works 40 years later. (Thanks to my mom, we never even lost a single piece.)
Over the last several years, our family has loved played these classic board games.
Our Top 20 Classic Board Games
Which games do you remember playing as a kid? We had all the popular board games and played each of them for hours and hours and hours.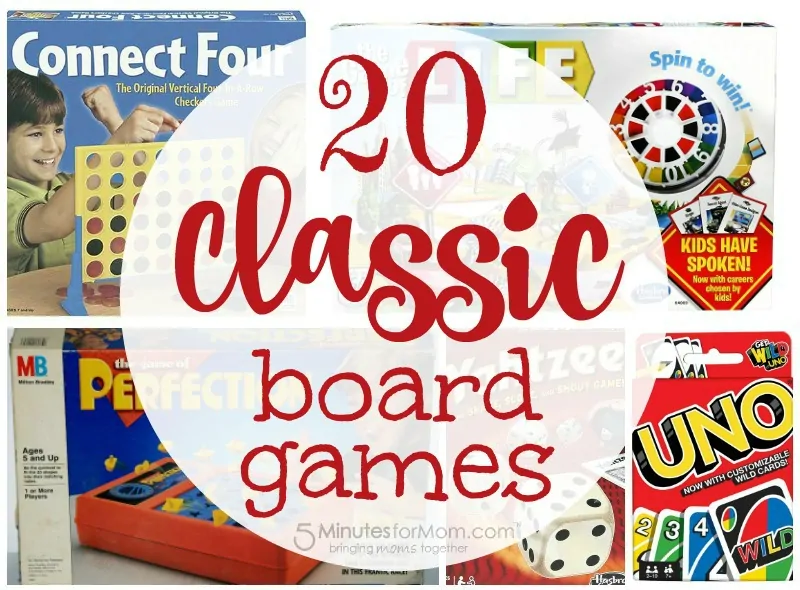 These are our favorite classic family board games that we played most when we were kids…
We were born in 1973, and so "games" were never electronic in our childhood. These classic board games provided quality family fun night after night. I'm truly thankful for all the time we spent as a family around these games.
You may think kids these days are happiest with a smartphone or laptop, but the truth is nothing can beat a good old fashioned game of Monopoly with the ones you love.
If you haven't played a board game with your kids recently, make tonight "family game night".
Plus 5 More Classic Games for Kids
If you've already stocked up your game collection with our list of 20 classic board games, here are a few more board games for kids that are perfect gift ideas…
Okay, you may have noticed that a few of the "board games" we included in our lists, don't actually include "boards". But whether it's a card game like Uno, a stacking game like Jenga, or a party game that gets you moving like Twister, all of these classic games will bring your family and friends together for incredible fun.

Pin it for Later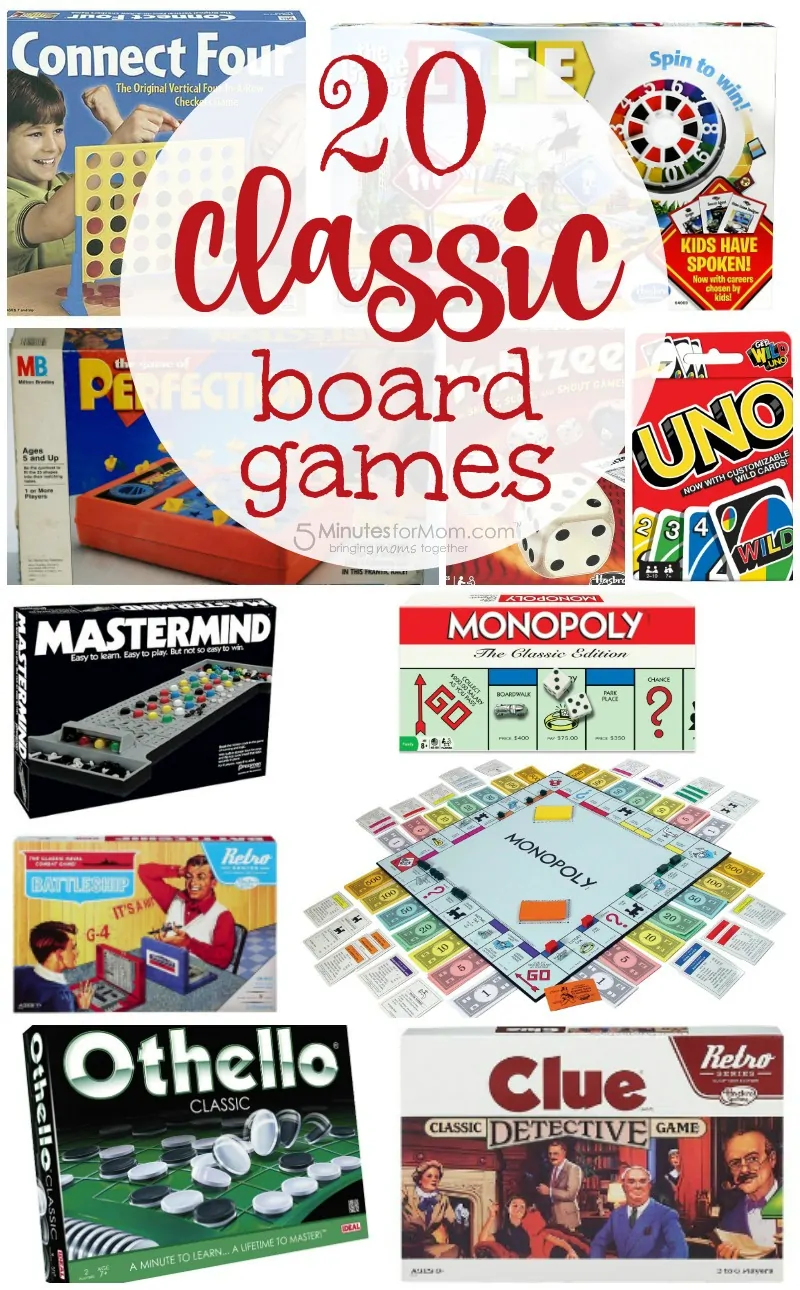 Note this post includes Amazon affiliate links. 5 Minutes for Mom is a participant in the Amazon Services LLC Associates Program, an affiliate advertising program designed to provide a means for sites to earn advertising fees by advertising and linking to amazon.com.
Written by Susan Carraretto, co-founder of 5 Minutes for Mom
Talk with me: @5minutesformom and Facebook.com/5minutesformom
Pin with me at pinterest.com/5minutesformom