This post may contain affiliate links. Read my disclosure policy here.
Do your kids love Hotel Transylvania? Here's a fabulous idea for Hotel Transylvania Party Treats created by our DIY expert Tonya.
This post is sponsored by Sony Pictures Home Entertainment.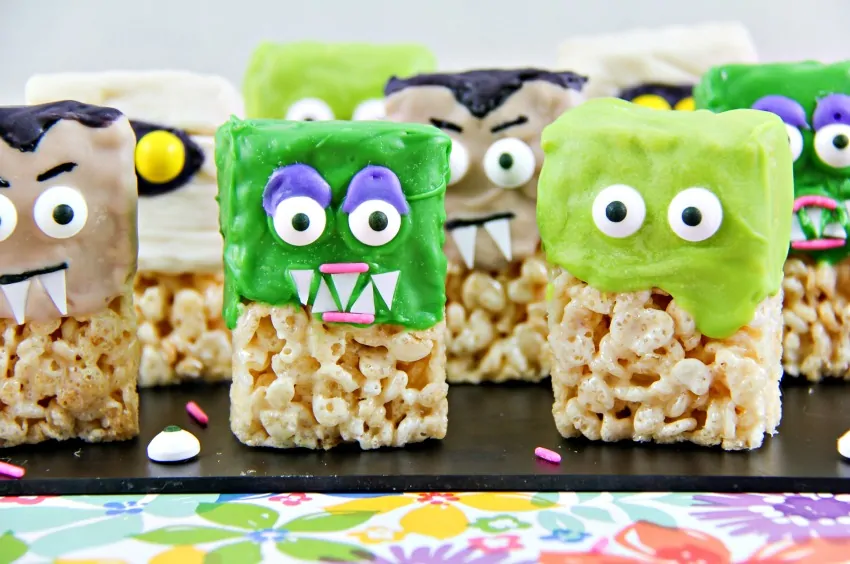 Hotel Transylvania is such a perfect film for your family movie night. You can make your movie night extra special with fun treats that will really impress your kids.
Keep reading to find out how to make Hotel Transylvania Rice Krispie Treats as well as Dracu Straws and Smoothies.
Hotel Transylvania Party Treats
These Hotel Transylvania party treats are delicious, and so easy to make. It's a great food craft to get the kids involved.
Supplies To Make Hotel Transylvania Rice Krispies:
Rice Krispies – pre-packaged, or make your own for a gluten-free version
Melting candies – white, black, bright green, light green
Vegetable shortening
Chocolate chips
Cookie icing – purple
Candy eyes
Edible decorating paper – white
Assorted nonpareils (see photos below)
How To Assemble Your Hotel Transylvania Rice Krispies Treats
Place parchment paper onto a baking tray and set aside. Once your rice krispies treats are decorated you will need to place them there until the candy is hard.
Step 1: Using the edible decorating paper, cut out small teeth for Drac and the Gremlin. Set these aside.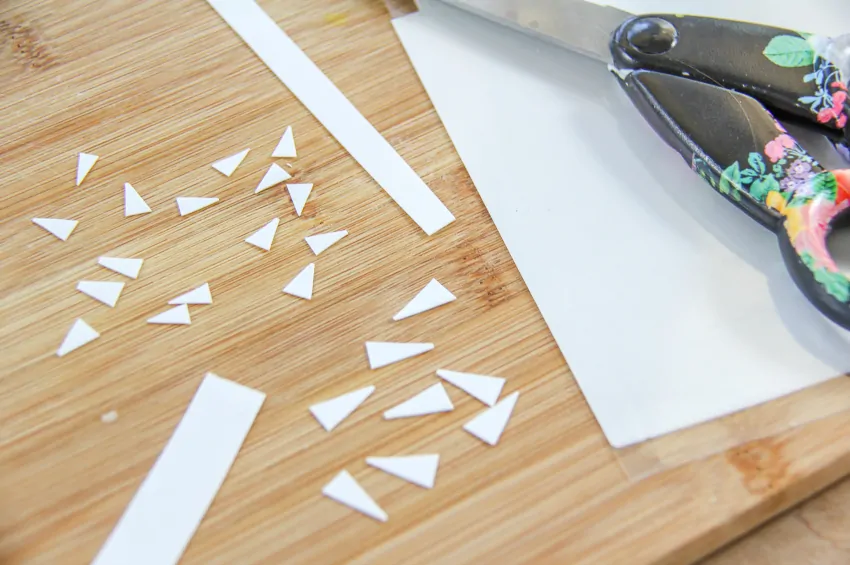 Step 2: Make one character style at a time. You shouldn't try to make all of your favorite characters at once. It's easier if you choose one design at a time to work on.
Melt the candies for your first Hotel Transylvania character – add 1/3 bag of candies with 1 tsp of vegetable shortening to a microwave safe bowl.
Microwave for 20 seconds at a time, stirring thoroughly after each until candy is completely melted.
Spread over the top (including sides and back) of your Rice Krispies Treat and place onto the parchment paper. Tip: Do not move onto the next color until you've completed the next step.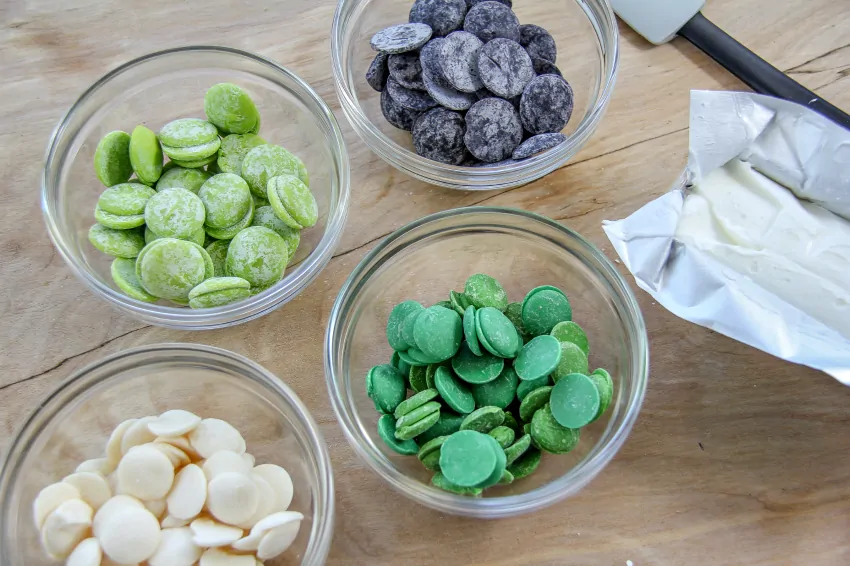 Step 3: Attach any nonpareils, candy eyes, and decorations to the melted candy after it has been added to the Rice Krispies Treat BEFORE they harden. As you can see with Blobby below, he simply requires melted light green candies and candy eyeballs.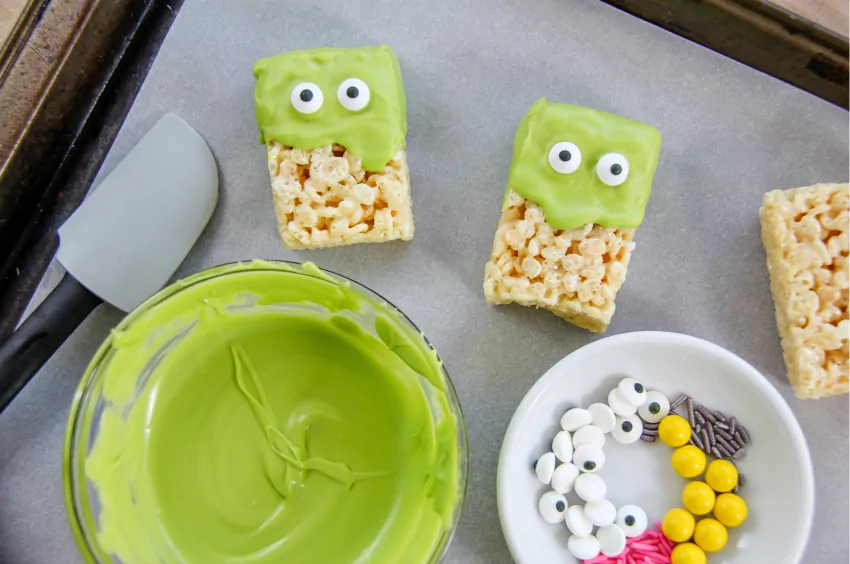 Repeat the above steps to complete Rice Krispies for Drac, the Gremlin, and Murray.
Tips For Making Awesome Hotel Transylvania Party Treats:
Use a toothpick to create definition on the purple eyelids, the black around Murray's eyes, and Drac's facial features.
To make the skin color for Drac, simply mix about 5 chocolate chips with the white candies when melting. This color will allow the other features to stand out.
If you can't find light green candy melts for Blobby, mix a few yellow candy melts with the green from the Gremlin.
Use a toothpick to mark lines across Murray's melted white candy head to give the appearance of bandages wrapping around him – do this before the candy hardens.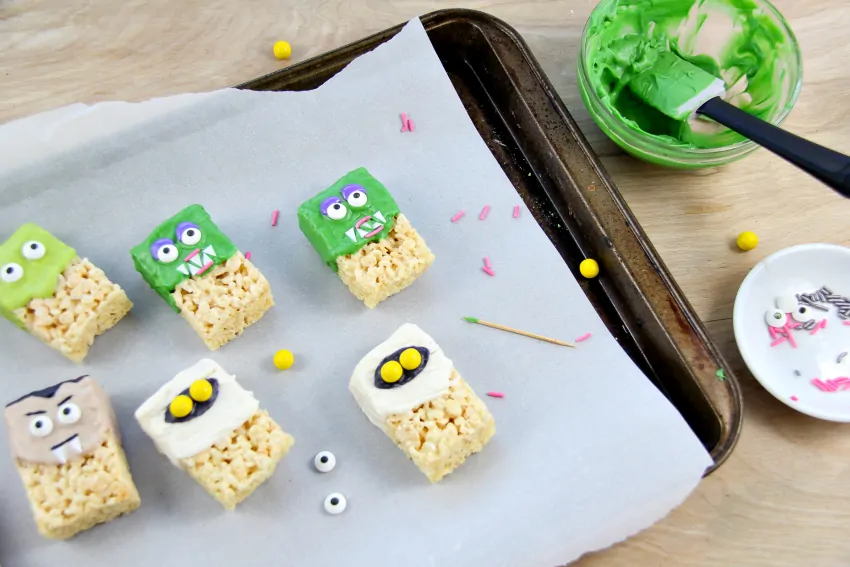 And there you have a it, the perfect party treats to enjoy during our Hotel Transylvania Twitter Party.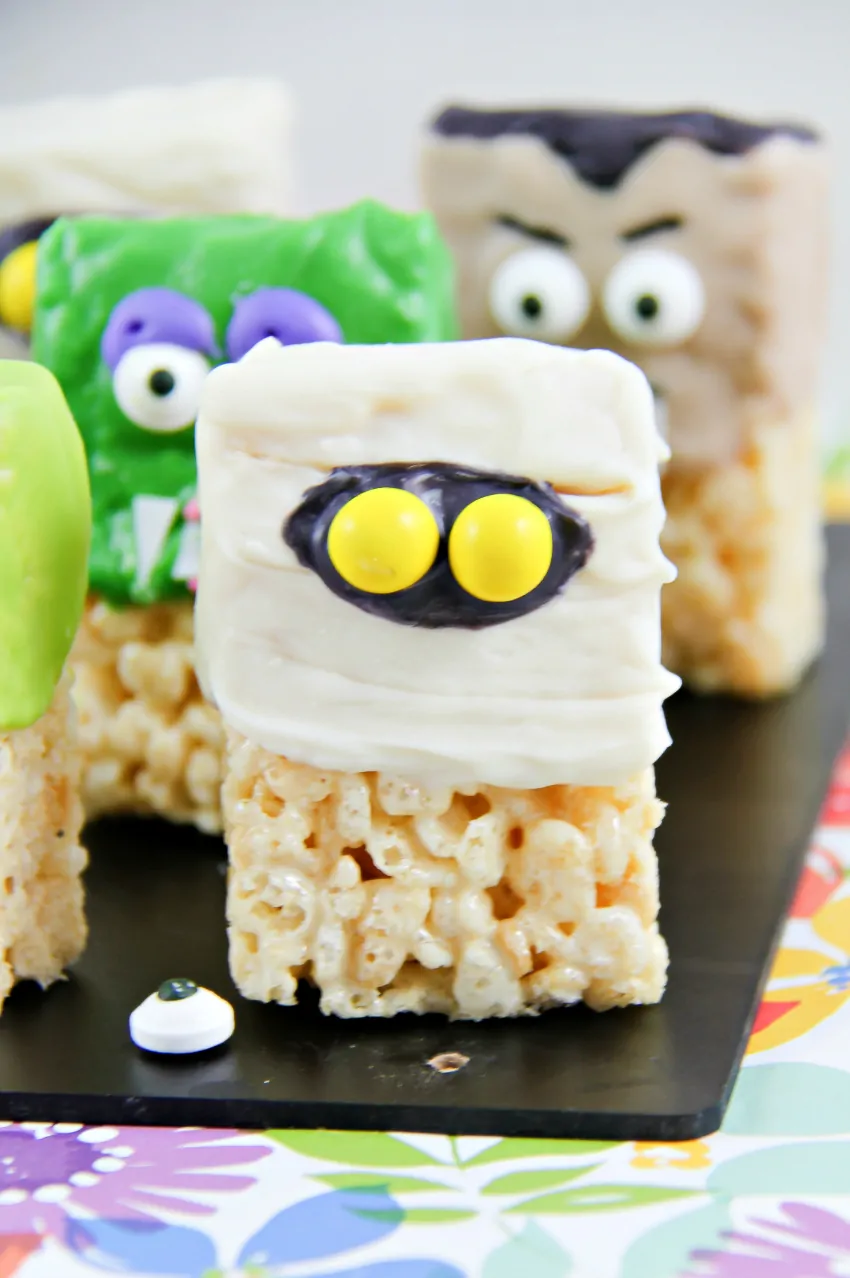 How To Make Dracu Straws and Smoothies
For extra fun at your Hotel Transylvania 3, download these fun printables with instructions for how to make Dracu Straws and Smoothies.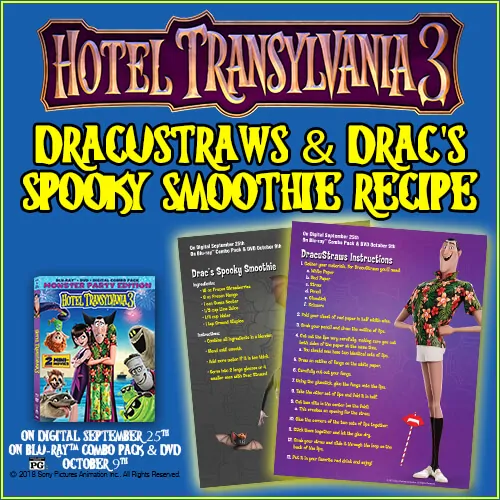 You can click on either one of these images to download the pdf file with both pages…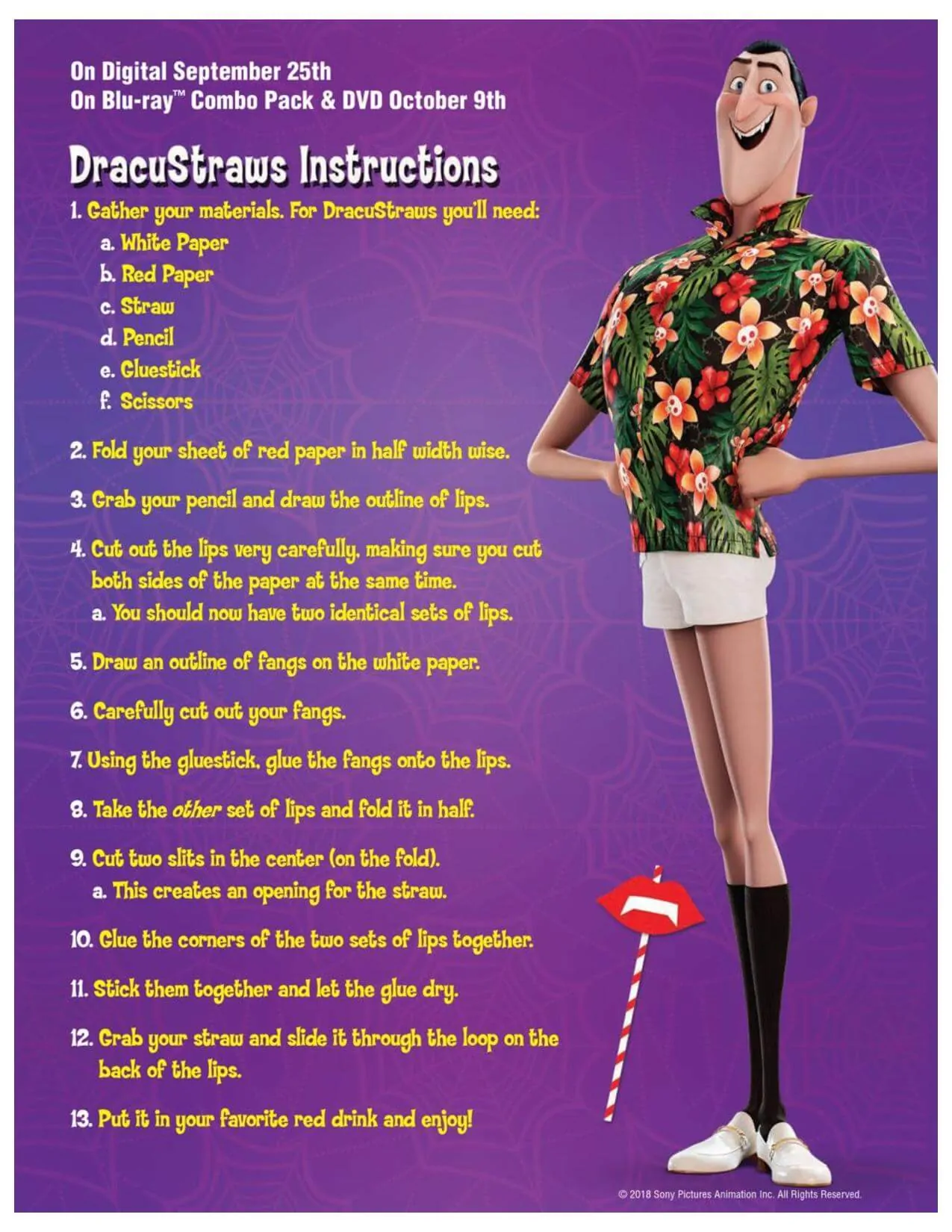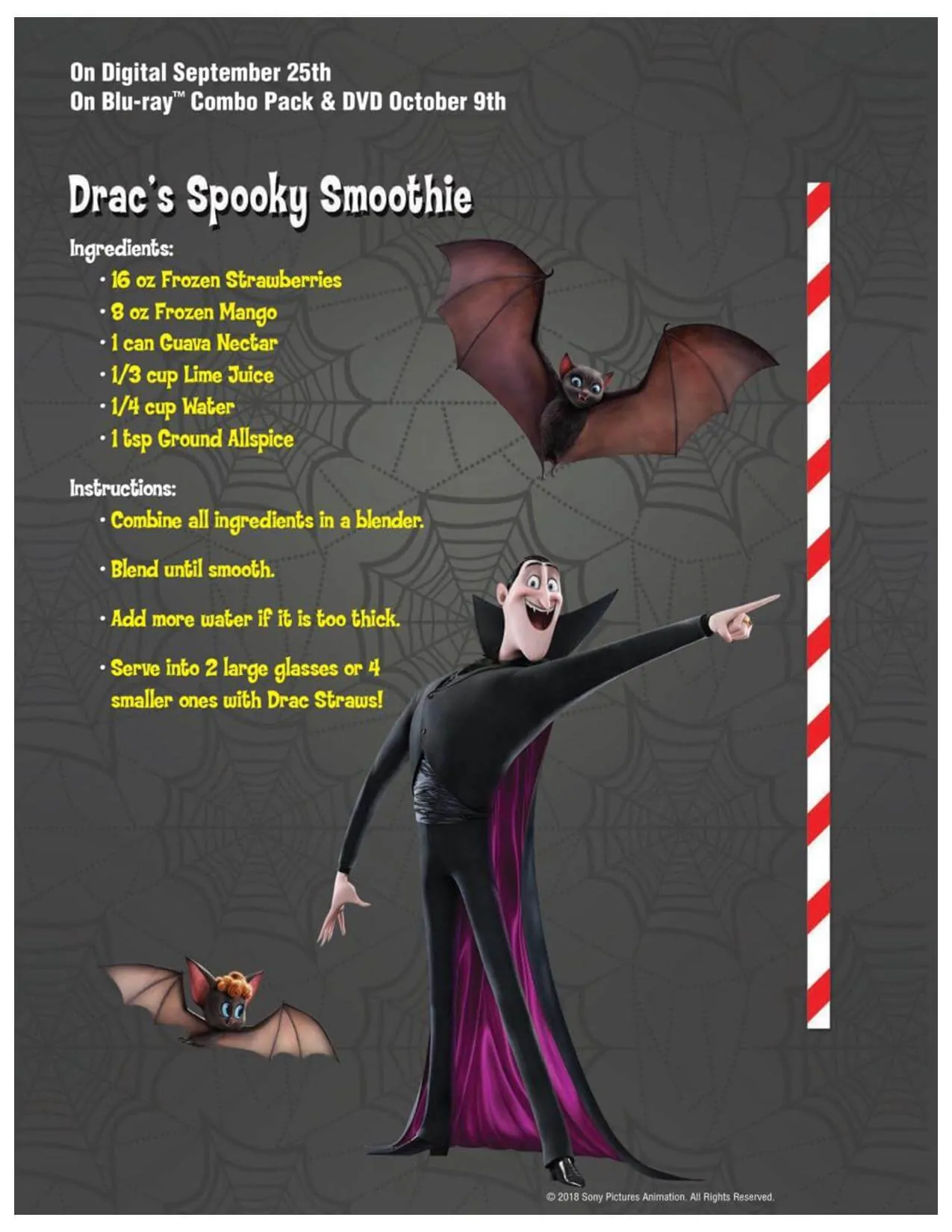 If you want to another spooky craft idea, you can make bat ears for your kids. Watch how to make no-sew animal ears in our video tutorial.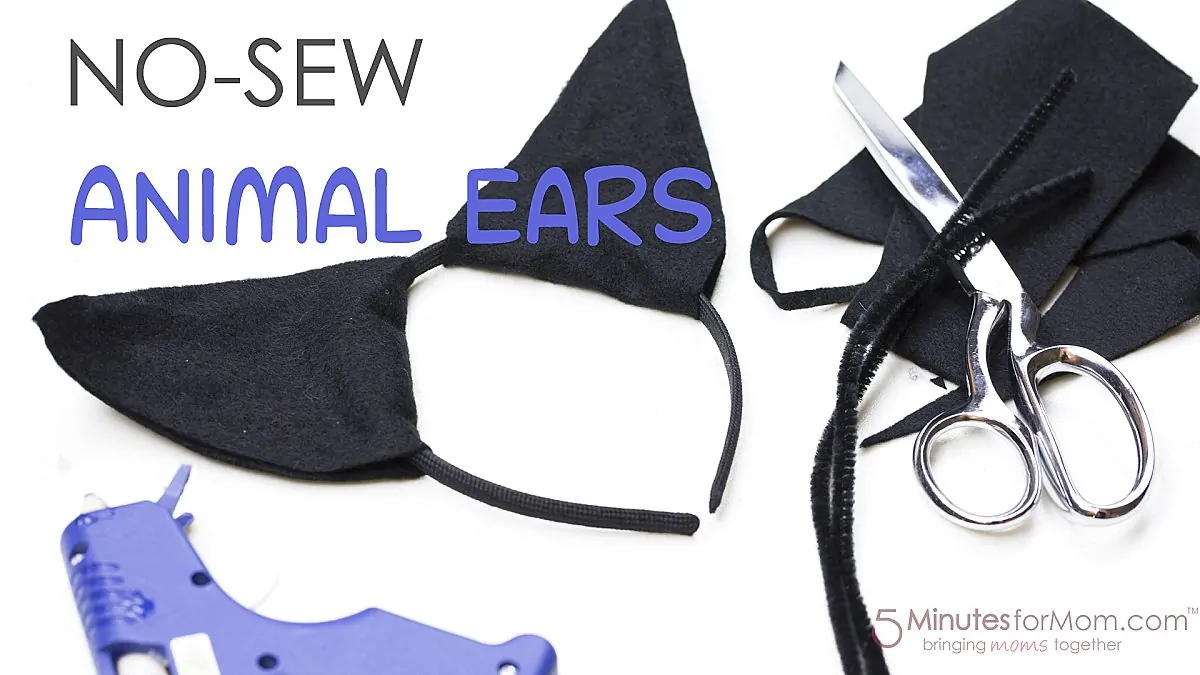 Pin it for Later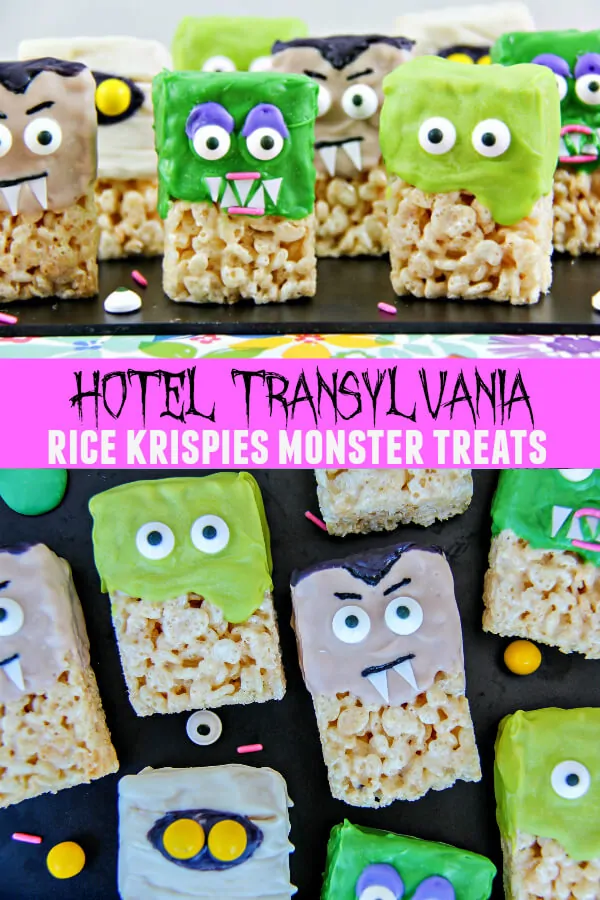 Disclosure: This post is sponsored, so extra thanks for reading and sharing.
Talk with us: @5minutesformom and Facebook.com/5minutesformom
Pin with us at pinterest.com/5minutesformom
Making Halloween Even More Fun
Do you want even more awesome ideas for Halloween? Try these…