This post may contain affiliate links. Read my disclosure policy here.
Do you have a granite countertop or another type of natural-stone surface in your kitchen? A couple of years ago, we shared steps for How to Clean and Seal Your Granite Countertop using Granite Gold®. Now they have released a new product that you can use daily to clean and polish your natural-stone or quartz counters with a simple wipe. Kristen is here today to show you how it works…
This post is sponsored, so extra thanks for reading and sharing.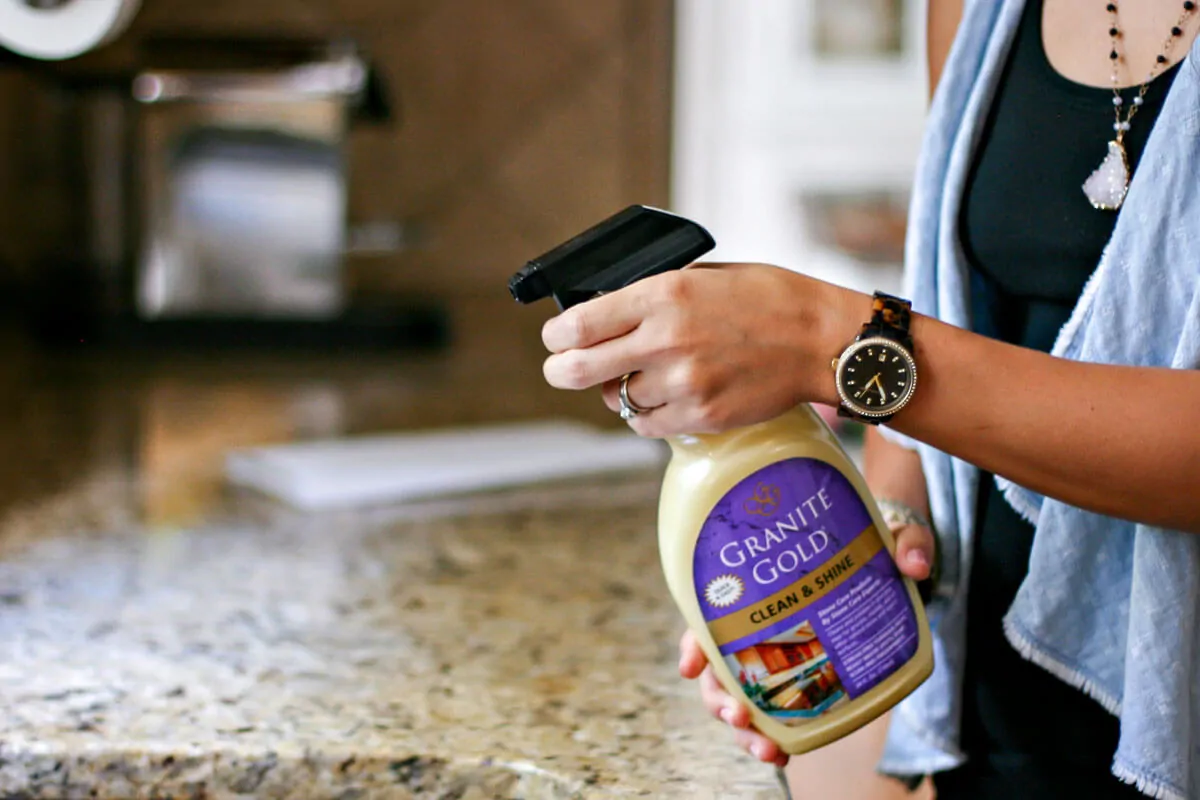 In my home, the kitchen is the hub for our family life. We facilitate so much of our day-to-day routine on and around these granite countertops, and I wouldn't have it any other way.
This is where the coffee is poured and yesterday's stories are doled out. This is where the school lunches are prepared and the homework is scribbled. This is where the agenda for the day is discussed and the vegetables for tonight's dinner are chopped, although let's be honest, it's for a meal my children probably won't eat. This is where the little but important moments happen over and over again, every single day.
The real bedrock of this kitchen is the granite (you see what I did there?), because these countertops endure a lot of action and spills. Now that we're talking about it, I hope I wiped up yesterday's smoothie. It's hard to be sure, because these precious countertops are camouflaged just enough to where they hide crumbs, spills and itty-bitty fingerprints pretty spectacularly. However, I want to make sure that my countertops are able to endure the heavy use that we demand.
In order to make certain that my countertops are clean and polished, Granite Gold Clean & Shine® comes to the rescue. This spray-on product combines two essential steps in stone-care maintenance to get more done in less time.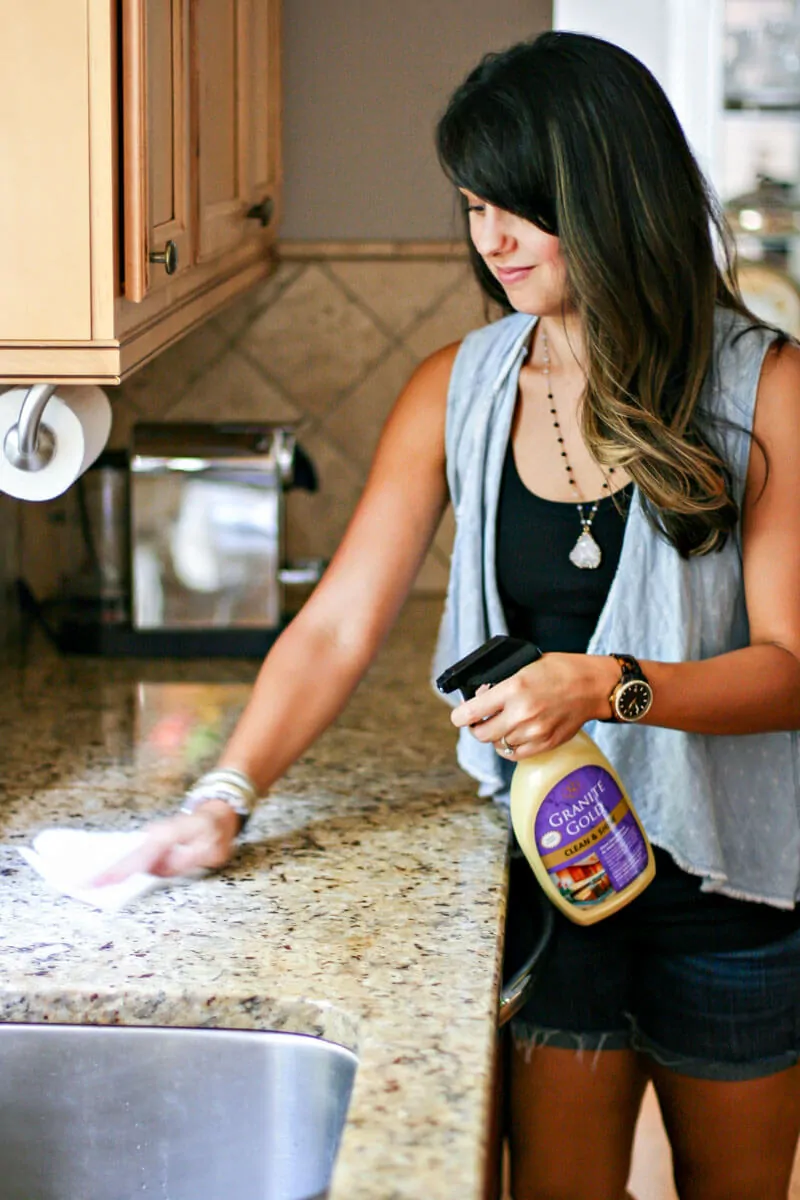 The 24-ounce bottle contains the potency of Granite Gold Daily Cleaner® fused with the brilliance of Granite Gold Polish® to swiftly clean and polish not only granite, but also marble, travertine and all other natural-stone and quartz surfaces.
Using this formula is really convenient and quickly removes all types of spills (bye bye smoothie) and other residue and soils, leaving a fresh citrus scent while adding shine and luster.
Do you want to know my absolute favorite part about this product? Not only does it perform so well, but it's completely safe to use.
As a mama who reads ingredient labels and takes safety seriously, I feel good about using Granite Gold Clean & Shine® because it's completely safe to use on food prep surfaces. It's also non-toxic, non-acidic, pH balanced, biodegradable and contains no phosphates or ammonia.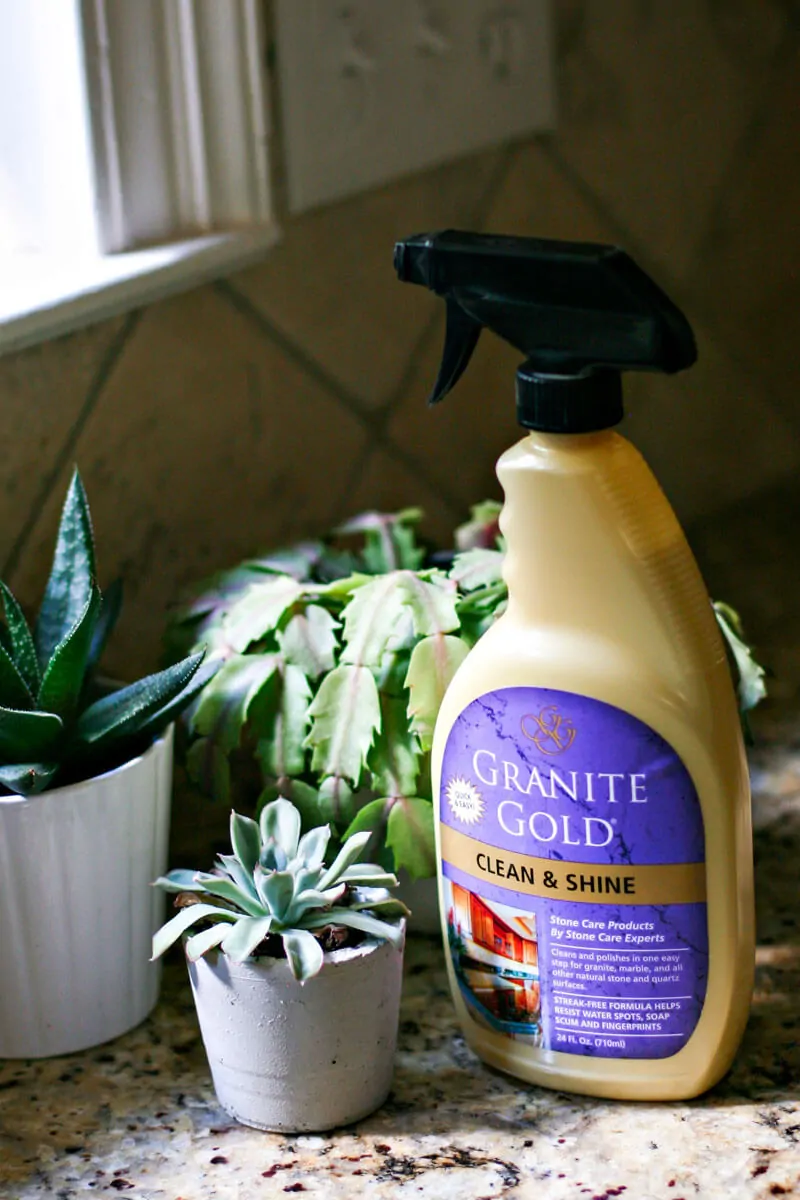 Granite Gold® co-founders and cousins Lenny Sciarrino and Lenny Pellegrino created this formula with safety in mind. They grew up in the family business of manufacturing, installing and restoring stone surfaces throughout Southern California and found that common household cleaners could pose dangers to natural stone. So the cousins decided to create a formula of granite cleaners that were safe for their clients to use around their families and to protect the integrity of the stone surfaces.
How to Use Granite Gold Clean & Shine®
You'll love how easy it is to use…
First, simply spray Granite Gold® Clean & Shine onto the stone surface.

Next, buff with a dry paper towel or lint-free cloth.

Finally, wipe the counter dry with a paper towel or lint-free cloth.
Keeping my granite clean and polished is as simple as wiping my counters down every day, but with the added cleanliness and polish that Granite Gold® is known for.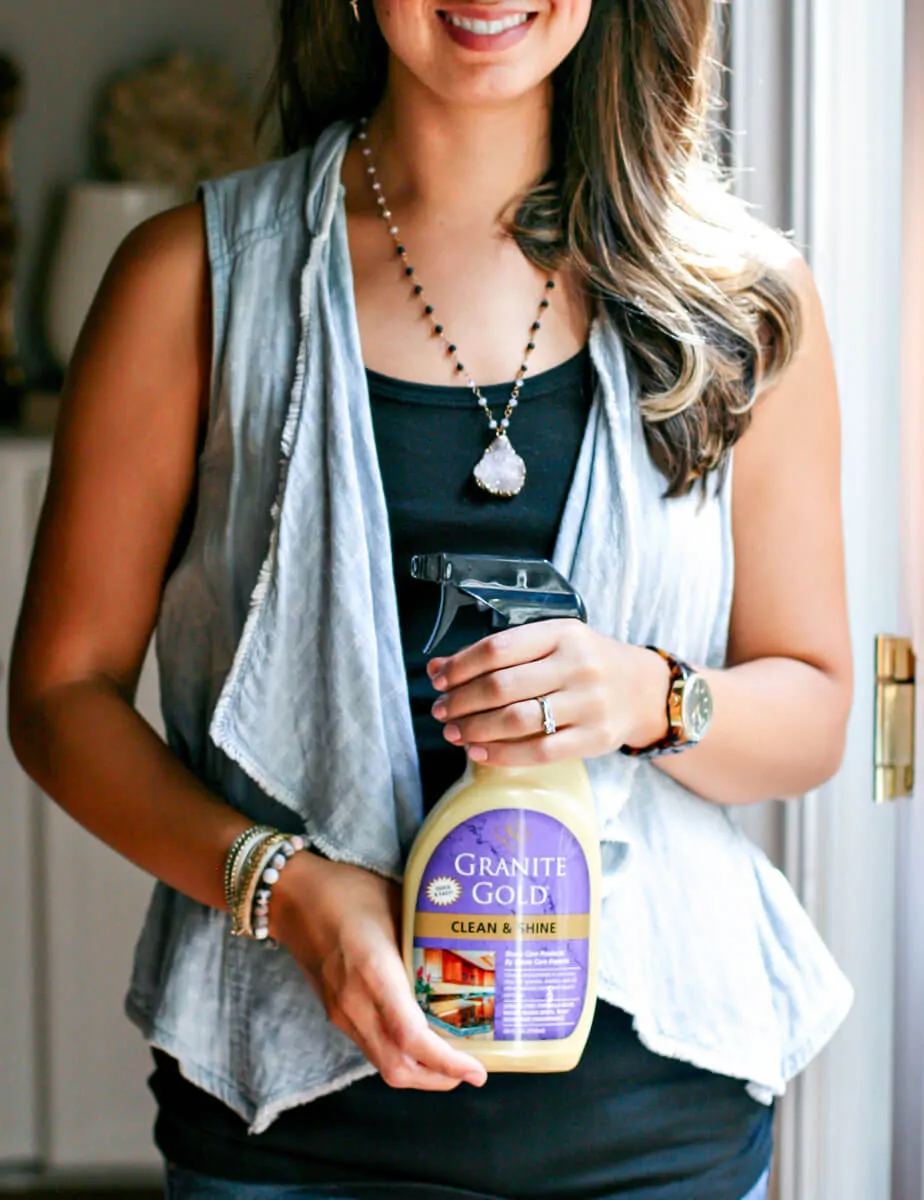 The combination product removes the need to purchase separate products, saving time, effort and money. And with the non-toxic formula to use on my countertops, it's safe to say that it will be helping me clean up smoothies from now until eternity, and I'm feeling pretty great about that.
Granite Gold® products are available at Bed Bath & Beyond, Lowes, The Home Depot, Walmart, and grocery and hardware stores throughout the U.S.; check the store locator at GraniteGold.com
Giveaway
Would you like to win a 24 oz. Granite Gold Clean & Shine® spray? We will select 3 random winners to each receive a bottle.
Leave us a comment letting us know if you have granite, marble, travertine or another natural-stone or quartz countertop. Then complete your entry using the entry form below. Open to both the US and Canada.
To win more great prizes, check out these giveaways.
Pin it for Later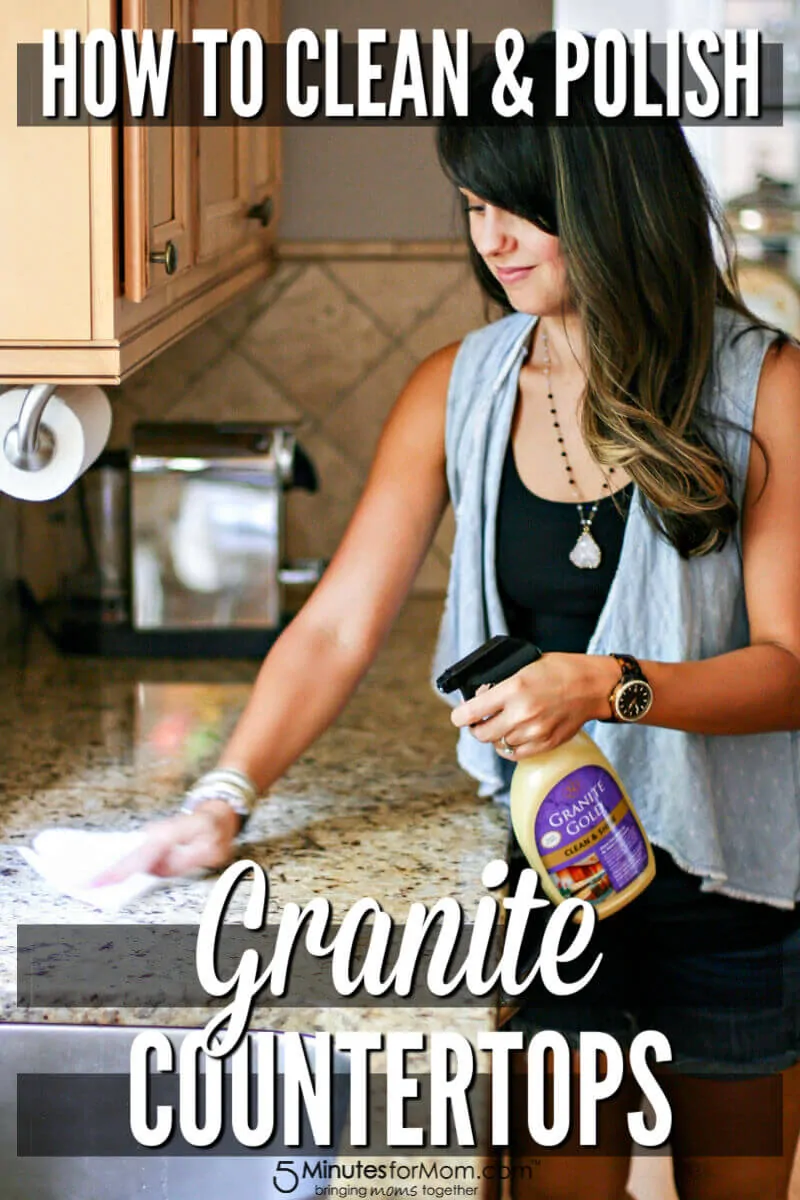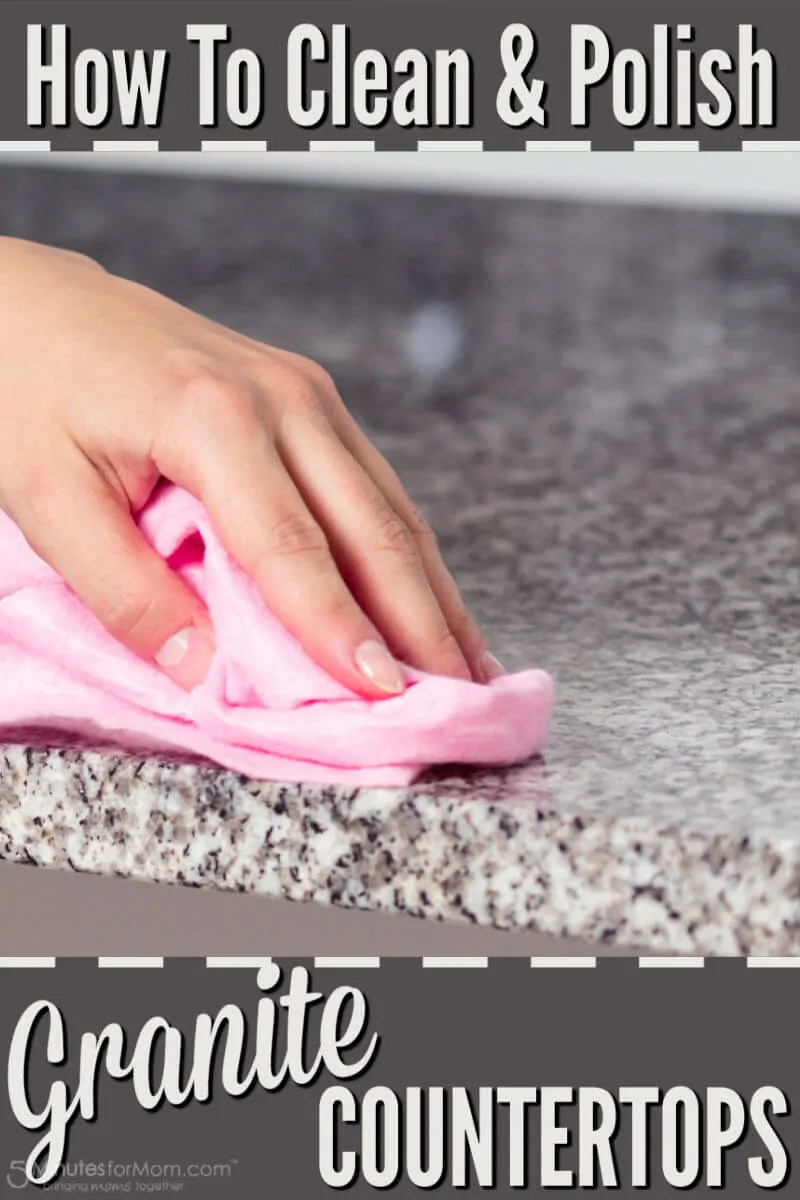 Disclosure: This post is sponsored, so extra thanks for reading and sharing.
Written by Susan Carraretto, co-founder of 5 Minutes for Mom
Talk with me: @5minutesformom and Facebook.com/5minutesformom
Pin with me at pinterest.com/5minutesformom