This post may contain affiliate links. Read my disclosure policy here.
Working at home with kids underfoot is hard! Since so many moms are finding themselves working from home these days, we wanted to share this advice for work-at-home moms. In this humorous post, Heather Sanders highlights the mistakes you might be making that are stealing your productivity.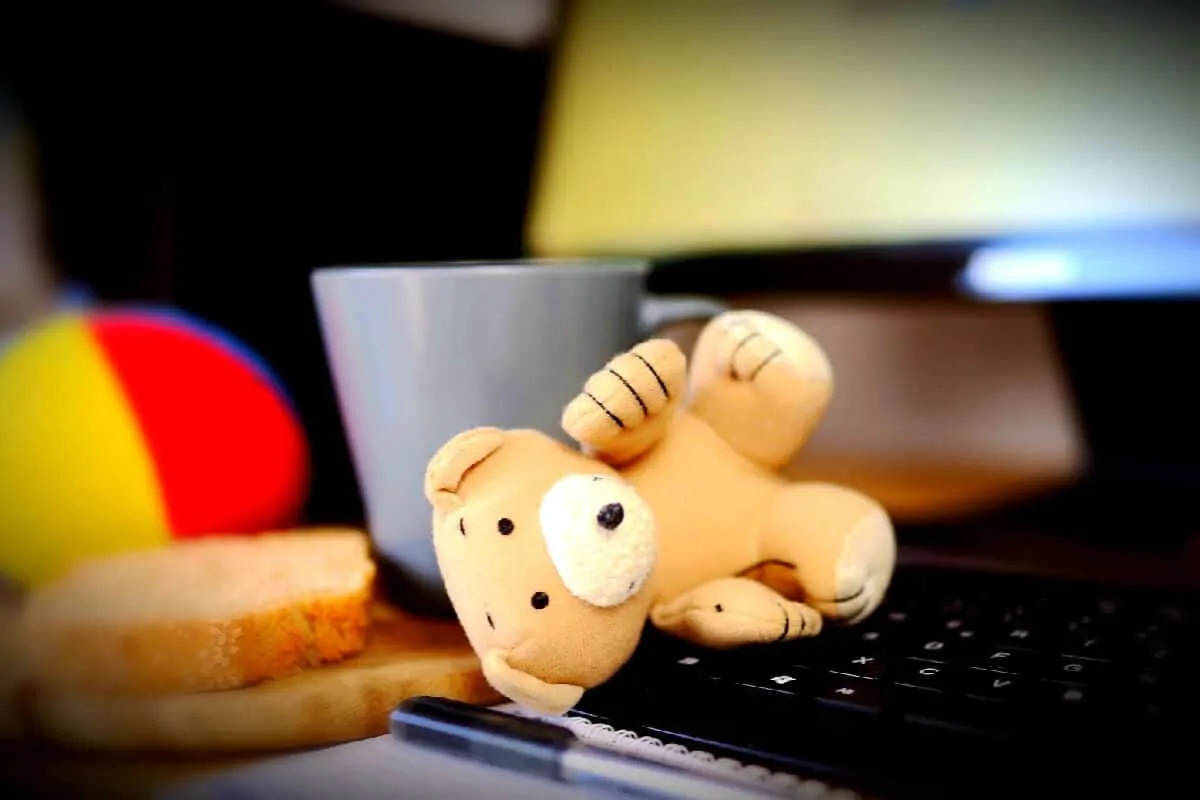 You look up at the clock. It's 3:00 pm.
How is that possible?
Mentally backtracking, you try to determine where you lost a handle on the day.
Was it right after breakfast? Or just before?
You have the best of intentions, but it isn't working.
"Other work-at-home moms do this every day," you think. "Why can't I?"
Don't worry. You can.
You are MORE than capable.
9 Work-at-Home Mistakes You Might Be Making
Once you read these 9 mistakes, reflect and reboot, you're going to get all that lost time back in your day.
Mistake #1: You don't take your work seriously.
Do you live under a banner of self-imposed guilt when you don't spend every moment walking, talking, living and breathing motherhood?
I thought so. It's because you are a dedicated mom who adores her children.
But here's another truth: your work is important, and prioritizing it doesn't make you a bad mother. It's okay to turn to frozen dinners to save time.
When you do not respect your work, you do not give it the time it requires. And when you do this, you rob yourself, your future, and your family's future.
Mistake #2: You work only while your children are napping.
There are not enough nap hours in the day to accomplish your work, which is why you MUST work during your children's waking hours too.
Let them grow up understanding that while they are important to you, and you love them dearly, your work is important too.
If your kids only see one parent setting aside specific hours to work (leaving for the office, for example), they'll only learn to take that parent's work seriously. Work-at-home moms often struggle with family members not respecting their work time.
If you don't have reliable working hours you can count on, the quality of your work will suffer.
Mistake #3: You don't get enough rest.
How many times have you sacrificed, staying up into the wee hours of the night to hit a deadline?
Or on the opposite side of the spectrum, how many times have you dragged yourself out of deep REM sleep to work before the kids get out of bed?
You aren't thirteen. A tired mom is an inefficient mom.
Don't rob yourself of sleep.
Sleep when your body tells you to sleep, and work when YOU are most efficient.
Communicate your needs to your spouse, create a plan together, and commit to sticking to the plan.
Mistake #4: You hired an in-home part-time nanny.
If you need help with the kids to get work done, find childcare outside the home 2-3 days a week.
I know it's controversial, but I'm not talking about a drop-a-tot situation.
There are Mother's Day Out programs, friends who may be willing to trade off childcare days with you, family members, and a number of other options.
Nannies will inadvertently steal your time with matters like "Did you buy bread?" "Can they have snacks?" "Is now a good time for naps?"
Part-time childcare outside of the home is a simple, productive solution for maintaining your efficiency while providing a regular, fun outing for your kids.
Mistake #5: You don't take off the pajamas.
You are a grown woman.
Get your butt out of your favorite flannel pajama bottoms and into work clothing.
It doesn't have to be fancy or uncomfortable, but you need a trigger so you can FEEL, and your kids can SEE that it's time for Momma to work. Even if it is just a different pair of leggings.
Otherwise, your children will treat your work hours as an ongoing pajama party that they can constantly interrupt.
Mistake #6: You schedule too many family activities.
But didn't I choose to work at home so I could have more flexibility?
Absolutely. And you do have more flexibility.
Still, you have to make work a priority by scheduling family activities and responsibilities around it.
This correction requires simplifying the family schedule and choosing not to get involved in everything you and your kids are asked to do.
It's freeing for all of you, and you'll accomplish more.
Mistake #7: You didn't create a separate office space.
You need a kid-free zone to work.
A space that is yours and yours alone is another visual reminder to you and your kids that it is time for work.
If you plop yourself down on the couch with your laptop, you'll have kids crawling all over you.
And you won't be very productive.
But then, you knew that. You don't need an entire room to set up an office space. Check out these budget-friendly ideas to make a home office space.
Mistake #8: You Multi-task.
Don't do it.
There is an increasing amount of research that suggests multi-tasking will damage your brain and your career.
The house and laundry can wait, and taking time out of work to do these tasks is unfair to your clients, employer and family.
It cheats everyone, including you.
Mistake #9: You feel too guilty about letting your kids have screen time.
Yes, TV and screen time should be limited so we can be more present in our kids' lives.
But while we work, we should use the tools accessible to us.
If your kids are old enough to be safely and happily entertained by a two-hour movie, that is two hours of productivity for you. And there are many free educational apps for kids of different ages that can give you guilt-free work time. You can even have your kids be productive and have fun reading with online apps.
If you stay in your office space and remain focused during those two hours, you'll love the results.
Also? You'll be the cool mom.
Are you ready to take back your time?
I bet you are.
You need to be diligent and correct the mistakes you've been making.
Lose the guilt. Trust that you're an amazing mom.
Respect your work and your time. Your family will value you all the more for it. You can be home with your kids and still get your work done. Who says moms can't have it all?!