This post may contain affiliate links. Read my disclosure policy here.
Do you have children who are learning to read? Today I'm excited to share with you some tips to make reading fun for kids and help instill a love of reading in your children, as well as, an online learning program that my little readers have highly enjoyed. This post is sponsored, so extra thanks for reading.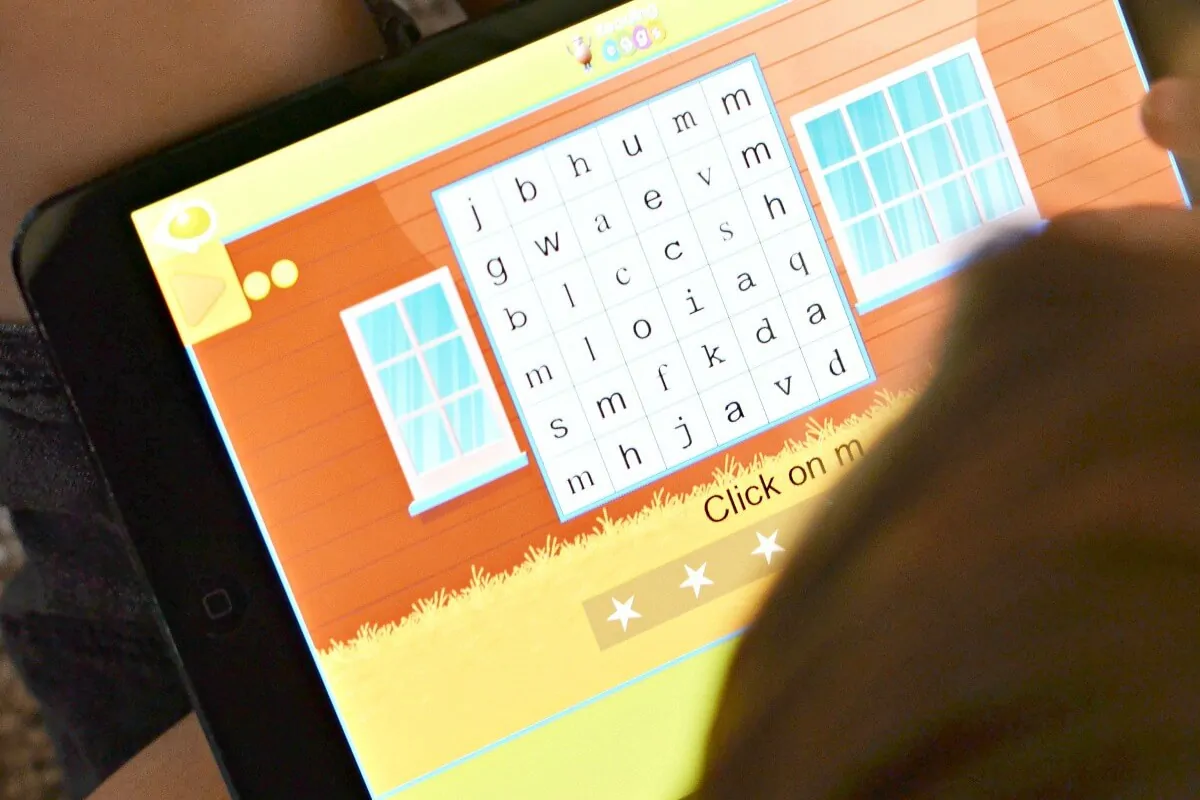 Educator and published author Rafe Esquith wrote in his book Teach Like Your Hair's on Fire, "Teaching our children to read well and helping them develop a love of reading should be our top priorities. I want my students to love to read. Reading is not a subject. Reading is a foundation of life, an activity that people who are engaged with the world do all the time."
As a mother, teacher, and avid reader myself, I couldn't agree more! Hi, I'm Jennifer, a mother to three young children and a regular contributor here at 5 Minutes for Mom.
Did you know that if a child is exposed to 30 minutes of literacy activities every day, that adds up to over 3,285 hours by the time they reach the age of 18?
Yes, just 30 minutes each day of reading to your child, having them read independently, or engaging them in a literacy activity of some form adds up to thousands of hours outside of school. There's no doubt of the impact those extra hours could have on a child's academic success.
We all know how important reading is, but what practical steps can you take as a parent to help your child develop a love of reading? How do you encourage your child to read? What can you do to make reading fun? Here's an acronym with ideas to get you started!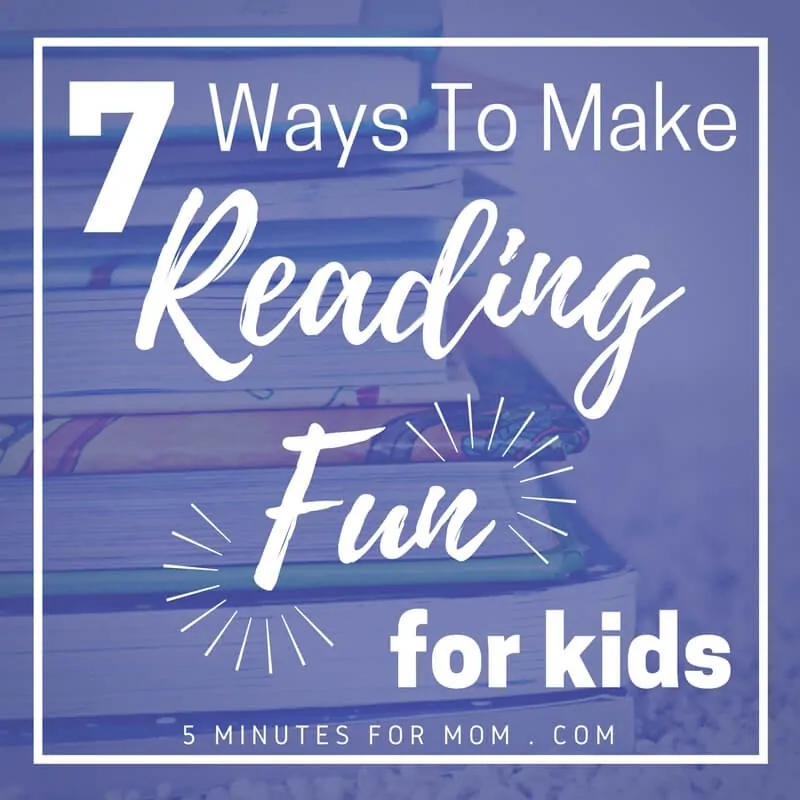 Tips for Making R-e-a-d-i-n-g FUN!
Read. Read to your children. Start when they are infants and continue reading to them even up to an age when they can read to you. Most of my public school teaching experience was teaching 4th graders. Each year there were a few students who struggled to read at that age, but most had reached a level of independence by 4th grade. I cannot even count the number of times a parent asked whether or not it was still appropriate for them to read to their child at home. My answer: It's not just appropriate, but it is one of the most meaningful things you can do.

When reading becomes a shared experience, it brings delight and pleasure to books. The simple act of reading can build memories, as well as, minds.

Engage. Bring books to life by engaging your children in experiences centered around the books they are reading. Consider this a complete immersion into reading.

Did your child just finish a non-fiction book on the solar system? Take a trip to a local planetarium. Are they reading the Little House on the Prairie book series? Make homemade candles or butter. Cook, travel, and craft your way through books they're reading and that will help make reading fun for kids.

App-ly. Yes, there are quality apps out there that make reading fun for kids. When my kids want to use their devices, I'm extremely selective about how they spend that time.

Educational apps/programs are a priority. Recently my kids tried Reading Eggs.

Have you heard about it?

Reading Eggs is an online reading program for ages 2-13 that's been developed by expert educators. Over 91% percent of parents have noticed improvements in their child's reading within just weeks of using the program.

I've personally witnessed its success with my own children. Even my youngest was quickly learning letters, sounds, and sight words. And the online library with over 2,500 books had my oldest daughter completely engaged and excited to read.

Learn more about this outstanding program and try it yourself with a 4 week FREE trial!

UPDATE: We recently published a new Reading Eggs review and took a closer look into the new program features including Reading Eggspress.

Demonstrate. Show your children how enjoyable books can be. A parent's attitude about reading strongly affects their child's interest.

Let your children see you reading. And I'm not just talking about reading for work. Let them see you reading for pleasure. Going back to the first tip, pick out books to read together. It's not just a cliche. Parents really do lead by example.

Interest. Get your child interested in reading by letting them choose their own books. Guide them towards books that fit their interests and uphold your family's values, but let them have a deciding voice.

Did they just finish a book they loved? Find another by the same author. Does your child love horses? A non-fiction book on caring for horses or a fictional tale about a wild mustang would be ideal. Maybe you can even follow up the books with a trip to a local horse farm. That's sure to peek their interest!

eNvironment. Create an environment that's conducive to reading. Designate a cozy corner, nook, or quiet space in your home as the reading area. This can be as simple or as elaborate as you'd like.

Simply add a few comfy pillows or go all out with a reading fort or tent complete with baskets of books, bookmarks, snacks, and more! A special reading spot can be a wonderful way to make reading fun for kids. Curate a collection of books in your home that stretches across multiple genres and is easily accessible to the kids.

Go. Visit the library frequently. The library is an experience that completely immerses children into the world of books. They can read, be exposed to new genres, and pick books that fit their interests. And it's free!

Many libraries even host events, festivals, and reading programs that the kids can get involved with. Can't visit the library that week? Be sure to check out the digital library of e-books that Reading Eggs has.

And speaking of Reading Eggs, here are a few more fun features available through this exciting program.
How Reading Eggs Can Make Reading Fun For Kids
Online library of over 2,500 e-books
Accessible on a desktop, iPhone, iPads, and Android device.
Bright, colorful graphics
Fun literacy games on letters, phonics, sight words, reading comprehension, and more!
Assessments that place your child at the appropriate level. This feature allows them to feel both challenged and successful with the program.
Rewards — golden reading eggs — that can be earned and spent on extra games or items for their avatar or virtual house.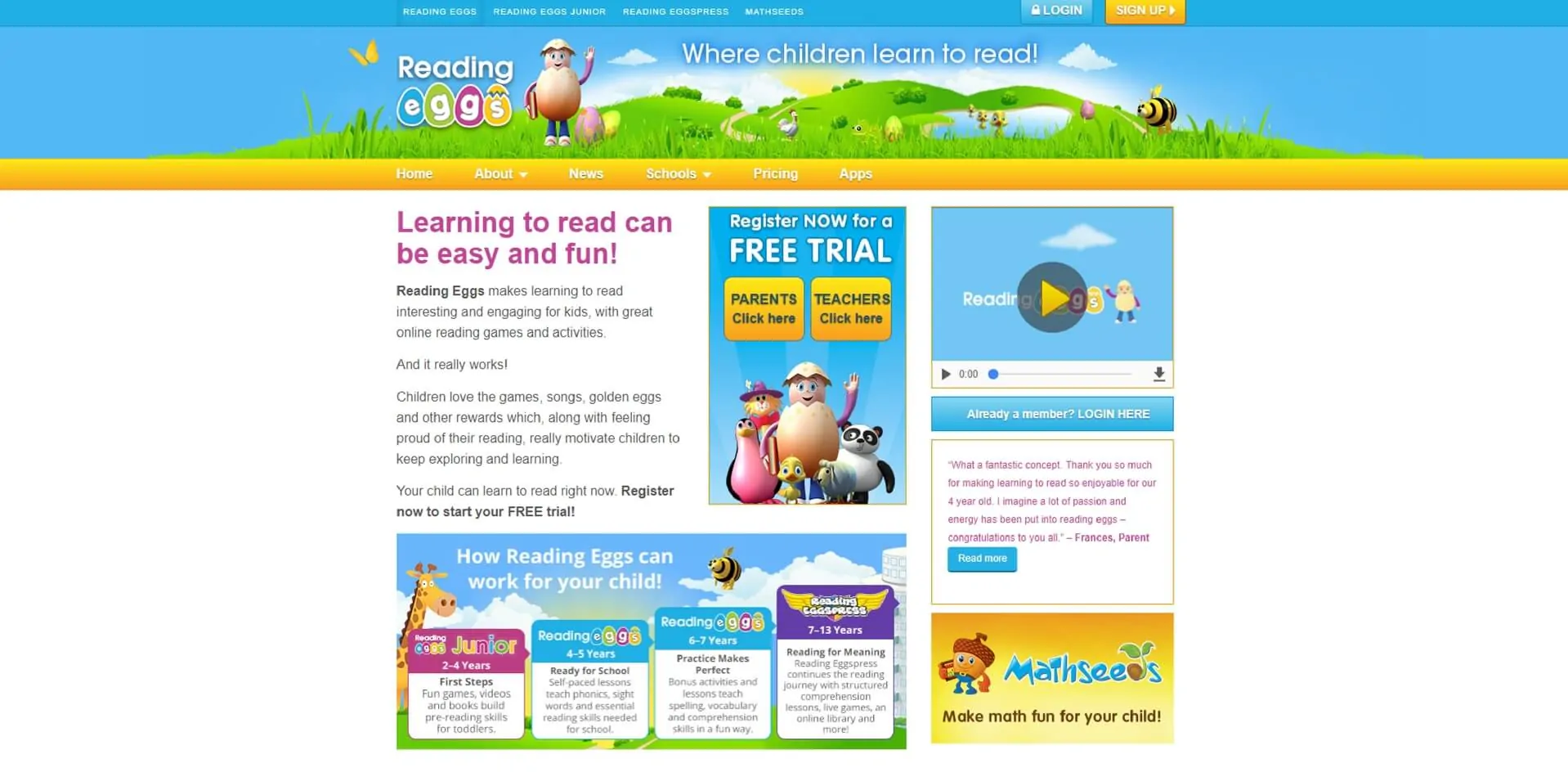 Reading Eggs is offering a FREE 4 week trial period so you can see how it works for your child.
Pin it for Later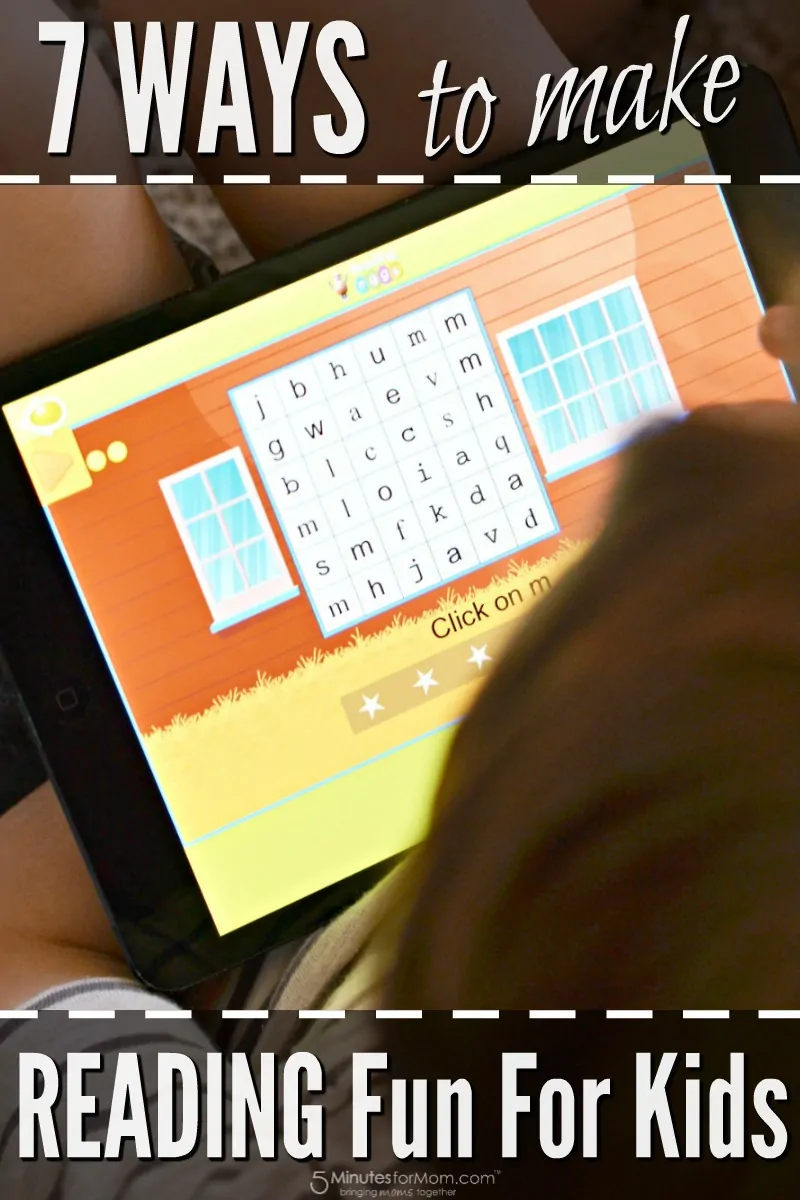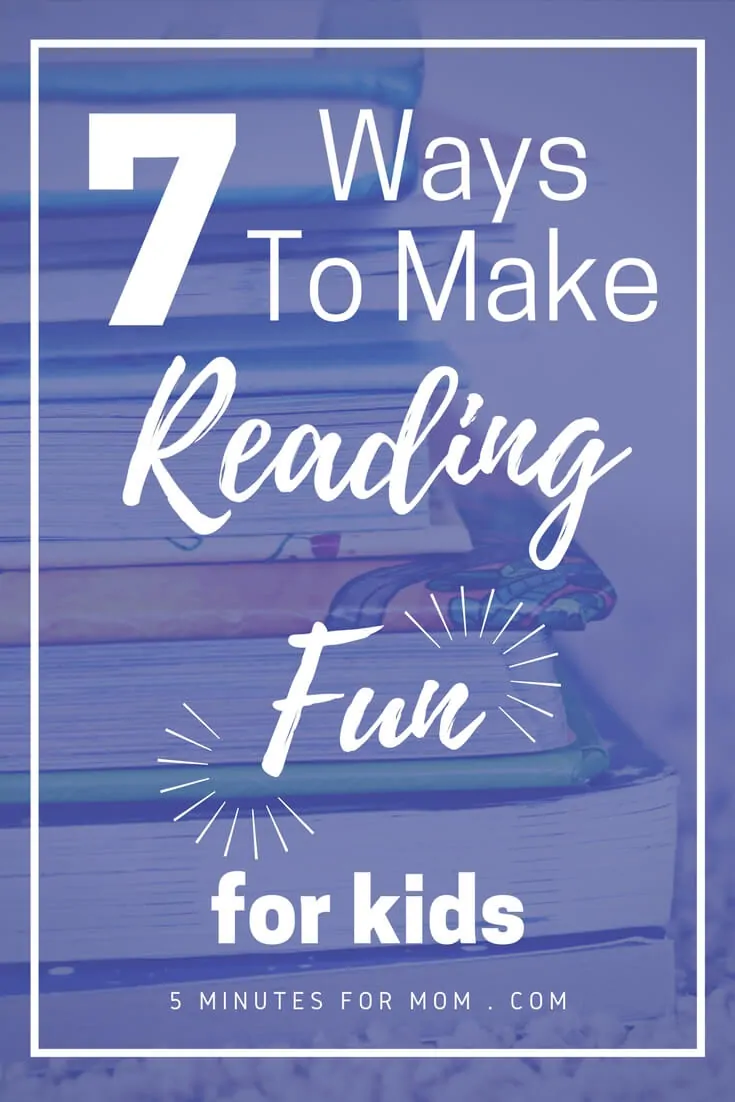 Disclosure: This post is sponsored by Reading Eggs.
Written by Jennifer Dawn, contributor here at 5 Minutes for Mom, and the blogger behind The Life of Jennifer Dawn.
Talk with us: @5minutesformom and Facebook.com/5minutesformom
Pin with us at pinterest.com/5minutesformom
Your Kids Will Also Love This…
Classical Music For Kids – Give your kids a lifelong appreciation for music by streaming a little classical music every day.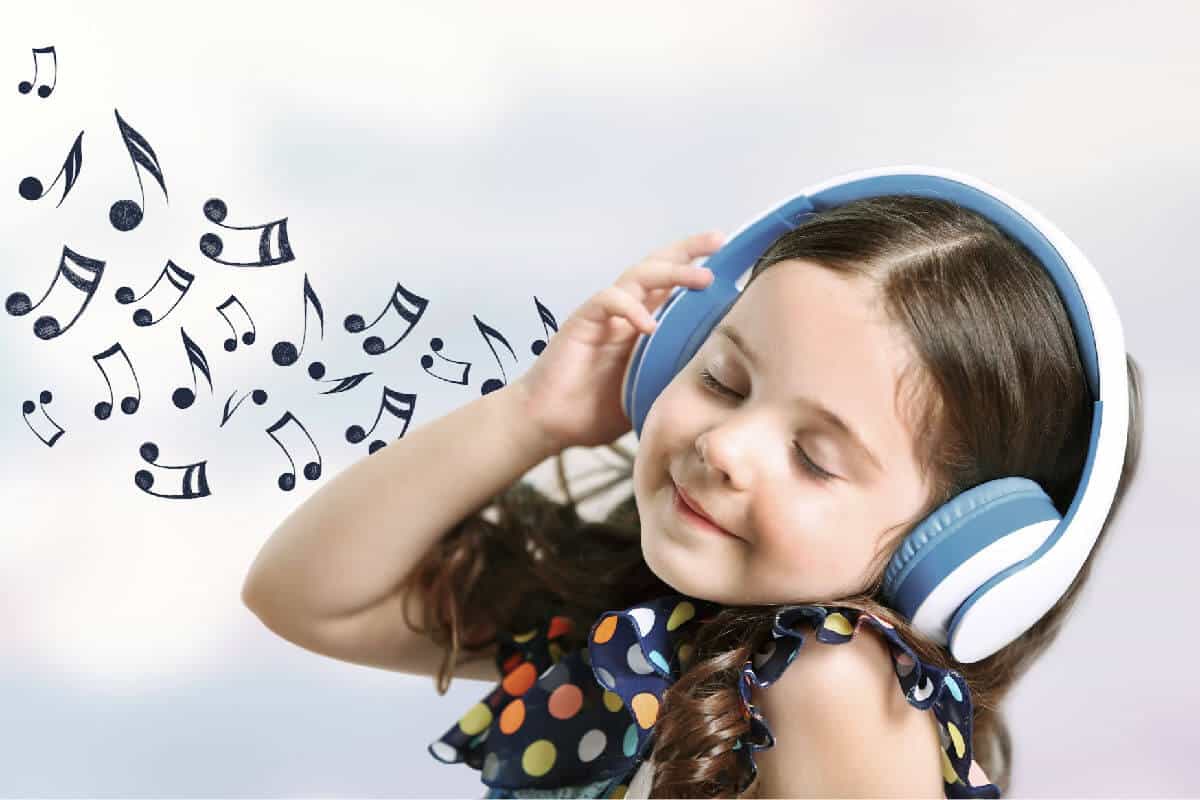 Kinetic Sand – Kids can benefit the sensory activity of playing with kinetic sand. It's great sensory input that is perfect for homework breaks.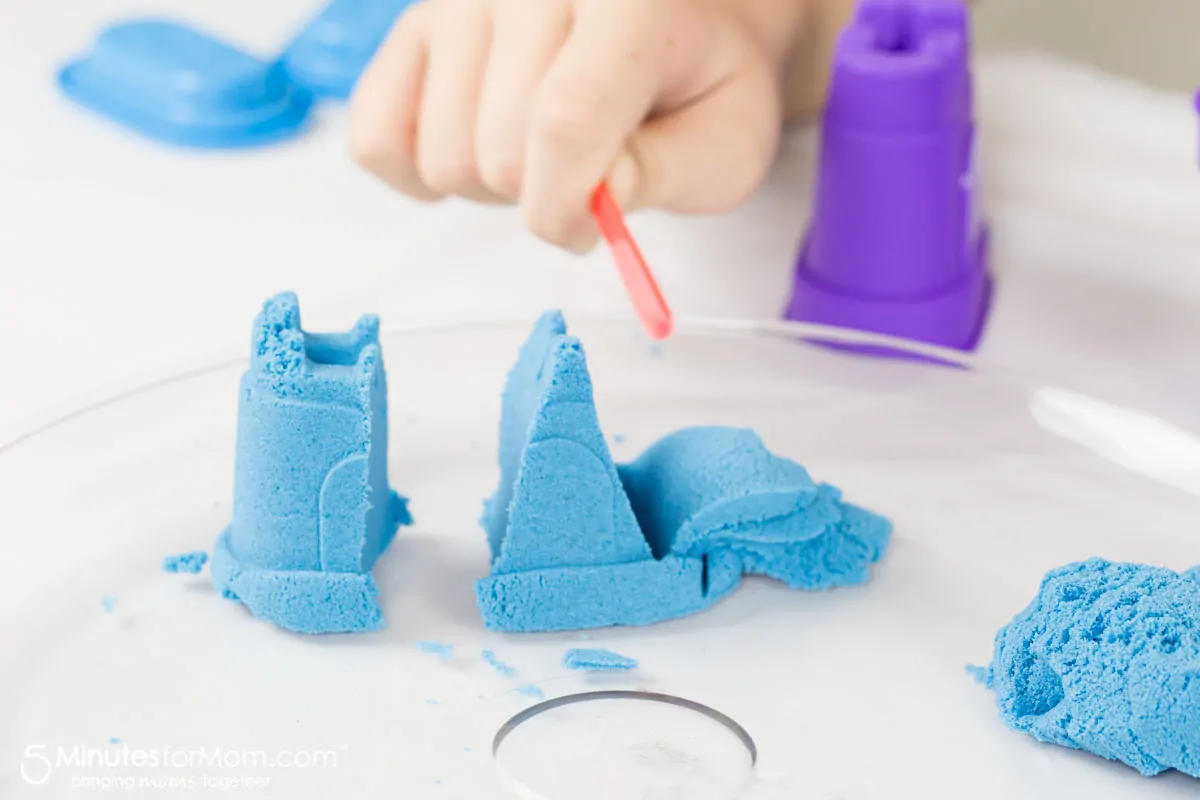 Summer Word Search Puzzles – These summer word search puzzles are a great reading activity and a fun way to keep kids entertained and learning. Download this Puzzles Activity Pack and print them for free.