This post may contain affiliate links. Read my disclosure policy here.
Palo Santo is gaining popularity every day as photos of burning palo santo sticks and palo santo essential oil pop up on Instagram feeds everywhere. And over the past several weeks, I've been using this famous incense and essential oil. So I'm thrilled to share with you more about the benefits, how to use it, and where to buy authentic palo santo.
This post is sponsored by Ecuadorian Hands, an active participant in the Palo Santo Wood (Bursera Graveolens) Reforestation Program.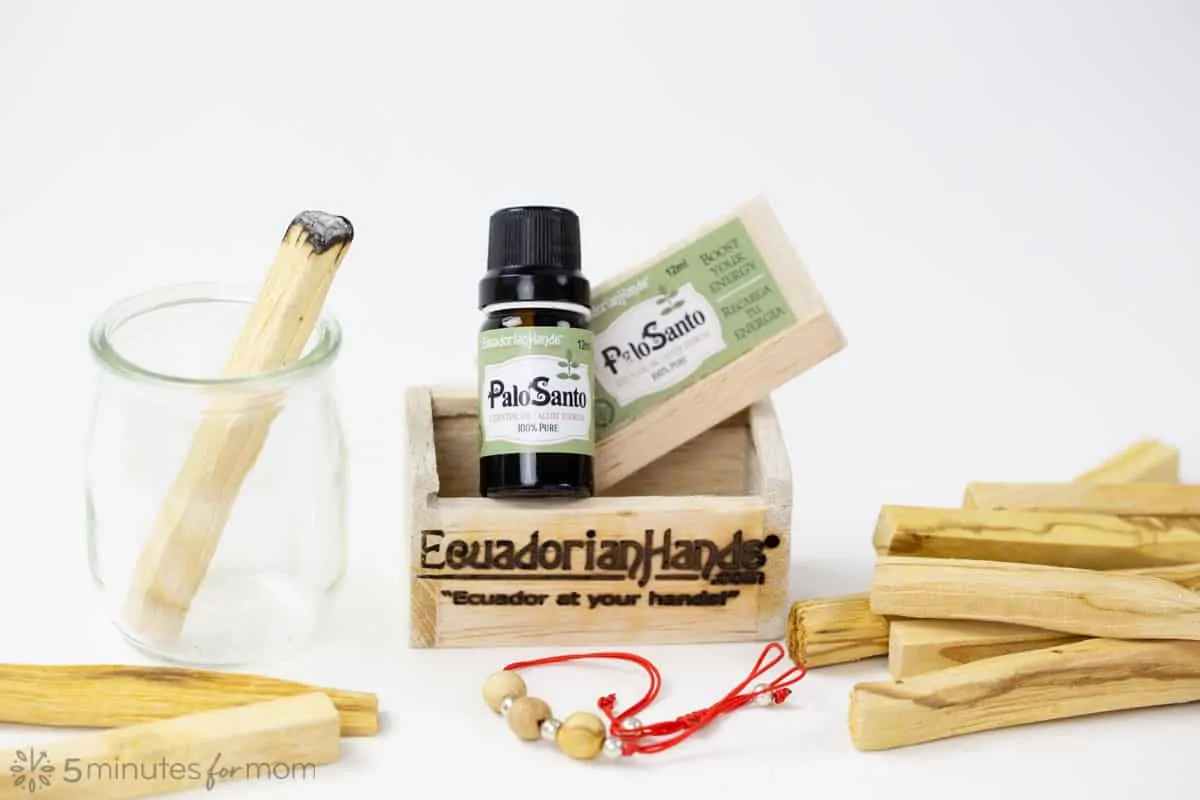 I breathe in the invigorating aroma of Palo Santo essential oil.
I take a second and third slow deep breath and let the energizing scent refuel me.
The woodsy, citrus fragrance flows through me and clears my mind and spirit. I feel it ignite my senses.
I think of the Ecuadorian people who gathered the long ago fallen branches, which had rested on the forest floor for a decade. Those branches spent years evolving into the richly oiled wood that was turned into this blessed essential oil.
The series of miracles that bring me this oil remind me how connected we are on this planet. While globalization has brought with it many profound complications, the blessings are real as well.
A thought warms me… I picture a community of families thousands of miles away in Ecuador who can provide for themselves by following their ancestors' footsteps through a forest, gathering sticks and turning them into a powerful oil that's placed on an airplane and sent to customers here in North America.
I love that those families can continue to carry on their family legacy. And I am grateful I can enjoy the invigorating aroma of Palo Santo oil.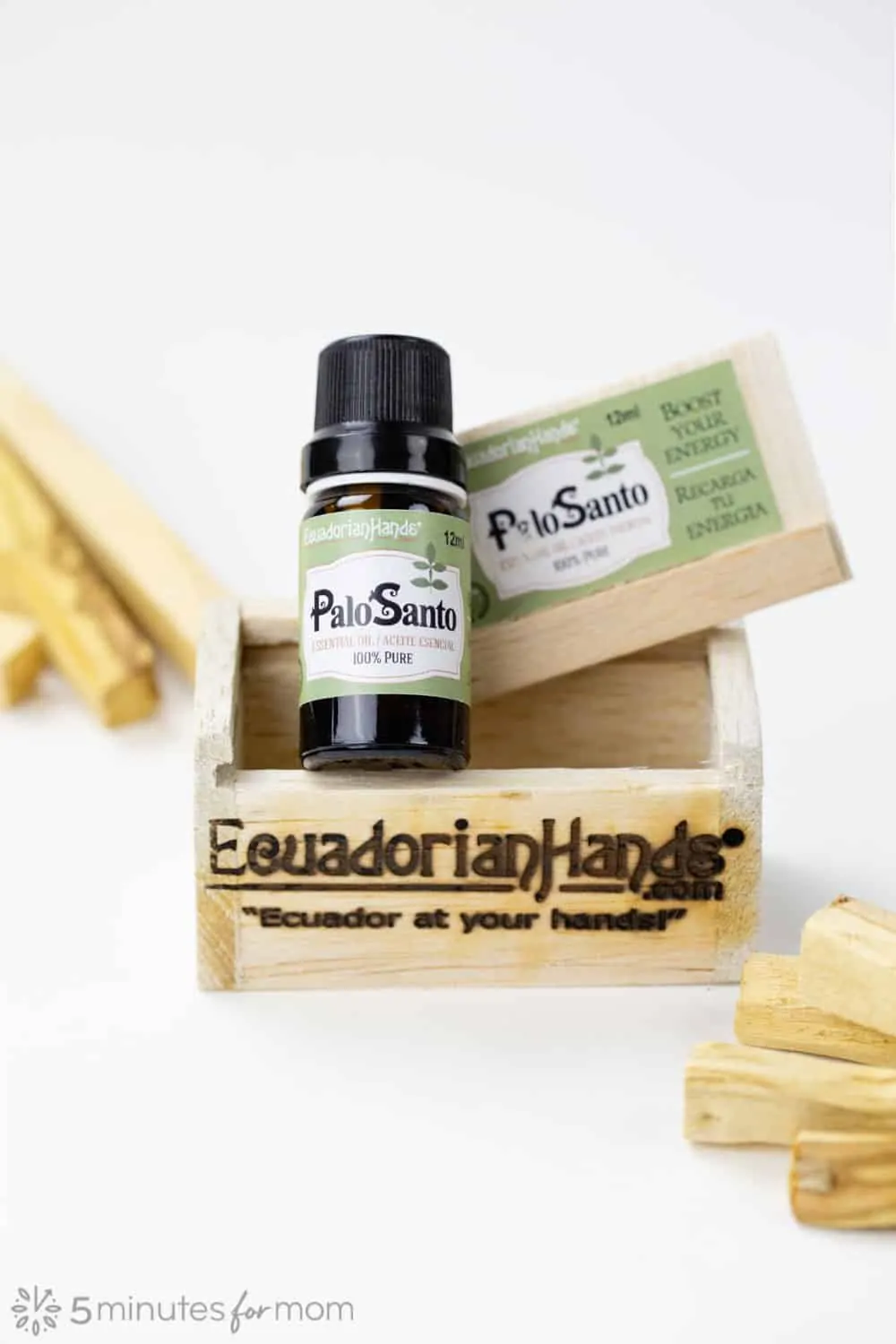 Palo Santo means "holy wood" in Spanish and South American natives have been using these trees for thousands of years. Palo Santo comes from the same family of trees (Burseraceae) as frankincense and myrrh.
When you hear people refer to using palo santo for wellness benefits, they likely mean the tree bursera graveolens. It can be confusing, because there is another tree named bulnesia sarmientoi that is also called palo santo.
Bursera graveolens grows all over the Americas including Mexico, Peru, Costa Rica, Guatemala, Honduras, Galápagos Islands and Ecuador.
Is Palo Santo Endangered?
Are you worried about using Palo Santo oil because you've heard that it is endangered?
If so, you can stop worrying. As this article in the New York Times explains, palo santo is NOT endangered internationally. There can be regions with smaller populations that may list the plant's regional conservation status as endangered at certain times. For example in 2005, Peru listed palo santo as endangered in that country.
And there is more good news…
You can purchase ethically sourced palo santo from a region with an abundant population of palo santo such as Ecuador and actually help support the sustainable use and reforestation of palo santo.
The true threat to the future of palo santo forests is actually a lack of use.
The people who live in the surrounding communities of these dry-tropical forests in Ecuador make a living from the trade of Palo Santo. If there are no customers, the forests may be cut down for the land to be used in other ways.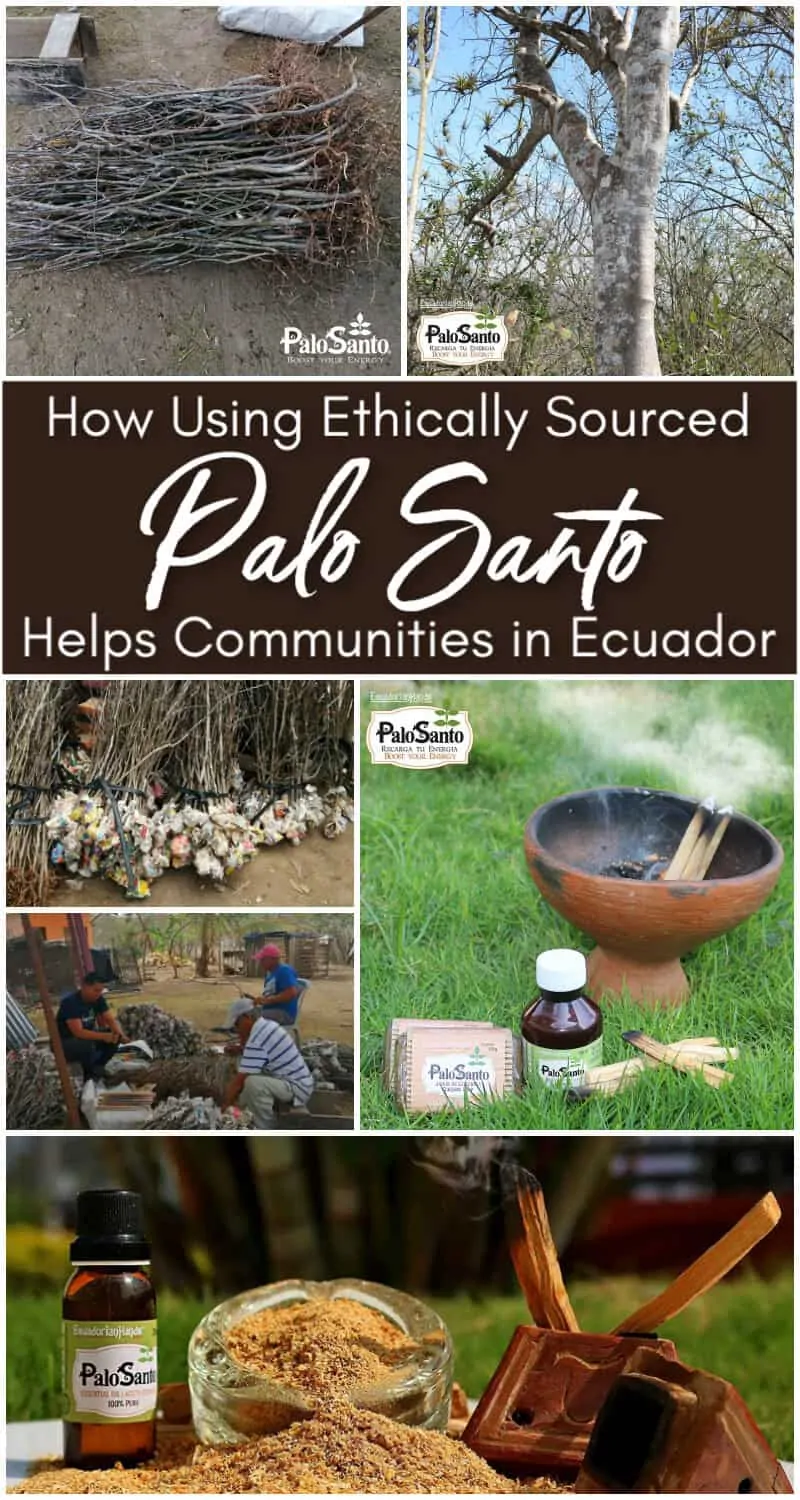 But it is important that you buy authentic palo santo from a company like Ecuadorian Hands that actively participates in the Palo Santo Wood (Bursera Graveolens) Reforestation Program and that never cuts down live trees.
They are working to restore several areas of the Dry-Tropical Forest of Manabi, Ecuador, habitat of this sacred tree. From 2015 to the present date, they have planted more than 10,000 palo santo trees, conducting scientific studies in conjunction with the Technical University of Manabi (UTM), which allows us to learn more about Bursera's Graveolens: the composition of the forest, stored carbon (CO2), monitoring the development of trees, etc. This information will permit us the sustainable use of the palo santo "holy wood".
They are working in 4 scientific articles to be published by the end of 2020. This is one of them:
Influence of the altitudinal gradient on the Composition and structure of "Forest and protective vegetation El Artesan – EcuadorianHands", Joa, Jipijapa
In fact, the desired properties of palo santo sticks and palo santo oil can only come from trees that have died from natural causes and rested on the forest floor for at least several years. The process of natural decomposition produces the desired oily substances on the wood.
Local community members collect naturally dead Palo Santo by picking it up from the forest floor while being careful to not damage the surrounding area or make new paths. I found it fascinating to watch how these craftsmen process the wood and turn it into incense sticks and essential oil.
The Palo Santo wood they are currently using is over 30 years old!
So when you shop with Ecuadorian Hands, you are actually helping support local craftsmen and farmers in the Manabi region of Ecuador.
Ecuadorian Hands has been working for years with the local people of Ecuador to plant Palo Santo trees. Find out more about their work in this protective forest.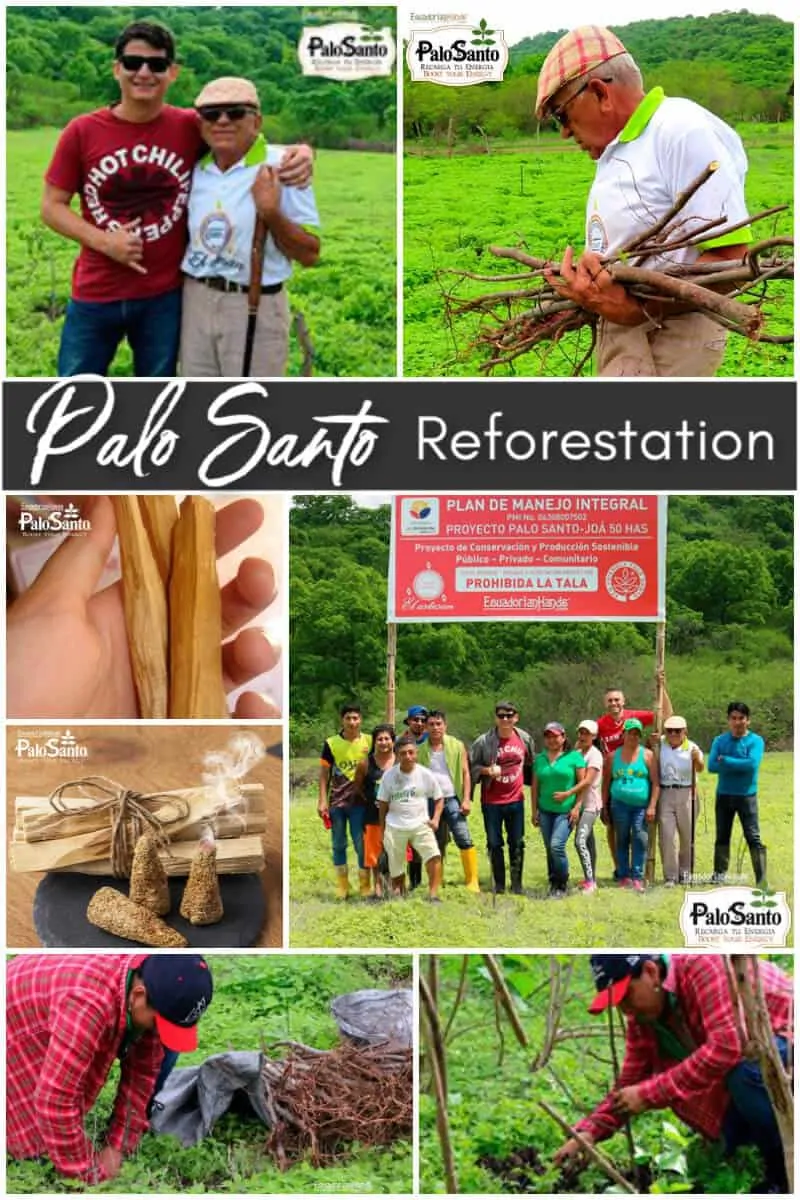 How To Tell If Palo Santo Is Real?
Sadly, some companies make fake palo santo.
The easiest way to ensure you are using authentic palo santo is to purchase it from a safe source that you can trust.
But what if you're at a local shop and you see palo santo sticks for sale?
Or maybe you received palo santo sticks as a gift?
How to know your palo santo is real…
The best way is to scratch with your nail/knife the stick and smell the Palo Santo aroma. The scent should come from the inside of the wood..
Also, Authentic palo santo burns pure white/grayish smoke.
Plus, Real palo santo burns slowly.
Palo Santo Benefits
While natives of South America having been using palo santo in traditional healing and spiritual ceremonies for thousands of years, the rest of us are just recently catching on to the remarkable benefits.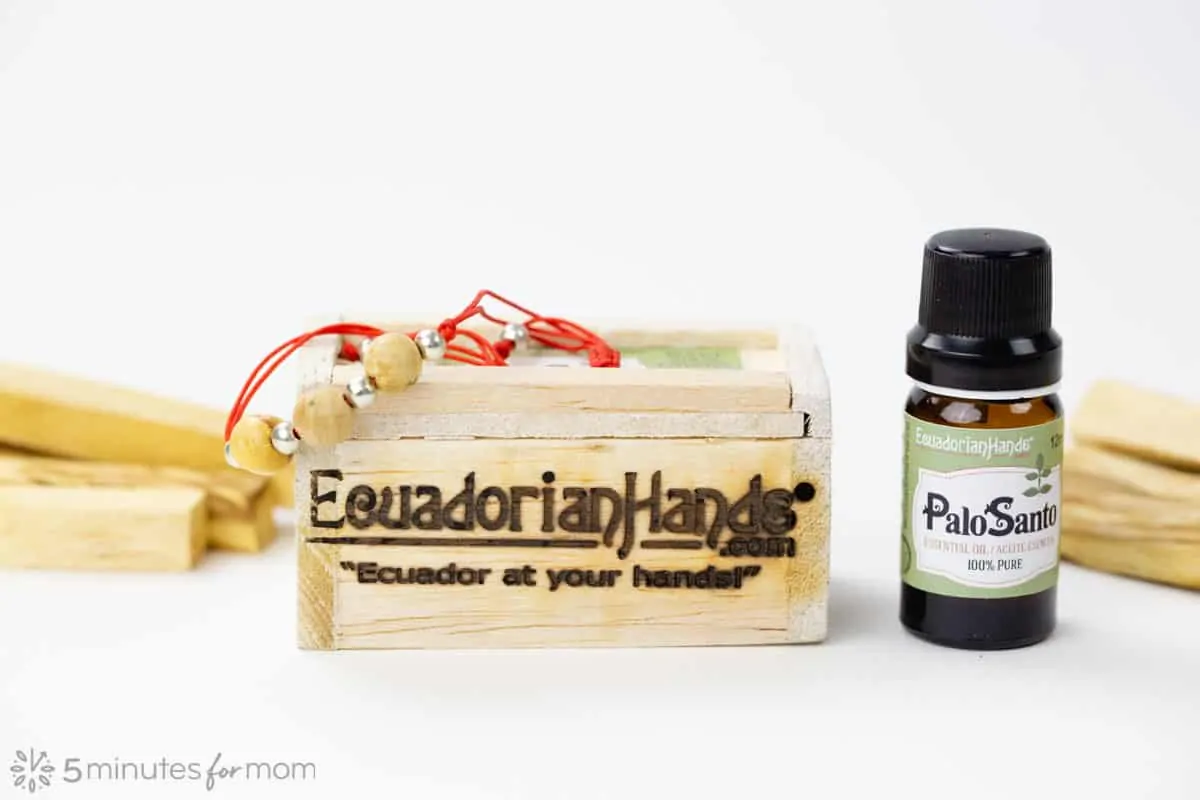 Palo santo that has died naturally and rested on the forest floor for several years is rich in terpenes such as limonene and α-terpineol.
Many of the health benefits come from the limonene that is extracted from the oil of the Palo Santo tree. It belongs to the group of terpenes that act as antioxidants. When the oil is distilled, a higher percentage of limonene is obtained.
Palo Santo translates to "holy wood" and has a deep, rich history of use in spiritual ceremonies. Since it is such a sacred part of South American culture, it is important that we use it respectfully and recognize that it is not just a new fragrance trend.
Some people feel that it has been culturally appropriated.
But I think if we are careful to purchase Palo Santo products made in the communities surrounding the Palo Santo forests, that we can help them continue to thrive and benefit from their sacred trees.
When we order incense sticks, essential oil, soaps, and other products through Ecuadorian Hands, we can enjoy the Palo Santo benefits of aromatherapy and cleansing while at the same time helping the communities in Ecuador continue to make a living using their traditional skills and resources.
How To Use Palo Santo
When the craftsmen process the palo santo tree, all parts are used.
The wood is made into incense sticks and beads.
The sawdust is used for the incense cones and for the exfoliating soap.
The oil extract is used to make essential oils, cream, soap, shampoo and other products.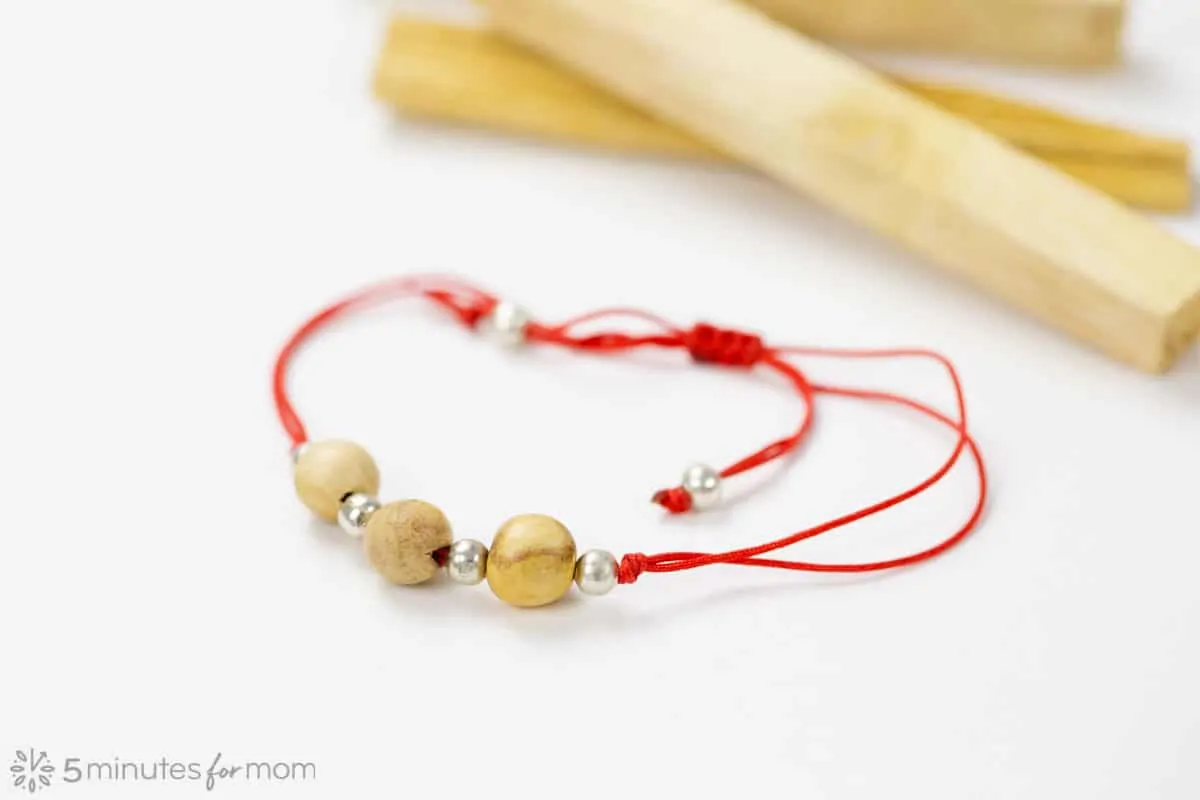 Aromatherapy
One of the main palo santo uses is aromatherapy.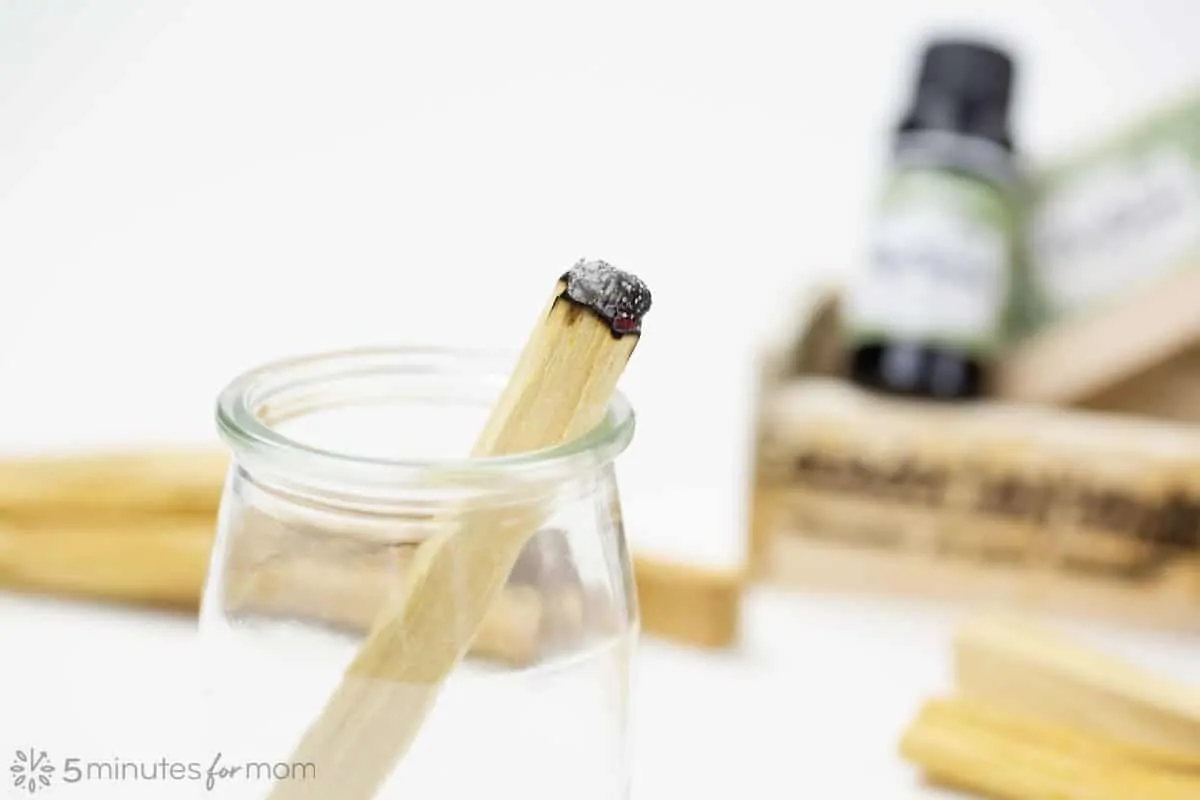 Palo Santo is widely used for meditation and relaxation. The citrus aroma can help you recharge and energize. And it's been known to help ease the pain of headaches and muscle soreness.
You can burn palo santo incense sticks or palo santo cones to release the aroma, or use palo santo essential oil.
My favorite way to enjoy use palo santo for aromatherapy is adding a few drops of the essential oil to a diffuser.
Another way to reap the benefits of palo santo oil is to add a few drops to some vegetable oil or coconut oil and apply directly to your skin on your wrists, chest, or temples. You can also purchase a roll on bottle to make application even easier.
Or simply dilute some palo santo oil with water in a spray bottle and spritz your room or bed linens.

Cleansing
Palo santo can be used in soap for it's cleansing benefits.
The Limonene in palo santo oil is a natural terpene known to be a powerful antioxidant, anti-inflammatory, antibacterial, antifungal and antiseptic agent.
You can use this Palo Santo Glycerin Soap daily. It contains pure essential oil of palo santo, and ground palo santo.

Insect Repellent
A handy benefit of burning palo santo sticks is to keep mosquitoes away.
It's wonderful to have a non-toxic way to repel insects.
Your family and friends will love gathering together on your patio for a lovely scented evening chat without worrying about pesky mosquitoes.
And for insect repellent on the go, you can also spray a combination of a little water and palo santo essential oil on your body or clothes.
Health Benefits You Can Truly Feel Good About
You can feel good about using Palo Santo when you shop with Ecuadorian Hands and consider how you are helping carry forward the precious benefits of these sacred forests and the surrounding communities in Ecuador.
You're going to love the invigorating and energizing power of Palo Santo.
Share With Your Friends
We'd love a tweet or a pin… Thanks so much! 🙂
[Tweet "Palo Santo Benefits and How To Use This 'Holy Wood' Responsibly"]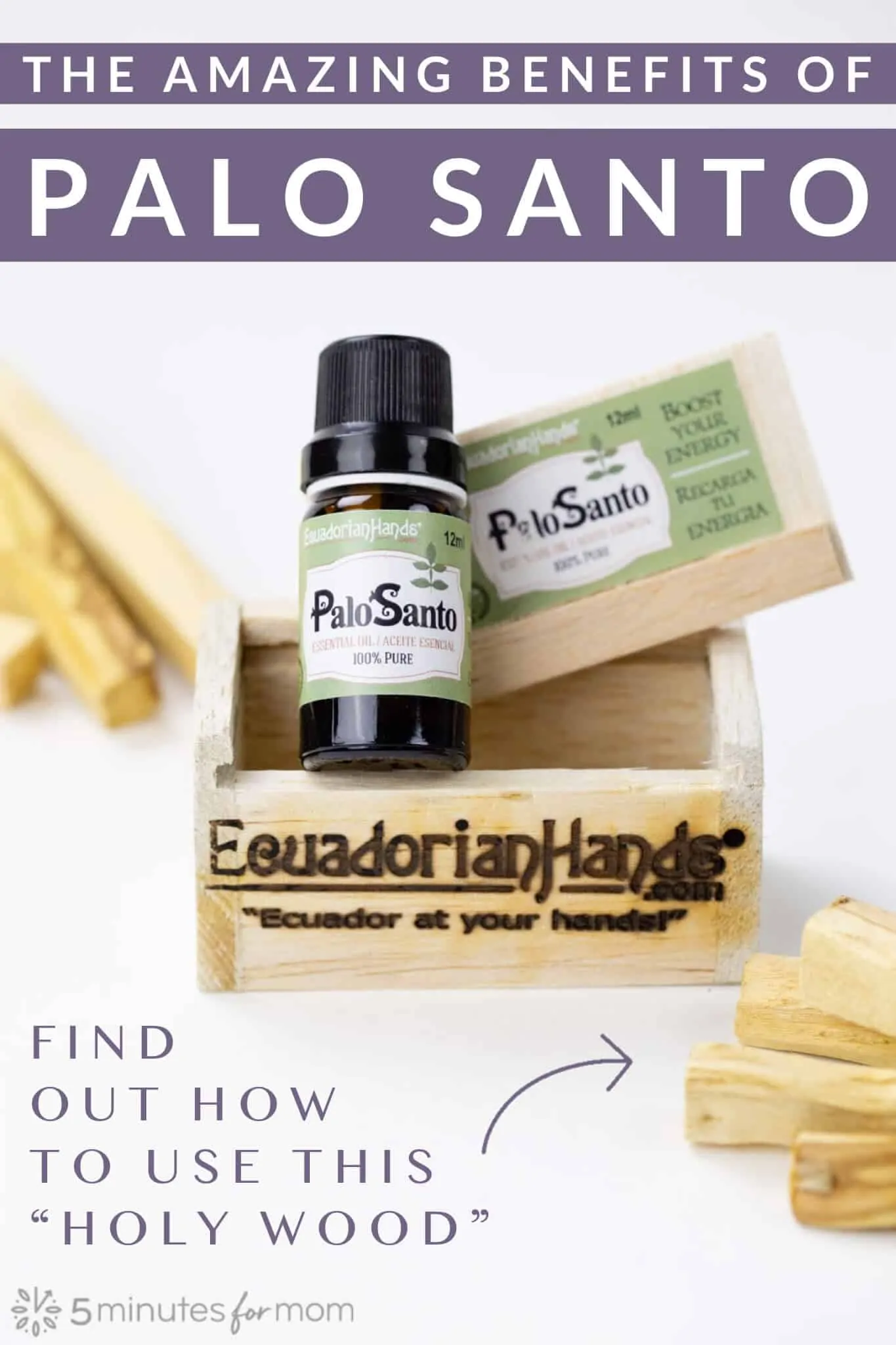 Disclosure: This post is sponsored, so extra thanks for reading and sharing.
Written by Susan Carraretto, co-founder of 5 Minutes for Mom
Talk with me: @5minutesformom and Facebook.com/5minutesformom
Pin with me at pinterest.com/5minutesformom

References