This post may contain affiliate links. Read my disclosure policy here.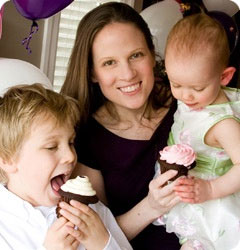 I have been so out of my mind busy lately, I forgot to tell you about my last couple posts over at Guideposts.com.
"A Working Mom's Guilt," is a post I wrote the night before I left for a business trip that included a stop at the Kraft Mom Blogger event. As I shared here at 5 Minutes for Mom when I got home, leaving my kids to travel is incredibly difficult for me.
Here is some of "A Working Mom's Guilt." Click over to read the full article at Guideposts.com.
A Working Mom's Guilt
It's like living in two worlds at once…
It should be simple.
My (almost) two year-old daughter wants me with her all the time. I should be there.
Sure, Olivia has fun even when I am missing. But I know she wants Mommy. Having me next to her seems to make her happiness taste that much sweeter.
She bounces and smiles and shines, as she relays to me everything that is going on, living it all over again in the telling. She seems to adore me almost as much as I adore her.
So, how could I deny my baby girl her constant wish to have Mommy by her side? How could I let a single moment of these fleeting days disappear without her little hand clenching my finger?
Well, it isn't so simple.
As much as I often wish that my realities would wash away and I would be left alone and unrushed, cuddling my kids all day long, that isn't going to happen.
My reality remains. The clock ticks. The bills grow. And I have two children, at very different ages, who want me at their beck and call.
I think every working mother feels the conflict.
I may have the luxury of working from home and having snuggles with my baby sprinkled throughout my day. I may still get to taxi my son to school and sports. But there are still many hours away from them, many times when I have to hand them over and return to my computer or board a plane.
And it hurts.
The guilt piles up—I have a storage room inside me, packed with doubts and questions. But I do roll up my sleeves every so often and head in to sort it all out…
Click here to finish reading at Guideposts.com…
YOUR TURN: What about you??? Do you work in or outside of the home? Do you feel torn between the desire to always be available for your children and the reality that you also have other responsibilities and things you want to do?
Written by Janice.
Remember to sign up for our RSS Feed.