This post may contain affiliate links. Read my disclosure policy here.
A World Away
I am two thousand feet in the air, my laptop bouncing in my lap as the pilot navigates his way to smoother air. We are two hours late leaving Chicago and I am restless, anxious to get home to my kids.
I hate being away from Jackson and Olivia. In fact, you could almost say I have a bit of separation anxiety when I board a plane and leave them behind.
I miss (almost) everything about them when I am gone. I miss hearing about Jackson's day as we snuggle up for our bedtime chat. I miss Olivia's hugs and kisses and her sweet little voice. It tears me up imagining Olivia asking, "Where's Mommy?" and crying for me at bedtime. And worst of all, I worry that something might happen to me as I crisscross the continent.
So why on earth do I do it? Why do I leave my kids to attend Mom Blogger events?
There isn't a clear ROI for a trip like this. So what makes me choose to go?
Well, sometimes I do decline to go on trips. And to tell you the truth, this time I almost said "no" as well. But I didn't. What made me come?
The quick answer is, "Rachel." The longer answer is, "Relationships."
When I received the invite to the Kraft event, I immediately dismissed the idea. "I can't leave my kids again so soon after BlogHer. I have been traveling too much."
But I didn't reply right away — partly because I am a people pleaser and I have a terrible time saying "no" and partly because I was so busy I just hadn't had the time to write the email.
So when fellow mom blogger and friend, Rachel, mentioned to me one night as we chatted on Skype that she was going to Chicago for the event, I laughed to her, "Okay then, maybe I will go so I can see you."

Then, after a bit of thought, I decided I actually would go — seeing Rachel and spending time building relationships with the other bloggers at the event and with the people at Kraft and Edelman is important. I love building friendships! (And really, I know that my kids are well looked after when I am gone — I think it even gives them a good opportunity to deepen their bond with their Daddy.)
I figured out a way to combine the trip with a meeting I had in Orlando and wrote Rachel to tell her the good news. We were both as giddy as girls get.

And I wasn't disappointed. As I sit crammed in my seat, weary from an eighteen hour day, counting down the seconds till I can creep into my kids' rooms and kiss their cheeks as they sleep, I am so grateful for the last 36 hours.
The People
I met incredible women whom I hadn't yet come across in the blogosphere and I deepened friendships with dear bloggy friends.
The seven other bloggers with me were Kim Becker from Mommy Knows, Sandy Coughlin from Reluctant Entertainer, Silvia Martinez from Mama Latina Tips, Rachel Matthews from A Southern Fairytale, Dawn Meehan from Because I Said So, Elizabeth Thielke from Busy Mom, and Liz Thompson from This Full House.
And I got to have a wonderful time experiencing the people behind Kraft. Yes — the people!
It is incredible what can be accomplished through communication, understanding and relationship building. Having the chance to delve into each others' worlds is priceless.

Whether it is an executive curious about social media, trying to understand the relevance of tweeting, or a mom blogger touring Corporate America and learning about the process behind a product, an opportunity for people to meet together and share their perspectives is a huge return on investment for everyone involved.
Learning about Kraft
Kraft impressed me on many levels.
I was happy (and relieved!) to see their commitment to developing healthier products. (My kids and I love the Back to Nature granola cookies I bought at the Kraft store!) And I appreciated that they wanted to hear our feedback about what we want to see from companies.
Kraft also has a fantastic interactive website, www.kraftfoods.com.


They have a thriving community where vistors can interact on message boards, provide feedback and share recipes. And don't miss the Cooking School, where you can watch How To Videos, follow Step by Step Recipes, and more. There is a wealth of information over there!
As we experienced first hand in their test kitchens, Kraft is committed to providing consumers with an extensive and constantly evolving recipe collection. The ideas are limitless and from the recipes I tasted, they will have your entire family gushing over your cooking!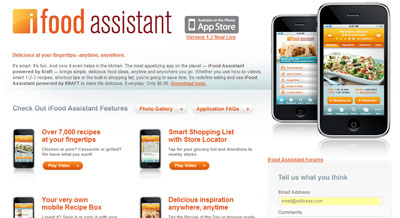 Perhaps most exciting is their fabulous new iPhone app, iFood Assistant where you can find recipes, make instant shopping lists for any recipe you select, cook along with how-to videos, locate the nearest grocery store, and more. It is brilliant!
Throughout our trip, I was amazed at Kraft's willingness to reach out and interact with the "momosphere."
Even Kraft's CEO, Irene Rosenfeld, came and spent time visiting with us! She was gracious and genuinely interested in our work online.
To have Kraft's CEO make time to meet a group of mom bloggers spoke clearly about Kraft's desire to reach out to, engage with, and better understand their consumers.
And finally, I was blown way by how many products fall under the Kraft umbrella.
Seriously — I have countless Kraft products in my home! (And since I am Canadian, I have Kraft peanut butter and an incredible cookie line that you all don't have. You poor things down in the US apparently don't get to indulge in Kraft peanut butter — which I must say, rocks! I am usually coveting the US products, so on this one, I will grab my spoon, dig into my peanut butter and smile that I am Canadian. And, yes Rachel, I will send you Lemon Coconut cookie care packages.)
The ROI
Networking is a critical part of developing an online presence. I can't understate the importance of networking and community.
But the relationships I build go beyond what I gain for my business.
My online friendships are precious to me — not to mention, fun! And the experiences I have, the things I learn, and the people I meet enrich my life.
I am on this planet to experience, learn, and share. Having the chance to travel, meet new people, and have experiences I would never have otherwise, adds to my life.
Choosing to go on a trip without my kids will probably always be a hard call for me. And I will continue to turn down trips because I can't do them all.
But for trips I am able to go on, like this Kraft Mom Blogger event, the ROI is in the relationships — and it was a great return!
Thanks so much Kraft — you were wonderful hosts and I thoroughly enjoyed my time with you!

Photos included in this post were provided by Todd Rosenberg Photography, for Kraft. Thank you Todd!
FYI: I was invited to take part in the Kraft Foods blogger tour of the Kraft Kitchens. My travel and accommodations were provided; however, my opinions are entirely my own and I have not been paid to publish positive comments.