This post may contain affiliate links. Read my disclosure policy here.
Watch how to make a cloth face mask. Use this DIY face mask pattern and video tutorial to make homemade masks for yourself, your family and friends, or to donate. You can download free 4 face mask pattern sizes including an adult size and 3 child sizes to make a diy face mask for kids.
Watch this video to see how to make your own face mask…
Keep reading for step-by-step directions for how to make a cloth face mask. If you want to skip right to the printable face mask pattern, here you go…
If the Small Child Size Face Mask is still too big for a child, you can download our Extra Small Child Size Pattern or our Extra-Extra Small Child Size Pattern. But please remember that face masks should not be worn by children under 2 years of age.
UPDATE: Be sure to also check out our most latest and most popular fitted face mask pattern. You can download the free pattern in 9 sizes.
The Face Mask Crisis
As you know, we have a disastrous shortage of face masks and personal protective equipment (PPE) in North America and Europe.
Because of the shortage, we have all been told NOT to purchase face masks and that face masks would NOT help prevent the spread of germs.
But the head of the Chinese Centre for Disease Control and Prevention has said "The big mistake in the US and Europe, in my opinion, is that people aren't wearing masks."
"This virus is transmitted by droplets and close contact," he said. "Droplets play a very important role – you've got to wear a mask, because when you speak, there are always droplets coming out of your mouth…

Many people have asymptomatic or presymptomatic infections, if they are wearing face masks, it can prevent droplets that carry the virus from escaping and infecting others."
This article on ScienceMag.org explains that, "The shortage has inspired do-it-yourself movements in many countries to produce cloth masks—which CDC acknowledges can be a last resort for health care workers lacking other protection."
Even a recent headline from the Washington Post declares, "Simple DIY masks could help flatten the curve. We should all wear them in public."
Our government officials have told us that except for healthcare workers, only sick people need to wear face masks to prevent them spreading germs.
But many people who have the virus, do not even know they are spreading it. So if more of us wear some type of mask, common sense tells us that it could help reduce the amount of germs spreading.
But Individuals Cannot Buy Face Masks
Since there aren't even enough surgical face masks and N95 masks for healthcare workers, the rest of the population obviously cannot buy them.
The only other option at this time is to make your own face masks.
A cloth face mask is better than nothing.
Makers Making Masks
Have you heard the news? Crafters all over the world are grabbing their cotton stashes and parking themselves in front of their sewing machines in a global effort to help protect one another.
While hospitals scramble to secure the personal protective equipment (PPE) they need for their healthcare workers, governments warn the public not to purchase the valuable N95 masks that doctors and nurses require.
Companies are working day and night to manufacture more medical supplies for our front line workers, but the needs are urgent and vast.
In addition to healthcare workers, there are many other essential workers, such as grocery store employees, who are putting themselves at risk every day and could benefit from the protection of a face mask.
So those of us with sewing machines have answered the call to make fabric masks that can help protect not only our friends and family but also to donate to hospitals and essential businesses who must keep working despite the risks and the mask shortage.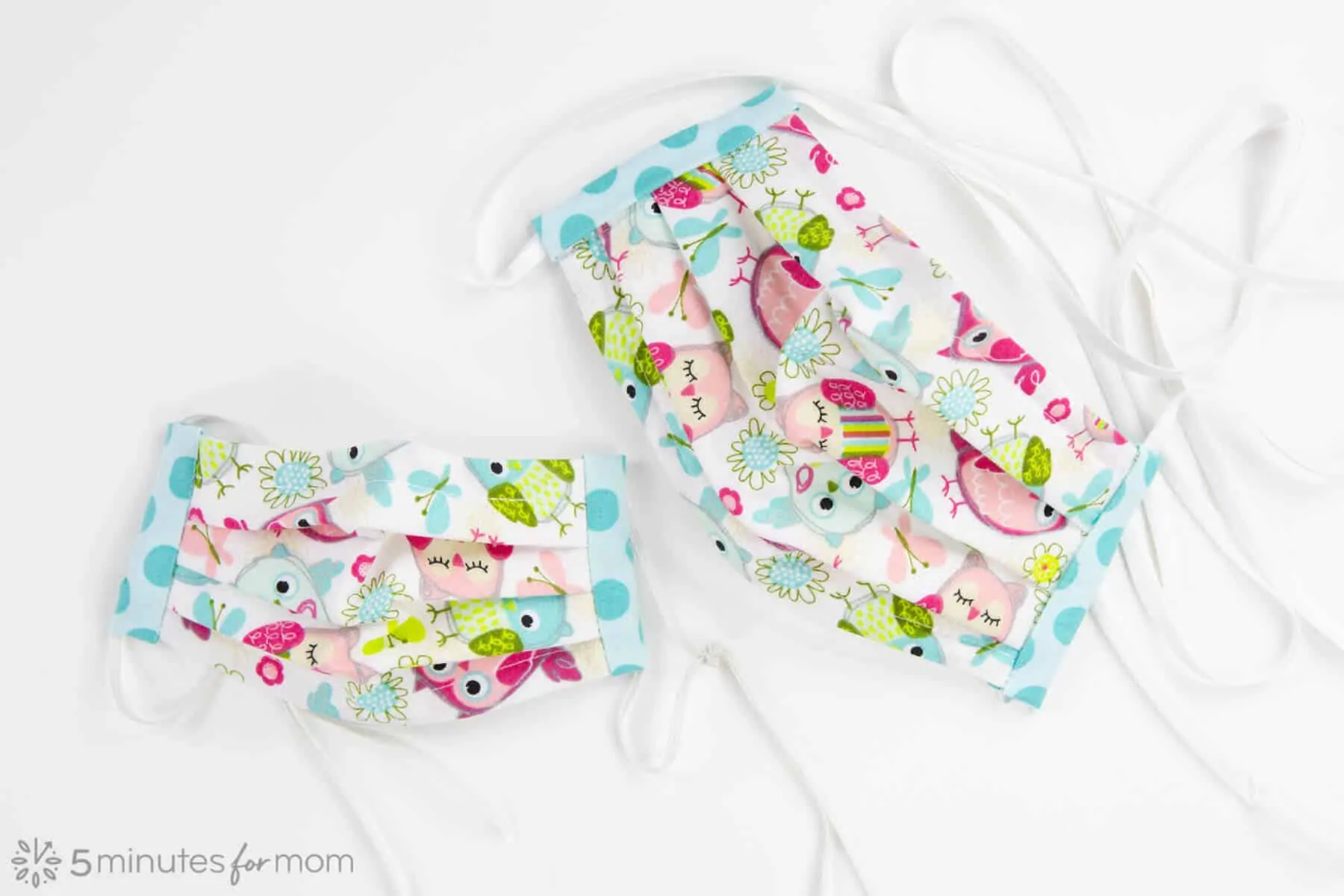 My friend is a social worker in a local hospital and they simply don't have enough N95 masks for everyone to wear them, all the time. The masks must be rationed and reserved for the medical staff who are in direct contact with COVID-19 patients.
When I asked her if she wanted me to make her some masks, she was thrilled.
Yes, they are only fabric masks and not N95 masks. But studies have shown, that any mask is better than no mask!

Homemade Face Masks Are The Last Resort
These homemade face masks are made in the style of a surgical mask. That means that they are not sealed around the face. Air can come through the sides.
But as the scientists and medical community have explained to us, COVID-19 is spread through tiny water droplets that people shed when they cough, sneeze, and sometimes even breathe.
Doctors have told us to cough or sneeze into our elbows, or ideally a tissue and that we immediately throw away, and then wash our hands.
Cloth face masks may help people to stop touching their face as much.
We are not to touch our faces and especially not our mouths, noses, and eyes.
I don't know about you, but I touch my face a zillion times a day.
When I am wearing a mask, I not only can't reach my mouth, but it helps remind me of the new, germ-conscious world we are not living in.
So, it is a simple decision for me. When I have to leave the house, I wear a mask. And if any of my family members gets sick, we will be wearing our masks when in close contact with one another. I think these DIY face mask for kids are a great way to keep kids from touching their faces.
Do Cloth Face Masks Work?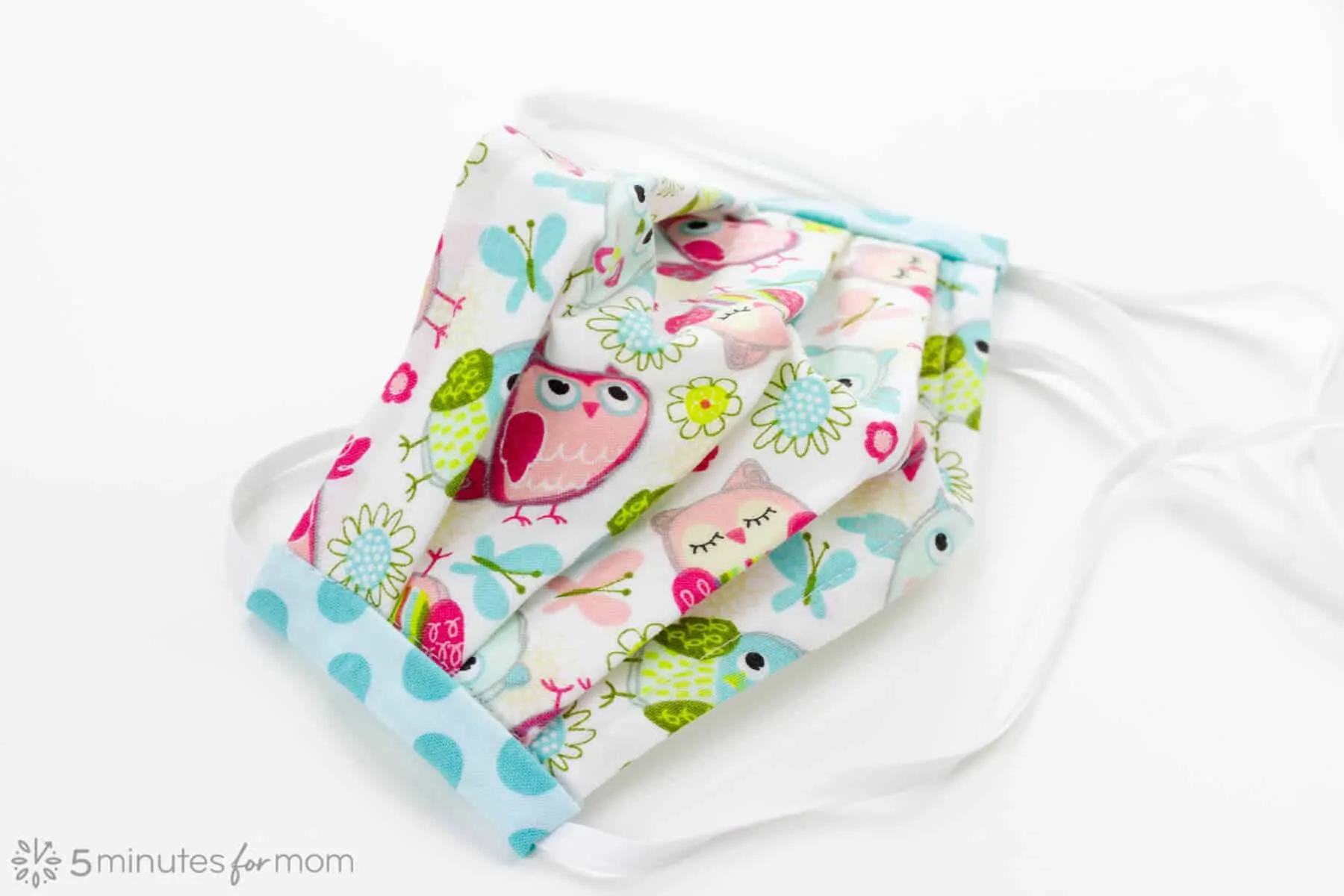 While cloth face masks cannot replace N95-certified respirator masks, which catch more than 95 percent of particulates, test data shows that cloth masks made with cotton materials filter out approximately 50 percent of 0.2 micron particles.
Of course, all healthcare workers, as well as anyone who could be potentially exposed to COVID-19, should be wearing PPE including N95 masks.
Sadly, there are not enough N95 and surgical masks for healthcare workers and certainly not enough masks for everyone else.
As this NY Times article states, "some doctors are wearing the homemade fabrics over surgical or N95 masks, trying to prolong the coveted masks' limited life spans. Other masks are being handed out at health clinics and nursing homes."
Many crafters are sewing DIY face masks and donating them to hospitals, clinics, nursing homes. You could even donate them to front line workers in grocery stores and other places where workers must interact with the public.
But another important reason to make your own face masks is to help protect yourself and your family.
Use Homemade Face Masks For Sick Family Members
If a family member becomes sick in your home, using cloth face masks can help somewhat in helping you try to contain the spread. Again, having your infected family member where a surgical mask, would be better. But since you likely do not have any N95 masks or surgical masks, you may want to have cloth face masks to provide some barrier.
The CDC says "the role of facemasks is to prevent contamination of the surrounding area when a person coughs or sneezes. Patients with confirmed or suspected COVID-19 should wear a facemask until they are isolated in a hospital or at home."
Most people in the US and Canada do NOT have access to surgical face masks when they get infected with COVID-19 and start to feel symptoms. And most people are not able to even get tested for the virus. So they need to isolate and assume they are sick. Therefore, when family members need to be in contact with each other, they should wear face masks.
As more people are exposed, the chance of having a family member becoming sick is growing exponentially. So now is the time to make your own face masks for yourself and your family members.

How To Make A Cloth Face Mask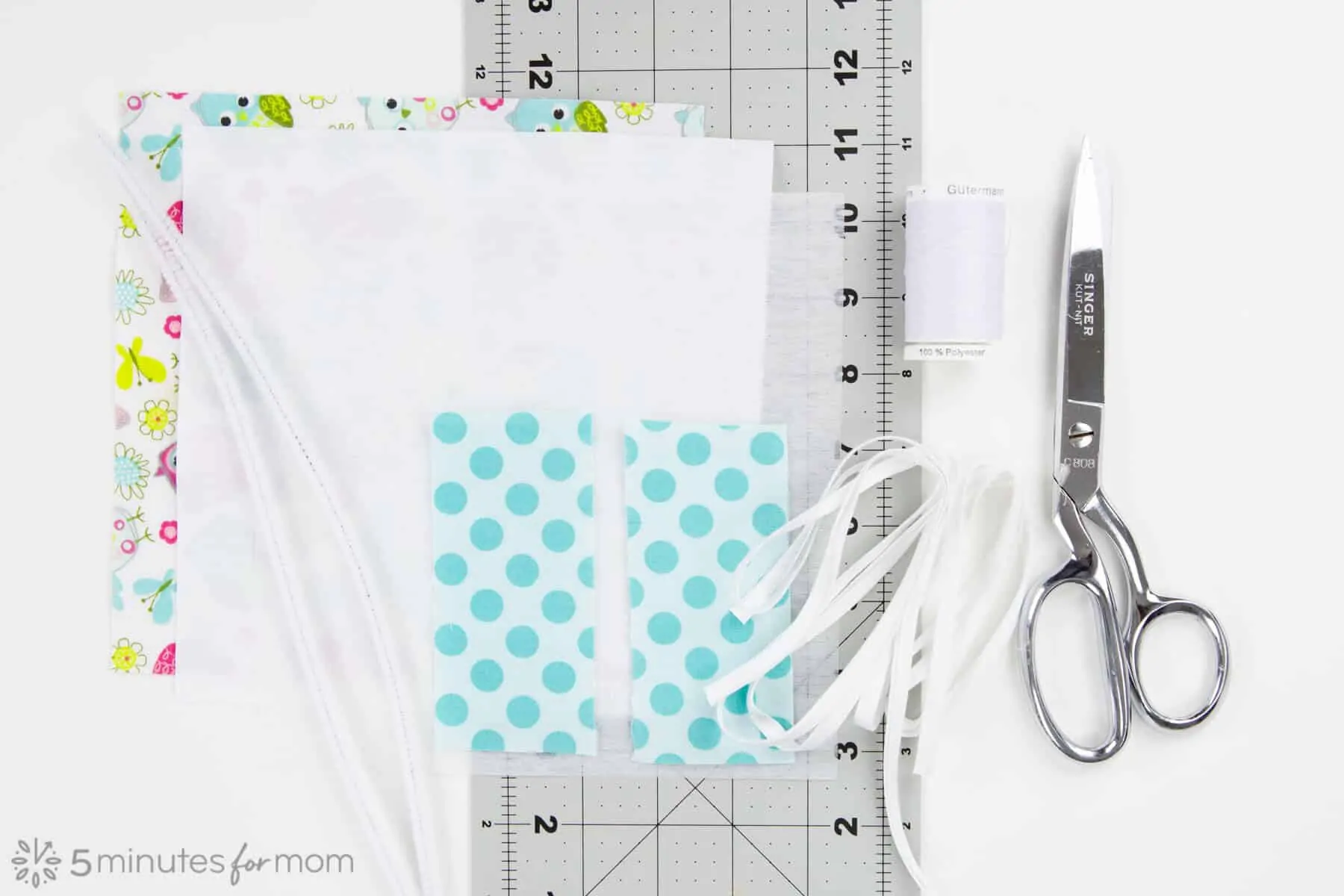 DIY Face Mask Supplies
Woven Cotton Fabric 8×8″- for front
Woven Cotton Fabric 8×8″- for back
Interfacing 8×8"- optional for added filtration
Woven Cotton Fabric 2×4½" x 2
1/4" Bias Strips 34″ x 2 (OR two 3/4″ Knit Fabric Strips 34" long OR two elastic pieces 10″ long for around ears OR one long elastic piece of 25″ for around the head)
Pipe cleaners or wire x 2 or aluminum face mask nose pieces
Thread
Scissors
Notes About Making Face Masks
For these masks, we used non-woven, sew-in, lightweight interfacing. This does not guarantee filtration, it is just an option that we tried. This mask is NOT a replacement for N95. You do not need to add this layer. You can make a mask with just the two layers of woven cotton.
Free Printable Face Mask Patterns in Multiple Sizes
Below you'll find printable pdf files with face mask pattern instructions and four sizes of patterns: Adult, Small Child, Regular Child, and Large Child. (Update, we've also added patterns for two even smaller child sizes.)
For an ADULT SIZE mask, use fabric squares that are 8×8 inches.
Download ADULT Size Face Mask PDF Pattern here…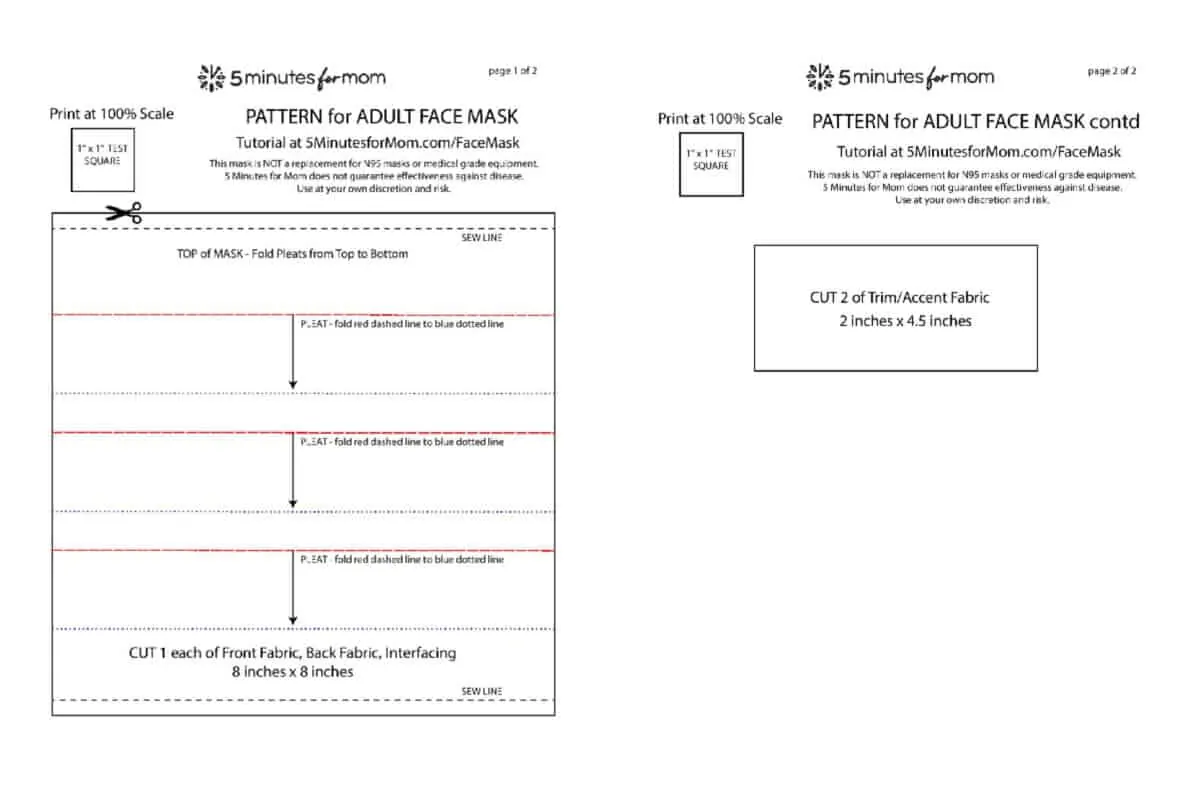 For a SMALL CHILD SIZE mask, to fit children approximately 2-4 years old, use fabric squares that are 6½x6½ inches.
Download SMALL Child Size Face Mask PDF Pattern here…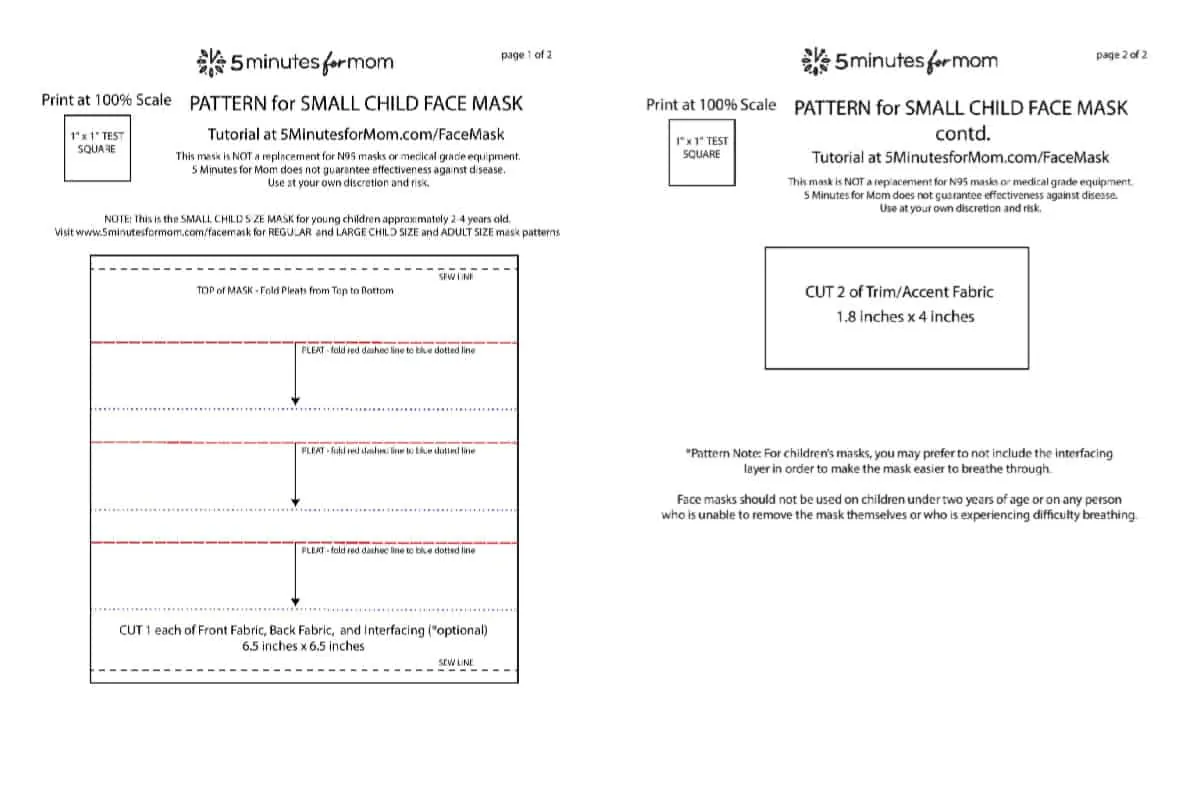 Update: If this Small Child Size Face Mask is still too big for a child, you can try our Extra Small Child Size Pattern or Extra-Extra Small Child Size Pattern. Keep in mind that face masks should only be worn by children over 2 years old. For safety, a person must be able to remove their own mask.
For a REGULAR CHILD SIZE mask, to fit children approximately 4-9 years old, use fabric squares that are 7×7 inches.
Download REGULAR Child Size Face Mask PDF Pattern here…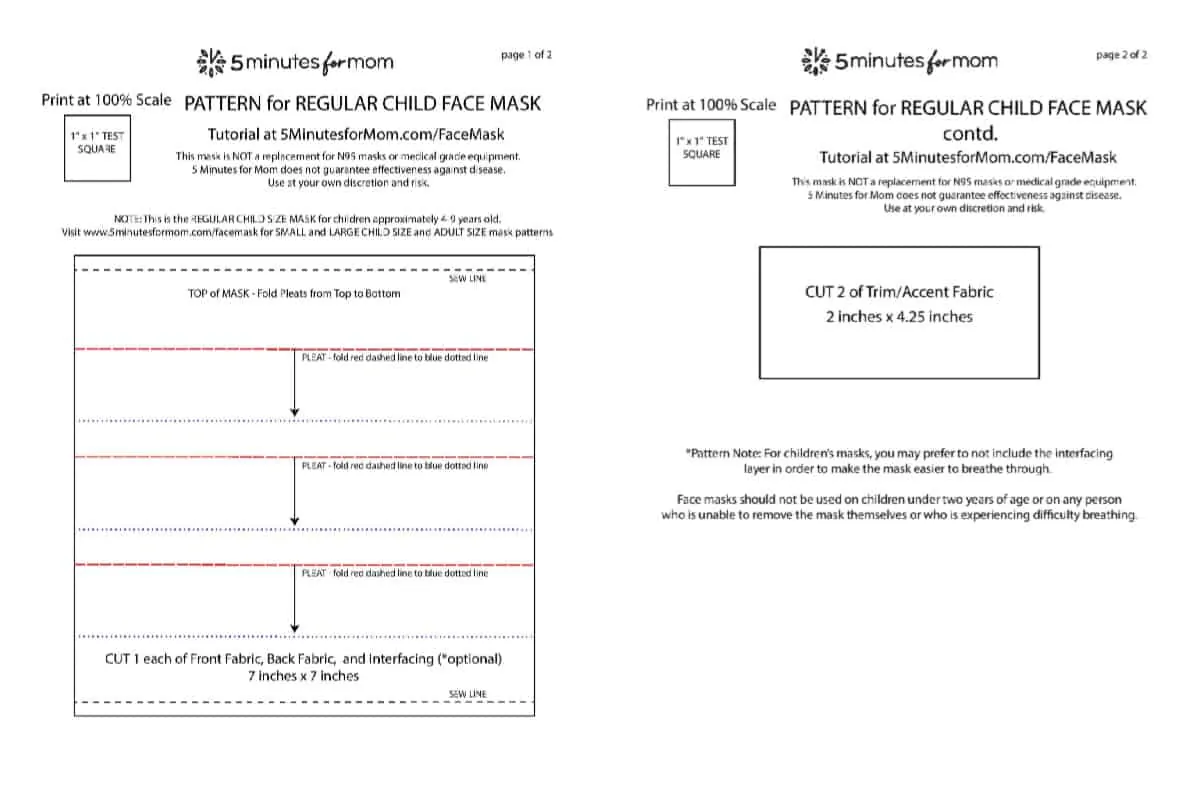 For a LARGE CHILD SIZE mask, to fit children 10-12 years old, or teens with a small face, you can make a mask with squares that are 7½x7½ inches.
Download LARGE Child Size Face Mask PDF Pattern here…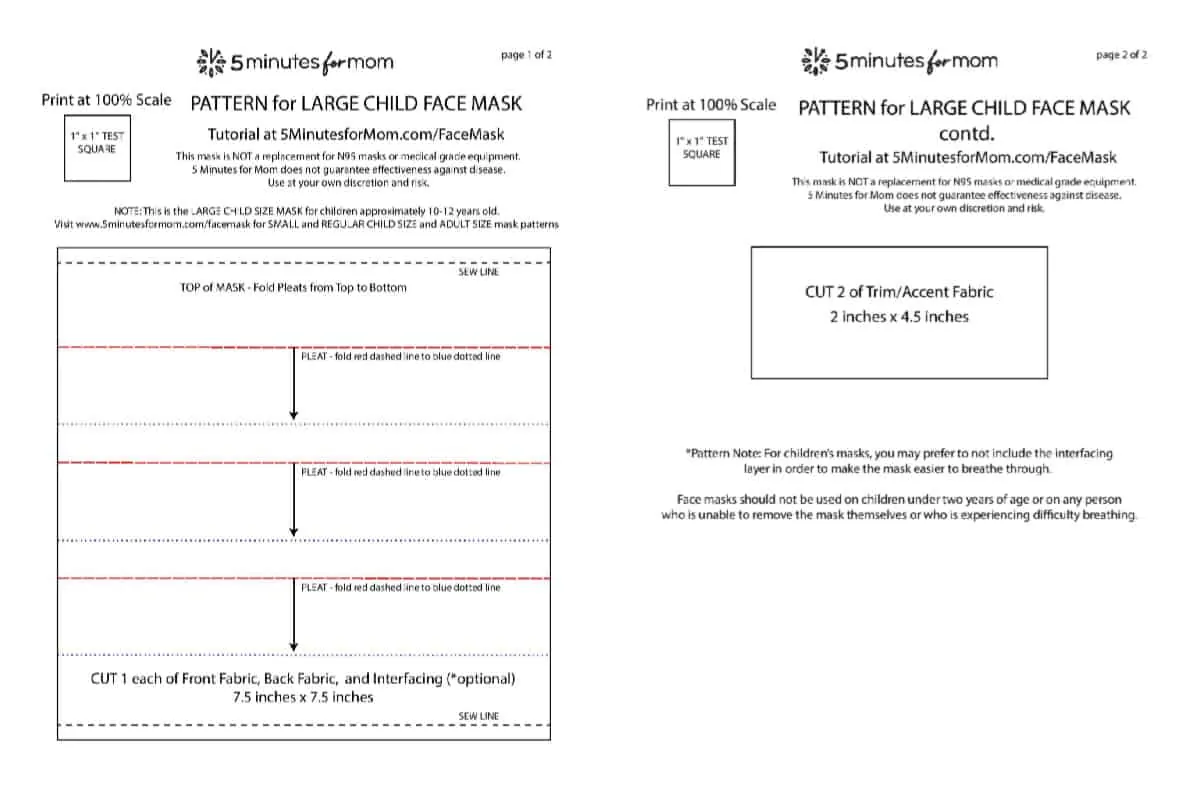 Tips For Making The Face Mask Ties
You can use bias strips or knit fabric strips for the mask ties or 1/4" or 1/8" elastic for ties that either go around the ears or around the head/neck. If using elastic for around the ears, I cut mine about 10 inches and knot them. This allows the wearer to adjust the fit.
Right now elastic is sold out in many stores due to the current demand. But don't worry… I have found that making the easiest fabric straps from old t-shirts or leggings results in the most comfortable face masks.
Check out our video tutorial and instructions to see how you can easily make ties for face masks using knit fabric from old clothes.
DIY Nose Pieces for Face Masks
UPDATE: These days you can buy inexpensive aluminum face mask nose pieces on Amazon. You can buy a pack of 100 nose pieces for under $8. You can also use those nose pieces to improve the fit of disposable masks.
I have made these face masks with pipe cleaner to allow the mask to be pressed and molded to fit snugly around the nose.
Instead of pipe cleaners, you can use twist ties, crafting wire, garden wire, floral wire, etc.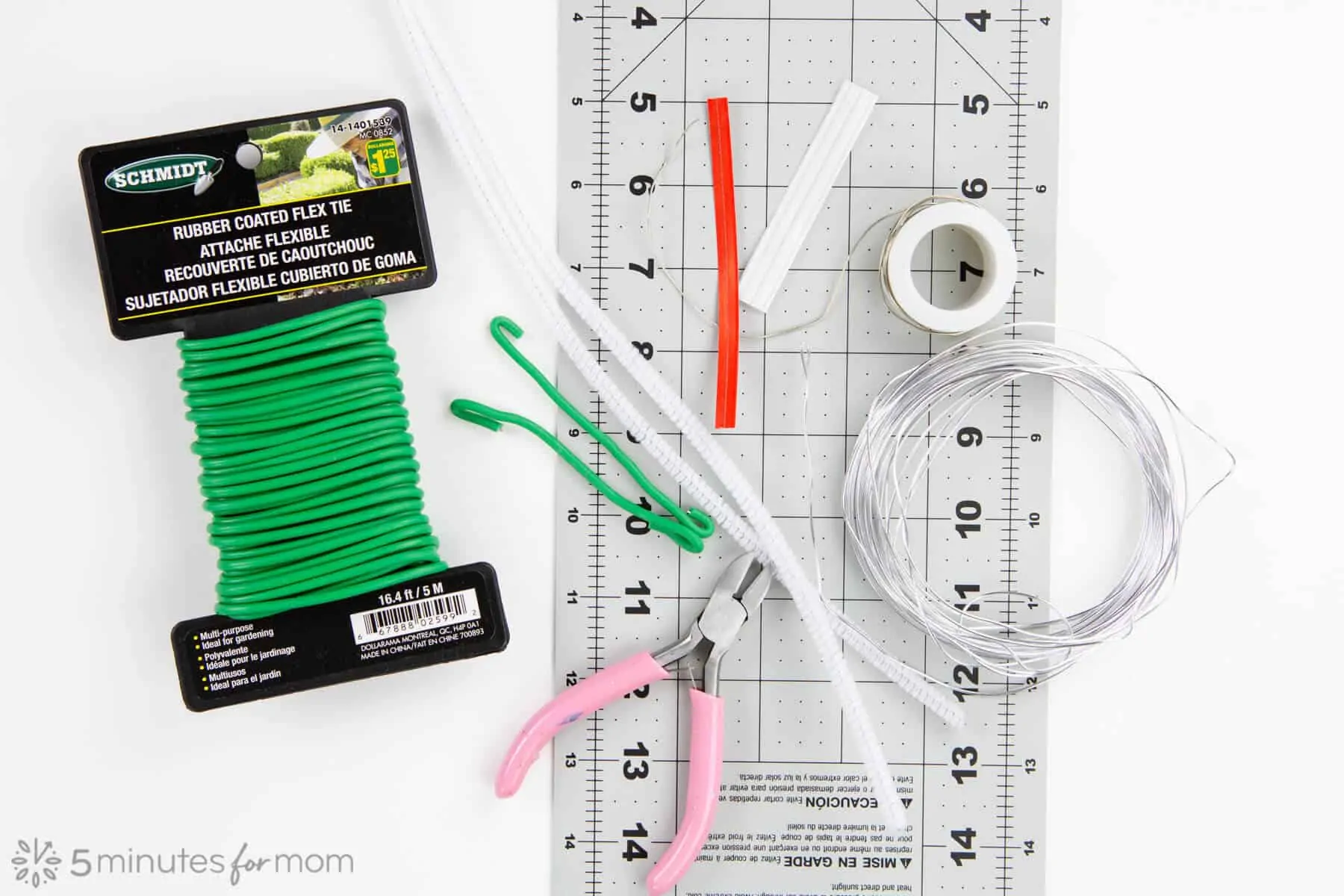 If using pipe cleaners, you can also reinforce the pipe cleaner on the nose bridge area with crafting wire.
Hint: You can usually find pipe cleaners in the craft section of your local dollar store.

DIY Face Mask Instructions
Stack fabric, placing the interfacing down first.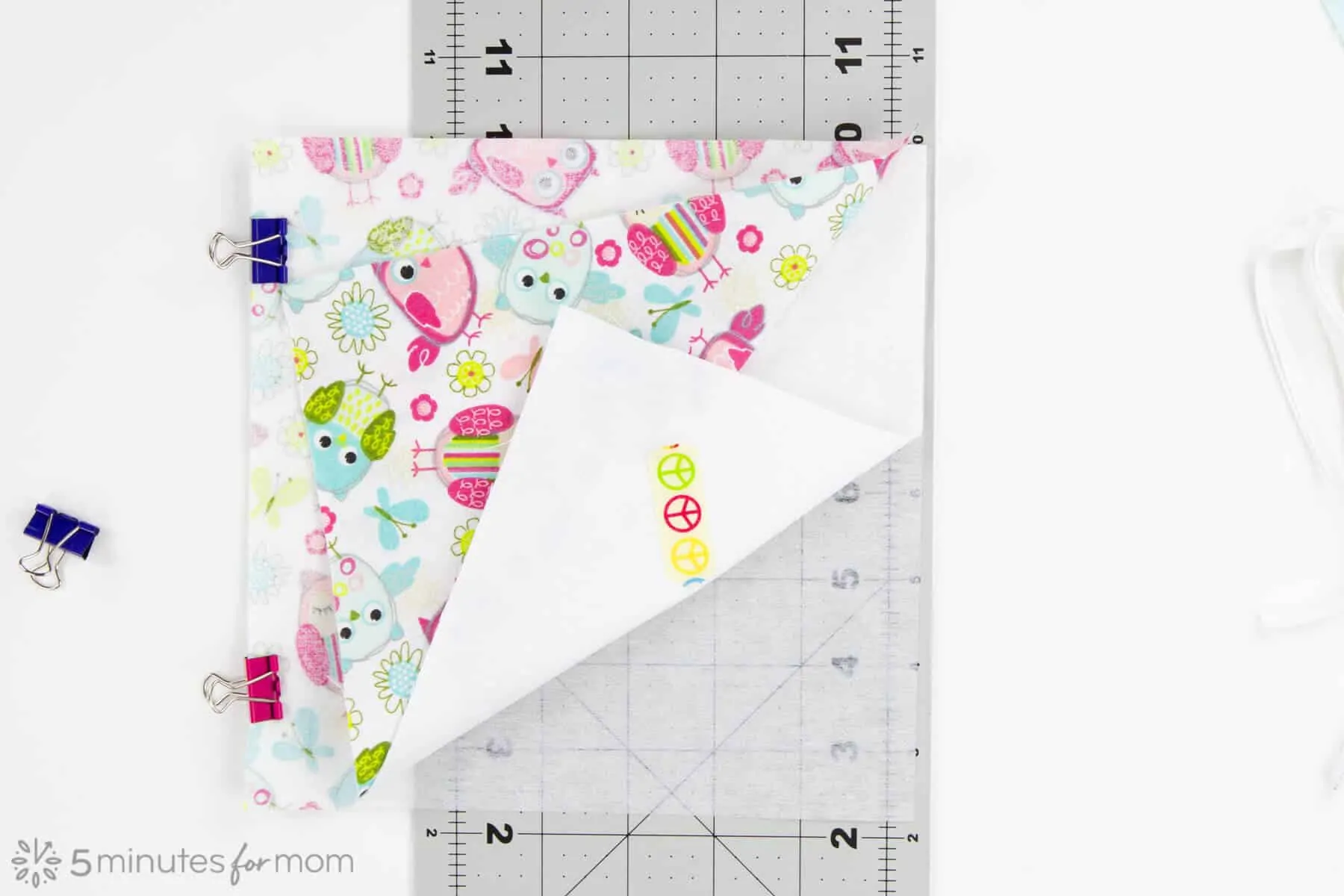 Then place the back fabric RIGHT SIDE UP.
Next place the front fabric RIGHT SIDE DOWN.
Pin or clip the three squares of fabric together. Sew the pieces together with stitching along the top and the bottom with a 1/4" seam allowance.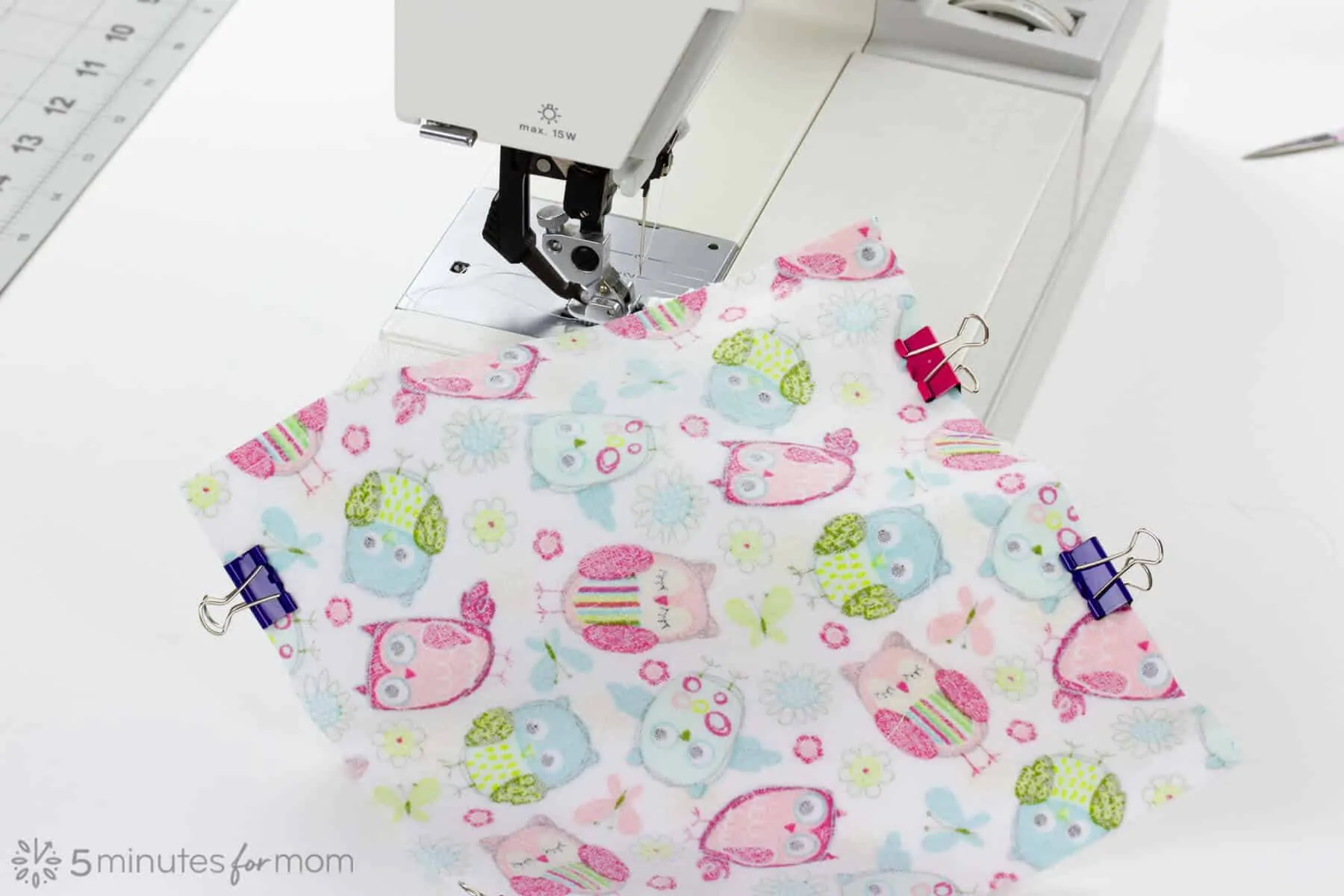 After stitching, turn right side out.
The interfacing should be sandwiched inside.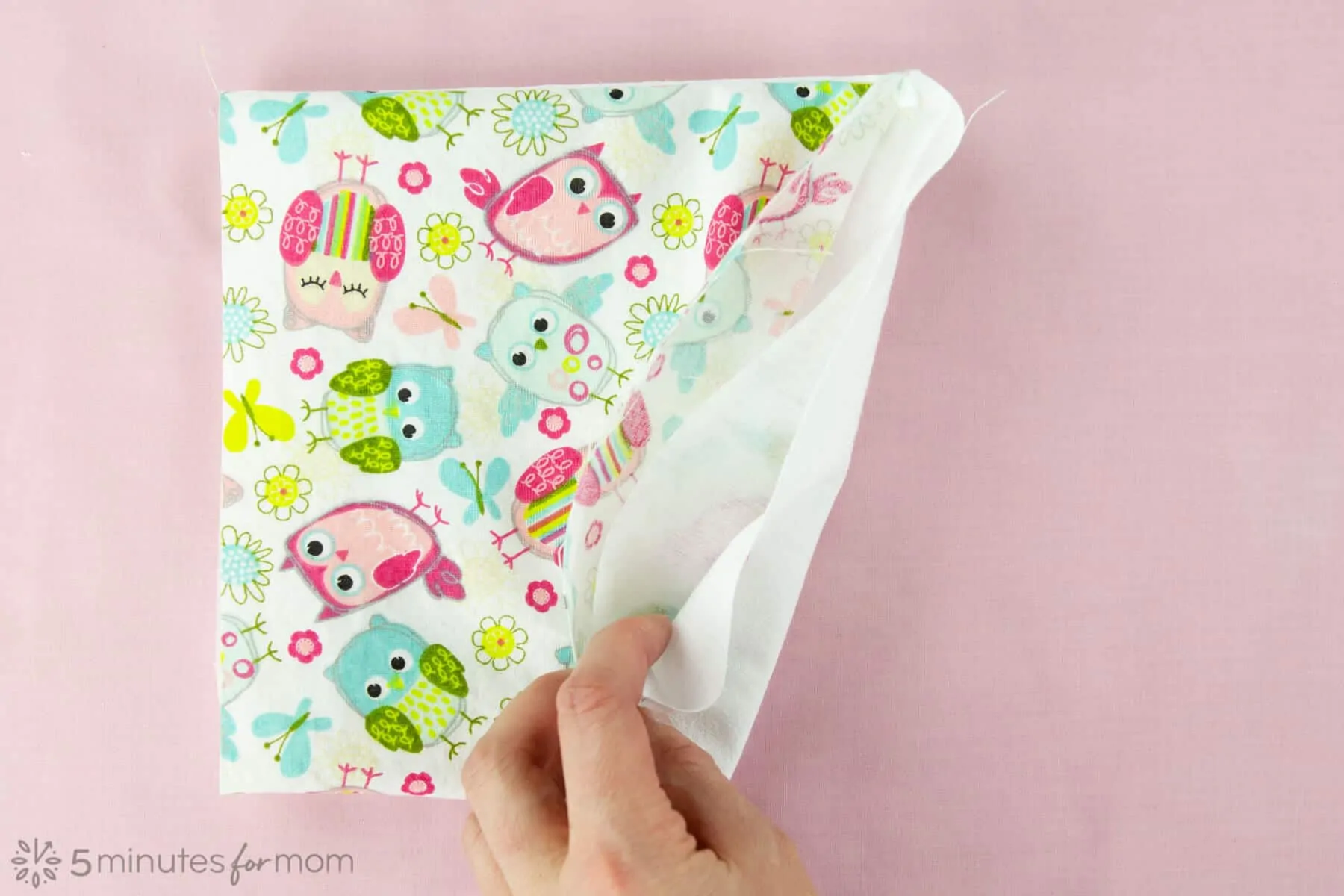 The wrong sides of the front and back fabric should be facing inside and the right sides should be facing out.
Press the seams.
Place pipe cleaners along seams, between interfacing and back fabric.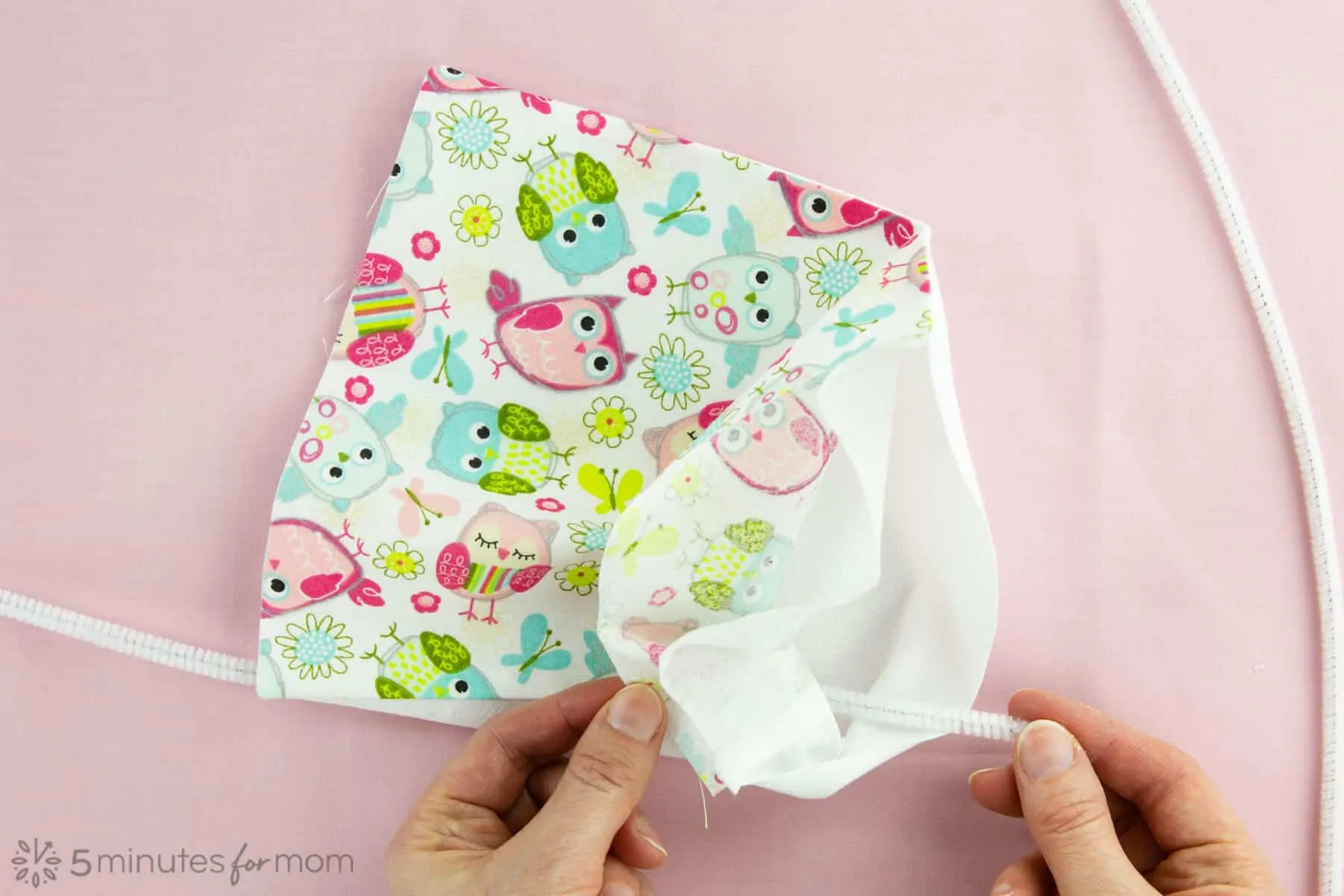 The pipe cleaner along the bottom seam helps to create a tighter fit, but you do not need to use a pipe cleaner along the bottom seam. It is optional.
If you are using wire for the top of the mask in the nose bridge area instead of pipe cleaners, slide the wire into place and clip in place.
If you want to reinforce the pipe cleaners around the nose, you can add a few inches of craft wire or a twist tie to the nose area in addition to the pipe cleaners.
You will probably need to use clips to keep the fabric and the pipe cleaners in place.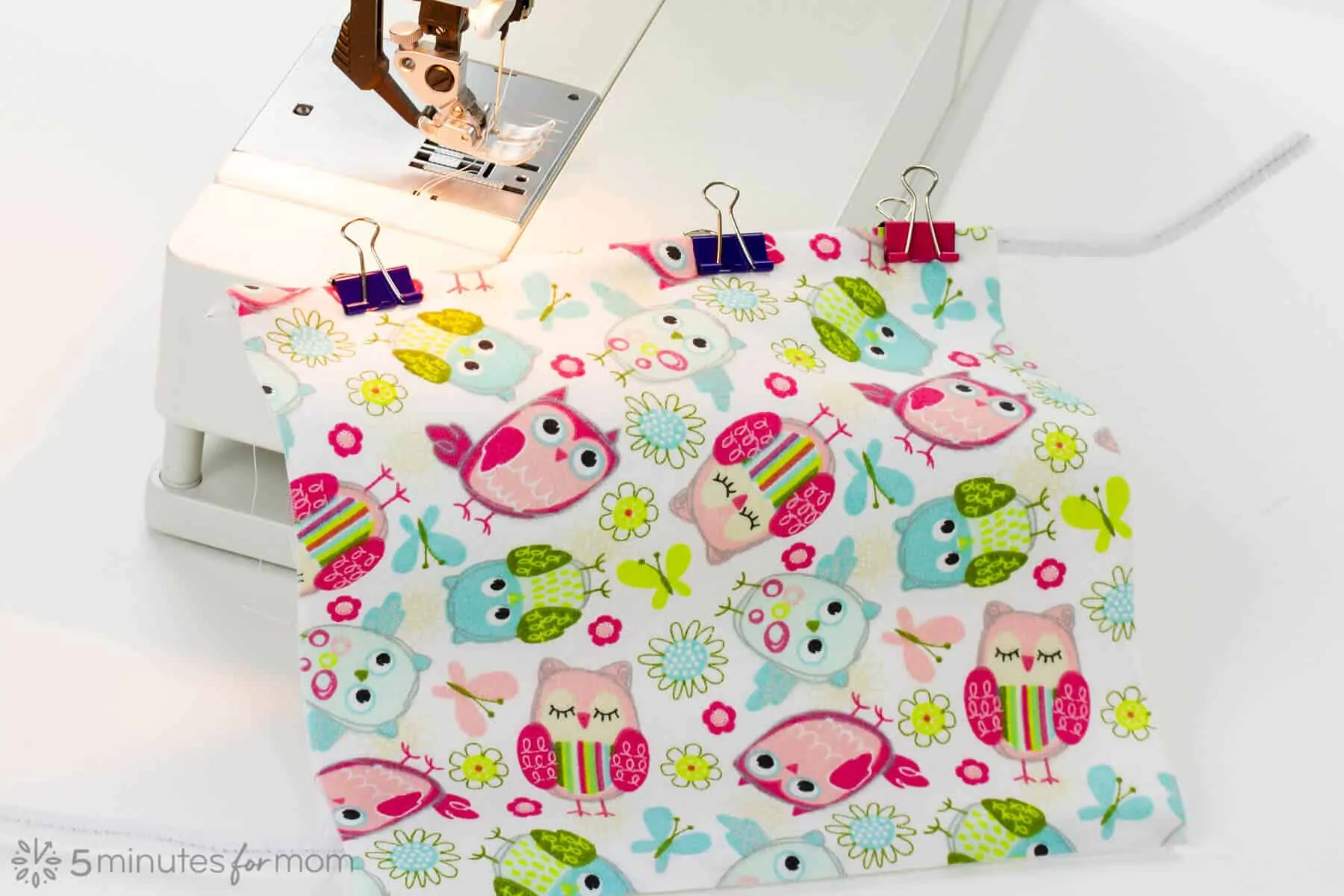 Stitch pipe cleaners in place, sewing 1/2" from edge, on top and bottom seams.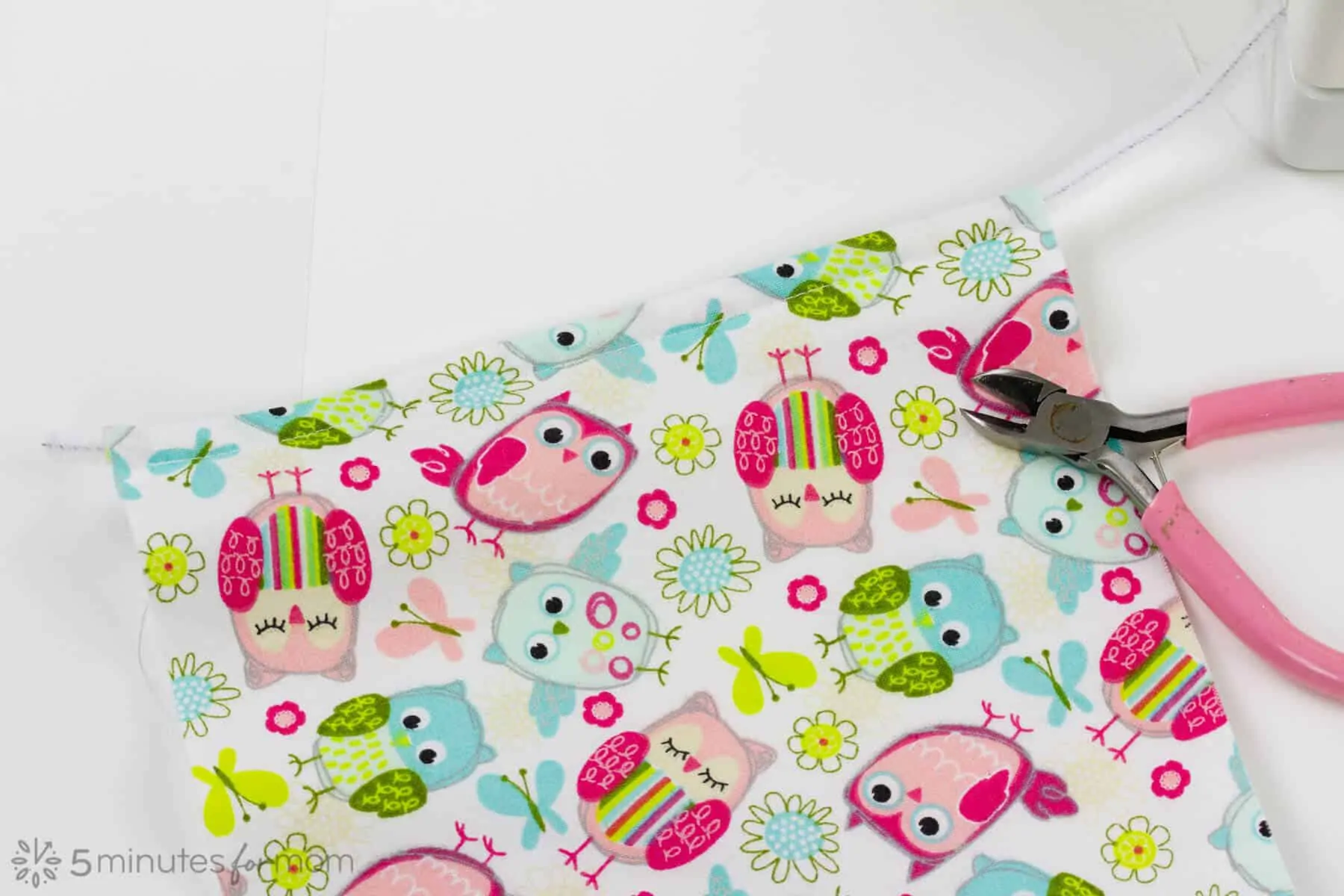 Trim pipe cleaners and fold sharp ends.
From top seam working down, fold three pleats, nesting each fold next to one another.
(Note: While I have included pleat lines on the face mask patterns, you don't have to mark or follow those pleats lines exactly. Just do what works best for you. I don't actually mark my pleats when I am making my masks. I just "eyeball" them, folding three simlarly sized pleats and nesting them together. They don't need to be perfect. So feel free to skip marking your pleats from the pattern and just fold your pleats as you go.)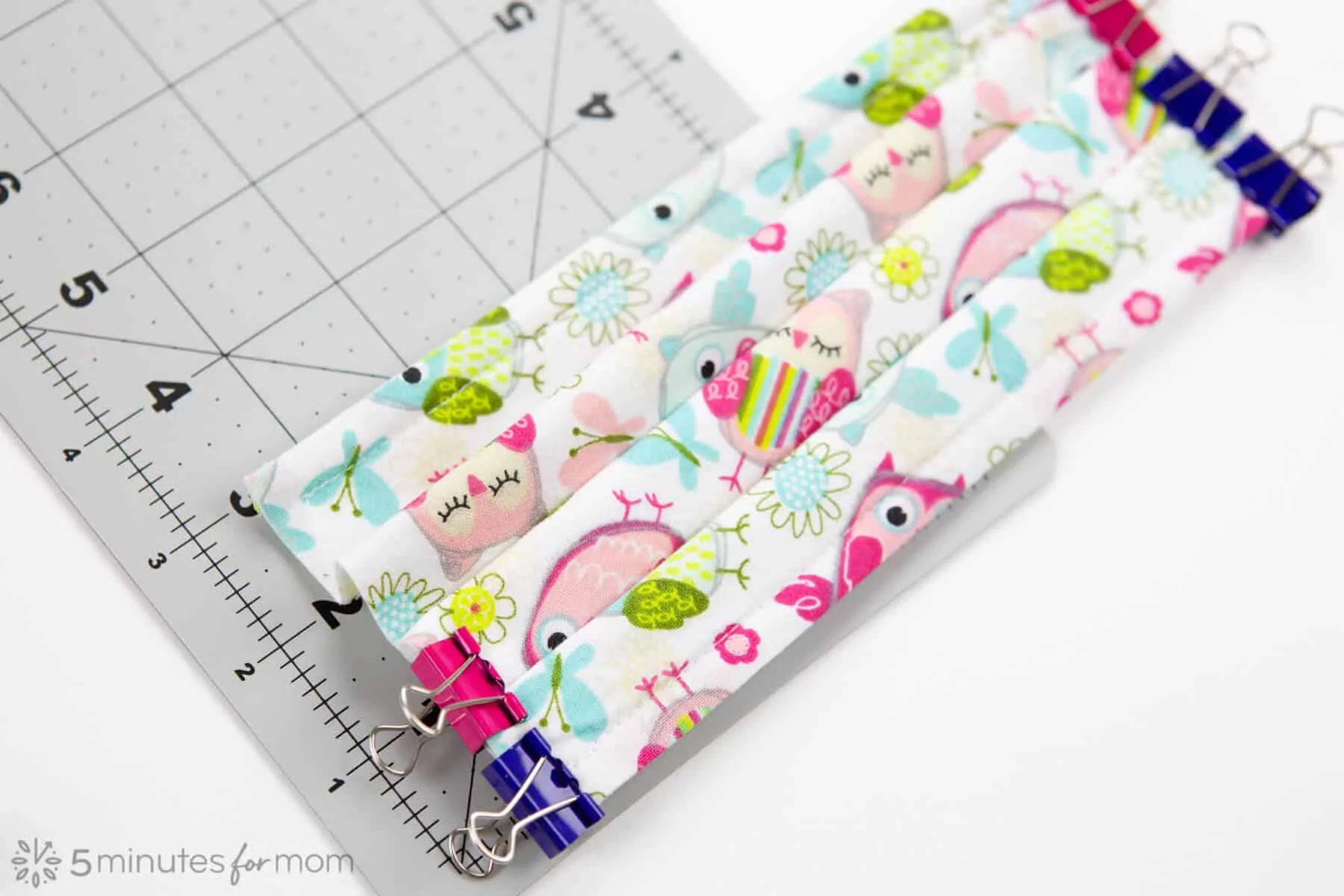 Press pleats.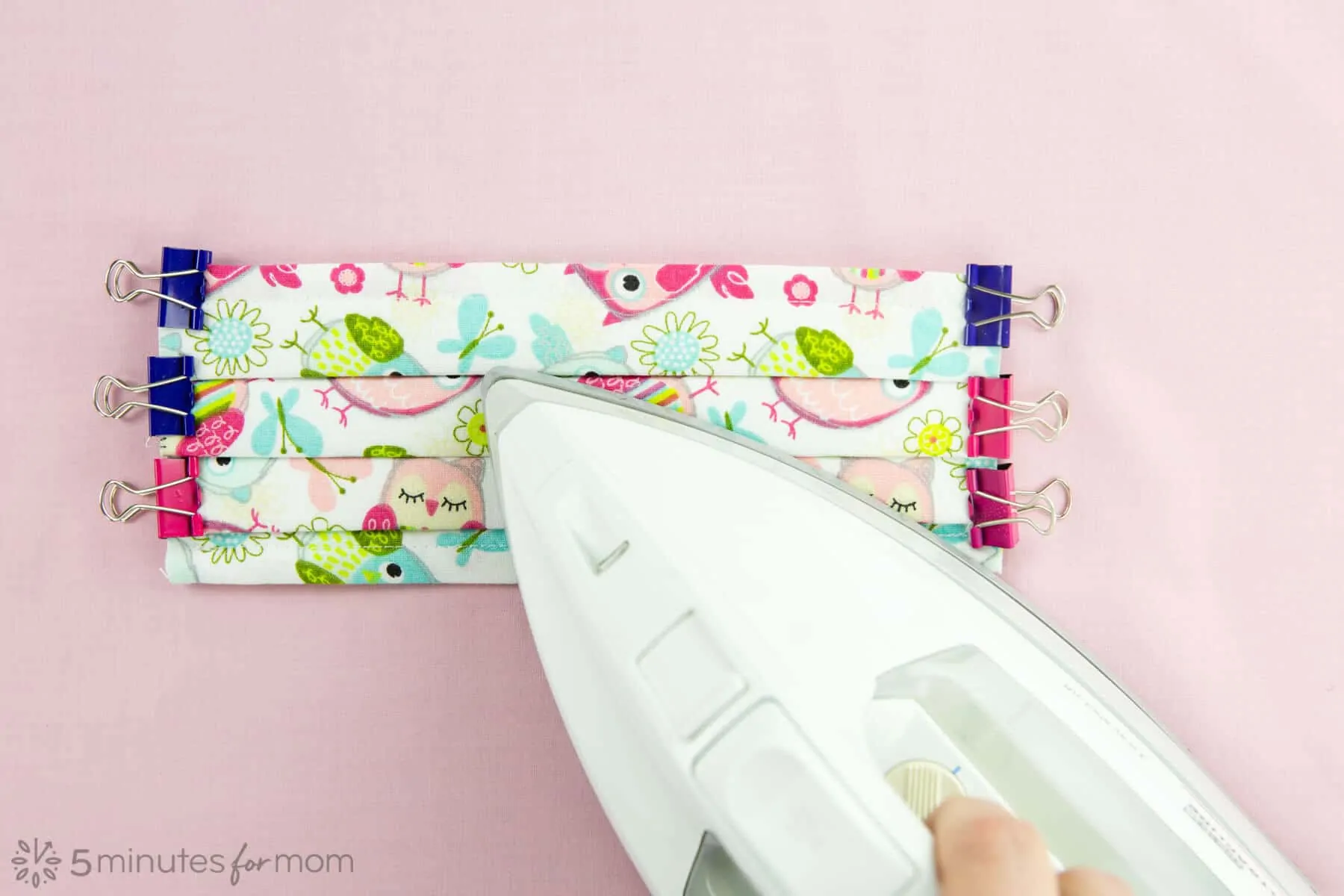 Stitch sides to hold pleats in place with a 1/4" seam allowance.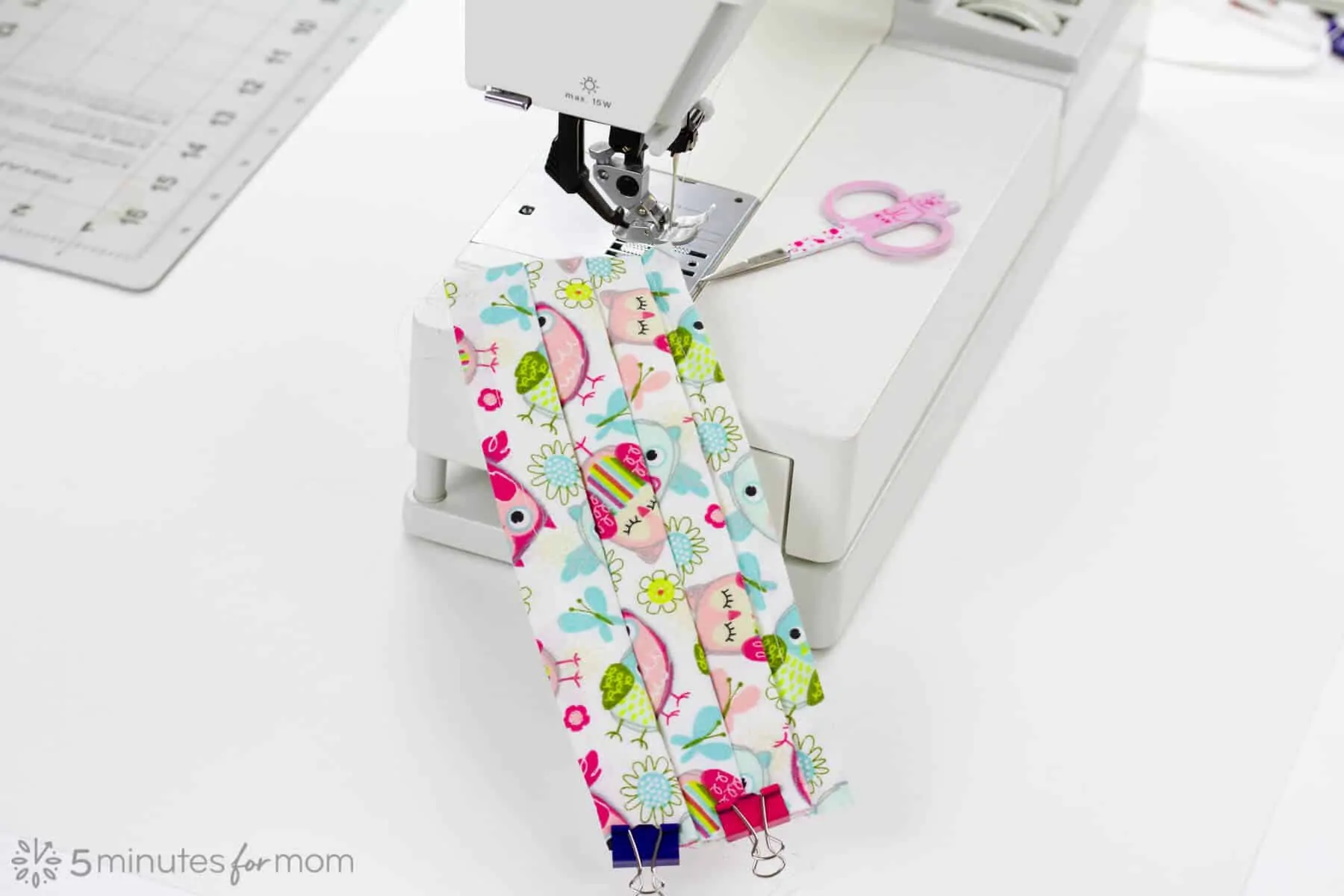 Place trim fabric right side down, raw edges together, and stitch with 1/4 seam allowance.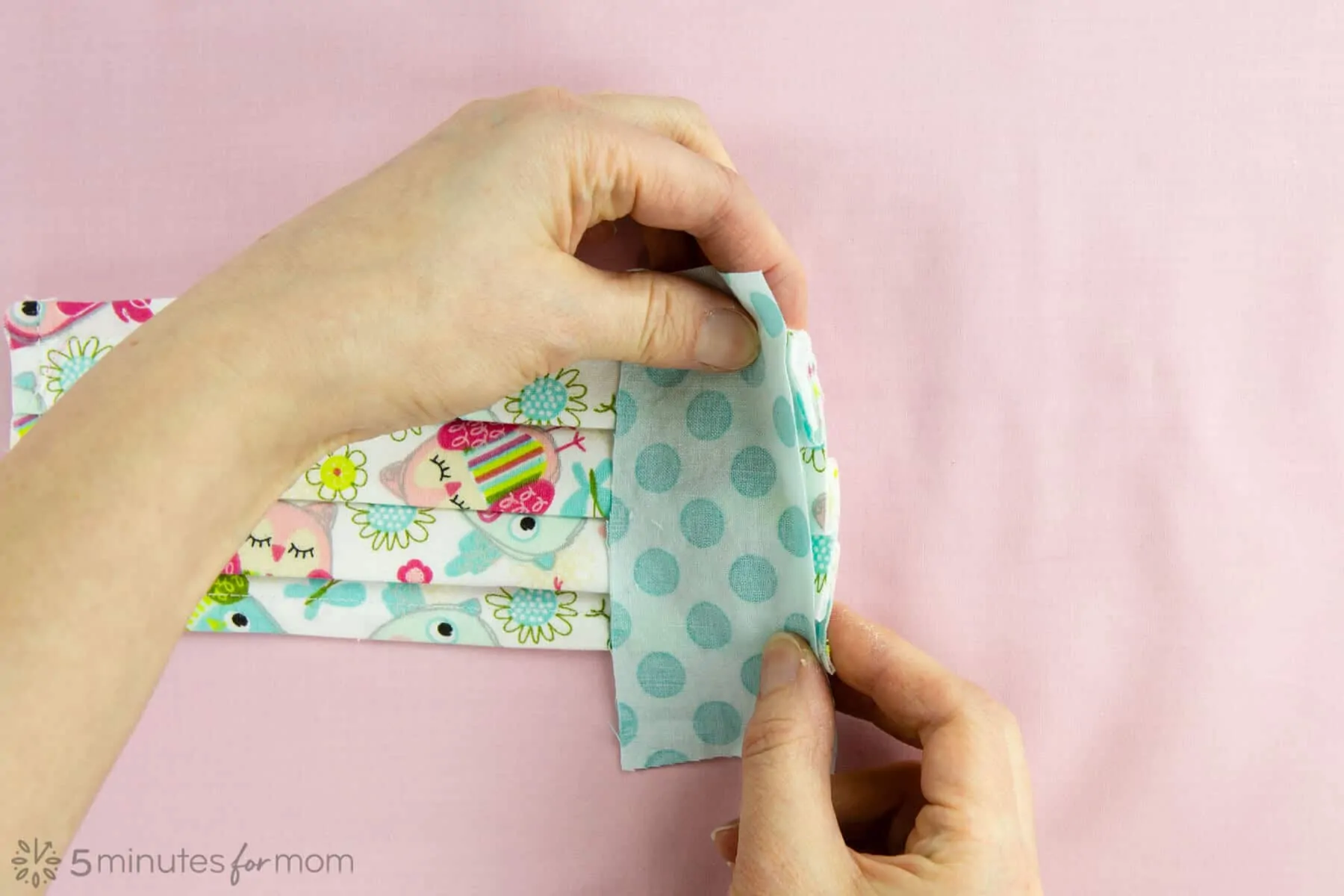 Press fabric along stitch line so right side is facing up.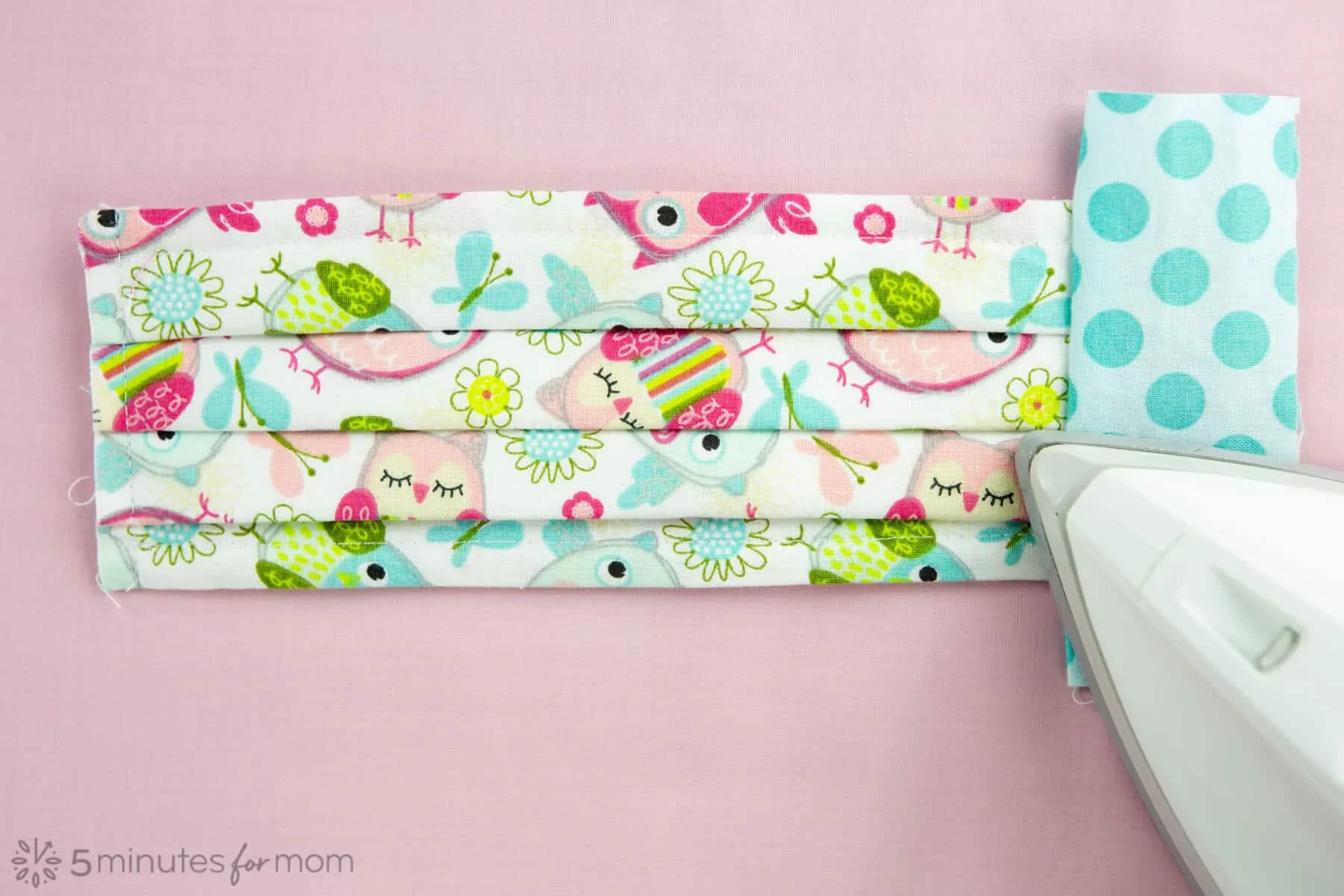 Fold short ends in…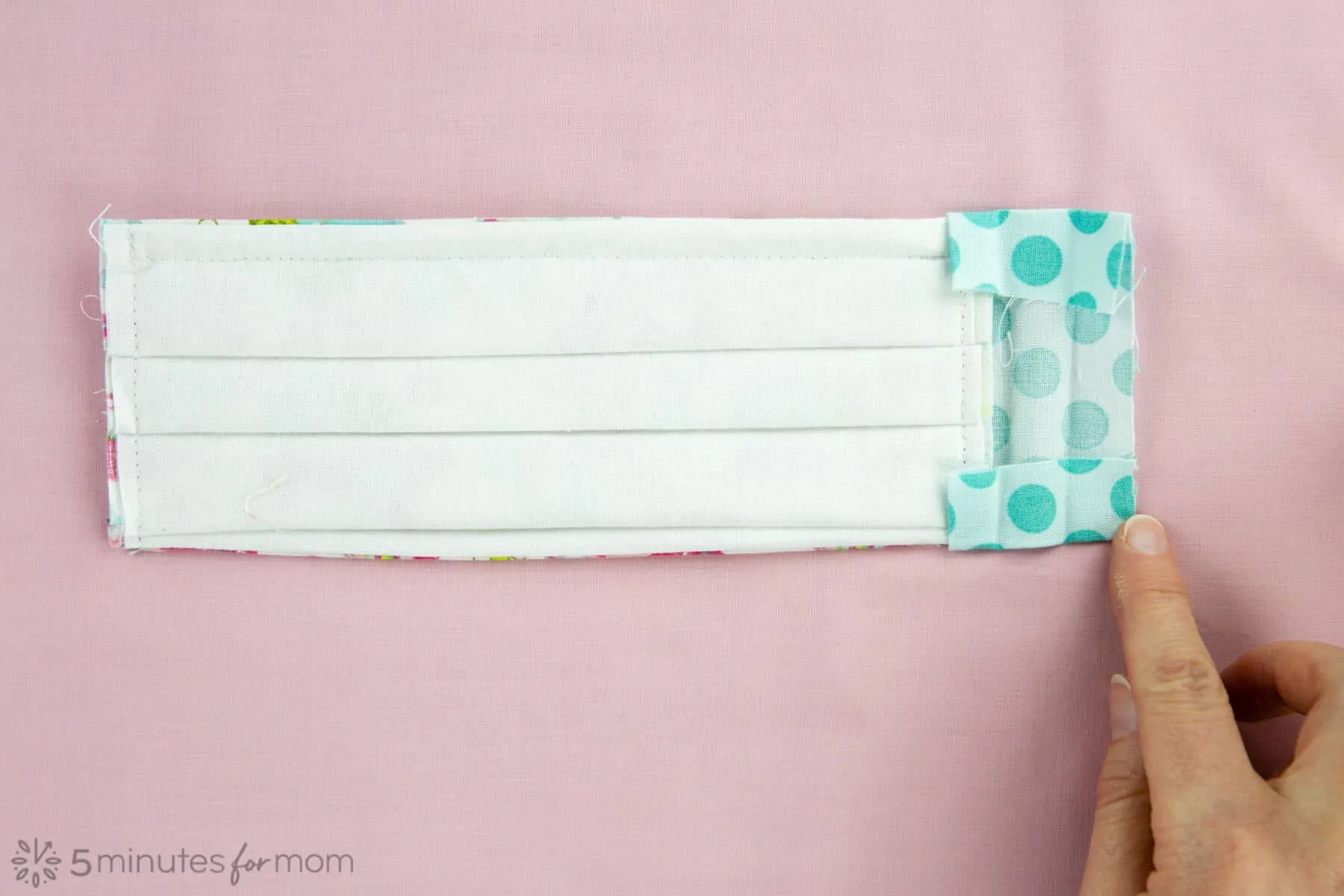 Press…
Fold the folded edge over and press again.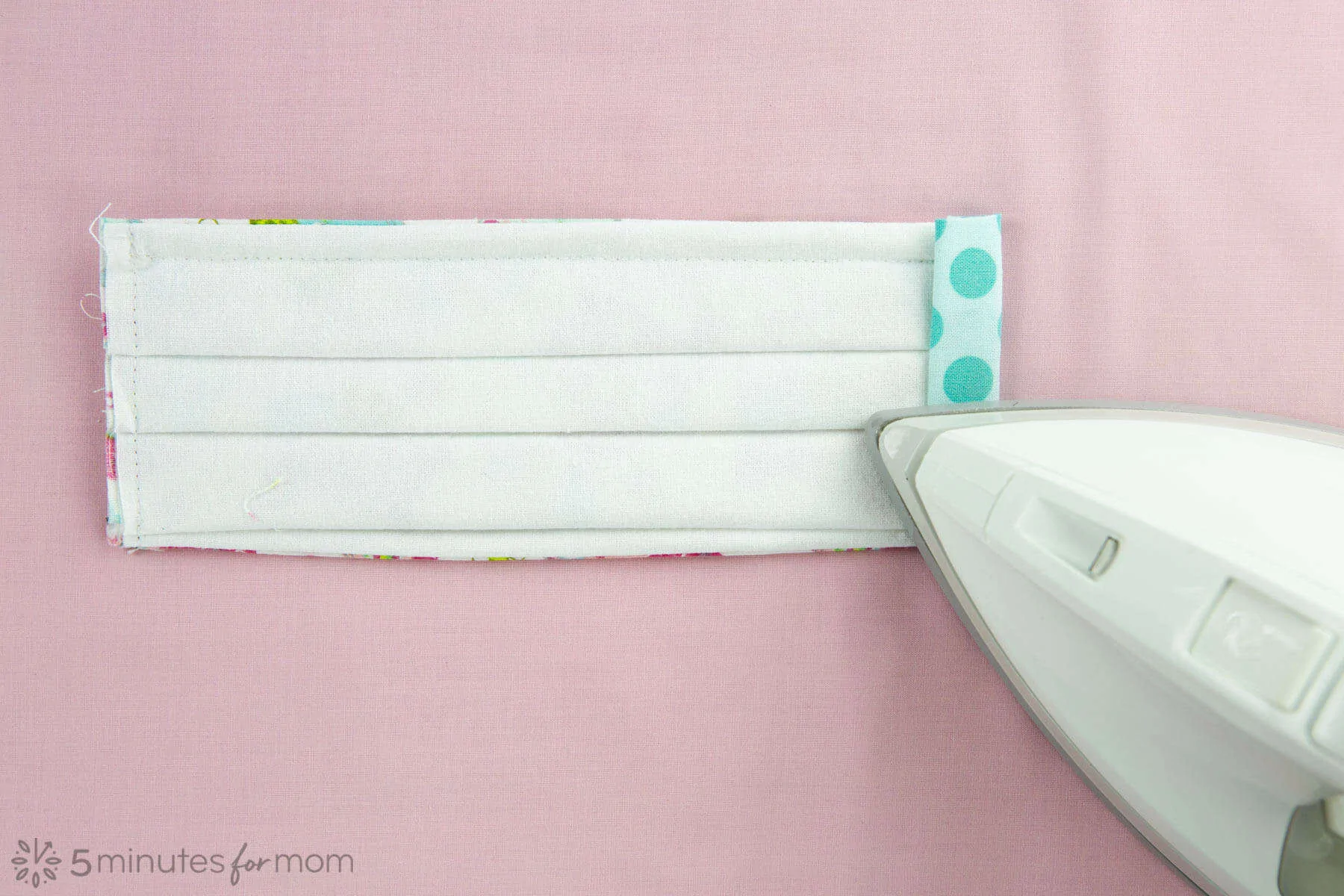 Stitch in the ditch or top stitch down the front edge of trim, catching the back.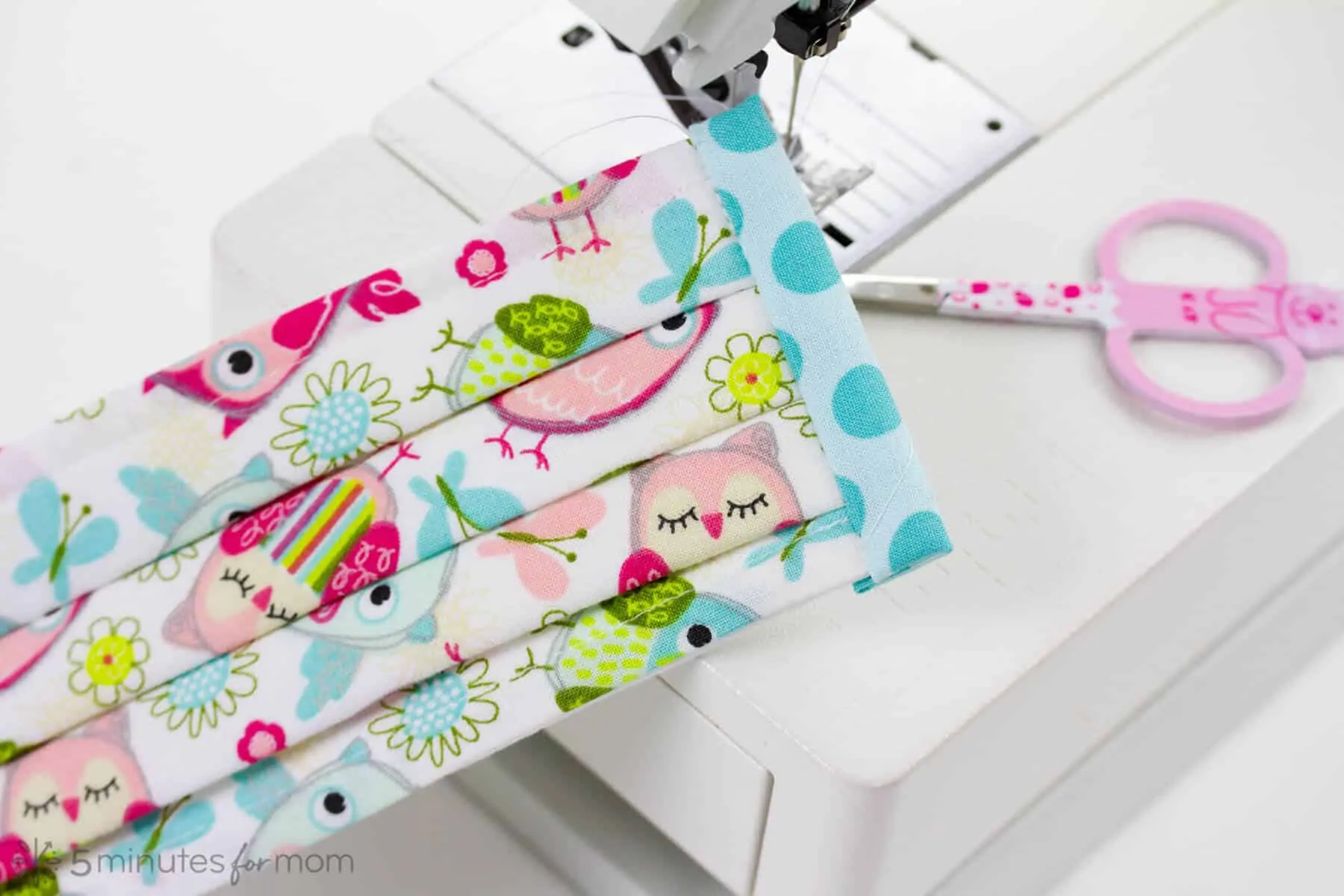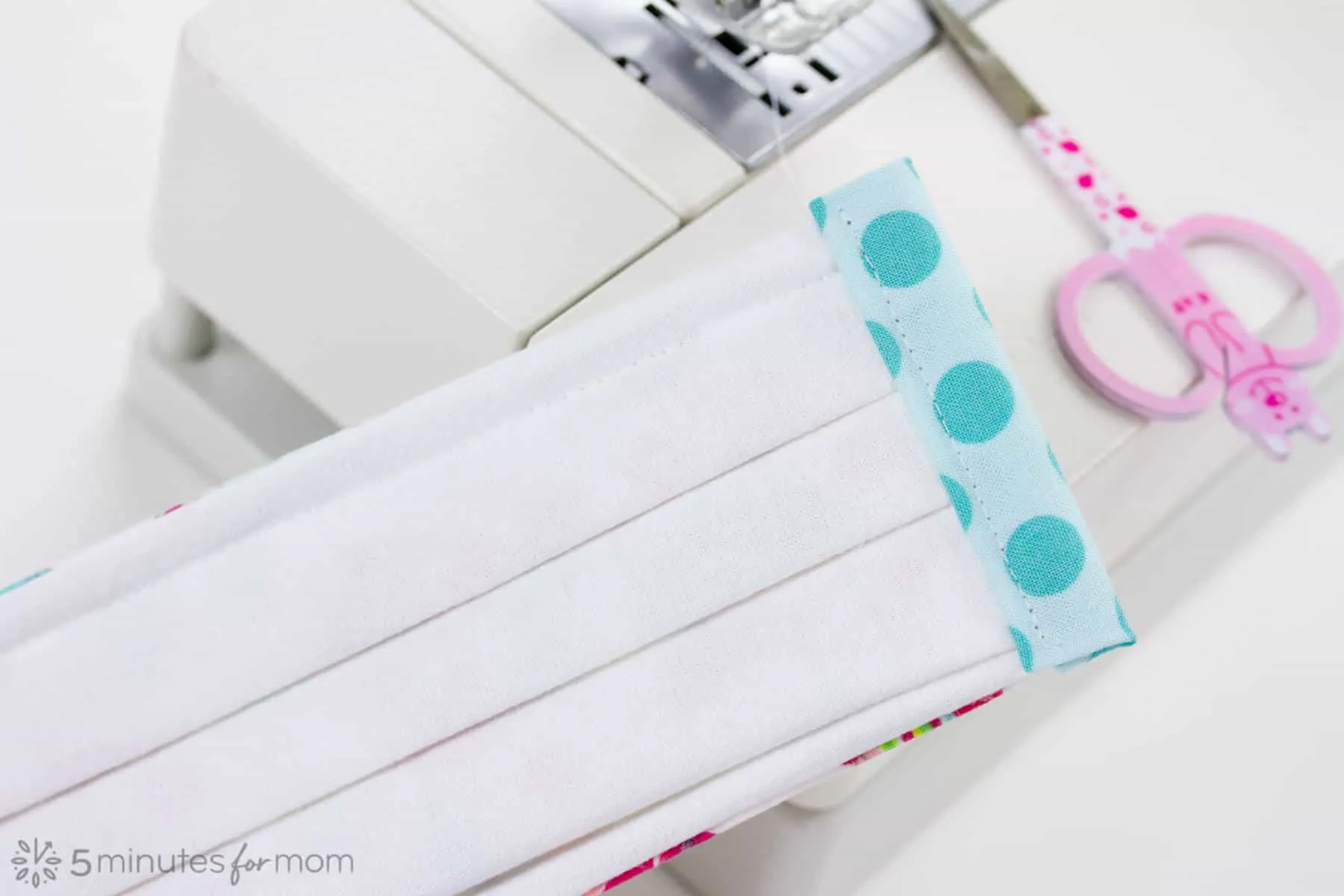 Repeat on the other side…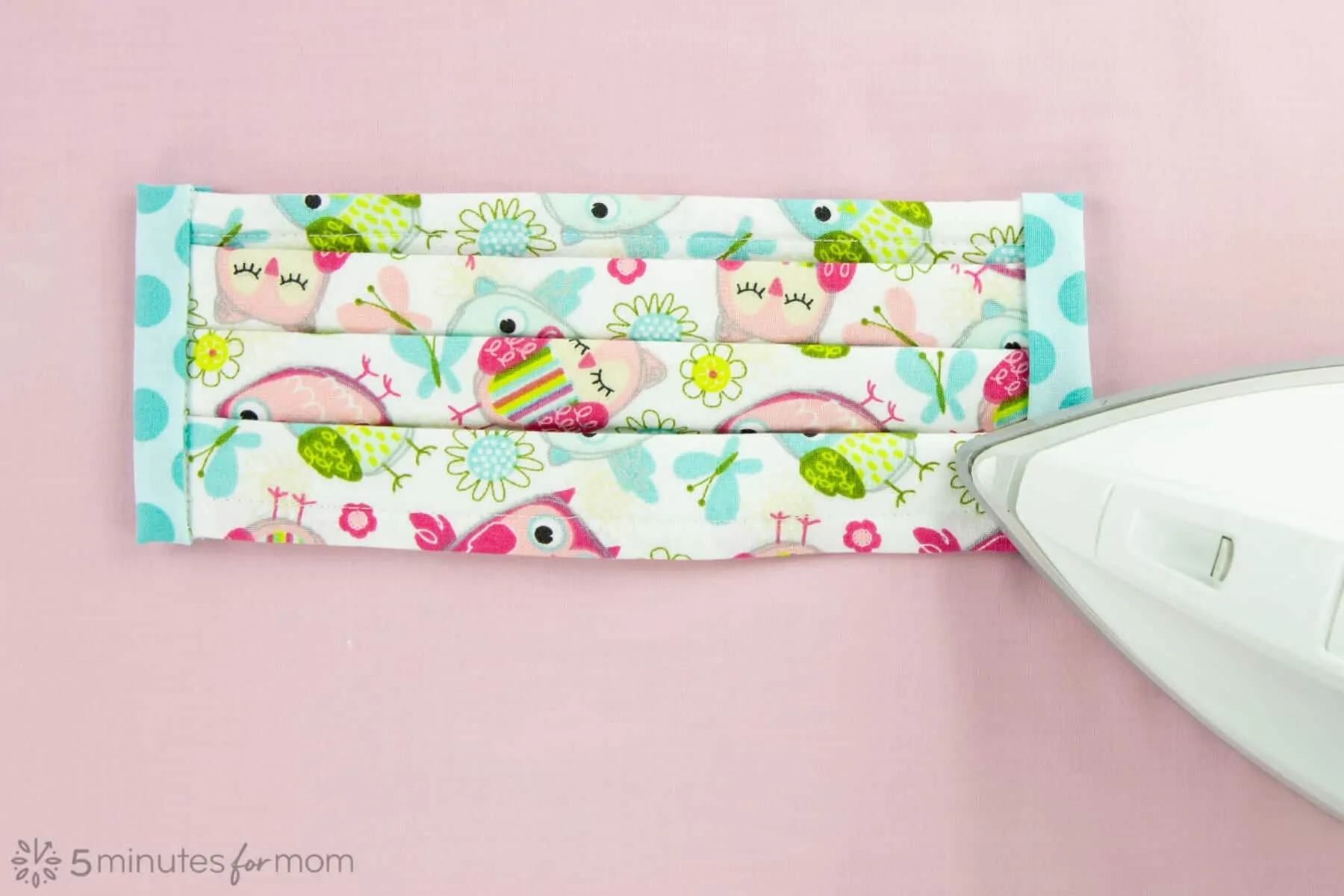 Using a bodkin or a safety pin, thread straps/elastic through sides.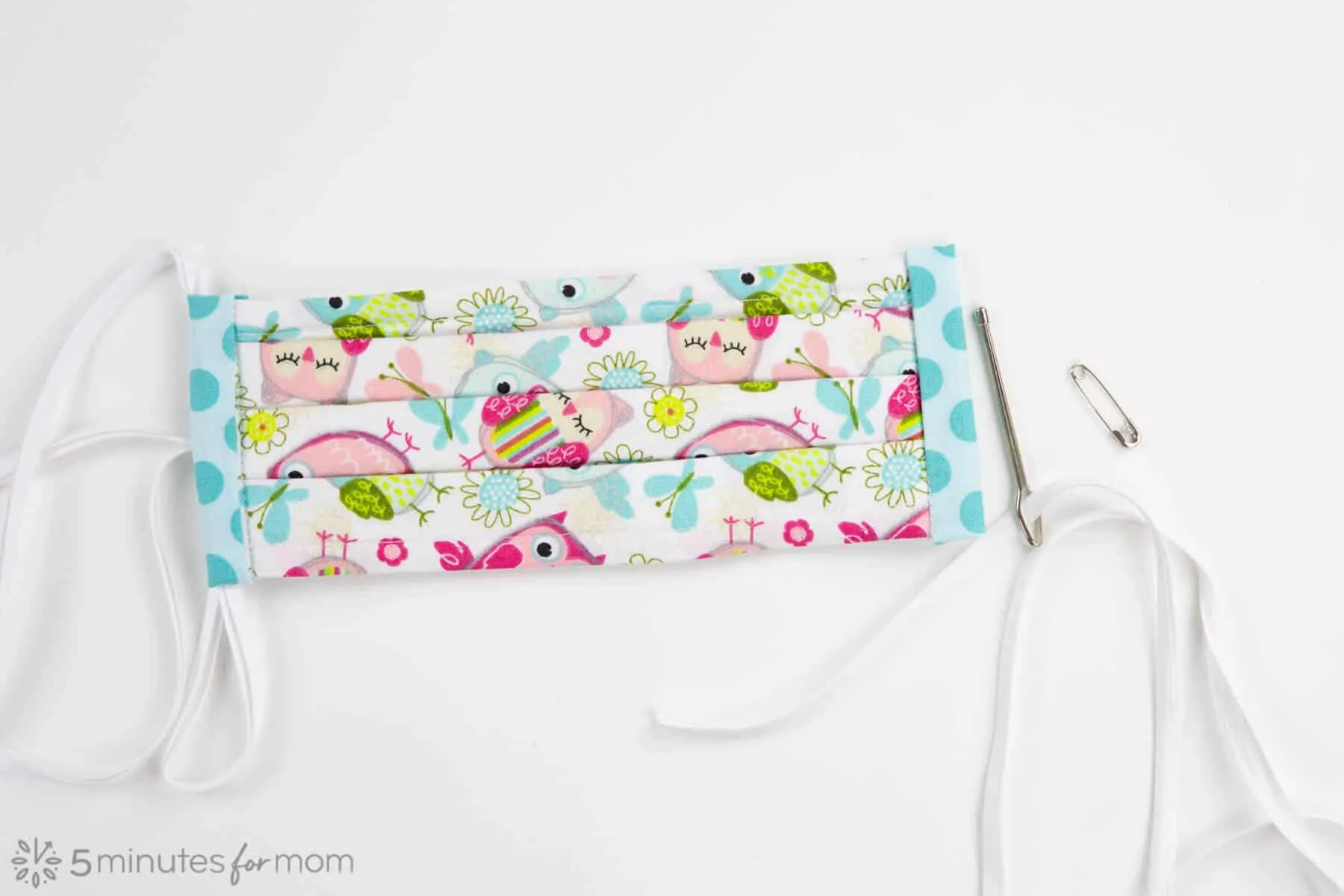 Bend and shape wire to desired fit. If the mask gapes under the chin, bend the bottom wire into two small pleats at the bottom sides.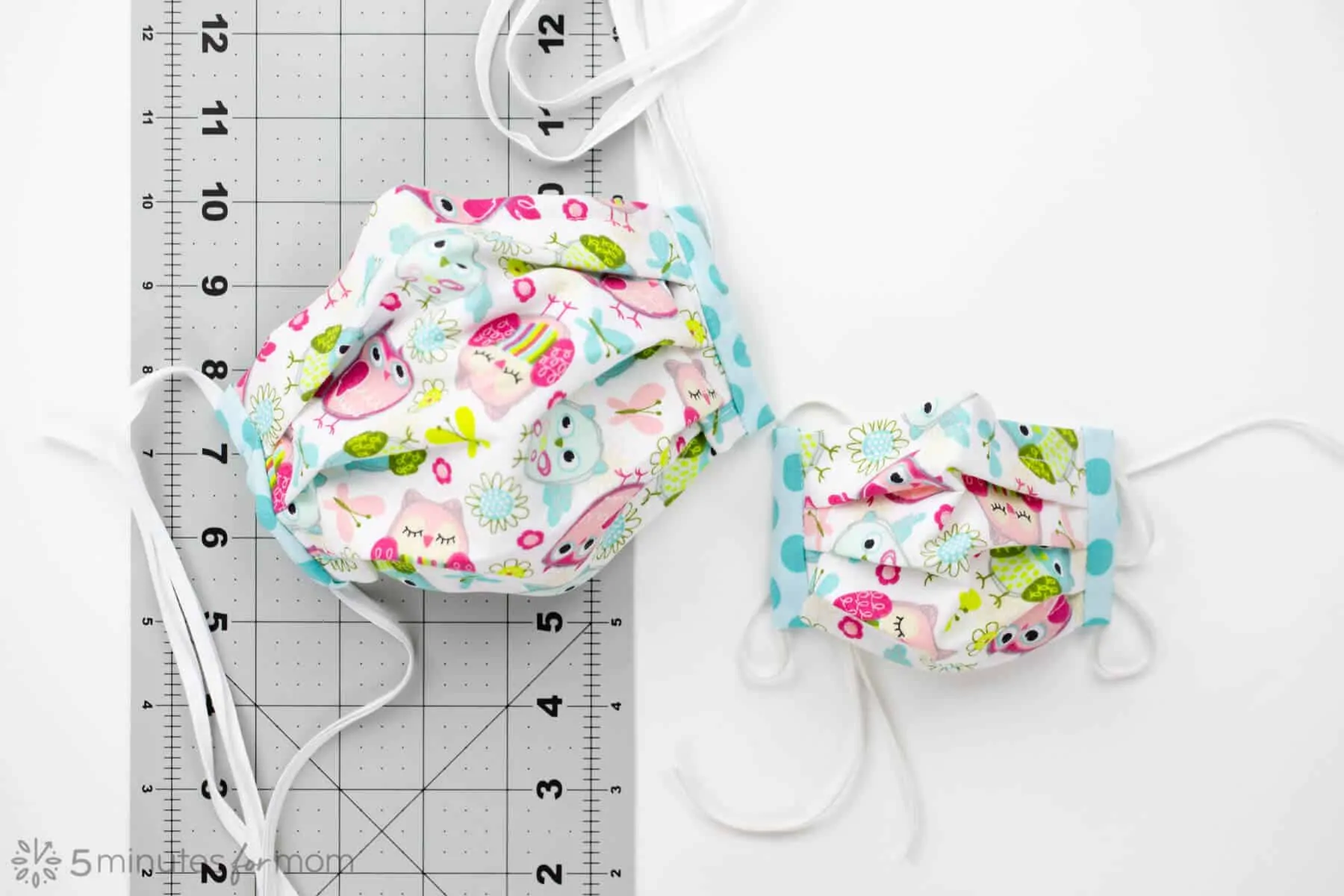 More Patterns of Different Face Mask Styles Coming…
I am developing new patterns and instructions for different styles of face masks, including styles with a pocket to insert a filter.
If you do not know how to sew or you don't have a sewing machine, here is how to No-Sew Face Mask with Pocket for Removable Filter. You can make that style of mask with simply a stapler and an old t-shirt.
And you can fold a super-quick mask in a minute using our No Sew Bandana Face Mask tutorial.
Also, be sure to watch my video tutorial for How to Make Fabric Ties for Face Masks. I've found that making fabric ties is the easiest and most comfortable style of straps for masks.
I will update this post with more patterns as soon as I develop them.
You can sign up for our newsletter, so you don't miss out.
If You Do Not Know How To Sew…
Most people these days do not have sewing machines. So if you don't know how to sew, perhaps considering asking a friend with a sewing machine to help you.
At this time, people are looking for ways to help each other… and many people also have lost their jobs and don't have enough money for rent and groceries.
You could offer to pay a friend who sews to make masks for your family.
If you share this tutorial with a friend who likes to sew, she might welcome the opportunity to earn some grocery money by sewing masks for you, your family, and friends.
You can copy and paste this short link, 5minutesformom.com/facemask to send to friends.
Another option is you can purchase cloth face masks here…
Or you can make a no-sew mask using one of these tutorials…
No-Sew Face Mask with Pocket for Removable Filter – You only need a stapler and a t-shirt to make one of these masks.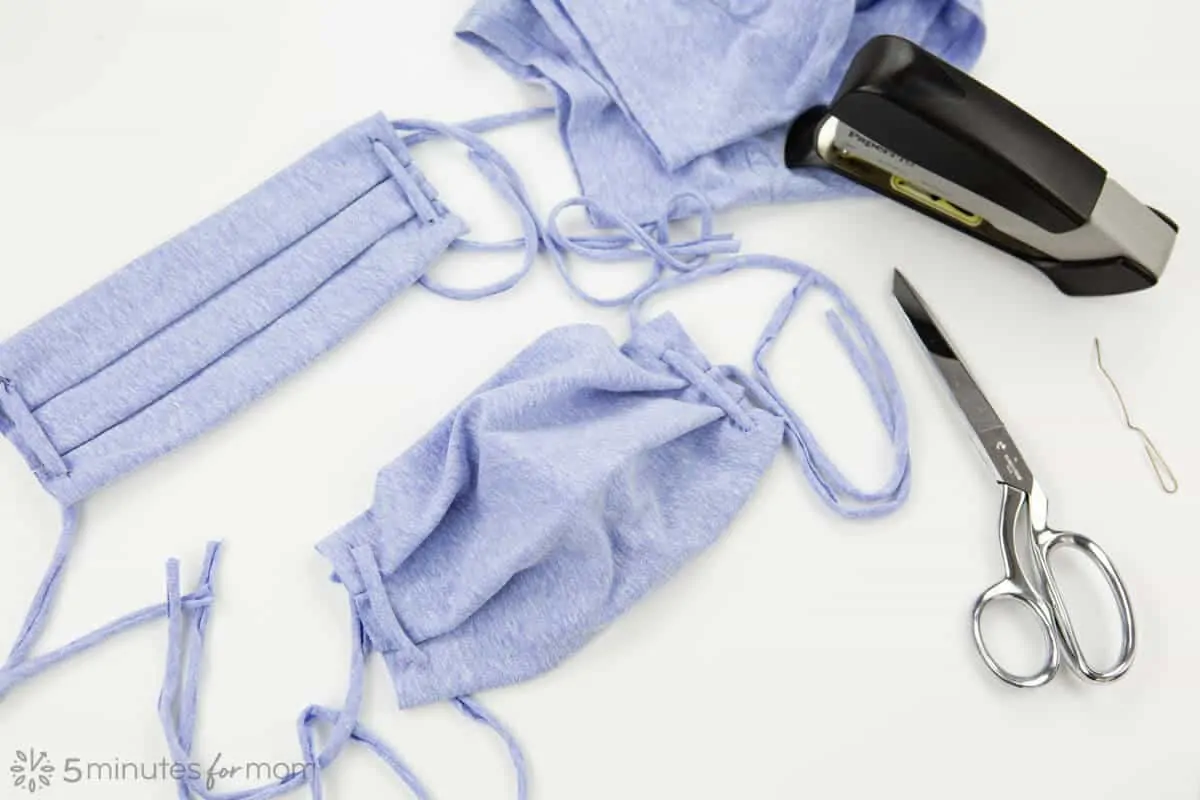 No Sew DIY Bandana Face Mask Tutorial – You can use any piece of cotton and a couple elastics to fold up one of these masks on-the-go.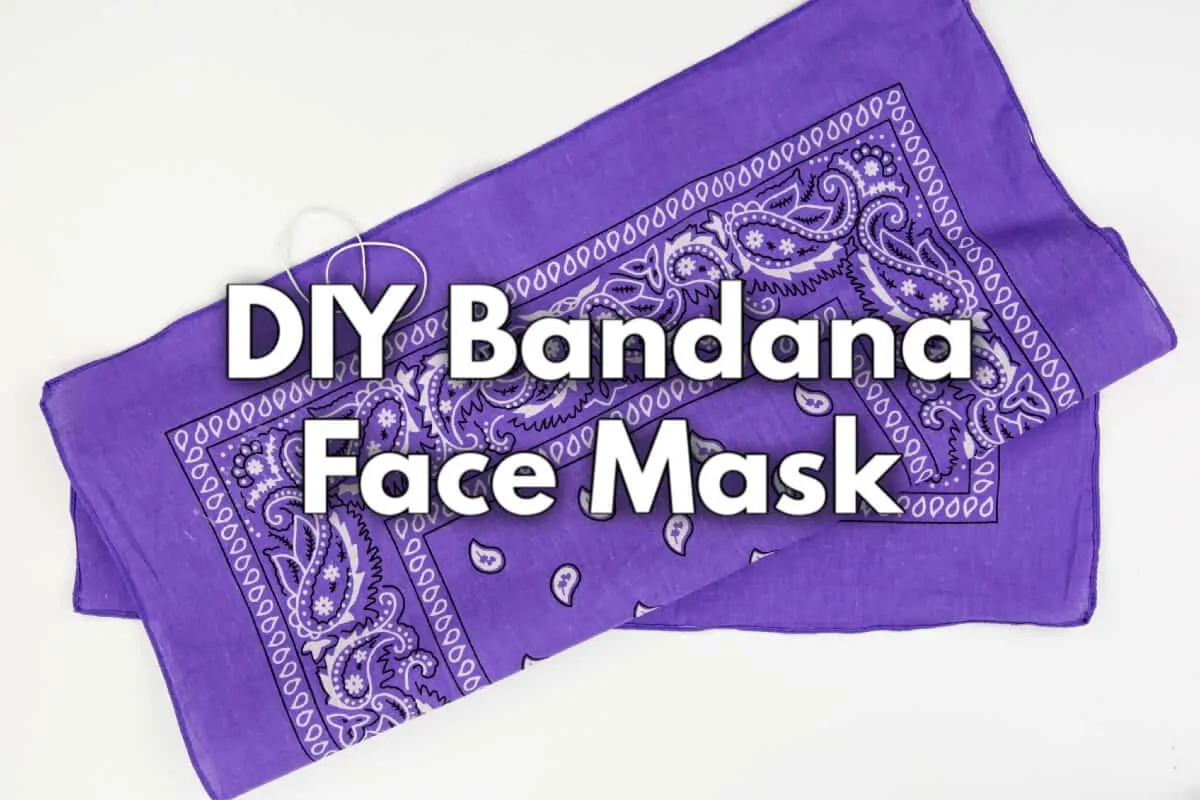 You can fold up a DIY cloth face-covering in two minutes or less — and you can also use knit fabric ties instead of rubber bands or elastic bands. Simply swap out the two elastic bands for two strips of knit fabric about 8″ long, stretched and knotted to form "elastic" bands.
The Easiest No-Sew Face Mask Straps
Check out our video and step-by-step tutorial to see how to make fabric ties for face masks from old t-shirts or leggings. We've found this style of straps to be the most comfortable.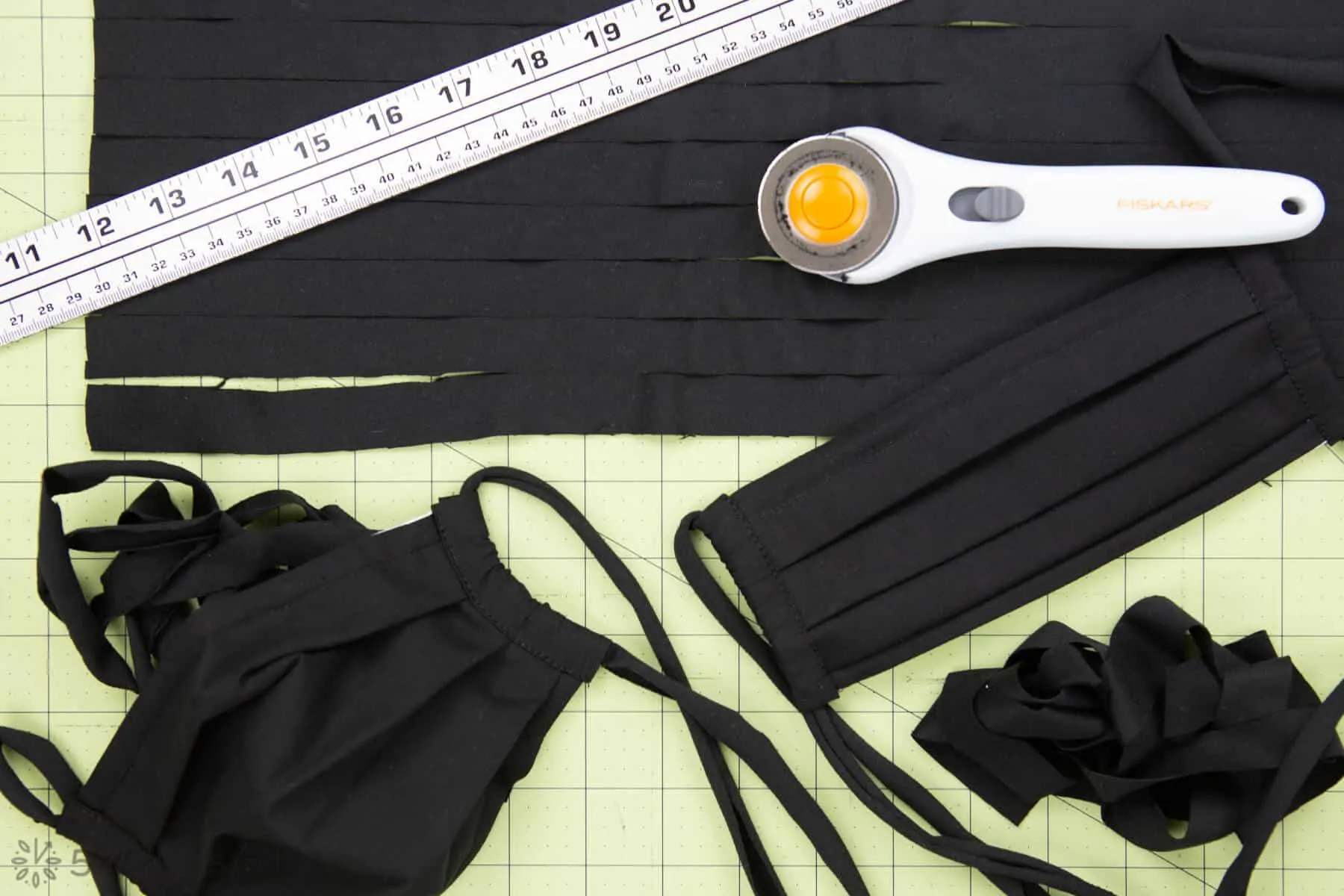 Written by Janice Croze, co-founder of 5 Minutes for Mom
Talk with me: @5minutesformom and Facebook.com/5minutesformom
Pin with me at pinterest.com/5minutesformom