This post may contain affiliate links. Read my disclosure policy here.
If you don't have any elastic for face masks, no worries! In this tutorial, you'll see how to make ties for face masks using knit fabric from t-shirts, leggings, and other extra fabric you have at home. These stretchy face mask straps are the most comfortable way to secure your DIY face masks and they are easy to make.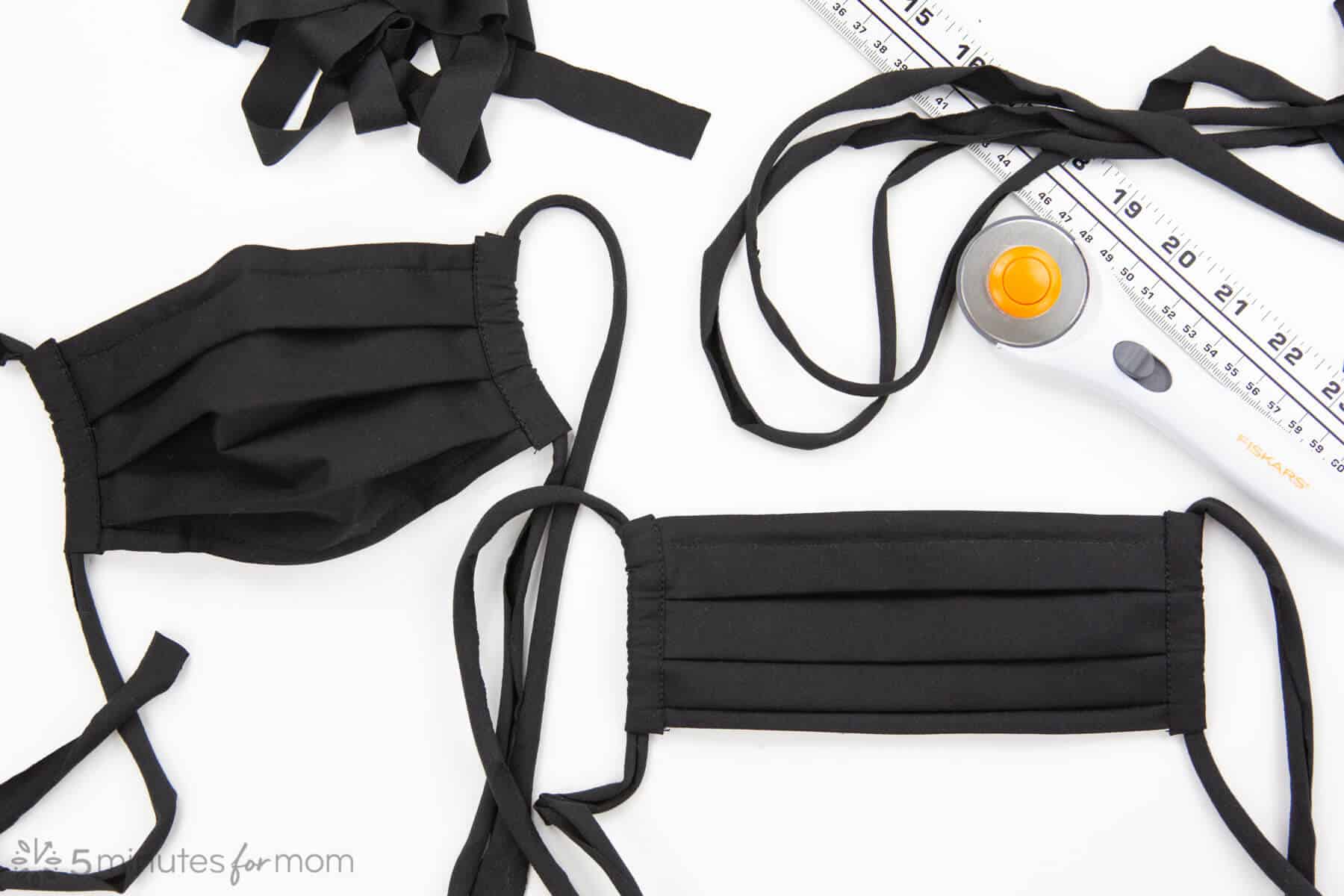 No elastic? No problem!
If you are sewing homemade face masks or thinking about making your own cloth face masks, you probably know that there is an elastic shortage. All of the fabric stores are sold out of 1/8″ and 1/4″ elastic and online deliveries will take weeks, if not months, to arrive.
But you do NOT need elastic to make cloth face masks.
In fact, I PREFER to use knit fabric strips instead of elastic on my cloth face masks.
So if you don't have any elastic and you don't want to spend time folding and ironing bias strips, you definitely want to make knit fabric ties for your cloth face masks.
How To Make Comfortable Masks
First, watch how to make the actual face mask in our face mask pattern and tutorial video which includes sizes for adults and children.
Second, watch how to make easier and more comfortable ties for those face masks in the video below…
What is the Best Fabric for Face Mask Straps
When I first started making DIY face masks, I used bias tape fabric ties on some and 1/8″ and 1/4″ elastic on others.
But I quickly started using knit fabric and decided that knit fabric makes the best face mask ties because knit fabric straps are way faster to make than bias straps, they don't slip as easily as bias tape, and they are way more comfortable than elastic.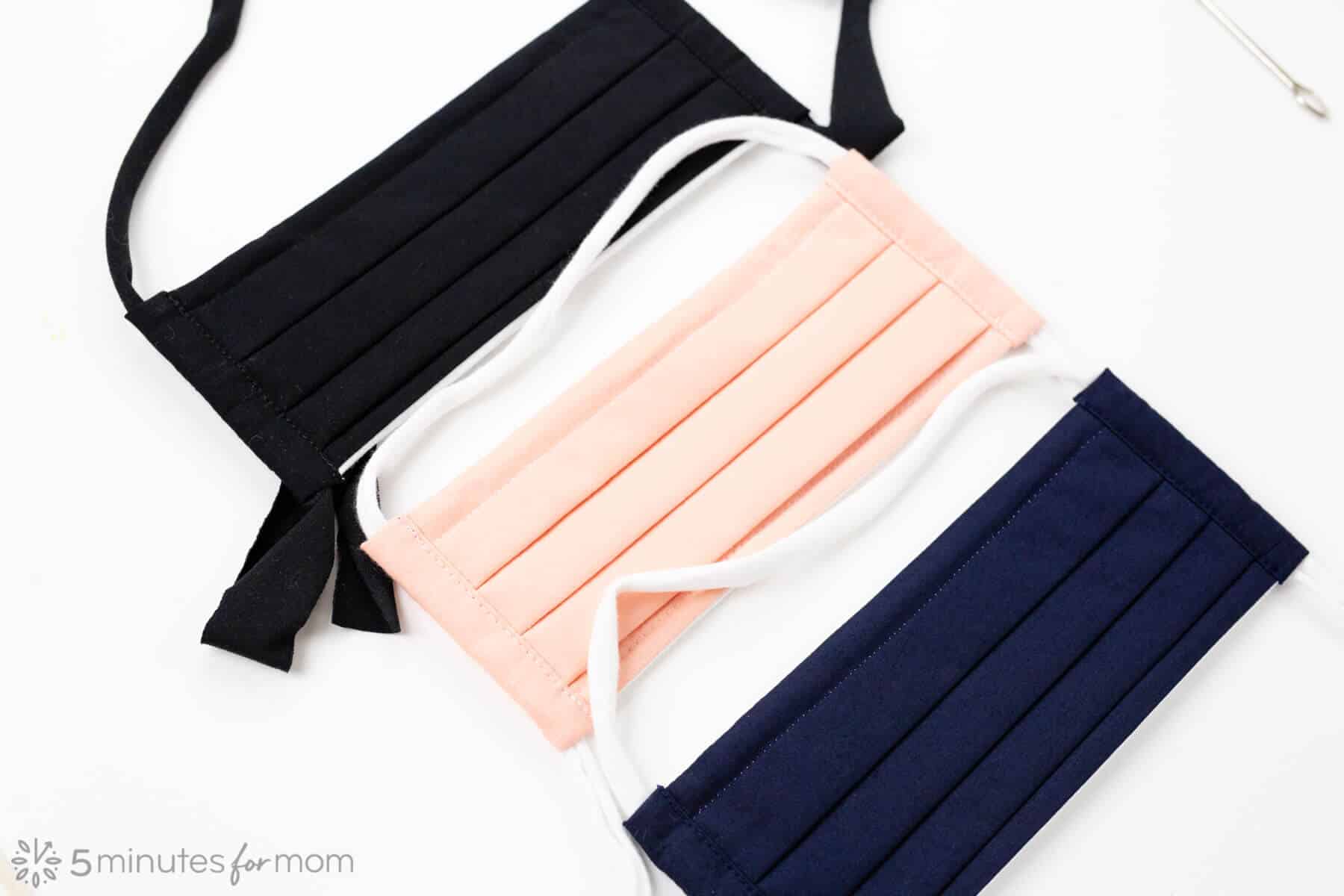 As well, I have tons of knit fabric in my fabric stash and old clothes that I can upcycle. I have t-shirts and leggings, including some extra white leggings my daughter and nieces had rarely worn when they were younger, and that fabric is perfect for face mask ties!
As health officials are recommending people wear cloth face masks in public, it is clear we're

What Is Knit Fabric vs Woven Fabric?
If you are not sure what I mean when I refer to "knit fabric" and "bias tape," let me quickly explain…
Knit fabric is the stretchy fabric that is used for t-shirts, leggings, etc.
Bias tape is made out of woven fabric – such as the woven cotton fabric we are using to make our face masks.
Woven fabric is any textile formed by weaving. As an example, think of a cotton dress shirt. It frays and unravels if the edges are not stitched.
On the other hand, the knit fabric does not fray and unravel as the woven fabric does.
Thus, we can cut strips of knit fabric and we do not have to sew or enclose the cut edges of the fabric because it will not fray.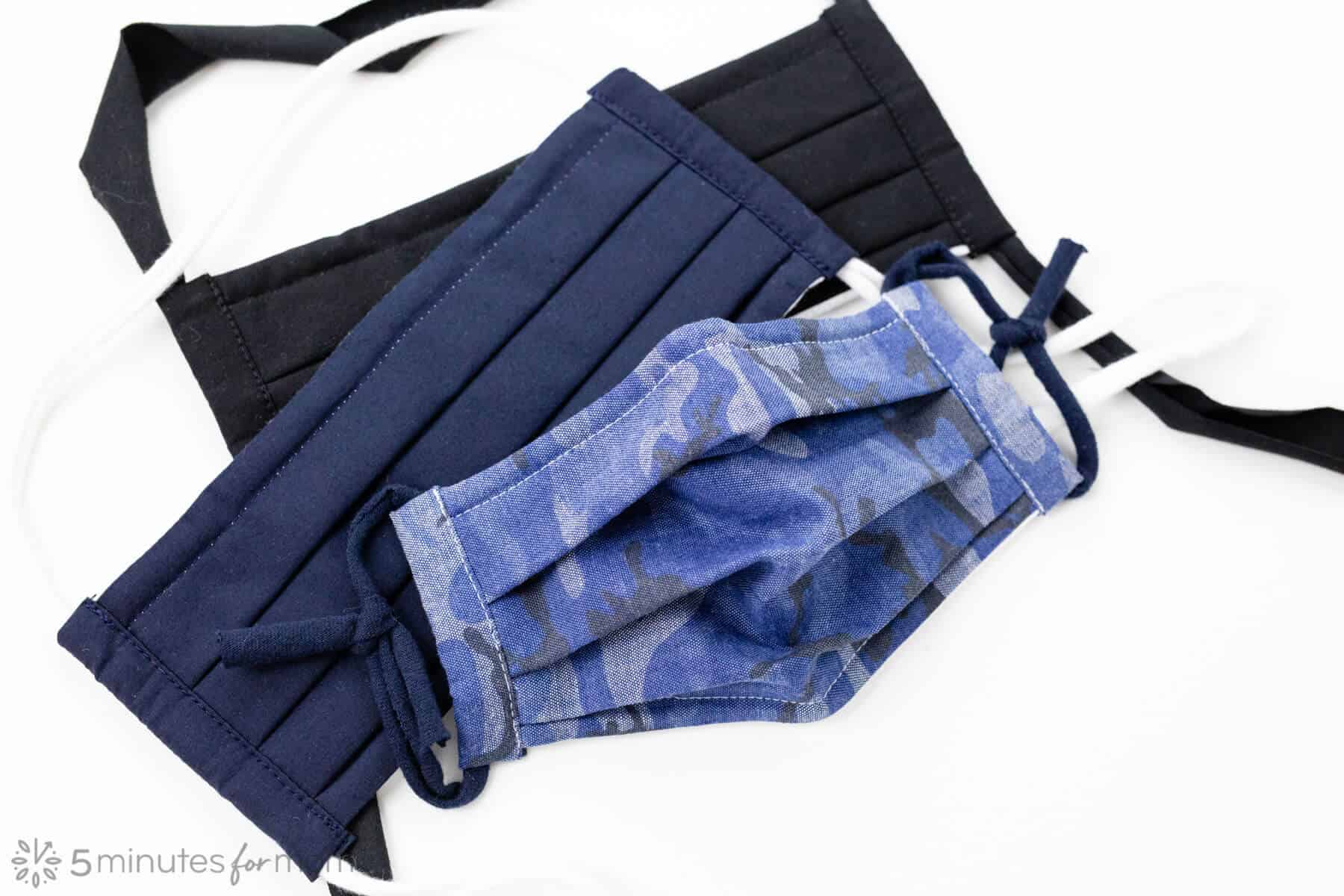 Woven fabric does not stretch if you pull it vertically or horizontally. But when woven fabric is pulled or cut on the diagonal, there is some stretch.
Therefore, to make woven fabric flow or stretch, you cut it on the diagonal. Bias tape is made from strips of woven fabric cut on the diagonal and then folded and ironed to enclose the raw, fraying edges.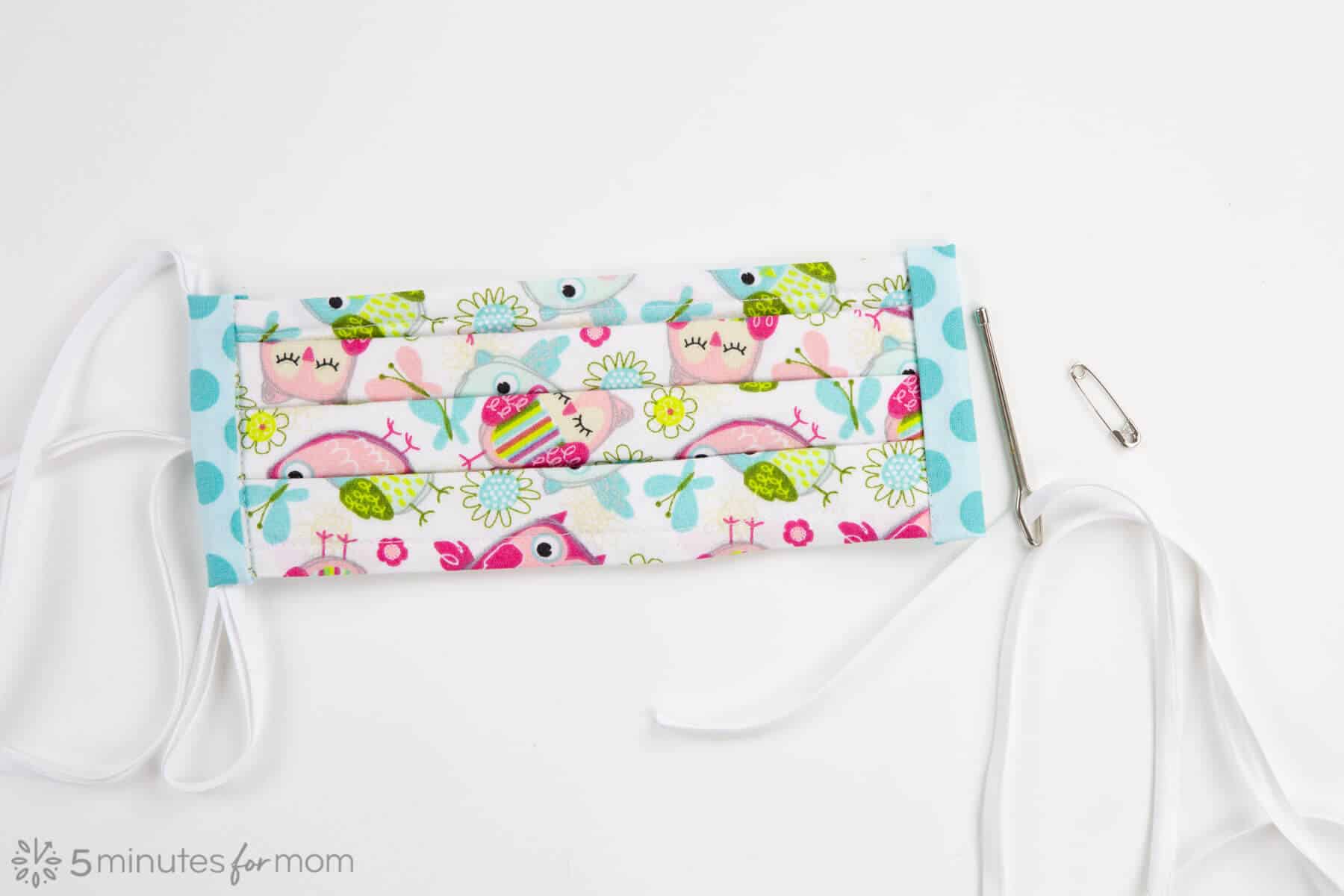 Bias tape works well for face mask straps and for my
DIY Face Mask Pattern
, I used bias tape straps.
But now that I am making hundreds of masks, I have switched to making stretchy knit fabric straps. Not only is making bias tape much more time consuming than cutting knit fabric strips, but I have decided that I prefer the stretchier, more comfortable finish of knit fabric straps.

How Do You Make a Face Mask Strap with T-Shirt Fabric
Making knit fabric ties is as simple as cutting strips of fabric 3/4″ wide and then stretching it so that it ravels and forms soft, stretchy "strings" of fabric.
STEP 1 – Cut Fabric Strips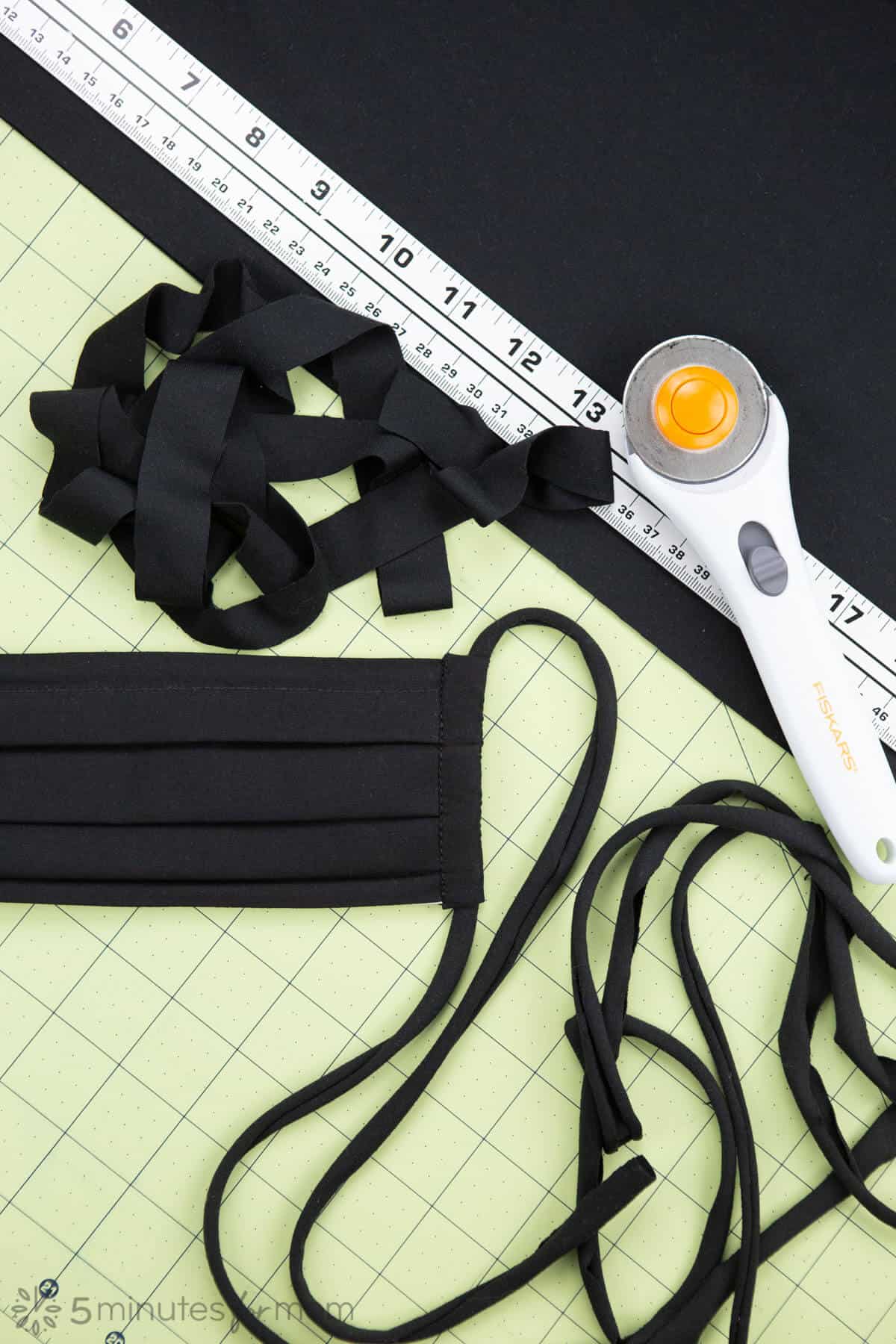 To make these comfortable face mask straps, you can grab a t-shirt, leggings, or extra piece of stretchy, knit fabric that you have on hand and within seconds you will have the best fabric ties for cloth masks.
The knit fabric that works best is a medium weight knit, such as a good quality t-shirt or pair of leggings. If the fabric is too light and thin or is too heavy, like a sweatshirt, it will not work well.
After you have washed and dried your fabric, lay it out on a flat surface.
Using a sharp pair of scissors or a rotary cutter, cut long strips of fabric approximately 3/4″ wide.

STEP 2 – Stretch Fabric Strips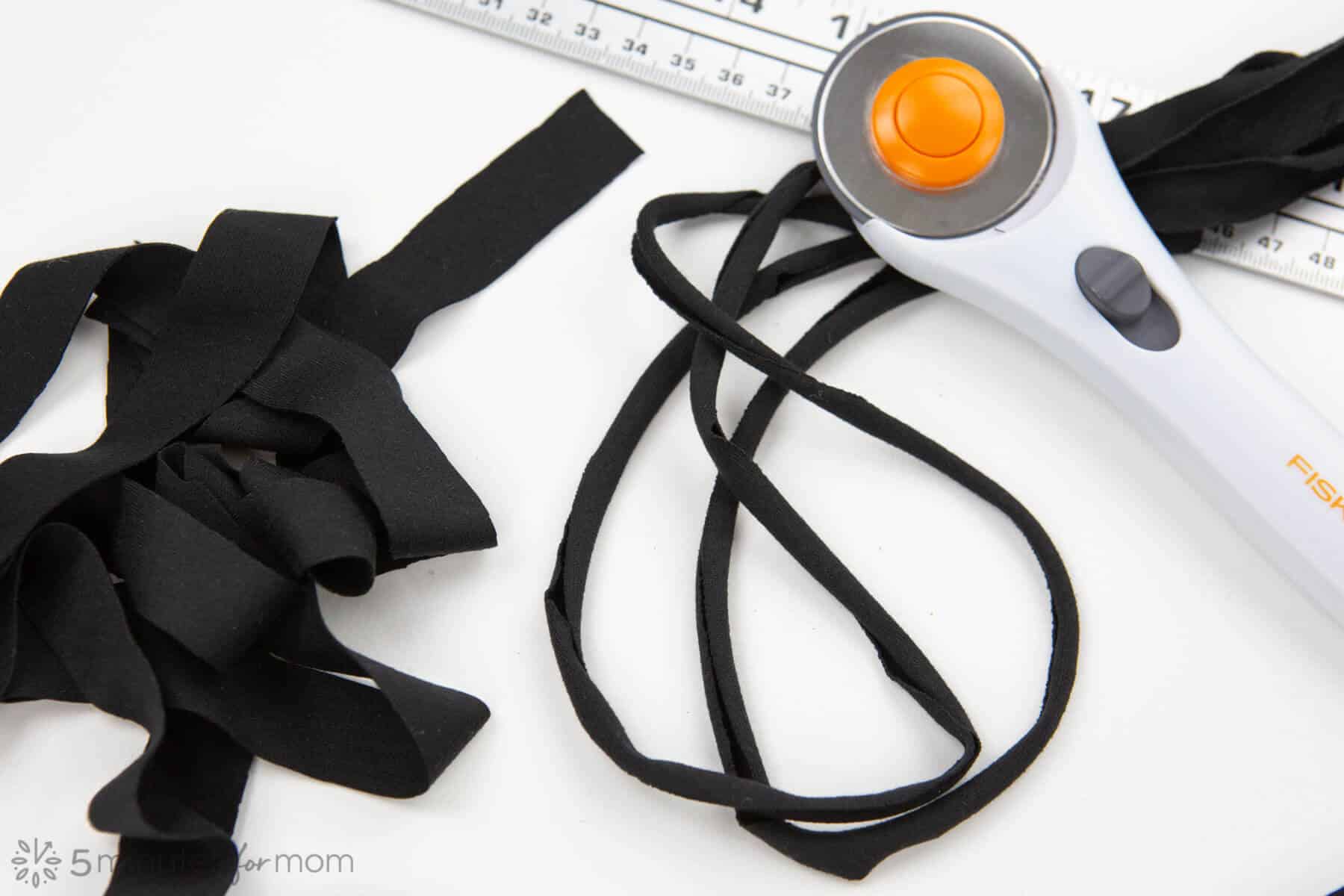 In order to turn the fabric strips into your ties, you just need to stretch it out so it curls at the sides and forms "strings" of fabric.

STEP 3 – Thread Knit Straps Through Sides of Mask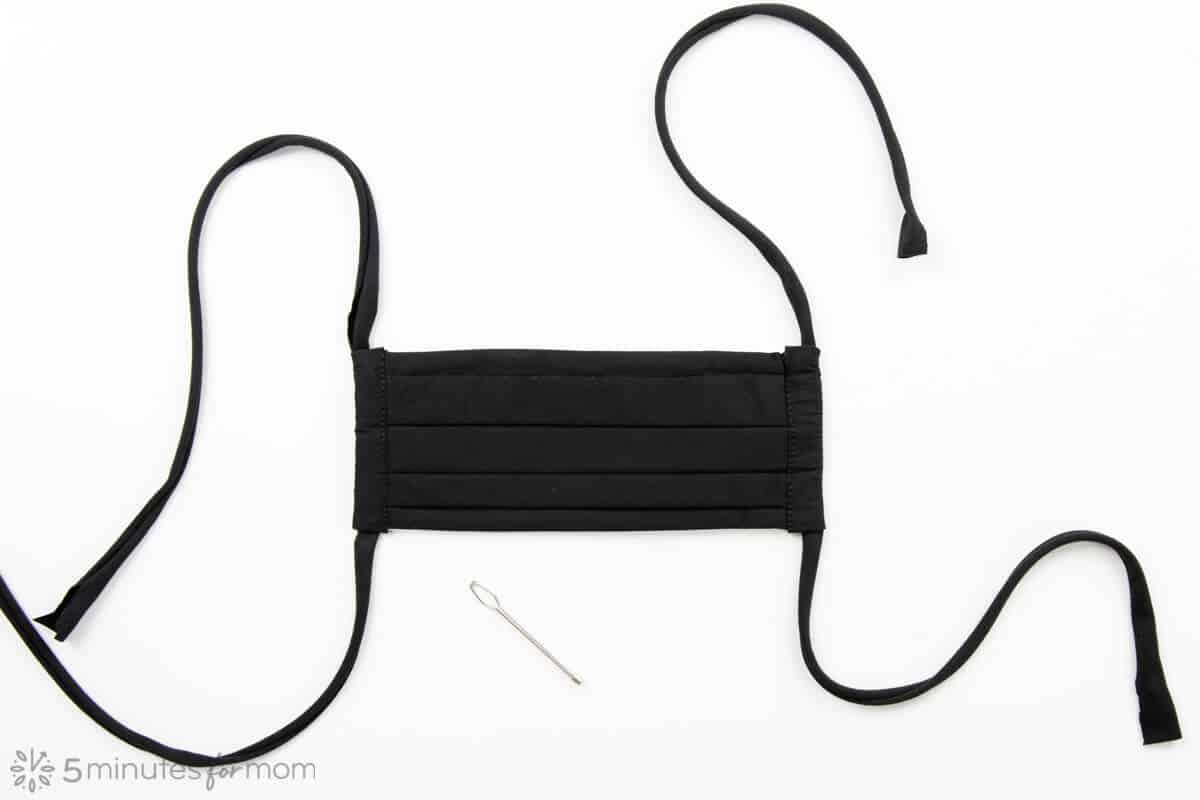 Using a bodkin, safety pin, or bobby pin, thread knit ties through the sides of the mask.
For your mask, you can use two knit fabric ties, each about 30″- 34″ long, and thread through the sides of the mask, (or sew in place if your pattern calls for sewing in your ties.)
Or you can use just one knit fabric tie, about 34″ long, and thread it through the sides of your mask, leaving a loop at the top of the mask.
The top loop fits around the top of your head and the bottom ties at the back of your neck. Because you have the tie threaded through the sides of the mask and the ties are NOT sewn in place, the ties can be adjusted to fit snugly around the top of your head and the back of your neck.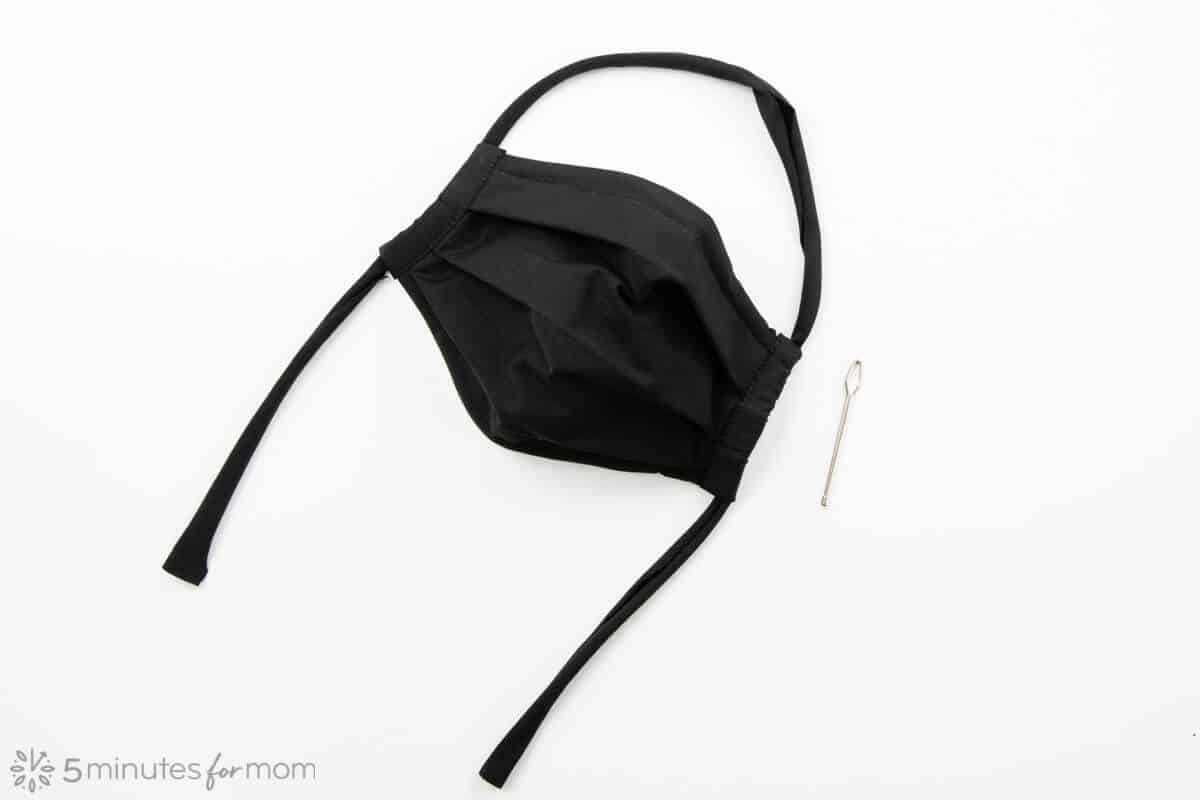 I find this method of making and securing my face masks is the most comfortable and offers the best fit. The knit ties are soft and stretchy and do not slip easily.
Using just one tie, threaded through both sides saves me fabric and is so quick and easy, and fits so snugly. Now, I have switched to almost exclusively using the one 34″ knit fabric strip method for my cloth face masks.
For children's masks, and for adults who prefer masks to tie around the ears, I still use knit ties. I just cut the fabric strips about 8″-10″ long.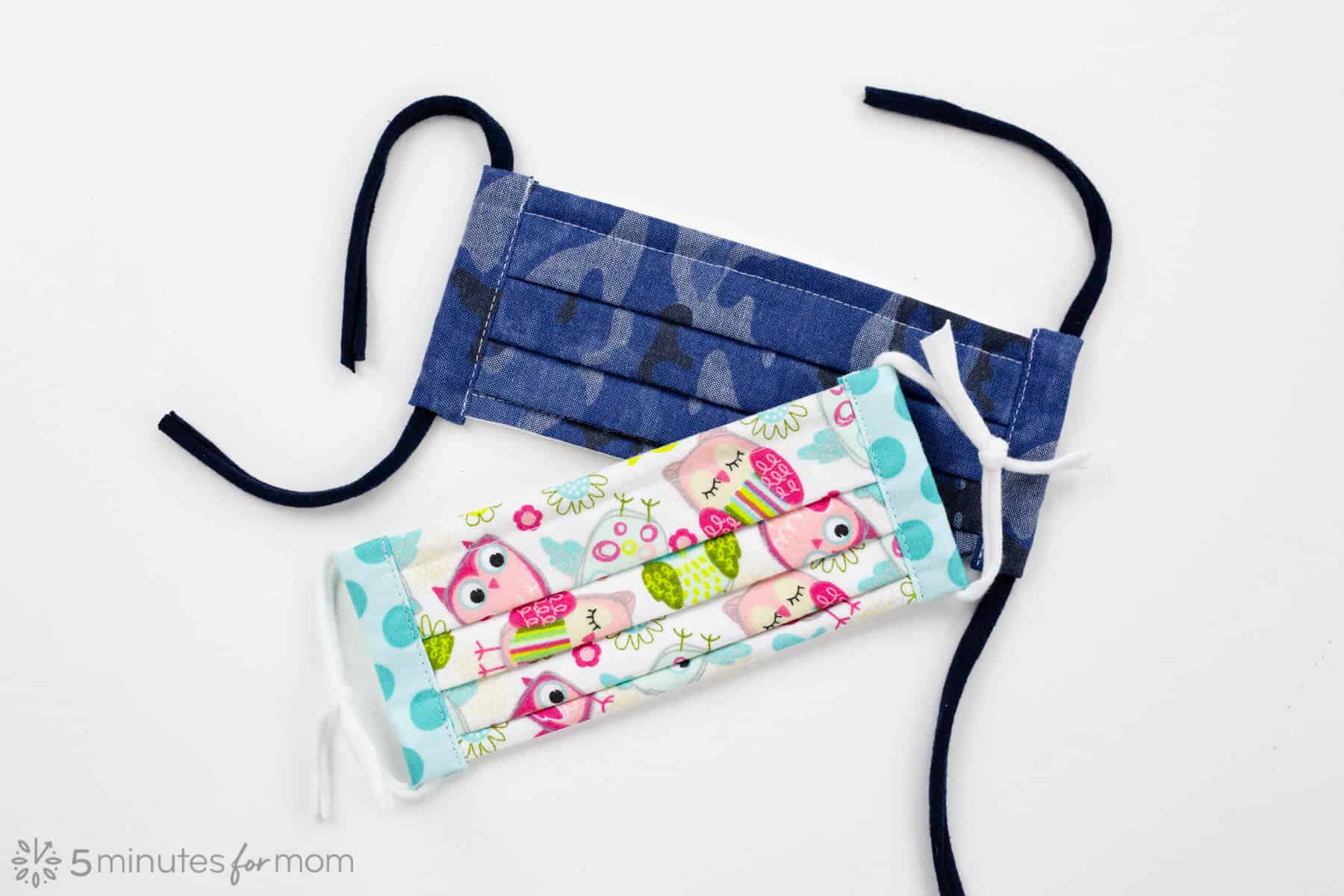 When I am delivering masks for others, since I am not in close contact with them and can't fit them personally, I leave the ties knotted so they can adjust accordingly.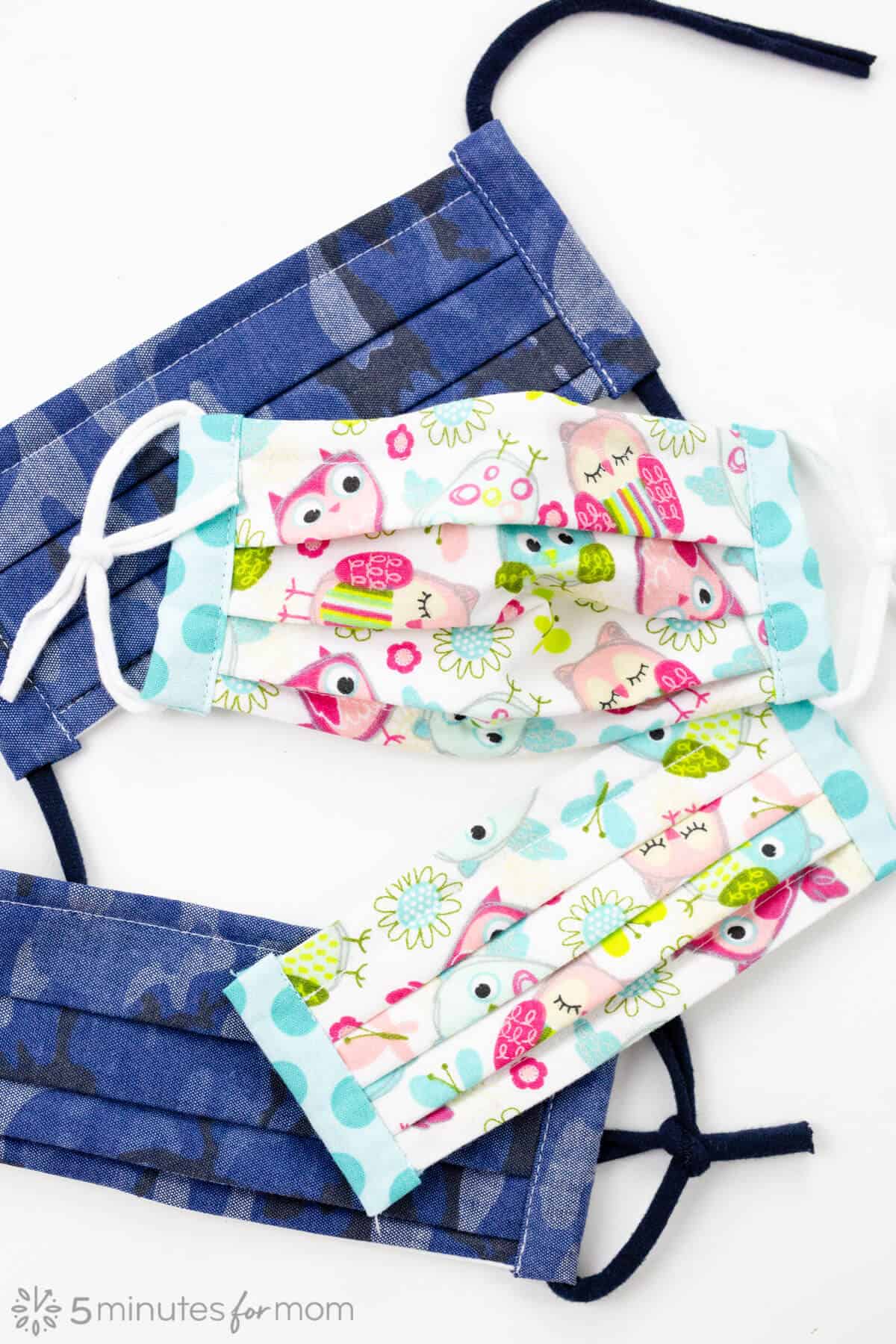 I hope this method of making ties for your DIY face masks helps you and I would love to know how your mask making is going? Are you making masks for friends and family? Are you donating some to local organizations? Are you selling face masks to help cover your time and costs?

Free DIY Face Mask Pattern for Adults and Children
If you haven't seen it yet, you can watch our DIY cloth face mask tutorial and download our free face mask pattern which includes sizes for adults and children.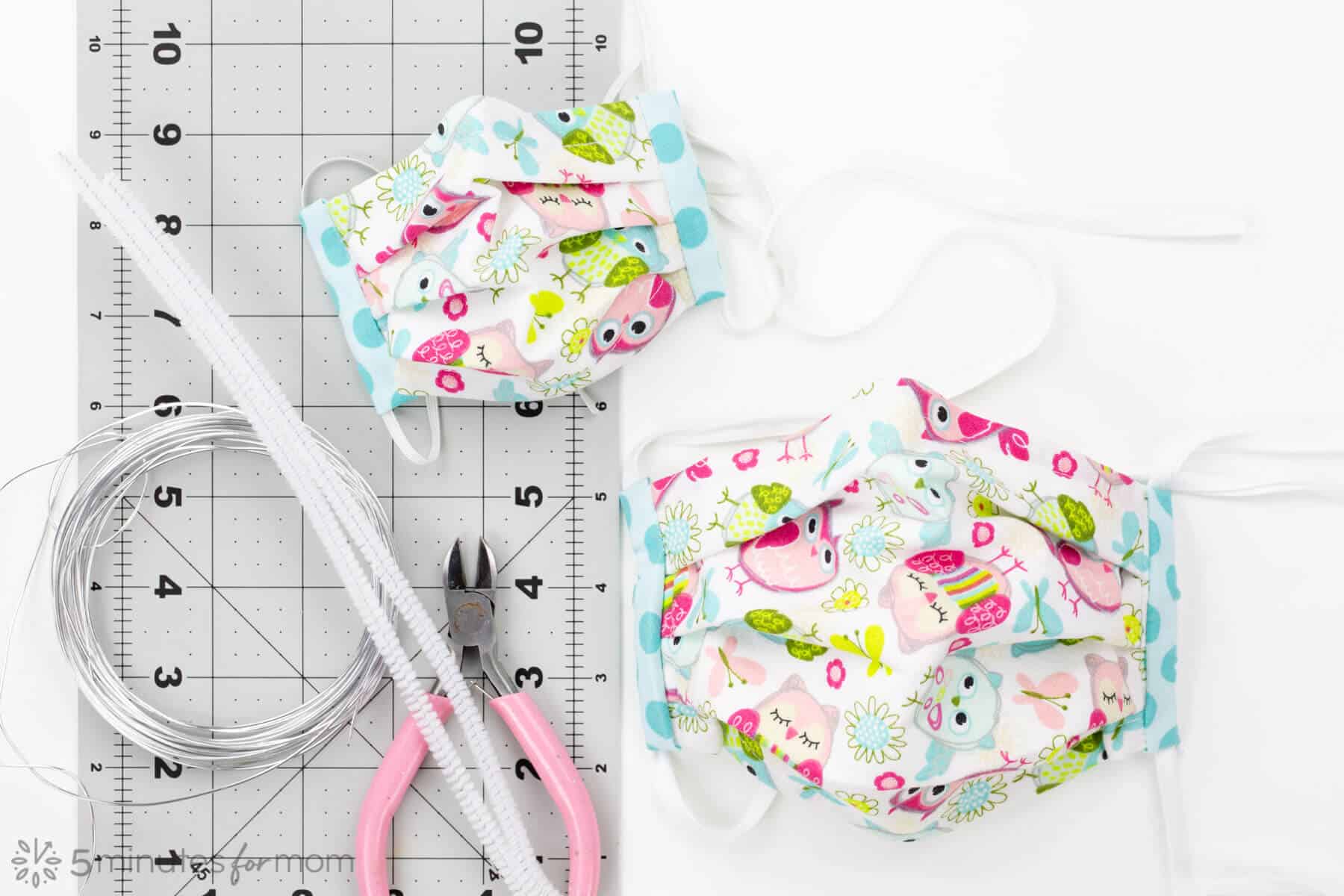 No Sew DIY Bandana Face Mask Tutorial
If you are in a hurry or you don't have a sewing machine, you can fold up a DIY cloth face-covering in two minutes or less — and you can also use knit fabric ties instead of rubber bands or elastic bands. Simply swap out the two elastic bands for two strips of knit fabric about 8″ long, stretched and knotted to form "elastic" bands.