This post may contain affiliate links. Read my disclosure policy here.
All you need to make this No-Sew Face Mask with Filter Pocket is a t-shirt, scissors, and a stapler. It's true… You do NOT need to sew to create a reusable, washable, cloth face mask with a filter pocket. Within minutes, you will have a reusable t-shirt face mask that is super comfortable and easy to wash and wear, again and again.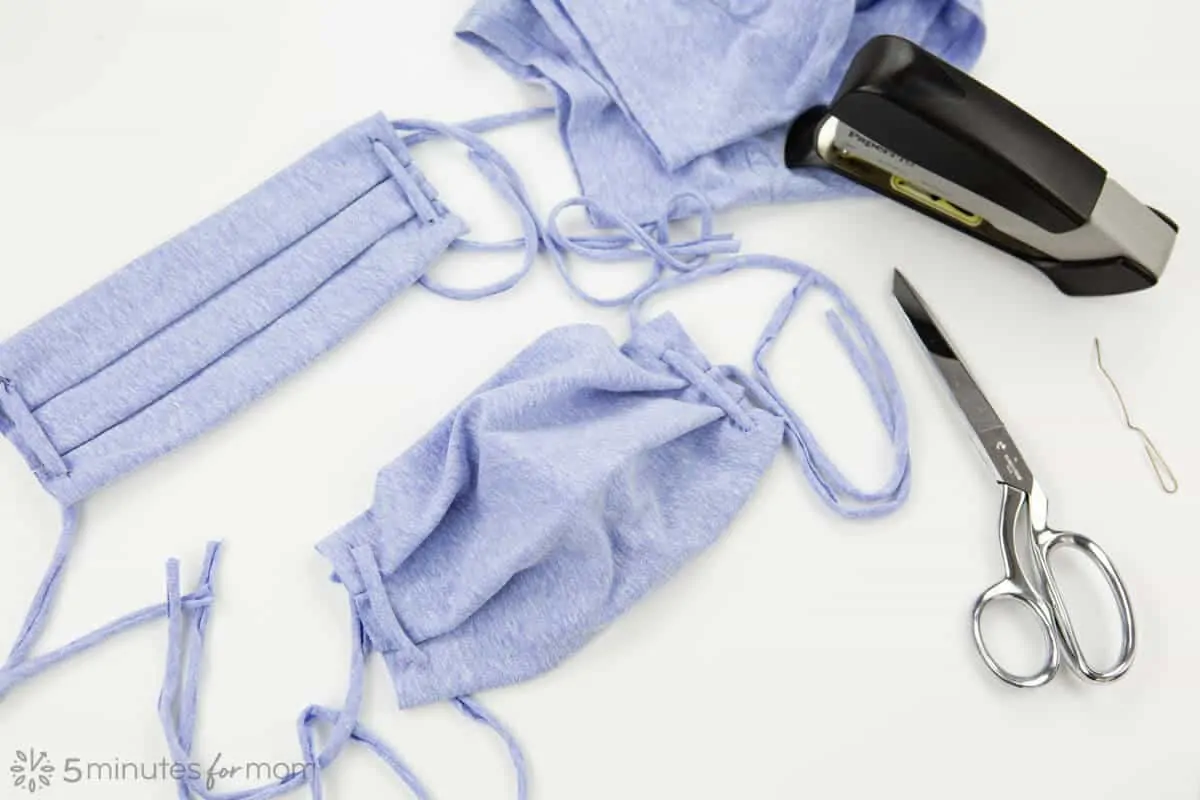 We all need cloth face masks now.
Within weeks, we have moved into a society where wearing face coverings is a symbol that we not only care about our own health and safety, we care about our PUBLIC health and safety.
Wearing a non-medical face mask shows that we are good neighbors, committed to reducing everyone's risk of disease.
Covering your face is about helping others. By covering your face when you go out for essential reasons, you are being a good neighbor and community member.
SF.gov
In many places, wearing a face covering is now required. For instance, LAX airport has started requiring face coverings along with many grocery stores. While face mask requirements vary across different states and countries, the trend is moving toward people wearing face coverings more often.
But what do you do if you don't sew and you want a good cloth face mask that is comfortable to wear and you can wash and reuse?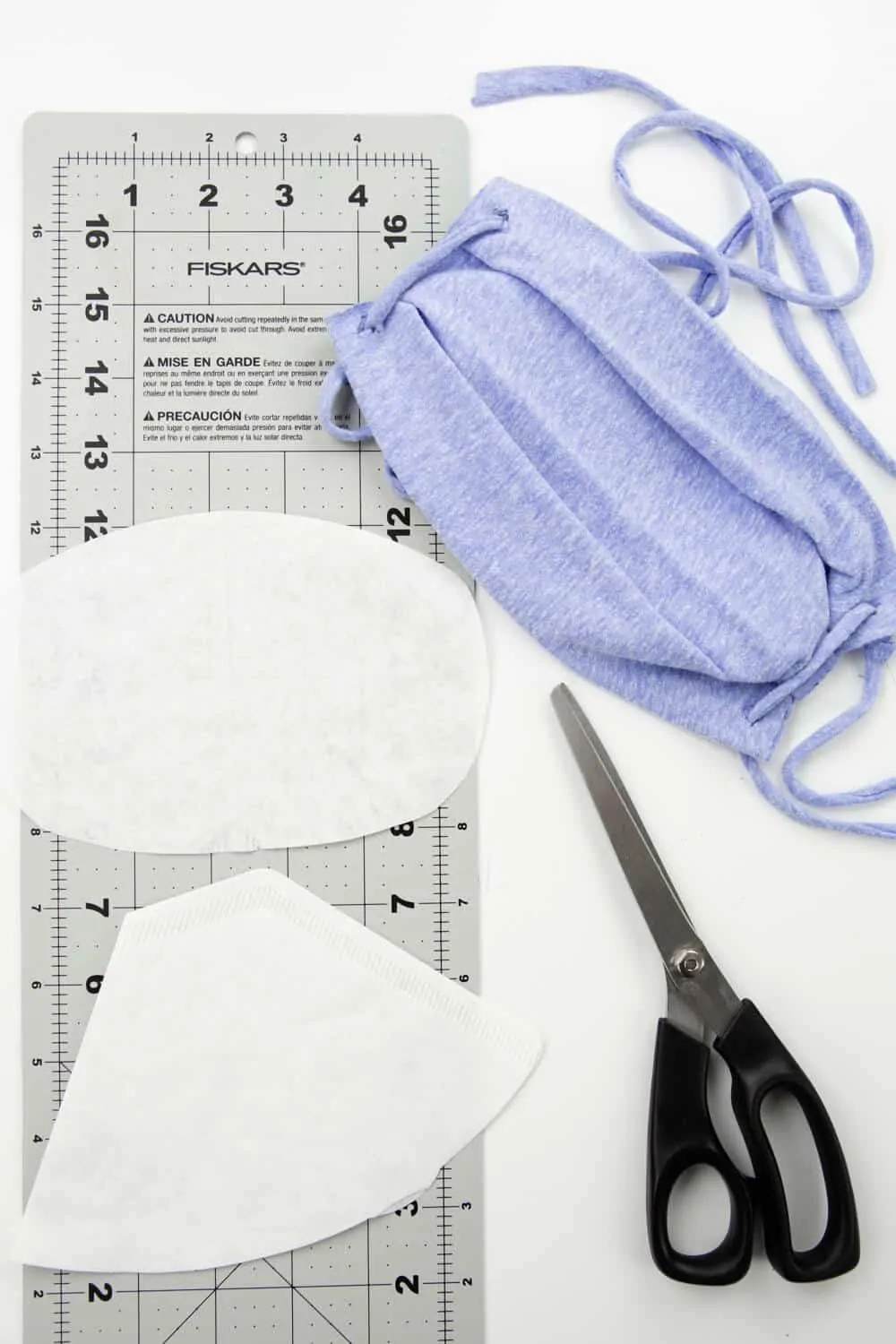 You simply grab a good quality t-shirt, a pair of scissors, a stapler, and some disposable coffee filters…
For the last two months, I have been spending all my spare hours at my sewing machine sewing face masks.
In March, after reading and testing different patterns, methods, and measurements, I made my own DIY Face Mask Pattern.
I based my face mask pattern on the surgical mask style which uses pleats to provide the ease and space to breathe around the mouth and nose. I also used a layer of non-woven interfacing as a filter and used wire and pipe cleaners along the top and bottom of the mask to create a tight fit.
I am thrilled with this cloth face mask design and I have had great feedback from the people who are wearing the masks I have made. It is a comfortable mask that is snug and fits well.
But if you don't have a sewing machine and you want a mask that fits well and is washable, reusable, and even has a pocket for a filter, I have designed a NO-SEW version of my popular face mask pattern.
The No-Sew Version of our Popular Cloth Face Mask Pattern
All you need to make this cloth face mask is a t-shirt, scissors, and a stapler. Yes – a stapler!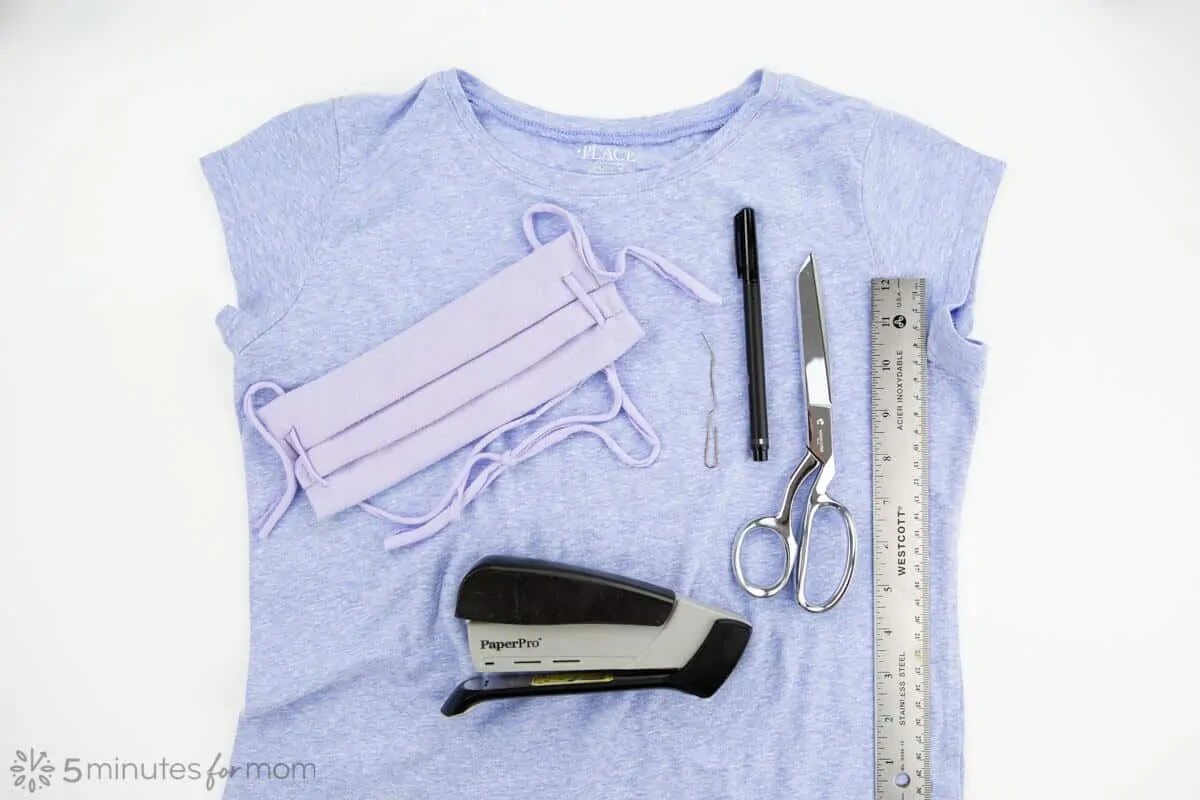 For the side "seams" of this no-sew cloth face mask, I have used a stapler to secure the pleats.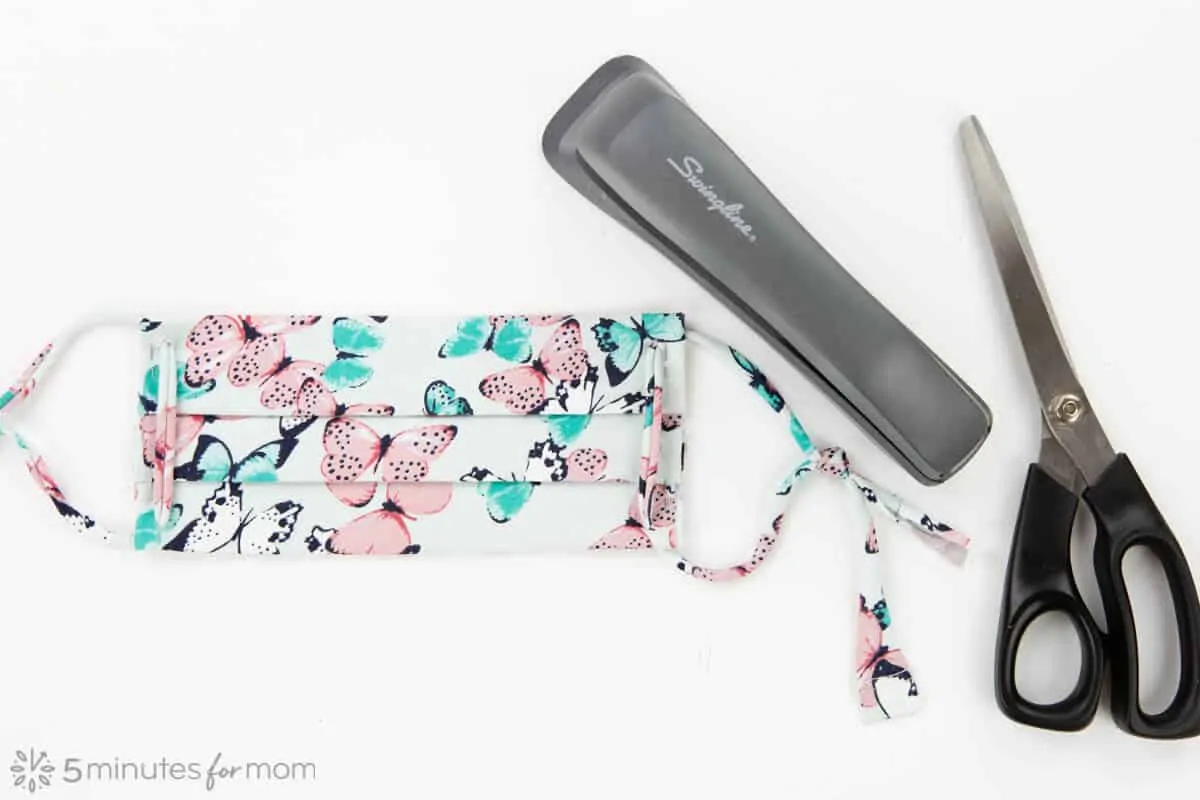 If after multiple washes your staples begin to rust, you can simply remove the staples and replace them with new staples.
Alternatively, you can hand-sew the pleats in place. If you do have a needle and thread and you don't mind taking a bit of extra time sewing your pleats in place, you can pin the pleats and then stitch to secure.
Because t-shirts are made from knit fabric, the fabric doesn't unravel and fray like woven fabrics do. So using t-shirt fabric to make these masks allows us to not have to finish/sew the cut edges.
Of course, you are not limited to just using t-shirts to make these masks. You can use any cotton knit fabric.
I made some children sized masks out of this knit dress my niece has outgrown.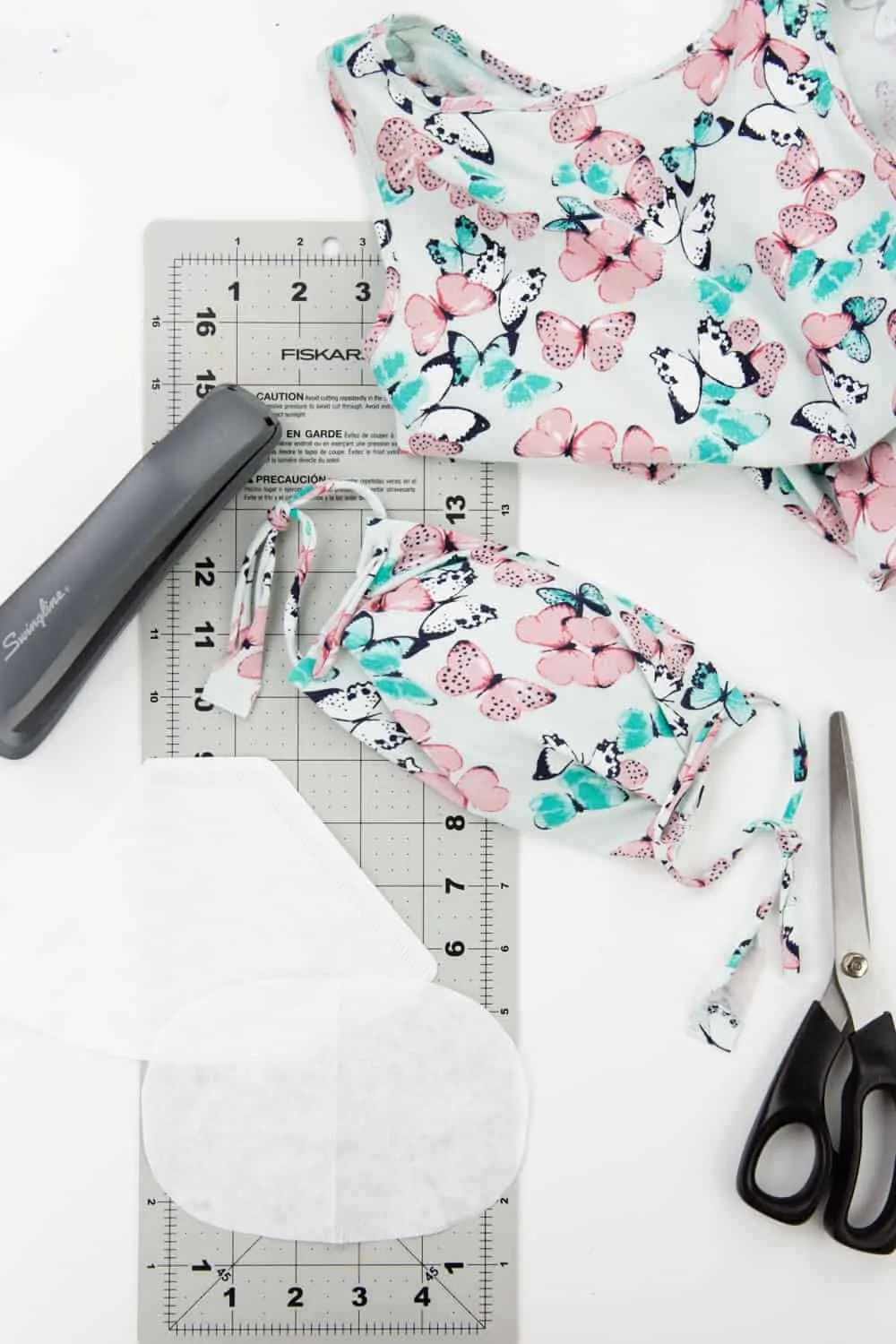 To make stretchy, comfortable ties for your face mask that will securely hold your mask in place, all you need to do is cut 3/4″ wide strips of your t-shirt fabric.
Once again, the stretchy knit fabric allows us to make no-sew ties. We don't have to worry about the edges of our straps fraying, so we don't need to sew them or create enclosed folds as we do when we make bias tape from woven fabric.
With the knit fabric, when we stretch and pull the cut strips, the knit fabric rolls and creates perfect soft and stretchy straps for our face masks.
For more details and a tutorial video on creating knit straps for face masks, click over to our post, How to Make Ties for Face Masks using Knit Fabric – Easiest Face Mask Straps.
How to make a No-Sew Cloth Face Mask with Filter Pocket
SUPPLIES
T-shirt
Scissors
Stapler
Ruler
Pen
Paper clip
INSTRUCTIONS
STEP ONE – Lay Out Fabric and Mark Measurements for Masks and Ties
With this large, child-size t-shirt, I can make TWO no-sew face masks, one from each layer of fabric. Depending on the size of your shirt or knit fabric, you may be able to make two or more masks.
Here are the measurements for an adult no-sew face mask and 3 sizes for kids:
For an ADULT SIZE mask, mark a rectangle 8" x 16" cutting through both layers of t-shirt if making two masks.
For a SMALL CHILD SIZE mask, to fit children approximately 2-4 years old, cut a rectangle 6.5″ x 13″.
For a MEDIUM CHILD SIZE mask, to fit children approximately 4-9 years old, cut a rectangle 7″ x 14″.
For a LARGE CHILD SIZE mask, to fit children approximately 10-12 years old, or teens with a small face, cut a rectangle 7.5″ x 15″.
You can position your rectangle widthwise or lengthwise, whichever direction works best with your fabric.
Next, mark 3/4" wide strips of fabric which will become ties for your masks.
You can mark and cut your strips horizontally across the width of your t-shirt, using the side seams of the shirt to make strips of fabric that are long enough to use as ties.
Alternatively, you can make continuous strips of fabric by cutting in diagonally and following in a circle around the width of the t-shirt.
In general, for straps that tie around your head, you need strips of fabric around 26″ to 32″, depending on the stretch of your fabric. For ties that go around the ears, you can use strips of fabric about 10″ long.
STEP TWO – Cut Fabric for Masks and Ties
Cut your rectangles for your masks and your strips for your ties.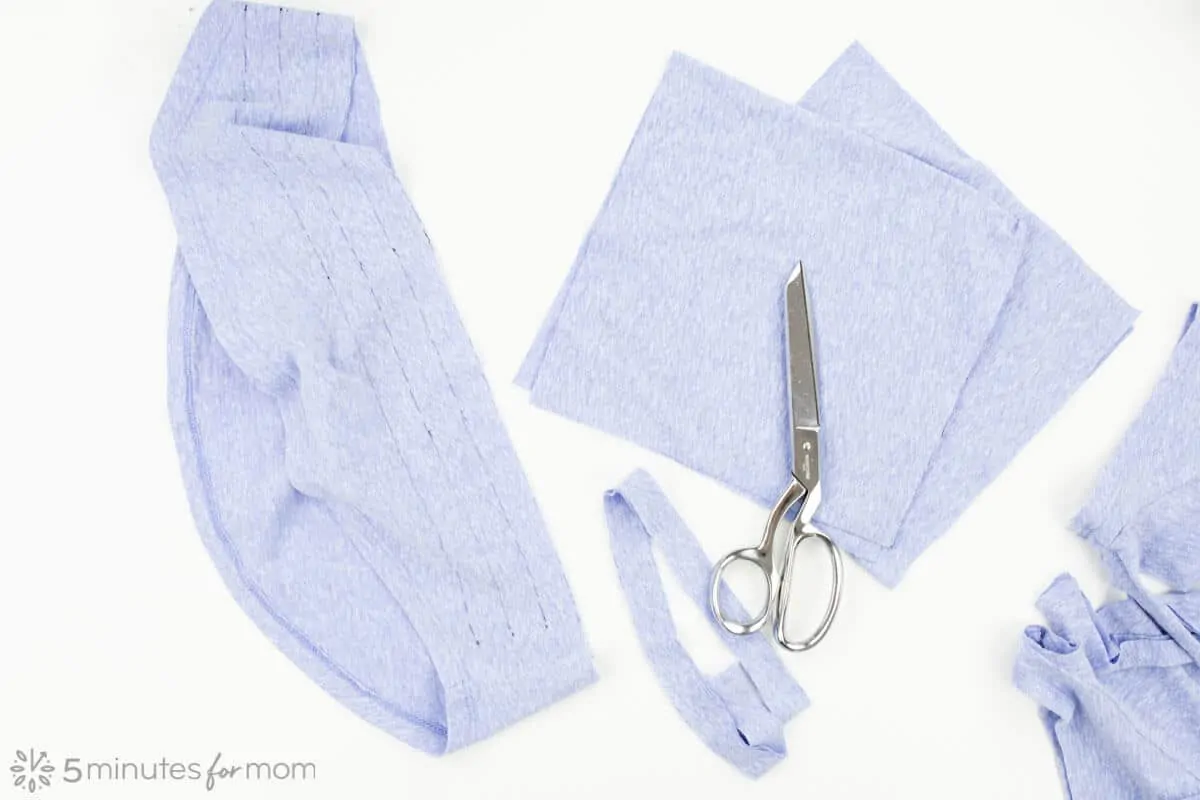 Stretch the strips so it ravels and forms soft, stretchy "strings" of fabric.
Cut four pieces, each approximately 30" long. You will use two strips for each mask.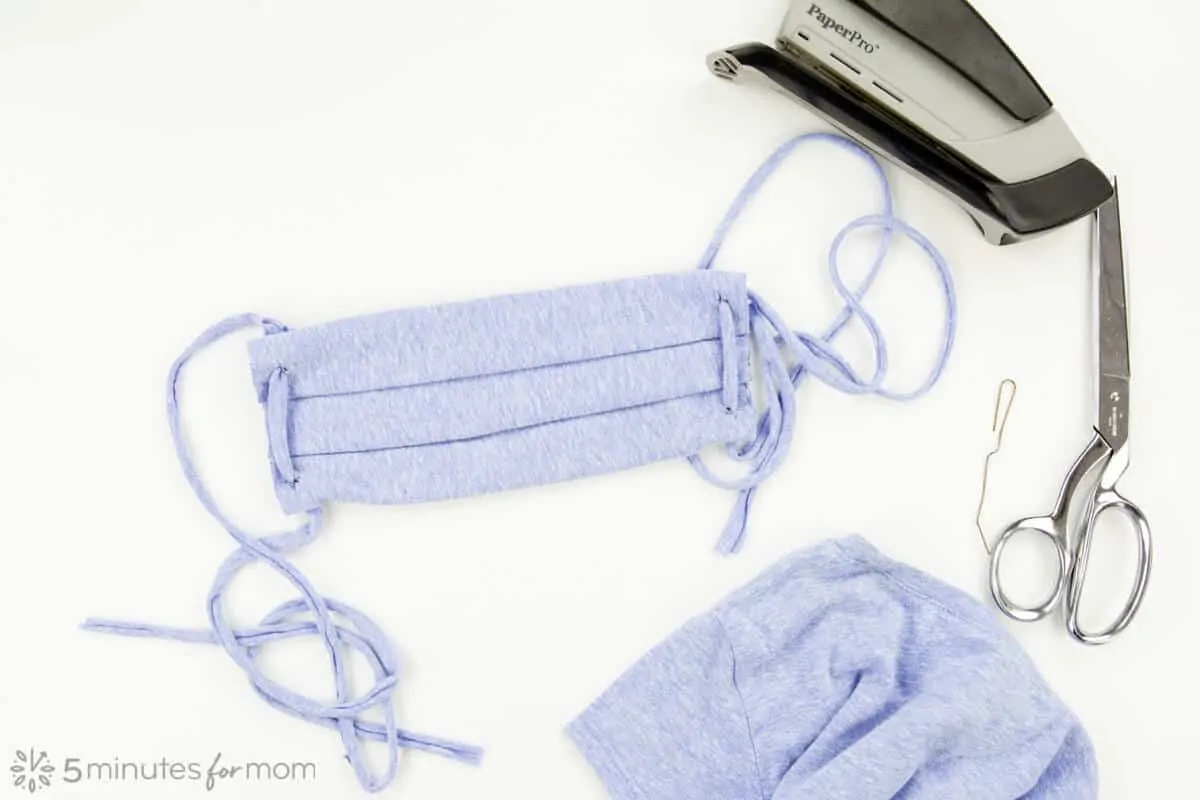 If you prefer elastics that go around your ears, cut strips approximately 10″ long and knot to fit snugly.
STEP THREE – Fold and Secure Mask Pleats
To make each mask, take one 8" x 16" rectangle and fold in half, with wrong sides together, the folded edge at bottom of square and raw open edges at top.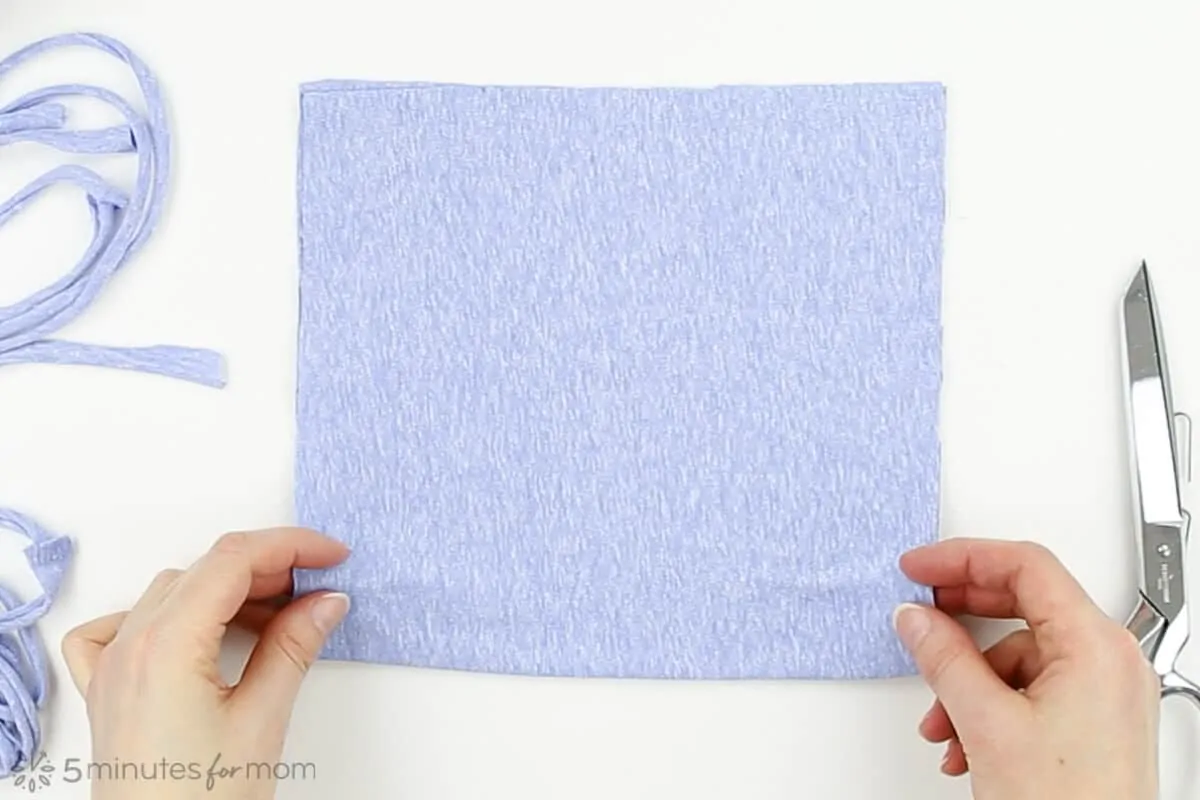 Starting from the bottom, folded edge, begin folding three pleats 1" deep, nesting each fold together, leaving a 1/4" at the bottom…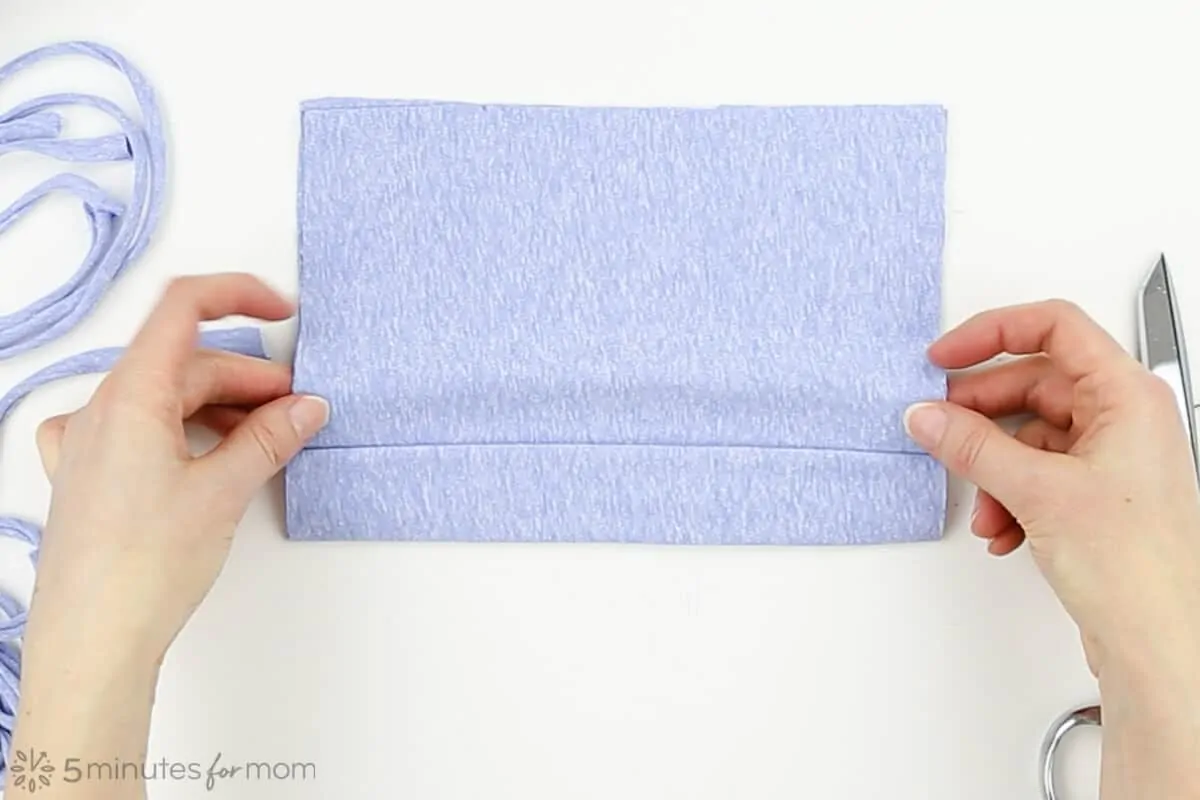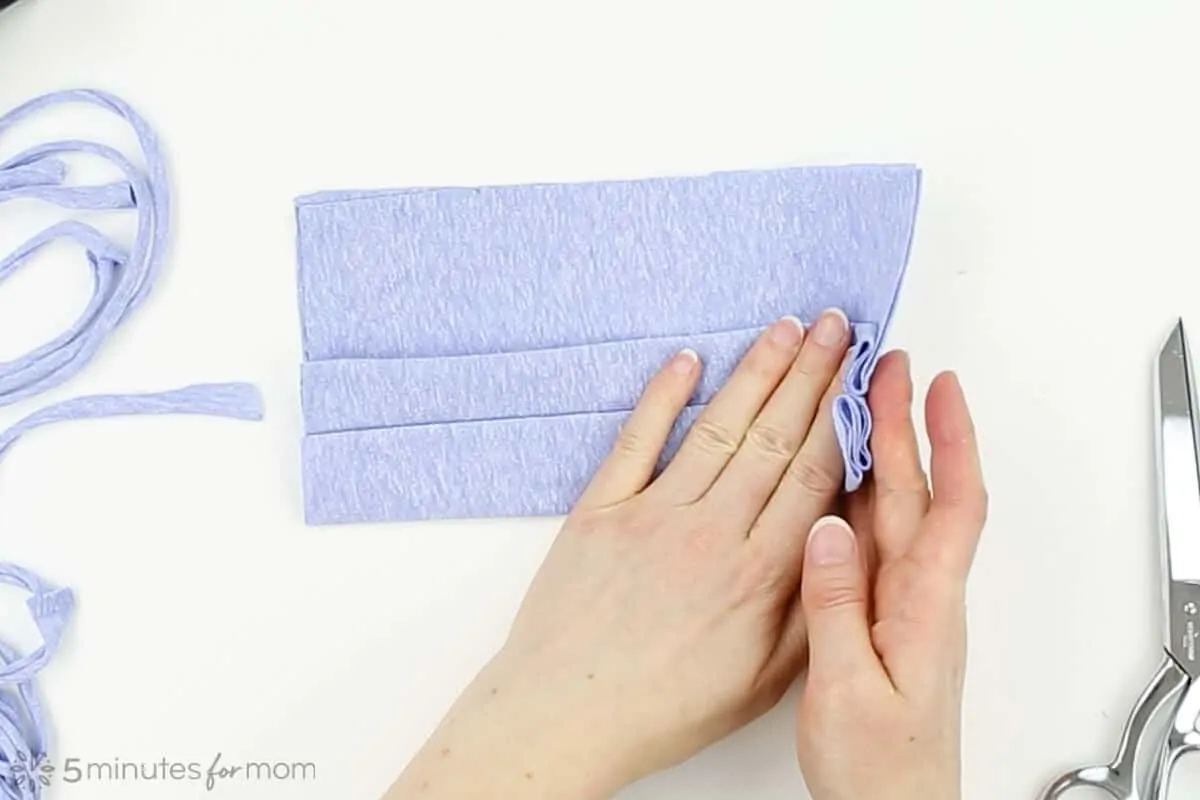 For the top pleat, fold the raw edge over to the back of the mask.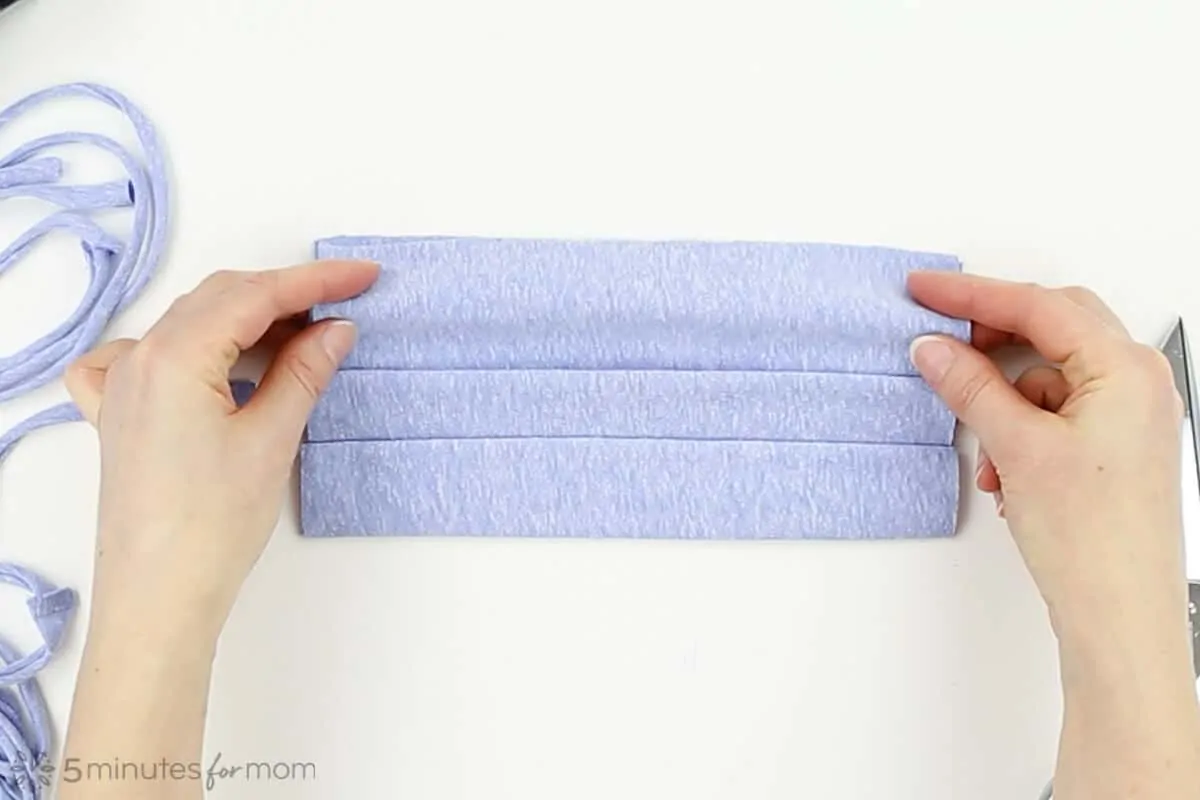 Secure pleats with staples on both sides.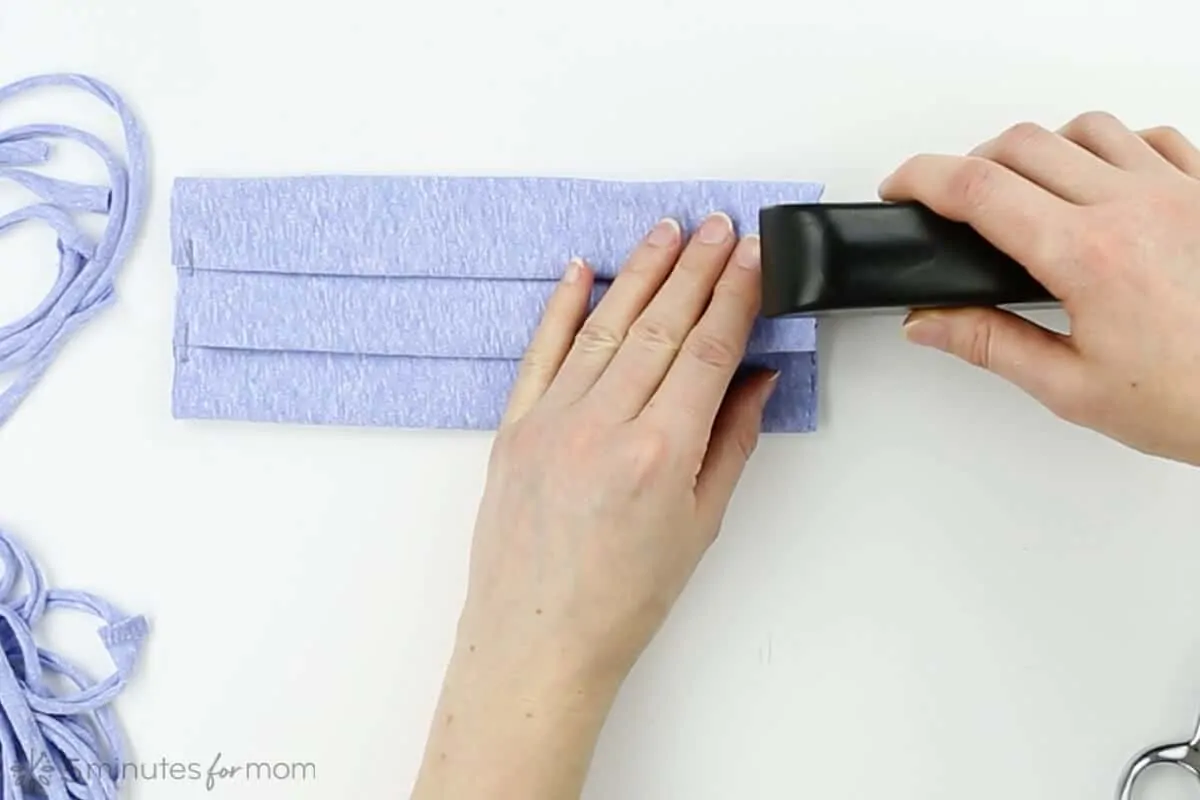 STEP FOUR – Thread Ties
Mark and cut holes for ties on sides of mask.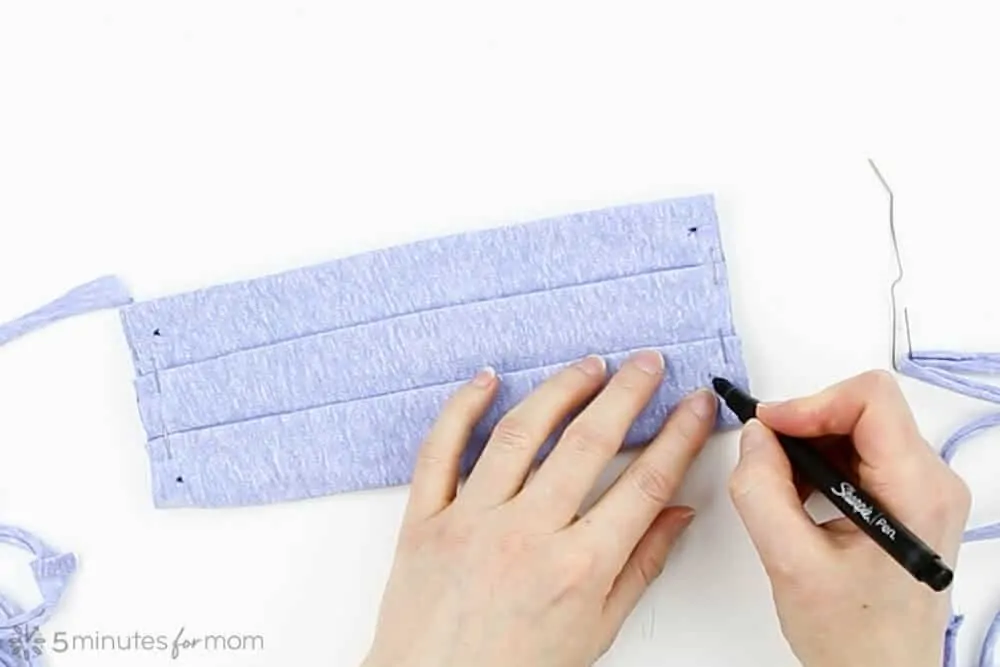 Using an unfolded paper clip as a "needle," thread ties through sides of mask.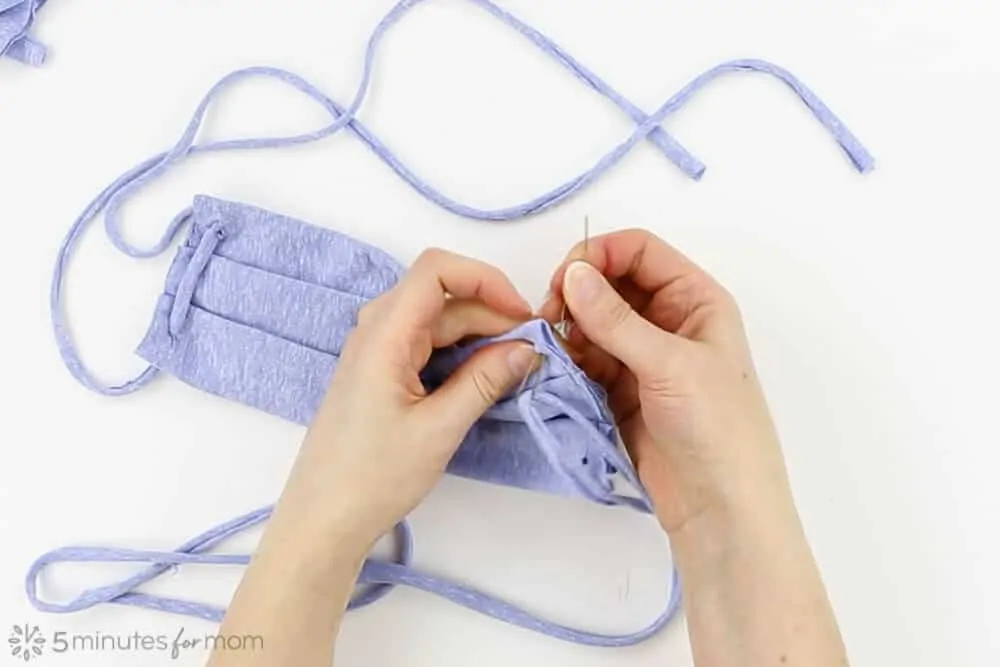 STEP FIVE – Make DIY Mask Filter
The pocket for an optional, removable filter is at the bottom back of your new no-sew face mask.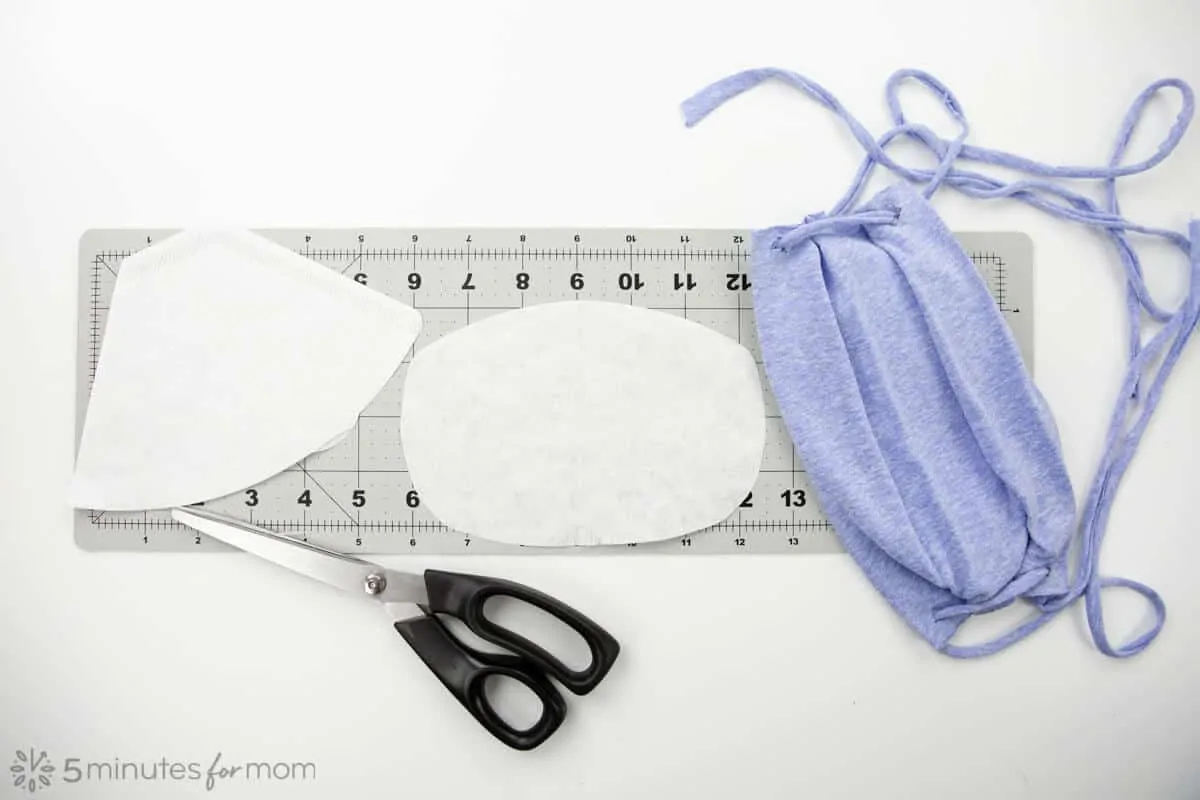 You can make a DIY filter from a coffee filter…
Open coffee filter. Draw and cut an oval slightly smaller than the width of your mask – about 6.5"x4.5".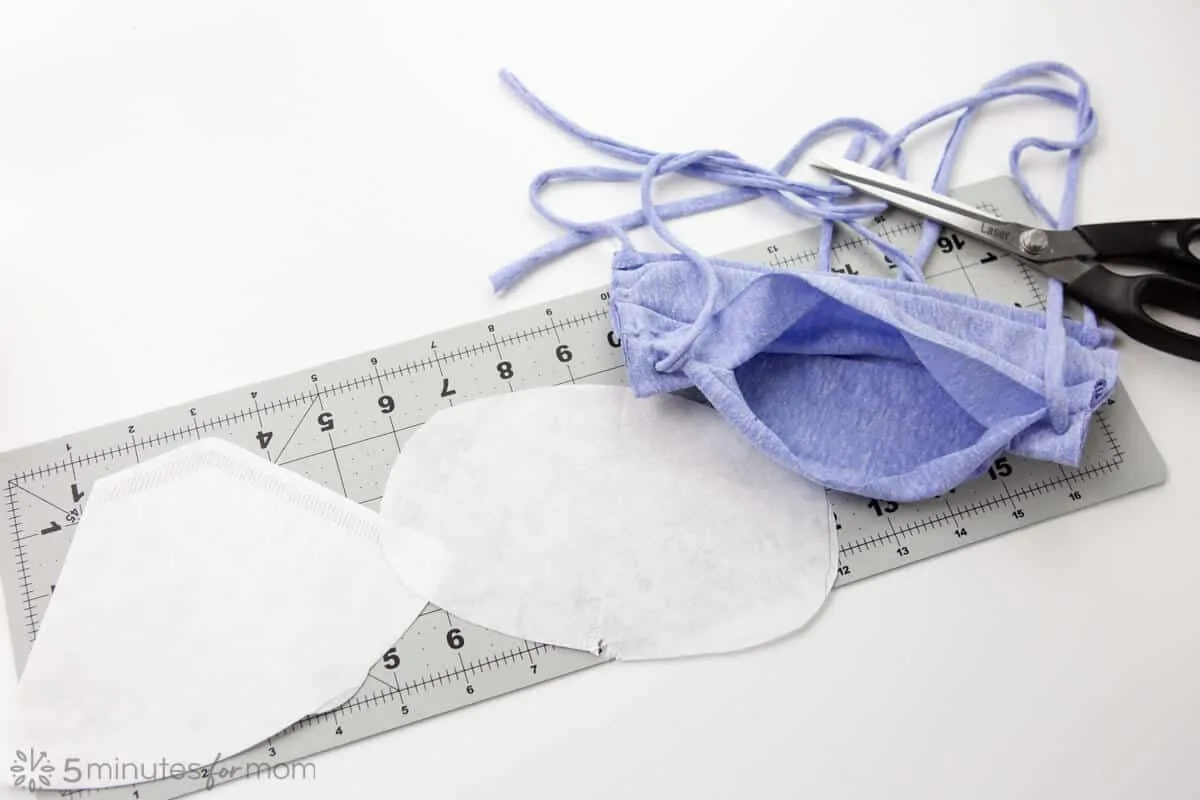 Insert filter into mask pocket.
Remember to remove filter before washing mask.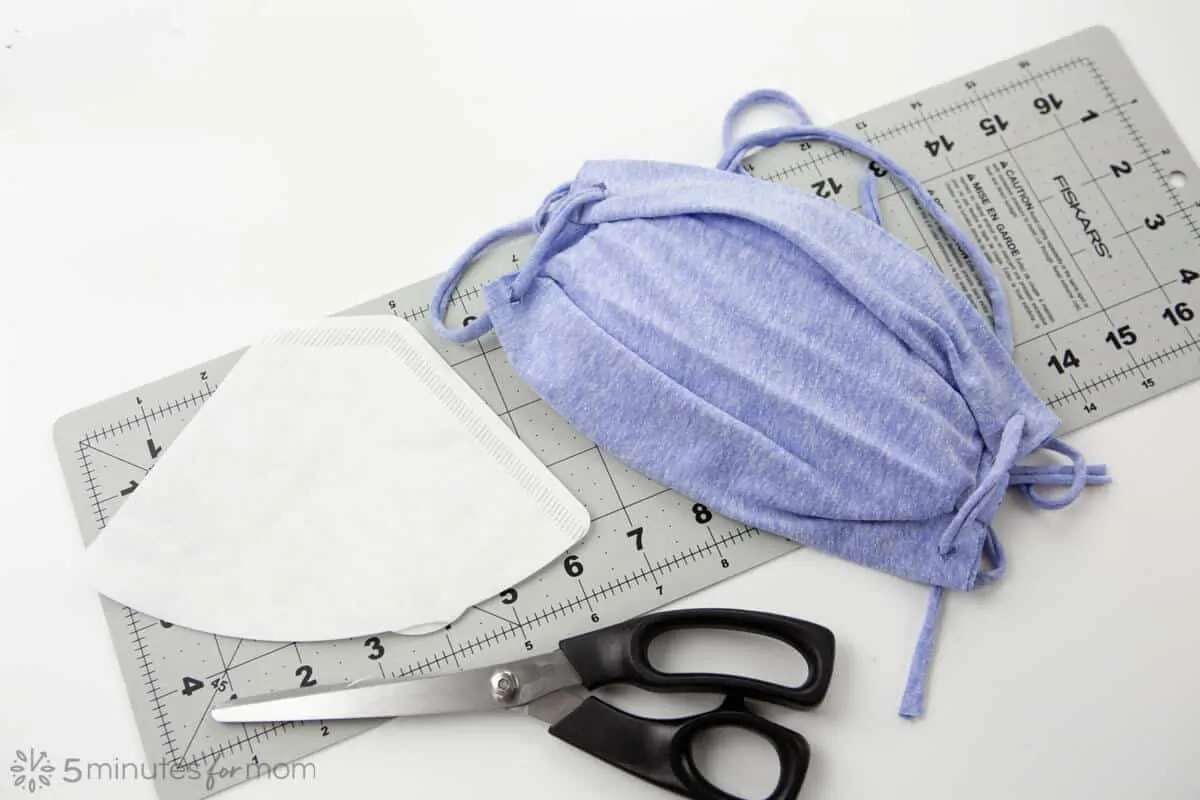 Masks should not be used on children under two years of age or on anyone who is unable to remove the mask themselves.
Anyone who is experiencing difficulties breathing should not wear a face mask.
How To Add Another Layer of Protection
You can add even more protection to your homemade face mask by adding a nylon overlay around the face mask.
Simply cut a section of nylon about 10″ long from the leg of from a pair of pantyhose. Then pull that ring of nylon over your head and place it over the face mask.
As has been previously observed by Cooper et al. (1983), adding a layer of nylon stocking over the masks minimized the flow of air around the edges of the masks and improved particle filtration efficiency for all masks, including all commercial products tested.
Loretta Fernandez from Northeastern University explains in this NPR article that the tighter seal is key in improving the function of the masks. She said, "It really improved the performance of all of the masks, and it brought several of them up and over the baseline mask we were using, which was a 3M surgical-type mask."
Since cloth face masks do not offer the level of protection that medical masks provide, we normally wear homemade face masks to help protect other people from any potential germs we may have. But, when you want your homemade mask to help protect yourself, it is encouraging to know that adding a nylon overlay could help improve the protection your mask provides.
While you may not want to add a nylon overlay on top of your no-sew face mask every time you go out… I think it is a smart tip for when you are going to have increased risk of exposure.
For instance, if your family member is sick and you have to care for them at home, it could be helpful to add an extra layer of safety by pulling a piece of nylon over your homemade mask.
Face Mask Pattern for Kids and Adults
If you have a sewing machine, be sure to watch our DIY face mask tutorial and download our free face mask pattern which includes sizes for adults and children.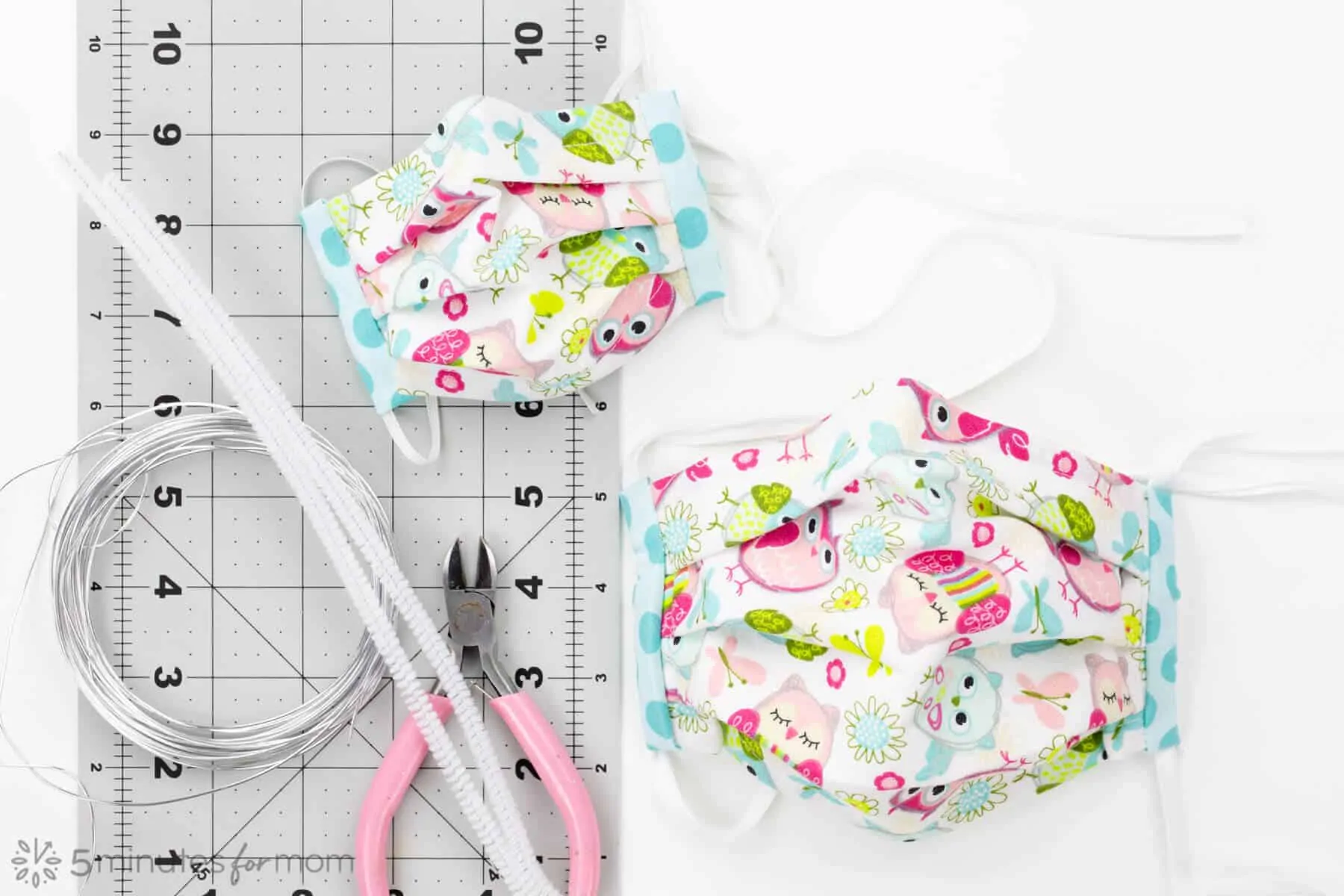 Bandana Mask Tutorial
Another no-sew face mask option is a bandana mask. In just a couple minutes, you can fold up a piece of fabric and use two elastics to create the simplest homemade mask.