This post may contain affiliate links. Read my disclosure policy here.
Painted birdhouses are an easy craft that's perfect to make with your kids. In this craft tutorial, you'll find out what supplies you need and see some pretty birdhouse painting ideas.
This post is part of our ongoing sponsored series for Testors Crafternoons.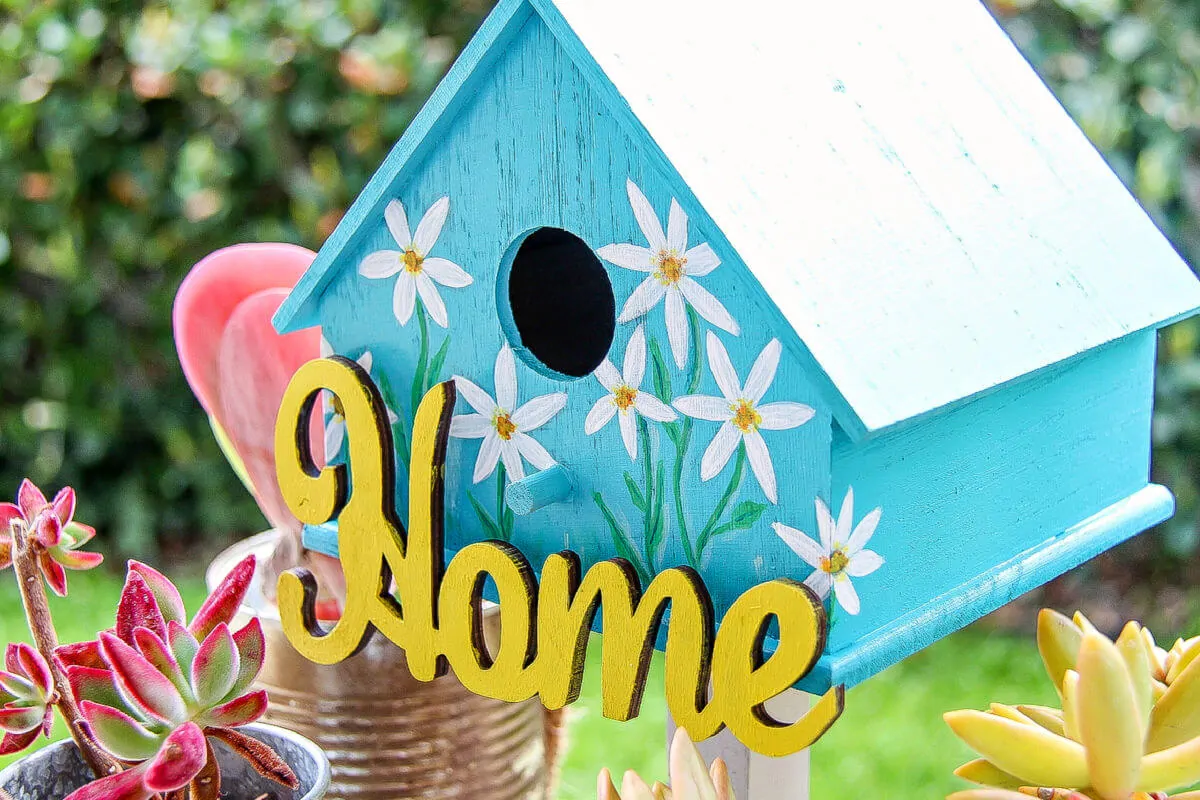 Last week for our Crafternoons activity, we showed you how to make a DIY flower press. Tonya is here again today to show you another fun spring craft — painted birdhouses for your backyard. This is a perfect activity to spend time with your children because you can all get your creativity flowing with your own birdhouse painting ideas.
Spring is coming and soon we'll be able to enjoy time in our gardens again.
Do you often have birds nesting throughout spring in your backyard? We do and I love it. They make their nests under the eaves and in the shrubs. So this year I thought I'd add a couple of pretty painted birdhouses in our backyard in the hope they use them as a home for their babies.
Whether or not any birds end up using our decorated bird houses this spring, our family will enjoy how they brighten our garden throughout the year.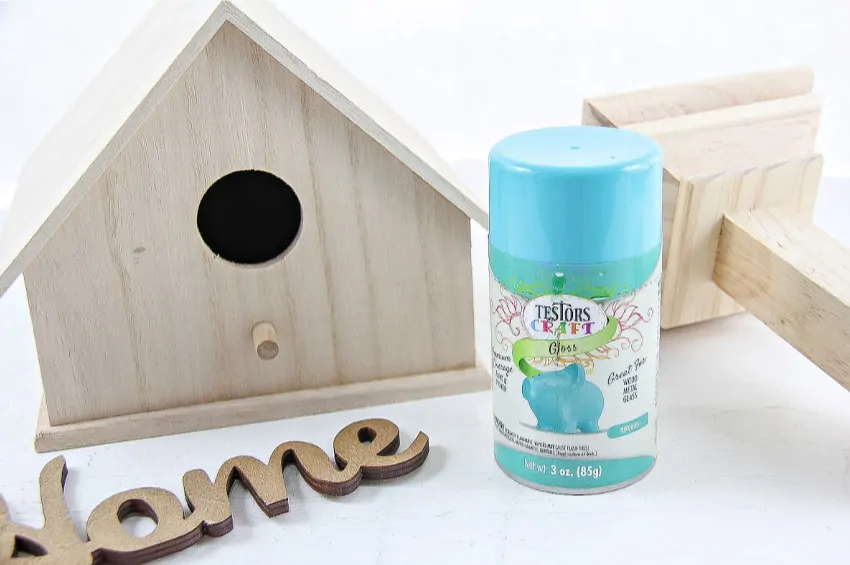 The Testors Craft Acrylic Paint comes in a variety of colors in 2oz bottles and can be used on many surfaces including glass, fabric, wood, clay, metal, plaster, and more. You can purchase the paint online from Amazon.com, Walmart.com, and at Menards and Do-It-Best Stores.
The Testors Craft sprays are a bit more of a challenge to find, as they are not available on Amazon.com. They can be found at Bostwick Braun, TruServ and Ace Hardware.
How To Paint A Bird House
The first step is to attach the stand to the bird house using wood glue. Set aside until completely dry before you begin painting.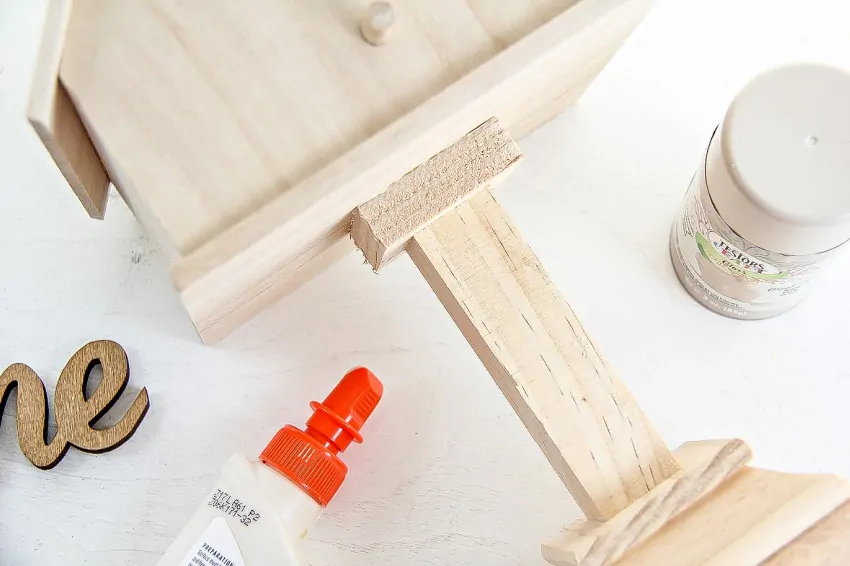 You can paint your bird house and stand all one color, or different colors… whatever brings you joy. Use painter's tape if you need to tape sections off when you switch colors.
The best part about this activity is coming up with pretty birdhouse painting ideas. Sketch out some ideas on paper first to plan your design. If you are crafting with your kids, suggest they draw out lots of their painting ideas on paper and then pick their favorite. This will extend the time they get to spend drawing and stretching their artistic abilities.
Painting flowers on your birdhouses is a lovely choice and allows for variety and bright colors. If the only goal of your bird house is to attract birds, then you may want to choose softer, neutral colors.
But we really wanted our birdhouse to be a cute decoration in our garden as well as a potential home for birds.
So I chose a cheerful blue paint and added daffodil flowers using acrylic paint and sealer to protect the bird house from the weather.
I painted the bird house and stand different colors, spray painting 3 coats each of Testors Craft Gloss in Smokey Beige and Turquoise.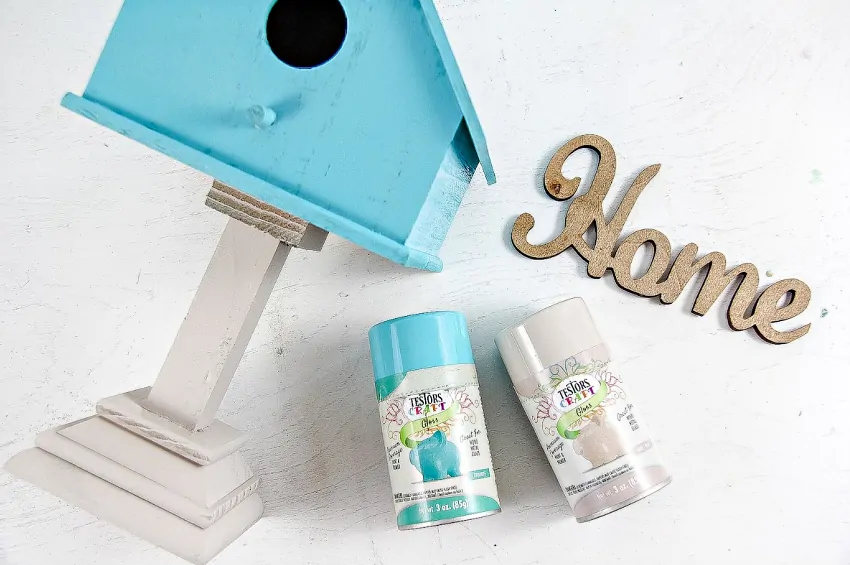 Next, add a little detail to your bird house. We painted spring flowers on ours. I sketched the basic shape for the flowers out first, and then painted using Testors Craft Acrylic Paint in assorted colors.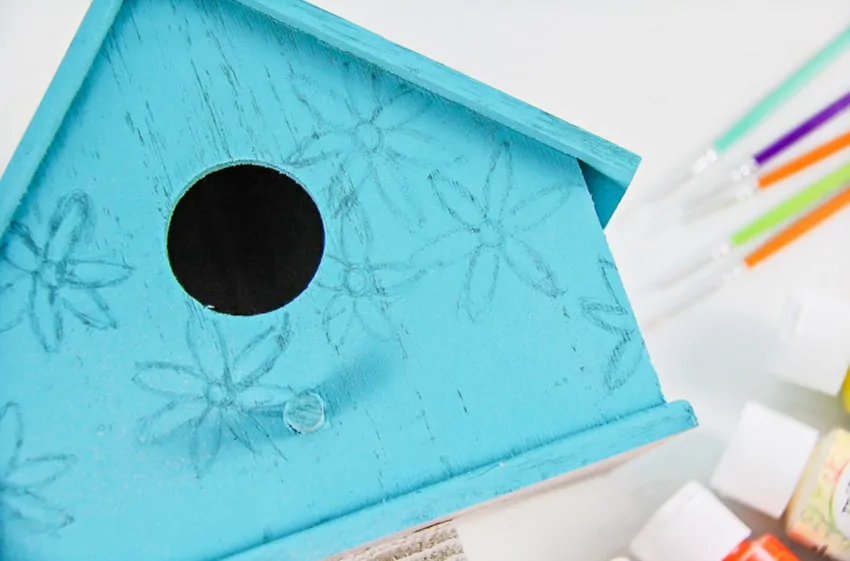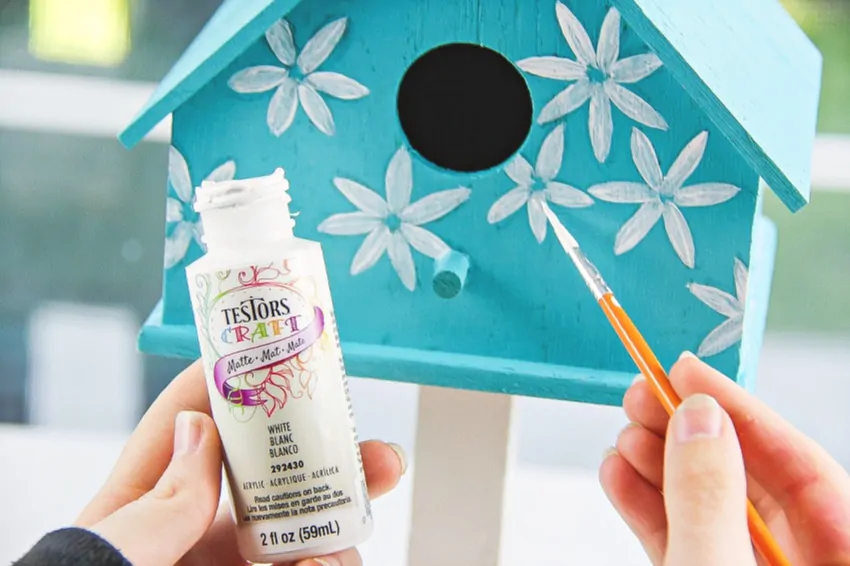 We began with the flowers in white, daffodil, vanilla, and orange, followed by the stems and leaves in seafoam, green, and deep sea.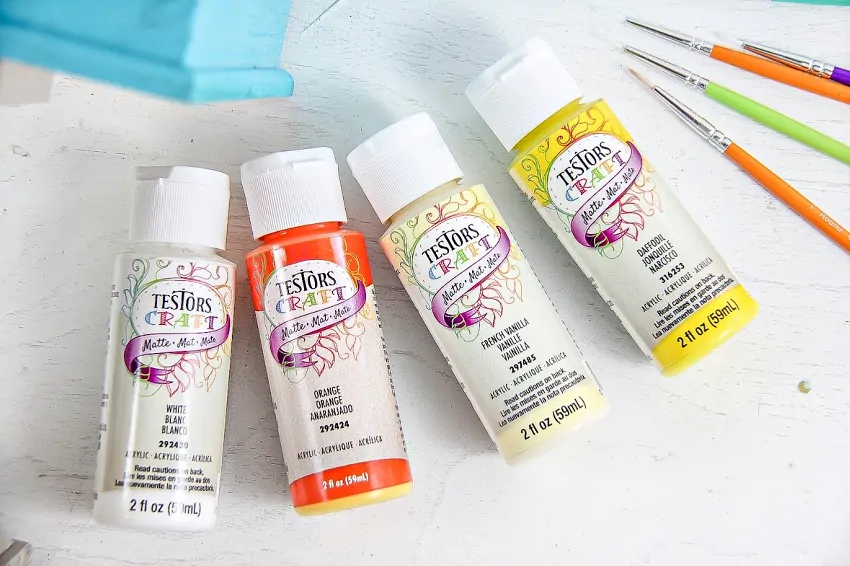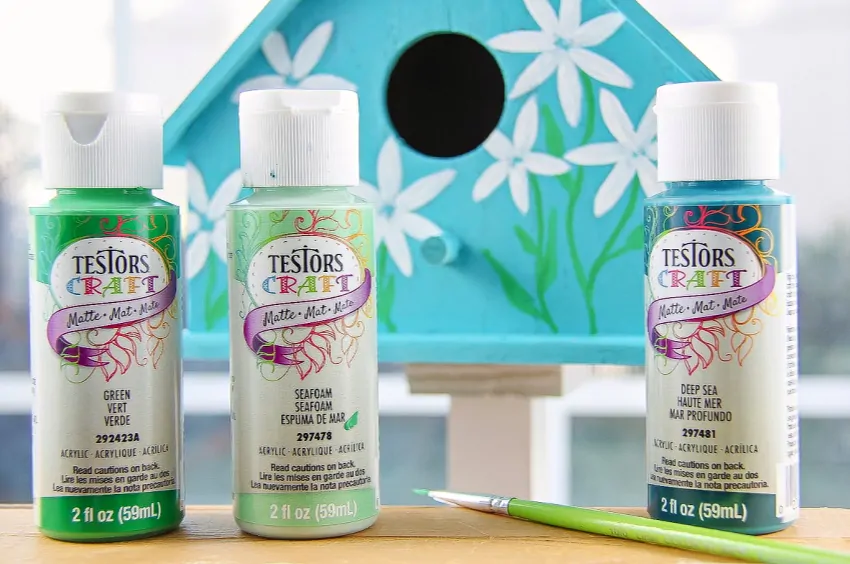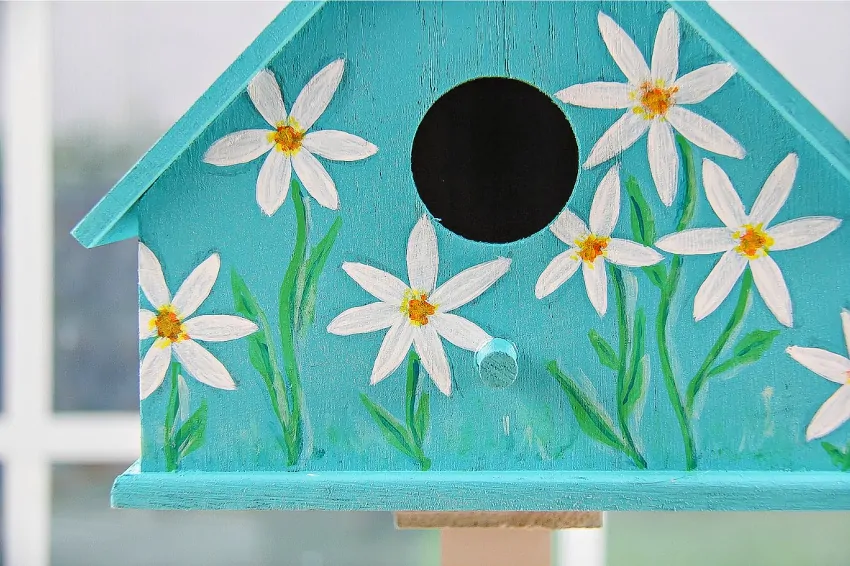 The final step was to paint the wood 'home' sign using Testors Craft Acrylic Paint in Daffodil, and once dry, attach it to the front of the bird house using wood glue.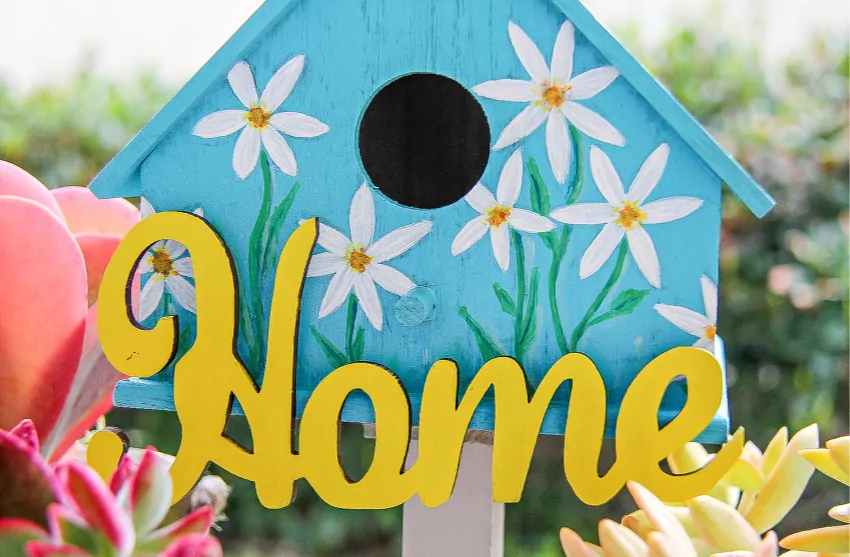 Apply a sealer over the top of your bird house to help protect it from the weather, and you are done.
A sealer you can use is Testors One Coat Lacquer #1834MT (not acrylic) which you can find at Michaels and Hobby Lobby.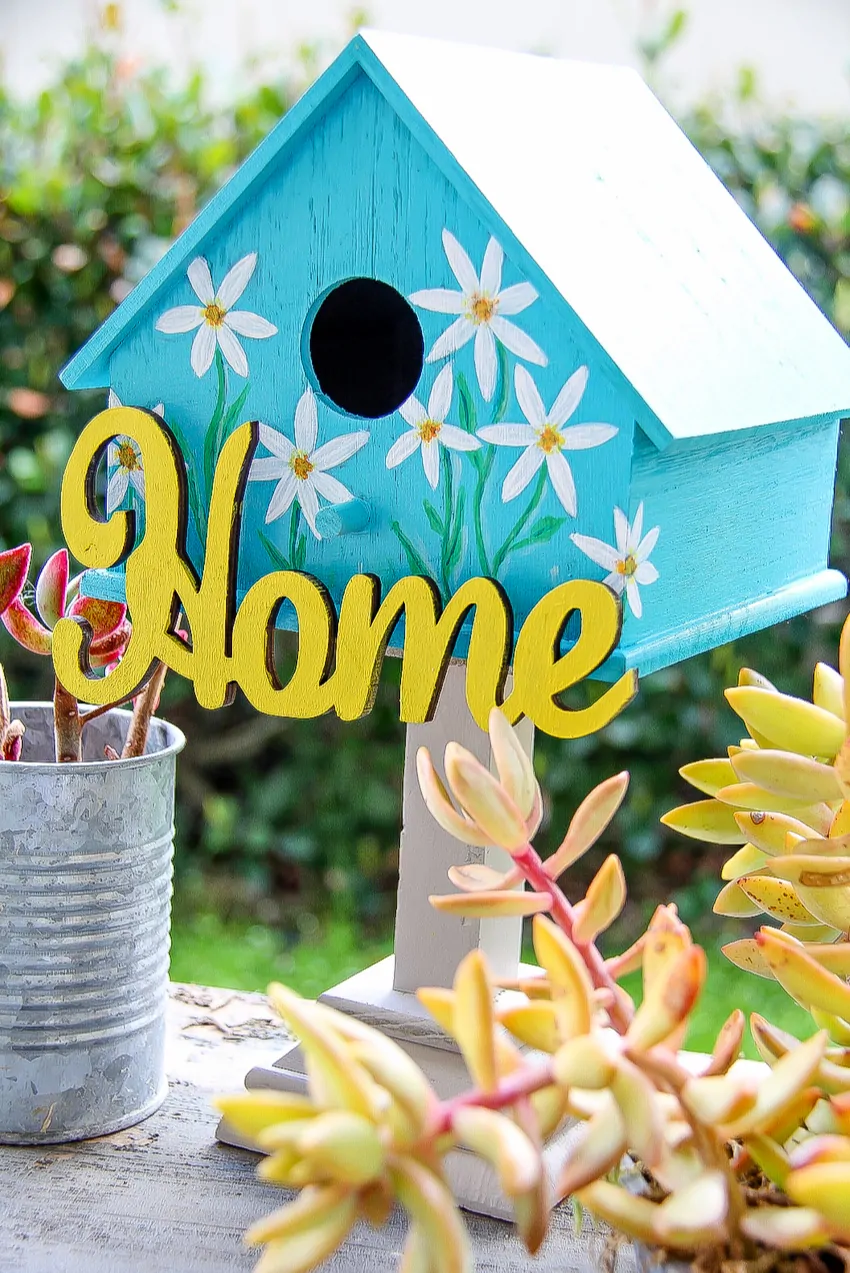 Where Is The Best Place To Put A Birdhouse?
Once your painted birdhouses are finished, you want to find the best place to put the bird houses to attract and keep the birds safe.
Since many of us have small yards these days, you may not have a lot of choice for where to place your birdhouse, but there are a couple of points to consider.
In this bird house design above, we really wanted a cute decorative birdhouse to liven up our backyard as a cheerful piece of decor that might also provide a home for nesting birds.
If you're working hard to attract birds for nesting, you might want to research what types of birds you have in your area to help you pick the best location in your yard. Since each bird species has different habitat requirements, you can plan where to mount or hang your birdhouses.
We chose to mount the house to a stand instead of hanging it. Hanging birdhouses can sway in the wind, which some birds don't like. But other bird species do like houses hung high above the ground. For example, the purple martin likes bird houses hung about 15 to 20 feet above the ground. Whereas Chickadees are most likely to nest in houses that are 4 to 8 feet above the floor of a thicket.
Most importantly, you want to put birdhouses a good distance from bird feeders, as the feeders attract predators and might keep smaller songbirds from nesting there.
More Fun Craft Ideas
Looking for even more crafts to make with your kids? Try these:
Pin these Birdhouse Painting Ideas for Later
Be sure to pin this post so that you'll have your step-by-step guide when you're ready to make your own bird house.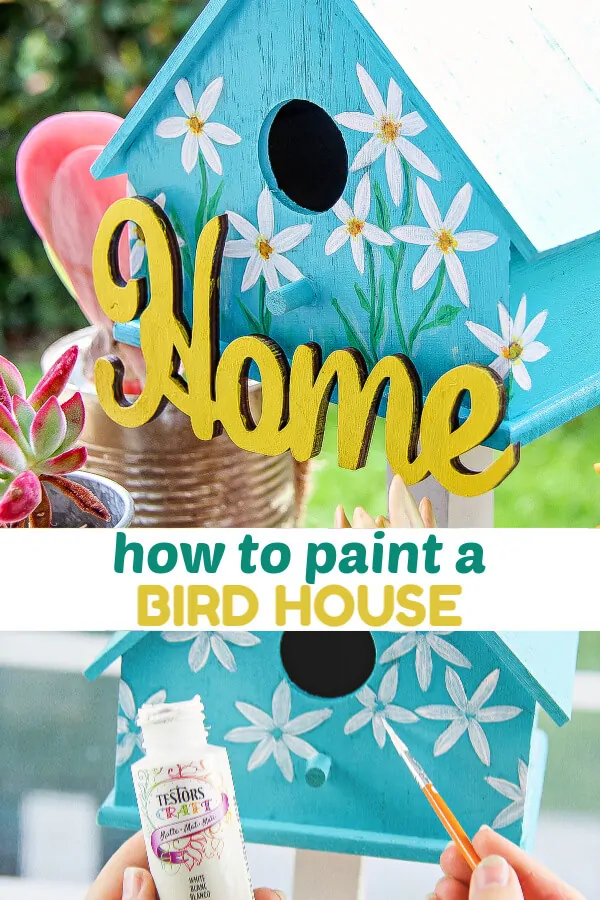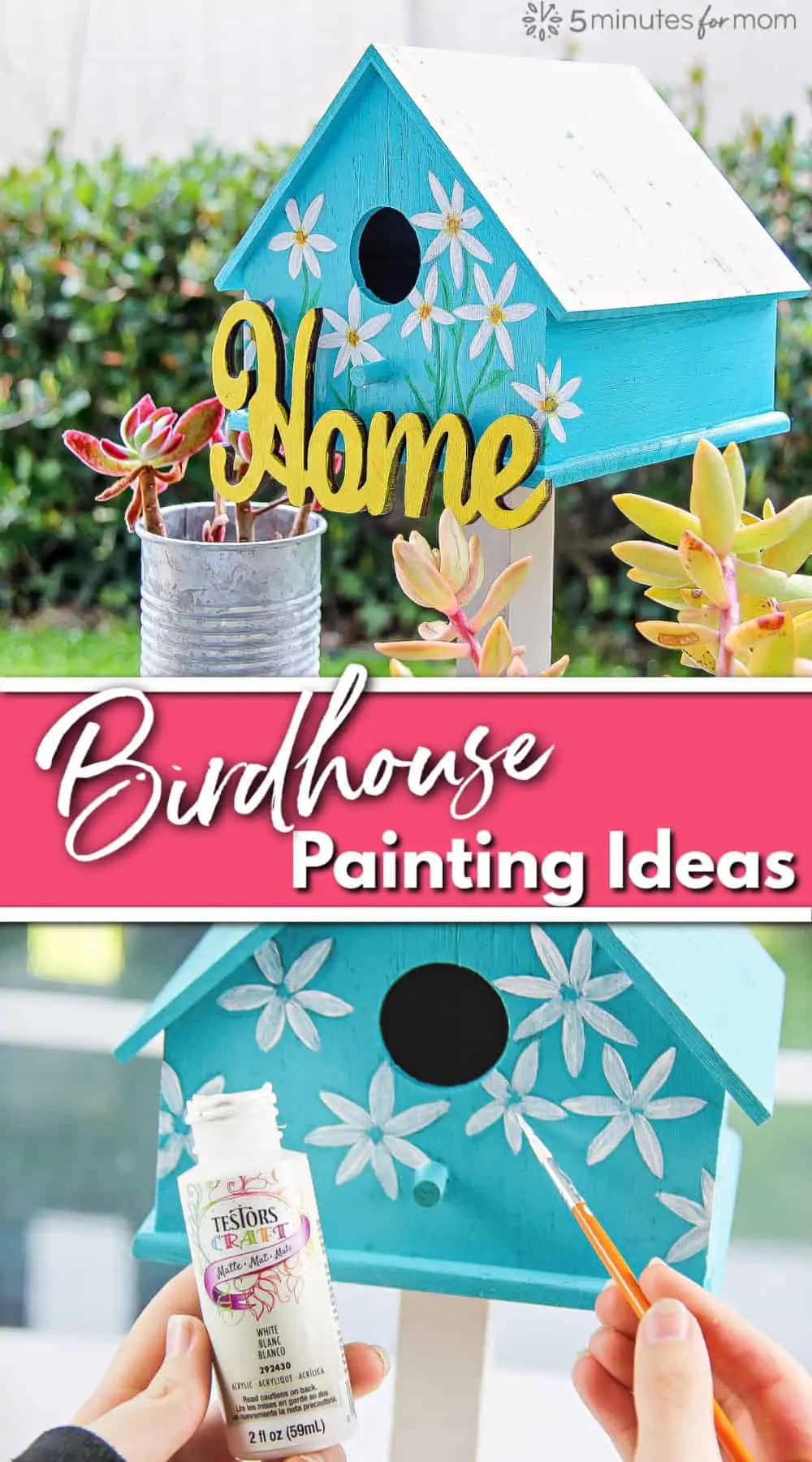 Disclosure: This post is sponsored, so extra thanks for reading and sharing.
Written by Tonya Staab, contributor at 5 Minutes for Mom
Talk with us: @5minutesformom and Facebook.com/5minutesformom
Pin with us at pinterest.com/5minutesformom