This post may contain affiliate links. Read my disclosure policy here.
Are you wondering how to hire a nanny? Like many mothers, when I was pregnant with my second child, I realized I was going to need to hire a nanny in order to keep my business running to help support my family.
Thanks to GTM Payroll Services for sponsoring this post so that I can share my experiences with you.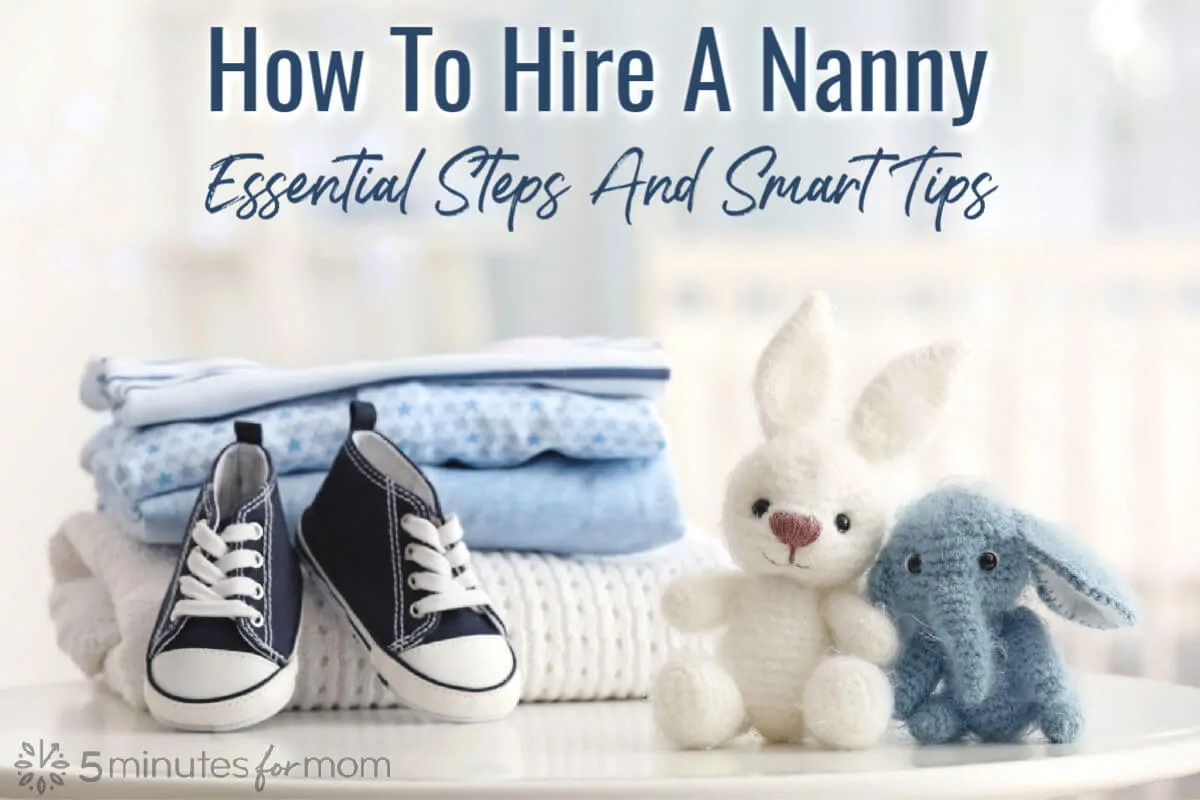 When I had my first baby, I was able to rely on my mother and sister for help, so my husband and I never even thought about hiring a nanny. Six years later, (after a difficult miscarriage) I was finally pregnant again and anxiously looking forward to having a second child.
But this time I was running an online business with my mother and sister. It was 2007 and we were incredibly busy managing our online toy stores and this blog, 5 Minutes for Mom.
I decided I needed to hire a full-time, live-in nanny. It was an emotional decision and a complicated process that at the time I knew nothing about.
Now almost 12 years later, I want to share with you what I learned about how to hire a nanny, including the daunting process of how to FIND a nanny, interview, hire, communicate, manage and eventually say goodbye.
Yes, it may be hard to imagine, but your baby is going to grow up… FASTER than you want.
Hiring A Nanny Can Be Stressful
Hiring a nanny is stressful, so you want to make the process as easy as possible. And we're here to help you figure out how to do that.
Many people often don't think of the steps involved to legally hire and employ a nanny or a senior care worker in their home.
We often hear about politicians who have made the mistake of hiring nannies who aren't legally allowed to work in the country, or politicians who paid their nannies off the books so that the nanny wasn't paying taxes.
But it's not just politicians making those mistakes.
So many people don't realize that when they hire a nanny to work in their home, they are officially becoming employers and the nanny is their employee.
You Are About To Become An Employer
When you hire a nanny or a senior care worker, you need to follow tax, wage, and labor laws regarding household employment. You'll often hear these called "nanny taxes."
If you're in the United States and you hire a nanny, you need to pay Social Security and Medicare taxes (and withhold these taxes from your employee's pay) and federal and state unemployment taxes.
While it's not necessary for you to withhold your nanny's income taxes, it is recommended. Also, you need to check if you are responsible for purchasing workers' compensation insurance coverage.
And, as an employer, you will need to comply with your state's paid family and sick leave laws if they apply to you.
As if becoming a PARENT for the first time wasn't stressful enough. Now you have to become an EMPLOYER for the first time.
Talk about overwhelming!!!
Thankfully there is an easy solution.
How To Pay A Nanny – The Right Way
If you have enough to worry about and you don't want to add the stress of processing payroll, filing tax forms, and complying with federal and state laws, GTM Payroll Services can handle it for you.
Their household employment experts can answer your questions and help you get set up hiring and paying a nanny the right way. They'll help you follow all the proper steps to establish yourself as an employer and your nanny as an employee.
And if you already have a nanny, but this is all news to you and you realize you haven't been paying your nanny correctly, GTM Payroll Services can still help you get compliant and handle your back taxes.
But before you even get to the step of paying your new employee, you have to figure out how to find and hire the right nanny.
How To Hire A Nanny
Step 1 – Decide If You Need A Full-Time Nanny

The first step is to decide whether you really need a full-time nanny or if you could make your schedule work with part-time help.

If the cost of a full-time nanny is out of your budget, you could hire a part-time nanny or consider the option of a nanny share. Some parents work out a nanny share arrangement where you share the child care costs with another family. You can find out more about nanny shares here…

Another idea if you only want part-time help might be getting an au pair. An au pair is very different than a nanny, but for some families it could be a fit. They are between the ages of 18-26 and are able to travel and stay in the U.S. with a family for a cultural exchange experience helping with childcare for one year. Au pairs don't work as many hours, and you don't pay them as much as a nanny.

Here's what I decided…

I did consider the idea of getting an au pair and I researched the costs as well as the benefits and drawbacks. We decided that the cost of an au pair was still high and that it wouldn't provide enough help to make the investment worthwhile for our family. We needed a full-time nanny who would also help with housework. I think that an au pair works best for a family who needs less help with childcare and wants some international cultural influence on their children.

As moms, it can be terrifying to give up control and care of our baby to an au pair or a nanny. Some moms might even feel misguided guilt. But it's so important to determine what is best for you and your family.

Look at your schedule and if you need a nanny, follow these steps for how to hire a nanny to put your mind at ease.


Step 2 – Decide If You Want A Live-in Nanny

If you don't have room in your home, this is a quick question to answer.

But if you do have an extra room for a possible live-in nanny, you want to take some time to decide if it is the right fit for you.

I was fortunate to have space in our furnished basement and we created a bedroom for our live-in nanny.

The cost-savings of having a live-in nanny can be huge, so it is definitely worth considering.

Also, you don't have to worry about your nanny arriving late for work… this can be very important if you have a strict timeline in the morning.

However, you want to talk to your partner/spouse or other family members to ensure everyone will be comfortable.


Step 3 – Determine The Cost Of Hiring A Nanny Where You Live

Figure out exactly how much hiring a nanny will cost.

How much you pay a nanny depends on where you live, how many children you have, and the ages of your children.

The cost of hiring a nanny also depends on how much experience you want your nanny to have and the responsibilities and tasks you'll assign.

You need to check your state laws and even consider sleeping time laws if you'll have a nanny working during the night time.


Step 4 – How To FIND A Nanny

Yes, "finding" a nanny is only step in this process, albeit the most important step.

So once you've decided you definitely need a nanny, you know whether or not she'll be a live-in nanny, and you know your budget, you are ready to start your search for the right nanny. Okay, so you may be asking…

"How do I find a reputable nanny?"

The first step to find a nanny is to talk to your friends and other mothers in your neighborhood. Learn from their experiences and mistakes.

When I got pregnant with my second child and knew that I needed help, I was really worried about how to find a nanny. So I started talking to other moms and I followed in their steps. I found out what nanny agencies they used and how to get started interviewing nannies.

I found my daughter's nanny through a local nanny agency that some of the moms in my neighborhood used. The agency helped me hire an international nanny and follow all the rules and regulations.

There are many nanny agencies and websites that can help you find nannies, but it's always nice to use a service that friends recommend.

Using a local nanny agency where I could meet face-to-face with the agent really put my mind at ease. She had helped other families in my neighborhood connect with their nannies, so I knew I could trust her.

(Hint: Using that local nanny agency REALLY helped when trouble arose. Keep reading for more on what went wrong and how we fixed it.)


Step 5 – Make A List Of Interview Questions

Before you meet with any candidates for interviews, be sure you make a list of interview questions.

You can get started with this list and then customize it with some of your own questions. Remember to ask if they have basic first aid and CPR certification.

I'll be honest, I did NOT do a good enough job making a list of interview questions.

If I were to hire a nanny again now, I'd be more thorough throughout the process. I tend to have a super friendly, spontaneous type of personality, which lends itself to interviews that are overly relaxed and not as professional as they should be.


Step 6 – Interview several candidates

The agency I used had group nanny interviews where potential parents and nannies all meet in one location and you can talk to several nannies in a short amount of time. It can feel a little uncomfortable. I suppose it's a bit like speed-dating, but it can work well.

Even if you go to one of those types of group meet-up style of interviews, you'll likely also want to schedule multiple one-on-one interviews with different candidates.

You can also screen candidates with phone calls before face-to-face interviews.

Once you have narrowed it down to a few candidates, have the interviews in your home so that you can watch them meet and interact with your children.

Ask your interview questions in a professional manner. Once you have the candidates in your home, you might end up feeling a bit like you're hosting a friend for coffee. Fight the urge to treat them like a friend. Remember that you are setting up an employer/employee relationship.

Call their references. I know it is easy to skip this step, but remember you are trusting this person with your precious child. You want to be thorough and find out as much as you can about the candidate's former nannying jobs.

(Another hint: I made a mistake at this stage of the process when interviewing nannies… and yes, I'll tell you more about what went wrong later in this post.)


Step 7 – Schedule A Start Date

Once you have selected your candidate, confirm their work hours and what day their employment will begin.

It's getting exciting… you may feel like you're almost done.

But some critical steps are coming up.


Step 8 – Sign A Contract

Have your nanny sign a contract. Use these tips for creating a nanny contract.

Also I really love all the suggestions in this article about what your nanny contract should cover.

You might even want to consider having your nanny sign a non-disclosure agreement… even if you're not a celebrity, an NDA can protect your family's privacy.


Step 9 – Set Expectations

It's crucial to communicate your rules and expectations at the start.

First cover the big issues, like whether or not your nanny should be responsible for driving your children.

In my case, my nanny didn't have a driver's license, so she never drove my kids. I liked that as it was one less thing for me to worry about. She walked my daughter to the park, library, and the store. Fortunately everywhere else they needed to go was close enough to walk or take the bus.

Discuss your expectations that the nanny not smoke or vape while caring for your child and perhaps discuss how they will use their smartphones and social media while they are working.

Be clear about their duties for meal preparation and any light household tasks you require. If you want them to do laundry and significant cleaning, you need to be clear that the position is for nanny/housekeeper.

You should make a list of places where you do and do NOT want your nanny to take your child. For example, if you do not you want the nanny taking your kids to a fast food play place, make it clear from the start.

Many nannies do gather together with the kids in their care at various "play places", so you need to decide if that is okay with you. If you live in an area where it is often too cold to play at the playground, indoor play areas might be okay with you.

Nanny Playdates

Nanny playdates are very common in our neighborhood and worked really well for my daughter. Many nannies become friends and then get together with the kids in their care so that the children can play together and the nannies can visit. This arrangement does work well for kids to play together but talk to your nanny about your expectations for paying attention to the children during those playdates.

Let the nanny know how many sugary treats are acceptable for your children of various ages. Even though it may seem obvious to you as a mother that they shouldn't give candy to your baby, you want to communicate exactly what is okay for your baby and your other kids of various ages to be eating.

Give her a detailed tour of your home and write down lists of all the important information that she needs to remember.

You may feel nervous as you start this new chapter, and you want to try to make everything go smoothly for your children.

You want to start off the relationship well and help your new nanny get started successfully.


Step 10 – Keep communicating with your nanny and listen to your children.

As time goes on, it's so important to continually talk to your nanny and find out what is going well and what her challenges may be.

Also, talk and listen to your older children. They may have complicated feelings about you hiring a nanny to help look after them. You want to be sure they like the nanny and that she is treating them well.

I think that the older the child, the harder it can be for them to adjust to a new nanny.


Step 11 – Pay Your Nanny On The Books

As I mentioned earlier, many people just aren't aware that nannies need to be paid as employees and that there are taxes you need to pay and withhold on behalf of your nanny.

To protect yourself and protect your nanny, it's critical to pay your nanny on the books and follow all federal and state laws and regulations.

Your nanny will benefit from being paid legally because they'll now have a verifiable income and legal employment history when they apply for a loan, mortgage or even a credit card. They'll be eligible for unemployment benefits if they're let go through no fault of their own and they can enjoy Social Security and Medicare benefits later in life.

The easiest way to do this is to use GTM Payroll Services to handle the process of paying your nanny and ensuring you properly handle all "nanny taxes" and employment legalities.

Using a nanny tax calculator will help you to calculate your nanny's pay and determine your tax responsibility as a household employer.

Also your family can take advantage of your own employer's Flexible Spending Account and the child care tax credit to offset the costs of a nanny. But you can only take advantage of these savings if you pay legally.

Step 12 – Reward Her Hard Work With Good References

Hopefully, years will go by with you happily employing the same nanny. And eventually, your children will be old enough that they no longer require a nanny.

When that time comes, be sure to offer her good references so that she can find another position.

The right age for your children to no longer require a nanny will depend on your schedule and how much work you need to be done around your house.

Like many families, once my daughter entered kindergarten and was in full-day school, I no longer needed a full-time nanny.

But a "full-day" of school is NOT a full "work-day". So even though your kids may all be in school, you might still need a nanny. You may want to transition to a part-time nanny or increase the housework portion of the job.

In my case, I couldn't afford to keep paying a nanny any longer, but I sure wish I had the help. Life with kids in school is still incredibly busy.

We had been blessed to have our second nanny (yes she was NOT the first… more about that in a moment) with us for almost four years.

It was sad to say goodbye to our nanny. But we stayed in touch and now years later it is so fun to get together with her, along with her husband and daughter whom she was able to sponsor to immigrate and join her. We are Facebook friends and it's so fun to see photos of both our daughters growing up.


What If You Have To Fire Your Nanny?

Even if you do everything right on the road to hire a nanny, sometimes it just doesn't work out.

Yes, in our case, we did have a bump in our road.

And I'll tell you, it was heartbreaking for me. This woman who I had trusted to care for my precious baby broke my trust multiple times and finally when it was completely clear and I had undeniable proof, we let her go.

It's hard not to blame yourself when a relationship of any sort fails. I did learn from the experience. I had not set clear enough boundaries and established a respectful employer/employee relationship with her.

But that being said, I'm confident that she would have done the same thing anyway. She took advantage of a situation when she had the opportunity. While I don't want to blame her age, I do think that her being very young and in a "party-stage" of her life was a huge factor in the mistakes she made.

Fortunately, since I had hired her through a good nanny agency, they quickly helped me replace her with a new nanny and the agency didn't charge me the new fee for helping find the second nanny.

Our second nanny was from the Philippines and she was absolutely wonderful. She'd already had experience working overseas as a nanny and she was completely respectful and did a fantastic job with my daughter. Since my kids had such an age difference, almost 6 years, most of the nanny's time was with my daughter and they developed a close bond.

I'm truly thankful that I made the decision to hire a nanny so that I could still keep my business running.

Many years have gone by and I am now a single mother and I rely on this business to support my family.

I want to encourage you in whatever path you decide to take for your childcare. Parenting is definitely the hardest job in the world and it goes through many different seasons.

The early years often require that we hire help to look after our babies so that we can still make an income to support our families.

Hiring a nanny was a big financial commitment for us — half of my income went to paying for childcare. But I knew that hiring childcare was a temporary cost and it was the only way I could keep my business, and myself, healthy.

I hope my stories and tips help reduce your stress and guide you as you figure out how to hire a nanny and make the best childcare arrangement work for your family.

Disclosure: This post is sponsored, so extra thanks for reading and sharing.
Written by Susan Carraretto, co-founder of 5 Minutes for Mom
Talk with me: @5minutesformom and Facebook.com/5minutesformom
Pin with me at pinterest.com/5minutesformom