This post may contain affiliate links. Read my disclosure policy here.
Gorgeous photography backdrops don't need to be expensive. You can make your own DIY photography backdrops for next to nothing. Check out how to make this easy DIY photo backdrop for only ten dollars…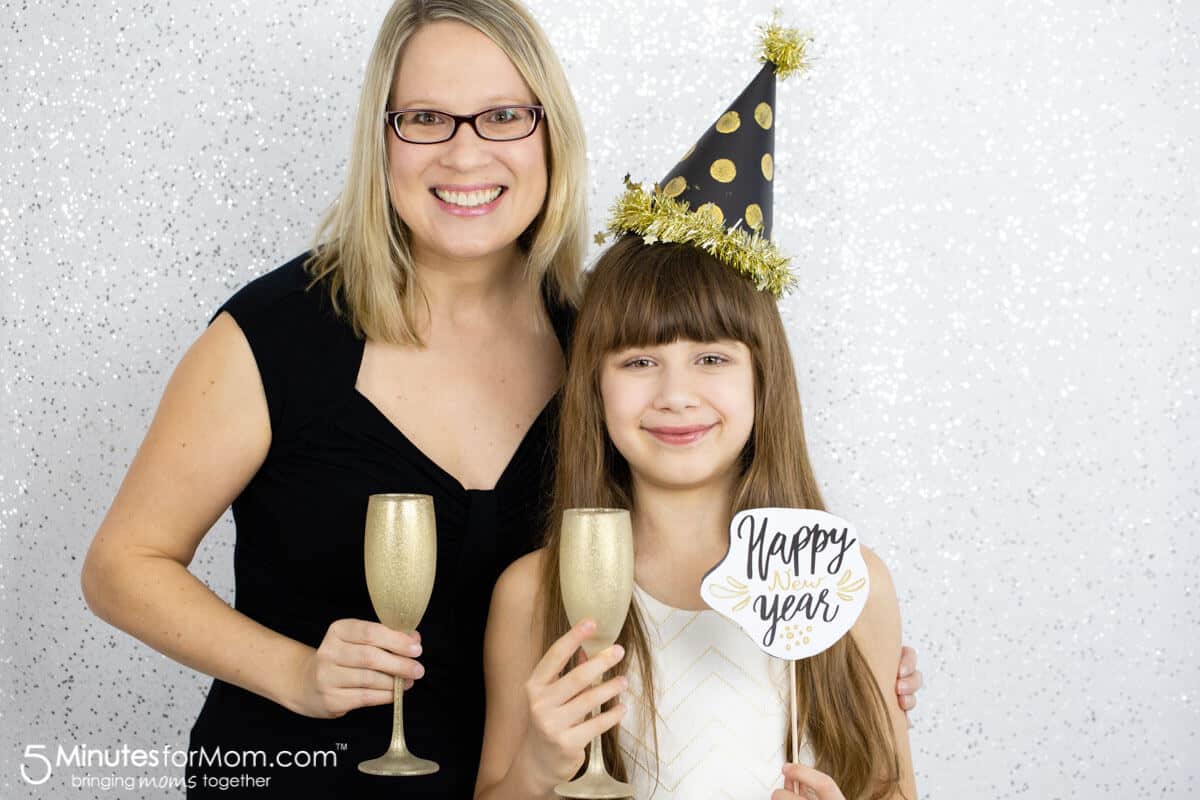 As a photographer, a blogger, and a mom, I am always looking for the perfect background for my photos.
I have used all kinds of photo backdrops over the years, from 12-foot rolls of seamless paper to printed vinyl backdrops to foam core to various sizes and kinds of fabric — and they all have different pros, cons, and price points.
For small photo shoots such as craft, food, or product shoots, I usually use pieces of foam core, wood, paper, or fabric to create DIY photo backgrounds.
I do have professional backdrops stands with 12-foot rolls of seamless paper in various colors for my studio work. But I don`t always have the space, time, or desire for that whole set up.
As well, plain white or colored seamless backgrounds can get boring.
Often, you want something extra fun — especially if it is for a holiday-themed photo shoot or a party or a special event, such as a wedding photo booth or a New Year's Eve Party photo booth.
I was so thrilled with how well my low-budget DIY photo backdrop for our New Year's Eve Photo Booth Props post turned out that I had to tell you about it.
This glittery, easy DIY photo backdrop only cost me ten dollars — I made it out of five rolls of gift-wrap fabric that I bought at the dollar store.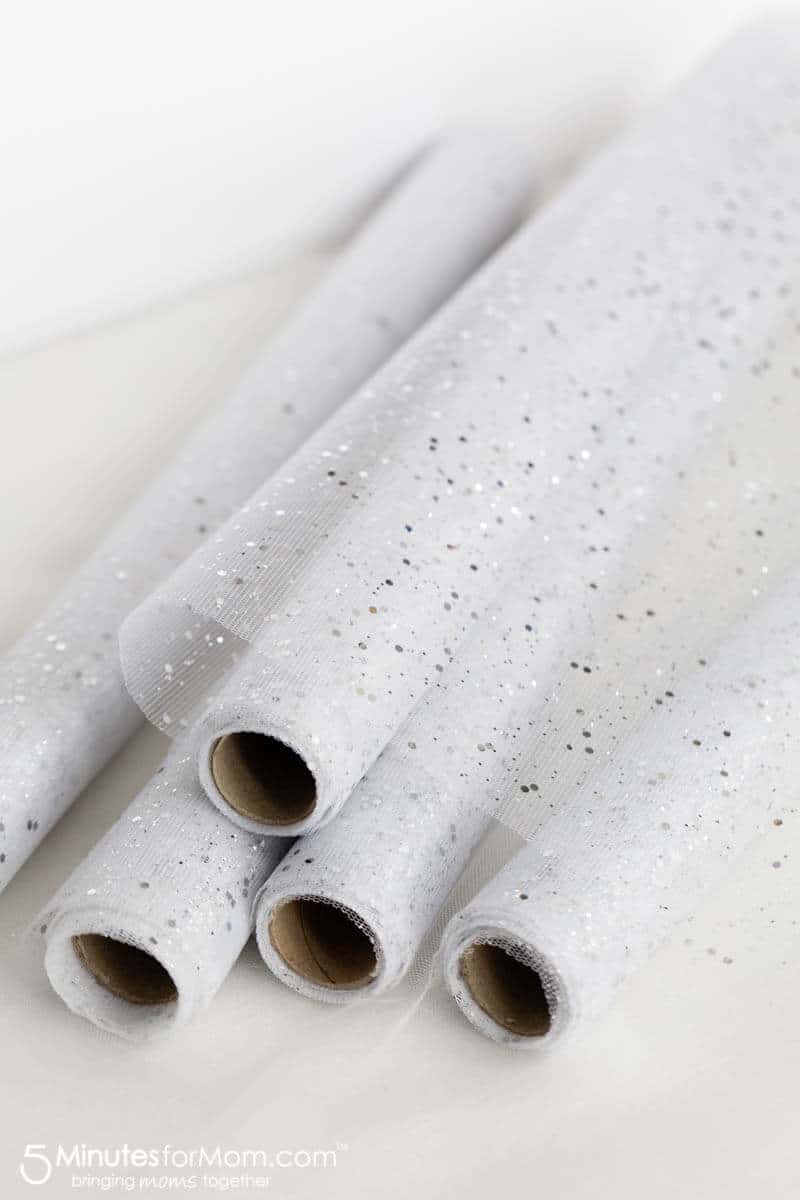 Because these rolls of fabric were so light, I used green painter's tape to hold them up.
If you are using a fabric that is too heavy to hold with painter's tape, you can use a cheap curtain rod from the dollar store and attach it to the wall using command strip hooks.
If you have light colored walls, you can hang the fabric directly on your walls.
Since the room where I was shooting has blue walls, I needed to cover the blue with white paper before I attached the white glitter fabric.
I was able to squeeze my 12-foot seamless white paper and stands into the room and so I taped my fabric onto that white paper.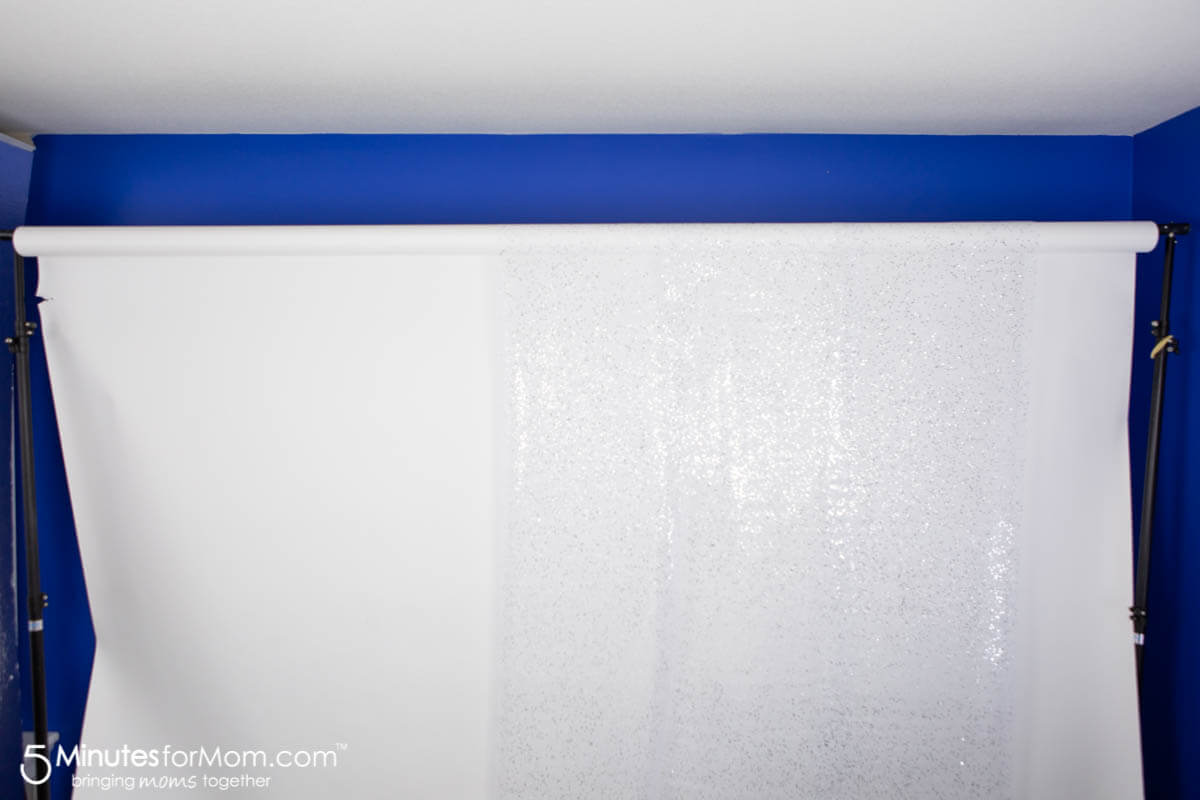 But, if you don't have a 12-foot white seamless and backdrop stand, no worries.
You can cover the wall with white craft paper, wrapping paper, or poster paper.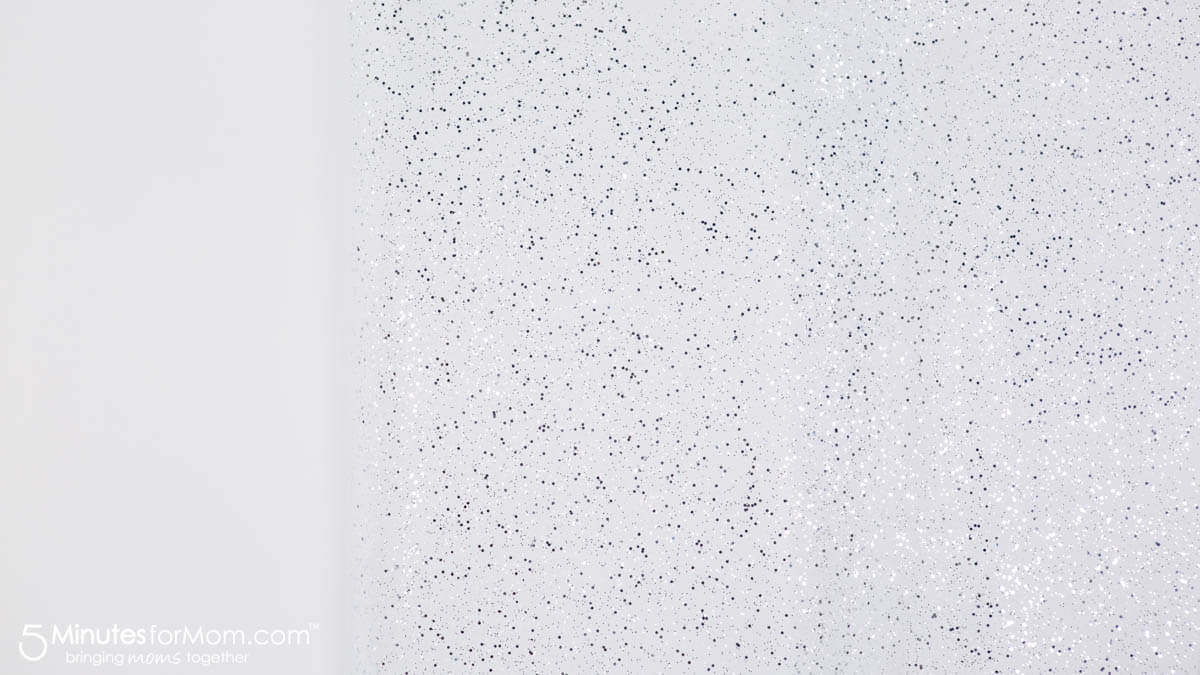 Because you will have your fabric draping down in front of the white paper, you won't see the seams where the paper connects.
When you hang your strips of fabric, overlap the edges of the fabric 2-3 inches to keep the fabric curling open and showing the wall/paper behind.
If the fabric is rolling too much at the bottom, tape the bottom of the fabric to the wall.
Note that if you are photographing people standing and you are just shooting them waist up, you only need your backdrop to cover that area.
If you are photographing young children or babies on the floor, then you will need to have your background extend to the floor.
If you need your DIY photo backdrop to extend to the floor for photos with little ones, you can place a cozy blanket on the floor and that will help hide the bottom of the fabric as it reaches the floor.
Photography Tip
When you are photographing in front of any backdrop, try and have your subject stand at least a couple of feet away from the background (as far away as space will allow.)
Moving your subject away from the backdrop will allow the background to blur a bit.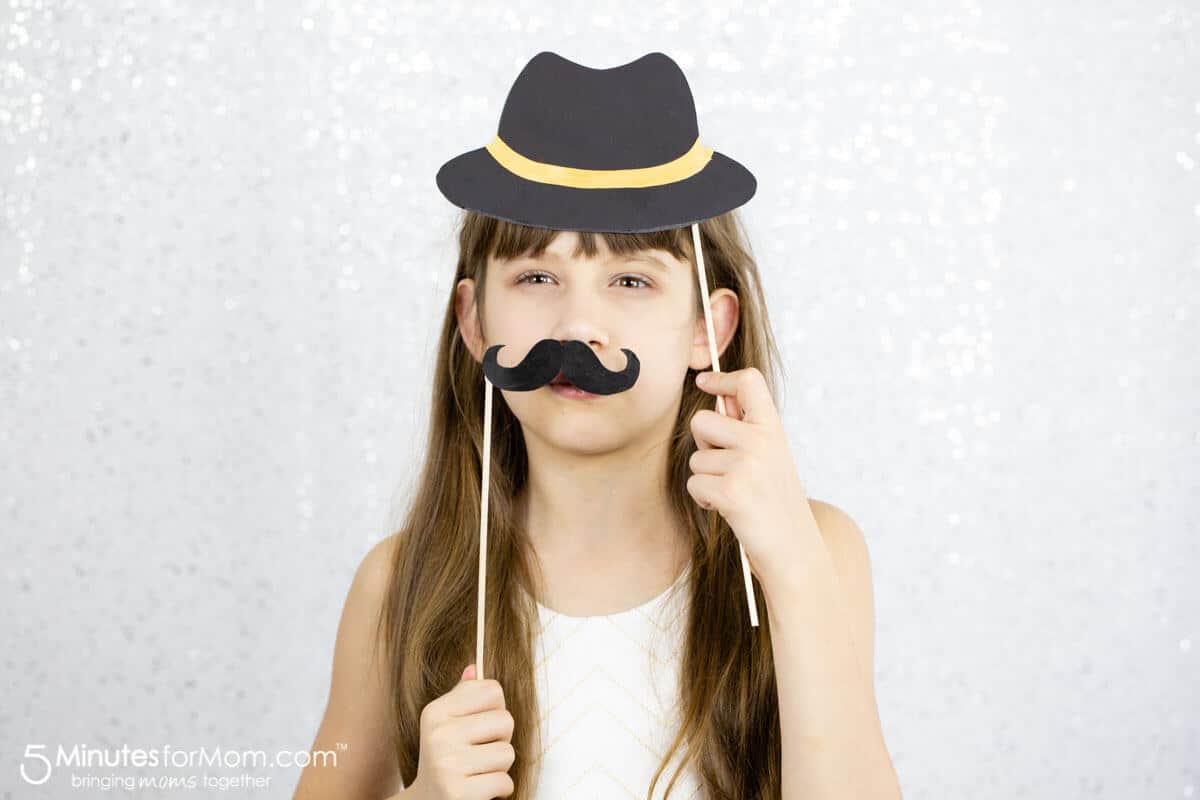 As well, you will want to shoot with a shallow depth of field — keep your aperture as wide open as you can, which will depend on how many people you are shooting, how much light you have, and what kind of lens you are using.
(Generally speaking, for a photo booth set up, you will probably want to shoot between f/4 and f/5.6.)
Photobooth Props
If you are planning a photo booth for a wedding or a party, we have FREE photo prop printables to make your photo props in our DIY New Year's Eve Photo Booth Props post.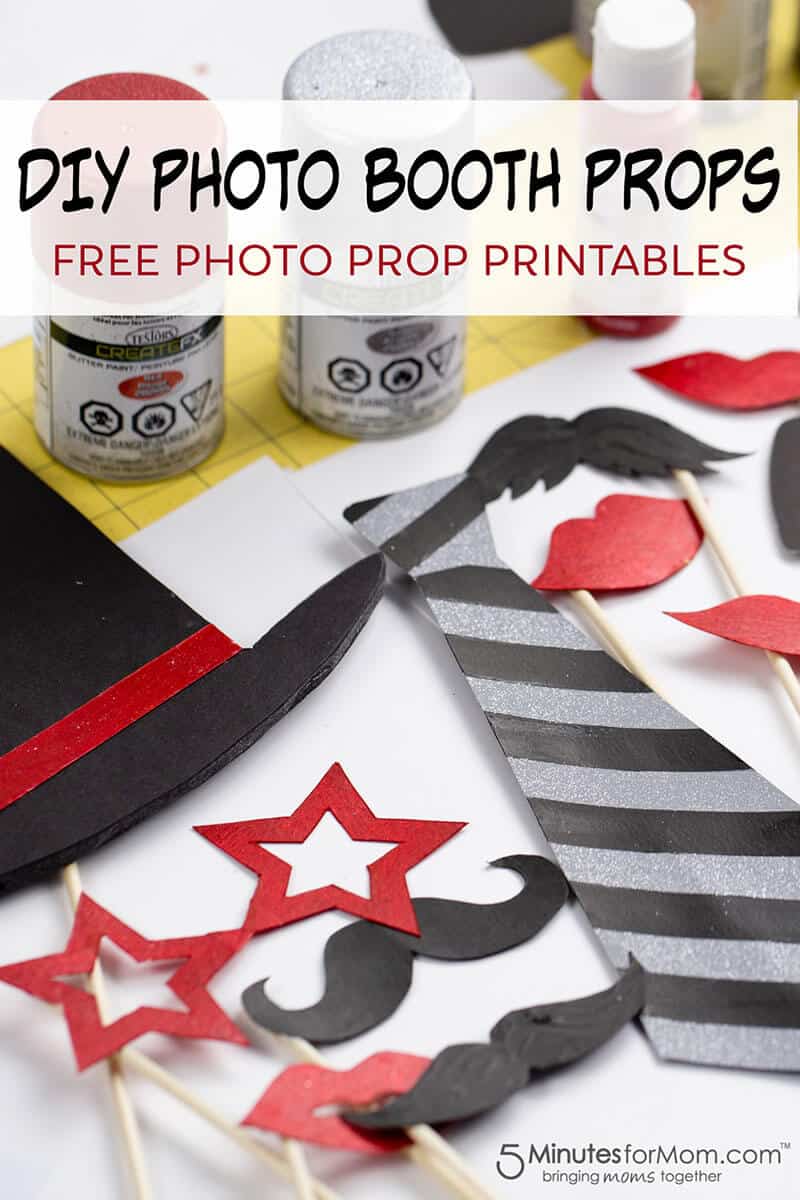 Whether your photobooth is for New Year`s Eve or for a wedding, anniversary, or birthday party, these DIY photo props will work beautifully.

Written and photographed by Janice Croze, co-founder of 5 Minutes for Mom
Talk with me: @5minutesformom and Facebook.com/5minutesformom
Pin with me at pinterest.com/5minutesformom
Pin it for Later