This post may contain affiliate links. Read my disclosure policy here.
Are you looking for fun, easy to make healthy Christmas snacks for kids? You and your whole family will love our Christmas snack ideas. Their sweetness comes from the goodness of colorful fruits and vegetables. This post is sponsored by HueTrition.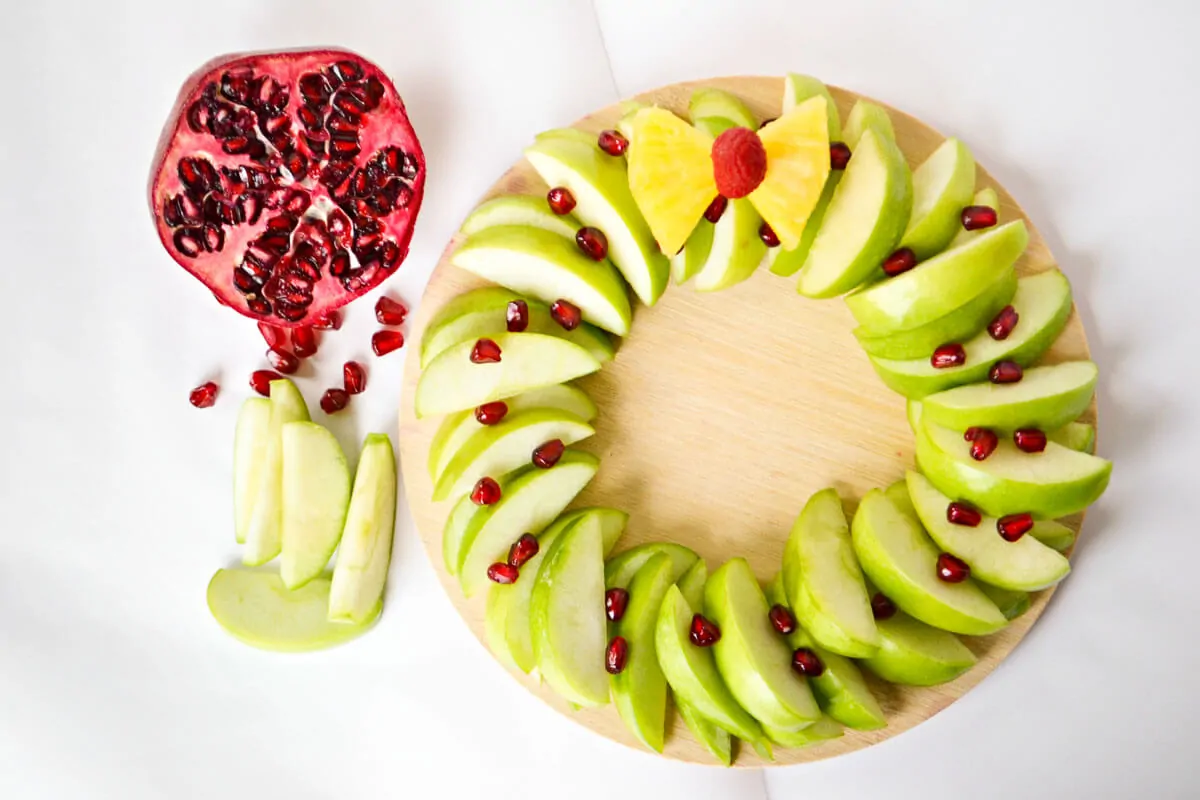 We love the idea of nutritious eating by focusing on the colors of the rainbow. So we're continuing to partner with our friends at HueTrition to inspire you and your family with healthy and colorful christmas snack ideas.
The holiday season is here… and that often means more comfort food and sweet treats than we usually eat. This sugary season can impact what our kids eat and how they feel and behave during the holidays.
But you can make holiday-themed sweet treats with nature's candy! Colorful fruits and vegetables are the perfect way to nourish your children with the vitamins they need while letting them enjoy a tasty snack.
So we're partnering again with HueTrition to help your family stay healthy during the holidays and start the New Year with a colorful lifestyle.
We have made four delicious and healthy Christmas snack ideas for you and your kids. And we want to show you how the HuePets app and HuePets bundle can get your kids excited about eating more healthy snacks.


Healthy Christmas Snacks for Kids
We've come up with some healthy Christmas Snacks for kids made from fruits and vegetables.
Strawberry Banana "Peppermint" Sticks
It just wouldn't feel like the holidays without peppermint sticks and candy canes.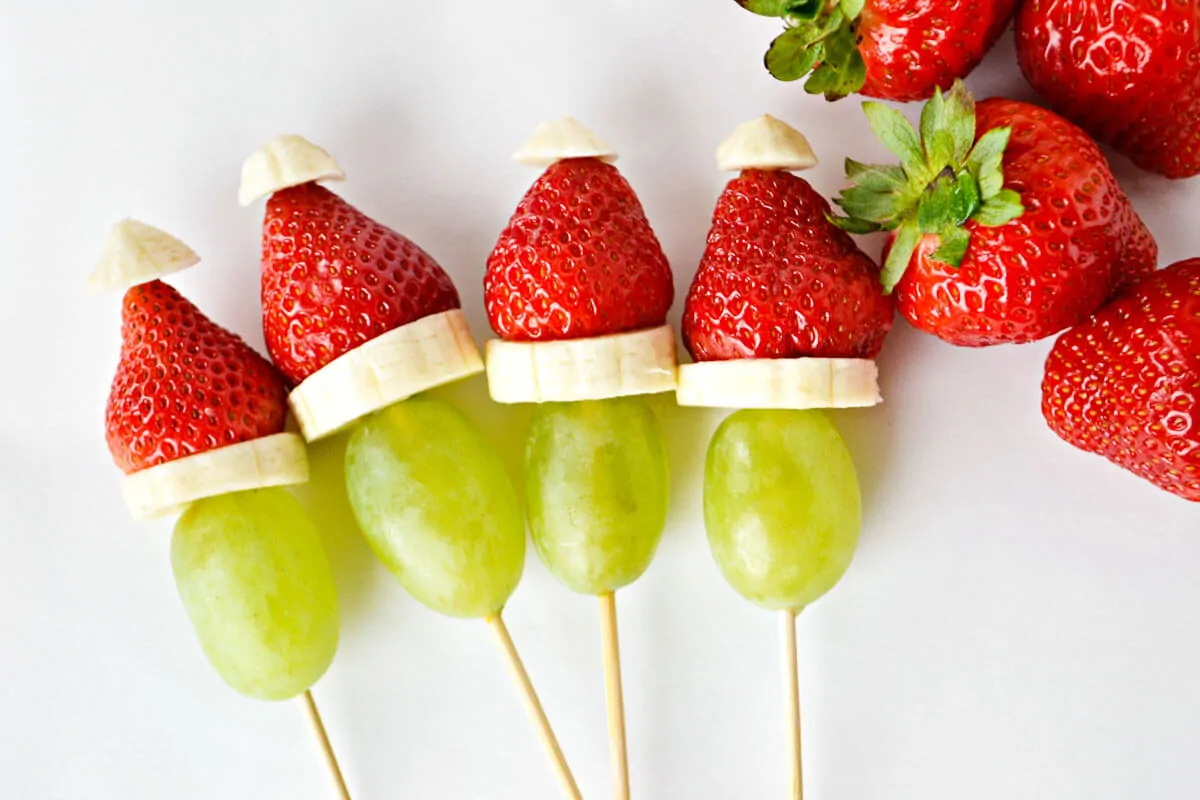 For this simple and healthy snack, slices of fresh fruit mimic those iconic candy stripes. This fun, festive treat is so simple it really doesn't even need instructions.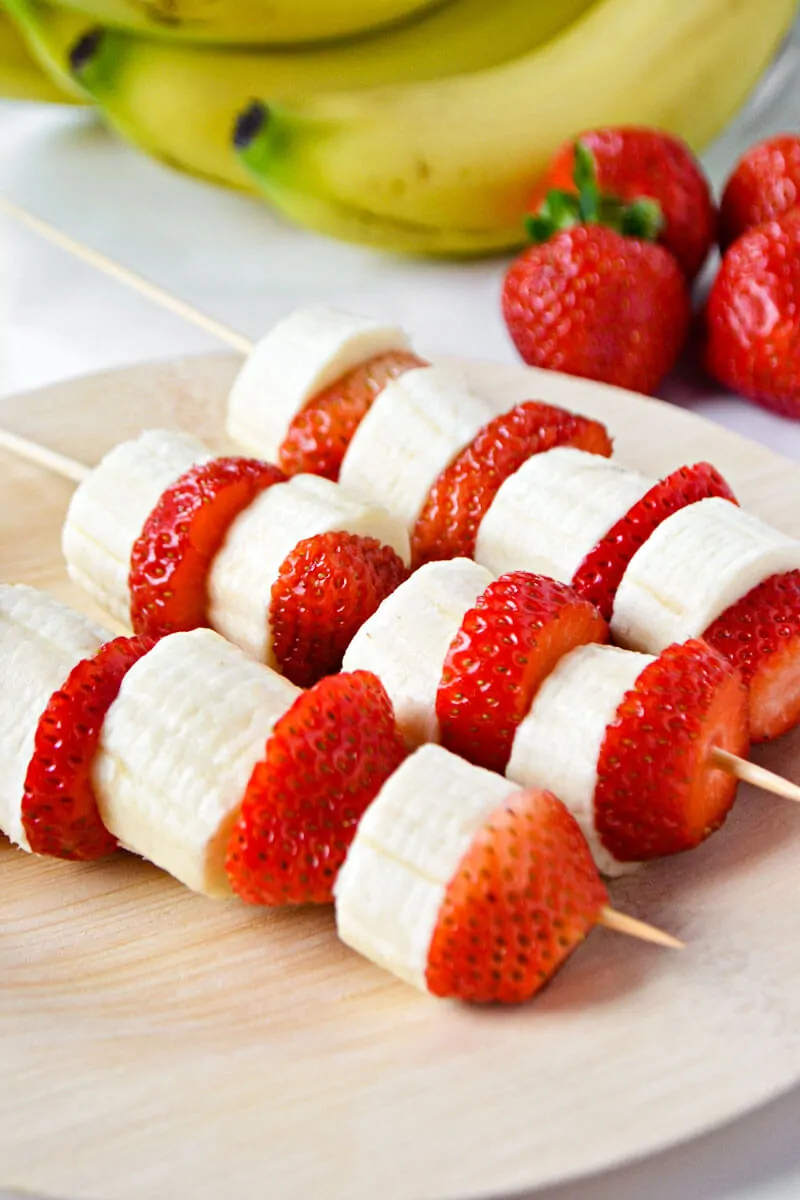 What You'll Need:
bananas
strawberries
wooden skewers
knife
cutting board
Directions:
Cut thick slices of strawberries and bananas.
Thread the fruit slices onto wooden skewers in an alternating pattern. For younger children, skip the wooden skewers and lay the fruit onto a plate into a candy cane design.
Cucumber Melon Christmas Trees
Edible trees made with fruits and vegetables are perfect for a healthy Christmas snack idea!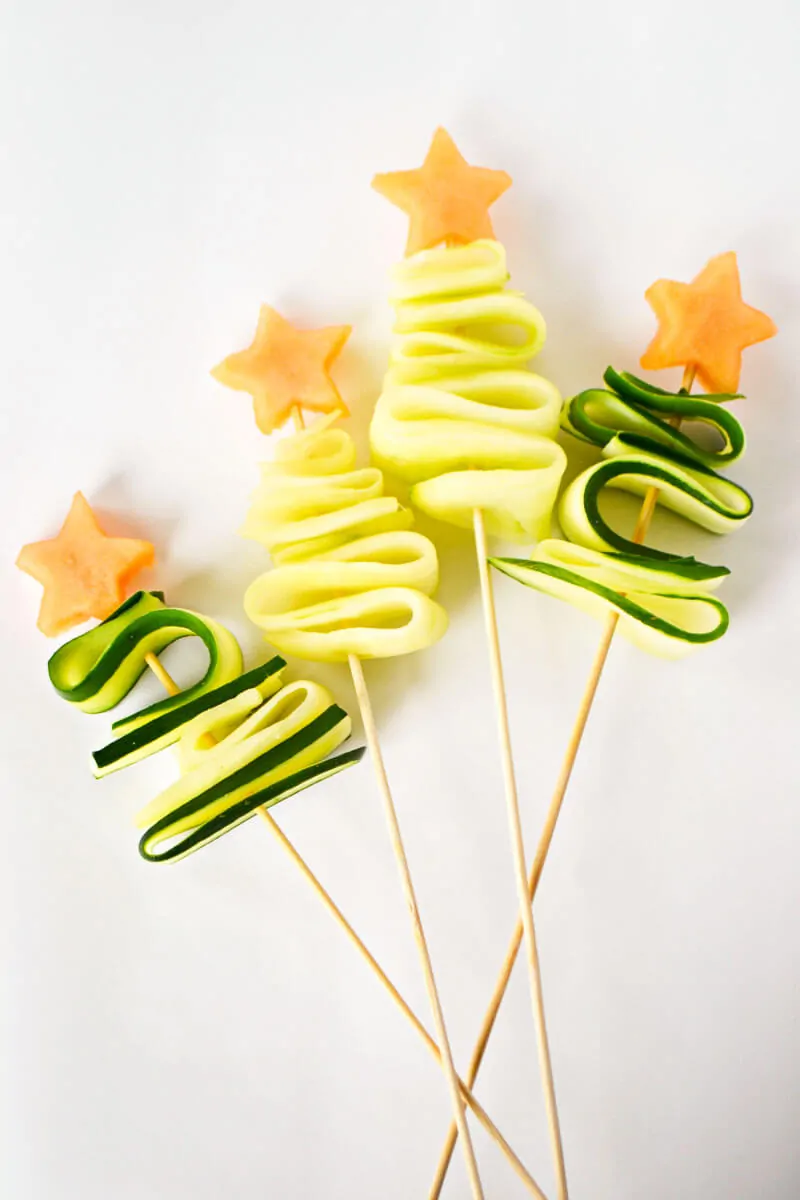 What You'll Need:
cucumbers
knife
wooden skewers
cantaloupe or melon
star cookie cutter
Directions:
Cut thin slices of cucumber. (Optional: You can peel the cucumbers before slicing. The choice is yours. The unpeeled slices are a little stiffer, but they have a lovely dark green color.)
Scrunch up the slices of cucumber and thread them on wooden skewers. You'll want to narrow the width as you go to create the illusion of a tree. Thread as many slices onto the wooden skewer as you need.
Cut slices of cantaloupe. Use a star-shaped cookie cutter to cut stars from slices.
Thread the star-shaped fruit onto the wooden skewers to top off your cucumber trees.
Apple Pomegranate Wreath
Apples and pomegranates combine to create a festive fruit tray that's a cinch to pull together! This is one of those Christmas snack ideas that works for all ages and is fabulous to bring to a holiday party.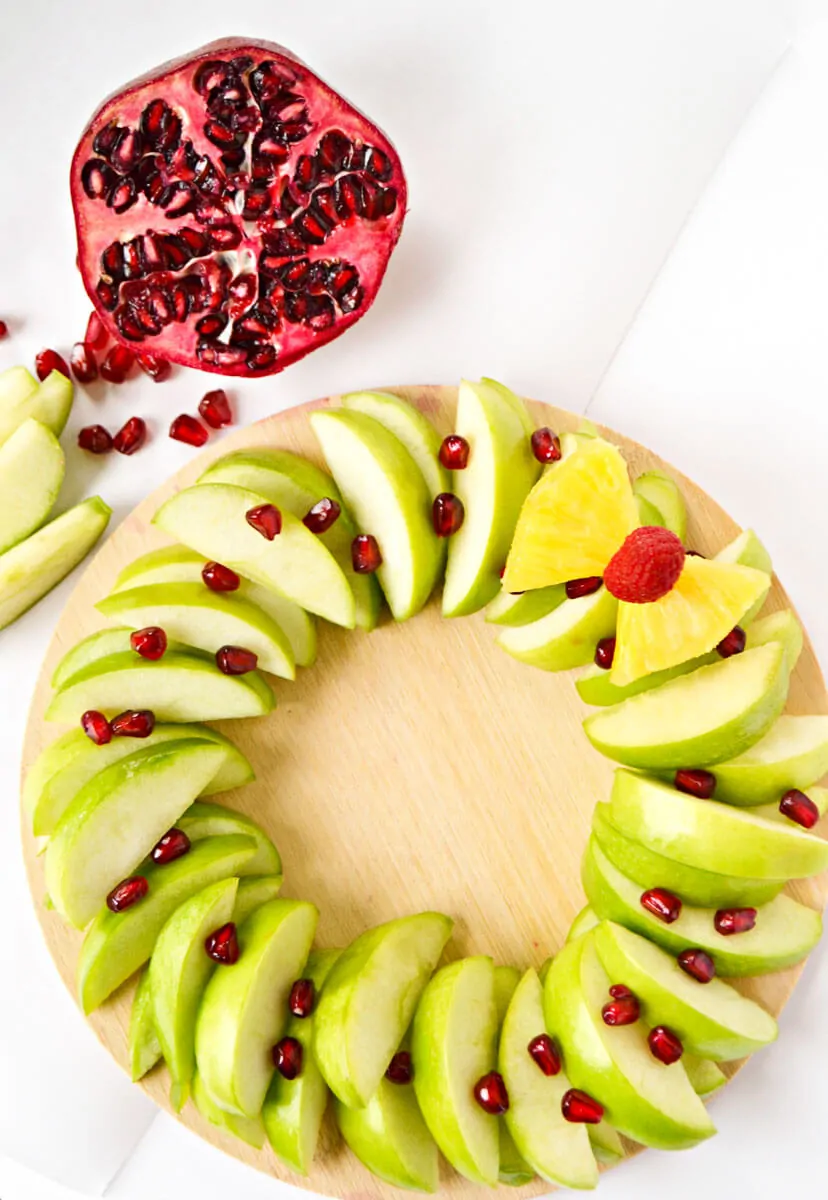 What You'll Need:
apple slices
fresh pomegranate
plate
Directions:
Simply line the outside of a plate with slices of green apple.
Sprinkle pomegranate over the apples to add pops of color and nutrition.
If desired, you can use other pieces of sliced fruit to create a bow. Triangular-shaped pineapple slices put together are just one of many fun options for a bow. Feel free to get creative with other fruits sprinkled in like blueberries or raspberries.
Fun Fruit Santas
Turn fruit into Santas with this fun Christmas snack idea.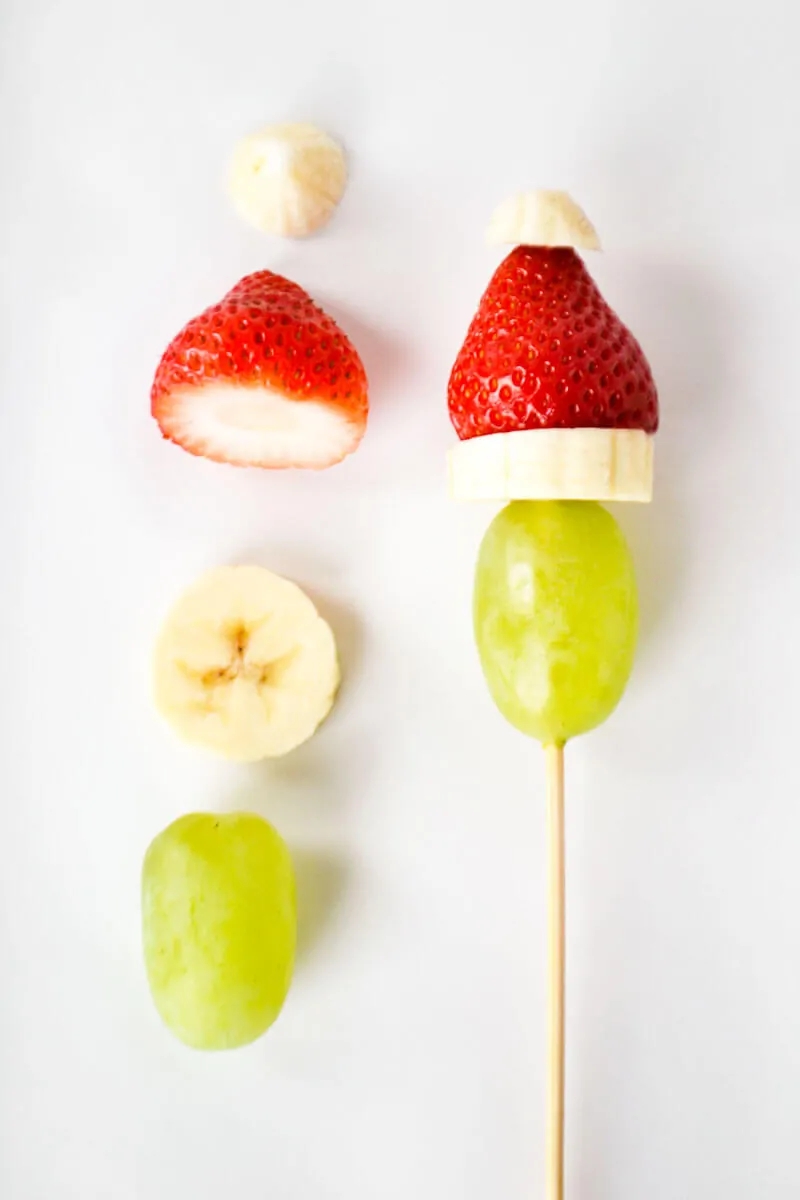 What You'll Need:
wooden skewers
bananas
strawberries
grapes
Directions:
Slice off the leafy tops of the strawberries for Santa hats.
Peel and cut a banana into slices to serve as the fuzzy parts of the Santa hats.
Thread a grape, banana slice, strawberry, and banana tip (in that order) onto a wooden skewer. For an added touch, you can even use a food-safe marker to draw faces on the grapes.
HuePets Bundle
The new HuePets Bundle is a fun way to bring Huey from the HuePets app into real life to become your child's healthy eating buddy.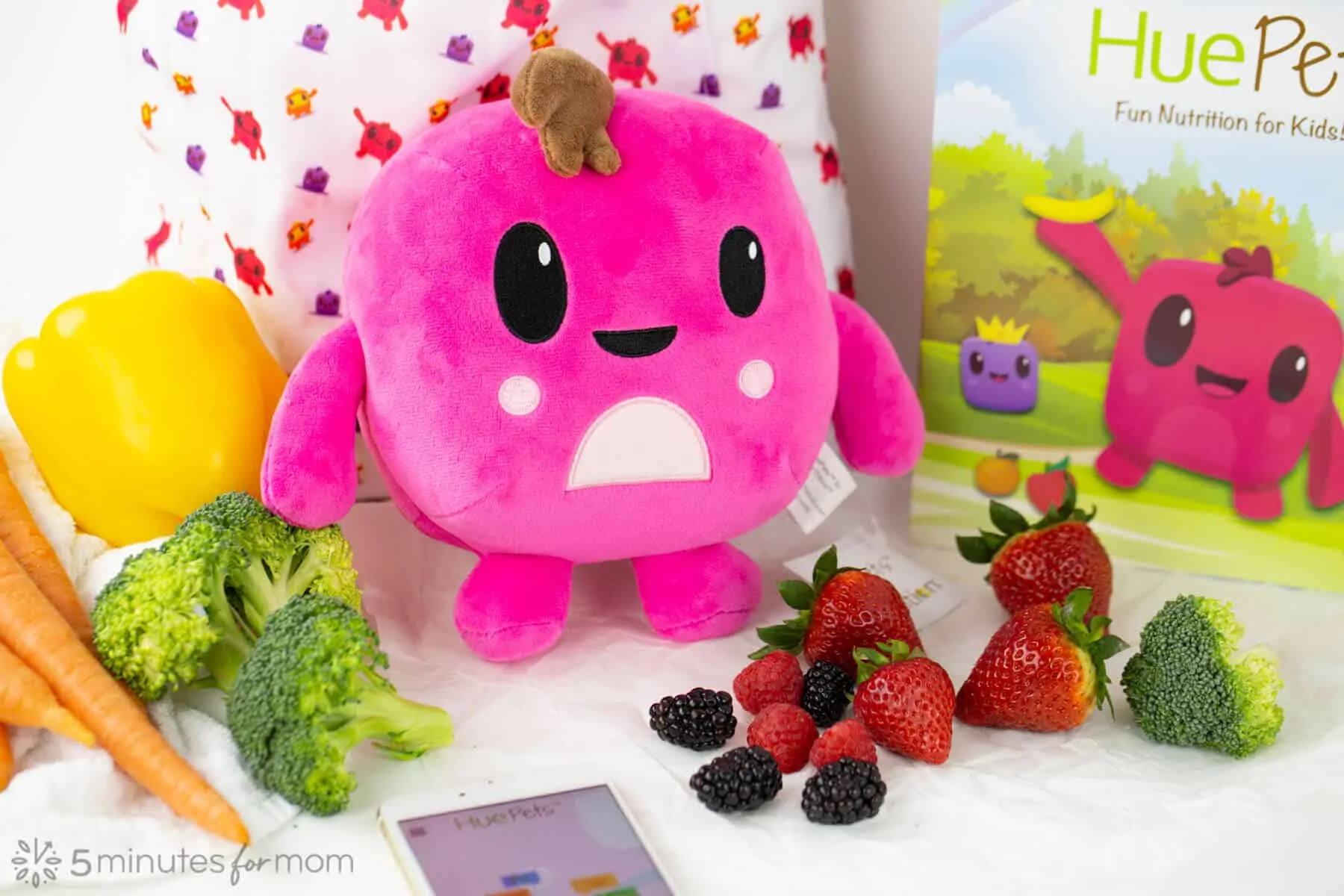 In the HuePets game, kids scan real-life healthy snacks to "feed" their HuePet which unlocks prizes and makes their pet grow from a little egg to a HueMaster. By having a real life stuffed toy Huey and the ability to play with Huey online in the digital HuePets world, your child will become even more excited to feed themselves and their HuePet healthy foods.
HueTrition Book: Fun & Simple Nutrition for the Whole Family
Watch as Monica tells us how you can use this book all year round to help your family get excited about healthy eating…
Also watch this helpful video about Tips to Eat Healthy During Holidays.
HuePets App
The HuePets app is a digital game that shows kids you are what you eat! The game makes it fun for kids to eat healthy and try new foods. Kids use the app to scan real-life food to feed their HuePets which unlocks prizes and grows their pets from little eggs to HueMasters.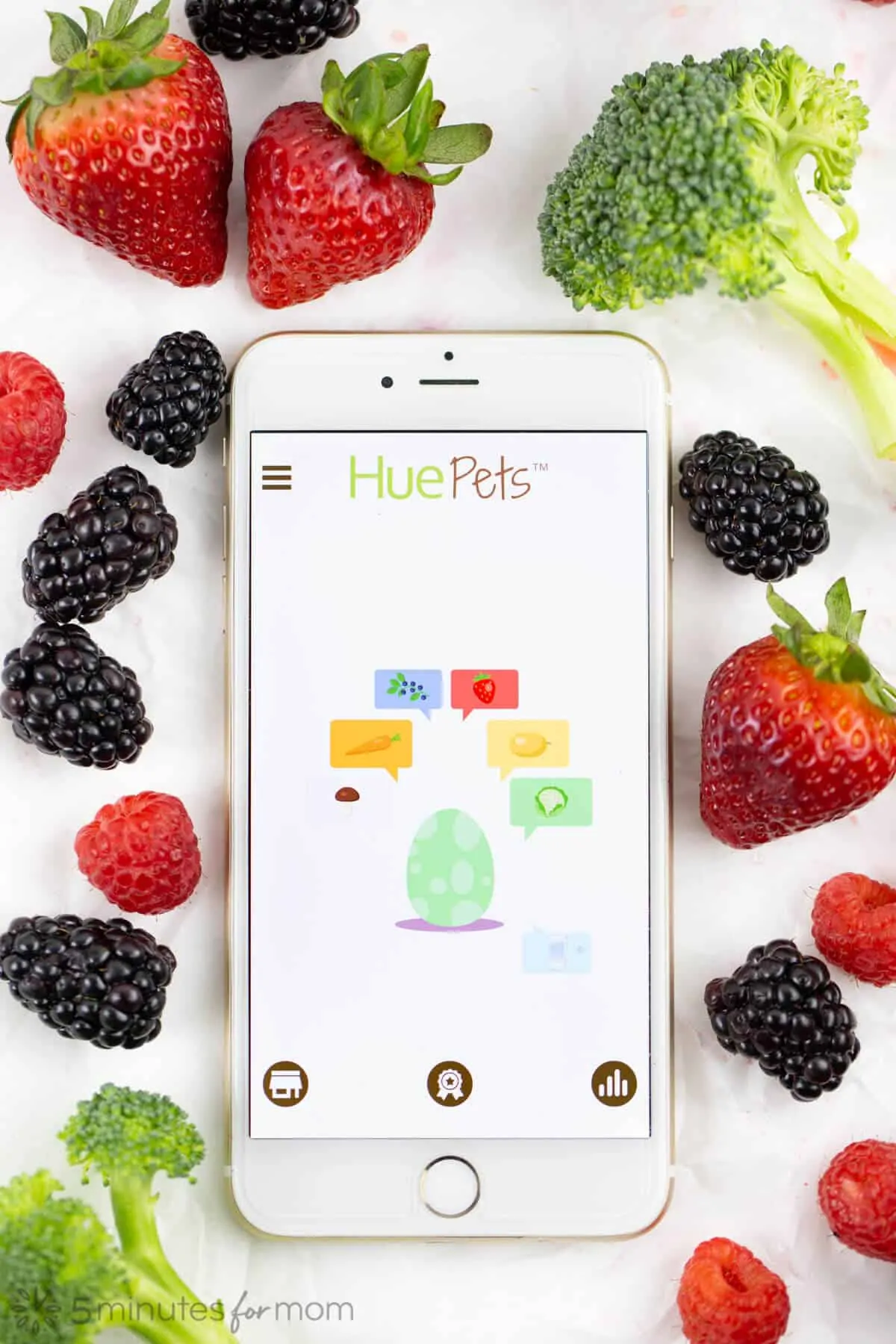 Download HuePets App for FREE on the HuePets website or on Google Play or App Store:
Pin these Healthy Christmas Snacks for Later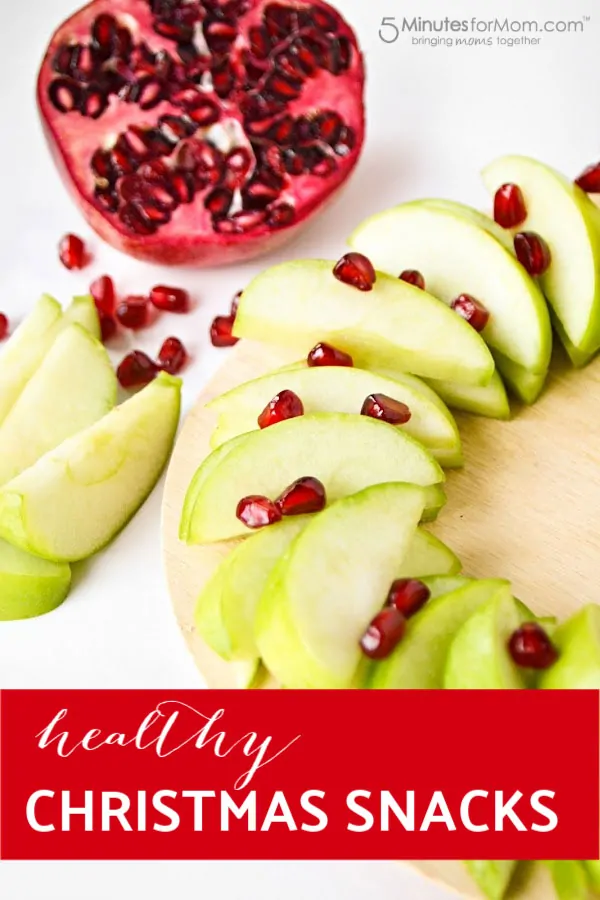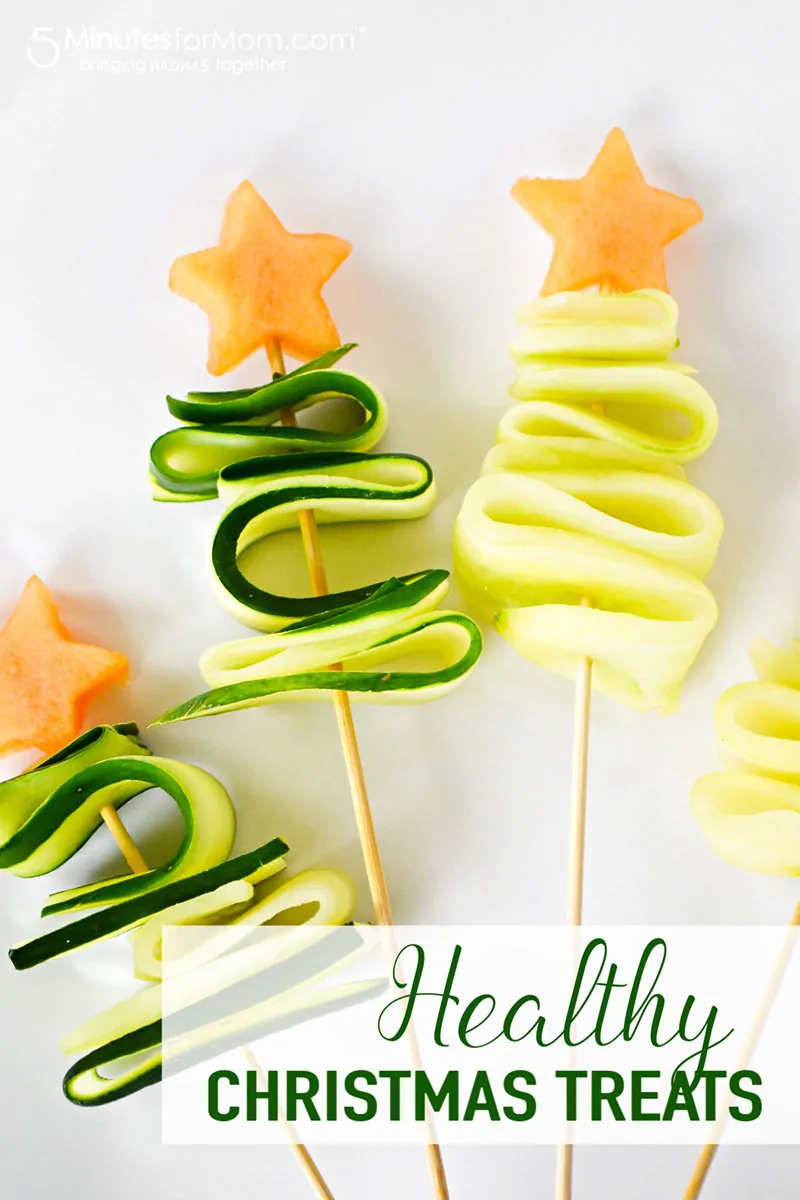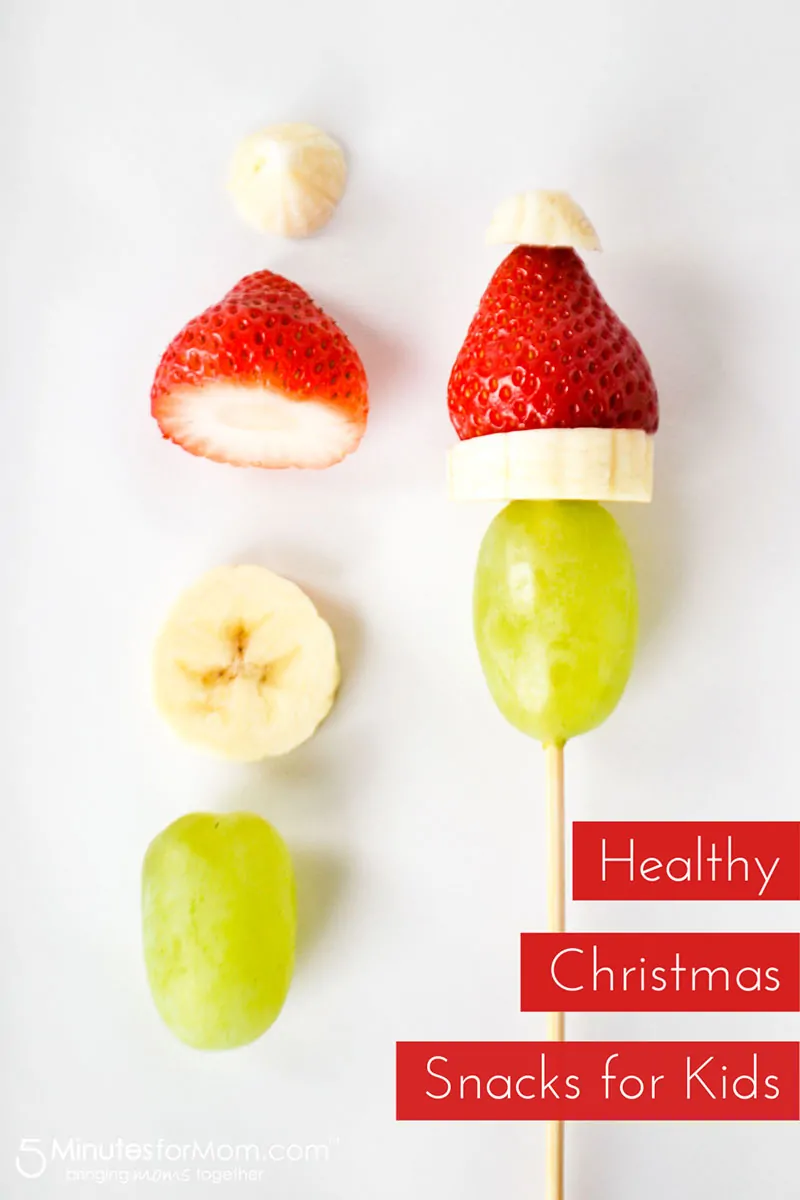 Disclosure: This post is sponsored by HueTrition™.
Written by Susan Carraretto, co-founder of 5 Minutes for Mom
Talk with me: @5minutesformom and Facebook.com/5minutesformom
Pin with me at pinterest.com/5minutesformom
More Holiday Fun Ideas
Here are some more ways for you to enjoy time with your kids over the holiday break…