Preschoolers are some of the busiest little people on the planet.  They want to explore their world.  They ask five hundred questions a day.  And they often want Mom to keep them entertained. We're here to help with these fabulous activities for preschoolers.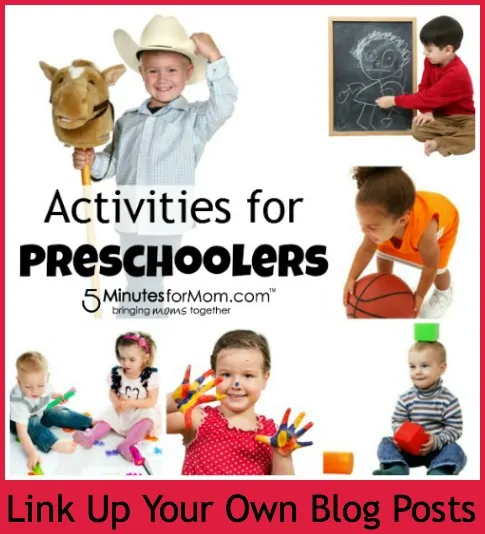 Click Here to Tweet —> Keep your preschooler entertained with these fun activities #moms #kids
This resource page is for moms with busy preschoolers.  Here we've collected our best posts about activities for preschoolers, we found bloggers to write more posts, and picked 10 of our favorite blogs featuring activities for preschoolers.
Plus, you can link up your own posts about activities that have worked for you and your preschooler and read other moms' ideas for keeping their preschoolers' busy.
Activities for Preschoolers in the House
Activities for Preschoolers Outdoors
Activities for Preschoolers by Season
Holiday-Related Activities for Preschoolers
Follow Our Kids Activities Board on Pinterest
10 Top Blogs with Activities for Preschoolers
Here are 10 of our top picks for blogs with activities for preschoolers.
Your Turn!
If you've blogged about activities to do with your preschooler, share your link here.
We'd love for you to tweet, pin, stumble or link back here to this post so that more moms can find these activities.

Click Here To Tweet –> Fabulous list of Activities for Preschoolers & link up your own! #linky #KidsActivities

Copy and Paste the following html to add a link in your own blog post. If you let us know you added a link, we'll tweet out your post. Just send us an email with a link to your post.
Add Your Blog Post Link Below