This post may contain affiliate links. Read my disclosure policy here.
When the weather is sunny outside, my preschool girls like to grab their box of sidewalk chalk and get creative.  Here are a few games and activities we've enjoyed with a wide sidewalk and a box of chalk.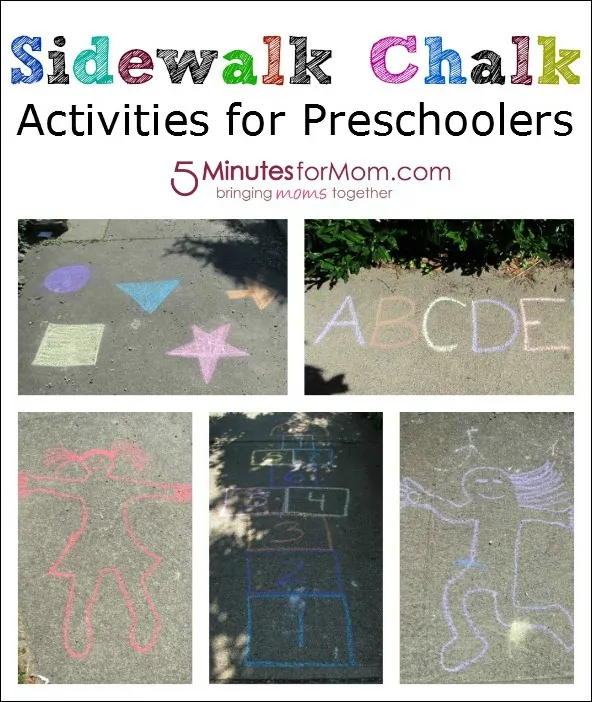 1.  Make a Map.
Have your preschooler help you draw a map for their toy cars.  The map could be based on your neighbourhood or on a favourite place or movie.  Then let your preschooler drive the cars around the map.  (Check out ChalkCity's great products!)
2.  Trace themselves.
Have your child lay down on the sidewalk and use a piece of chalk to trace around them.  Children can then add details such as hair, clothing, faces, etc.  See how many different poses your children can come up with.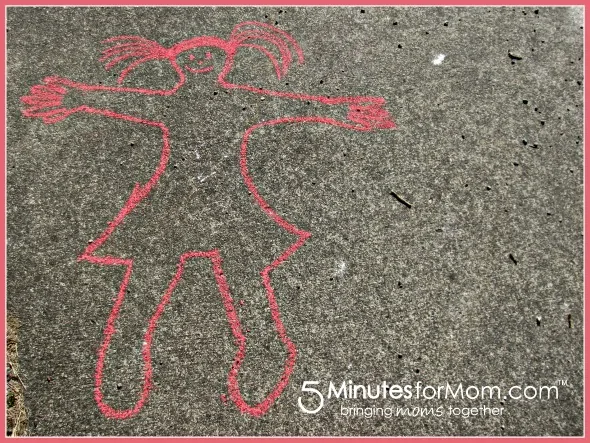 3.  Hopscotch.
Draw a hopscotch game for your children.  They might be able to help draw the squares or the numbers.  Then take turns jumping through the hopscotch.  This is great for teaching numbers as well as helping preschoolers learn to hop.
4.  Draw the Alphabet.
I'm terrible at drawing pictures, so I came up with something I could draw: letters.  My girls had fun singing the alphabet song while I made fancy letters for them.  Your preschooler may be able to help you draw some of the letters or may want to help decorate the letters after you've drawn them.  You could also draw letters on your trampoline and have your preschooler bounce on them.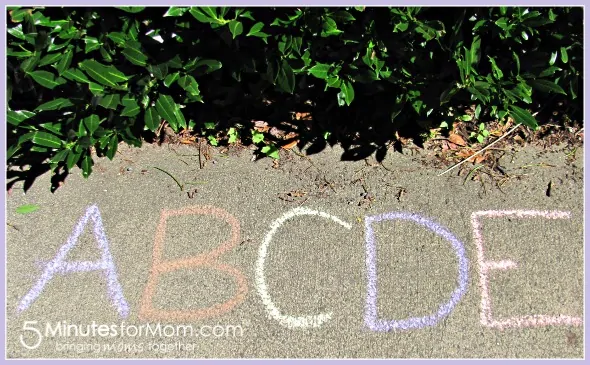 5.  Make an Obstacle Course.
Use a piece of chalk to draw a path or obstacle course around your sidewalk or playground.  Children can follow the lines and arrows around.  Use symbols to indicate activities (such as a swirl to show that they are supposed to turn in circles, or stars to indicate that they should reach for the stars).  Your preschooler can suggest where the path should go or what activities should be done along the path.  After the path is made, cheer for them as they run or walk through the obstacle course.

Click Here to Tweet —–> Use a piece of sidewalk chalk to draw a path or obstacle course around your sidewalk or playground. #KidsActivities #SummerFun
6. Colours and Shapes.
Draw a variety of shapes in a variety of different colours (or have your preschooler do this).  Then play a game where you call the shape name (e.g., "Purple triangle!") and your preschooler runs to stand on the shape.  You can take a turn too or invite your preschooler's friends to join in.  This helps children learn their colours and shapes.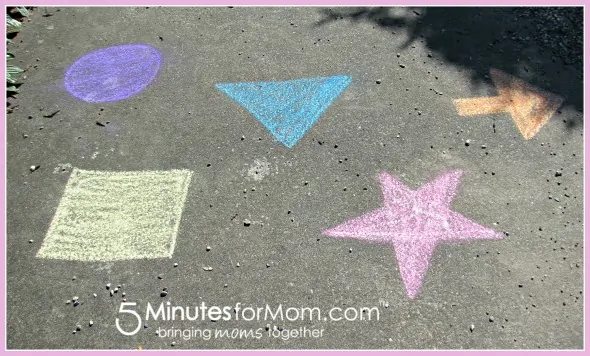 7.  Faces and Feelings.
Draw several circles on the ground and then draw simple faces inside—smiley faces, frowny faces, etc.  Talk to your preschooler about how each face might be feeling and why they might feel that way.  Encourage your preschooler to draw some faces too and ask them about their drawings (e.g., "Who are you drawing?  How does she feel?  Why does she feel that way?").  Enjoy the stories your preschooler tells you.
More Chalk Activities
One of the things I love about sidewalk chalk is that it's so cheap and yet so versatile.  What activities does your preschooler like to do with a box of sidewalk chalk?
Ready for More?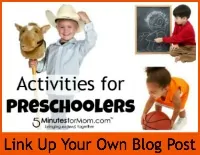 Find more fun activities for preschoolers on our new Resource Page.
And if you've blogged about your own preschool activity ideas, link them up over there!
Spray Sidewalk Chalk
Now there is a new type of sidewalk chalk… Spray Chalk.
It's perfect for making race tracks and fun designs for your kids to play with. But it's for older kids and adults to do the spraying. Kids under 13 years of age need to be supervised.
Check out this fun race track idea…