This post may contain affiliate links. Read my disclosure policy here.
Jennifer here, to share with you about the coolest new Disney paints on the market. While we were compensated to write this post, all opinions remain our own.
We have been living in our new home now since May. This house that we rented was a home that had been foreclosed and no work had been done to it, so we have really had to work hard to make it our own.
My daughter's favorite color is lime green, and every single bedroom she has had, she has always painted it that color. The day she stepped foot in her new bedroom, she knew something had to be done. From top to bottom, floor to ceiling, including light fixtures, window sills, doorknobs — everything was painted this deep purple color.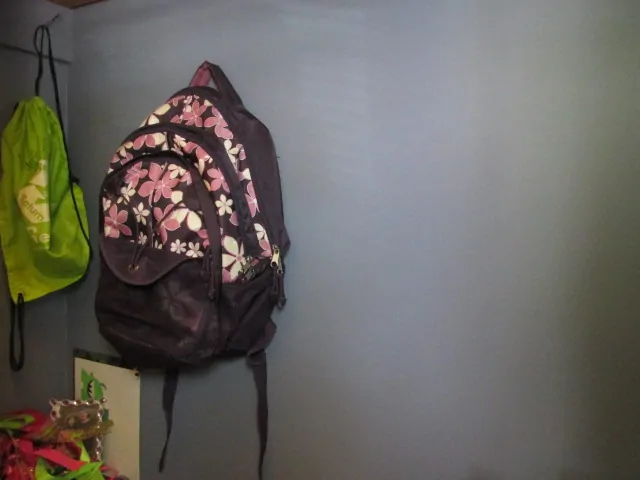 Can you imagine having a room this color? We were both in shock and knew it was going to take an act of congress to get it to the color and look she wanted, but we were up for the challenge. Because it was such a tedious job, I have been putting it off — until we were contacted and asked if we wanted to makeover a room in our home for under $75 with the new Disney paints. Of course, we said YES!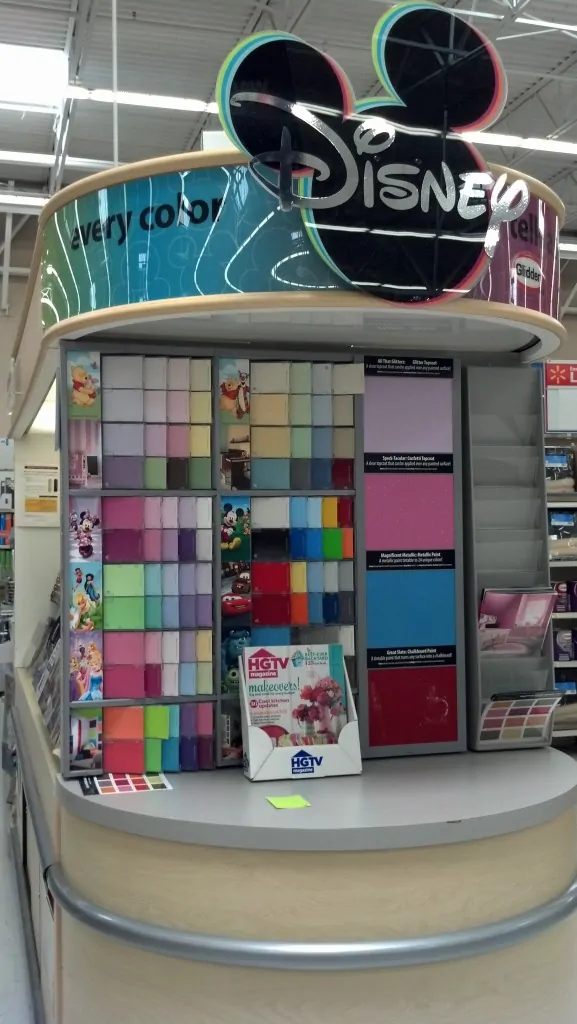 We went to our local Wal-mart and checked out all the colors and styles available. We finally settled on the color palette of her choice — in the green section and went with the Disney LOL green.
I have always been a huge fan of Glidden paints. They do such a great job covering old colors on the walls — and the Disney paint did not disappoint. We went from a very deep purple and dark bedroom, to an amazing Disney green — full of life and laughter for my daughter.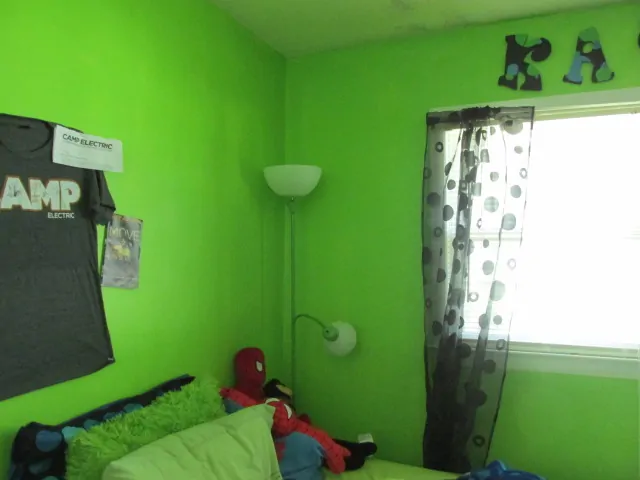 We love the outcome! The price was very affordable and within our budget. In fact, later, we are going to go back and get a new product that they just introduced — the sparkle overlay paint.
The topcoat is a glitter topcoat that goes on as a clear overlay. My daughter and I both love sparkles and she is working on creating a superhero wall — so we are going to sparkle it up with the new glitter overlay.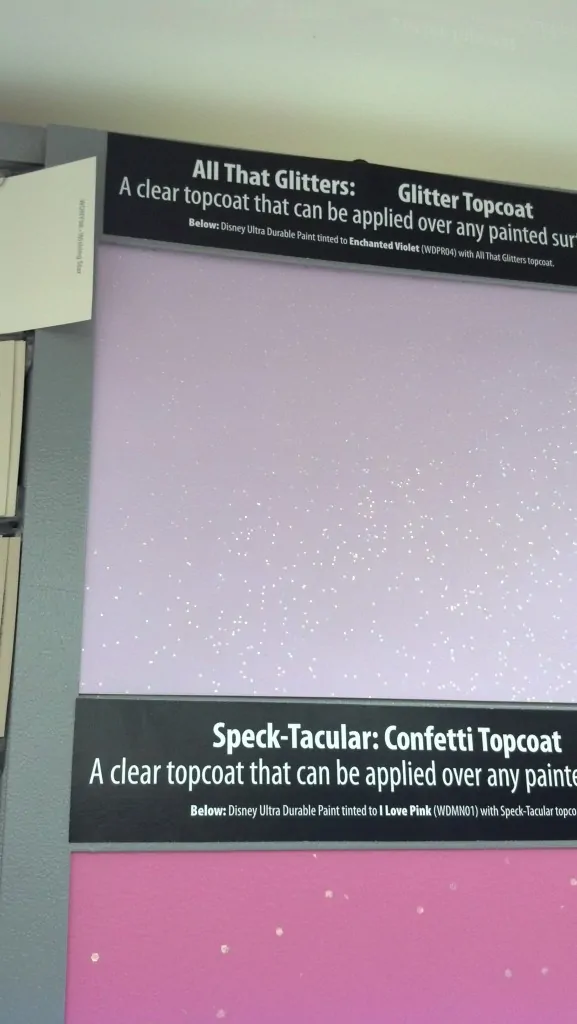 Ultra-Durable Formula Made for Kids: Paint was developed with children in mind to withstand wear and tear, as well as really tough stains like grape juice—great for kid's bedrooms, bathrooms and play areas
Colors for Every Age: Colors are grouped into three palettes with magical options for every child's stage of style from babies to kids and tweens
Easy Walmart Coordination: Colors are designed to complement each other and coordinate with Disney bedding and other Disney room accessories available at Walmart
Experiment: Check out the Virtual Room Painter or browse the gallery for additional ideas and inspiration.
Disney Paint's distinctive collection of colors is grouped into palettes designed to give children options at every stage, from infant to tween. Disney Paint is on shelves now at select Walmart stores across the country, retailing for $13.47 per quart and $27.97 per gallon.
 Colors to Begin With: These soft, subtle, soothing shades are perfect for creating a restful, relaxing nursery area for babies. Paint colors include timeless colors from Winnie the Pooh and other classic Disney stories, such as "Eeyore's Rain Cloud" and "Blushing Piglet," which coordinate with infant bedding from Winnie the Pooh.
Colors with Character: This collection includes six colorful palettes inspired by some of Disney's most cherished characters and their worlds, including Mickey Mouse, Minnie Mouse, Disney Princess characters, Disney Fairies, Disney Pixar's Cars and Monsters University. Each palette has 10 colors pulled from the character's unique world, such as "Cinderella's Ball Gown" and "Sulley's Fur," which are designed to complement Disney bedding and room accessories available at Walmart stores or online. This makes it even simpler to create a magical and personalized space for kids.
Colors with Kick: These bold, vibrant colors, such as "Under the Hood" and "Glam Cam," are ideal for tweens and teens looking to create an imaginative, personalized space whether it's a fashionista's color infused bedroom or a half pipe inspired space for a daring skater. 
Add the perfect finishing touch to any room with these easy-to-use magical additions. Specialty finishes retail for $10.97 – $19.97 per quart and All That Glitters and Speck-tacular are also available for $29.97 per gallon.
 All That Glitters – Glitter Top Coat: Add a pop of princess glam by using this clear, ready-to-use top coat that provides a shimmering glitter finish that can be applied over any painted surface.
Great Slate – Chalkboard Paint: Previously chalkboard paints were only available in black, but this chalkboard paint is available in ready-to-use black or can be mixed to a variety of colors from blue and green to orange and red.
Speck-Tacular – Confetti Top Coat: Now any bedroom can be a cause for celebration with this clear, ready-to-use top coat that provides a sparkling confetti finish when applied over any painted surface.
Ready, Set, Glow! – Glow in the Dark Paint: Apply this translucent yellow, ready-to-use paint to make any surface glow in the dark and change a room into a celestial experience or a fairies' forest.
Magnificent Metallic – Metallic Paint: Ignite any space with this metallic specialty finish paint that is available in ready-to-use gold or can be mixed to 24 unique colors.
  If you are looking for a way to update your child's bedroom, be sure to check out all the new Disney paint selections at your local Walmart.
Your turn —
Which Disney color would you choose for your child's room?