This post may contain affiliate links. Read my disclosure policy here.
After my third daughter was born, I knew I wanted to get myself fit again. The problem was how. I couldn't afford childminding for three children so I could go swimming. I couldn't take all of them on the bike with me. That left walking for exercise since I could use strollers and baby carriers and kids' bikes to get them out with me.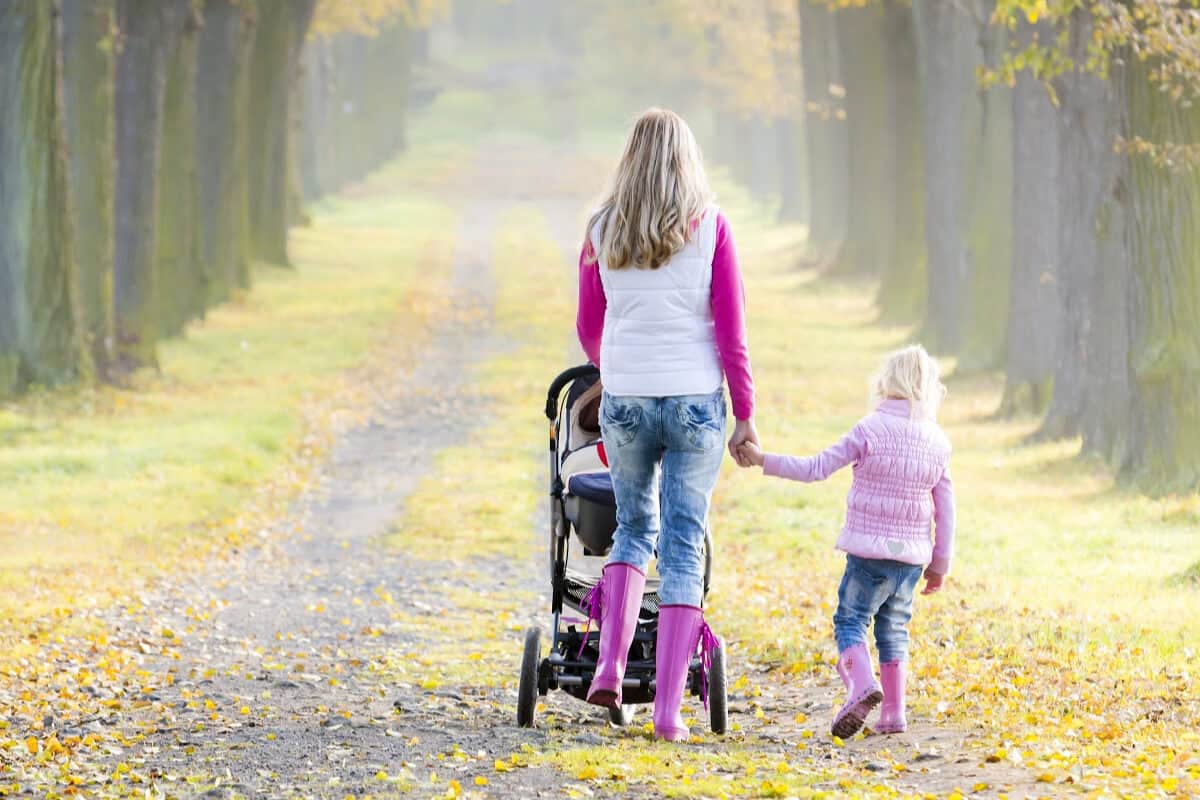 Here are a few tips I've used to get a daily walk with three young children in tow.
Plan a destination.  My girls were more excited about going for a walk if I told them we were going to a park or duck pond or local public garden or cafe.  And, of course, once we'd gotten there, we had to walk home again for lunch or their favourite TV show or something else.

Take sidewalk chalk.  Children can run ahead and draw pictures while you walk.  My girls like drawing arrows while we walk and then following the arrows back home again later.

Take bubbles.  The children can blow bubbles while they walk and then chase the bubbles.  Or you can blow bubbles for them.

Take a map. If your toddler is a fan of Dora the Explorer like mine, have him or her pretend to be an explorer.  Make a little map of your neighborhood or where you walk and have your toddler follow the map.

Take snacks. Plan a mini "picnic" for a point halfway along the walk (see #1).Taking water is a must for a hot day (for both of you).  And if children get tired, snacks can help perk them up.

Have a scavenger hunt.  Make a list of things you might find on your walk, such as a ladybug, a leaf, a telephone pole, a fire hydrant, etc.  A pre-reading child can circle pictures on a page while a child learning to read could check off simple words in a list.

Do what your children enjoy.  My five-year-old just started riding her two-wheeler bike, so she is much happier about going for walks when she gets to ride her bike.  My three-year-old loves to run.  Then all I have to do is put the baby in the stroller and keep up with the girls.

Keep moving.  If your child needs a break (to draw chalk pictures or play at a park or have a snack), keep walking circles around them or run stairs or do jumping jacks.

Use strollers and baby carriers.  I have three different strollers, a sling and an Ergo carrier.  Which one I take depends on whether the baby is awake or asleep (or falling asleep) and where we are going.  Sometimes I put the baby in the double stroller and let the girls take turns riding with her.  Sometimes I put the baby in the sling and let one of the girls ride the stroller.  Sometimes I just take the Ergo carrier so we can go on a walk that isn't stroller-friendly but is more fun for the girls.  Try different methods to see what works best for your children.

Make it a habit. The first day I suggested taking a walk, my girls asked, "What? Where?" By the third day, when I said we were taking a walk, they just went and put their shoes on. If you get into a routine, they will help you keep it.  Just be careful about what "habits" you form during the walk (or they'll always expect that cookie when they get home!).
With a little bit of creativity, walking for exercise with children can be not only fun but also exercise.  My girls now enjoy getting out as much as I do, and I've found that we're all much happier when we've had a bit of fresh air and exercise.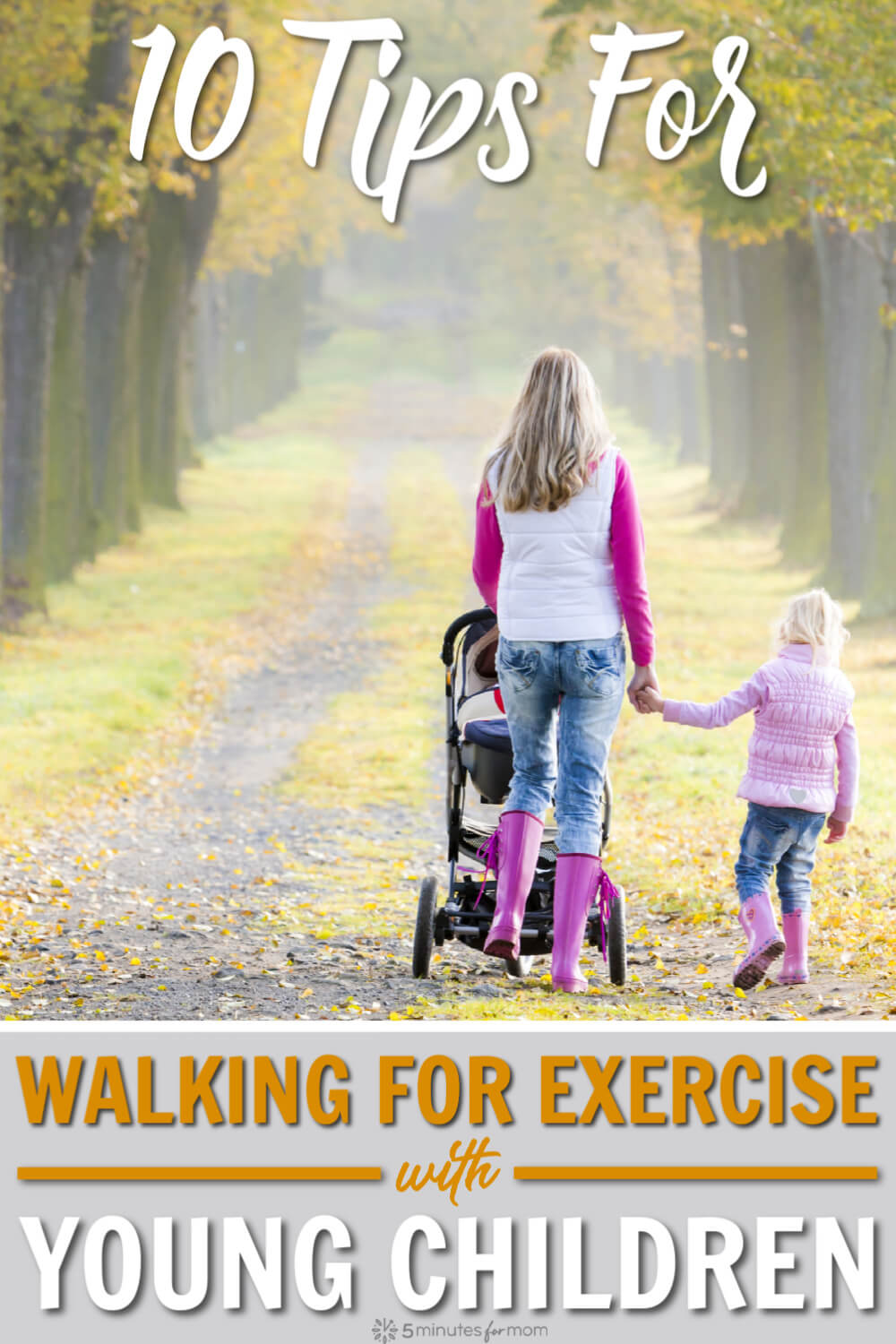 Written by Bonnie Way, contributor at 5 Minutes For Mom, blogger, and mom of three girls ages 5, 3 and newborn.
Another Great Way For Moms To Exercise
As well as walking, you want to make sure you exercise your core and stretch your back. We recently reviewed chirp back roller… formerly known as the Plexus Wheel.