This post may contain affiliate links. Read my disclosure policy here.
Whether this is your preschooler's last summer at home before starting Kindergarten, or they will be staying with you for the year ahead, summer is a great time to have some fun together.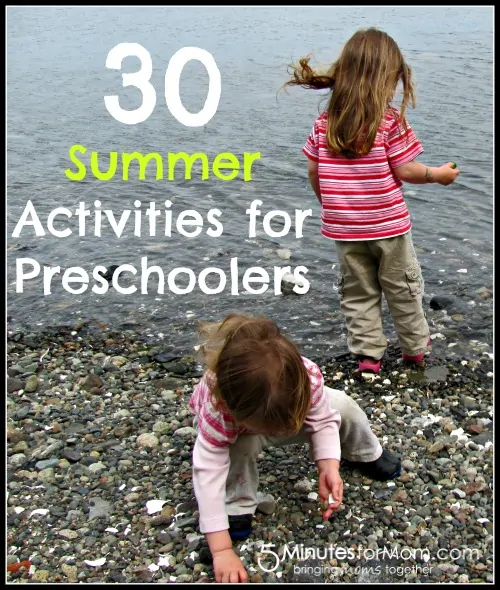 Here are 30 activities for your preschooler that will help make this summer memorable!
Fly a kite.
Learn to ride a bike.
Draw chalk pictures on the sidewalk.
Tour the parks and playgrounds in your town or city.
Blow bubbles.
Make and eat popsicles.
Plant flowers and watch them grow.
Make mud pies.
Plant flowers and watch them grow.
Go berry picking.
Play hopscotch.
Run through a sprinkler.
Have a water balloon fight.
Visit a petting zoo or farm.
Use a magnifying glass to look for bugs.
Read some summer books under a tree.
Have a picnic.
Paint some art outside.
Take Dolly for a walk in her stroller or Teddy for a walk in his wagon.
Build a sandcastle.
Make s'mores (over a campfire or in the oven).
Build a tent in the backyard.
Make lemonade.
Visit a duck pond.
Make dandelion wishes.
Sprinkle sugar near an anthill and watch the ants work.
Draw a map of the neighborhood.
Start a rock collection (or a leaf or flower collection).
Tie-dye a T-shirt or pair of socks.
Take lots of pictures and make a photo album or scrapbook.
Ready for More?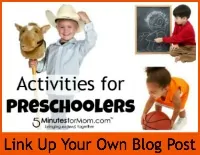 Find more fun ideas on our new Activities for Preschoolers Resource Page.
Also, if you've published a post with your own activity ideas, link it up on that resource page.
Written by Bonnie Way, 5 Minutes For Mom contributor, blogger, and mom of three girls ages 5, 3 and newborn. First published on July 8, 2013 here at 5 Minutes for Mom.