This post may contain affiliate links. Read my disclosure policy here.
Valentine's Day conjures up chocolate, red hearts, roses and Cupid. It's dedicated to romantic love, and if your significant other forgets about it, the "But honey, every day is Valentine's Day!" ruse won't work!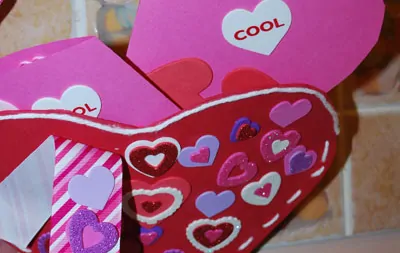 However, it's also a wonderful opportunity to celebrate devotion and fun with our kids. More than just making some cards (though that is certainly fun) it's also a time to share in some baking, story reading and just plain bonding. So this weekend, get out some books, red food dye, and the glue, red paper, yarn and glitter to create some fun memories of love and affection!
Craft Ideas
Before you get started protect your work area with newspaper and have all your supplies needed laid out. If you already have some crafts in mind to do with your children that call for construction paper, think about using foam paper as an alternative. It's stronger and more durable.
Heart shaped tote
Supplies Needed:
Red or Pink Foam Paper
Scissors
Hot Glue gun and Hot glue sticks (or you can use a strong craft glue)
White, pink or red yarn and a needle
1-1/2 inch white, pink or red ribbon
Elmers Glue or a glue stick
Red or pink glitter
Instructions:
Depending on the size of the tote you would like, cut two sheets of foam paper in the shape of a Heart so that you have two hearts of the same size. Place the hearts together and use your scissors to stab small punctures all around the V portion of the heart, about half an inch from the bottom. The punctures should be about one half inch apart.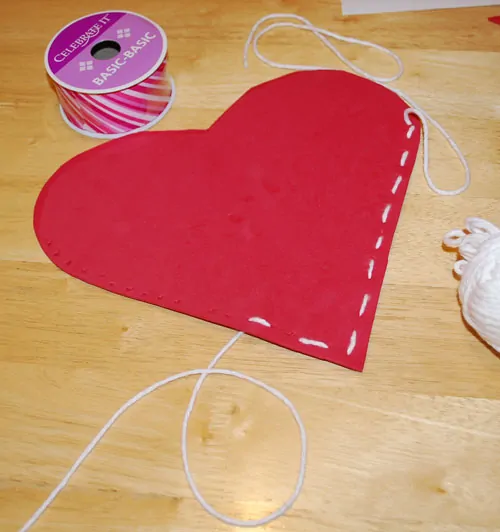 Sew the V's together through the punctures from the right to the left side using a needle (I tied yarn in a tiny knot to a thread and needle, and pulled it though). Once you have completed this use the hot glue gun to glue each tip of the ribbon to each side of the top of the V, from the inside of the tote, so it looks like a purse handle.
Now it's time for the kids to have fun with their new tote. Give them the glue and glitter to design the front and back with hearts, fireworks and anything else they conjure up with their imaginations. Hang them to dry before use.
You can make small totes and place individually wrapped candies inside to use for school Valentine's Cards, if desired. If done this way you can use a marker or pen to write sentiments on the front and back of the card.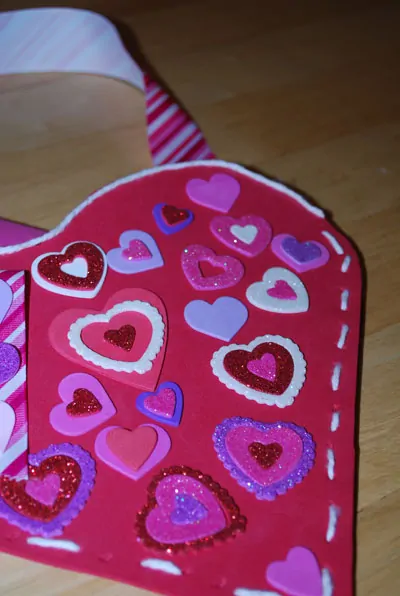 Baking Fun
With a holiday like Valentine's, it's all about pink and red. Think of what you will be serving for the day and how you can integrate these colors into your meals. Many of your dishes can simply have a few drops of red food coloring to make them a holiday delight.
Start the day out with some pink heart-shaped pancakes. You can either squirting a few drops of red food color into your pancake mix, or use strawberries and juice. Use a large heart-shaped cookie cutter, placed on the griddle, to mold the pancakes.
Have your child use the same large cookie cutter to cut out heart-shaped sandwiches. Make pink-lemonade to go with their heart shaped sandwiches, or simply puree some frozen strawberries and add to traditional lemonade.
For deserts, think pink or red rice krispie treats or popcorn balls, red colored cookie dough or colored chocolate for dips. If you are thinking chocolate covered strawberries, for example, purchase pink, white, or red chocolate and have fun with the kids by letting them put some Valentine's Day sprinkles on the chocolate.
Card Decorating Ideas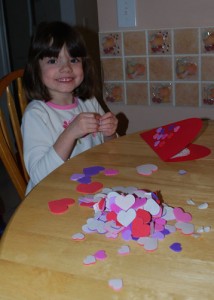 You can make Valentine's cards with your children for school or for family members with these simple steps.
Supplies Needed:
Red or Pink Foam Paper
Scissors
Hot Glue gun and Hot glue sticks
Individually wrapped Candy (of your choice)
Pen or marker
Cut your foam paper in half. Trace the shape your child would like to use, maybe a heart or a butterfly, on the half of foam paper you cut.
If you are making hearts you can do a double heart shape by cutting out a smaller heart of a different color and gluing that to the larger heart. For pop-out hearts, simply glue the smaller heart straight down the middle and fold it back.
Allow your child to write some fun Valentine's Day messages on your card and have your child glue the candy on the top of the card. Allow to dry completely before you hand them out.
Valentine's Day Stories
Bedtime stories are something we consistently provide for our children on every day of the week. Here is a list of fun Valentine's stories to share with your children. Many involve characters they already know and cherish:
Valentine's Day Movies
Sitting down with popcorn or the valentine snacks you may have made, and a great movie is a perfect way to end a fun-filled day of hearts, Cupids and candies. Below is a list of Valentine's Day movies that you and your young children will enjoy together.
Be My Valentine, Charlie Brown
Elmo Loves you!
WordWorld: My Fuzzy Valentine
Mickey & Minnie's Sweetheart Stories
Be My Valentine – Love, Barney
Blue's Room: It's Hug Day
Miss Spider's Sunny Patch Friends – Happy Heartwood Day
Clifford The Big Red Dog – King Clifford/Be My Big Red Valentine
Alvin and the Chipmunk Valentine
For teens and tweens:
The Love Bug
A Cinderella Story
Ever After
High School Musical
The Princess Bride (My favorite!)
Paper Heart
17 Again
The Notebook
Enchanted
A night to Remember
Twilight
Win a Date with Tad Hamilton
Have fun and enjoy this special day with your children and family!
By Chris Molnar, a stay at home Dad with two wonderful preschool children. Valentine's Day includes lots of cut up paper, glue, stickers and learning how to spell "Love" for a variety of cards for aunts, uncles and grandparents. Pink cupcakes and messy sprinkles usually follow, and the evening will consist of a heart-shaped pizza and watching a movie (Beauty and the Beast last year.) Chris edits a party theme site with lots of ideas for kid's birthdays and activities.