This post may contain affiliate links. Read my disclosure policy here.
With so many different smart phone apps these days, paper phone books are becoming obsolete. If you are anything like me, you have a stack of old phonebooks and yellowbooks just piling up collecting dust.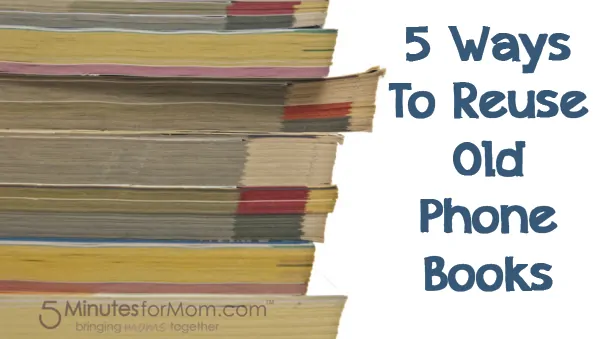 Instead of letting those old books just keep piling up, put them to good use by repurposing and reusing them.
5 Ways To Reuse Old Phone Books
Create gift wrap: If you have small gift items that need to be wrapped, you can take a few pages out of your old Yellow books and create gift wrapping paper. Dig around at home for some silver spray paint and lightly spray your pages, giving them a shimmery look. Allow it to dry and then wrap your gift, finishing off the look with some red ribbon.
Use the pages as liners for animal cages: One of the best ways to reuse pages from a yellow book or phone book is by lining the bottom of cages for your pets. This works extremely well for birds, rodents, snakes, turtles, and lizards.
Use the pages as window wipes: For those of us who are trying to do what we can to help the environment, try making your own homemade vinegar and water cleaner. This works great for cleaning windows and you can use the pages from your old phone books and yellow books to create a beautiful streak-free window.
Make a pinata with your kids: During the holidays, my kids and I do a lot of crafting! Create a glue-like consistency with cornstarch and water. Blow up a balloon and set it aside. Rip strips of paper from the old books and dip them in the glue like substance and place all over the balloon. Let each layer dry before you add another one. Once the layers are dry, pop the balloon and create a neat pinata for the kids to have fun taking a whack at!
Make a booster seat for your little one: Make it into a booster seat. If someone is short, he or she may not be at an appropriate height when sitting at a table. Take clear Con-Tact paper or packing tape and wrap up the entire telephone book.