This post may contain affiliate links. Read my disclosure policy here.
This guest post was submitted by Sarah Normandie.
There are so many great spring activities you can do with your young child, but my favorite is linking science, art, and reading with The Hungry Caterpillar by Eric Carle. Here are 5 exciting activities to help introduce your child to this classic book.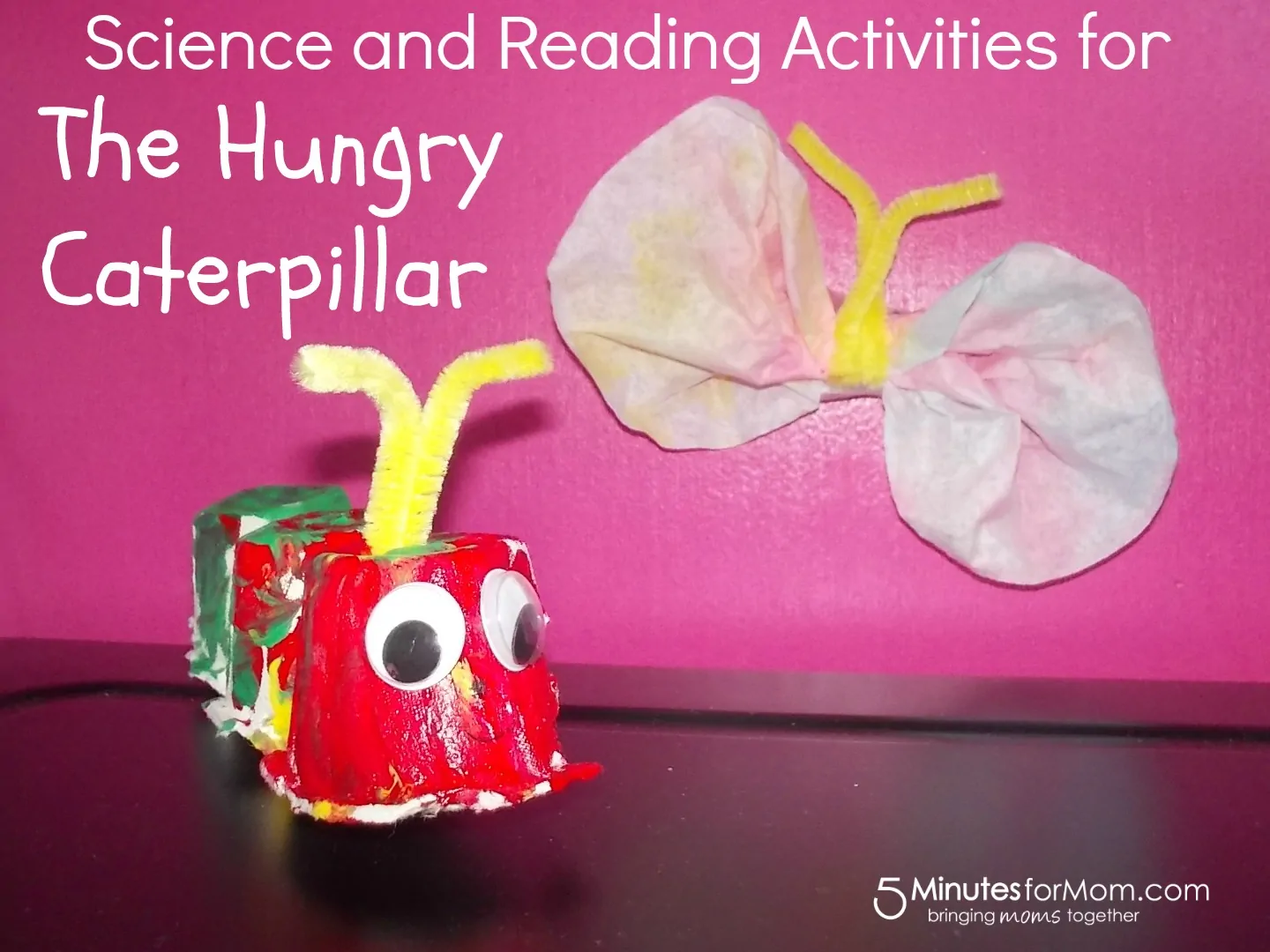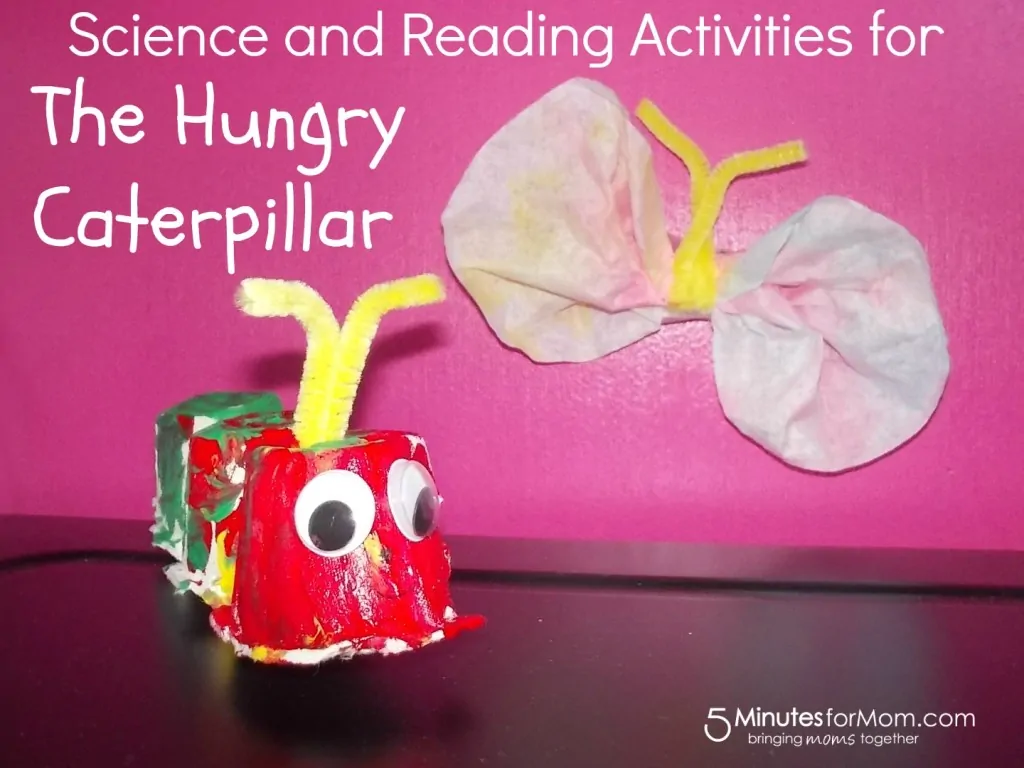 Make Your Own "Hungry Caterpillar"
After reading The Hungry Caterpillar, create your own! Gather a saved egg carton, red, green, and yellow paint, googly eyes, glue, and a pipe cleaner. Cut the egg carton to look like a caterpillar's body. Next, have your child paint it.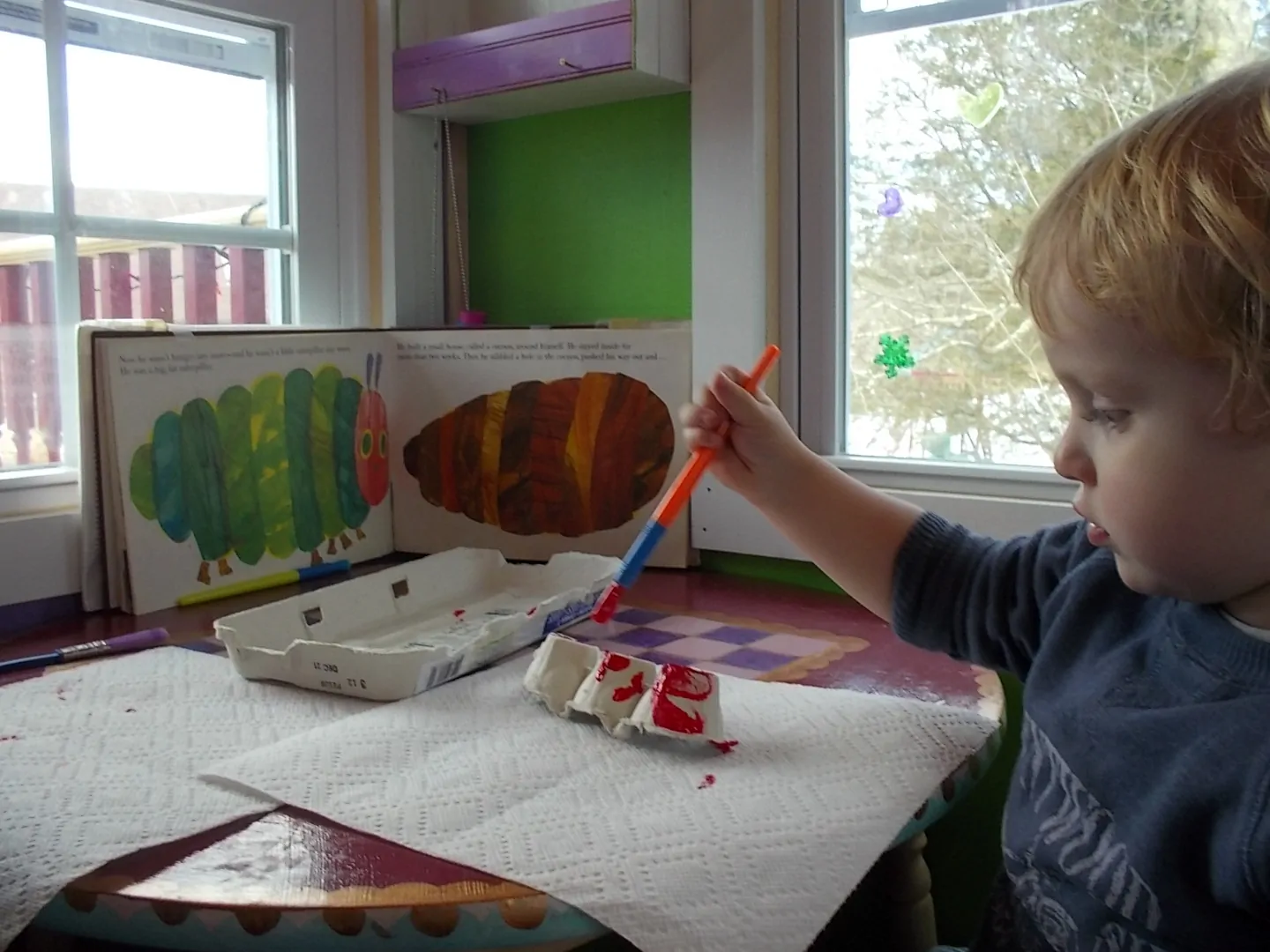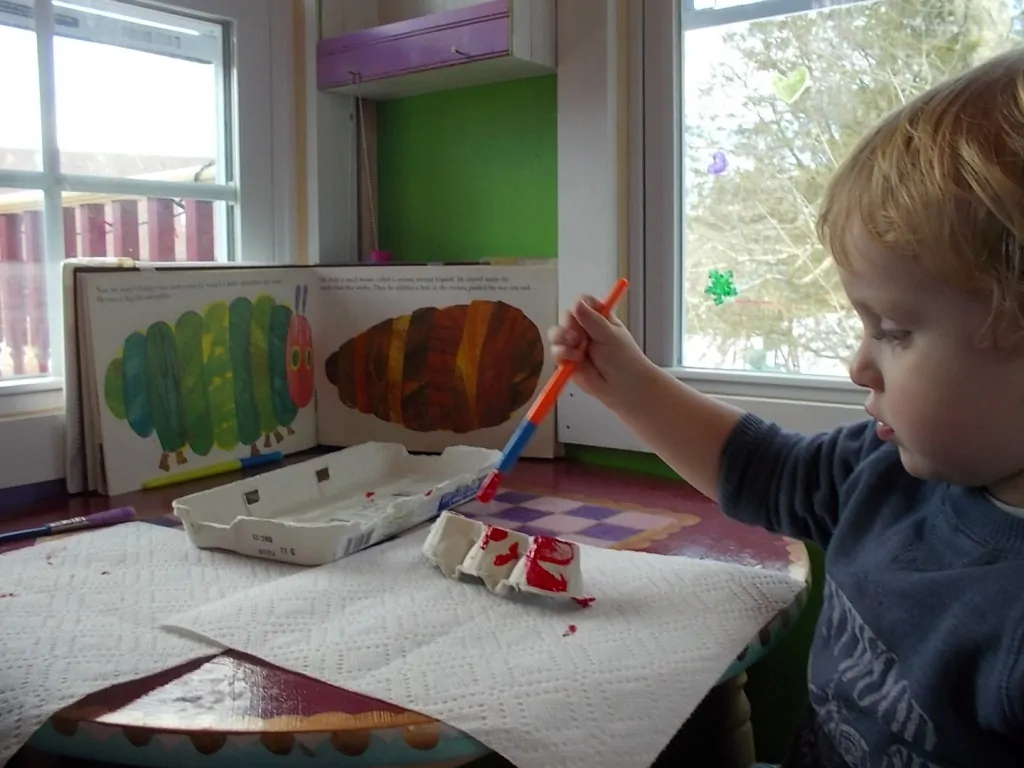 When the paint is dry, glue on the googly eyes and punch a small hole at the top of the caterpillar's head. Cut the pipe cleaner to be the perfect size for antennae, fold it in half, and insert it in the top hole. Your little one is sure to smile when they see their very own "Hungry Caterpillar."
In fact, my little one frequently plays with his, pretending to feed him various fake foods in his play kitchen. This special art project not only promotes fine motor skills and creativity, but also offers your child a chance to role-play the story.
Coffee Filter Butterflies
There are so many ways to create a butterfly, but the "Coffee Filter Butterfly" is my favorite. Get a white coffee filter and some eyedroppers. Fill three small paper cups with water. Color each cup with a different primary color–red, blue, and yellow. Next, have your child use the eyedroppers to drop the colored water onto the filter.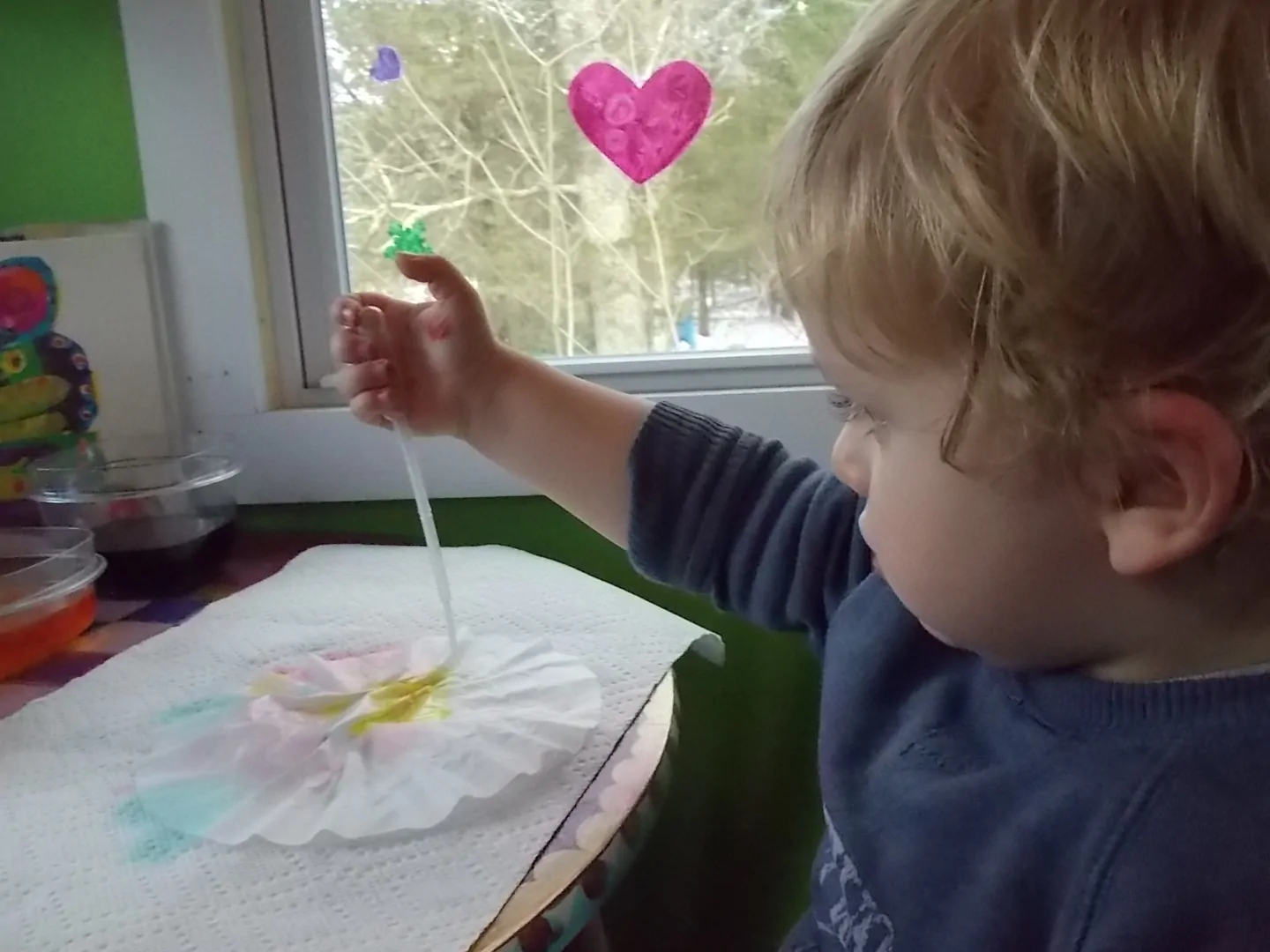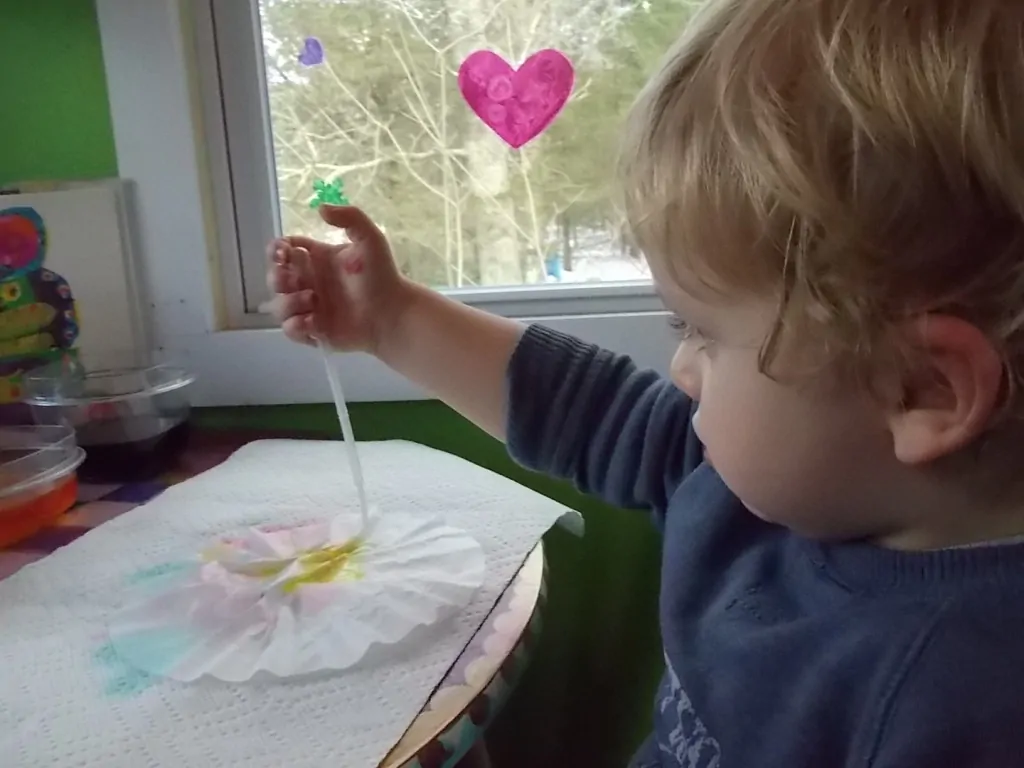 As the colors blend, point out how they create new colors. For example, red and yellow make orange. Let the filter dry. Once, dry, pinch the middle of the coffee filter and wrap a pipe cleaner around it. Leave some pipe cleaner at the top to form antennae, and you've got your own butterfly!
Make a Cocoon
You can add to your caterpillar and butterfly by making a "cocoon." Simply use saved toilet paper tubes or paper towel tubes cut smaller. Paint with brown paint. Instead of using pipe cleaners on your coffee filter butterfly, use a clothespin instead. This way, you can "clip" your butterfly to the cocoon symbolizing the caterpillar/cocoon/butterfly magic. Your little one is sure to love role-playing the story with these props.
Have a "Hungry Caterpillar Taste Party"
Let your little one explore various tastes by having your own "Hungry Caterpillar Taste Party." Gather up as many food items as you can from the book: slice of apple, strawberries, oranges, a piece of salami, cheese, watermelon, pickle, etc. Let your child try a bite of each and talk about how each one tastes.
Make a chart to graph your findings. For example, cut out pictures to represent the food and paste them in onto poster board. Separate your chart into two categories, "Like" and "Don't Like." You can use a smiley face and a sad face to represent each. Let your child place a checkmark to symbolize each one they like or not. This is a fun way for your child to explore their senses while also fostering language, sorting, and literacy skills. Encourage them to retell the story as they try the various foods. Hang up the poster to show off their "taste research."
Go On a Caterpillar and Butterfly Hunt!
There's no better way to explore nature than in nature itself! Take your child on a hike, to the park, or a nearby butterfly garden and search for your own butterflies and caterpillars. If you don't live near a butterfly garden, plant your own! A quick Google search can result in finding out which flowers are best to plant in your butterfly garden, including a "butterfly bush," zinnias, and black-eyed susans.
Your child can spend all spring and summer spotting butterflies. There are also some terrific butterfly "growing kits" out there that allow your child to observe caterpillars as they turn into butterflies, and then let them go. Older children can enjoy keeping a journal of their observations.
I hope these ideas will encourage you to explore the many ways you can link literacy, science, and art with your little one. Have fun!
What would you do to host a Hungry Caterpillar party for your kids?
Ready for More?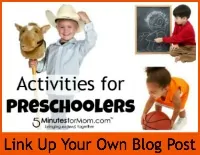 Find more fun craft and activity ideas on our new Activities for Preschoolers Resource Page.
Also, if you've published a post with your own ideas, link it up on Activities for Preschoolers page.
Pin it for Later