This post may contain affiliate links. Read my disclosure policy here.
Preschoolers love to get messy and explore, to be creative and express their imaginations. Paint is the perfect medium for various projects and learning activities for kids ages 3 to 5.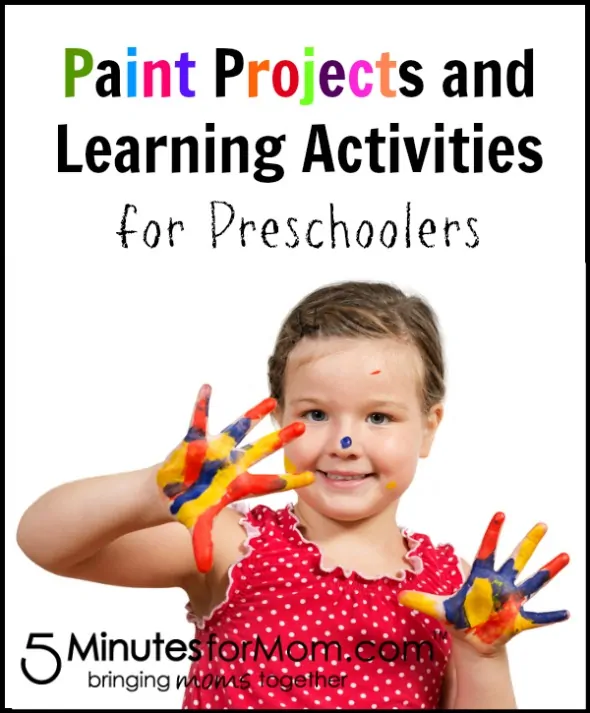 10 Fun Ideas for Painting with Your Preschooler
We've collected ten great ideas for painting with your preschooler. Each of these submissions has been provided by permission from the original bloggers. We encourage you to visit their blogs and follow them on their social media channels.
Three Uses for Sidewalk Paint

On a sunny day, there's nothing better than taking the mess outside and letting children explore colours and art on the sidewalk.  BC Family shares three uses for sidewalk paint—and all you need is water, cornstarch, and food colouring!  Read more here.

Handprint Turtle

Your child can use his or her handprint to make a turtle!  Author Janis Cox explains how to create a turtle and decorate his shell.  All you need is tempura paint, glue, paper, a large plate, paint brushes and found materials (like shells, glitter, twigs, etc). Read more here.

Painted Name Rocks

Combine paint, rocks, and letters of the alphabet to make a cool craft for your preschooler.  Jen of Mama Papa Bubba explains how collecting rocks on a walk turned into craft time with her daughter.  Read more here.

Snow Paint

Whether you get snowy winters or not, you can have a snow day with this fun snow paint!  Mom Endeavors shares ideas for creating snow paint using shaving cream and glue on paper.  Read more here.

Science Activities with Paint

Paint can be used to teach your preschoolers about simple science concepts.  Sarah presents three paint projects (along with books) and what concepts/skills your child will learn.  Read more here.

Summer Daisies

Use your preschoolers hands and feet to create a painting of summer daisies.  This makes a great keepsake or gift for the grandparents.  Paula over at Beauty Through Imperfection explains how she helped her kids make their hand and footprints into a picture.  Read more here.

Cookie Cutter Painting

Jen at Mama Papa Bubba let her preschooler use cookie cutters for painting.  This would be a great way to teach shapes or letters for preschoolers or to have a themed craft day.  Read more here.

Dinosaur Tracks Matching Activities

Use dinosaurs, paint and paper to create a fun matching activity for your preschooler!  Mom Endeavors explains what her children thought of this idea.  Read more here.  (Psst—this craft would also work great with trucks/cars and other small plastic toys that are easy to wash when you are finished with the paint!)

Rainbow Iceball

Use a balloon, food colouring, and ice to create a cool art project for your preschoolers.  Read more here.

Painting with Rocks

Teach your children about using different mediums and techniques for creating art by painting with rocks. Fantastic Fun and Learning explains how her kids created masterpieces just using rocks, paint, and paper. Read more here.
Have fun and be creative!  For more preschool activity ideas, check out our preschool resource page.
Written by Bonnie Way and originally published here on 5 Minutes for Mom on Aug 5, 2013.
Also, follow our Activities for Preschooler Pinterest Board.
Follow all our Pinterest boards at pinterest.com/5minutesformom