This post may contain affiliate links. Read my disclosure policy here.
5 Minutes for Mom contributor Bonnie Way recently tested out the new Veet Natural Inspirations products; while she received the products for free to test, all opinions expressed are her own.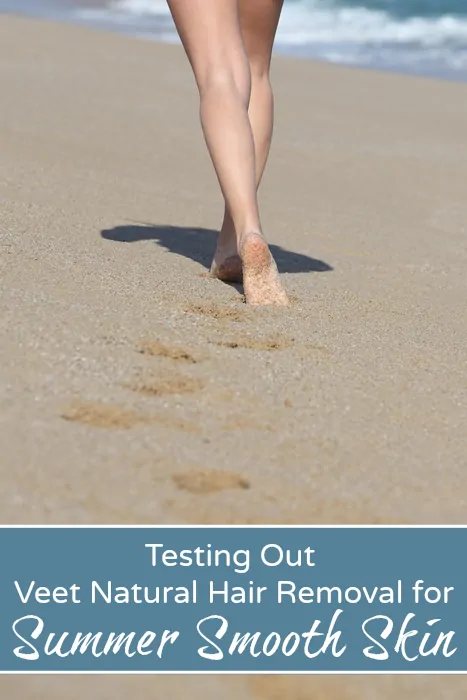 Body hair is a topic few of us like to discuss. It's taboo, or at least embarrassing, something we want to get rid of with as little pain and trouble as possible. So when I saw Veet had a new line of natural hair removal products, I was interested. I wanted to know if natural products could actually do the tough work of removing body hair. Here's what I found out.

I've never waxed before (it always sounded too scary), so I thought I'd start small with the Veet Natural Inspirations Facial Wax Strips. Even for a beginner like me, these were really easy to use. Simply rub the strips together between your fingers, separate them, smooth them onto your upper lip or chin, and then yank. Okay, it hurt a little bit, but it got the job done! The perfect finishing wipes quickly smoothed away any excess wax and helped leave my skin soft. I was really impressed with how smooth my face was after waxing.
My success there gave me courage to try the Veet Natural Inspirations Hair Removal Cream. Now, Veet hair removal cream is a product I tried about a decade ago when I was traveling in Australia. I couldn't find razors there, so I grabbed a package of Veet and headed back to my hostel. The burning results soon after I applied it had me washing it off, leaving it in the showers, and searching more seriously for a razor. Now, Veet does recommend that you test their products on a small part of your skin before using them. So I did that with the new products and had no adverse reactions.
I applied the hair removal cream to my underarms, read my book for three minutes, and then washed it off again. And smiled at the results. I hate shaving my underarms; it's uncomfortable and leaves them looking red and blotchy. Well, no more ugly underarms for me! Veet Natural Inspirations Hair Removal Cream left my underarms looking picture perfect. It was quick and easy, painless and perfect!
So I did my legs. Again, near-perfect results. I really liked how my legs came out feeling and looking smooth and silky. I wouldn't say that it lasts 2x longer than shaving for my legs, but it offered comparable results (without razor burns or nicks).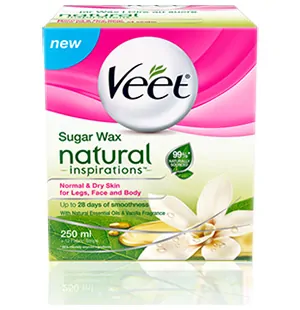 Finding a chance to try the Veet Natural Inspirations Sugar Wax was a bit harder. During the summer, I wear shorts a lot, so I didn't want to let my leg hair grow as long as necessary to wax. My husband, however, is always teasing me about my bikini area and I hate shaving there because of the terrible razor burn I get. So I sat down one night to try the wax. (It couldn't be any worse than shaving, right?) My only complaint here was the amount of time it took to warm up the wax and stir it to a smooth consistency–probably a good fifteen minutes (I did it on the stove as I didn't have a microwave).
Once the wax was ready to go, it was easy to apply and a quick yank again took care of the hair. My bikini area looked great (just in time to start summer swim lessons with the girls!), without any itching or discomfort later. For me, this is a great product to use once in a while for serious hair removal (maybe at the end of the winter) and for my bikini area, but I'd probably stick to the other products for weekly use.
After the results I had with the hair removal cream on my arms and legs, I decided to try the Veet Natural Inspirations Facial Cream Kit. I thought it was cool that this kit came with a gentle finishing cream. Quickly I applied the cream and began timing. Then I noticed the tingling. Uh oh. Yep, my skin wasn't happy. I scraped it off and washed my face, but the tingling stayed. I tried putting on the finishing cream, and the tingling got worse. So I washed that off and slapped on some fresh aloe. When my husband came home soon after, he immediately noticed my red face and I sheepishly confessed I'd given myself a Veet burn. I applied more aloe before going to bed, and the redness subsided within an hour, although the tingling stayed for another day (and two more applications of aloe). So I recommend following the directions on the product, and always trying a small amount first on your skin, even if you've used other Veet products before. I'll stick to using the Facial Wax Strips for my face.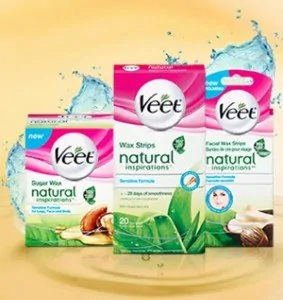 Overall, I was very impressed by the new Veet Natural Inspirations product line. I'm also happy that a company is recognizing women want natural products and delivering that. I read the ingredients in the Sugar Wax and I knew what everything was–and I was amazed that those five ingredients together could pull off my hair.  The wax products contain 95-100% naturally sourced ingredients. All the Veet Natural Inspirations products were easy to use and, with the exception of finding out that my face is very sensitive, left my skin feeling great and hair-free. I was really happy that I tried all of the products–I've definitely found a few new products to help with my beauty routines.
Canadian readers have a chance to win a complete line of Veet Natural Inspirations products! Use the entry form below and tell us "Which product you are most excited to try?"