This post may contain affiliate links. Read my disclosure policy here.
Did you see my post about how Janice was my visual motivation for losing my baby weight?
Yes, Janice has managed to stay slim even while having two kids.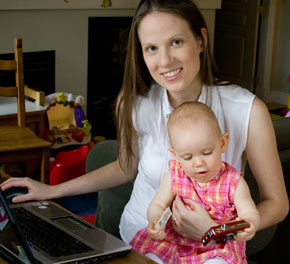 Now, first off I want to say that I do not want to minimize how difficult it can be to lose weight or maintain a healthy weight.
If it were simple, the weight loss industry wouldn't be the enormous money-making machine that it is.
The fact is that some people are luckier than others when it comes to weight and body shape. Some people eat whatever they want and stay skinny, and others struggle with their weight despite how hard they try.
But I think Janice and I are an interesting example of two people with exactly the same genetic makeup and body type.
For the last eight years, Janice has been much slimmer than I.
Why?
One reason: Janice consistently eats simple and very healthy foods.
Sure, she'll splurge here and there — she's a crazy woman in front of a pumpkin pie — but day in and day out she'll eat tons of raw vegetables and tons of fiber.
I also do not eat much junk food, and I'd argue that I still have quite a healthy diet, but over the last several years I have let myself eat too much banana bread and other comfort foods. I've given in to eating extra treats and telling myself, "I deserve it. And I'll burn it off later". (Which of course, as a busy mom I never do.)
During our pregnancies, I ate whatever I wanted while Janice limited sugar and took extra care to ensure a healthy diet.
And while I use the excuse of not having enough time to exercise, Janice says her healthy eating is aided by her lack of time to cook.
Back in April, 2006, Janice showed us an example of her famous wraps.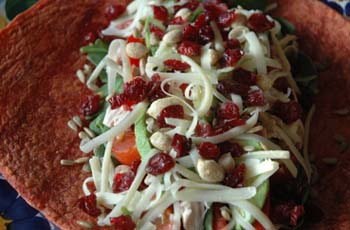 Just looking at it now, I am wondering why I do not make these more often. I love it when Janice makes them for me!!!
If you tracked all the food Janice ate in a week, you'd likely find the following repeating over and over:
High fiber cereal with skim milk.
The following are her three favorite choices:
Bran Flakes with All Bran cereal with skim milk and blueberries.
She says the secret is to add that extra All Bran on top because the extra concentrated fiber helps her not get hungry again so quickly. In the winter, she uses frozen blueberries that she quickly thaws under warm water.
Red River hot cereal. It's tagline is even "Ridiculously Healthy Cereal".
A simple microwaved bowl of rolled oats. She adds a touch of salt, wheat germ, ground flax and sweetens with fruit or a tiny bit of maple syrup.
Raw vegetables.
Janice is queen of raw vegetables and has always had Jackson eat raw vegetables as the first serving of dinner. While she prepares dinner, she gives him a plateful of raw veggies with a little low-fat dressing.

Simple, low fat dinners high in vegetables and protein.
Her most common dinner choice is some variety of a chicken and avocado wrap. Her husband occasionally cooks and he'll make steak or barbecue chicken with roasted potatoes and vegetables.

Whole wheat and multigrain bread.
We all know carbs can be killers, so Janice does try to not overdue it on bread… although it is a weak spot for her. (She'd tell you that over the last few months she put on a few pounds because of starting to make homemade bread in a bread maker.)

Water.
This is key: No juice. Only water and herbal tea to drink.
In August, 2006, Janice wrote a Thursday Thirteen listing 13 foods she regularly eats. The list is still quite accurate except that she has now cut out Orange Juice and eats fewer Craisins. (She made that change when she had a touch of gestational diabetes when she was pregnant with Olivia and has kept with it.)
So if you snuck into Janice's fridge right now, here's some of the staples you'd find:
Raw vegetables: carrots, red and yellow bell peppers, cucumbers, broccoli, tomatoes, celery
Skim milk
Avocados
Low-fat cream cheese.
Low-fat yogurt.
Ground wheat germ and ground flax.
Wraps — stay fresh longer in the fridge
Cheddar and mozzarella cheese.
So as I try to trim off about 5 or 10 pounds, I am looking to my twin sister for inspiration.
It's no fancy Hollywood diet, but I see — in front of me everyday — that it works.
What about you? Do you have any tips, tricks or secrets for losing weight or staying slim? What are your favorite healthy foods?