This post may contain affiliate links. Read my disclosure policy here.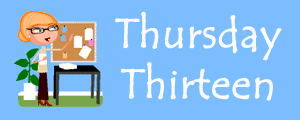 Banner by Chaotic Home
I am a food wimp. I hate sushi, shellfish, escargot, and anything spicy. At a restaurant I tend to go for foods that I know.
And at home, I tend to eat the same stuff pretty regularly. If forced to, I could live off the following foods and be pretty content.
13 Foods I eat Regulary
Wraps – I have told you about my wrap obsession and even shared my favorite wrap recipe. I love them and they are so versatile – I use them for salad wraps, cream cheese and avocado or cream cheese and apple wraps for Jackson, soft shell tacos or quesadillas.
Rotisserie Chickens – Why cook when you can blog? Oh yes friends – I am all about these chickens. I use them all the time – especially in wraps or on frozen pizza.
Thin Crust Pizza – Did I just mention pizza? Yum – Dr. Oetker makes a great thin crust pizza – our favorite is the spinach and cheese. (Yes even Jackson's favorite is the spinach!)
Salads – I make killer salads! I love all different kinds – Greek, green, summer salads with fresh berries, coleslaws.
Fresh fruit and veggies – One of my favorite parts of summers is the fresh fruit – berries and peaches are my favorite. I love to add them to salads. I add apples and craisins too! And I could eat my weight in on-the-vine cherry tomatoes. I have seriously eaten a bag of them in one sitting on more than one occasion.
Orange Juice – It isn't a "food" I guess, but it is critical to my daily survival. I hate coffee and so orange juice is how I start my day. When I am fighting off a cold, I crave orange juice and could drink 2 liters a day if I let myself.
Craisins – Can't live without them! I use them on my cereal if I don't have fresh fruit and on salads and wraps. I love 'em!
Bran Flakes – And I add All Bran for extra fiber.
Red River – And I add ground flax meal and flax seeds to boost the fiber.
Garden Burgers – The veggie burgers that have rice and mushrooms and other veggies in them. I love them! I eat them all the time.
Process cheese – Yes kinda crazy. But I prefer process on my veggie burgers and my sandwiches. I like real cheese, but process is so handy and yummy! (My husband thinks I am nuts!)
Feta Cheese – It is agony when I am pregnant and I can't eat feta cheese. I LOVE it!
Ice Cream – Ok, I don't eat it too regularly. In fact I often let the ice cream in my freezer get frost burned and I have to throw it out, which is quite surprising because I love ice cream. It is one of my great weaknesses. Add some brownies, whip cream and chocolate sauce and I am about as happy as a woman can get.
Get the Thursday Thirteen code here!
The purpose of the meme is to get to know everyone who participates a little bit better every Thursday. Visiting fellow Thirteeners is encouraged! If you participate, leave the link to your Thirteen in others comments. It's easy, and fun! Be sure to update your Thirteen with links that are left for you, as well! I will link to everyone who participates and leaves a link to their 13 things. Trackbacks, pings, comment links accepted!
View More Thursday Thirteen Participants