This post may contain affiliate links. Read my disclosure policy here.
Want to know a quick meal I throw together when I have spent too much time at my computer?
Wraps! I love them and so does my son. It is his favorite meal. I make all different kinds of wraps, but my favorite is this one I created that I call Ranch Chicken with Dried Cranberries.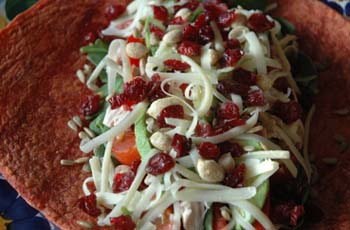 Okay with wraps the beauty is in the improvisation. Anything goes. Add or substitute to your liking. (I often make them "veggie" without the chicken. The nuts, cheese and avocado give it protein.) I really love dried cranberries in it though – so do give them a shot if you haven't had them before.
Here's how I make them:
Wraps – my favorite is spinach or sun dried tomato, but any kind you like will work well
Greens of your Choice – spinach, baby greens, or lettuce etc. Whatever you like – I use all different kinds of greens.
Cooked Chicken sliced or cubed – I never have time to cook. So I buy the whole rotisserie cooked chickens in the deli. Perfect for us busy moms.
Peppers – red, yellow or orange, sliced. I usually put five slices in ours. It is the main vegetable in the wrap. (You could use green – but I prefer the sweet ones.)
Cucumbers – sliced, diced or quartered
Tomatoes – quartered
Avocadoes – thinly sliced
Sunflower Seeds or Nut Mix of your choice
Dried Cranberries – you can buy them bulk or buy the name brand Craisins
Grated Mozzarella Cheese
Creamy Ranch Dressing – preferably low fat/light
Place a bed of lettuce on each wrap.
Arrange chicken and then add veggies. Sprinkle with nuts, cranberries and cheese. Top with Dressing. Wrap and enjoy. (For easy eating, wrap bottom half of wrap in tin foil and peal away when eating.)
Quick Kids Meal
Wraps
Plain Cream Cheese
Avocado slices
Chicken (optional – I often just do avocado, which is my son's favorite)
Spread cream cheese on wrap and place avocado slices and chicken in middle. Wrap and cut in three equal pieces for little hands.
Find More Recipes and Meal Ideas
For more quick meal ideas, meal planning and other recipes, check out our 5 Minutes for Food column.