This post may contain affiliate links. Read my disclosure policy here.
Hi, it's Emily, one of 5 Minutes for Mom's Summer Interns. Today I'm sharing how I use Pinterest to meal plan.
It doesn't take much to get into a serious meal planning rut. Growing up we seemed to eat the same 10 or so meals—spaghetti, baked pork chops, yet another casserole. The list goes on.
Years ago I would scour food magazines and cook books for new week night meal ideas. Lucky for me, the more blogging became popular, the more food blogging became popular, and thus my meal planning then revolved around a few blogs.
We still managed to eat the same things.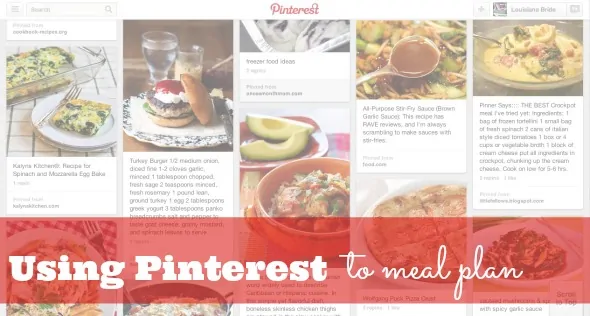 Pinterest however, has revolutionized meal planning for my little family. Instead of just having access to the 10 or so food blogs I read, my stack of magazines, and the ever growing collection of cookbooks in the kitchen; I can now easily find tons of meal ideas at the drop of a hat on one website.
What I love most about using Pinterest to meal plan is that it fits every dietary need, budget, or just plain taste preference. There are tons of blogs by moms with picky eaters, super health freaks, and just plain really yummy awful for you food recipes.
So how do I plan my meals around Pinterest?
Simple, I play on Pinterest in my spare time. When a recipe comes along that I like I pin it under a specific category within my boards and save it for a later date. A few days before I go grocery shopping  I pull Pinterest back up and browse my boards to see what meals interest me the most for that week. If my husband has a preference I will go pull a recipe he wants, otherwise I just write all of my ingredients into an easy weekly meal planning template.
I hooked my own mother on this idea and she even goes so far to have other categories in her Pinterest board to move recipes to a "Cooked It" board so she knows what she has made. Both of us also write down the website we got the recipe from so we can easily come back to it without having to go through the hundreds (or thousands) or recipes within our Pinterest boards.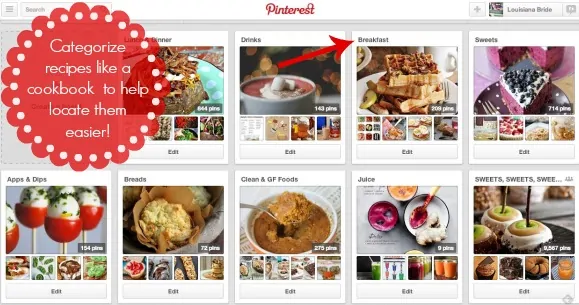 Another option for bloggers would be to blog your weekly meal plan. It's quickly becoming a popular Monday blog topic for many blogs out there. A bonus I've found that comes with blogging our meal plan, is that if I forget to get something out of the freezer or I can't cook that night I can call my husband and he can handle it. He simply pulls up my blog post from Monday and finds the week day we are currently on and cooks with the recipe link there.
Using Pinterest to meal plan takes you from the same old recipes, to experimenting and trying out new ingredients. It helps to organize what you've tried, what's failed miserably, and saves what you love. By meal planning with Pinterest, I've helped our family evolve from the Tuesday Night Taco rut to trying out new recipes weekly and enjoying it.
Get Ideas from our Recipes Board
Your Turn
You can find more tasty ideas in our Recipe Index.
Now share with us, what are some of your favorite weeknight meals or Pinterest recipes?
Written by Emily Babb
Emily, the blogger behind Louisiana Bride writes about the humor in daily life as a graduate school wife and elementary school teacher. Her love of food has brought about a link-up called Meal Pinning Monday and new recipes weekly. She loves Target, traveling, nail polish, and tends to be a hippie health nut.