This post may contain affiliate links. Read my disclosure policy here.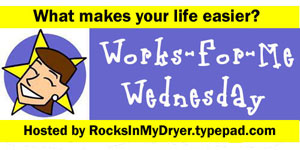 Ok girls – I don't know how much longer I can play Works for me Wednesday! I am totally stuck for ideas. Not that much works for me. I have told you all of my creative tricks and I am having problems thinking up any others.
So this one is pretty lame – hopefully by next week I will have come up with something better.
You might relate to this – I blog too much. And so I often run out of time to cook. (Fortunately my husband likes to cook sometimes.)
But one of my tricks so that my family does not starve to death is the rotisserie chickens from the deli at the grocery store. I use them for tons of different things. I told you about my son's and my obsession with wraps and shared with you my recipe for Ranch Chicken Wraps with Dried Cranberries, but it doesn't end there. Oh no ladies – I figure why cook when I can blog? So, I use rotisserie chickens for as many things as I can think of. I make salads a lot – any kind – Greek salad, coleslaws, green salads with apples and whatever veggies and cheese I want, Caesar salad, etc. (I adore salads. In fact, I think I could almost live off them.)
But my tip for the day is to add chunks of rotisserie chicken to a frozen pizza – I prefer thin crust. It increases the protein on the pizza and my son is just so excited to be getting to eat pizza for dinner. (I have a funny little guy though. His favorite pizza is a spinach thin crust – I am not too sure all four year olds will eat the kinds of pizza he will.)
So there you have it. Not that ground breaking – but when I am in a hurry and my son is begging to eat pizza for dinner, I can throw a spinach and cheese thin crust pizza, with lots of chicken on top, in the oven and we are all happy. It works for me (and it is really yummy.)
For more great "Works for me Wednesday" tips, visit
Rocks In My Dryer