This post may contain affiliate links. Read my disclosure policy here.
If you're looking for a healthy and delicious meal that's quick and easy to make, you will love this Mediterranean Wrap with Olives from Spain.
This post is sponsored by Olives from Spain.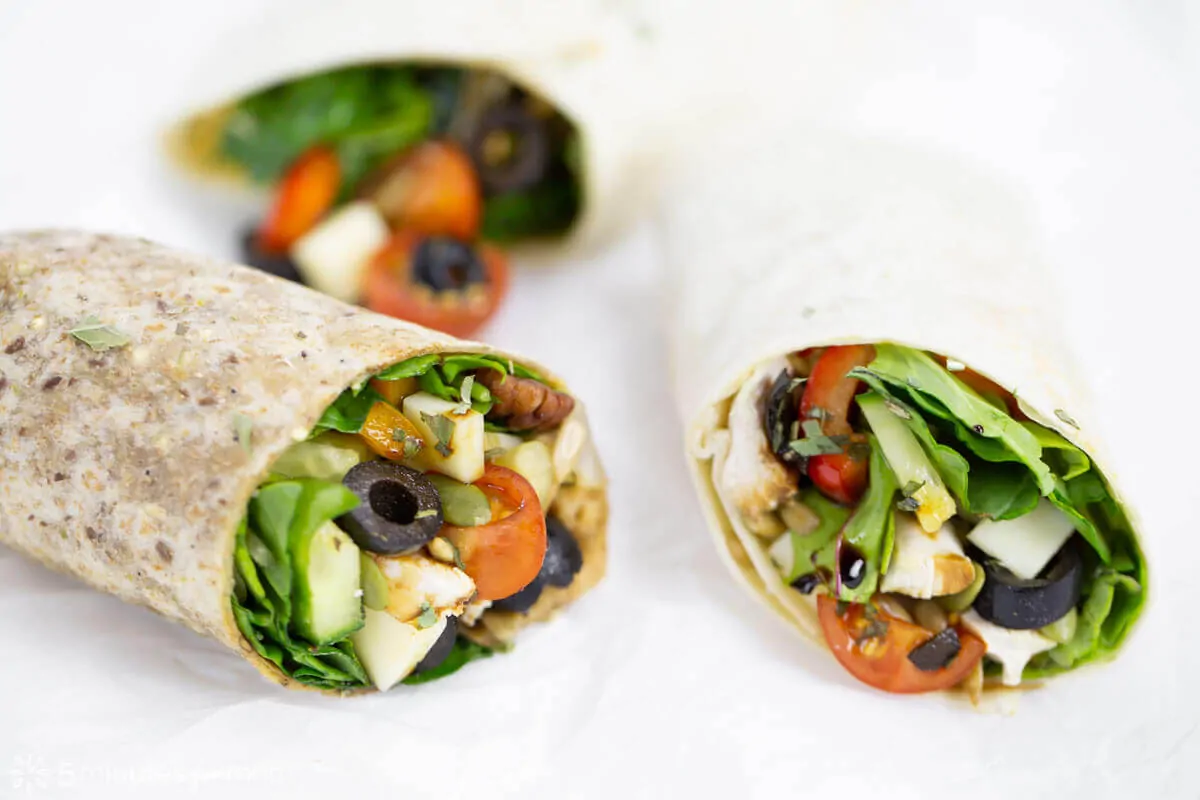 We love making simple meals that are packed full of fresh vegetables along with a good source of protein. Since we're busy work-at-home moms, we're often trying to save time when cooking. So one of our favorite short cuts is to use store-bought rotisserie chicken in our recipes.
Our families love salad wraps with chicken and we create endless variations for lunches and dinners.
We recently made this Mediterranean inspired salad wrap with rotisserie chicken featuring Hojiblanca Olives from Spain along with cherry tomatoes, bell peppers, soft cheese, and fresh basil.
Drizzled with olive oil and balsamic glaze and wrapped up in a soft, ancient grains tortilla, this quick and delicious meal can travel for a lunch on the go or dazzle on the dinner table for a weeknight meal.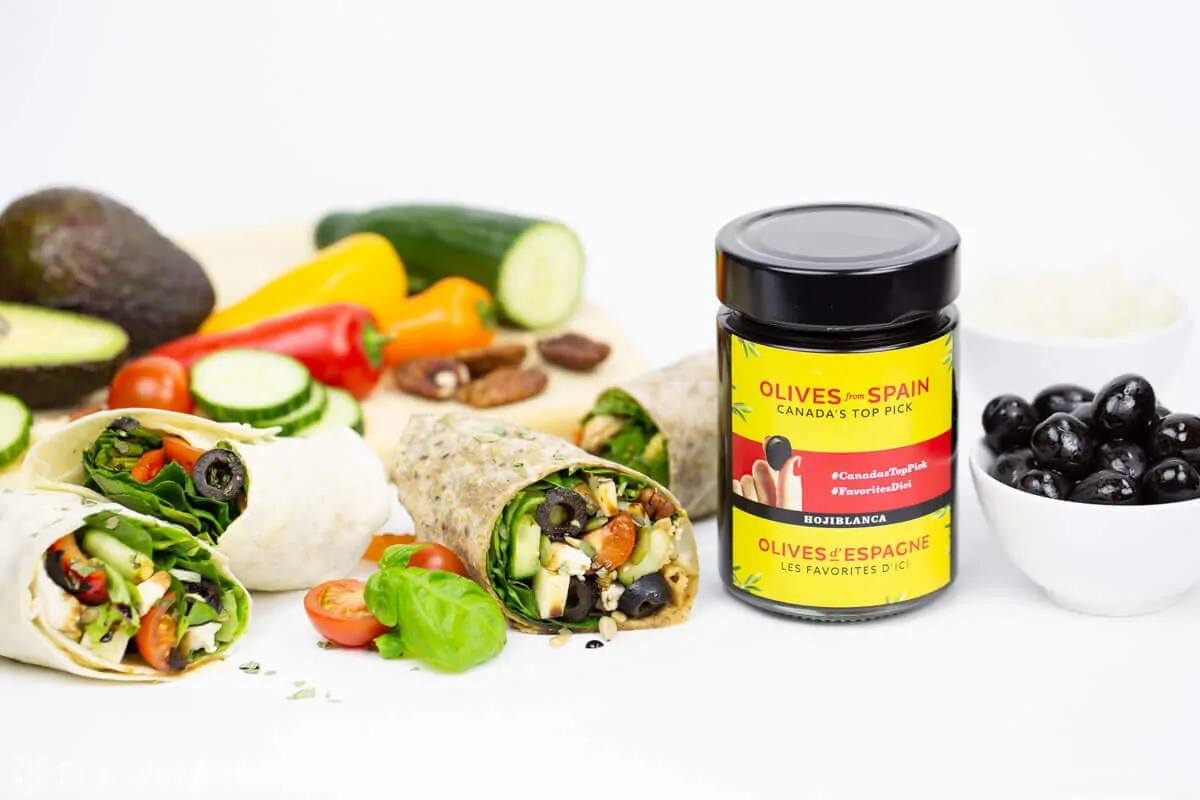 How To Make A Mediterranean Wrap
One of the great things about making wraps with your family is that everyone can customize their wrap according to their taste preferences.
You can set out bowls of ingredients on the table and let everyone load up their own wrap.
When we make salad wraps, we almost always include spinach or salad greens, bell peppers, tomatoes and avocado.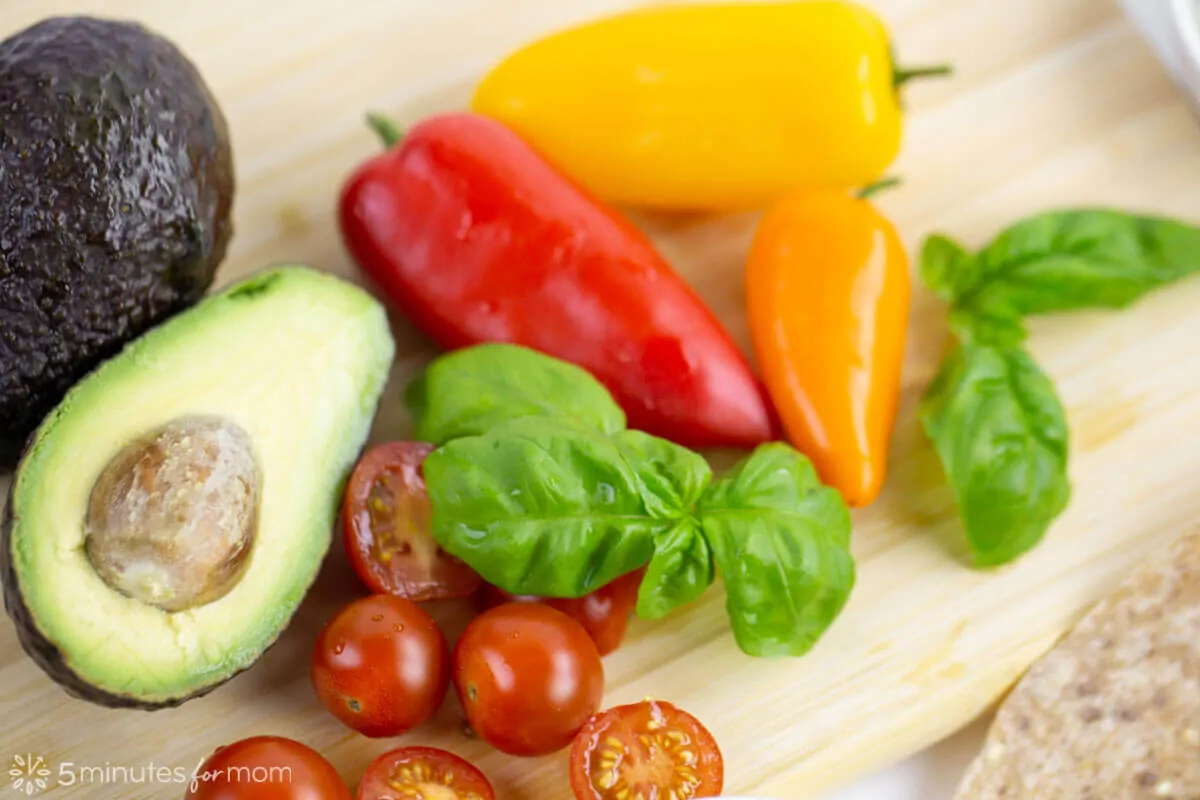 But to turn our usual salad wrap into an extra healthy, delectable Mediterranean Wrap, we've added Hojiblanca Olives from Spain.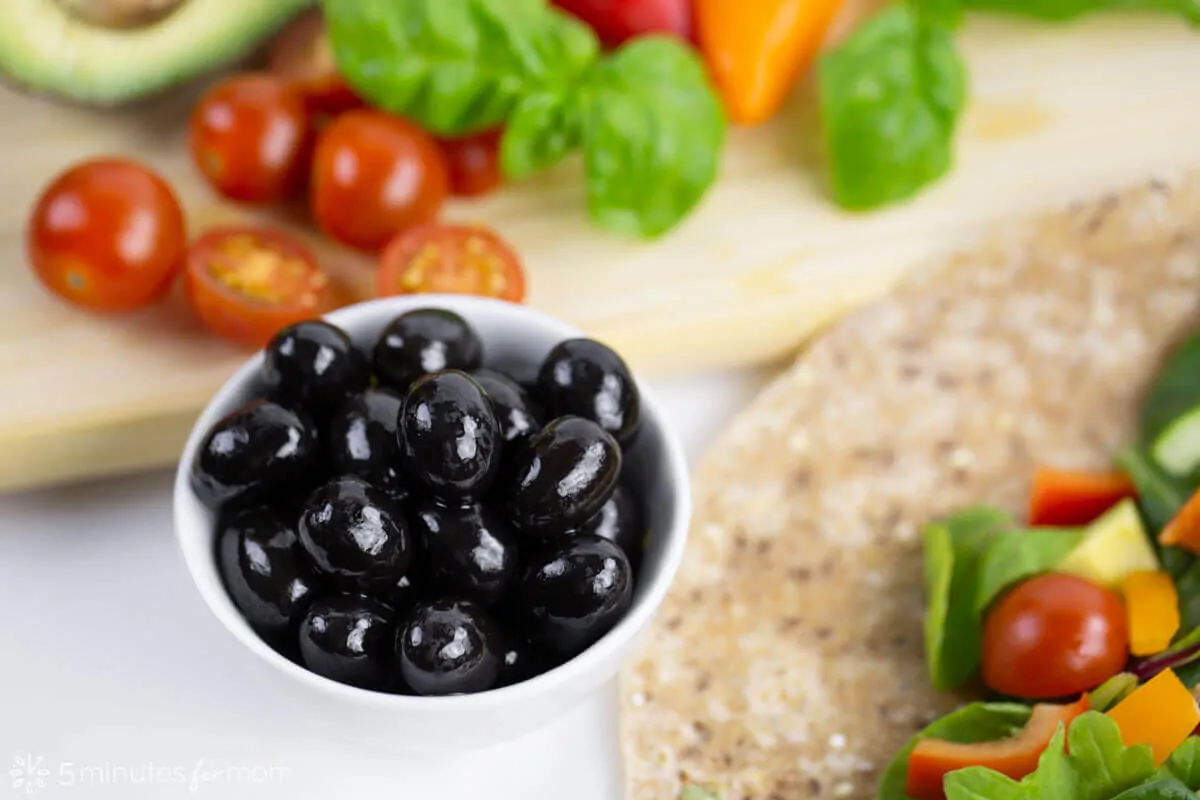 They elevate our regular meal with their exquisite flavor and their ideal mix of vitamins, minerals, amino acids, fiber, oleic acid, and antioxidants. Olives from Spain are incredibly versatile and easy to add to your diet.
We love enjoying our food while knowing how those nutrients can help regulate cholesterol, improve cardiovascular health, slow down cellular aging and enhance digestion.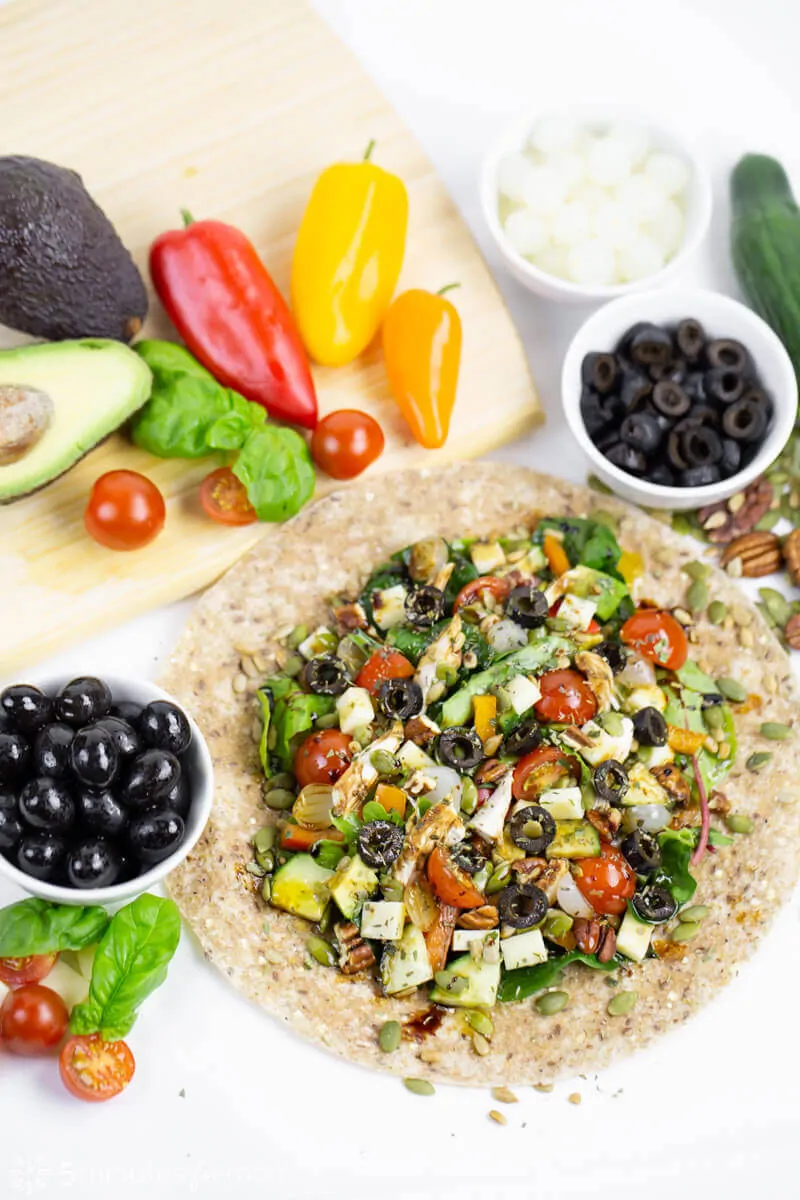 Even though you don't need to follow an exact recipe to make your Mediterranean wrap, we've included our suggested ingredients and the simple steps below.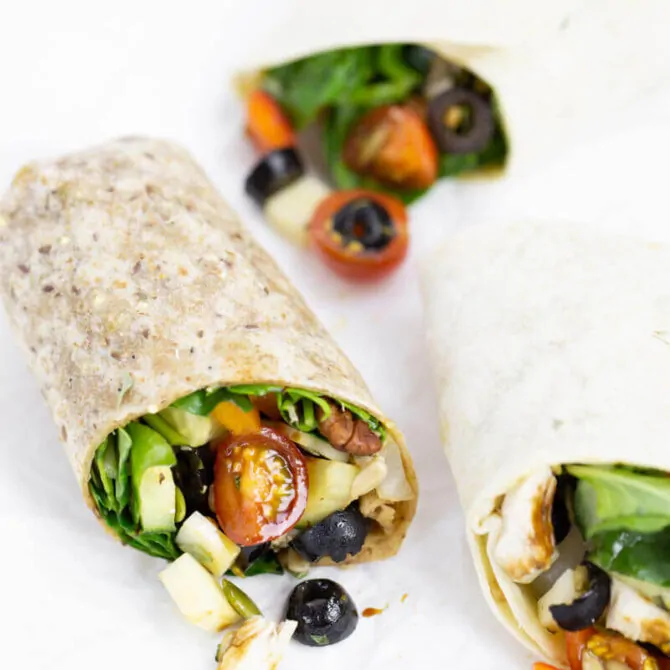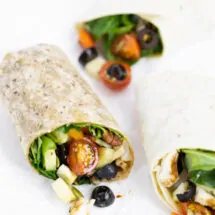 Mediterranean Wrap
Fresh and filling, these easy to make, Mediterranean inspired salad wraps with rotisserie chicken feature Hojiblanca olives from Spain along with cherry tomatoes, bell peppers, your favourite soft cheese, and fresh basil.
Print
Pin
Rate
Ingredients
Hojiblanca Olives from Spain
Flour tortillas We used ancient grains flour tortillas
Fresh spinach or salad greens
Rotisserie chicken or roasted/cooked chicken cut in large pieces/chunks
Cherry tomatoes halved
Bell peppers sliced
Cucumbers sliced and quartered
Soft cheese grated or cubed
Pickled pearl onions - optional
Nuts and/or seeds - optional
Fresh basil
Olive oil
Balsamic glaze
Dried savory herbs such as oregano, thyme, and rosemary
Instructions
Lay out flour tortilla on a plate.

Add spinach or salad greens.

Add fresh, chopped vegetables.

Cut rotisserie chicken into bite size pieces.

Place pieces of chicken on top of vegetables.

Add olives, cheese, onions, nuts, and seeds.

Drizzle with olive oil and balsamic glaze.

Sprinkle herbs and salt and pepper to taste.

Roll up wrap and serve.
More Recipes With Olives From Spain
Don't miss these other delicious and healthy recipes…
Appetizer Skewers – One of our favourite ways to eat Olives from Spain is on a small skewer with tomatoes, basil, cheese, and pickled onions. We also like to serve our guests a martini with olives.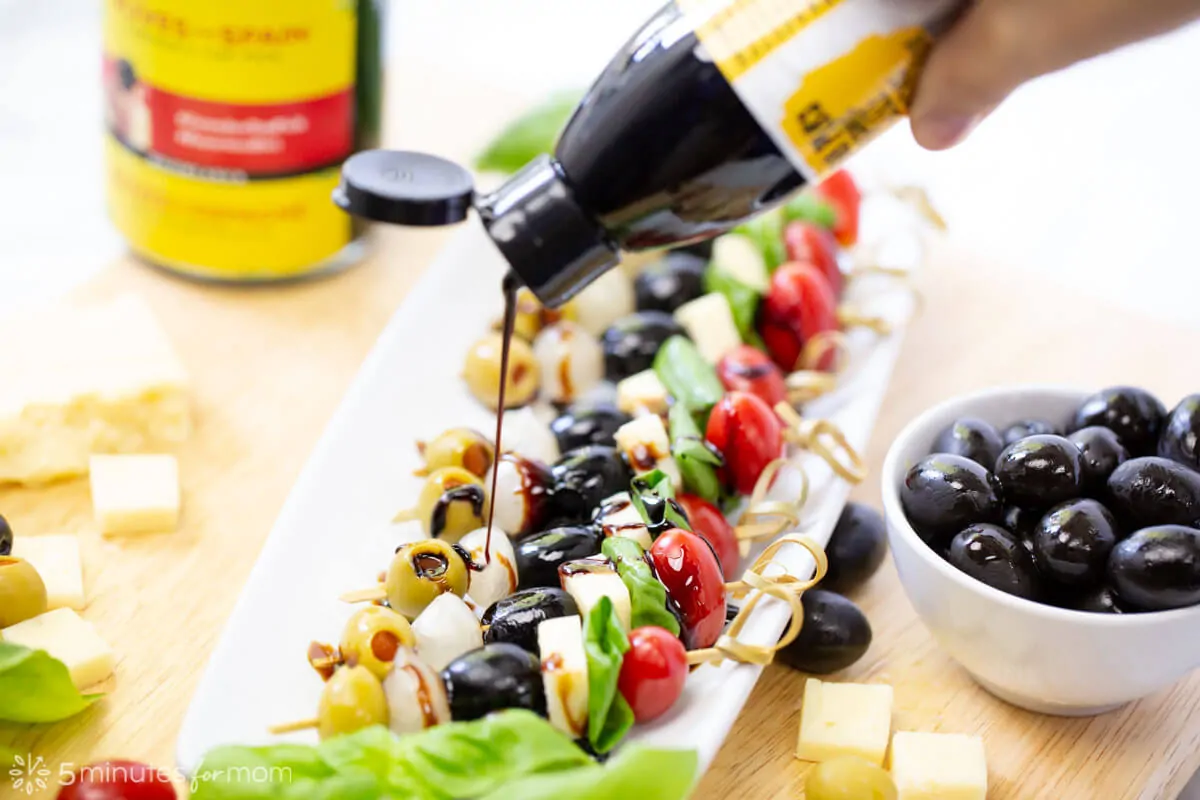 Grilled Pizza – Get into a Mediterranean mood with this mouthwatering grilled pizza featuring delectable Hojiblanca Olives from Spain and sweet or spicy Spanish chorizo sausage.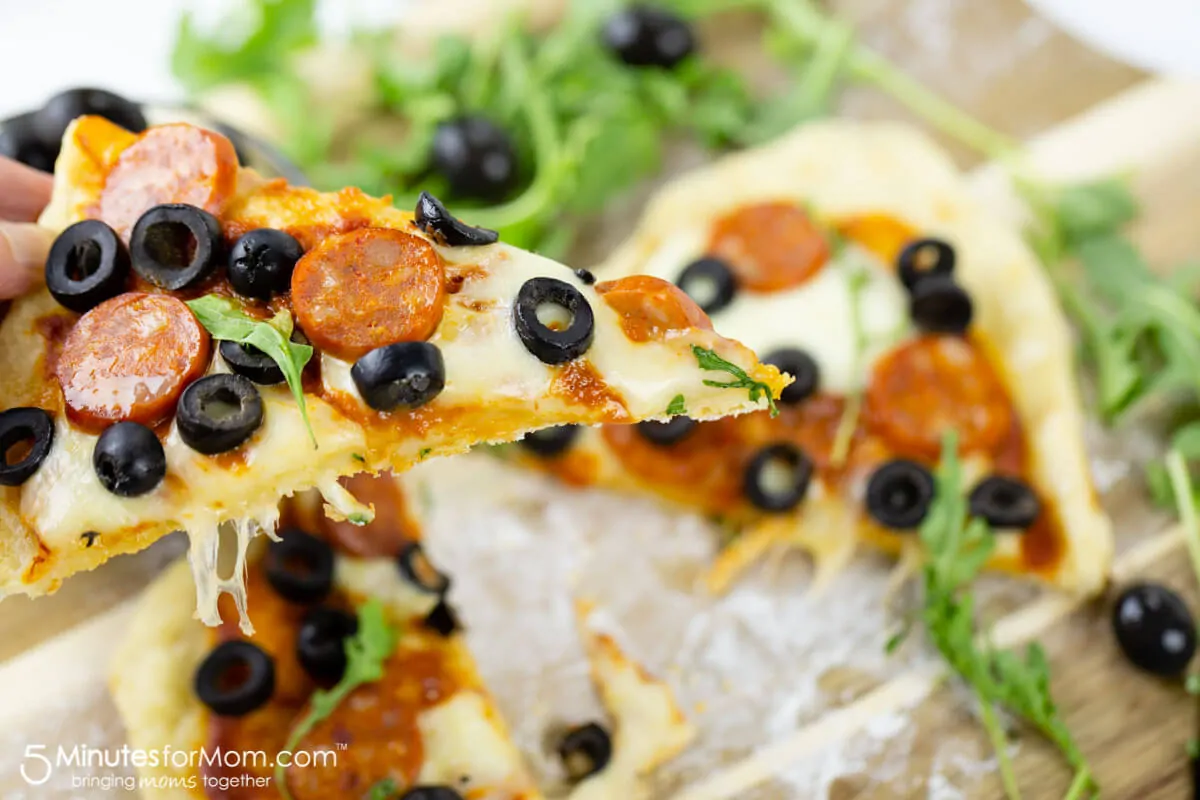 Pin it for Later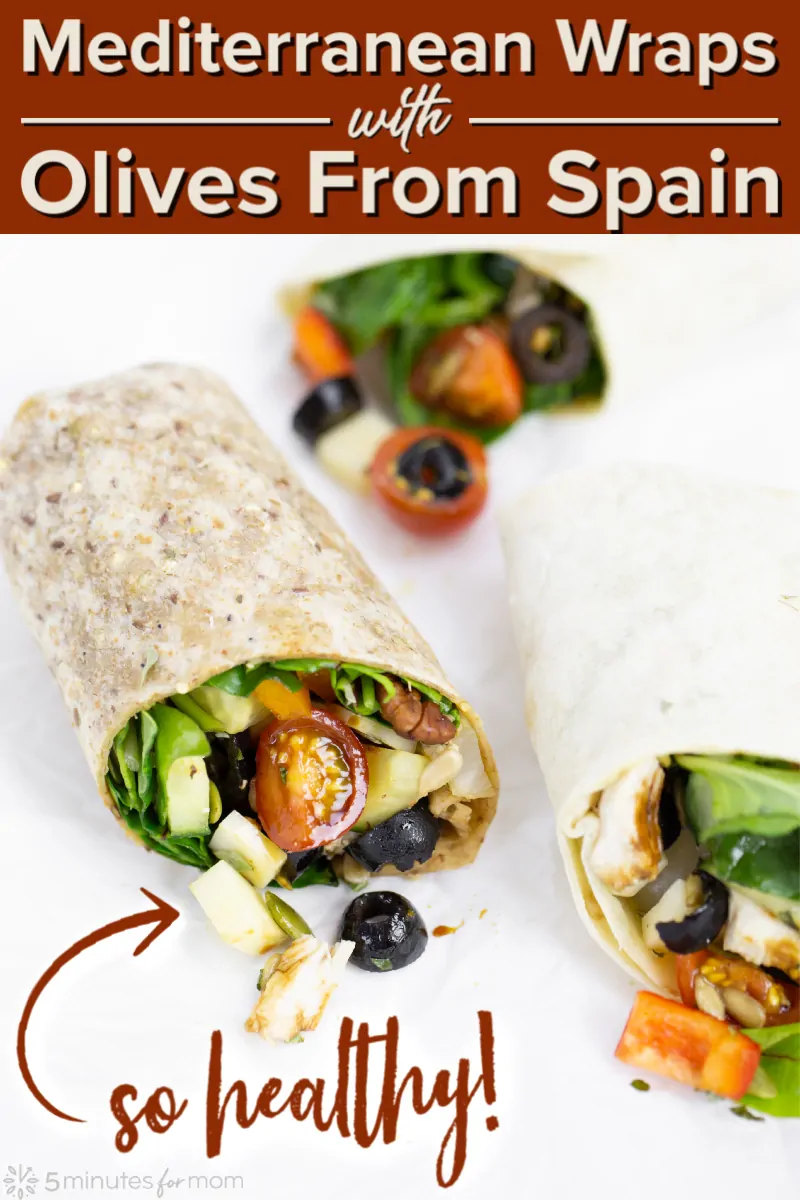 Disclosure: This post is sponsored by Olives from Spain.
Written by Janice Croze, co-founder of 5 Minutes for Mom
Talk with me: @5minutesformom and Facebook.com/5minutesformom
Pin with me at pinterest.com/5minutesformom