Print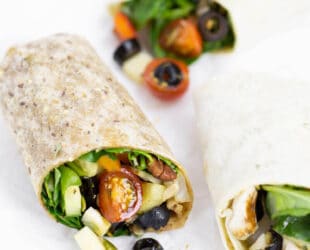 Mediterranean Wrap
Fresh and filling, these easy to make, Mediterranean inspired salad wraps with rotisserie chicken feature Hojiblanca olives from Spain along with cherry tomatoes, bell peppers, your favourite soft cheese, and fresh basil.
Hojiblanca Olives from Spain

Flour tortillas

We used ancient grains flour tortillas

Fresh spinach or salad greens

Rotisserie chicken or roasted/cooked chicken

cut in large pieces/chunks

Cherry tomatoes

halved

Bell peppers

sliced

Cucumbers

sliced and quartered

Soft cheese

grated or cubed

Pickled pearl onions - optional

Nuts and/or seeds - optional

Fresh basil

Olive oil

Balsamic glaze

Dried savory herbs such as oregano, thyme, and rosemary
Lay out flour tortilla on a plate.

Add spinach or salad greens.

Add fresh, chopped vegetables.

Cut rotisserie chicken into bite size pieces.

Place pieces of chicken on top of vegetables.

Add olives, cheese, onions, nuts, and seeds.

Sprinkle herbs and salt and pepper to taste.

Roll up wrap and serve.