This post may contain affiliate links. Read my disclosure policy here.
Whether you prefer a dry martini, a dirty martini or you have no idea what the difference is, we have everything you need to know about how to make a martini, including a primer on all the martini lingo.
Campaign financed by the European Union.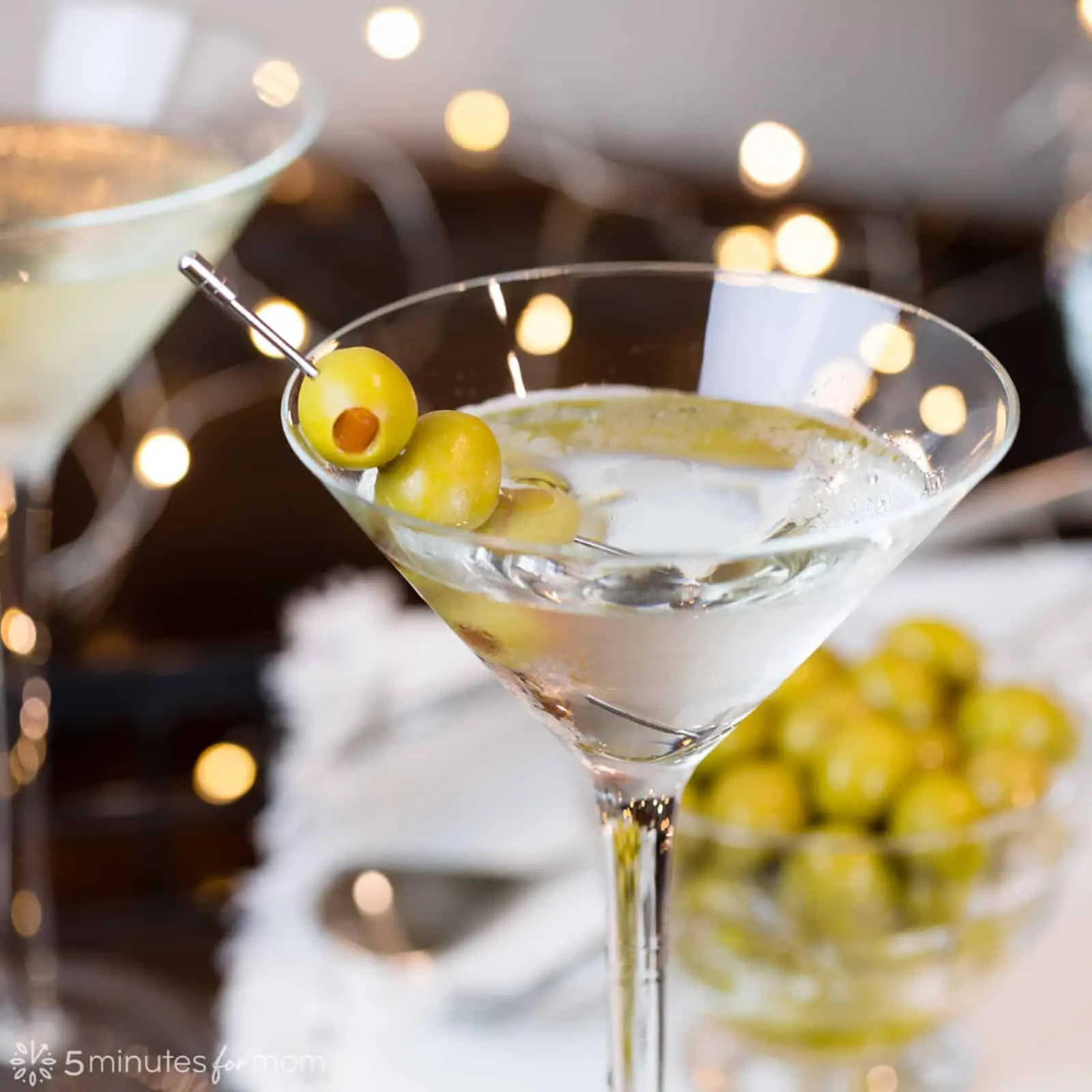 You know that craving — that deep, insatiable need for something savory and salty? For me, it hits at night and I find myself breaking out a box of crackers and the most herb-packed or pungent cheese I have in the fridge, then pairing it all with some tangy, delicious olives.
While I admit my greatest temptations are desserts and fruit-infused drinks, I definitely appreciate savory offerings as well. (And nothing is as perfect as the combination of sweet and salty.)
Fortunately, when I satisfy my cravings with European olives, I am actually indulging in a healthy treat!
Olives are a natural source of vitamin E. that contribute to the protection of cells against oxidative damage and against free radicals. Also a source of fiber, and a good source of iron, which contributes to the formation of red blood cells.
The caloric content of table olives is around 150 kcal per 100 g. So, seven olives have a caloric content of 37 kcal.!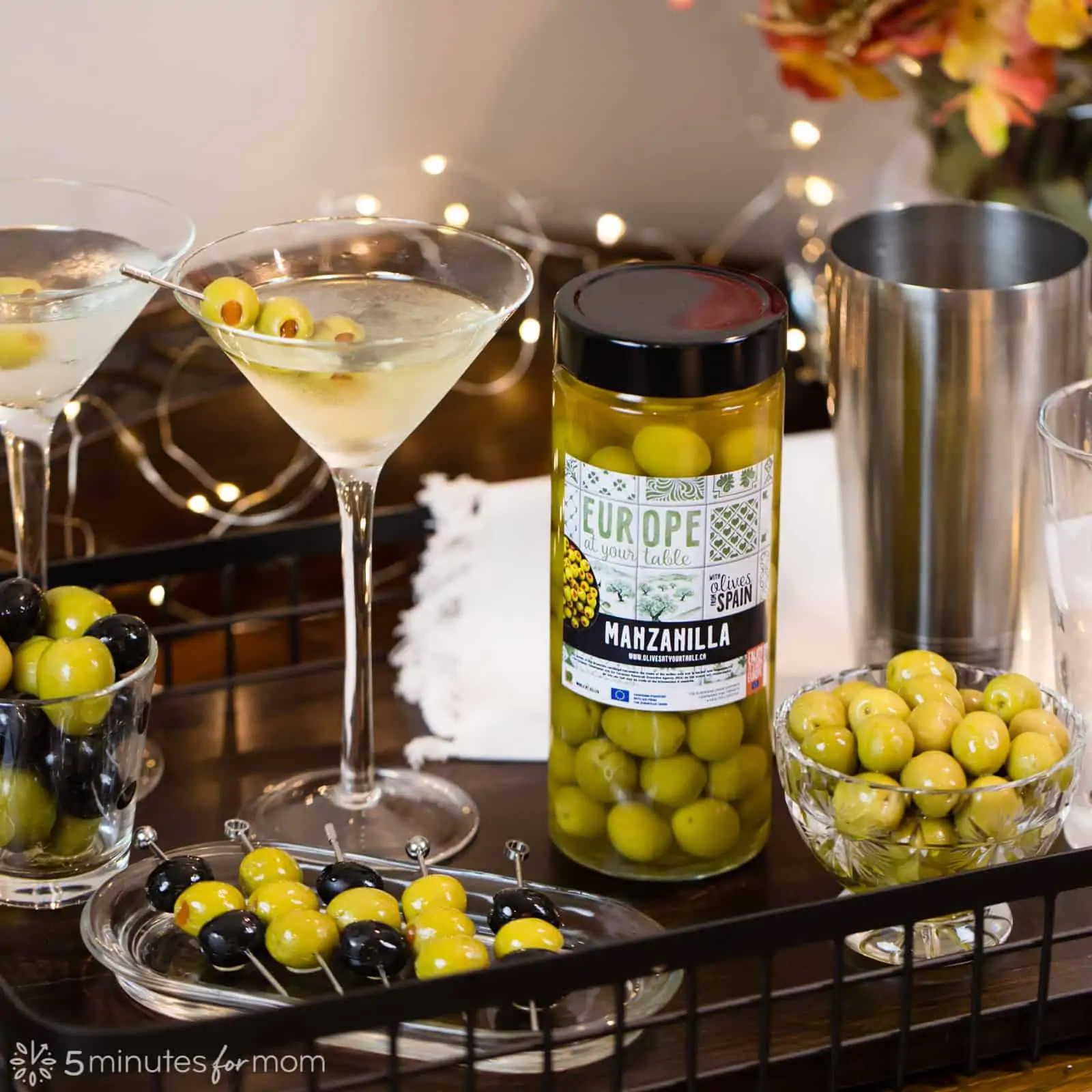 Manzanilla olives, which we have used in our martinis, have a smooth texture and are not bitter. The popular European Manzanilla olive variety pairs beautifully with almost any ingredient – peppers, anchovies, cheese – and it is perfect for martinis!
SO, in the spirit of celebrating the scrumptious goodness of European olives, I propose a toast…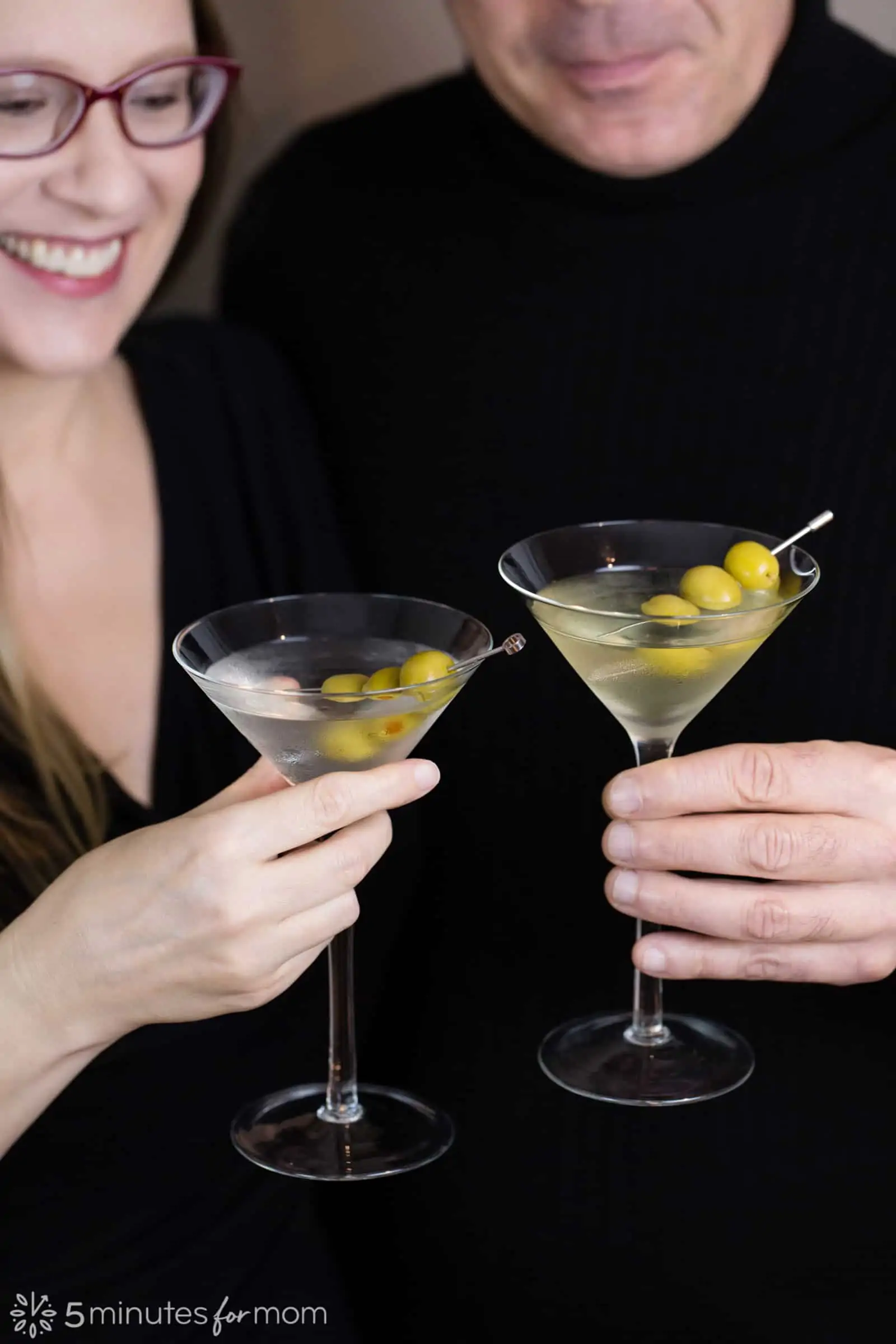 How Do You Take Your Martini?
Gin or vodka, dry or wet, classic or dirty, shaken or stirred — there is a myriad of olive martini variations, and the only person who can define your perfect martini with olives is you!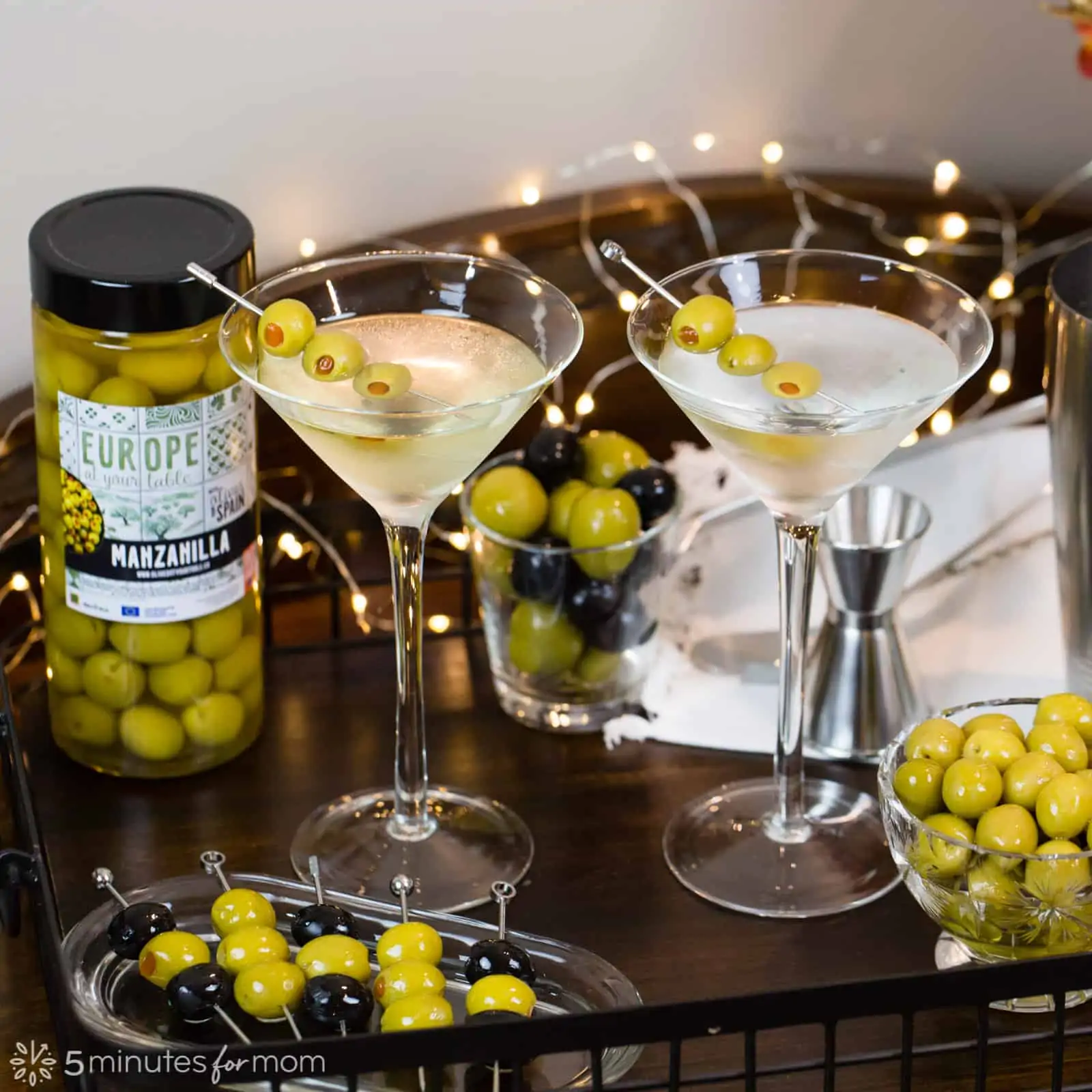 But if you are not sure what the difference is between a dry or wet martini or how to make a dirty martini or you are a little overwhelmed with all the martini lingo, let's get you up to speed…
1. Gin Martini or Vodka Martini?
Your first decision when making (or ordering) a martini is whether you want a gin martini or a vodka martini.
Gin, the traditional base for martinis, is a distilled alcohol made from malt or grains that is infused with juniper berries and other herbs and botanicals. While all gin features the distinct flavor of juniper berries, each gin maker uses their own blend of botanicals and fruits, creating unique flavor and aroma experiences.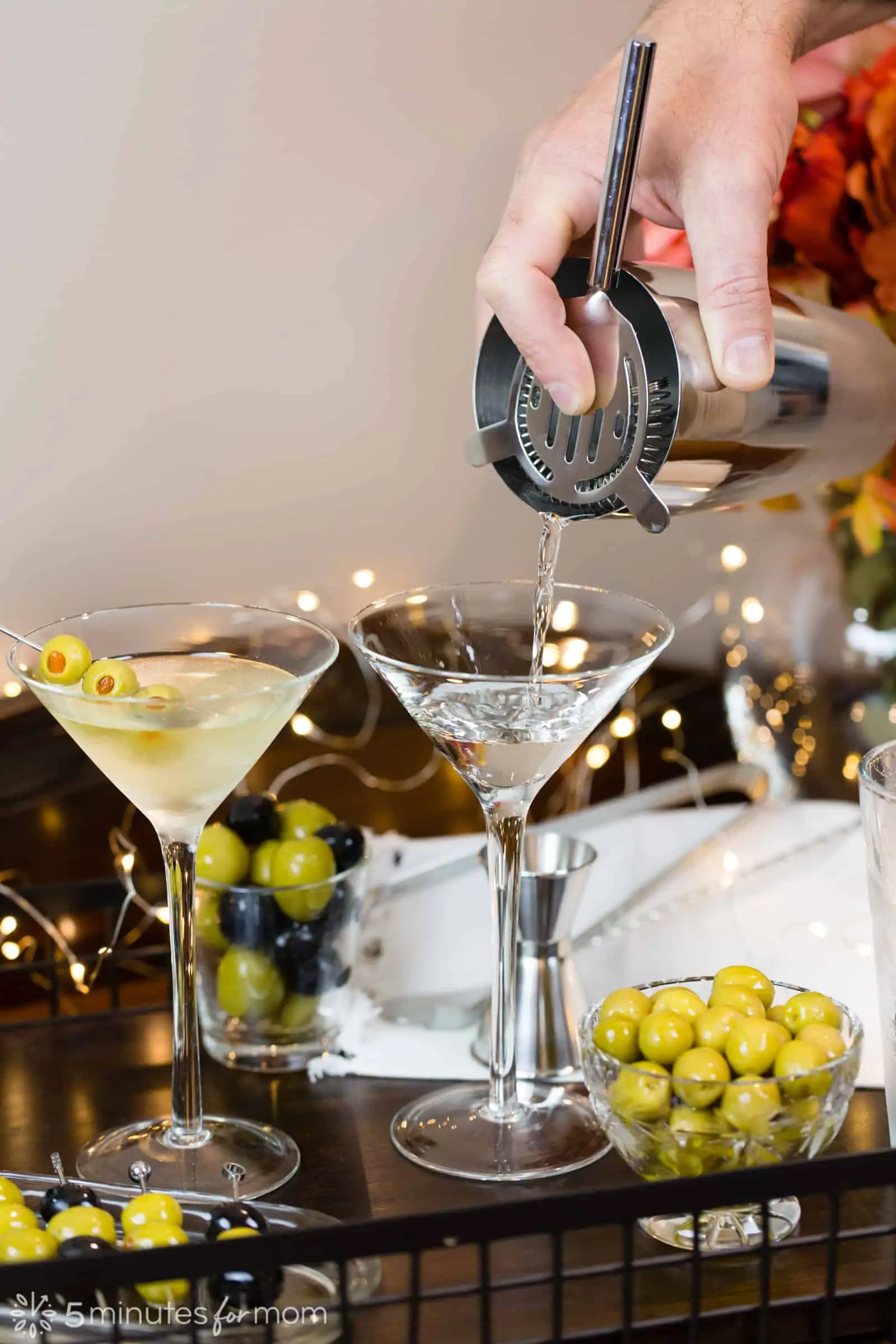 But if you don't enjoy the botanical flavor of gin, you can simply reach for vodka instead. Vodka is a neutral, water-based spirit that is essentially tasteless and odorless.

2. From Sweet Vermouth to Dry Vermouth
Vermouth is a fortified wine, (which means it is wine with added distilled spirits,) that is infused with herbs, roots, and spices.
There are two main kinds of vermouth. Dry (white) vermouth originates from France and has less sugar with floral and herbaceous flavor. Sweet (red) vermouth usually comes from Italy and Spain and has more sugar and an earthy, spicy taste.
In the early 20th century, martinis were made with a 1:1 ratio of dry vermouth and gin. By the 40's and 50's, the martinis became drier, with a ratio of 2:1 or 3:1.
Nowadays, the ratio of vermouth to gin/vodka varies even more, with most bars and restaurants serving martinis that range from 4:1 to 8:1. While the most common ratio is 5:1 or 6:1, the dryness of a martini is a very personal choice — which brings us to how we define and describe martinis…

2. Dry, Wet, Perfect, Dirty?
Now for a primer on how to describe your preferred martini.
DRY – as noted above, most martinis served today are dry, with a ratio of around 5:1 spirits to dry vermouth. An extra-dry or a bone-dry martini has dry vermouth just rolled in the glass and then discarded, or even no vermouth at all.
WET – a wet martini has more dry vermouth, such as a 1:1 ratio.
PERFECT – a perfect martini has an equal amount of sweet and dry vermouth.
SWEET – a sweet martini is made with sweet vermouth instead of dry vermouth.
DIRTY – a dirty martini is an olive lover's ideal cocktail. In addition to the olive garnishes, the dirty martini includes olive brine. The amount of olive brine can vary from a bar spoonful or a splash to half an ounce or more. An extra dirty martini has more olive brine and a filthy martini often has a variety of pickled brines.
NEAT – for a neat martini, the alcohol comes straight from the bottle to the glass.
GIBSON – a Gibson is simply a martini with the olive garnish swapped for a pickled onion.
REVERSE – a reverse martini has the amount of spirit and vermouth swapped – such as two ounces of vermouth and one ounce of spirit.
With a TWIST – with a twist means a long slice of lemon peel, (or lime, orange, or grapefruit) twisted over your drink and dropped in the martini as garnish.
With OLIVES – And, of course, the classic martini is garnished with a spear of green olives, such as the readily available and bold flavored Manzanilla olives.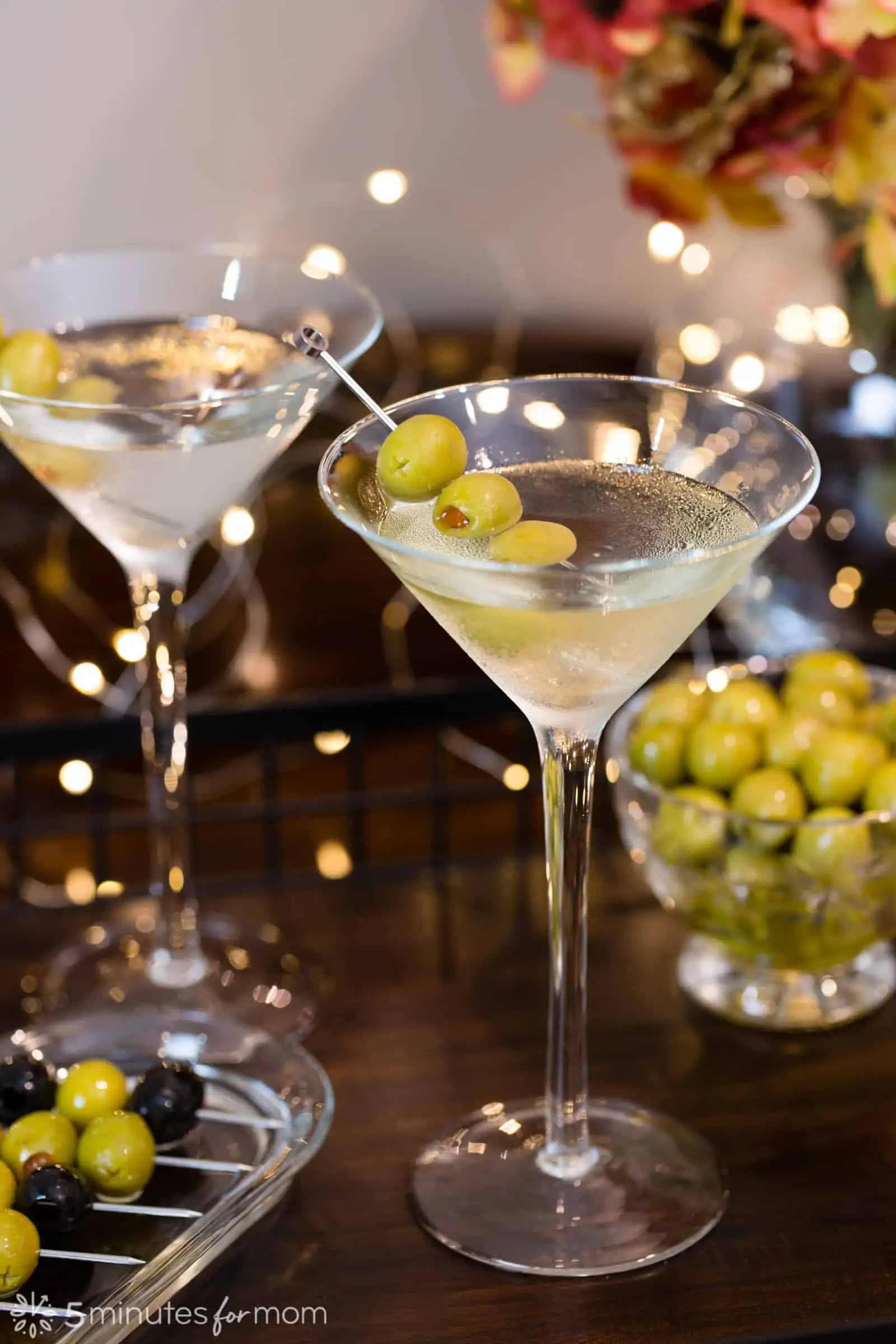 Why are martinis served with three olives?
Superstition says that two olives in a martini are bad luck. The garnish should be served with odd numbers and never even.
So three olives are the way to go — one can be eaten with the first sip and the others when the martini is finished.
3. Shaken or Stirred?
If James Bond prefers his martinis shaken, not stirred, then I am going to fight for my right to have my martinis shaken too!
I prefer to have my martinis shaken because I want my drink to be as ice-cold as possible, plus I like the little ice shards and extra water in my martini.
But martini purists would argue with me.
Martinis are traditionally stirred in order to maintain clarity, avoid ice shards, and have a smoother, less watered-down drink. Since shaking adds aeration and texture, it changes the mouth-feel of a cocktail.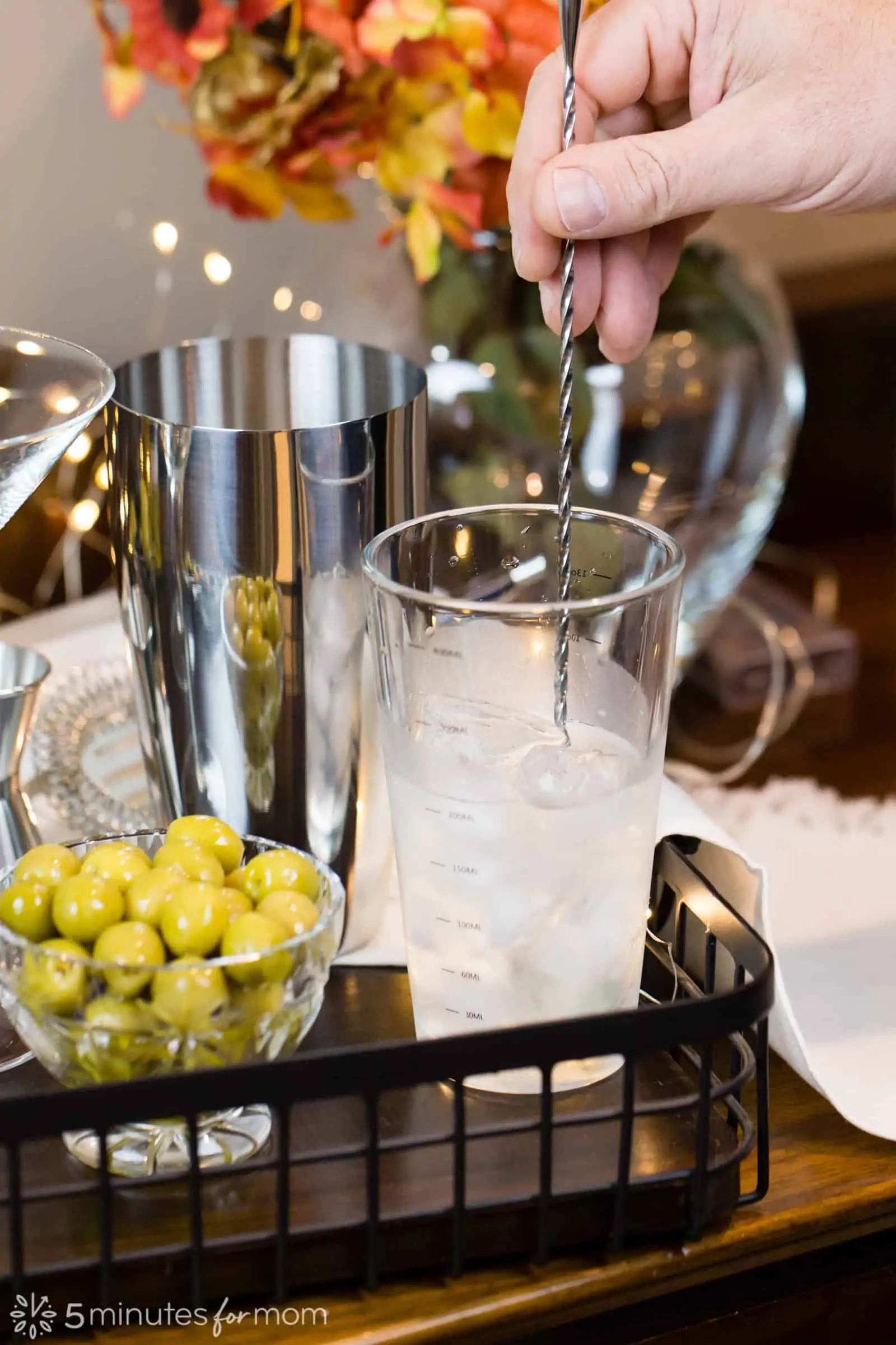 Should you shake a dirty martini?
In general, cocktails that are all alcohol are stirred and cocktails that contain ingredients such as juices, cream, or egg whites must be shaken to fully bind the flavors together.
So when it comes to how to make a dirty martini, team stir could argue that it is a martini and thus it should be stirred while team shake could argue that since it has olive brine and won't be clear anyway, that you can safely shake it.
Ultimately, it is up to you. Shake or stir that dirty martini.
4. Up or On The Rocks?
By default, martinis are served up in a traditional martini glass. (So, when ordering a martini, you do not need to ask for it to be served up. It is implied.)
A martini on the rocks is served over ice in a stemless glass.
Now that you are an expert on how to make a martini, grab some martini glasses and a jar of European olives and enjoy your martinis!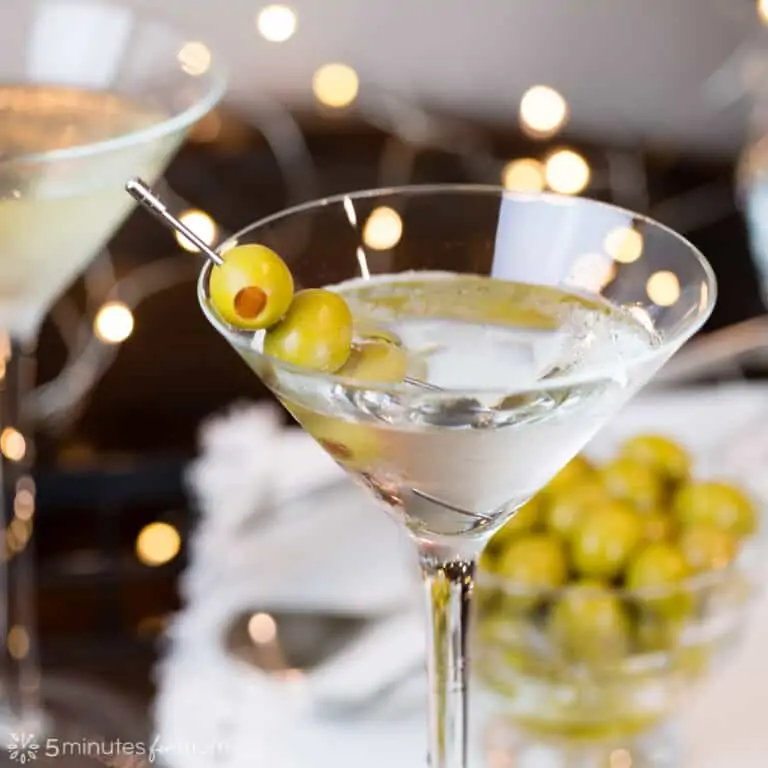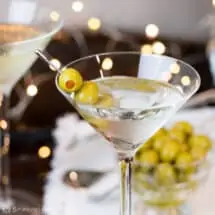 Dry Martini with Olives
Learn how to make a dry martini with olives or a dirty martini.
Print
Pin
Rate
Servings: 1
Calories: 192kcal
Ingredients
2½ ounces gin or vodka
½ ounce dry vermouth
½ ounce olive brine IF making a dirty martini
3 olives
ice
Instructions
Chill martini glass in freezer for about 10 minutes or fill martini glass with ice and set aside while preparing the cocktail

Fill a shaker or mixing glass with ice

Add spirits and dry vermouth (and olive brine if making a dirty martini)

Stir for 30 seconds OR shake for 10 seconds (according to your preference)

Using a strainer, pour into chilled martini glass

Garnish with a spear of olives
Nutrition
Calories: 192kcal | Carbohydrates: 1g | Protein: 1g | Fat: 2g | Saturated Fat: 1g | Polyunsaturated Fat: 1g | Monounsaturated Fat: 1g | Sodium: 187mg | Potassium: 6mg | Fiber: 1g | Sugar: 1g | Vitamin A: 47IU | Calcium: 6mg | Iron: 1mg
Disclosure: This post is sponsored, so extra thanks for reading and sharing.
Written by Janice Croze, co-founder of 5 Minutes for Mom
Talk with me: @5minutesformom and Facebook.com/5minutesformom
Pin with me at pinterest.com/5minutesformom
The content of this promotion campaign represents the views of the author only and is his/her sole responsibility. The European Commission and the European Research Executive Agency (REA)do not accept any responsibility for any use that may be made of the information it contains.

You May Also Enjoy…
Here are a few more tasty ways to enjoy European Olives…