This post may contain affiliate links. Read my disclosure policy here.
If you need a last-minute recipe or a quick dinner idea, within minutes you can whip together these easy tapas with Manzanilla, Hojiblanca, and Gordal olives. European olives are always a healthy, delicious, affordable addition to any meal, and especially now, European olive skewers are the perfect food to have on hand to brighten up family dinners at home or to serve for socially distanced, outdoor get-togethers.
This post is sponsored by European Olives.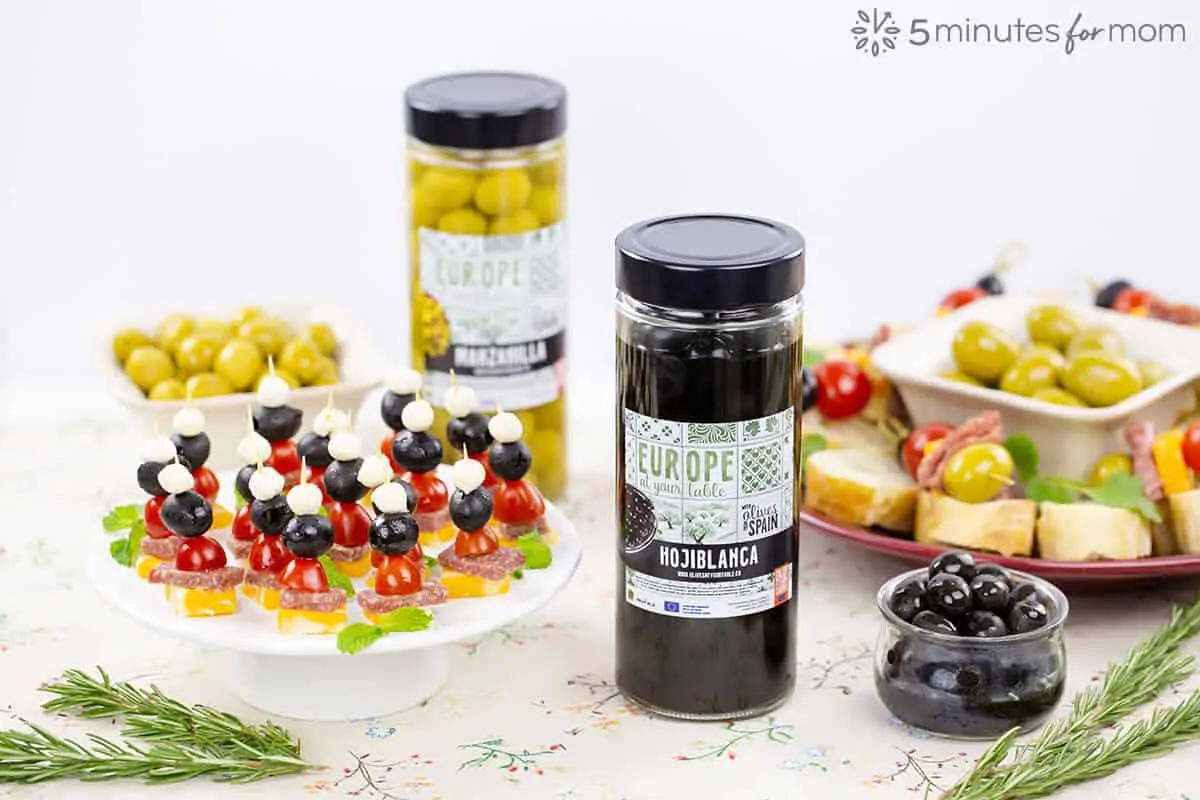 It has been over ten months since this pandemic began and as we've moved into the holiday season, the loneliness and separation from family and friends really stings.
While we have to be patient and wait for these difficult days to end, we can look for ways to make life at home and socializing while safely distanced as special and as fun as possible.
We may not be preparing dishes to take to holiday parties this year, but we can treat ourselves and our family to the elegance and celebration of European olive tapas at home.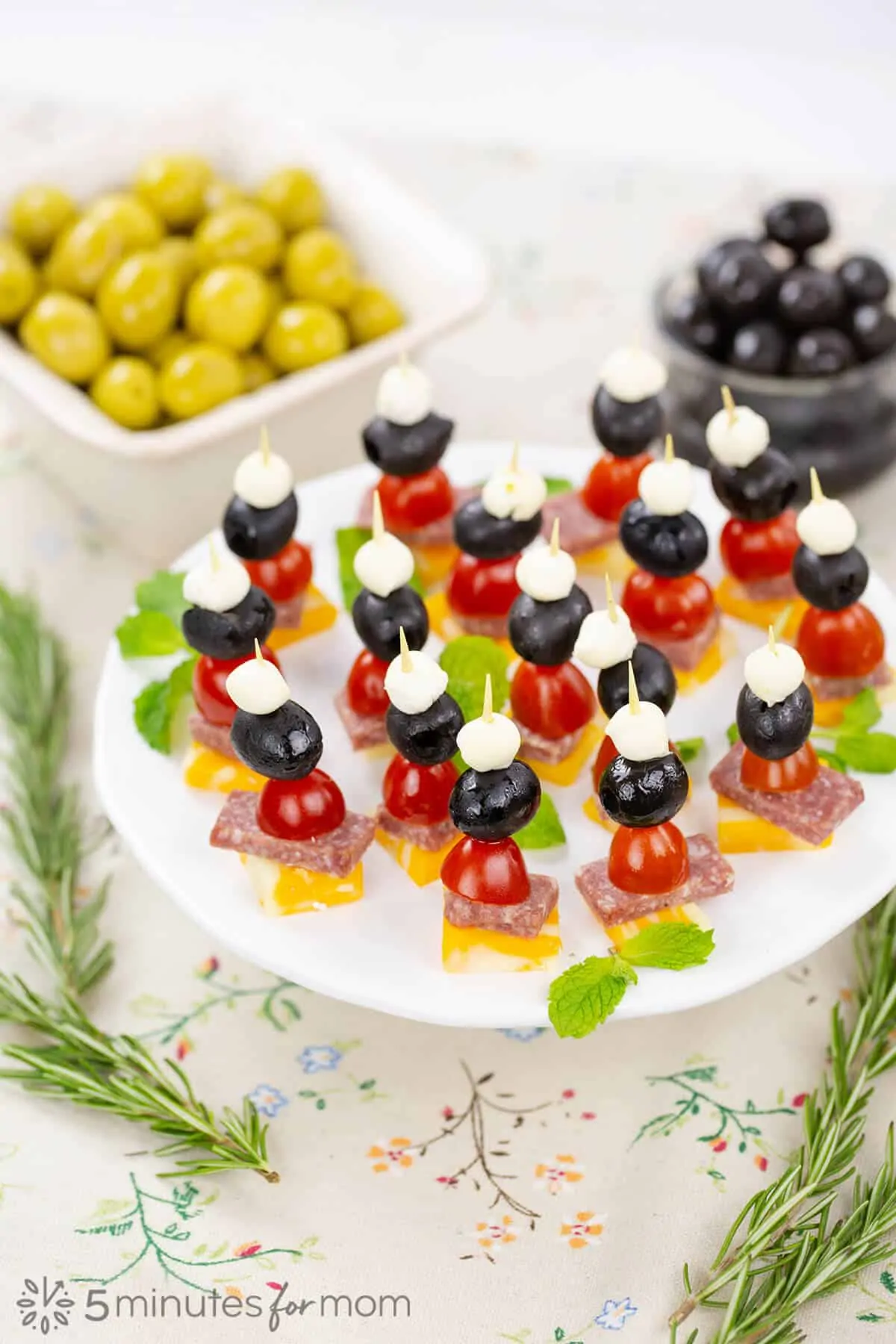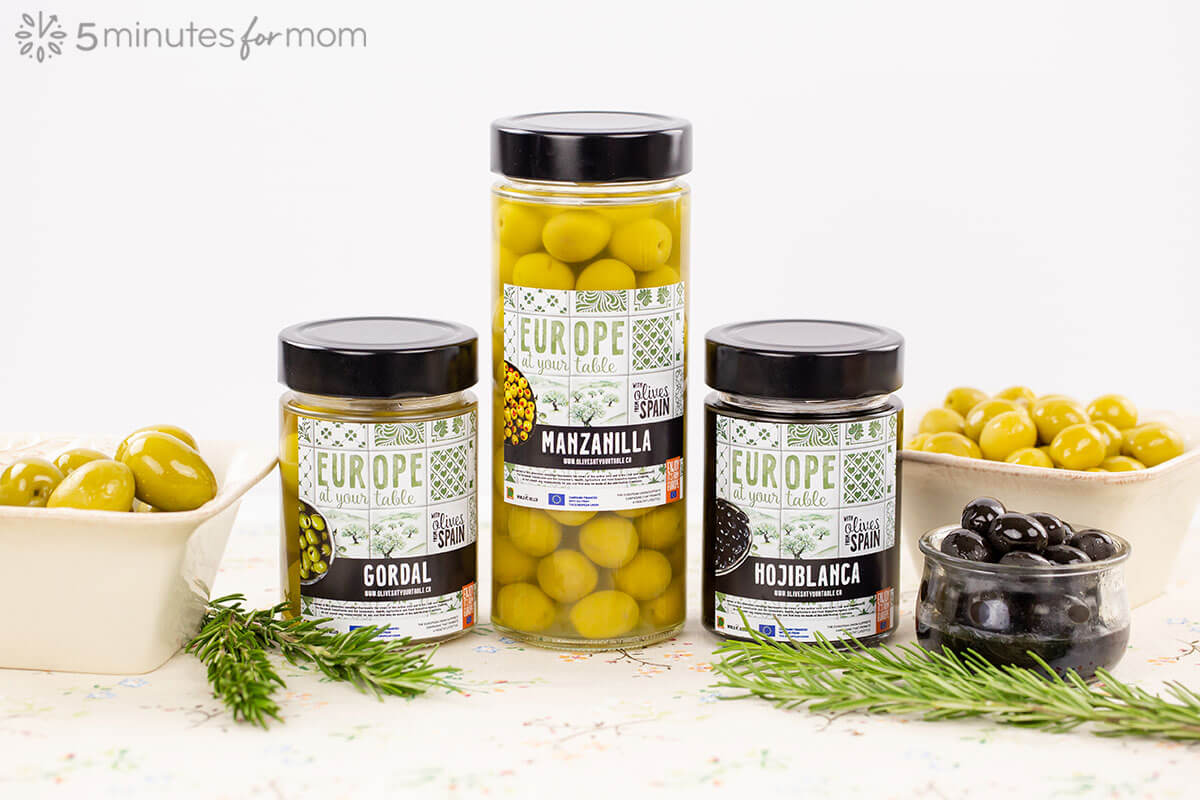 European olives are a tasty, wholesome snack for any day of the year.
Table olives have only 37 calories per serving (15g or 5 large olives.)
Up to 77% of olives' fat content is oleic acid, a monounsaturated fat.
Black table olives provide 45.5% of the recommended daily allowance of iron.
Table olives are a good source of vitamin E and help protect cells from oxidative damage.
Olives are affordable, readily available, and can be stored for long periods of time.
Grab a jar of Manzanilla, Hojiblanca, or Gordal olives and you are minutes away from an irresistible appetizer or enticing meal of bite-sized tapas.
Easy Tapas with European Olives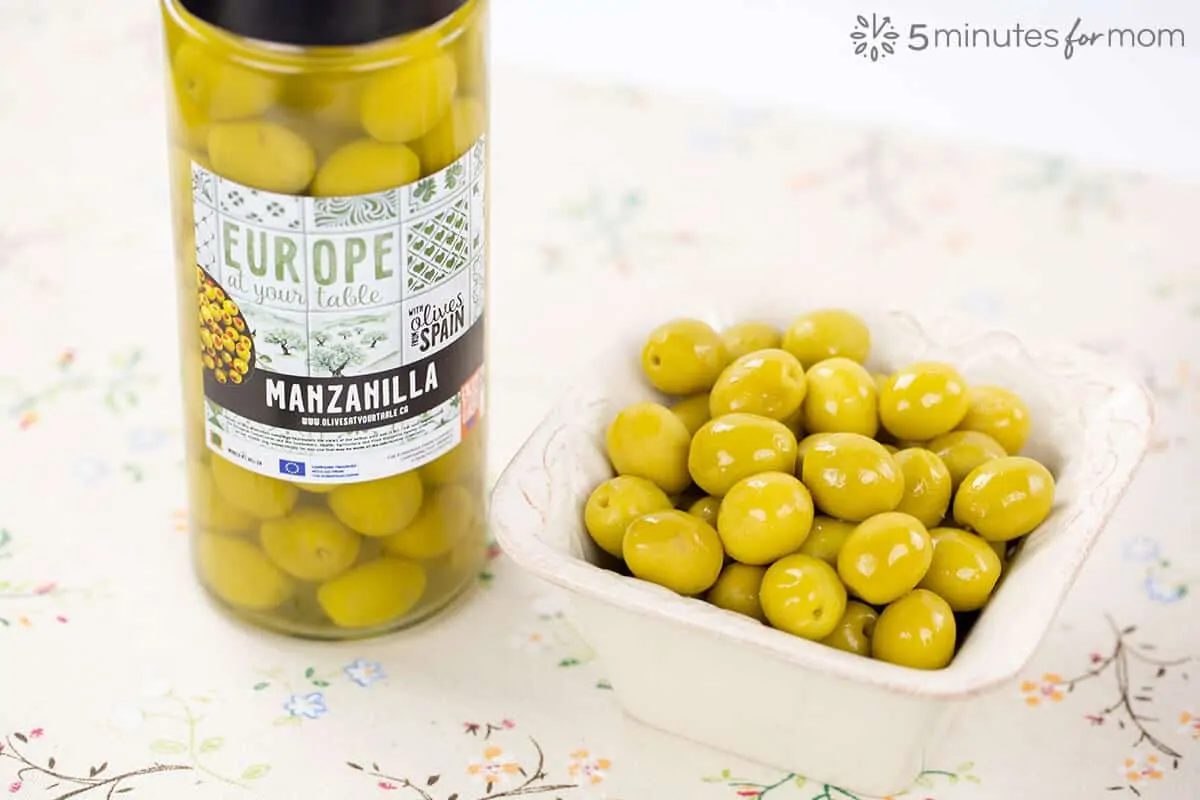 In addition to all the great news about how healthy it is to add olives to our daily diet, olives are also a precious part of the European tradition of sharing and enjoying food together.
So even in these dark days of separation, serving olives at home, or outside while we visit safely socially distanced, brings a much-needed taste of celebration and joy.
Whether in the backyard, on the front porch, or even in the driveway, during the pandemic one of the only ways to see friends and family is outside, while safely physically distancing from non-household members.
At our house, we are being incredibly careful about staying safe and isolated to protect my 80-year-old mother who lives with us.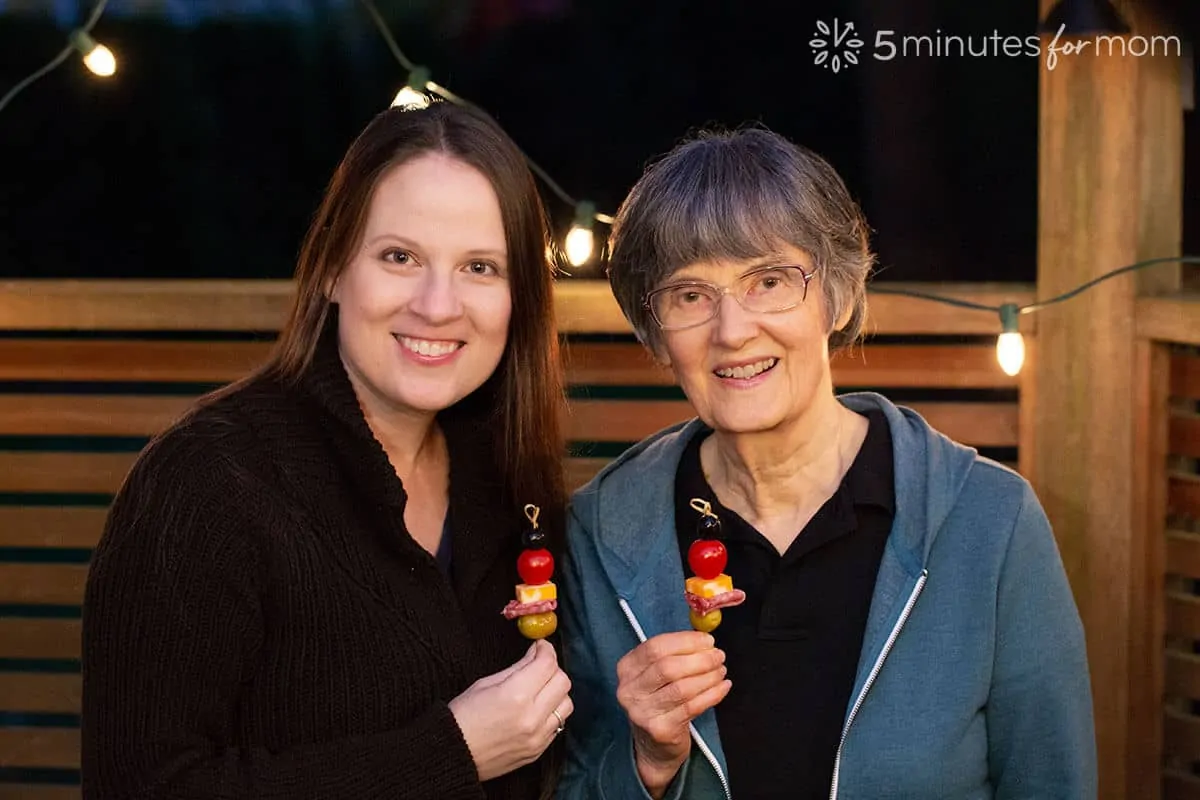 We have our family circle very small and we don't have any non-household members in our house unmasked.
So when we want to visit with extended family or beloved friends, and when government guidelines allow for small groups outdoors, we visit outside, masked and safely distanced, in our backyard.
In September, we strung up some white Christmas lights around the backyard for my daughter's 13th birthday. She celebrated her birthday with her three best friends, masked and safely distanced.
We decided to keep the lights up all fall and it has been a wonderful place for us to safely interact with visitors. (At the time of writing this, our province of BC is under another lockdown and so in these photos, we are only with our immediate household.)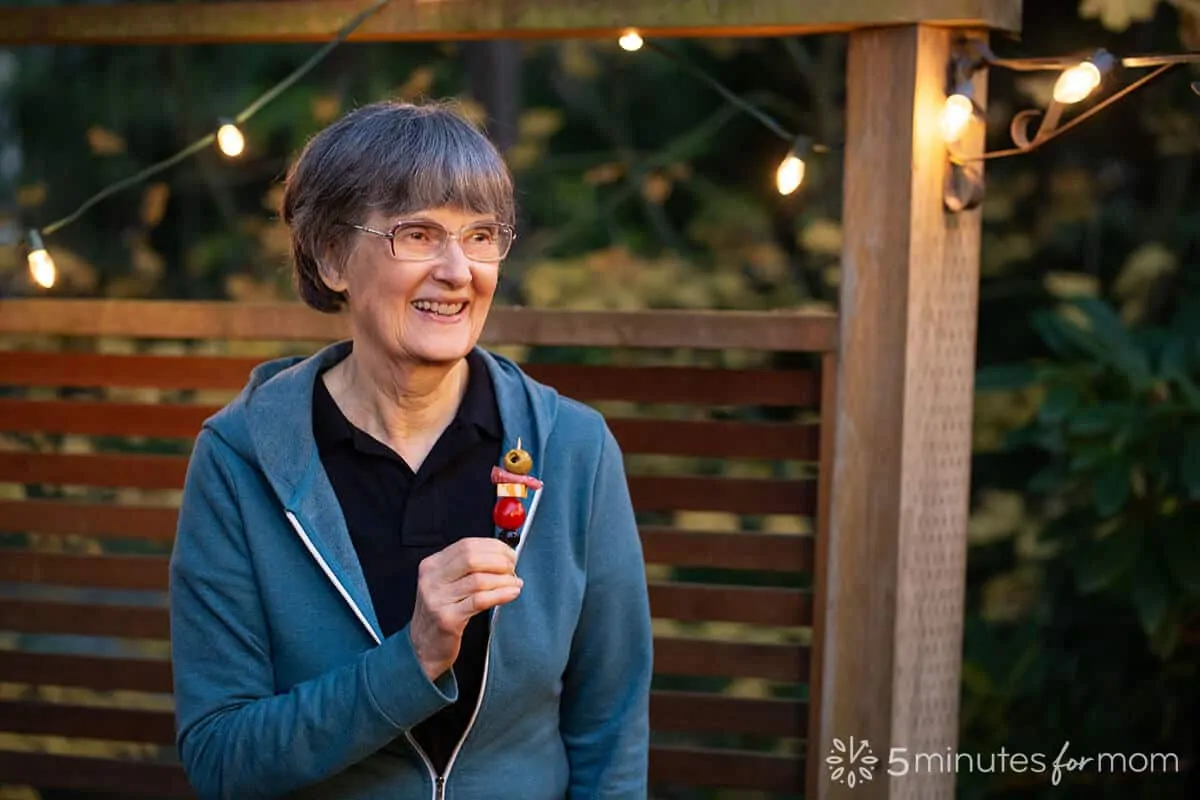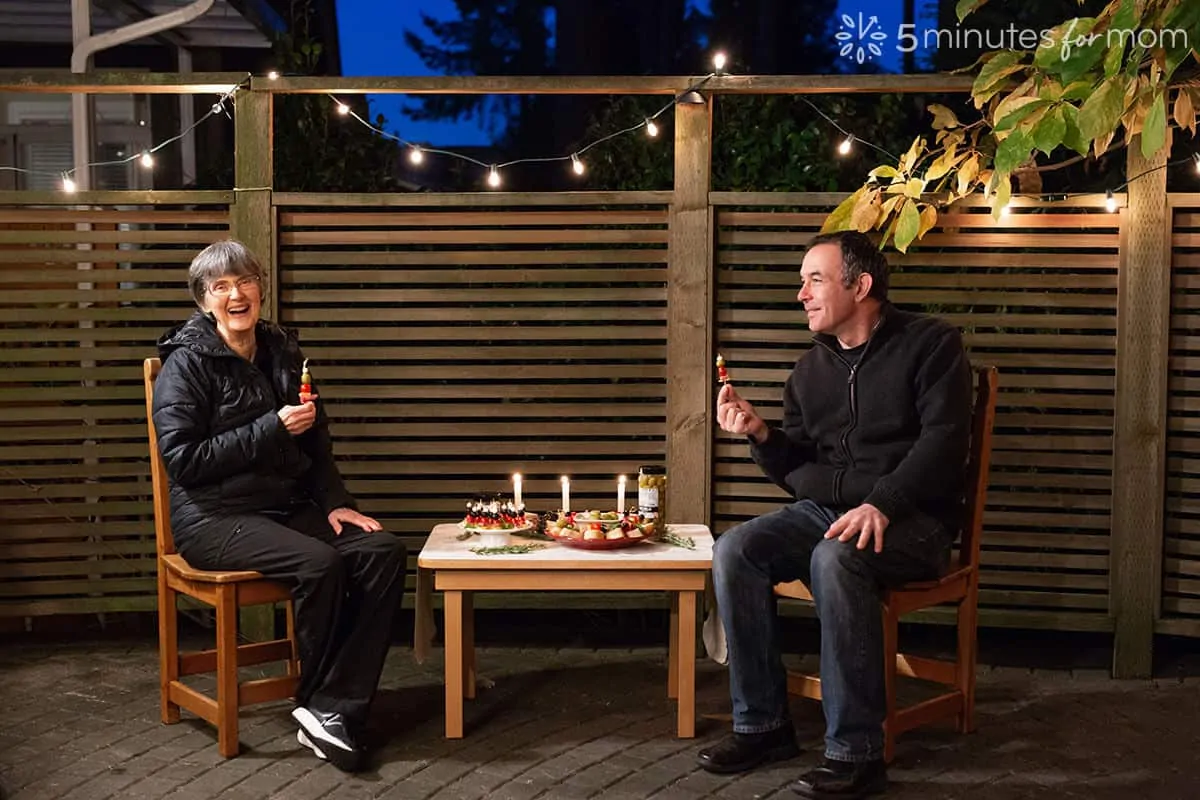 Keeping European olives in the pantry ensures we can quickly serve olive tapas as a quick and easy way to make family meals and celebrations more intimate, special, and delicious.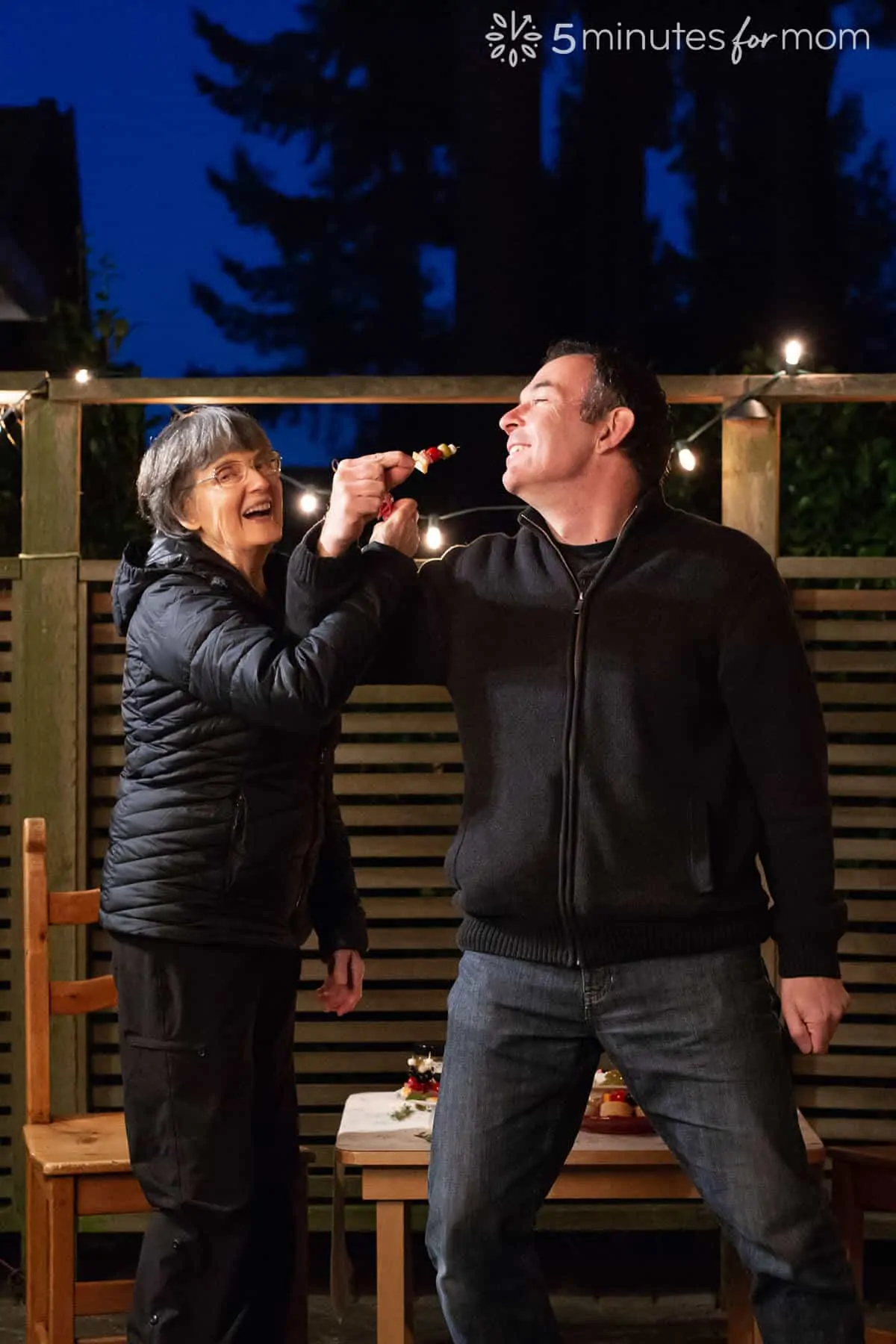 How to Make European Olive Skewers
Making European Olive Tapas is easy, affordable, and fun. Our kids love to make olive skewers/banderillas and eat them as a meal!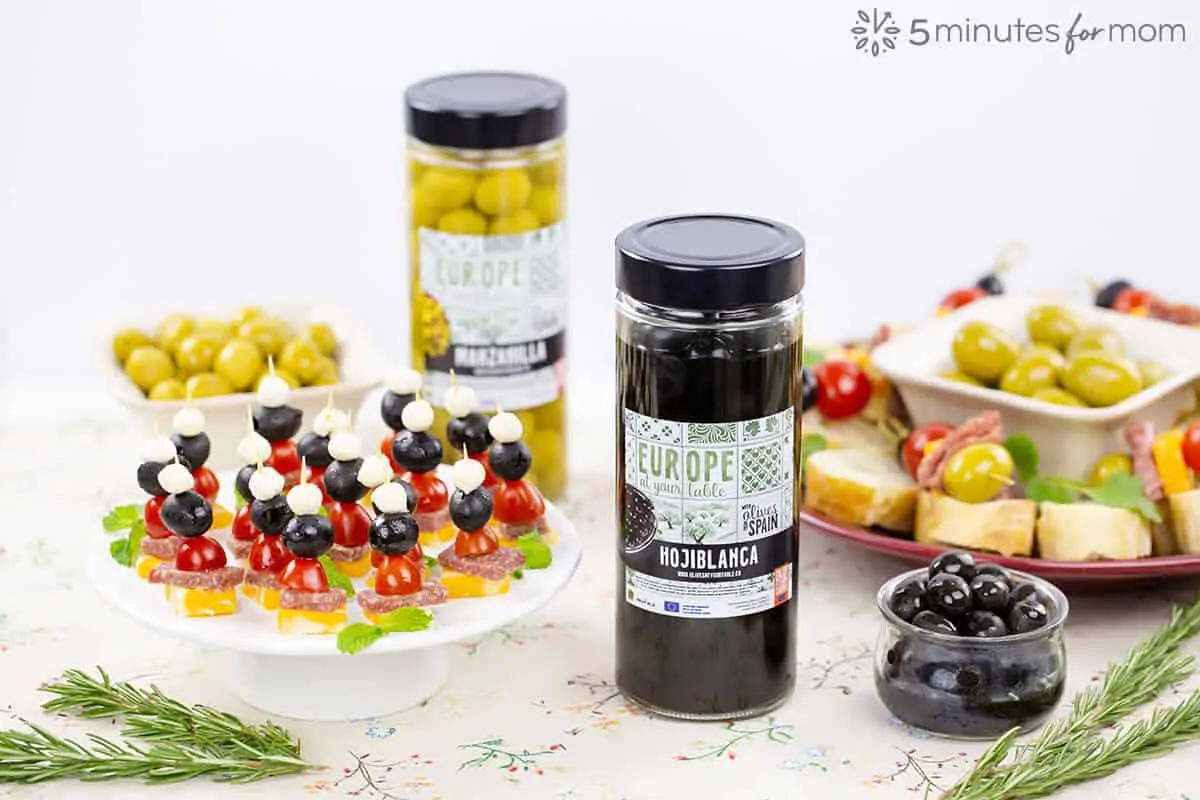 A platter filled with sliced baguette and piled high with skewers loaded with European olives, cheese, tomatoes, and deli meat disappears in moments.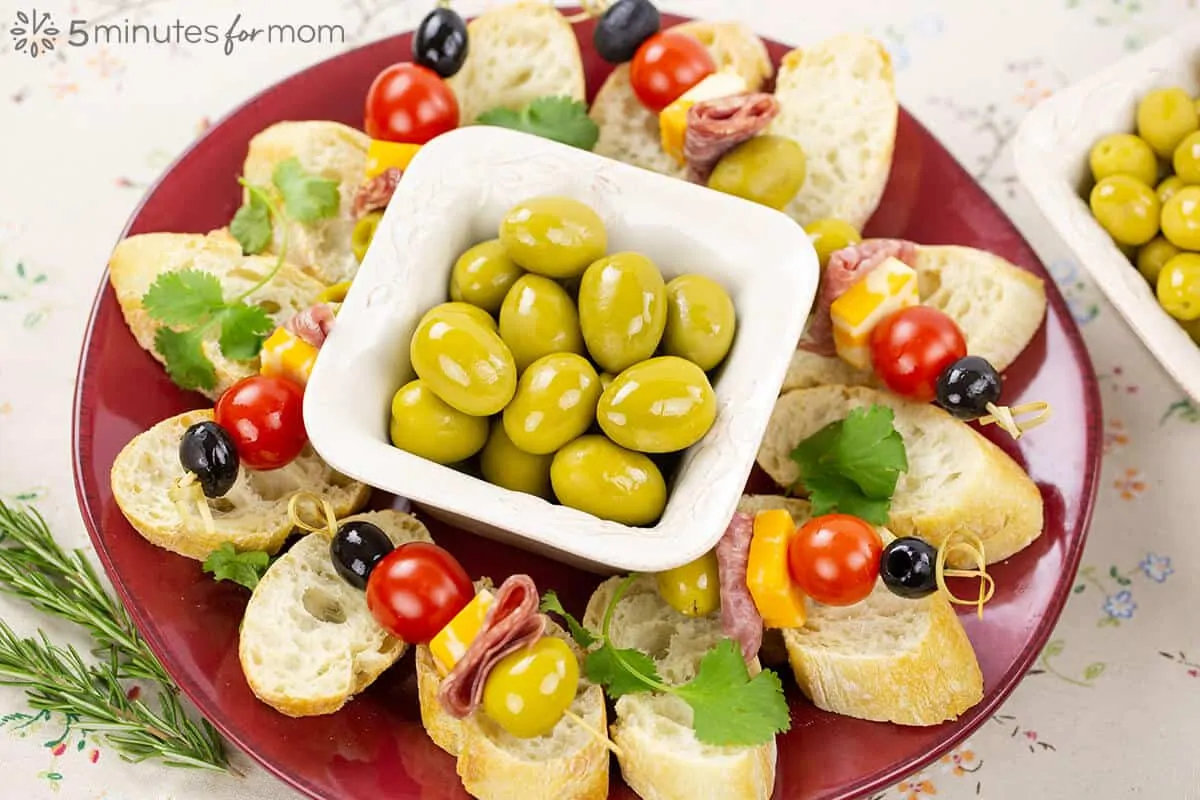 To whip together a tasty meal of tapas, all you need are some toothpicks or skewers, some Manzanilla, Hojiblanca, or Gordal olives, and your favourite cheeses, deli meats, and fresh or pickled veggies.
Drizzle your tapas with olive oil and balsamic glaze or prepare small side bowls of herbed olive oil and balsamic dressing so your family and friends can dip their banderillas.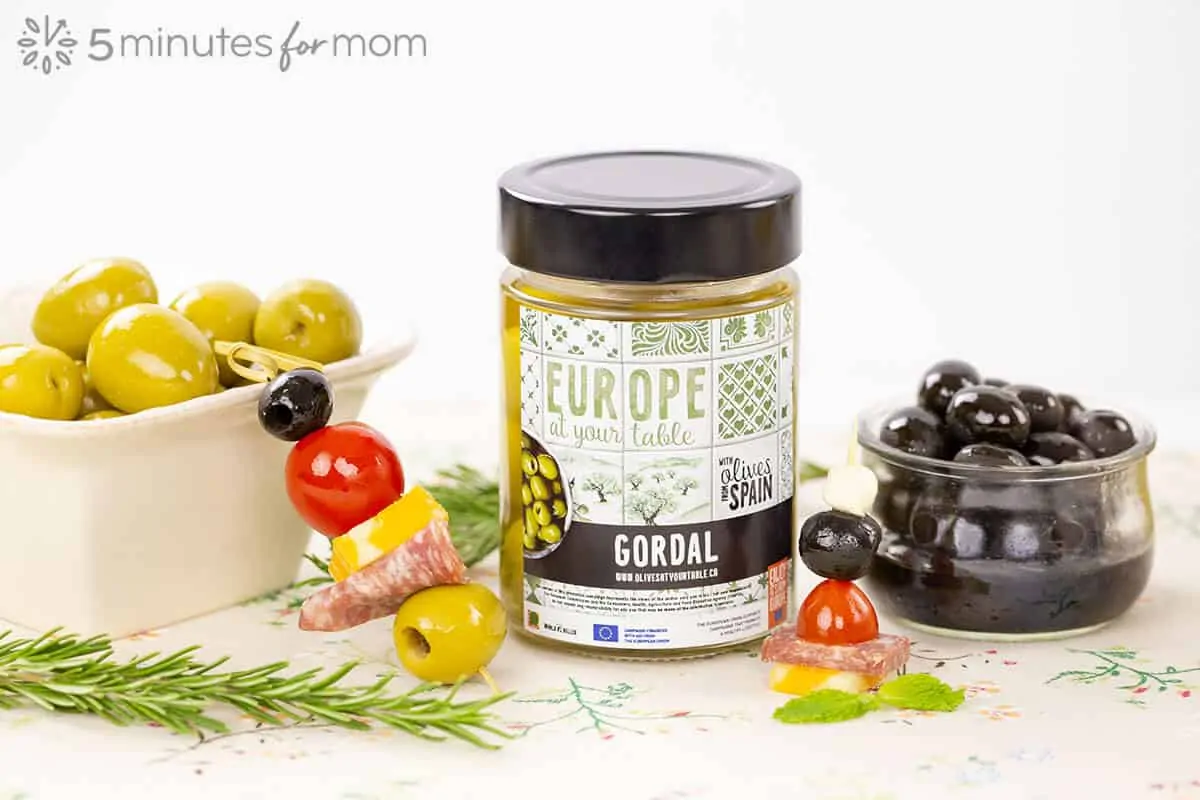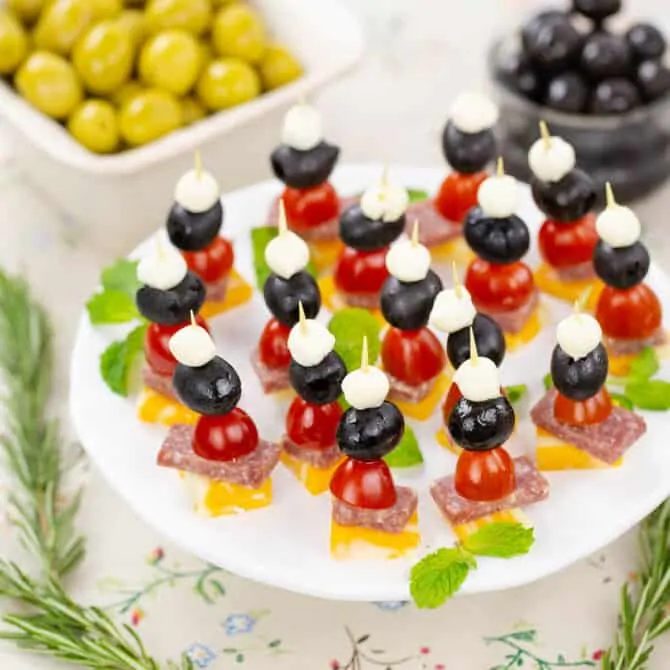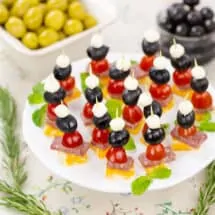 Ingredients
For Skewers:
Manzanilla, Hojiblanca, or Gordal olives
Sliced or cubed firm cheese of your choice
Cherry tomatoes
Deli meats of your choice
Fresh or pickled vegetables such as cucumbers, peppers, onions, pickles, etc.
For dressing or drizzling:
Olive oil
Balsamic vinegar or Balsamic glaze
Herbs or seasoning of your choice
Instructions
To make your European olive tapas, simply alternate your olives and cubed or sliced cheese, meat, and veggies on your skewers/banderillas. Your skewers can be prepared ahead of time and stored in the fridge.
Notes
Serving Tip: Fill a platter with sliced baguette and skewers loaded with European olives, cheese, tomatoes, and deli meat.
More Recipes Featuring European Olives
Be sure to try our other delicious recipes with European Olives…
Disclosure: This post is sponsored, so extra thanks for reading and sharing.
Written by Janice Croze, co-founder of 5 Minutes for Mom
Talk with me: @5minutesformom and Facebook.com/5minutesformom
Pin with me at pinterest.com/5minutesformom