This post may contain affiliate links. Read my disclosure policy here.
Zucchini noodles sauteed with butter, garlic, and mouthwatering Gordal Olives from Spain transform a plateful of vegetables into a delicious dinner. This post is sponsored by Olives from Spain.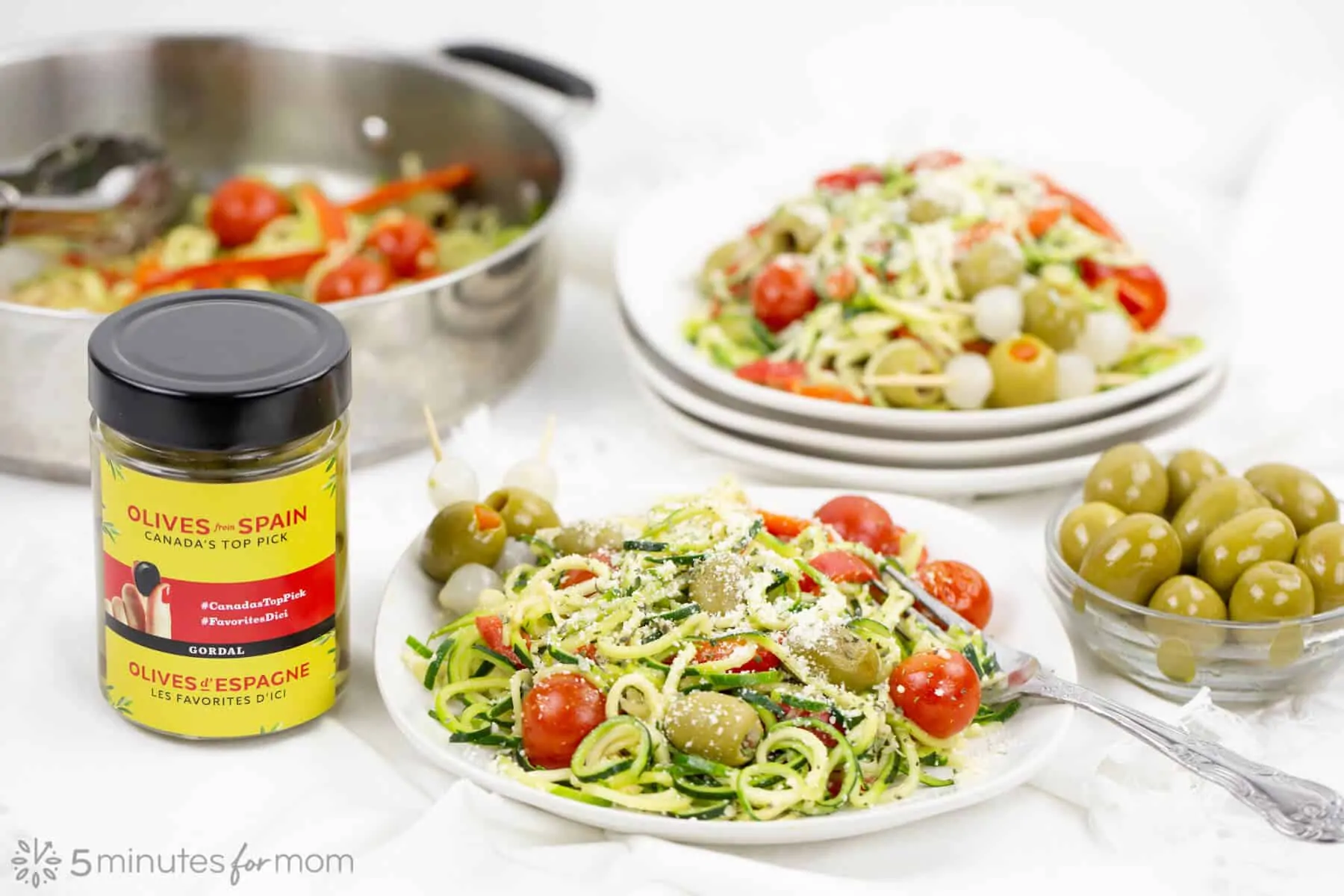 Quick, healthy, and delicious. That is the dream, right?
We are in a hurry. We are hungry. And we need our food to be as healthy as possible.
Oh and we want it to be scrumptious too!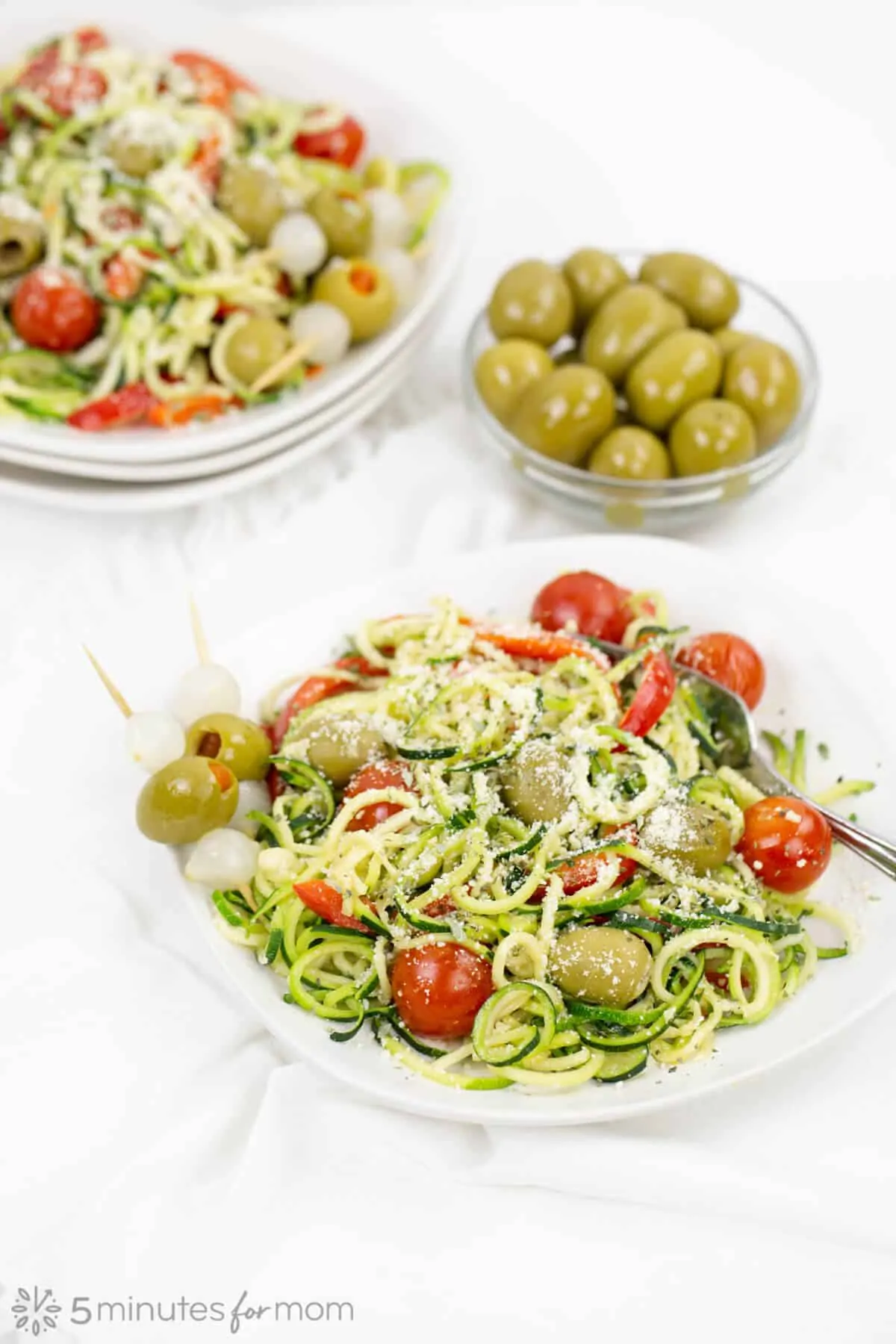 With this easy zucchini noodle recipe, you can have a fast, healthy side dish or meal that is as loaded with flavour as it is with vegetables.
And in addition to the zucchini noodles (or zoodles) and other veggies, the large, fleshy Gordal Olives from Spain are packed with vitamins, minerals, amino acids, fiber, oleic acid, and antioxidants.
So you can indulge in a rich, succulent dinner that is good for you and easy to whip together on a busy, weekday night.
Gordal Olives from Spain
Gordal Olives from Spain are large, green olives that have an irresistible, delicate flavour.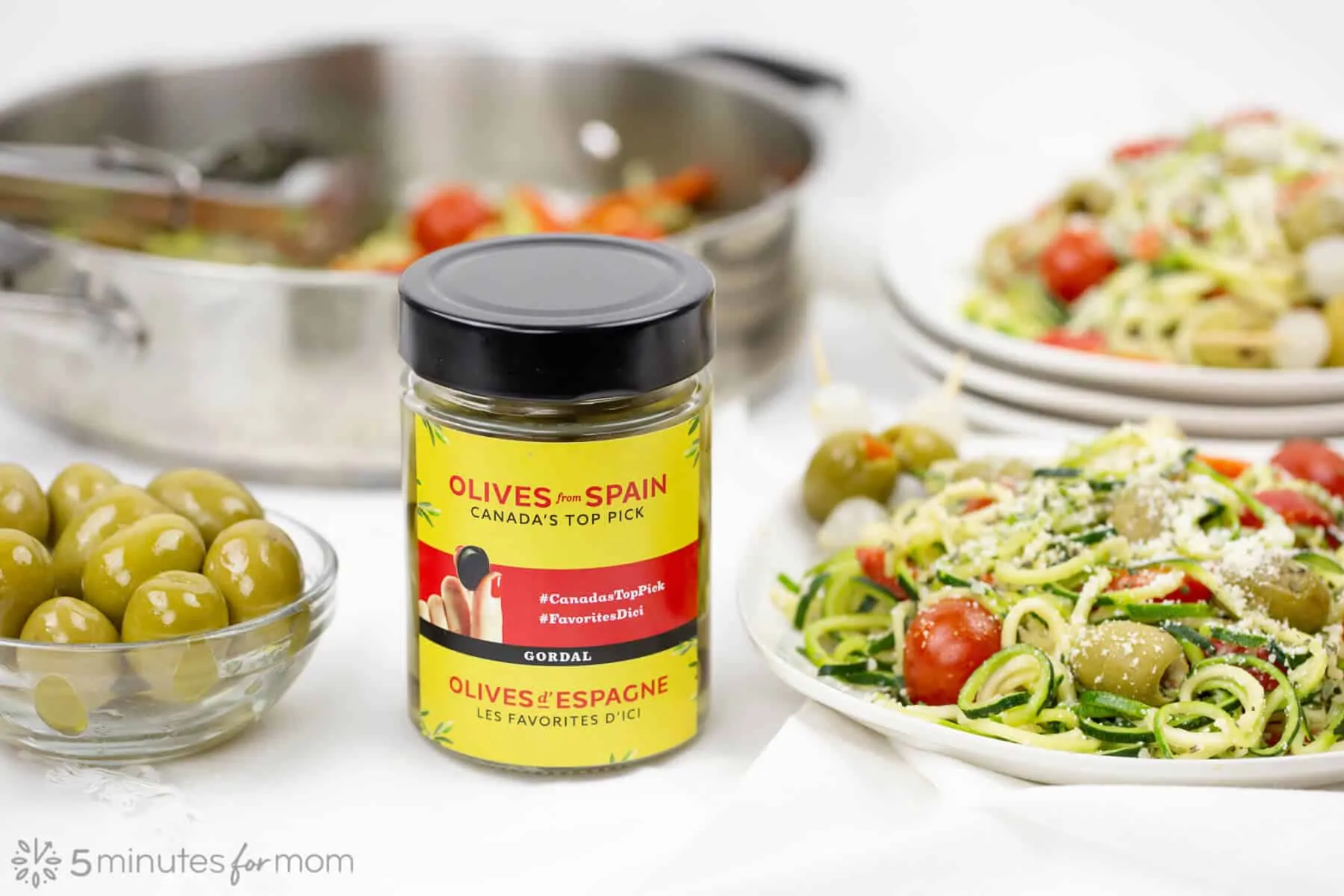 They are often served as a table olive and are perfect for all kinds of tapas and appetizers.
How to Make Zucchini Noodles (or Zoodles)
Isn't it funny how we went our whole lives without making noodles out of our vegetables and then – BAM – the world is full of spiralized veggies. It makes you wonder, why did it take so long for veggie-noodles to become a thing?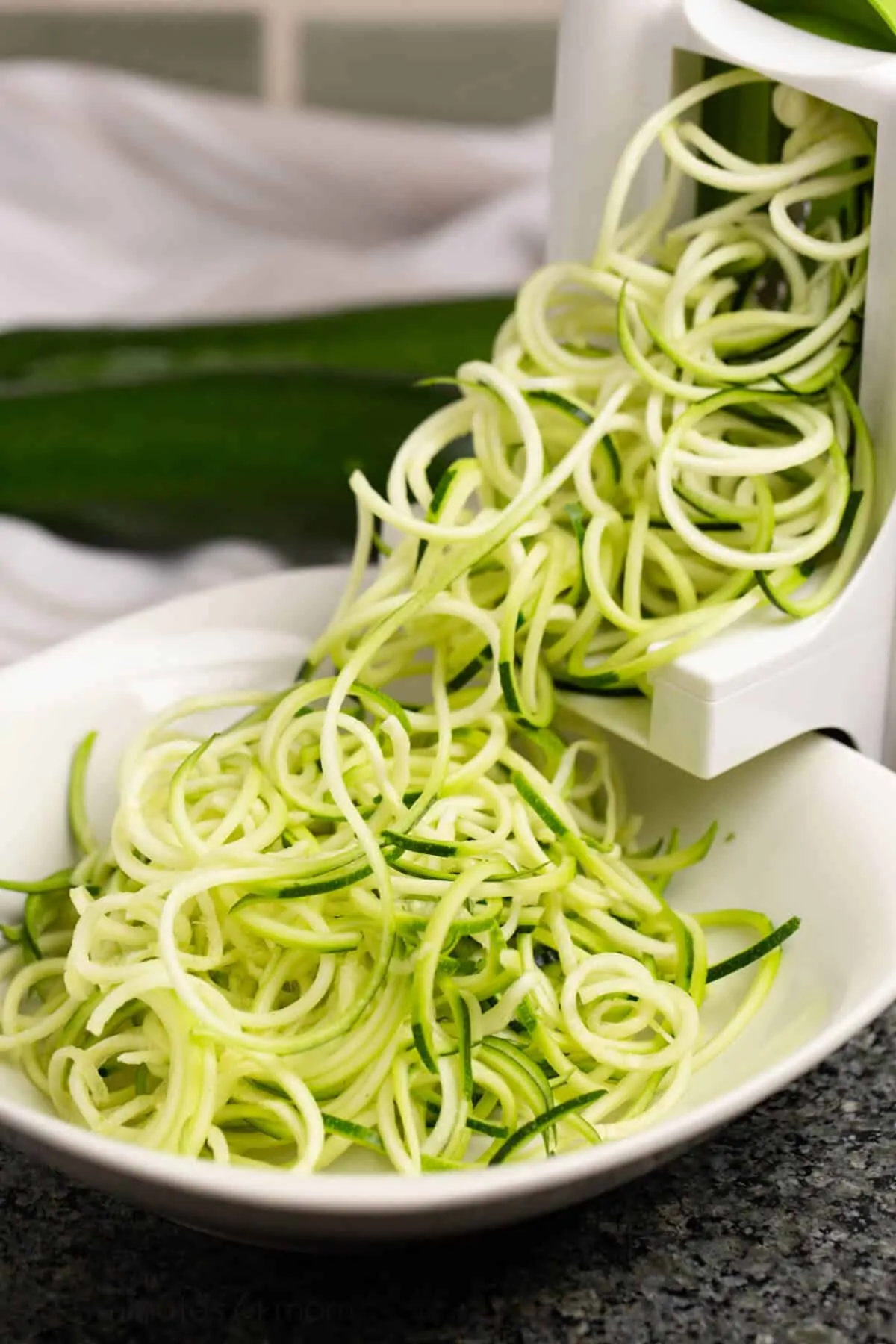 I really wish we had zucchini noodles when I was a kid. It would have made eating my veggies a lot more exciting.
Now, if you haven't bought into the craze and purchased your own veggie spiralizer, may I say, I think you should consider it. The spiralizer does take up a bit of room in my cupboard, but it spiralizes my veggies so fast and so easily, I love it.
But, if you don't want to buy your own spiralizer, you can buy some vegetables already spiralized. I often see zucchini noodles and sweet potato noodles at the grocery store and at Costco. So you can buy some pre-cut and you are ready to go.
When you are spiralizing your zucchini, you will notice that some of the noodles are extremely long. So use a knife or kitchen shears to cut them down to a more reasonable length.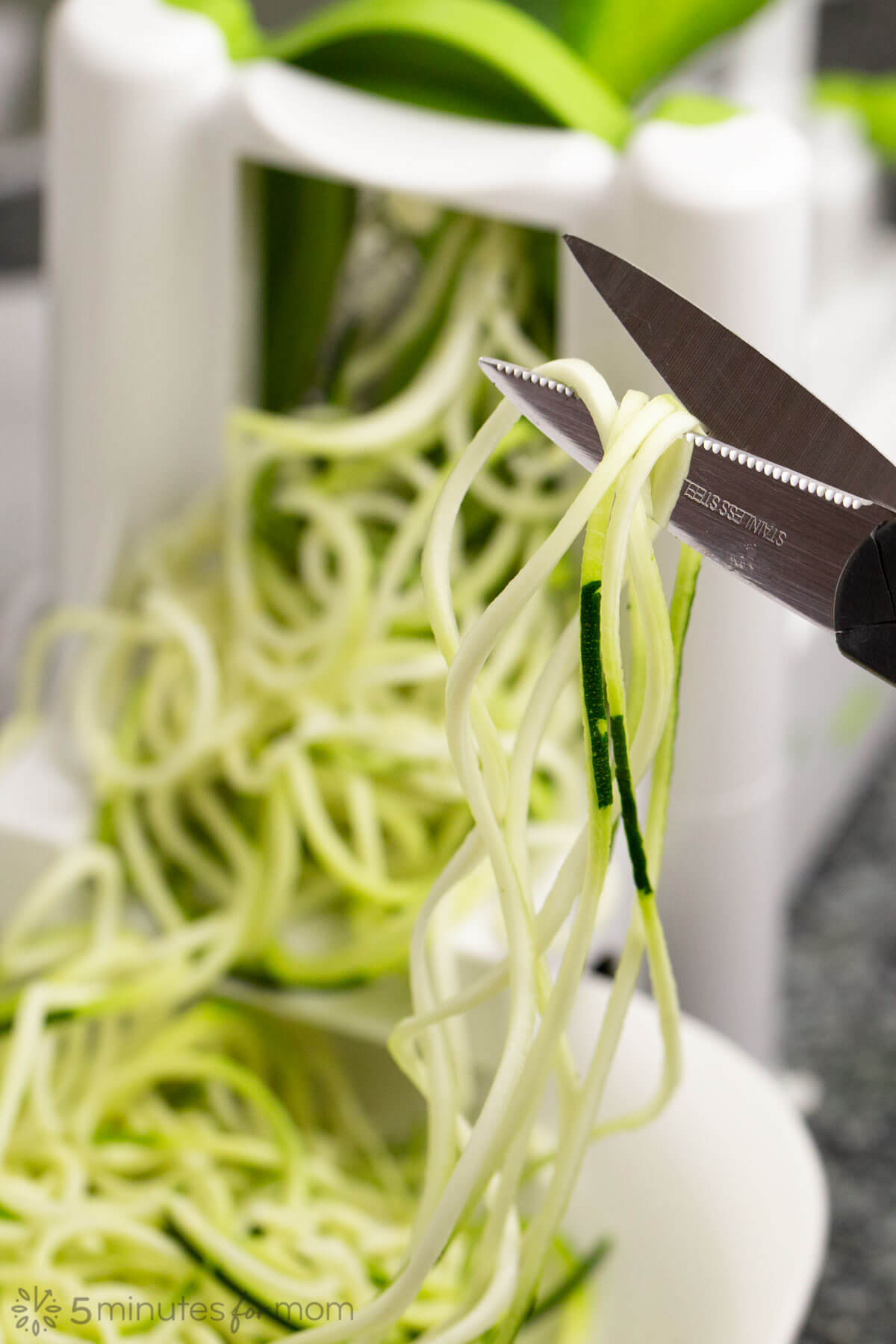 Once you have spiralized your zucchini, wrap your zoodles in paper towel and gently squeeze them to remove excess moisture before you cook them.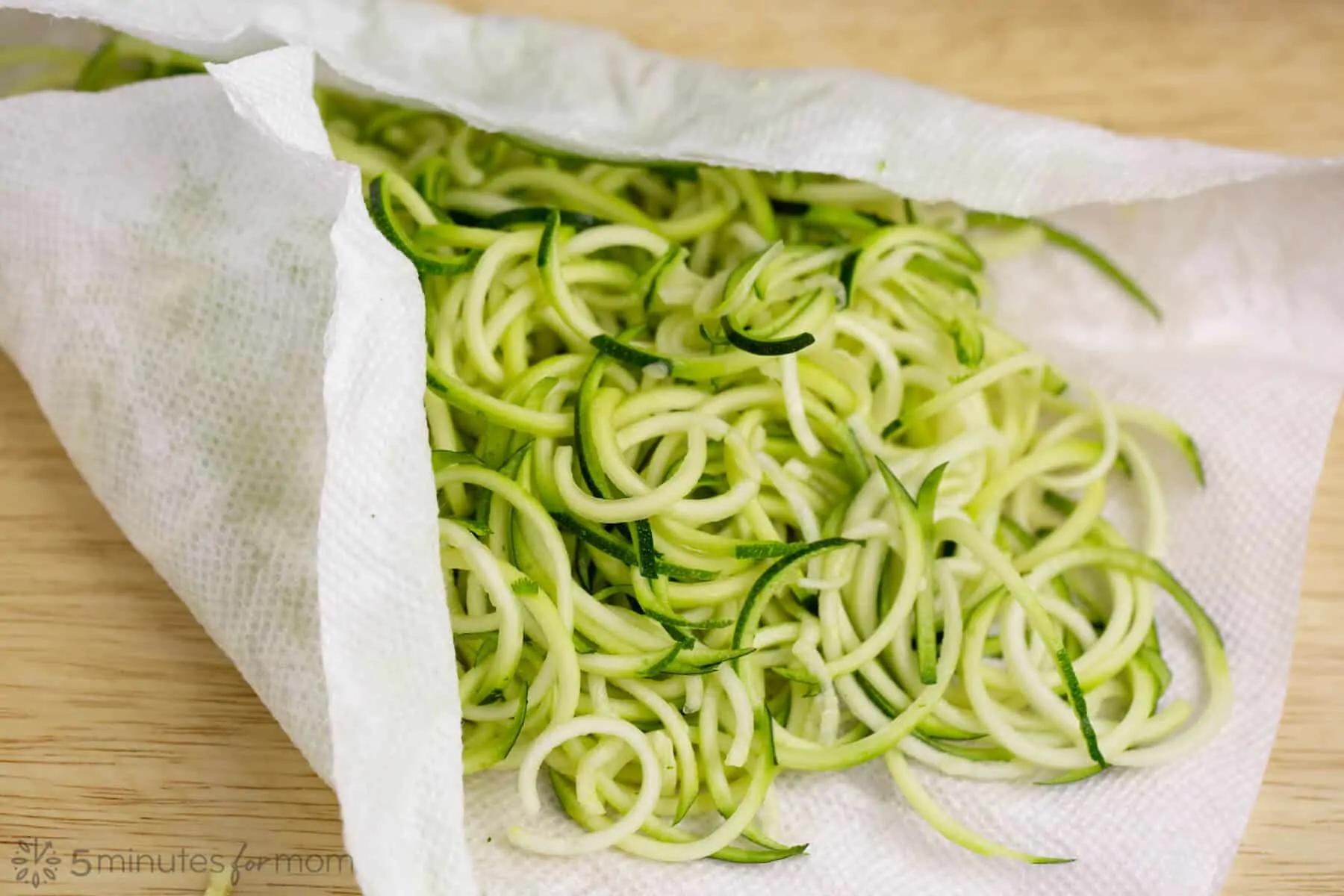 You can saute, steam, or bake your zoodles.
In this recipe, we saute the zucchini noodles with olive oil, butter, garlic, and green olives from Spain which gives the zucchini a deep, intense flavour.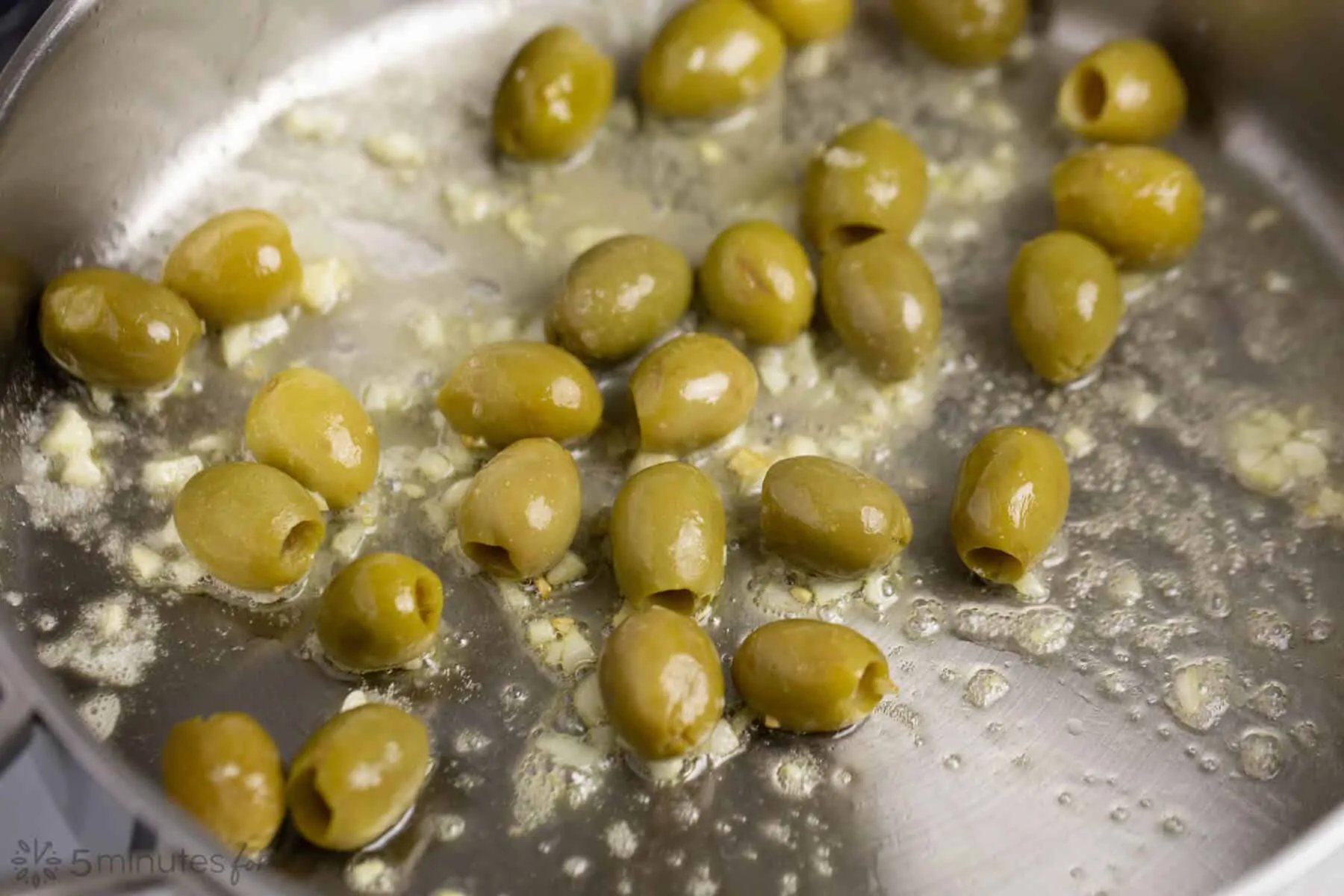 If you love garlic and olives, you are going to love this zoodle recipe.
The key to make perfect zucchini noodles that are not mushy is to NOT overcook them.
Zucchini cooks super fast and so you only need to cook them for a couple of minutes – usually two to four minutes will do.
If you are cooking other ingredients that take longer, add those veggies to your skillet first and cook them for a bit before you add in your zucchini noodles.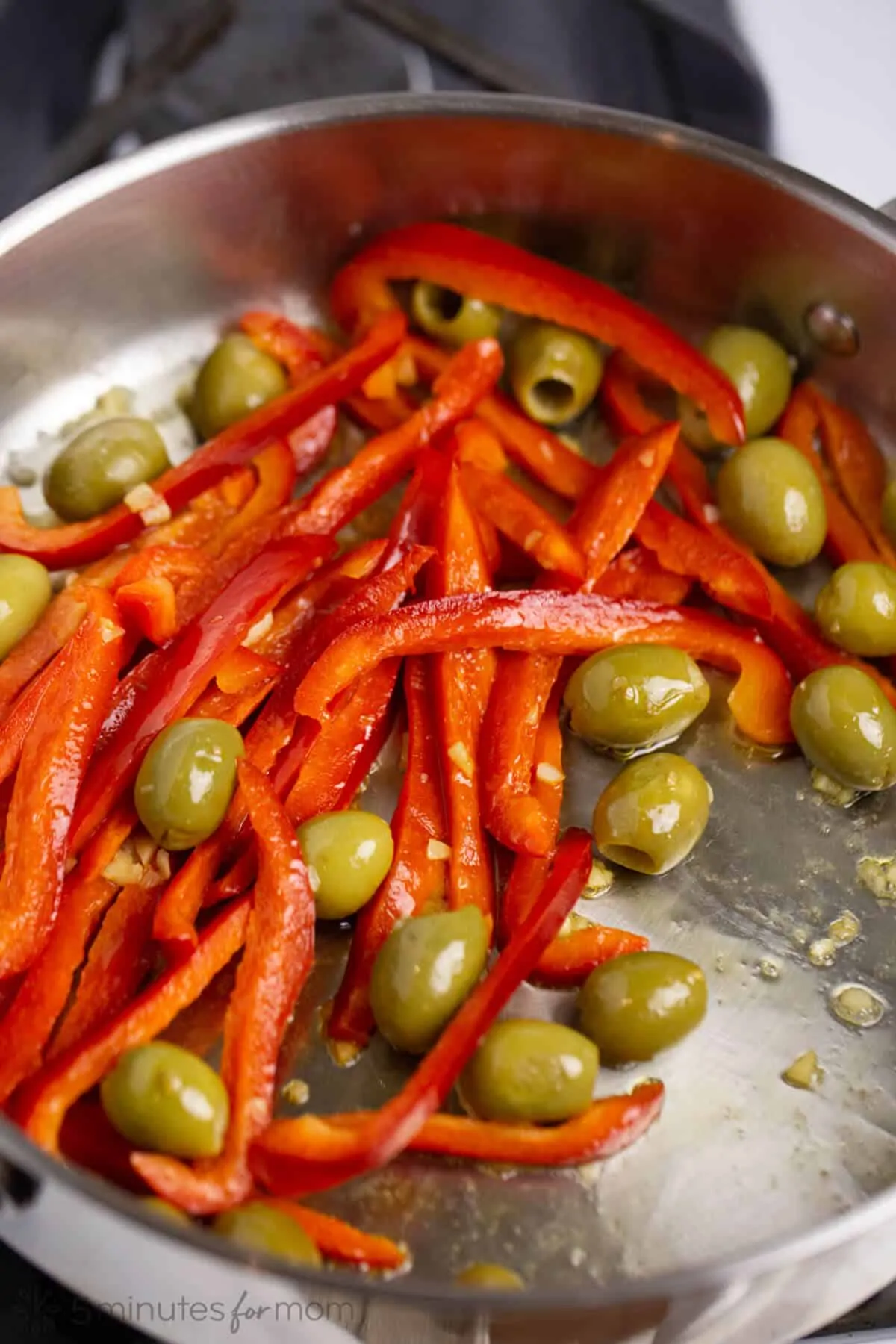 Since I prefer my cherry tomatoes to only cook for a short time, I add my zucchini and my tomatoes in together to cook for a couple minutes at the end.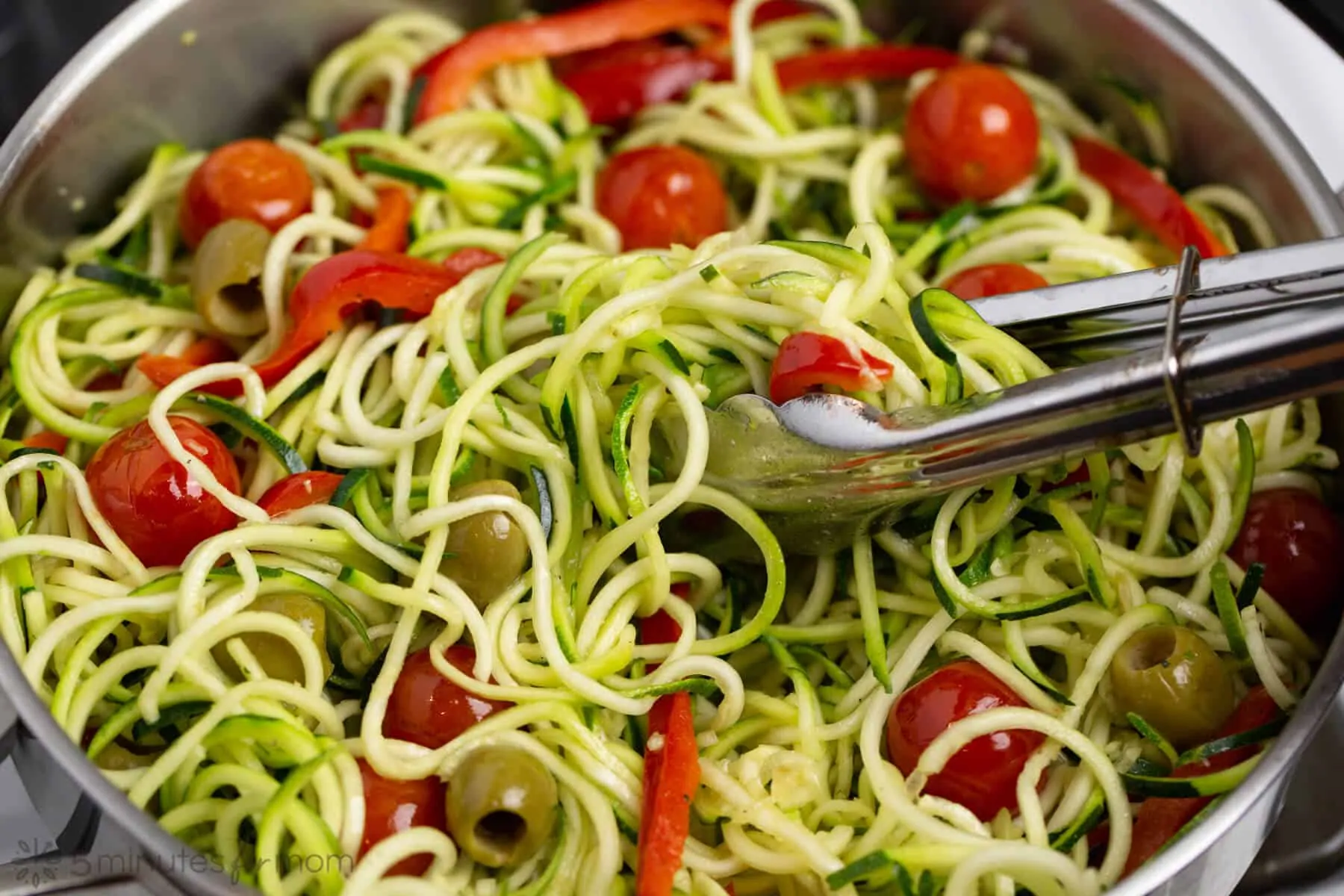 There are so many ways you can mix up this Zucchini Noodles with Olives from Spain recipe to add variety while keeping the basic recipe part of your family's weekly menu. You can use these zoodles a side dish or as a full meal. Sometimes we will add grilled chicken, seafood, or steak on top of the noodles to make a heartier dinner.
Follow the Zucchini Noodles with Olives from Spain recipe below and feel free to add extra your family's favorite vegetables or protein.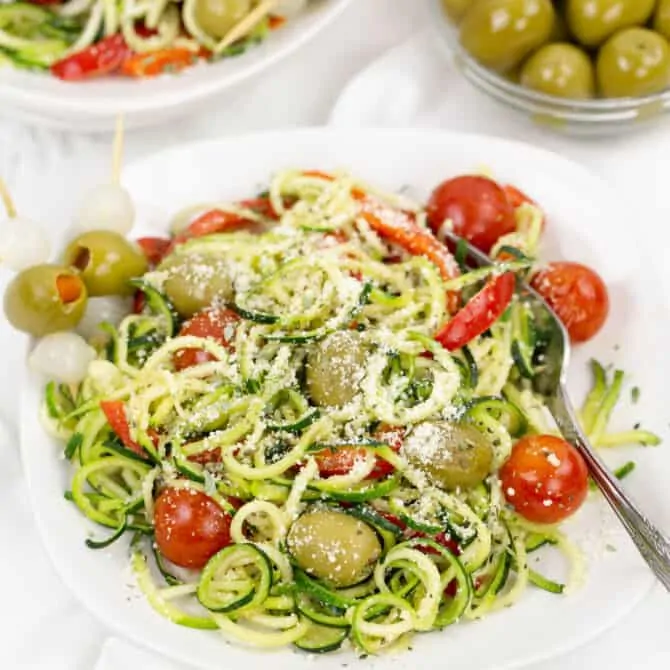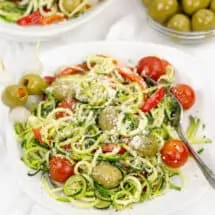 Zucchini Noodles with Olives from Spain Recipe
Zucchini noodles sauteed with butter, garlic, and flavorful Gordal Olives from Spain.
Print
Pin
Rate
Ingredients
Gordal Olives from Spain - pitted whole or sliced
Zucchini - spiralized into noodles
Red bell peppers - sliced
Cherry tomatoes
1 tablespoon butter
1 tablespoon olive oil
2-3 cloves of garlic - finely chopped or minced
Hard Cheese - grated
Pepper
Savoury dried herb blend
Instructions
Use a vegetable spiralizer to make zucchini noodles with raw zucchini or buy pre-cut fresh, raw zucchini noodles.

Use kitchen shears or a knife to cut any extra-long noodles.

With a paper towel, gently squeeze zucchini noodles to remove excess moisture.

In a skillet on medium heat, melt butter and sauté garlic for one to two minutes.

Add Gordal Olives from Spain and sliced peppers to butter and garlic in the hot skillet and sauté for two to four minutes.

Add zucchini noodles and cherry tomatoes and sprinkle with pepper, and herbs to taste. (Due to the saltiness of the olives, you will probably not need to add any salt.)

Continue to sauté for two to four more minutes, tossing so all noodles have a chance to touch the bottom of the pan and cook until noodles are tender but not soft.

Sprinkle with grated hard cheese and toss.

Serve immediately.
Notes
Notes: You can serve as a side or as a full meal portion. For a heartier meal, add grilled chicken, seafood, or steak.
You May Also Like
Here are some more tasty recipes with European Olives…
Disclosure: This post is sponsored by Olives from Spain.
Written by Janice Croze, co-founder of 5 Minutes for Mom
Talk with me: @5minutesformom and Facebook.com/5minutesformom
Pin with me at pinterest.com/5minutesformom
Pin it for Later