This post may contain affiliate links. Read my disclosure policy here.
Top parenting tips from the Supernanny Jo Frost that will make your kids behave better and make your family happier.
Supernanny is back and ready to help more families. Yes, the new Supernanny series premiered New Years Day, 2020 on Lifetime. The famous Jo Frost has returned to America with her hands-on parenting advice for 20 all-new episodes.
This post is sponsored by Lifetime Television, but as always, our opinions are our own.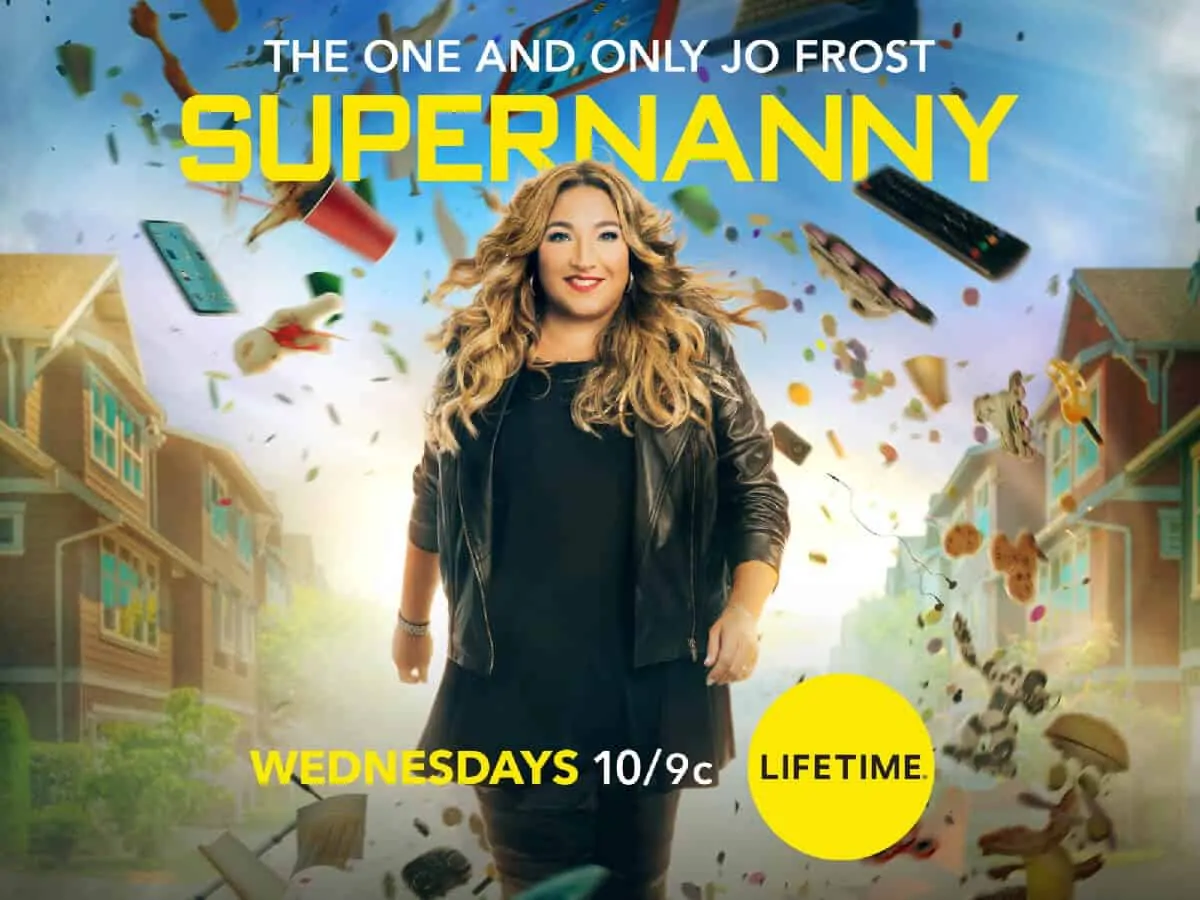 Parenting is hard. Really hard. And most parents could use some help figuring out the most effective ways to manage the endless complications.
While there may be shelves full of parenting advice books at any bookstore, there's nothing quite like watching and learning from an expert handling real-life scenarios.
The families that Jo Frost visits gain life changing parenting skills and the audience gets to learn right along with them.
I think those families are so brave to share their struggles and welcome honest advice. But it's clear by the end of each episode, that Jo's expertise truly blesses them all.
[Tweet "Supernanny's Best Parenting Hacks – 5 Lessons From Jo Frost @Supernanny"]
I remember watching early episodes of Supernanny back in 2005 when Janice had a preschooler and I had a newborn. It was eye-opening to see what challenges lay ahead raising kids.
Watching Jo Frost calmly teach parents how to discipline their kids, gave me much needed insight that I leaned on over the next several years as I raised my two girls. (It's funny how fast time flies, my girls are now 12 and 14 years old.)
It's clear when you watch the TV show, Jo has a natural ability to connect with children. She truly cares about kids and wants them to be treated with love and respect.
You can see that children connect easily with Jo and she quickly gains their trust.
Parents can learn so much Jo Frost!
Here are 5 lessons I've learned from watching Supernanny over the years…
Talk to kids at their eye level. I love how she always gets right down to a child's eye level and communicates expectations clearly but with a caring and kind tone.


Before you have children, it may not be obvious how important it is to get down and speak to kids at their physical level.

But this simple act of bending at your knees to talk directly to your kids can be so powerful.


Follow through. I was able to see a sneak preview of an upcoming Supernanny episode, and Jo references this famous old saying…

"Say what you mean, mean what you say, but don't say it mean."

This is actually profound advice when you take it to heart.


Make expectations clear. On every episode of the Supernanny that I've seen, Jo helps the parents create a set of expectations or family rules and then clearly communicate those boundaries to the children.

We all know that kids need boundaries and that they will test those boundaries. Jo helps parents learn how to respond to those "tests" so that their children feel safe and cared for within a fair set of family rules.


Stick to routines. It's amazing how a simple routine can help kids cope with the natural transitions required throughout the day.

I've often seen how Jo helps families create routines that give kids necessary structure that helps keep everyone's expectations on track.

There are lots of ways you can help kids stick to a routine, including using fun charts when they are little.

Connect with your kids. I think the most important lesson for any parent to learn is to connect with their children and spend time building a strong relationship.

Often that means playing with your kids. It's so important to have fun with your kids… that might simply be spending time crafting, playing board games, or sharing jokes together.

Kids desperately want their parents' attention and their love. By prioritizing the bond you're creating with your kids, you're creating a happier family.

Jo uses many different ways to help parents find ways to connect with their children and strengthen their relationships.

I'm grateful for all that I've learned through the show… so I'm thrilled that now 15 years later, Supernanny has returned to TV to help more families in our even more complicated world of iPads and social media.
Follow Supernanny on Instagram and watch Wednesdays 10/9c on Lifetime.
Find out more at mylifetime.com/shows/supernanny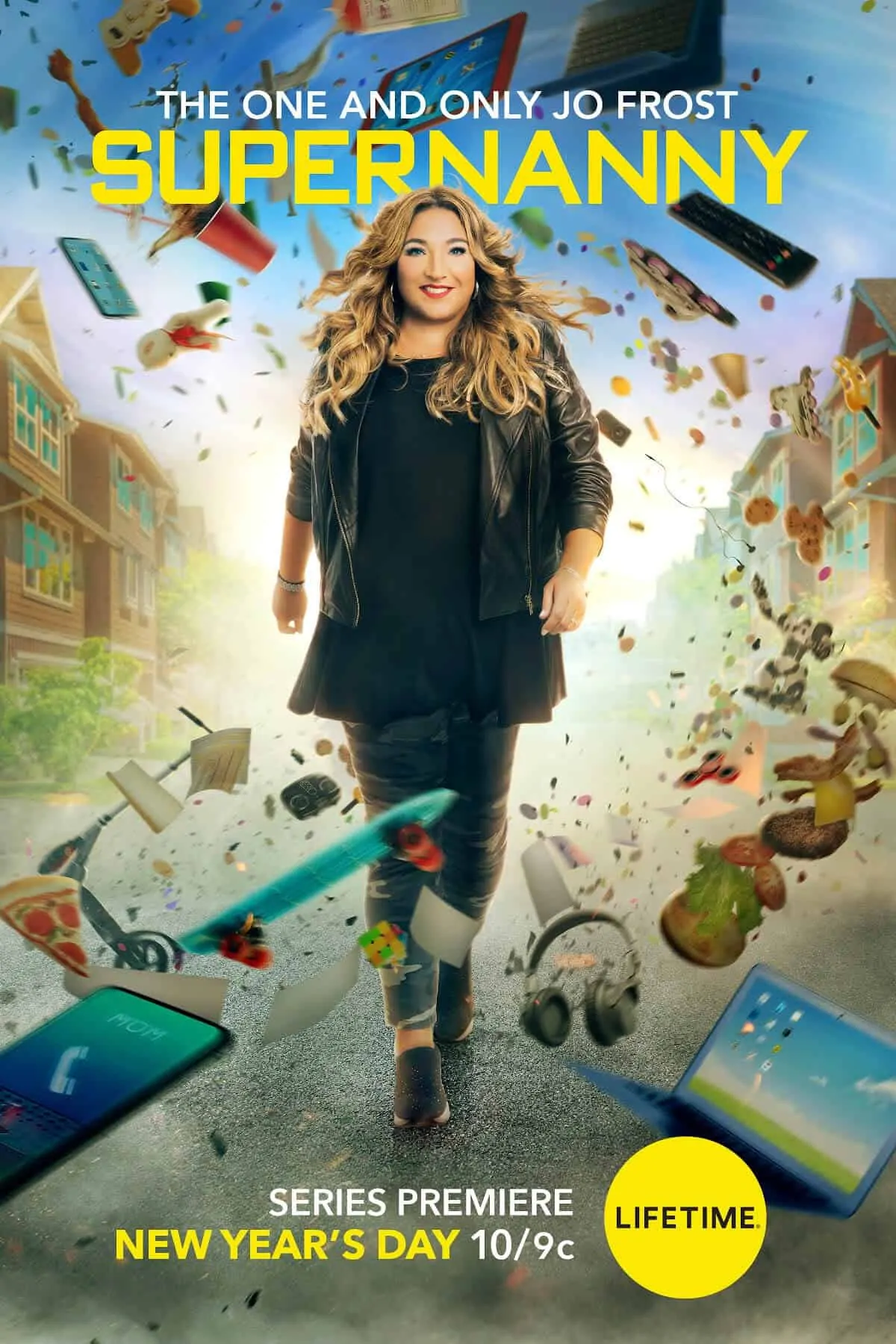 Disclosure: This post is sponsored, by Lifetime Television.
Photo credits A&E Television Networks, LLC.
Written by Susan Carraretto, co-founder of 5 Minutes for Mom
Talk with me: @5minutesformom and Facebook.com/5minutesformom
Pin with me at pinterest.com/5minutesformom