This post may contain affiliate links. Read my disclosure policy here.
If you're a parent with toddlers, preschool or elementary school-age kids, you'll love these fun new ideas for teaching kids about healthy eating. Of course, as parents, we care about nutrition for kids. But what if you could actually get your children excited about their own nutrition? We believe you can!
This post is part of our ongoing sponsored series with HueTrition.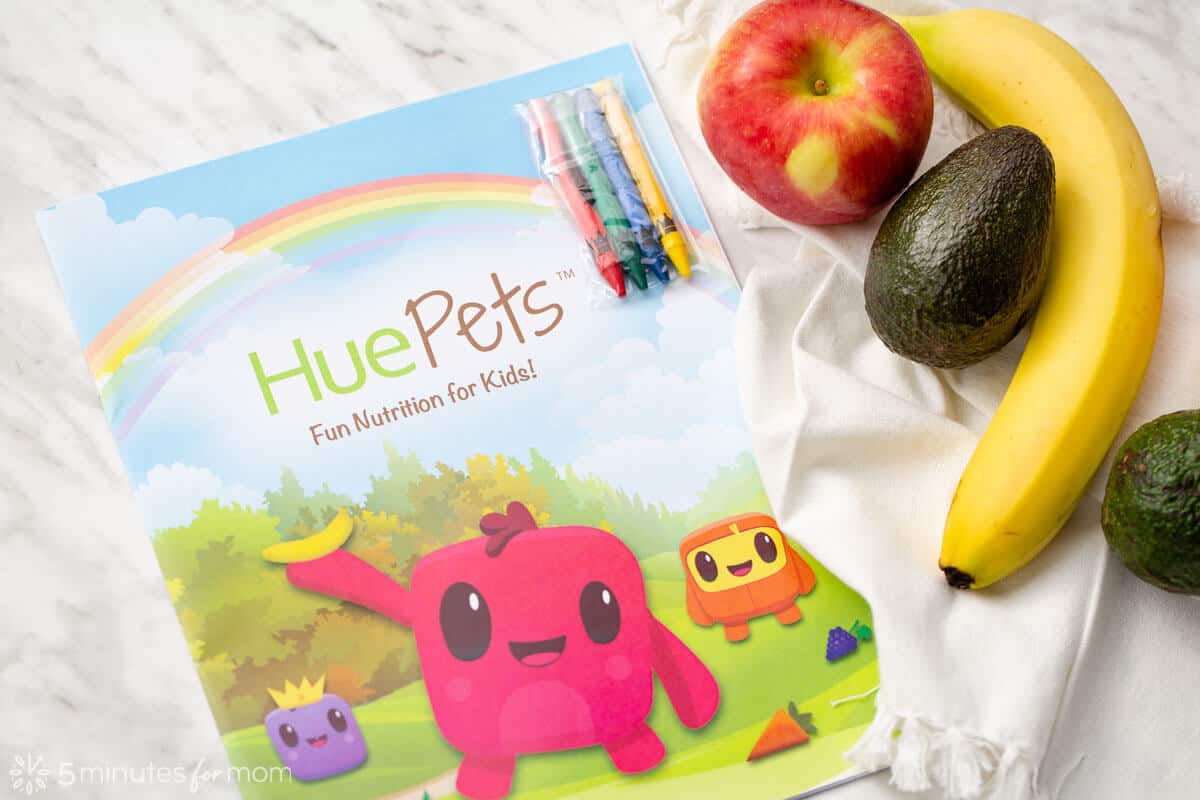 When children are young and just starting to learn about food, it is important to get them interested in a variety of flavors, colors, and textures of food. The preschool and elementary school years are the perfect time for teaching kids about healthy eating.
Turning Healthy Eating Into A Fun Game
Kids love games. And they especially love games that are apps on their mobile devices.
So why not turn their natural love for apps into an opportunity to teach them about healthy eating?
Meet Huey and the HuePets™ App
HuePets™ is a FREE nutrition game for kids that they can play on their mobile devices.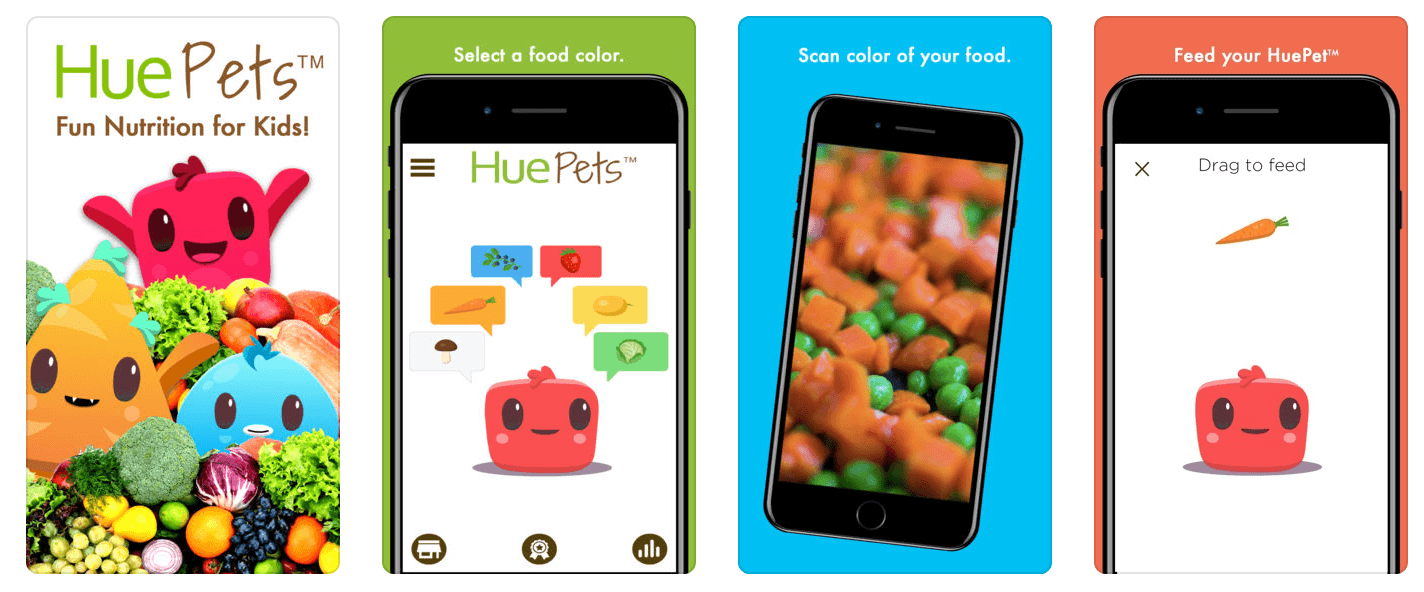 In the game, kids scan real-life food to "feed" their HuePet which unlocks prizes and makes their pet grow from a little egg to a HueMaster.
As a parent myself, I've found kids LOVE playing with apps that make characters grow and evolve.
The clever idea behind HuePets™ is to motivate kids to feed themselves and their HuePets healthy foods.
HuePets™ makes nutrition easy to understand for young kids. By teaching kids to eat a rainbow of colors, you can talk about how different fruits and vegetables contain different vitamins and nutrients. As they "feed" their HuePet a variety of colors, they can visualize their pet and themselves growing and staying healthy.
The app allows you as a parent to set rewards customized rewards for your kids to help motivate them towards their goals.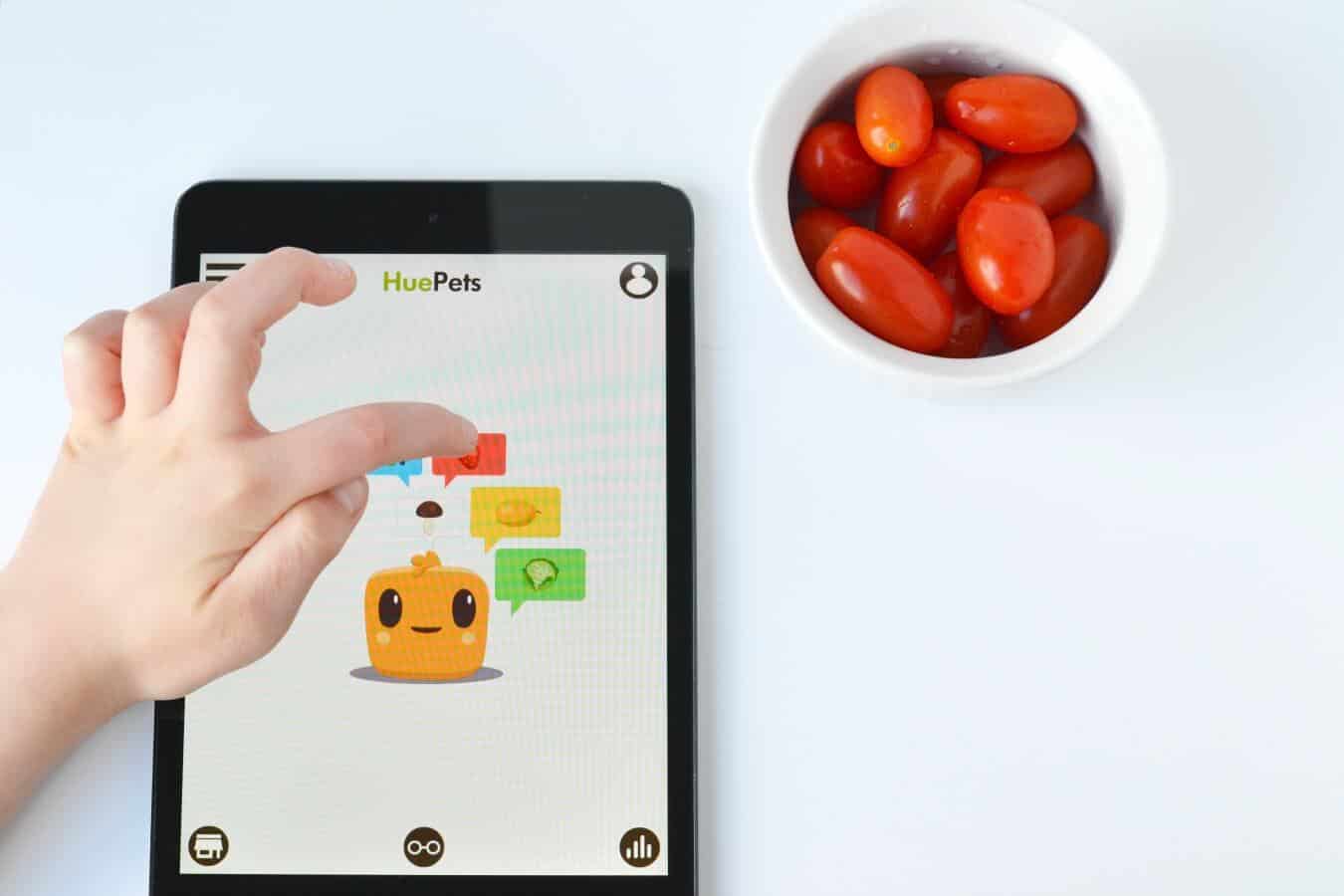 HuePets Is Getting Even Better
We introduced HuePets here at 5 Minutes for Mom back in 2017 when it first launched.
And in 2018, we shared more ideas for how to get kids to eat vegetables including using the HuePets app to turn healthy eating into a game.
Now, we are excited to help celebrate HuePets turning 2! Yes, HuePets Version 2.0 is coming out this August with new characters, potions, and more.
The app works alongside a website that allows medical professionals, teachers, family, and friends to monitor a child's dashboard of colorful choices and even assign rewards for their progress.
To celebrate the HuePets 2.0 release, HueTrition is releasing the First Edition HuePets Bundle!
Watch as Monica from HueTrition explains what you'll find in the bundle…
Getting Kids to Eat Vegetables the Fun & Easy Way
Meet the new Huey stuffed toy and find out how he will help your kids have fun learning about nutrition.
Learn more about HueTrition's Mission at HueTrition.com.
Reserve Your Huey Bundle Now
The new Huey bundle is in high demand, so don't wait… reserve yours so that your child does not miss out on this unique way to learn about nutrition for kids.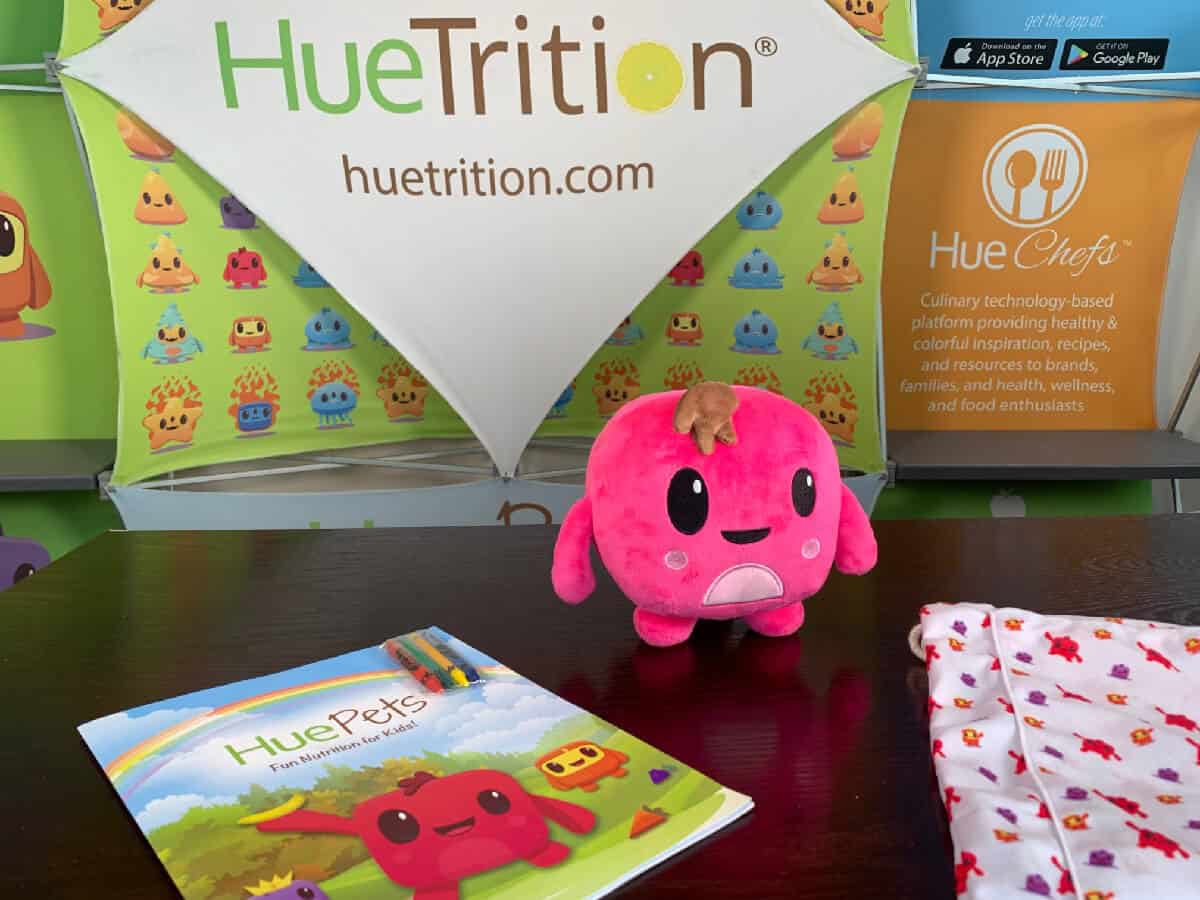 Get Your Kids Playing With The HuePets App
If you haven't yet tried the HuePets app with your kids, download it today. It's available in both the Apple App Store and on Google Play.
Download The HuePets App
Teaching Kids About Healthy Eating
It can be tough for parents to make and serve healthy food for kids including a variety of vegetables… but the toughest part is often getting kids eating the food you serve.
We think there are two main aspects to getting kids eating healthy foods…
First, you need to help them understand the idea that foods vary in how much nutrition they can give our bodies.
Second, you need to give them opportunities to eat a wide range of foods in a positive, encouraging environment.
And ideally, kids are given those opportunities to learn about nutrition and try healthy foods in a fun way continually as they grow.
Here are 7 ways of teaching kids about healthy eating while encouraging them to try new foods…
Explain how colors are related to vitamins and nutrients.

The HuePets coloring book that comes in the new HuePets Bundle is a wonderful way to guide this conversation.




Talk about the differences between fruits, vegetables, grains, meats and dairy products.

Have them sample foods from each category and tell you their favorites. You can talk about how the different types of foods are grown and whether they come from a garden, a tree, or an animal.


Show them examples of different herbs, seasonings, and spices.

Let them carefully touch and smell some of the different types of herbs and seasonings… but be careful! You don't want your child inhaling a bunch of cinnamon or another spice.

The best way for kids to smell certain spices might be when they are mixed in with a portion of food.


Ask them about their favorite foods and why they like them the best. Then talk about how well those foods fuel their bodies.

Talk about the difference between sweet and salty. Explain what sugar and salt are and how we need to be careful about how much we have.

Give kids choices and help them make good food selections. Kids of all ages love to have the power to make choices. As your kids get older, you can have them help select recipes and create weekly menu plans. When they are toddlers and preschoolers, you can show them pictures of different foods or place healthy options in front of them and let them choose which to eat first.

For a toddler or preschooler, you might want to play a game where you place two vegetables in front of them and ask them which they want the most. Let them eat that vegetable and replace that one with a third choice, and keep going until you run out of vegetables.


And of course, our favorite tip… is to use the HuePets app along with the Huey Stuffie and HuePets coloring book to create a full-circle learning experience.

Kids can snuggle and play with their Huey Stuffie toy, color pictures of him and the other HuePets in the coloring book and virtually "feed" and nurture their HuePet in the app.

By having all three ways of playing with HuePets, kids will become truly engaged in the game and the process of feeding their pet and themselves healthy food.
HuePets Party
Host a HuePets Party with your kids and their friends…
Pin it for Later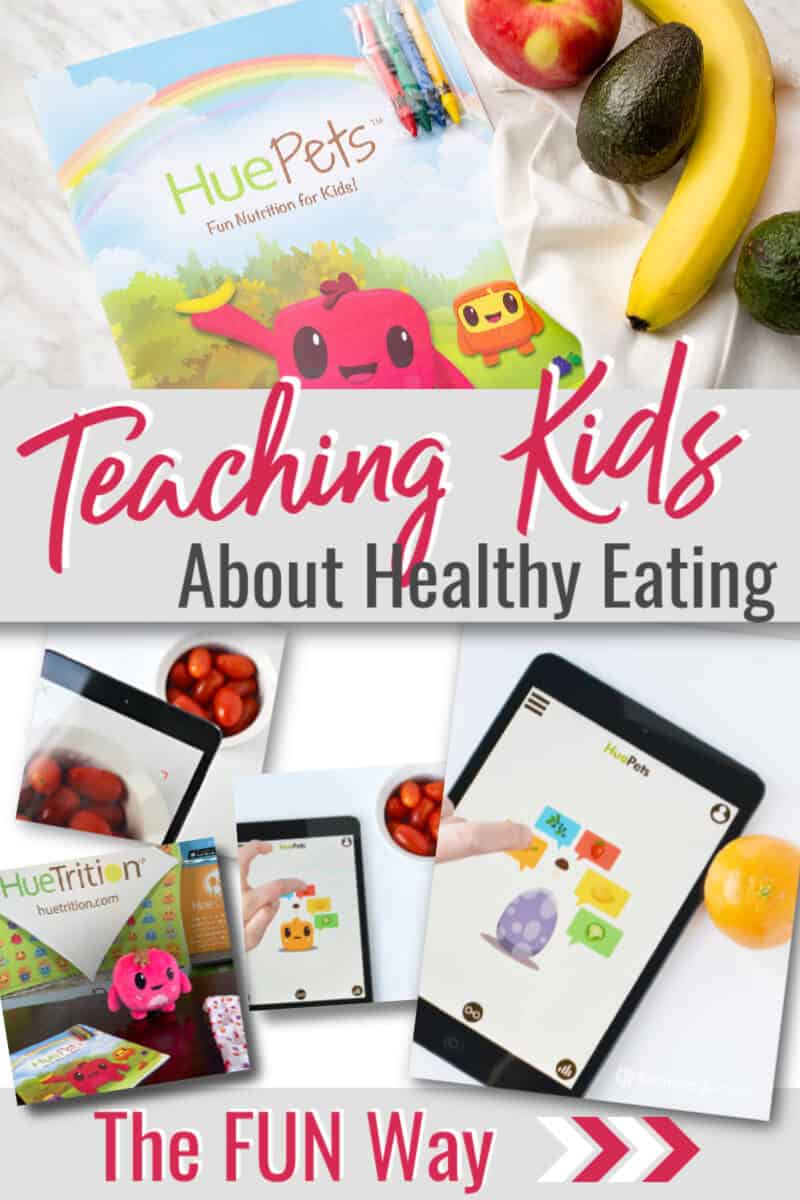 Disclosure: This post is sponsored by HueTrition™
Written by Susan Carrarettn, co-founder pf 5 Minutes for Mom.
Talk with us: @5minutesformom and Facebook.com/5minutesformom
Pin with us at pinterest.com/5minutesformom