This post may contain affiliate links. Read my disclosure policy here.
We are excited to announce a fun Twitter Party with huge prizes and lots of ideas for how to make healthy eating more fun for your kids. Join us for the #HuePets Twitter Party on September 14 at 8 pm Eastern.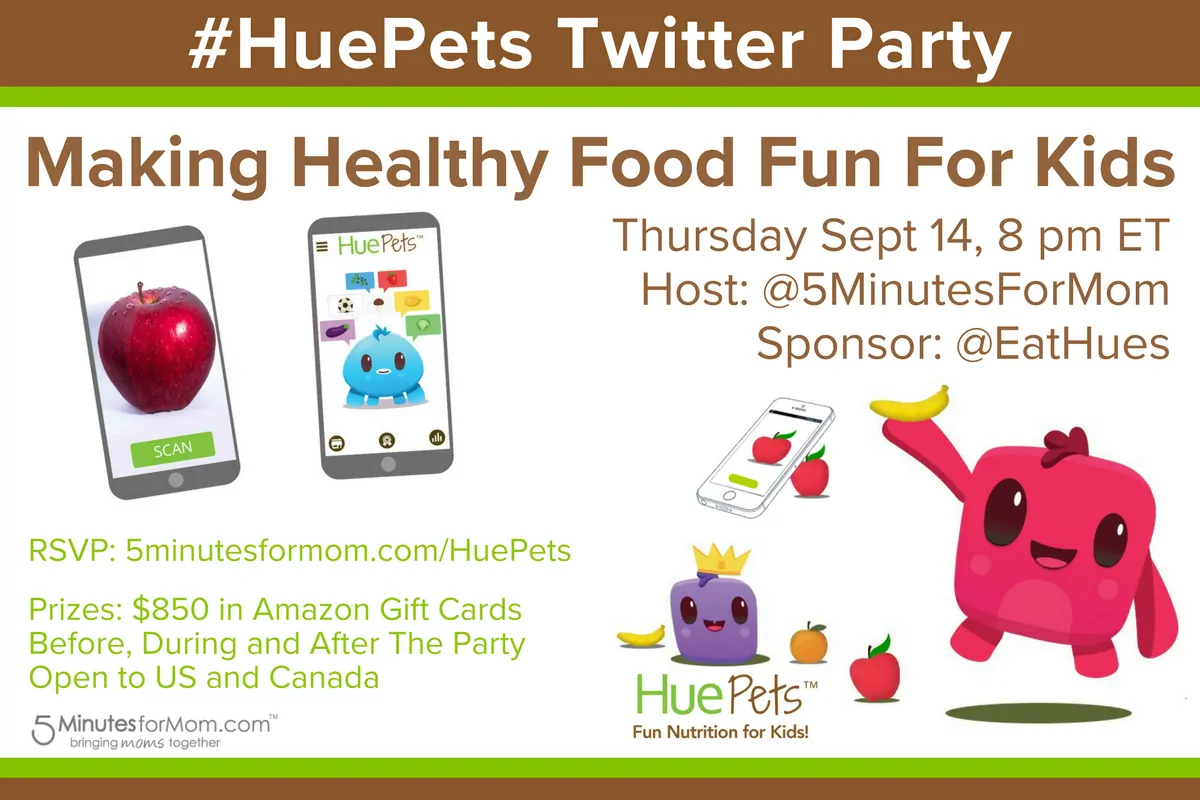 We'll be giving away $850 worth of prizes in Amazon Gift Cards before, during and after the party thanks to our sponsor HueTrition. Prizing is open to both the US and Canada (excluding Quebec.)
UPDATE: Be sure to enter the extra giveaway for a $200 Amazon Gift Card.
And Don't Miss This…
Also… we have ANOTHER fun opportunity for you to win a $250 Amazon Gift Card and get your kids excited about healthy eating by playing the HuePets app.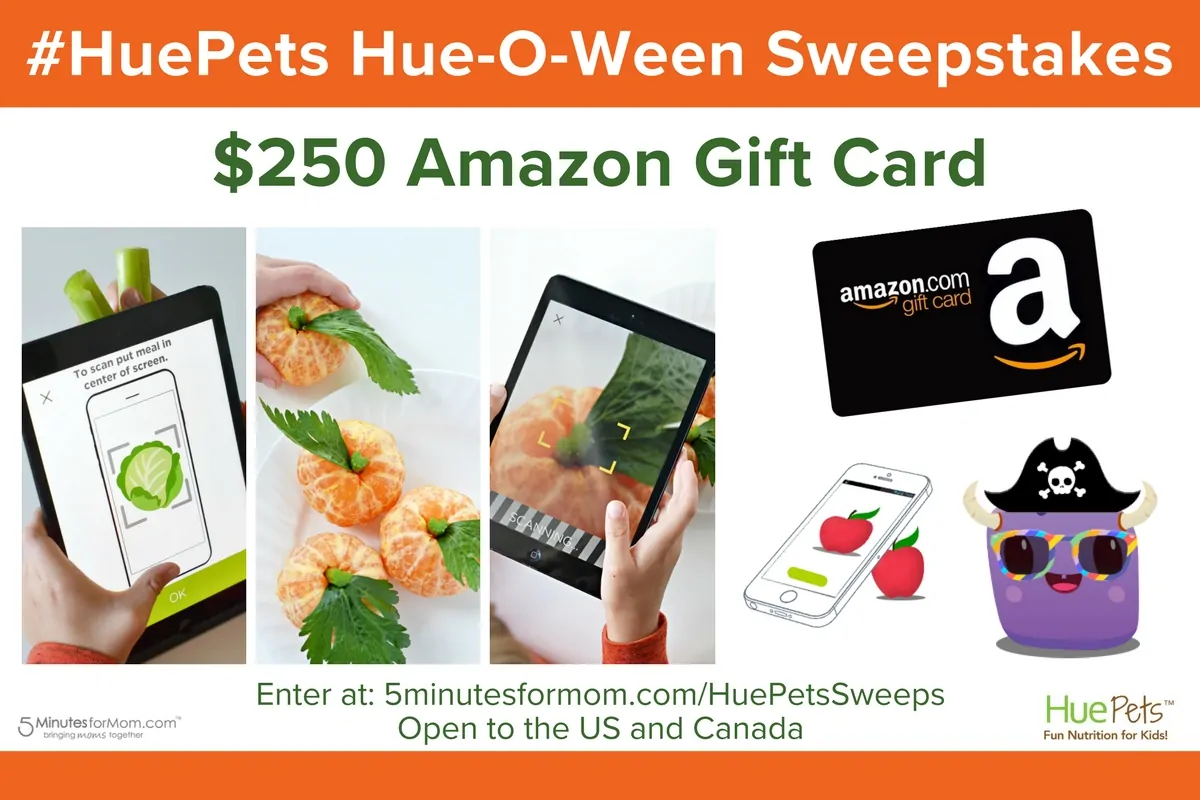 HuePets App For Kids
HuePets™ is a new mobile app created by an organization called HueTrition™. The HuePets™ app turns daily healthy eating into a game for young children and their families.
HueTrition™ is a nationally-recognized family wellness program dedicated to fostering a balanced, active, plant-based lifestyle that includes a daily variety of colorful fruits and vegetables from an early age while encouraging sensible choices for the planet.
Watch this quick video to see what HuePets is all about…
They are what you eat! HuePets™ makes it fun for kids to eat healthy and try new foods! Scan real-life meals to feed your HuePet™, unlocking prizes and raising your pet from a little egg to a HueMaster!
My kids LOVE playing with apps that make their characters evolve. It's such fun for them to see their characters grow. So HuePets™ is a perfect way to motivate kids to feed themselves and their HuePets healthy foods.
I love how the HuePets™ app makes nutrition easy to understand for young kids. By focusing on the colors of the foods, you can talk to your kids about how eating a variety of fruits and vegetables of different colors helps to keep you healthy.
Your kids will really like that you can set rewards in the app to help motivate them towards their goals.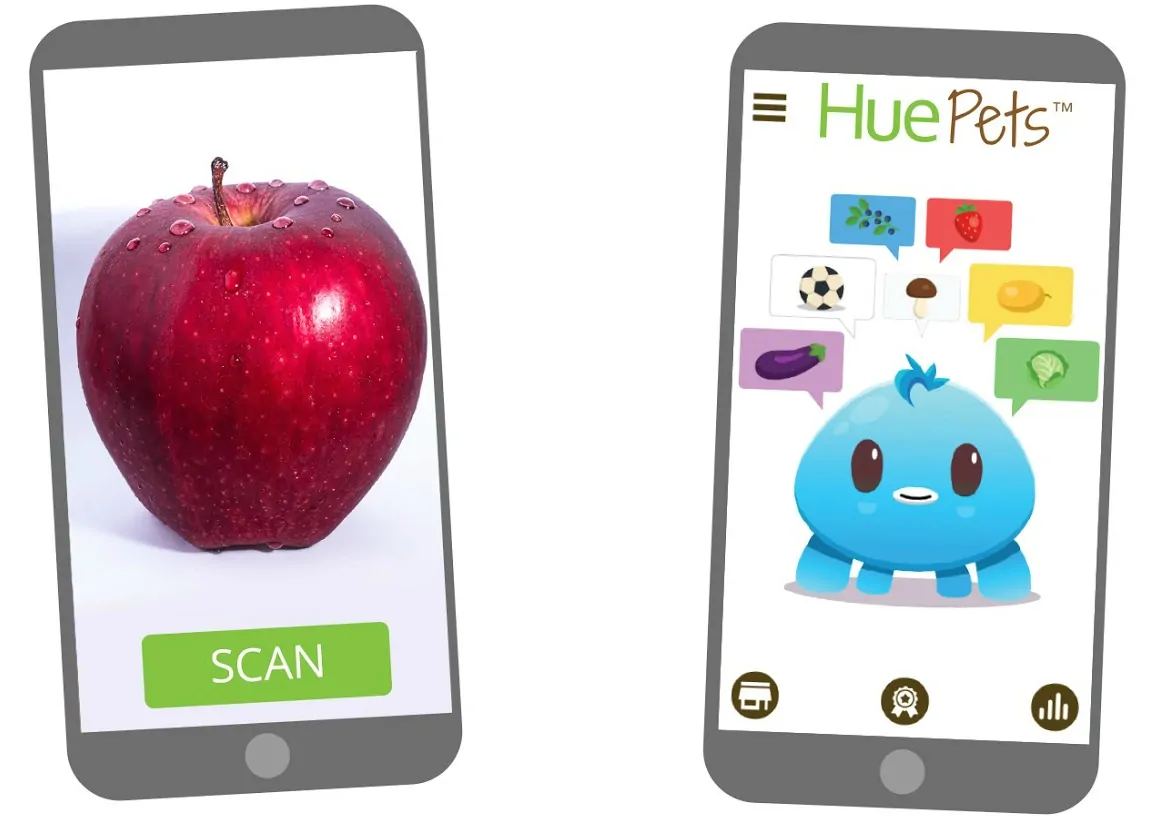 Using the app is really simple. As a parent, you create an account at huepets.com and then add one or more kids to your profile. You can set different rewards for each child. Then download the app on your phone and login. When your kids want to play with the app on your phone, they can switch between profiles.
When they are going to eat a food, they simply point the phone at the food to scan it in. Then they feed it to their HuePet.
#HuePets Twitter Party Details
Join us for a fun and informative twitter chat and learn tips for making healthy eating more fun for kids.
Topic: Making Healthy Food Fun For Kids
Date: Thursday, Sept 14
Time: 8:00 – 9:00 pm Eastern / 5:00 pm – 6:00 pm Pacific
Hashtag: #HuePets
Party hosts to follow:
@5minutesformom
Party sponsor to follow:
@eathues
Panelists to follow:
@stacieinatlanta
@momspark
@simplystacienet
Prizes:
Before, during and after the Twitter Party, we'll be giving away $850 worth of Amazon Gift Cards. Prizing is open to the US and Canada (excluding Quebec.) Canadian winners can choose to receive Amazon.ca gift cards with Canadian currency.
BEFORE the Twitter Party…
1 Early Bird Prize Winner who RSVPs and tweets about #HuePets. Winner will be selected randomly from the RSVP list and announced at the start of the Twitter Party.
DURING the Twitter Party…
RSVP is not required for these prizes. Winners will be selected randomly from those actively tweeting during the Twitter Party.
FOUR (4) Winners: Each winning a $100 Amazon Gift Card
(ONE) 1 Grand Prize Winner: Winning a $150 Amazon Gift Card
AFTER the Twitter Party…
Enter this extra giveaway post to win another prize of
RSVP and Tweet Now
If you will be joining the party, RSVP below and Tweet now with #HuePets and you'll be entered to win the Early Bird Prize of a $100 Amazon Gift Card.
[Tweet "RSVP for #HuePets Twitter Party Sept 14, 8pm ET #Giveaway Entry"]
Add your Twitter Handle below…
Example Link Text: @5minutesformom
Example URL: https://twitter.com/5minutesformom
We're also asking that you include your name and email, but those will not show publicly. By RSVP'ing below, you are giving permission to the folks at HueTrition to follow up with you by email.
Pin it for Later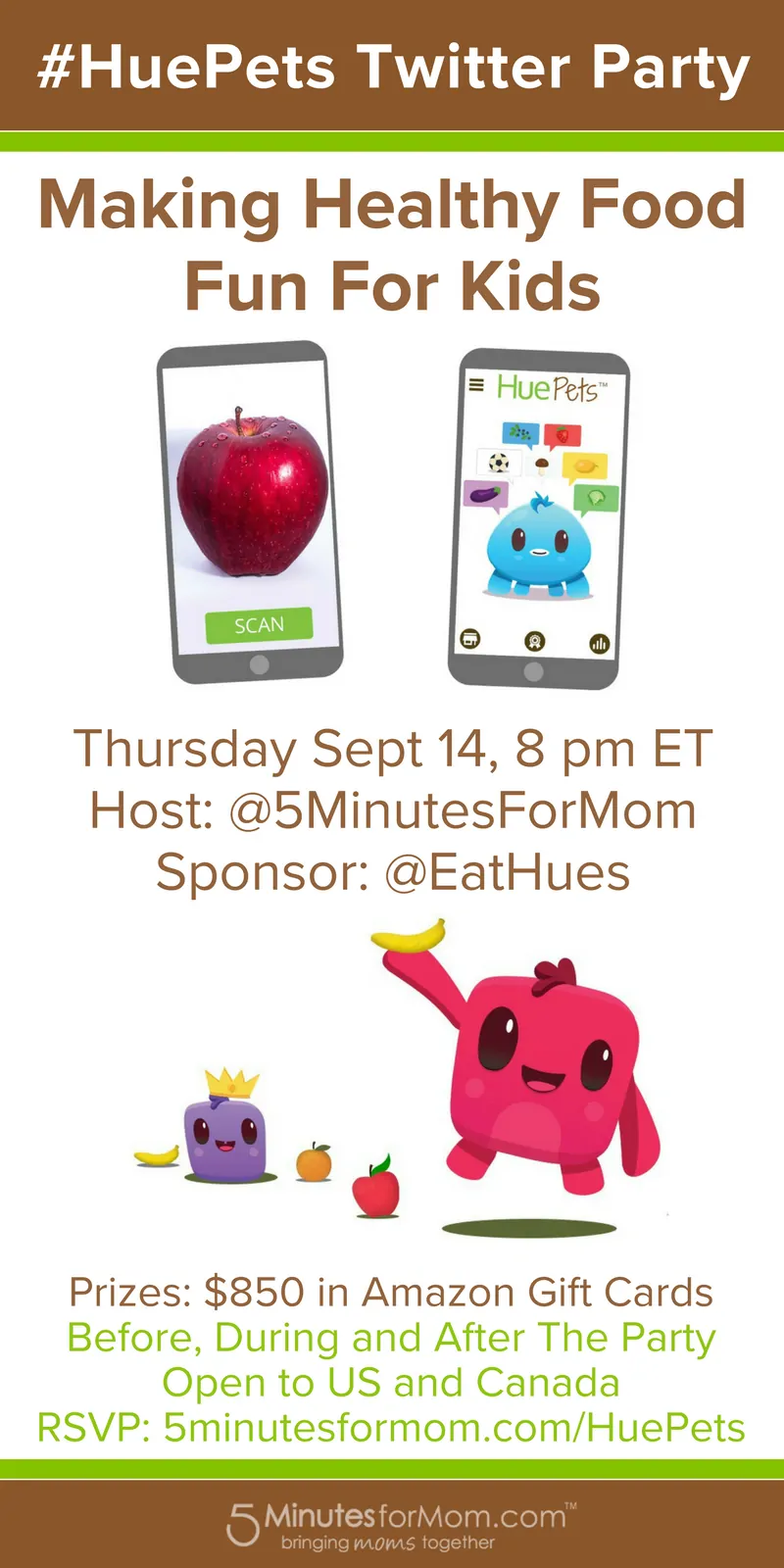 Disclosure: This post and the Twitter Party are sponsored by HueTrition™.
Written by Susan Carraretto, co-founder of 5 Minutes for Mom
Talk with me: @5minutesformom and Facebook.com/5minutesformom
Pin with me at pinterest.com/5minutesformom