This post may contain affiliate links. Read my disclosure policy here.
This is Janice, co-founder of 5 Minutes for Mom, with a frozen yogurt recipe and a smoothie recipe that will satisfy your sweet tooth, while fueling your body with vitamins, protein, and healthy fats. Thanks to Kenwoood for sponsoring this post.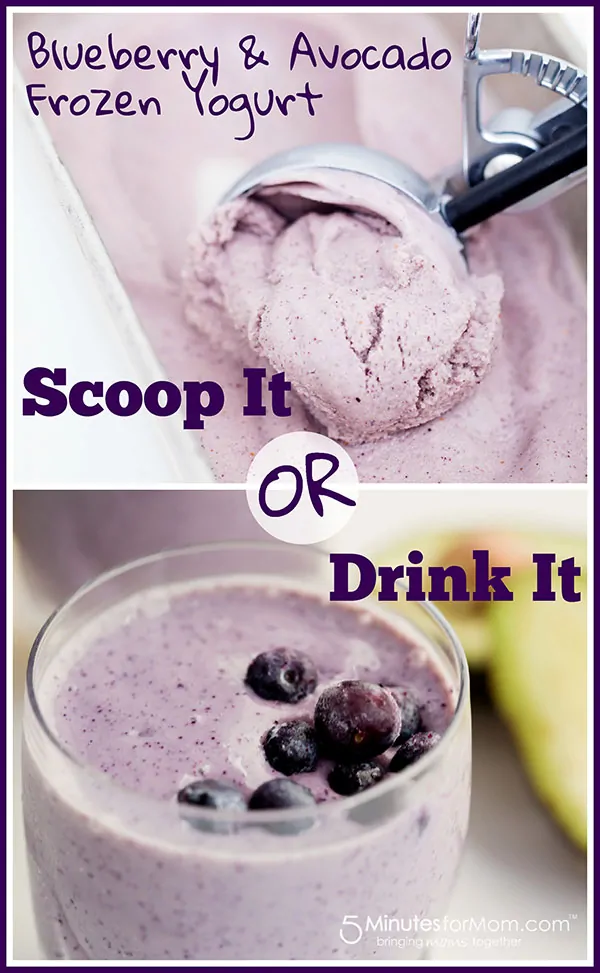 I have been eating homemade frozen yogurt since the 1970's.
My mom didn't need the frozen yogurt explosion of the 1990's to realize that a great alternative to ice cream is simply to freeze yogurt.
And my clever mom didn't feed us sugar-packed flavoured yogurt either. She added a touch of her homemade strawberry jam to plain yogurt for our very own stirred yogurt.
My mom's recipe was very simple — she just poured the yogurt into popsicle molds and popped them in the freezer. Our response was always the same, we readily devoured the "ice cream" treats, although I think I would have loved my versions here a lot more.
Ice cream happens to be my ultimate food weakness. I adore it with such passion that I am not safe left alone with a tub. Most often, I will eat so much, I hate myself when I finally stop.
So, making healthier alternatives is critical for me. (But don't get me wrong, I still indulge in ice cream every now and then.)
I actually have an ice cream maker. But I only used it once about six years ago because I misplaced the pieces — and I don't have the patience when the craving hits to wait for hours for my ice cream to freeze.
So, I was eager to try out some "No Machine" ice cream and frozen yogurt recipes when I got the Kenwood Blend-X Pro Blender to test out. And I am hooked!
Blueberry + Avocados + Bananas
I have a freezer full of organic frozen blueberries, I freeze a hundred pounds every summer, and so I decided to create a recipe based on blueberries.
I also wanted to add in some extra nutrition and we always have avocados on hand in our house. And finally, I added in some bananas I had frozen a few months ago, and began building my recipe…
But, after I popped my frozen yogurt into the freezer, I simply couldn't wait for it to freeze. I needed satisfaction now. (Remember the "no patience" thing?)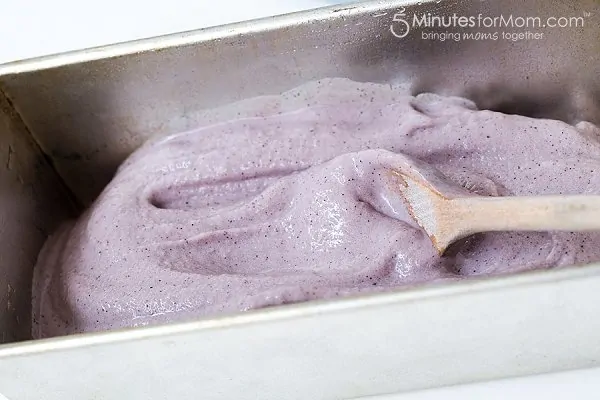 SO, I made a "Smoothie" version to drink while I waited. Totally reasonable, right?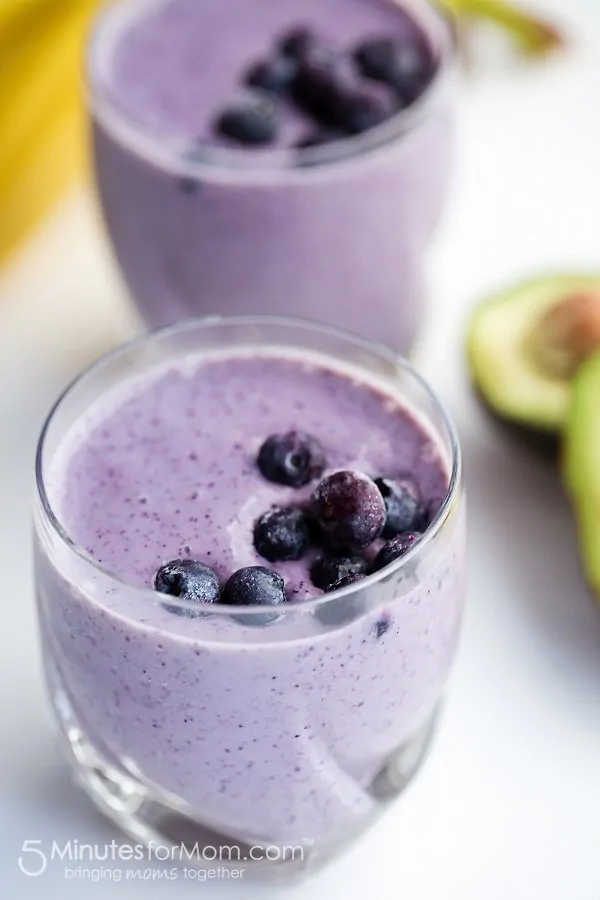 And just in case you share my impatience, I am including BOTH recipes for you. Yes, you get to have your HEALTHY, delicious treat, AND eat it too! Aren't I just so darn kind? So here it goes…
First, let's get started on your frozen yogurt and then I will tell you how I made a couple quick adjustments and made a smoothie so delicious I had to make a second batch immediately, because my kids couldn't get enough of it either.
Yes, the pickiest eater in the world, the child who works day and night to keep no healthy foods from willingly entering her body, my daughter Olivia, actually loved this smoothie.
For the frozen yogurt, I used Greek yogurt and while I usually only buy plain yogurt, I had just run out. So I borrowed some Activia Lime Greek Yogurt that my twin sister is addicted to and had well stocked in her fridge. This was a huge treat for me as I rarely eat flavoured yogurt in my quest to radically reduce sugar in my diet. (For full ingredient lists and directions, see recipes cards at the bottom of this post.)
For future batches, I will return to the plain Greek yogurt, and add a dash of lime juice for the extra flavour. When you make your frozen yogurt, feel free to choose either plain Greek yogurt or flavoured. And I highly recommend Activia's lime version. Oh my.
I also happened to have an unopened carton of whipping cream in my fridge that was leftover from Thanksgiving and needed using. To cut down on fat, you may want to choose a 2% milk or another milk replacement in your recipe.
The fantastic part about smoothies – and even ice cream and frozen yogurt making – is that it is really fast and easy. (And super yummy of course.)
I simply added my ingredients to my blender, the Kenwood Blend-X Pro Blender, and in seconds, I was done.
Here are a Few Tips and Tricks for Fabulous Blending…
Boost it up
Smoothies and frozen yogurts are the perfect opportunity to up the healthiness of your recipe. Because of the cool temperatures and the strong flavours of the fruits, veggies can go completely undetected. You can throw in spinach, kale, etc., and you and your kids won't mind.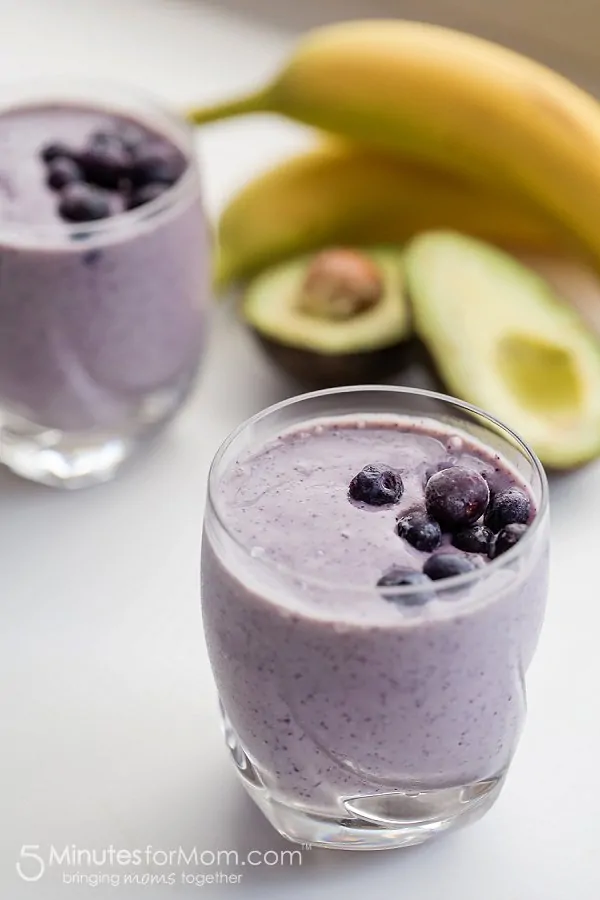 One ingredient that is absolutely perfect for smoothies and frozen yogurt is avocado. Avocado is creamy and packed with nutrients, bringing only good to your creation.
How to Peel a Frozen Banana
When freezing bananas, a good idea is to peel and cut the banana in chunks before you freeze it.
But, if you are like me and have ever been in a hurry cleaning your kitchen and have thrown whole bananas in the freezer, you will realize that peeling it can be a bit tricky if it is frozen.
No worries. Just pop the frozen banana in the microwave for about 20 seconds and then "peel" with a sharp knife. Works like a charm.
Crush Ice First
If you are adding ice cubes to your recipe, in addition to your frozen fruit and vegetables, grind your ice first and then add in the rest of the ingredients. The ice take a bit longer to crush and if you don't pre-grind you may have a few small ice chunks left in your mixture.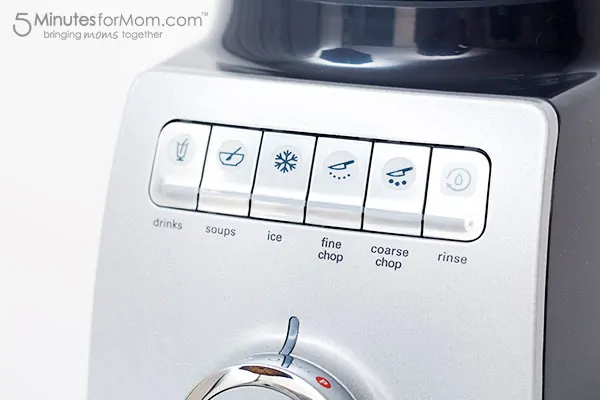 I LOVE how fast and perfectly the Kenwood Blender crushes ice — and that it has its own ice crushing preset. One button and wham, totally crushed.
Stop and Stir
When you are making your frozen yogurt, you don't want to add too much liquid and so you may need to stop and stir the mixture partway through your blending.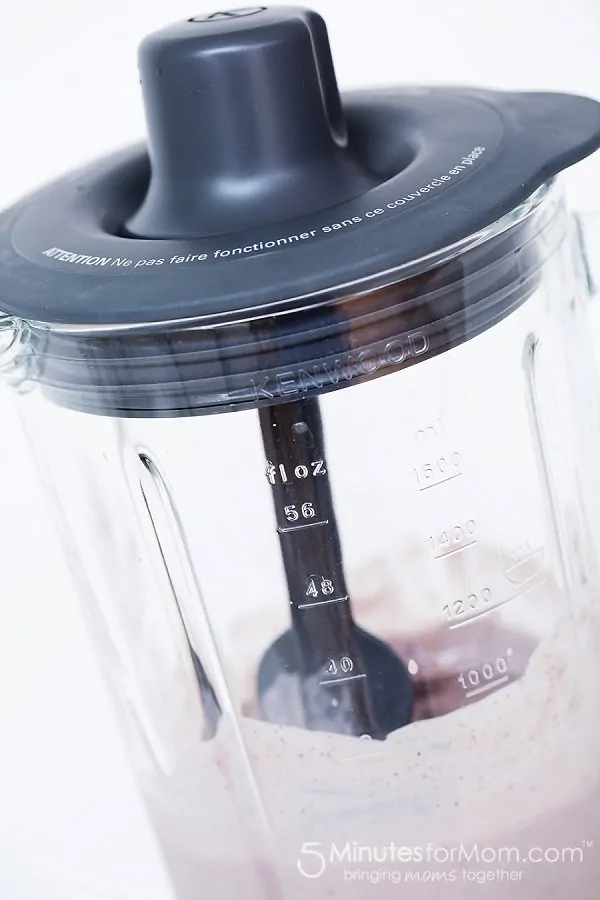 It was super helpful when I was making my frozen yogurt to have the stir stick to quickly give a stir without making a mess or even taking off the lid. One stir was all I needed.
Blend Again
After you have blended your frozen yogurt base, pour into a loaf pan or Tupperware and freeze for 2-3 hours, or until firm. This is when you may need to make yourself the smoothie version while you wait.
After your yogurt mixture has frozen, scoop it out and return it to the blender for a second blend to increase its creamy texture and add fluffiness. If, however, you simply must eat your frozen yogurt right away, grab a spoon and go to town. It will still be delicious without this extra step.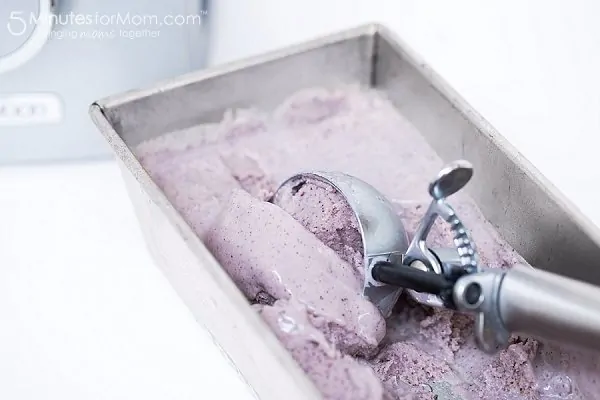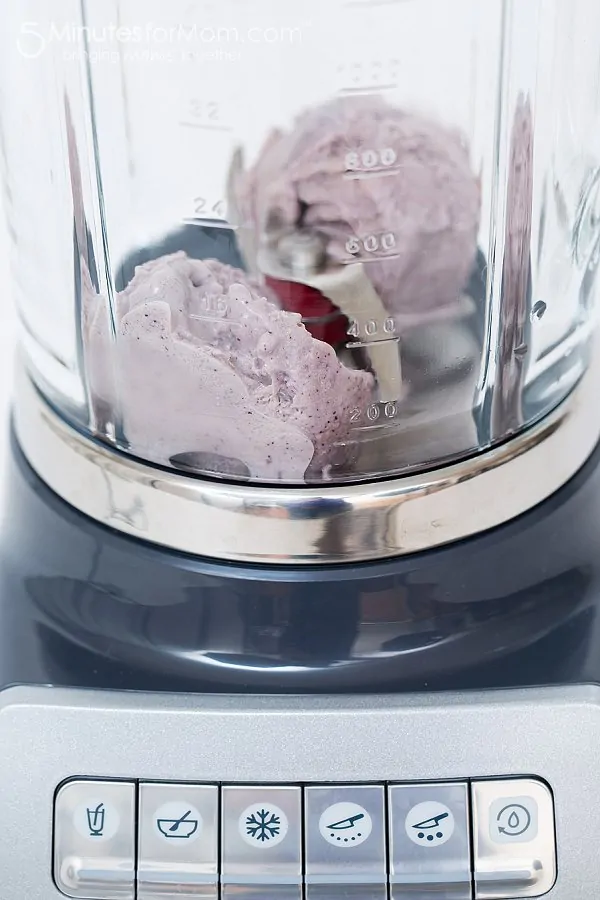 After you have finished the second blend, return the mixture to the freezer and wait for a few more hours.
Now, when you take it out of the freezer, you will be astounded at how creamy and scrumptious your healthy frozen treat is.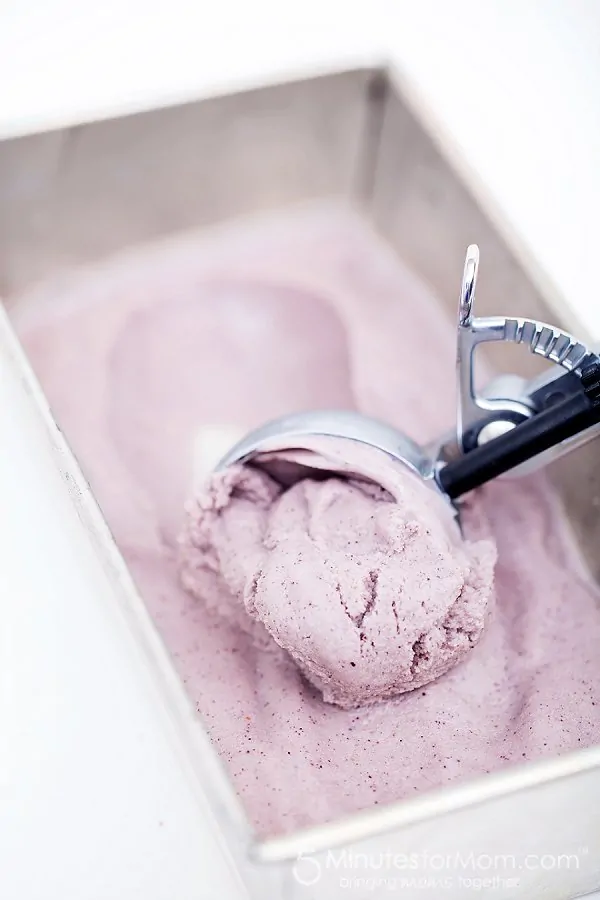 Clean Fast
I always rinse out my blenders by giving them a quick spin with some warm water and a drop of dish soap.
On the Blend-X Pro Blender, Kenwood has made cleaning one step easier by including a Rinse preset button. Forget letting your drinks and food dry up in your blender and make a huge cleaning mess for yourself. A quick rinse is all it takes to remove the mess. Then you can take apart your blender for a more thorough washing when you have time.
Enjoy!
Okay, get ready. Time to reward yourself…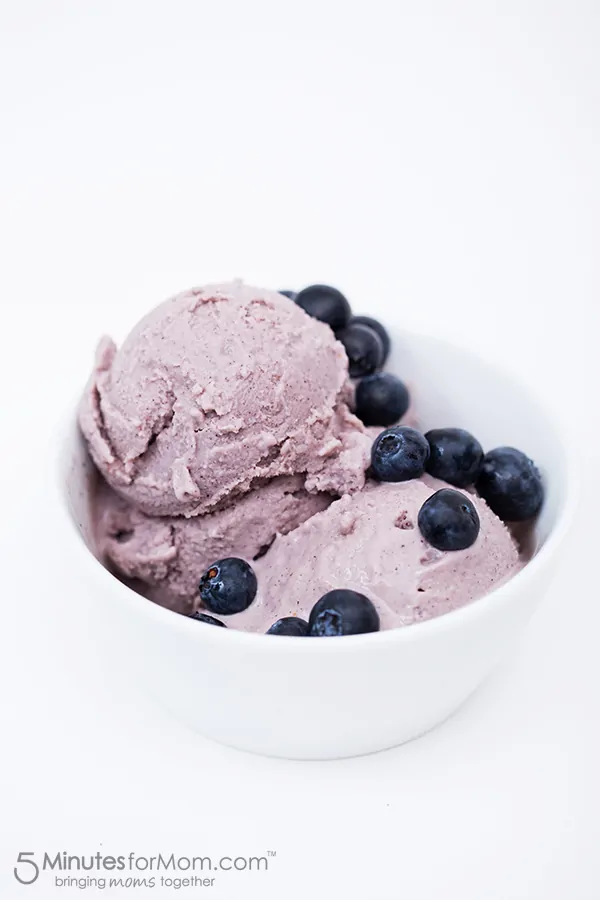 Enjoy your Blueberry and Avocado Frozen Yogurt and then get started on your next batch, because the kids are going to want some too…
The Recipes
Blueberry and Avocado No Machine Frozen Yogurt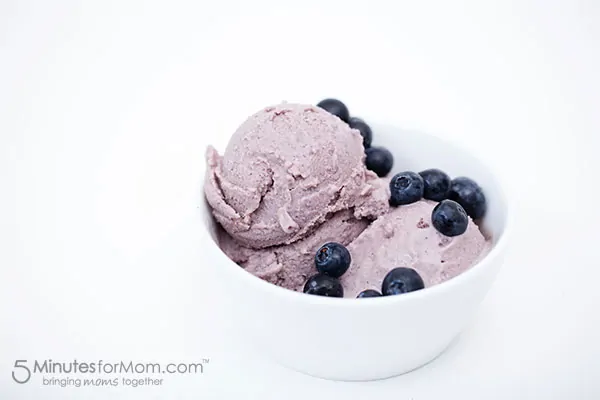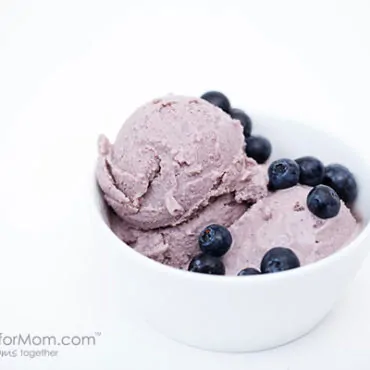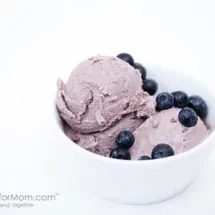 Blueberry and Avocado Frozen Yogurt
This delicious NO Machine Frozen Yogurt recipe only uses a blender to make and will satisfy your sweet tooth, while fueling your body with vitamins, protein, and healthy fats.
Print
Pin
Rate
Servings: 2 -3
Ingredients
2 cups Greek yogurt - plain or lime flavoured
1/3 cup heavy cream - or milk substitute of choice
1 medium frozen banana
1 cup frozen blueberries
1/2 ripe avocado
1 teaspoon pure vanilla extract optional
Instructions
Place all ingredients in blender

Blend until smooth, stopping to stir mixture as needed

Pour yogurt mixture into loaf pan or tupperware

Freeze for 2-3 hours or until firm

Scoop out frozen yogurt mixture and return to blender

Blend until creamy and smooth

Pour back into loaf pan or Tupperware

Return to freezer for at least two more hours
Blueberry and Avocado Yogurt Smoothies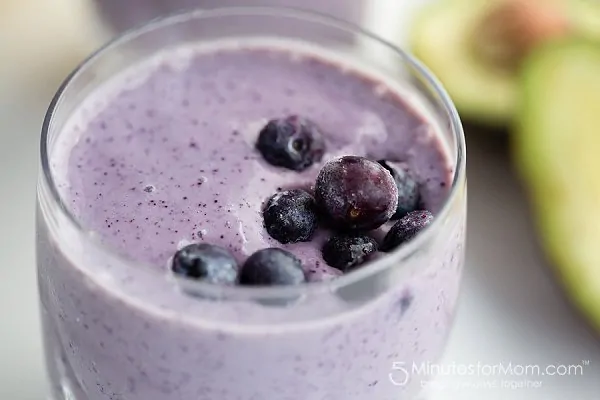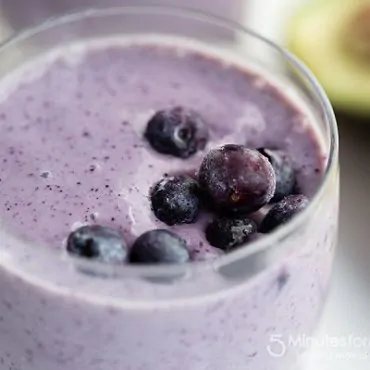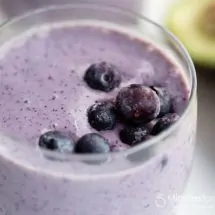 Blueberry and Avocado Yogurt Smoothie
For a quick, healthy and delicious smoothie, frozen blueberries and bananas along with ripe avocado are a perfect combination.
Print
Pin
Rate
Servings: 2
Ingredients
4-6 ice cubes
1 1/2 cups Greek yogurt - plain or lime flavoured
1 cup milk- or milk substitute of choice
1 medium frozen banana
1 cup frozen blueberries
1/2 ripe avocado
Instructions
Crush ice cubes in blender

Add remaining ingredients

Blend until smooth, stopping to stir if necessary
Written and photographed by Janice Croze, co-founder of 5 Minutes for Mom.
Please Note: I received product from Kenwood to review and test out in my kitchen, along with compensation for my time to create and publish these original recipes. All opinions are entirely my own. This post is in compliance with the FTC and its regulations.