This post may contain affiliate links. Read my disclosure policy here.
Family movie nights are one of our favorite ways to spend family time together in the fall and winter. When the weather turns cold and the evenings get dark early, it's time to host a family movie night. And now that Jurassic World: Fallen Kingdom is available in stores on Blu-Ray and on digital download, you can host an epic Jurassic World Movie Night with your kids.
This post is sponsored by Universal Pictures Home Entertainment.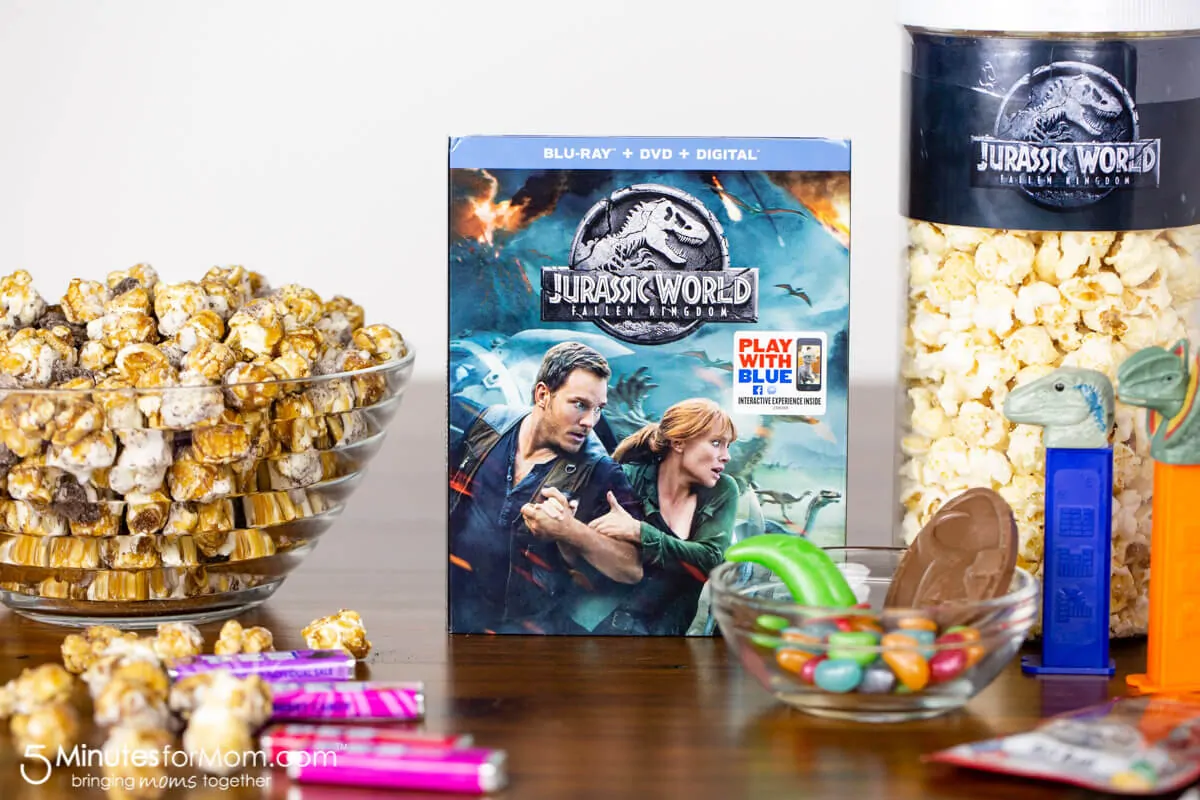 We received a cool Jurassic World: Fallen Kingdom movie night kit to help us spread the word about the movie's Blu-ray™ + DVD now available in stores. Our kids were thrilled to get movie themed shirts, candy, and popcorn.
But you don't need to receive a movie kit in the mail to host your own dinosaur party.
How To Host A Jurassic World Movie Night
Family movie nights are fantastic because you can put as much or as little effort into it as you want. How far you go with movie themed treats and decorations may also depend on how old your kids are and whether or not you invite cousins or other extended family and friends.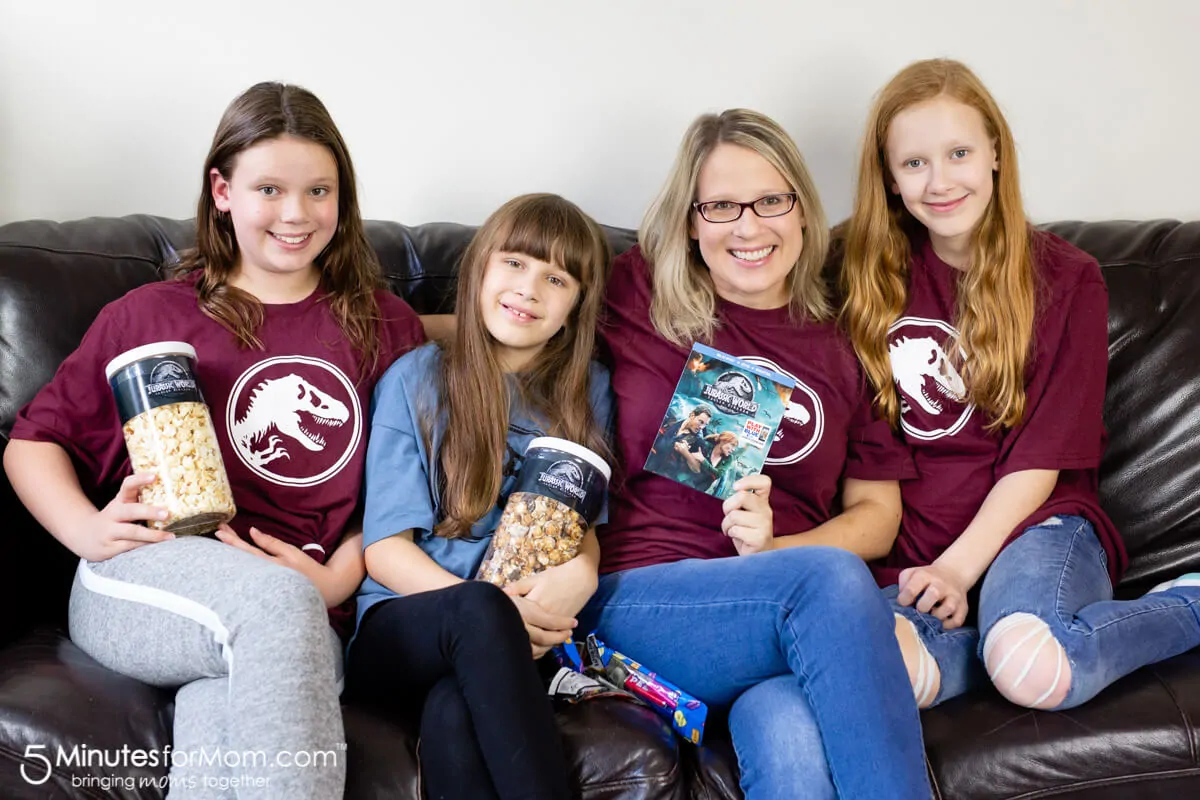 Here are 5 tips to make the most of your family movie night…
Jurassic World: Fallen Kingdom
Jurassic World: Fallen Kingdom is now available on Blu-ray™ and DVD. We suggest the combo pack that includes Blu-ray™ + DVD + Digital.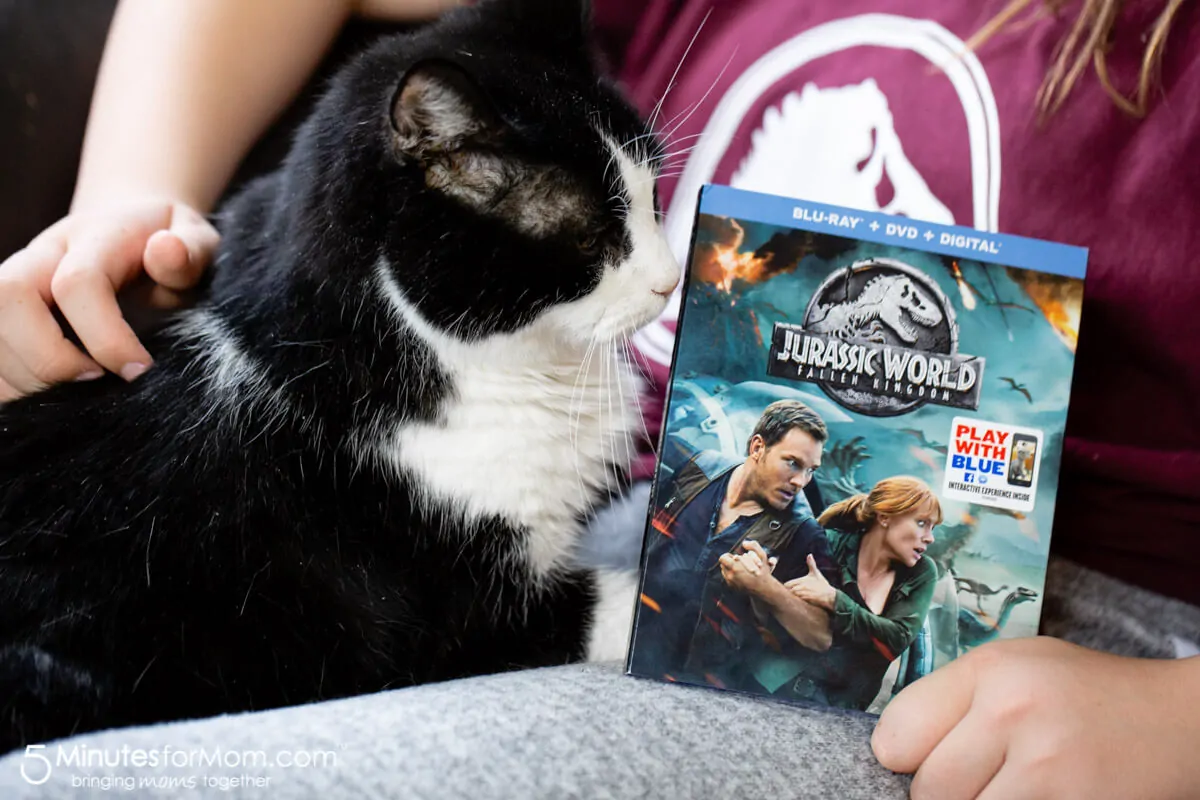 Building on the wonder and adventure that has mesmerized audiences worldwide, Jurassic World: Fallen Kingdom continues one of the most thrilling series in movie history with an adventure 65 million years in the making, captivating audiences of all ages with a stunning new chapter filled with more dinosaurs than any other Jurassic film.
Whether your kids have seen every film in the Jurassic series, or this is the first one they've seen, they will love the adventure and incredible plot twist.
I remember watching the first Jurassic Park as a kid and it's so great that now I can enjoy the whole series with my own kids.
This is definitely a movie that kids will watch over and over, so it's a perfect one to buy on Blu-ray™ or DVD.
Take a look…
Giveaway
Would you like to win a Jurassic World Prize Pack including:
Copy of the Jurassic World: Fallen Kingdom Blu-ray
Jurassic World Hat
Jurassic World Candies
Leave us a comment letting us know if your family enjoys the Jurassic Park and Jurassic World movies and what you like to do for family movie nights. Then complete your entry using the entry form below.
Sorry to our Canadian friends, this giveaway is open to the US only.
To win more great prizes, check out these giveaways.
Pin it for Later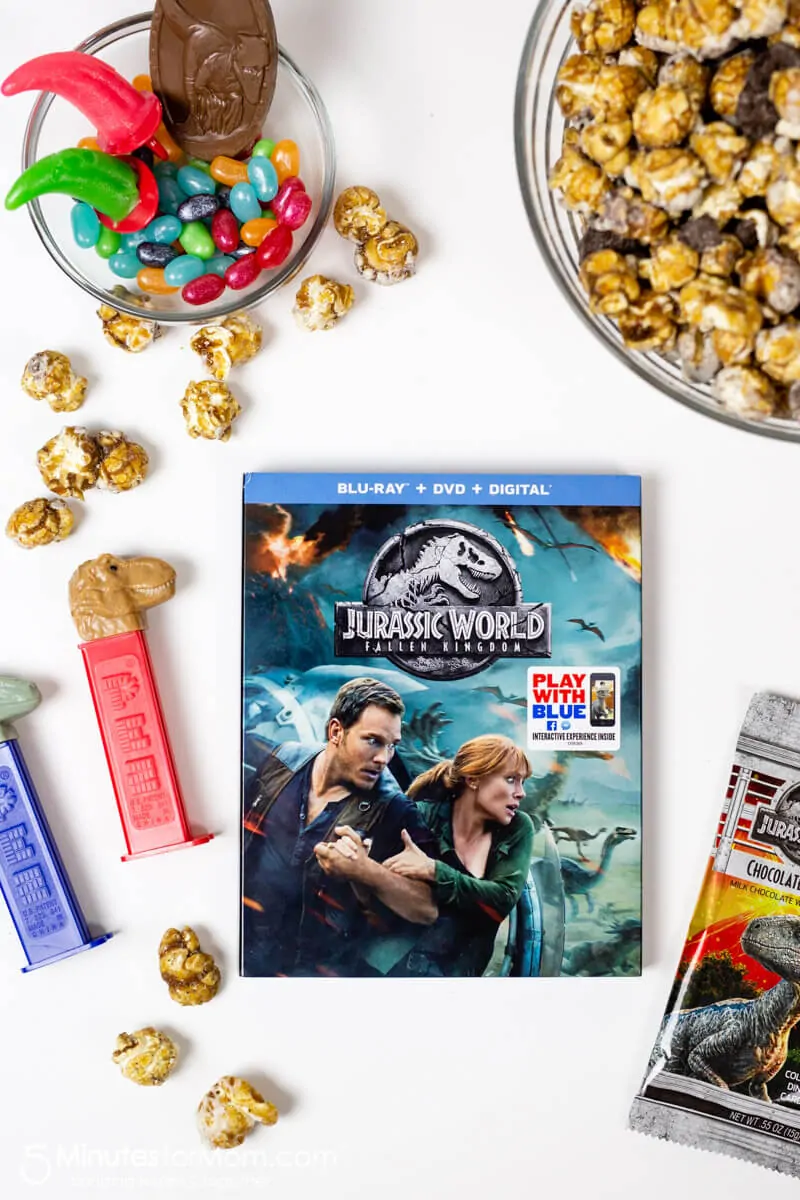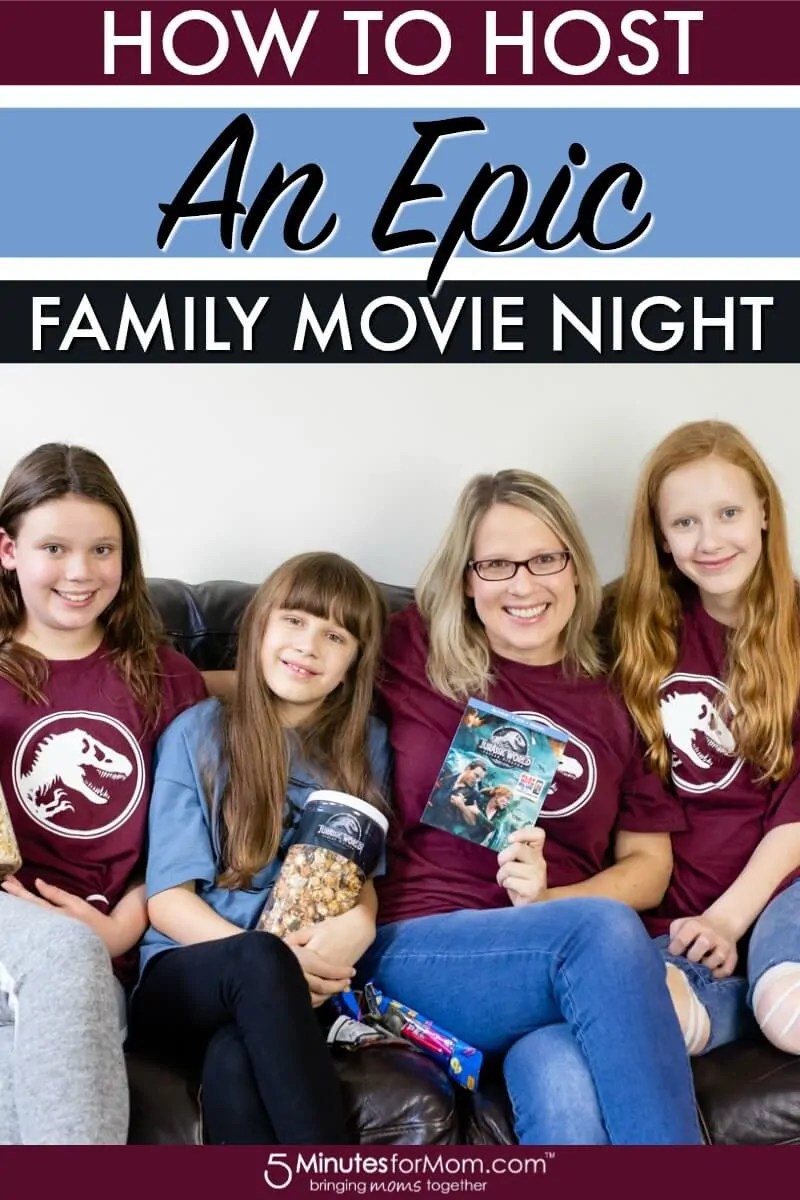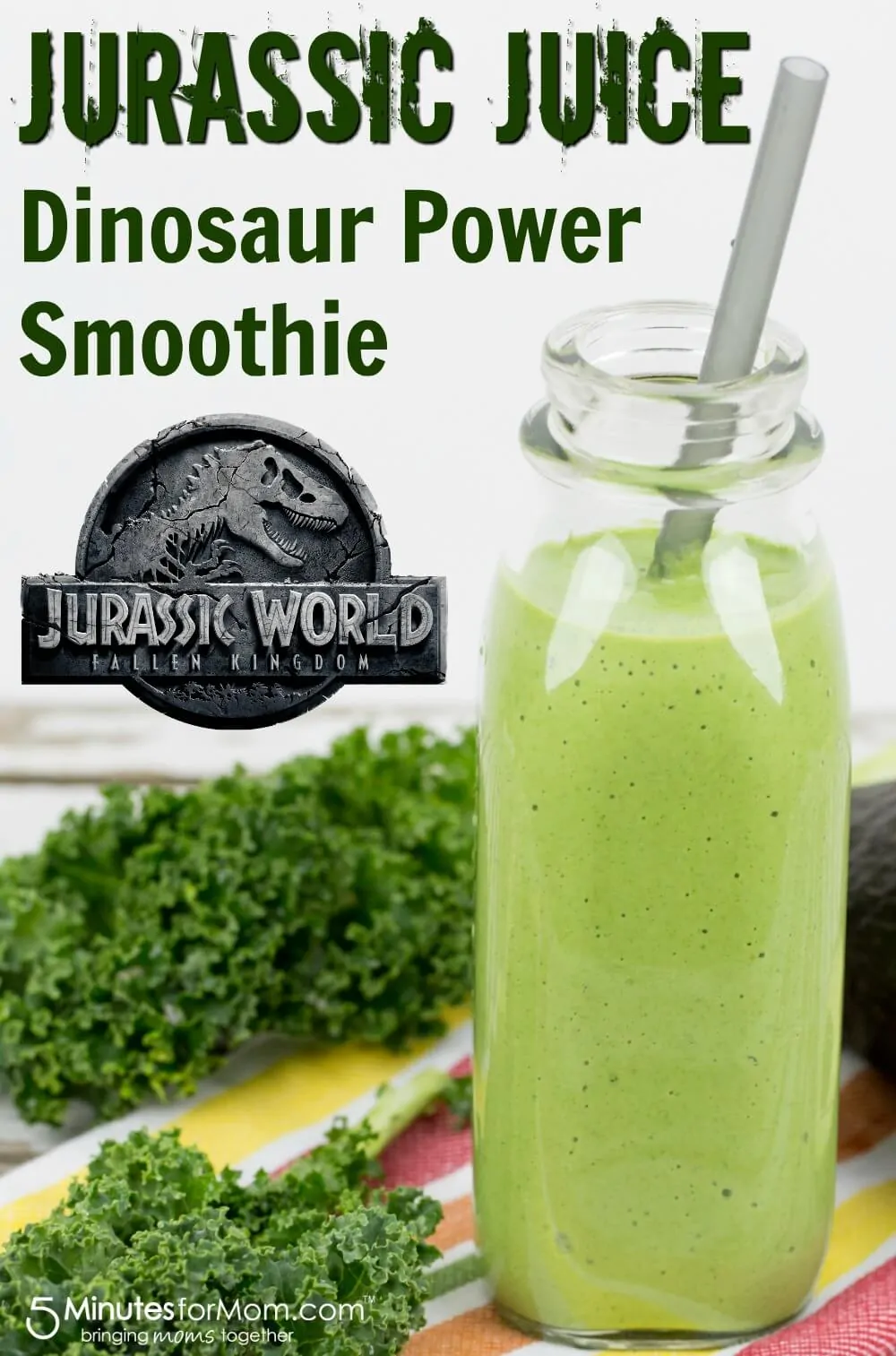 Disclosure: This post is sponsored by Universal Pictures Home Entertainment.
Written by Susan Carraretto, co-founder of 5 Minutes for Mom
Talk with me: @5minutesformom and Facebook.com/5minutesformom
Pin with me at pinterest.com/5minutesformom