This post may contain affiliate links. Read my disclosure policy here.
It's finally time to fall into Autumn. 😉 To celebrate the season, Lisa made an elegant DIY fall wreath. Follow her step-by-step tutorial with photos to make your own.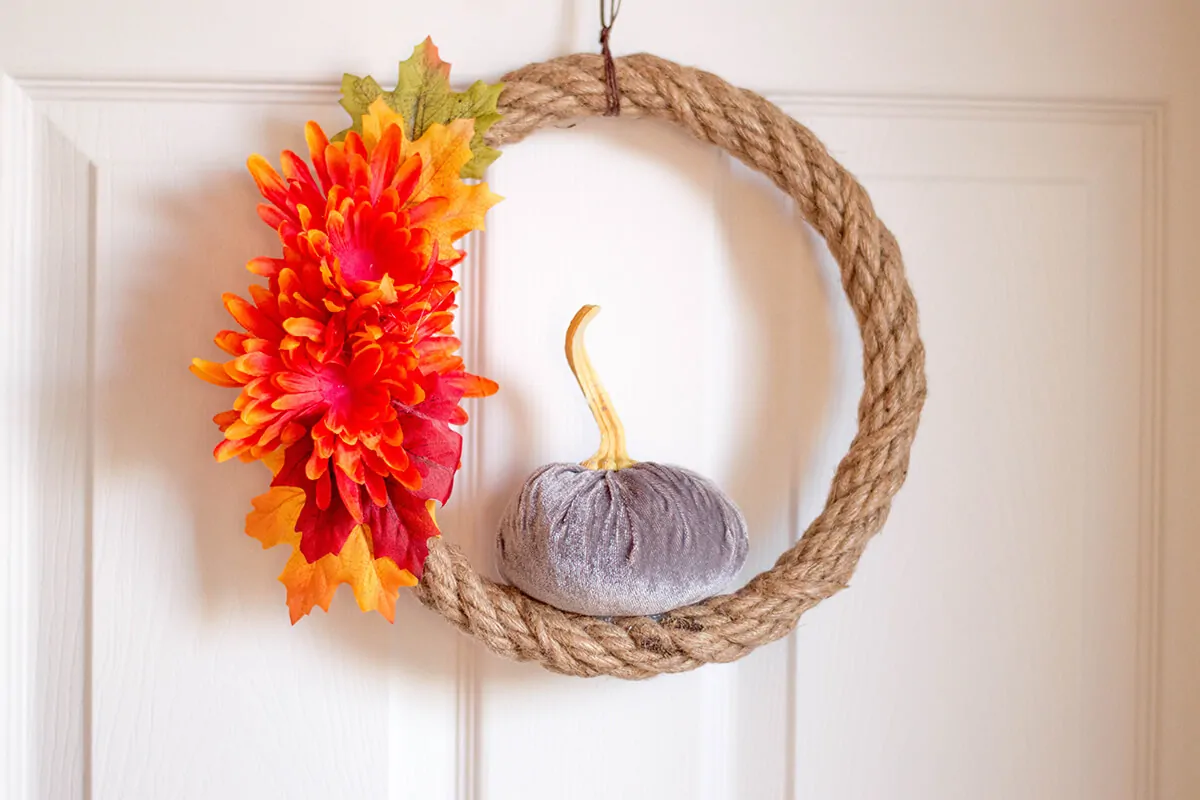 Happy autumn, everyone! Lisa reporting for DIY duty and I am so stoked to show you how I made my very first DIY fall wreath.
I am all about DIY décor when it comes to sprucing up my home. At the beginning of the summer, I celebrated warmer weather and bright colors with these DIY paper flowers. I guess you could say, I have this thing about home décor and furnishings.
Now that autumn is just around the corner I thought, "We've never had a Fall wreath in any of our homes. Ever!"
So I decided to change that.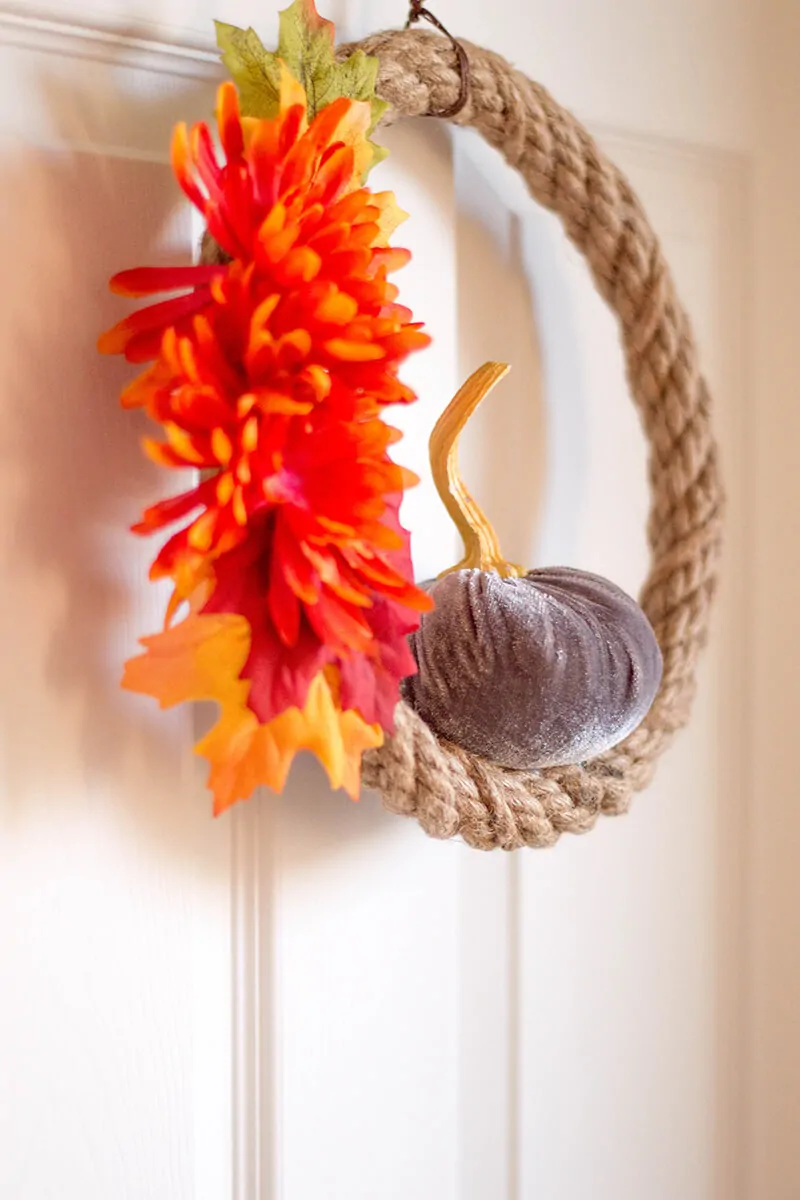 This DIY Fall Wreath is extremely easy to put together. I also purchased everything from the dollar store. Yes! Score!
Make Your Own Elegant DIY Fall Wreath
Supplies
Temporary stick-on wall hook
Scissors
Hot glue gun
Rope/Burlap wreath, about 9 inches in diameter
Faux/silk autumn-themed flowers and leaves
Velvet pumpkin, small enough to fit in the center of your wreath
3 20-inch strips of waxed string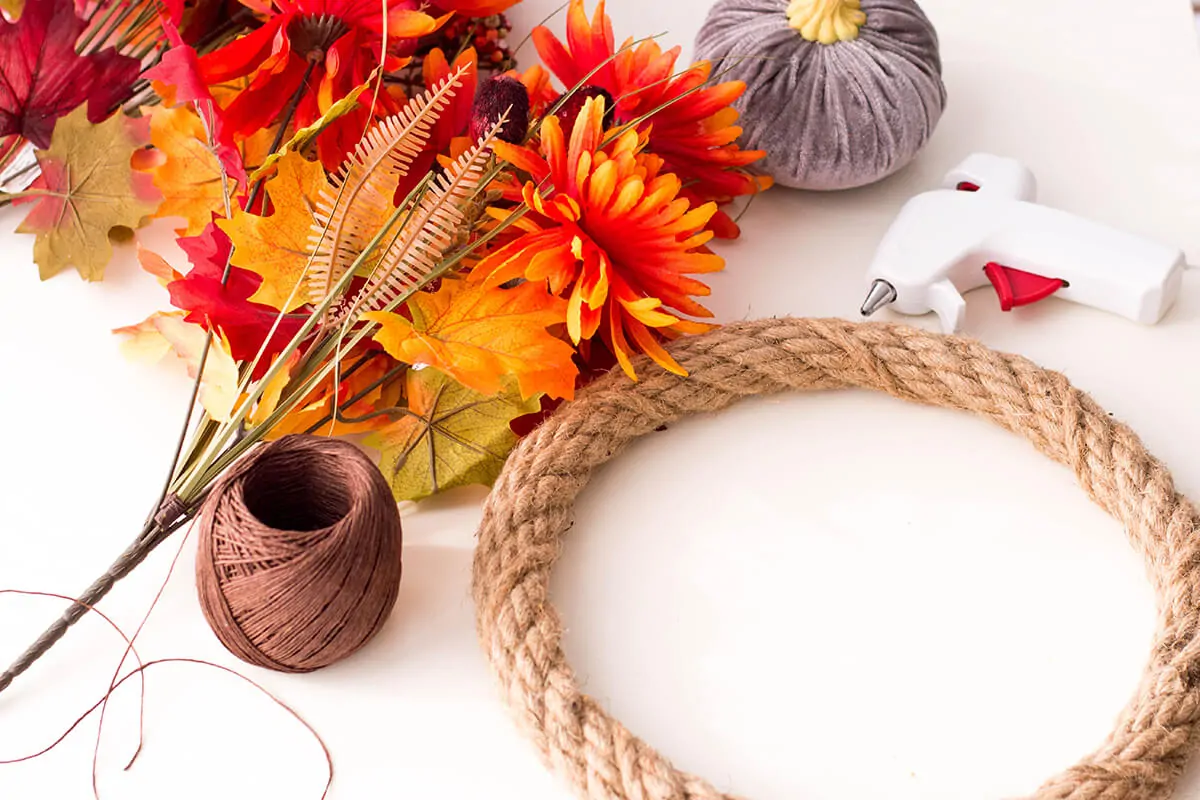 Hook It!
First thing's first, I decided to go for a temporary stick-on wall hook so that I didn't have to put a nail and hammer to our door. In fact, I opted to hang my DIY Fall Wreath on our closet door to add some décor within our home.
When you're placing the stick-on hook, ensure that you're sticking it on a clean, dry surface.
Flower Prep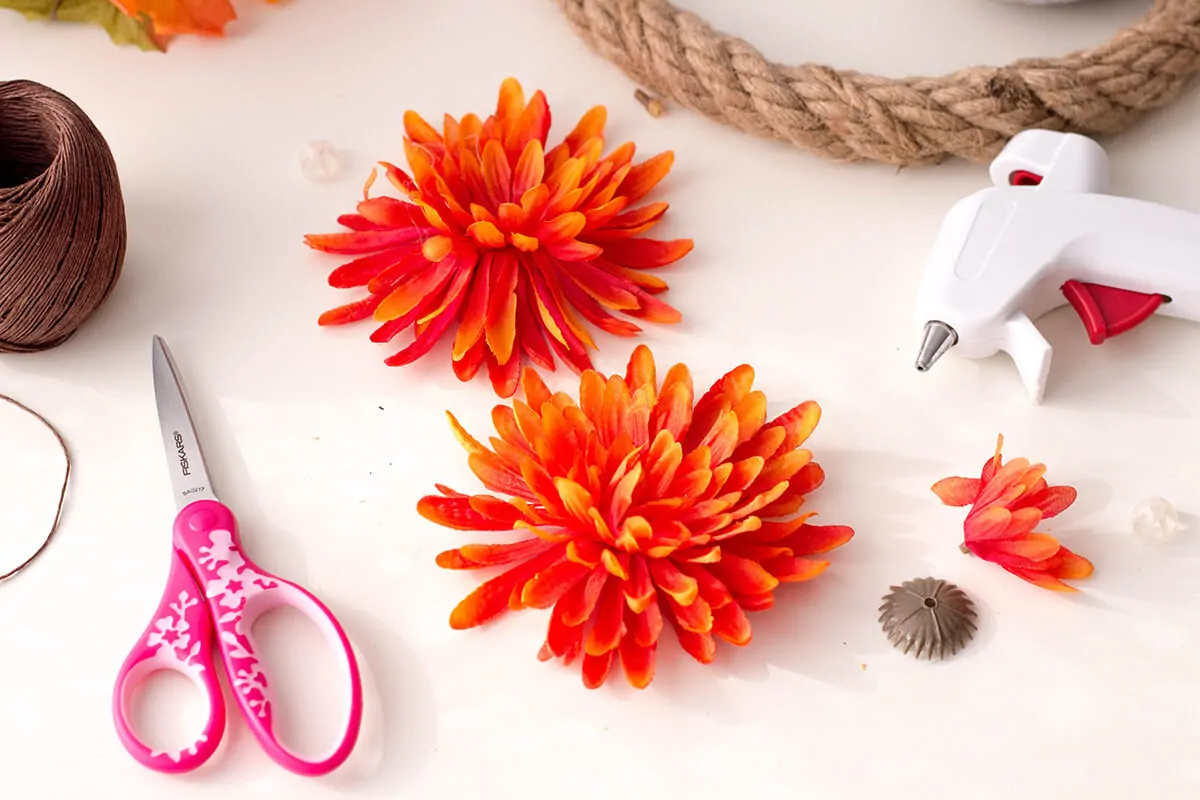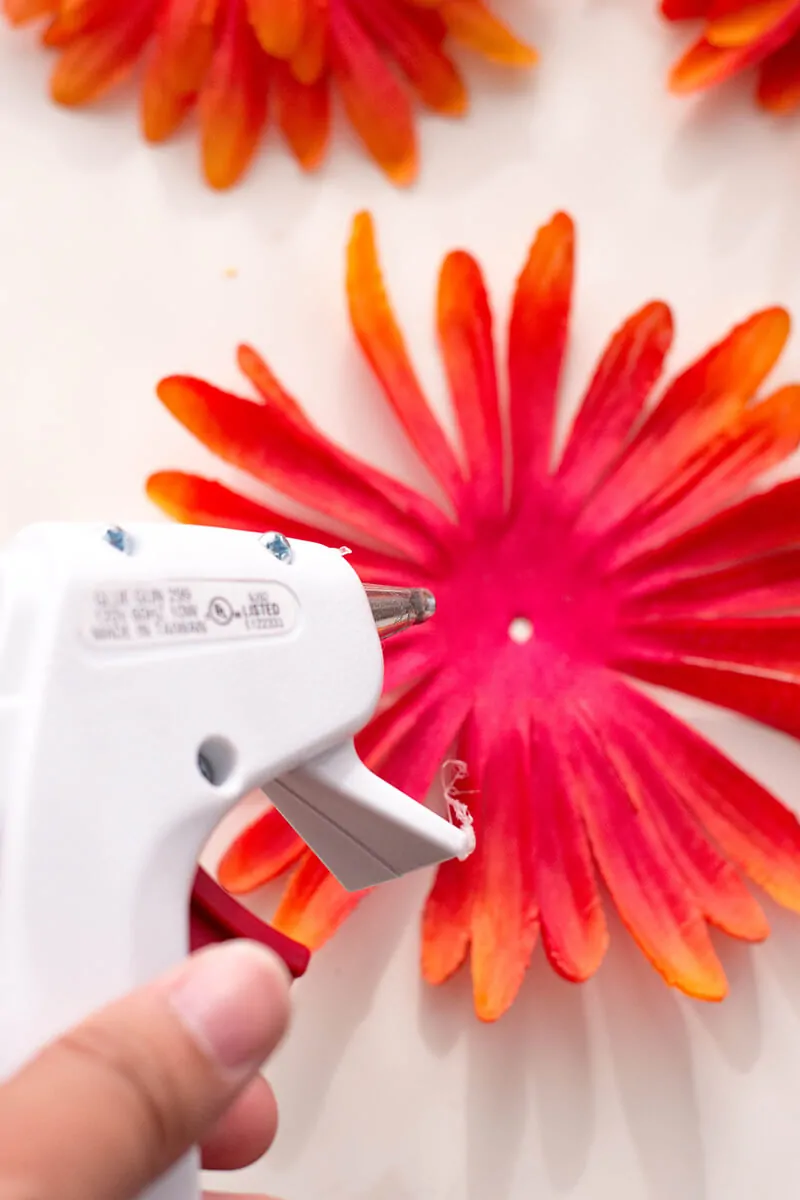 For the flower arrangement of this wreath, I decided to put two large flowers on the left side of the wreath, surrounded by faux maple leaves.
If your silk flowers are presented in a bouquet, cut them off from their "stems." Most silk flowers are put together in layers, so when you cut them, they'll come off in individual petal layers. If this is the case, glue each petal layer back into form by using a hot glue gun.
Arrange Flowers and Leaves on Wreath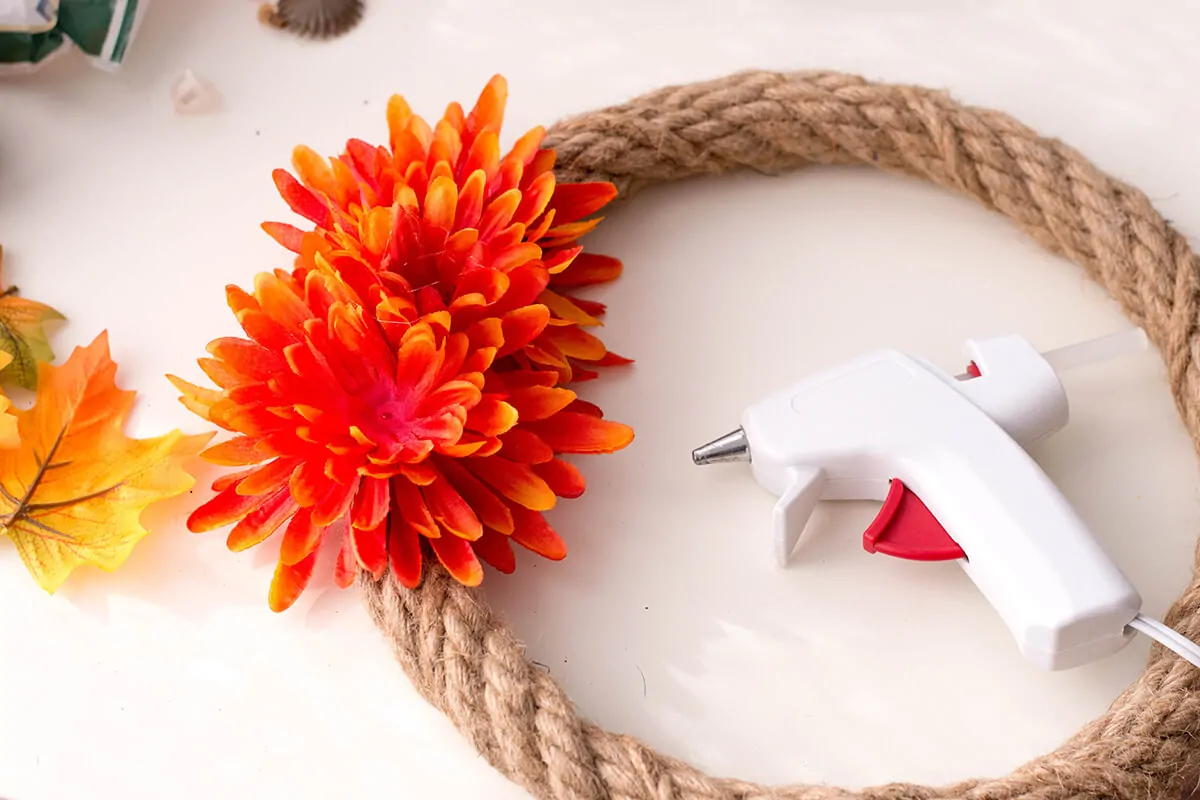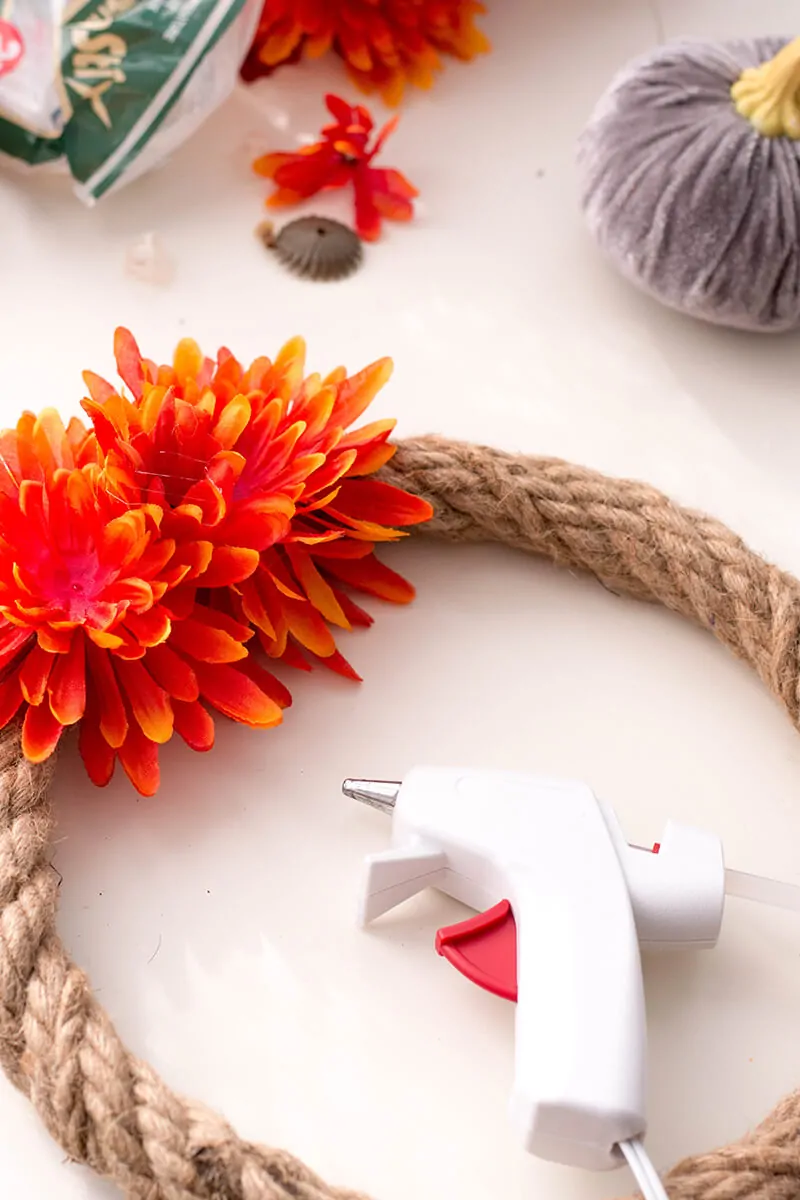 Once your flowers are assembled and dried, arrange them on the wreath. I opted to place them on one side of the wreath and then surrounded them with 4 maple leaves.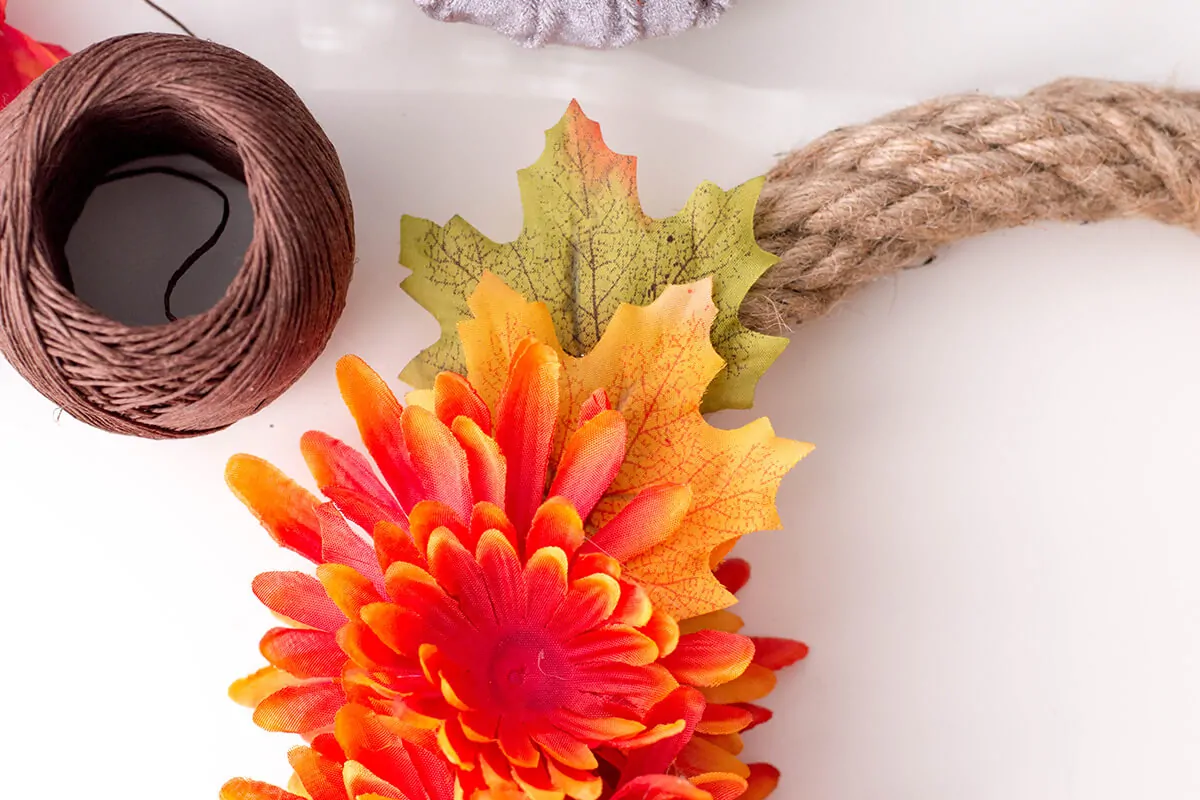 Pumpkin, Pumpkin
With your hot glue gun, secure the velvet pumpkin in the inner-center of your wreath. Stand it up to dry – I leaned my against the wall and gave it about an hour to set.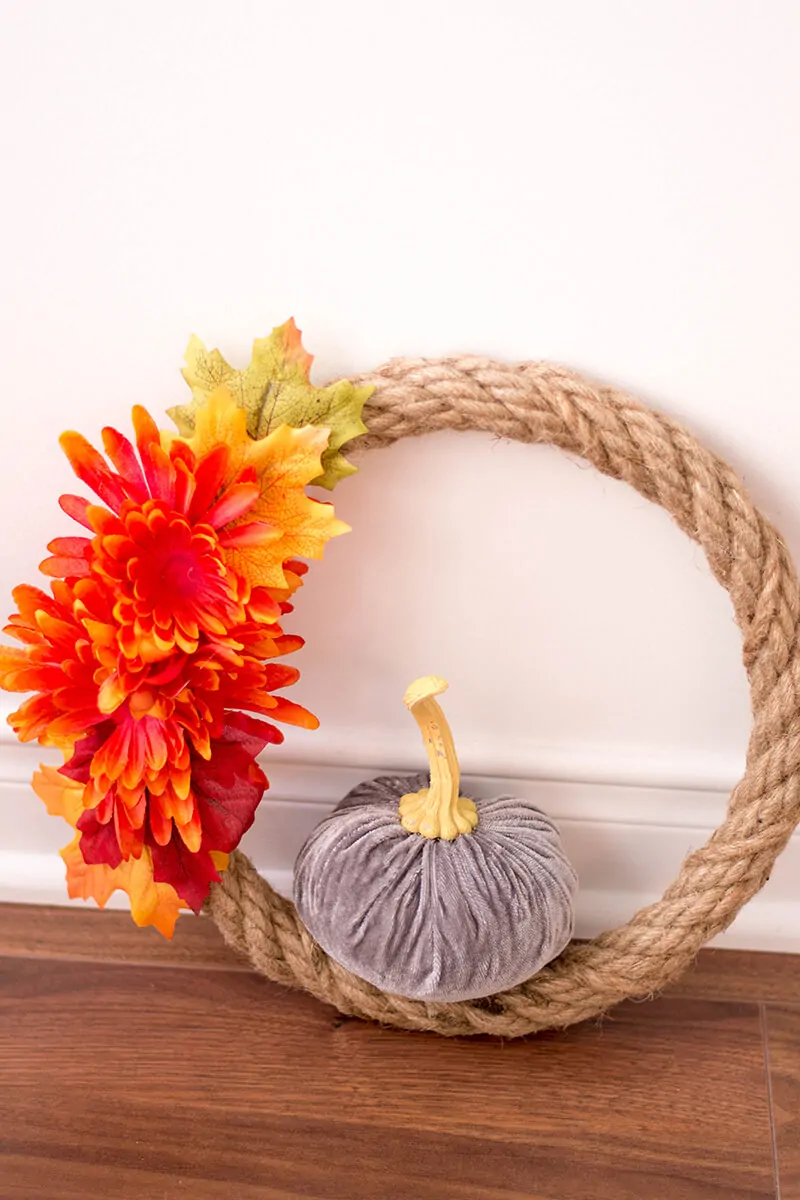 Hang It Up!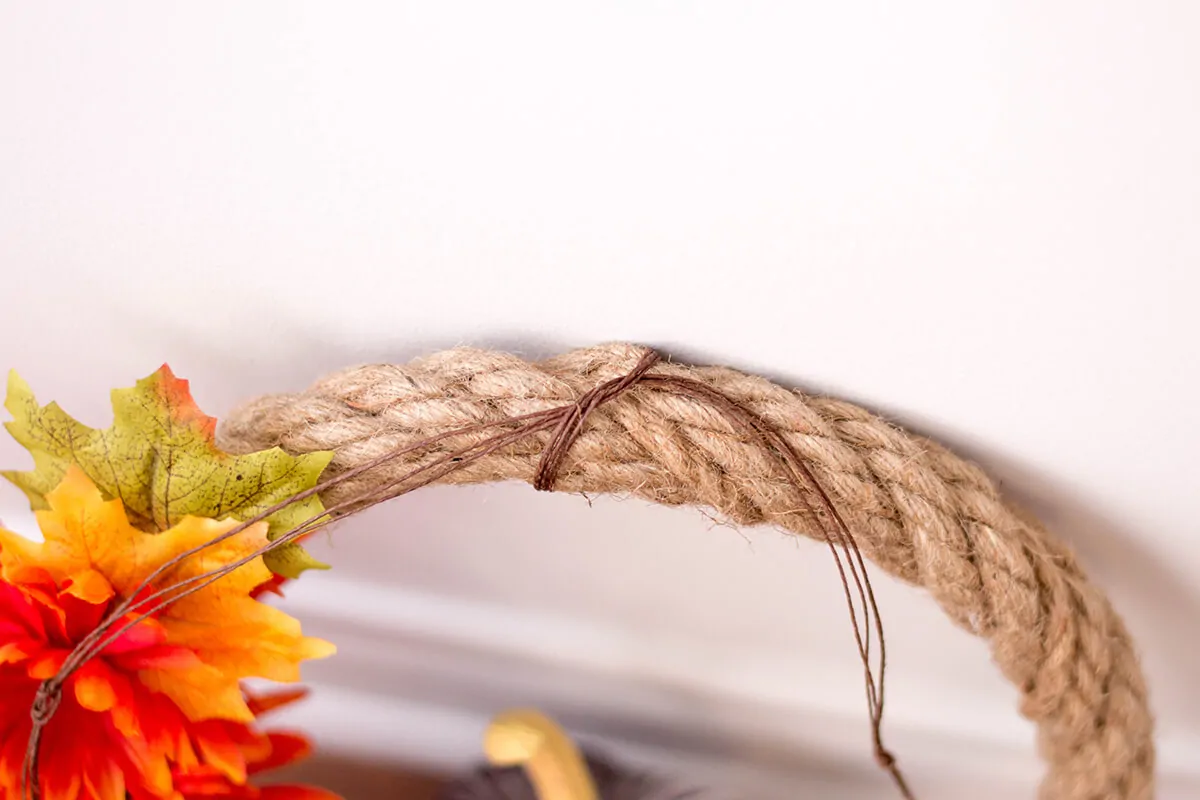 Tie your strips waxed string on the top of the wreath and hang it on your stick-on hook.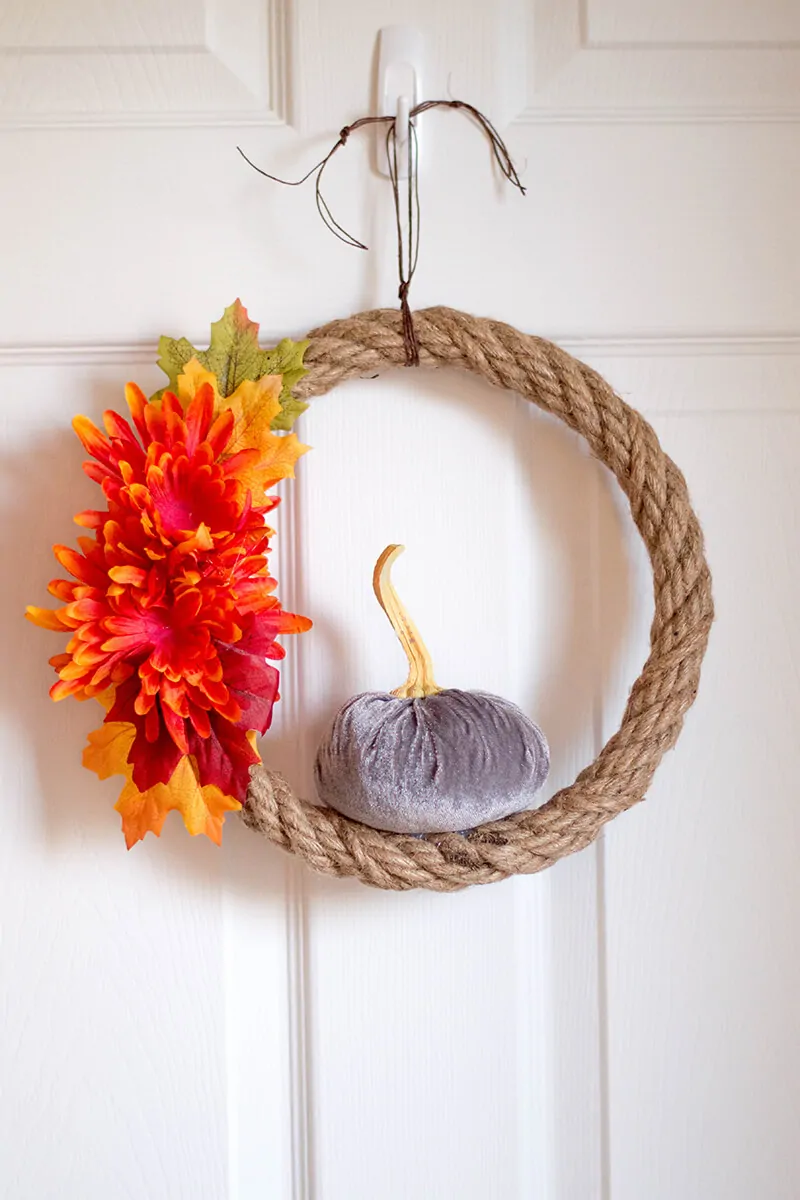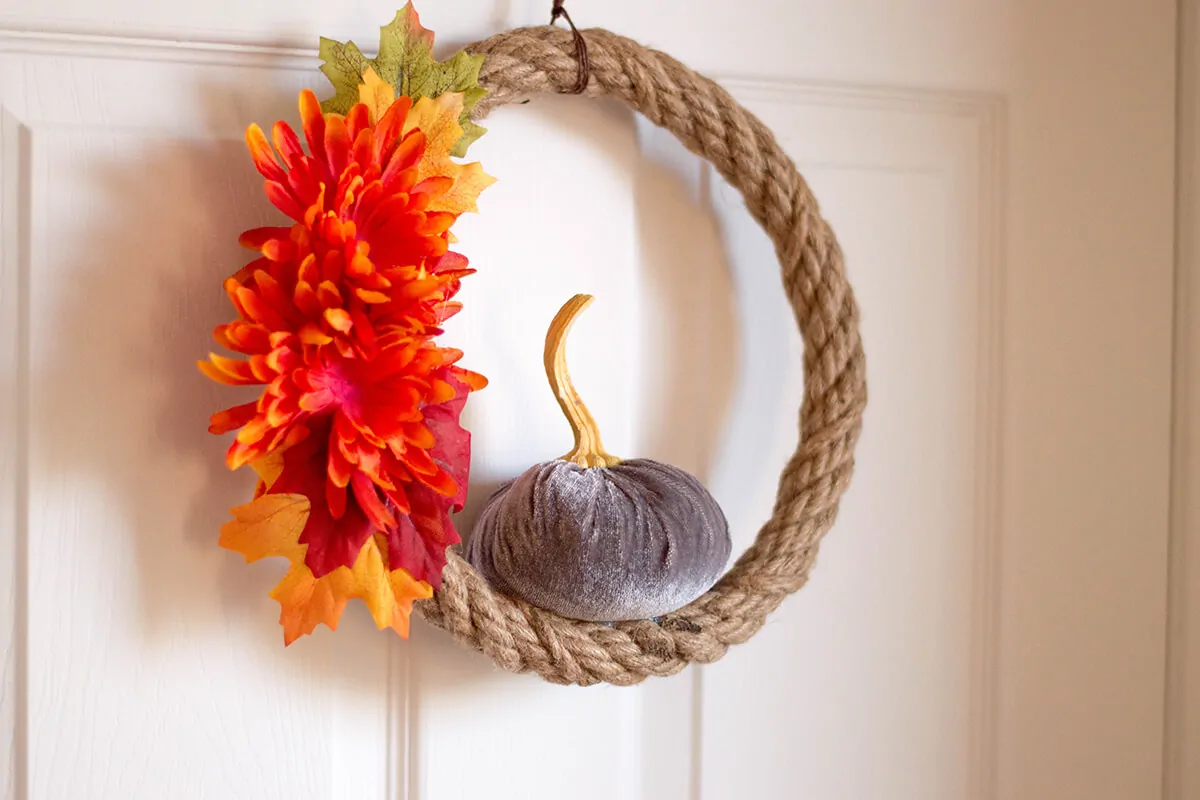 How do you decorate your home for Fall?
Pin it for Later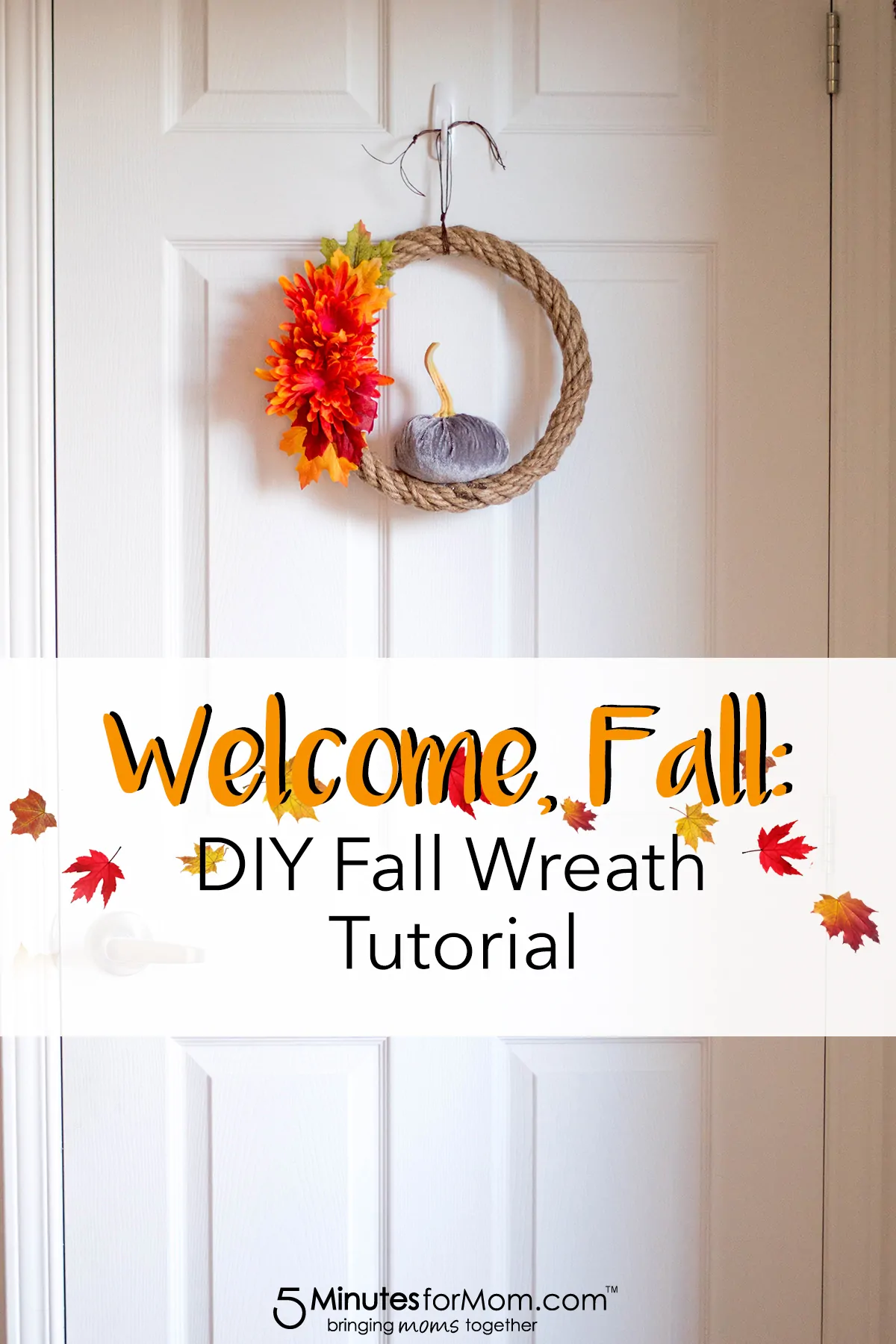 Written by Lisa Favre for 5 Minutes for Mom
Talk with us: @5minutesformom and Facebook.com/5minutesformom
Pin with us at pinterest.com/5minutesformom