This post may contain affiliate links. Read my disclosure policy here.
Do your kids love ranch dip with their raw veggies? This easy ranch veggie dip is so delicious, your whole family will gobble it up!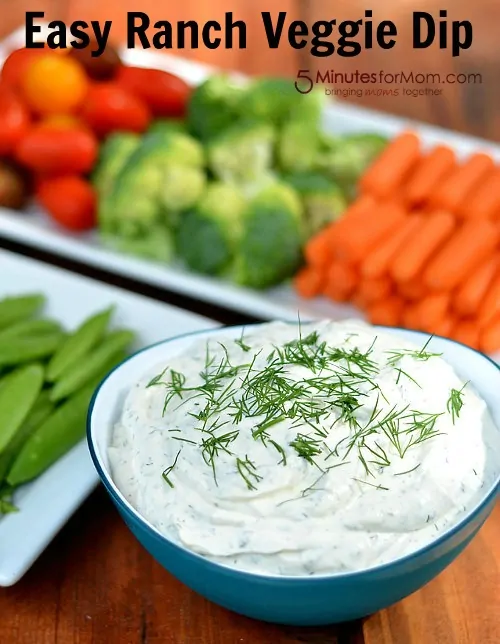 When I was a young thing in college . . . and then a young married thing living in my very grown-up house . . . I thought a trip to the grocery store was necessary every time I wanted salad dressing, dips, sauces, and the like.  Bottles and spice packets would find their way into my cart because everyone knew the best dressings, dips and sauces came from the store.
Sheesh . . . I was so uneducated and uninspired!
The last several years of my culinary adventures, I have learned very few products found at the grocery store can compare to what I can make in my kitchen; when *you* control the flavor and portions, food tastes better, fresher and — thanks again to your control — you avoid all the extra junk that goes into so many processed food items today.
You don't need a biochemistry degree to make your own condiments, folks, as this Easy Ranch Veggie Dip proves.
How To Make Easy Ranch Veggie Dip
This dip has become a weekly staple in our meal plans; every Sunday night is "Finger Food Night" and I pull out the freshly cut veggies, homemade meatballs, cheese, dipping sauces and then I whip up this ranch dip.  The kids go to town chowing down on the food and when they are finished, the leftovers are portioned into single serving baggies for quick lunches and snacks through out the week.  Best meal theme night ever — delicious and ends up saving time the rest of the week.
For the dip, I love the flavor dill brings to it but you can always adjust the various herbs to what your palette prefers.  As we've already discussed, that's the beauty of being the one in charge.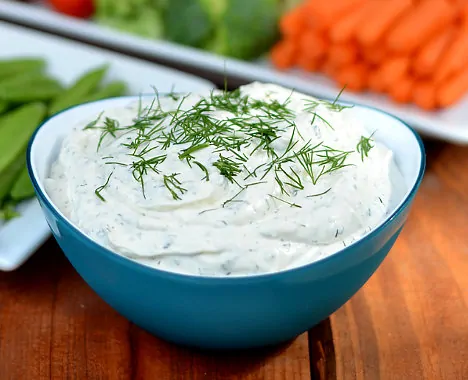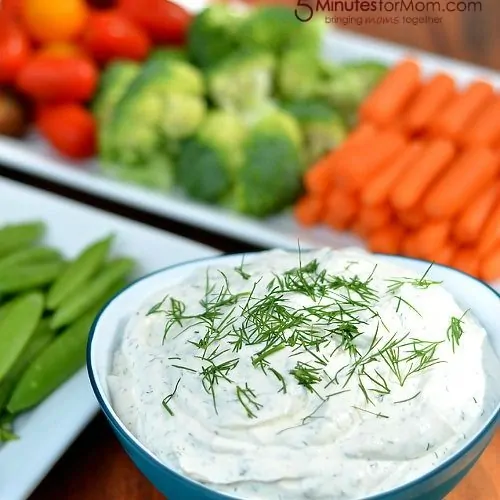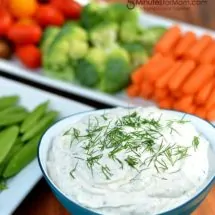 Easy Ranch Veggie Dip
Easy dip that comes together in minutes using kitchen and pantry staples.
Print
Pin
Rate
Ingredients
8 oz of Sour Cream
1/3 cup Mayonnaise
1 teaspoon of Onion Powder
1/2 teaspoon of Garlic Powder
2 teaspoons of Dried Dill
1 teaspoon of Dried Basil
1/2 teaspoon of Dried Parsley
Salt and Pepper to taste
Instructions
In a small mixing bowl, stir the sour cream and mayo together until smooth and well blended.

Add the herbs and spices, stirring till fully incorporated.

Add a dash of salt and pepper to taste.

Cover and chill in the refrigerator till ready to serve with your favorite vegetables.
You Kids Will Also Love…
These Chicken Tenders are perfect to make for your kids whenever you want an easy dinner of finger foods.