This post may contain affiliate links. Read my disclosure policy here.
This Vegan Spinach and Artichoke Dip is perfect to bring to a party! Pair the dip with delicious, healthy, allergen-free SPOKES Air-Puffed Potato Snacks. We love that a Canadian mom created SPOKES Potato Snacks and they are free of preservatives, colours, artificial flavours, as well as free of wheat, gluten, dairy, soy, egg and are made in a peanut-free facility. They taste even better when you dip them in our creamy Vegan Spinach Artichoke Dip. This post is sponsored by Spokes.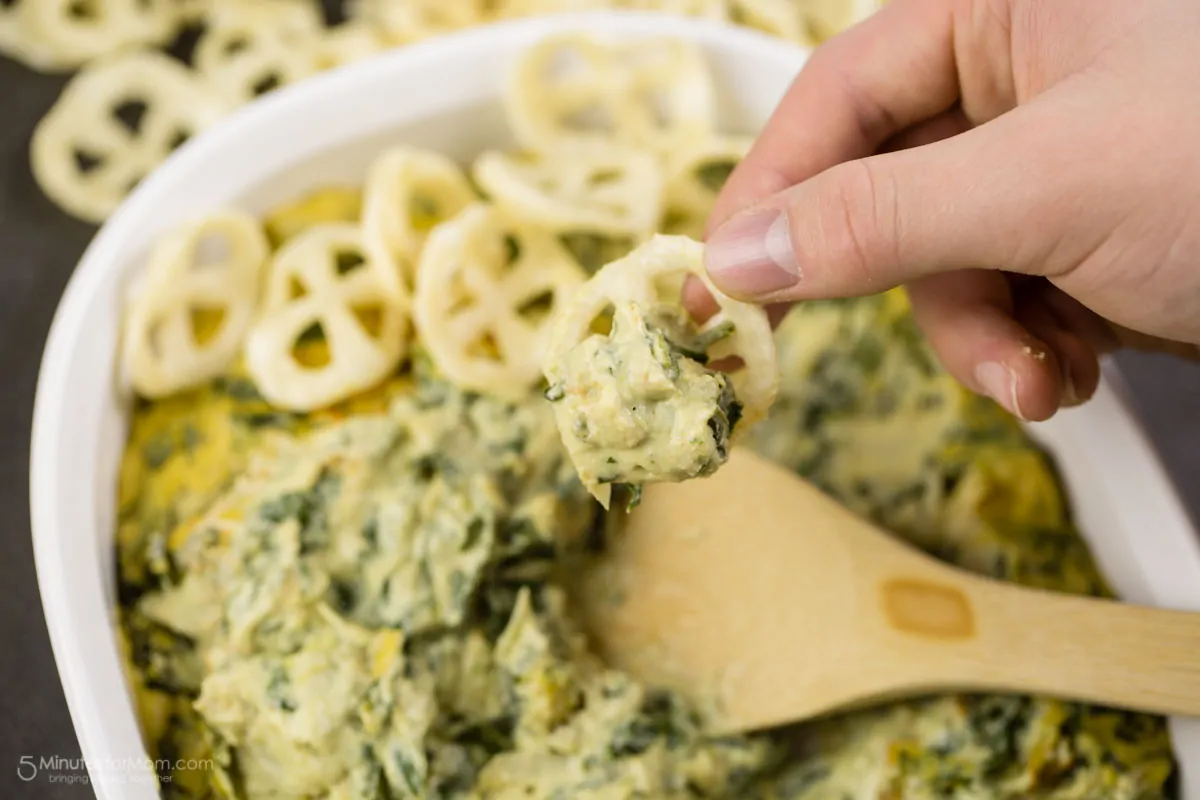 When I brought home my first baby, I was stunned by three things: the cruelty of sleep deprivation, the never-ending loads of dirty laundry, and the shocking number of hours it took to feed a newborn baby.
At eight hours a day, nursing a newborn baby was literally a full-time job. While nursing my babies were some of the sweetest, most blissful hours of my life, I found it quite an adjustment to have to devote the bulk of my waking hours to feeding (and cleaning) my little human.
I remember how I thrilled I was when my babies learned to become more efficient eaters so that we could spend more of our day "getting things done."
Ha. What a naive woman I was.
Eventually, I would learn that the feeding and cleaning of my children, at all of their ages, would ALWAYS be a full-time job, regardless of the fact that I had to also work a PAYING job to allow for all that feeding.
My babies are now sixteen and ten years old, but it seems that the bulk of my days are still spent feeding and cleaning up after them.
My six foot two sixteen-year-old son eats more food than three grown men and my ten-year-old daughter is constantly begging for snacks. I haven't even finished cleaning up from one meal before they are looking for more food. It is a constant cycle of feeding around here.
Between packing school lunches, having quick refuels between sports and after-school activities, and keeping them going between meals, I am always trying to find healthy snacks that my kids will want to eat.
My ten-year-old is especially picky and finding foods that she likes is one of the most frustrating parts of my parenting gig.
She is a picky eater who is obsessed with wanting to eat all the time. I mean how am I supposed to succeed with that?!?
So, I am on a constant quest to find healthy foods that will keep my children happy, well-fed — and out of the kitchen for at least a few hours a day.

A Mom to the Rescue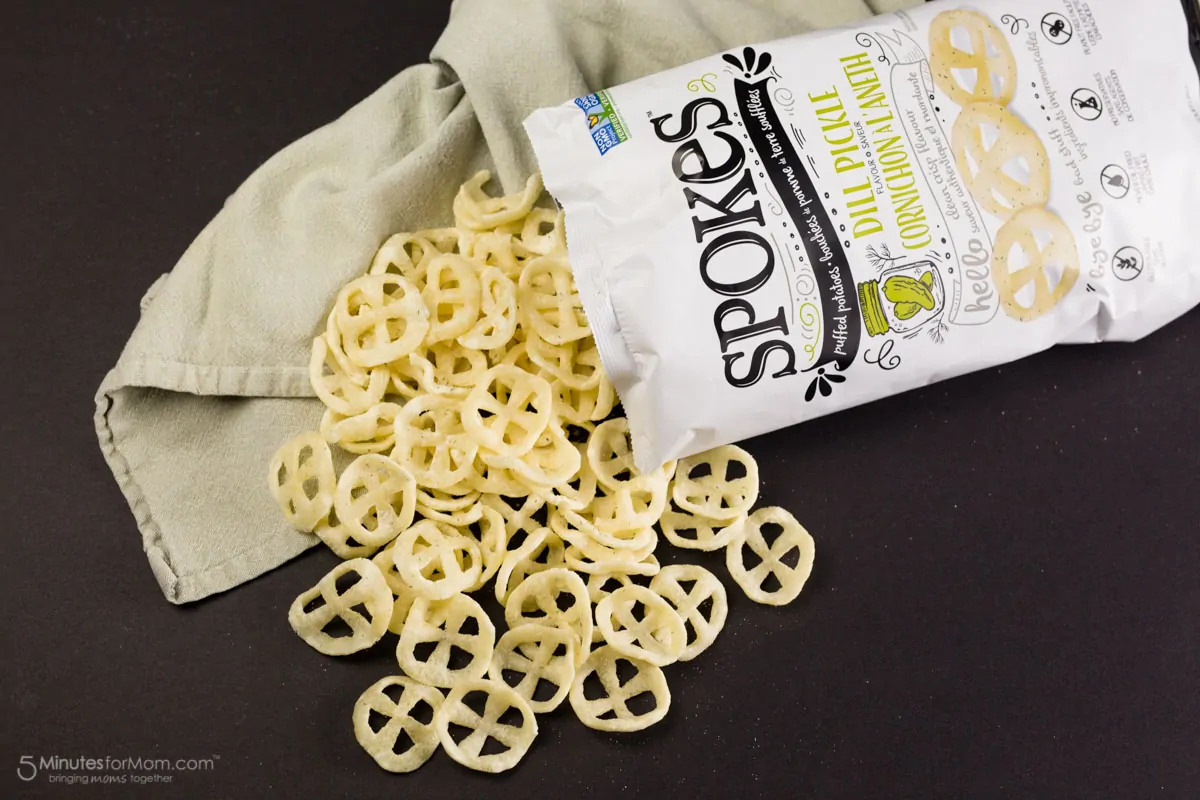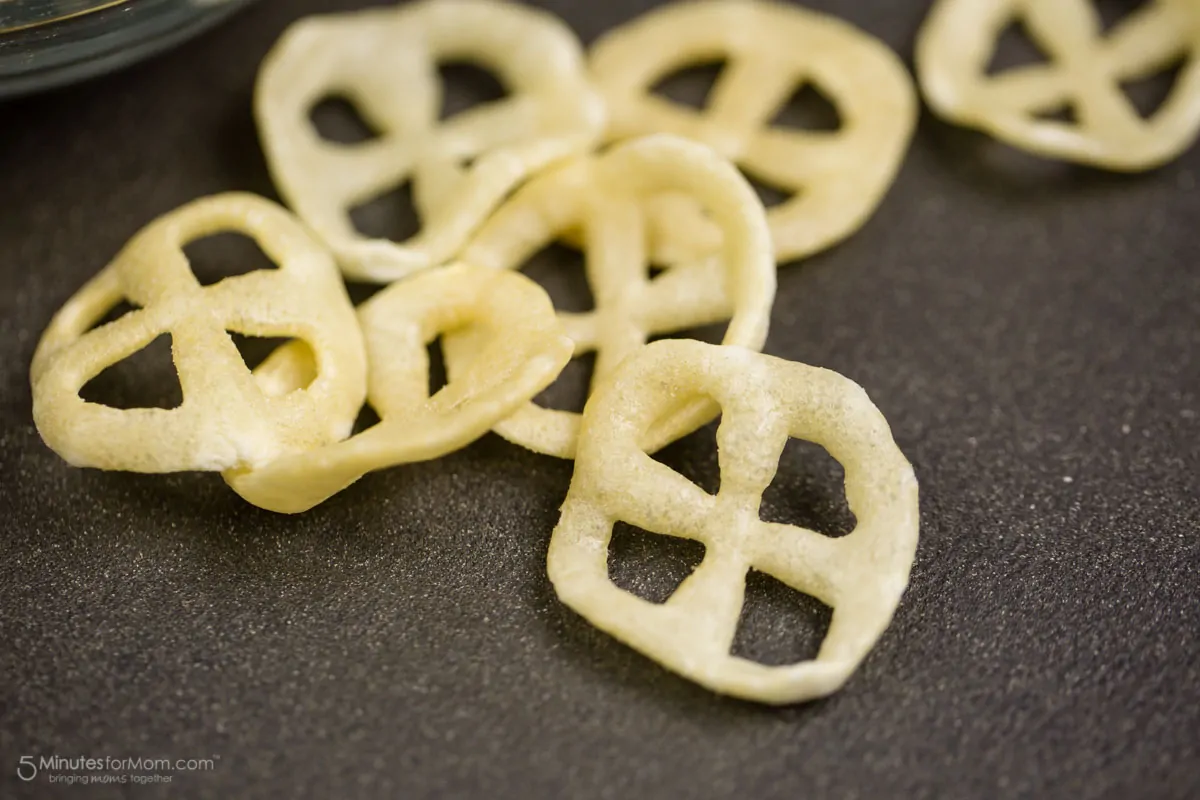 Moms get it. We know the struggle. Kids come screaming into this world, demanding their first meal, and the desperation never really ends.
We have to try to feed our kids in a world of carpools and food allergies, of fast food and instant gratification, and total customization.
I bet I am not the only parent who has come home from the grocery store with two hundred dollars of food and a hangry kid will open the cupboard and whine that "there isn't ANYTHING to eat!"
Enter SPOKES Air-Puffed Potato Snacks
Spokes were created by a Canadian mom as a new alternative to potato chips AND they are free of the 11 major allergens!
The makers of SPOKES believe that "food shouldn't be complicated" and are committed to creating groundbreaking flavour with simple, natural ingredients.
SPOKES are free of major allergens like wheat, gluten, dairy, soy, egg and are made in a peanut-free facility. Plus, they are also free of preservatives, colours, artificial flavours, and they are also non-GMO project verified.
These scrumptious potato snacks are hot-air puffed, misted with sunflower oil and then seasoned with fabulous flavours like Mango Habanero, Sea Salted Caramel, Fiesta Salsa, Sea Salt and Vinegar, and more.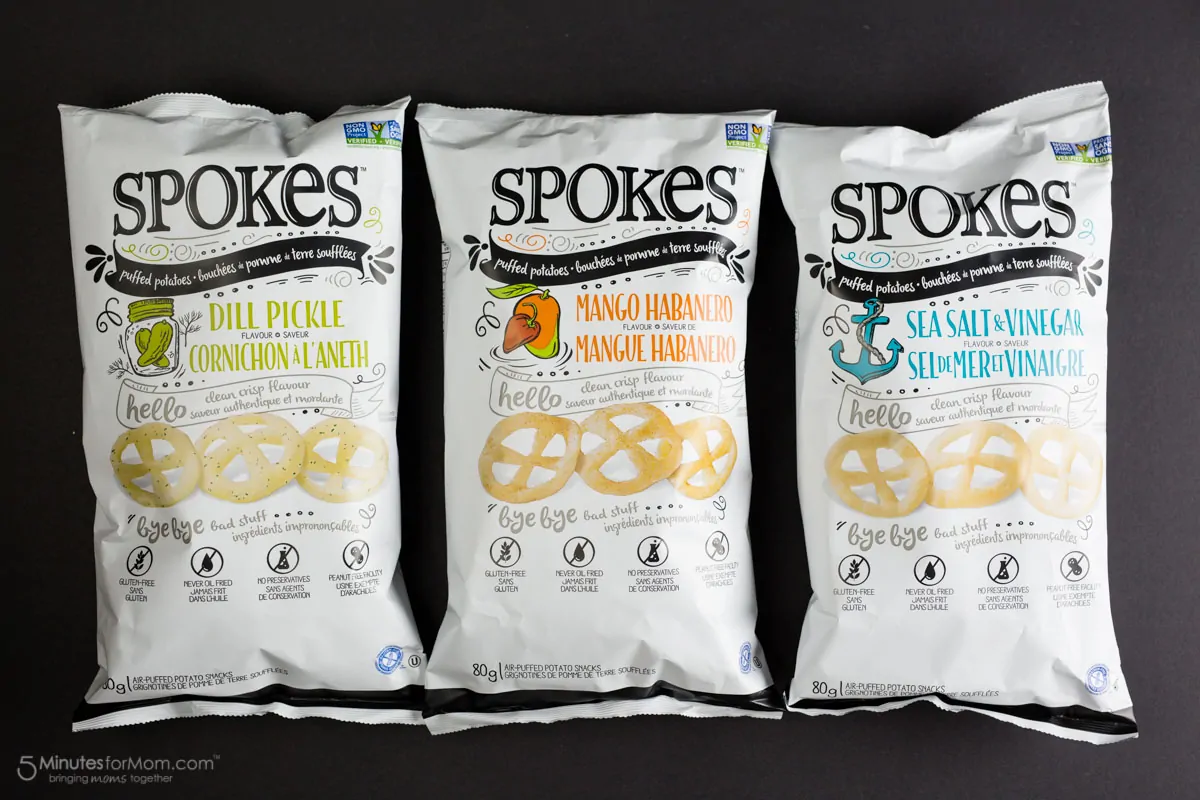 And perhaps the most exciting thing about SPOKES is the LOW calorie count! One cup of SPOKES potato snacks has only 40 calories versus regular potato chips with about 150 calories per cup.
Perfect for Pairing
While SPOKES are perfect for snacking straight out of the bag, they are also perfect for pairing with your favourite dips.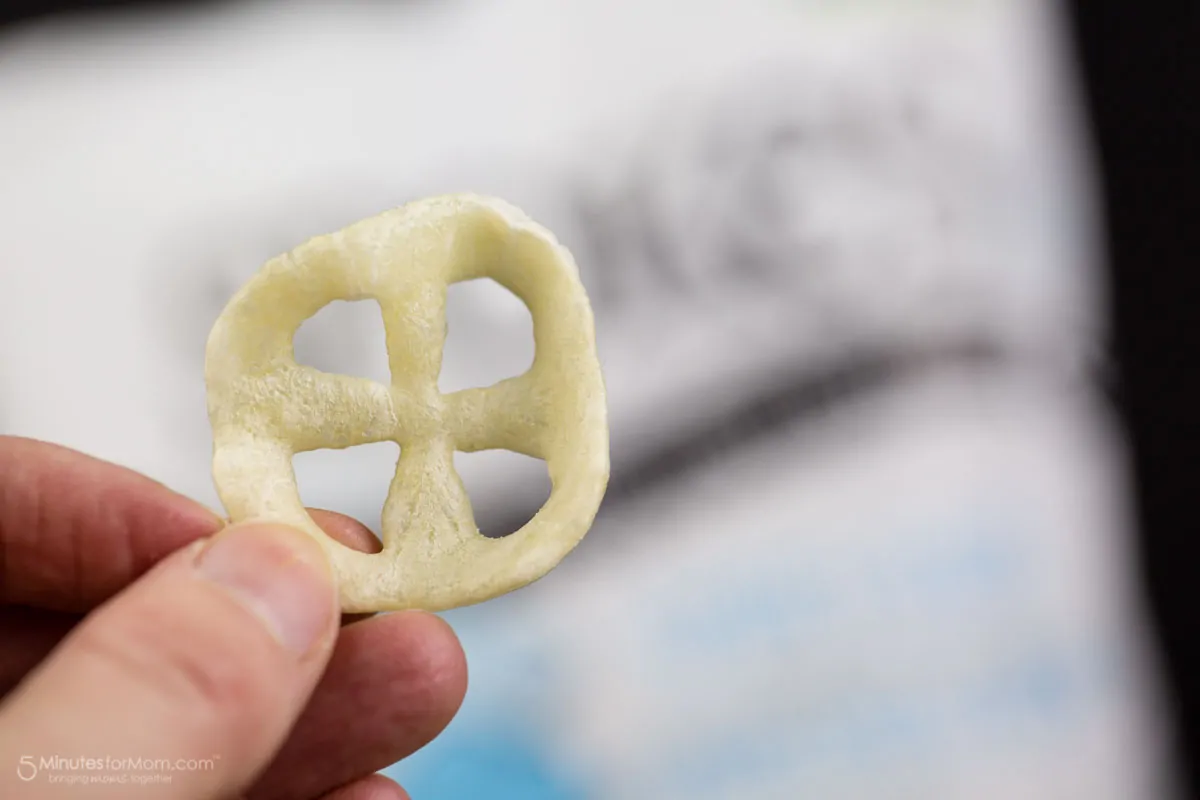 I love spinach and artichoke dip and used to make asiago and artichoke dip every time I needed to bring a dip to a party. And I love making this recipe for spinach artichoke pizza.
But my son has decided to cut out dairy in his diet, so I made this Vegan Spinach Artichoke Dip for him to try with Spokes.
Spokes may be light and airy, but they are substantial enough to dig up a heaping bite of this creamy Vegan dip.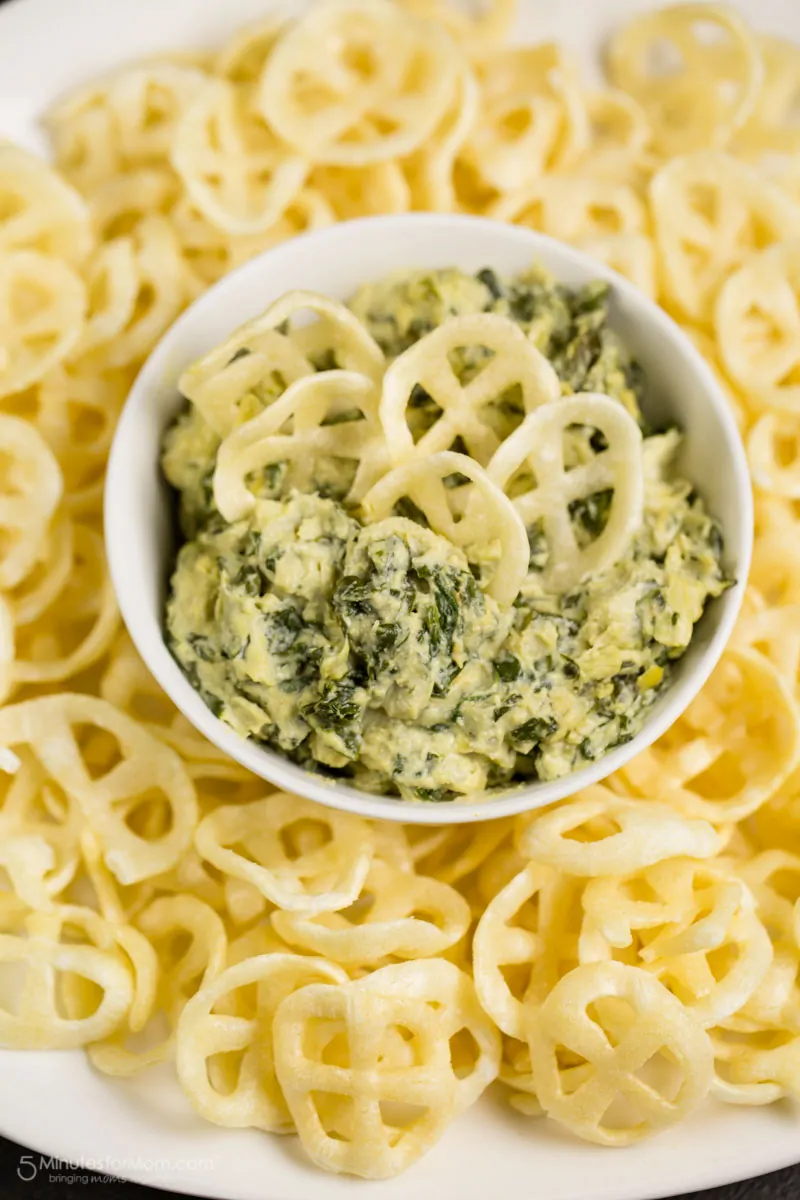 Vegan Spinach and Artichoke Dip
If you are wondering how you can make a creamy, almost cheesy, spinach and artichoke dip without dairy, the answer is CASHEW cream!
Cashews, plus a fabulous vegetarian food called Nutritional Yeast, create a delicious, nutrient-packed alternative to cheese.
To make cashew cream, first, soak the cashews in hot water for 30-60 minutes, or soak them overnight.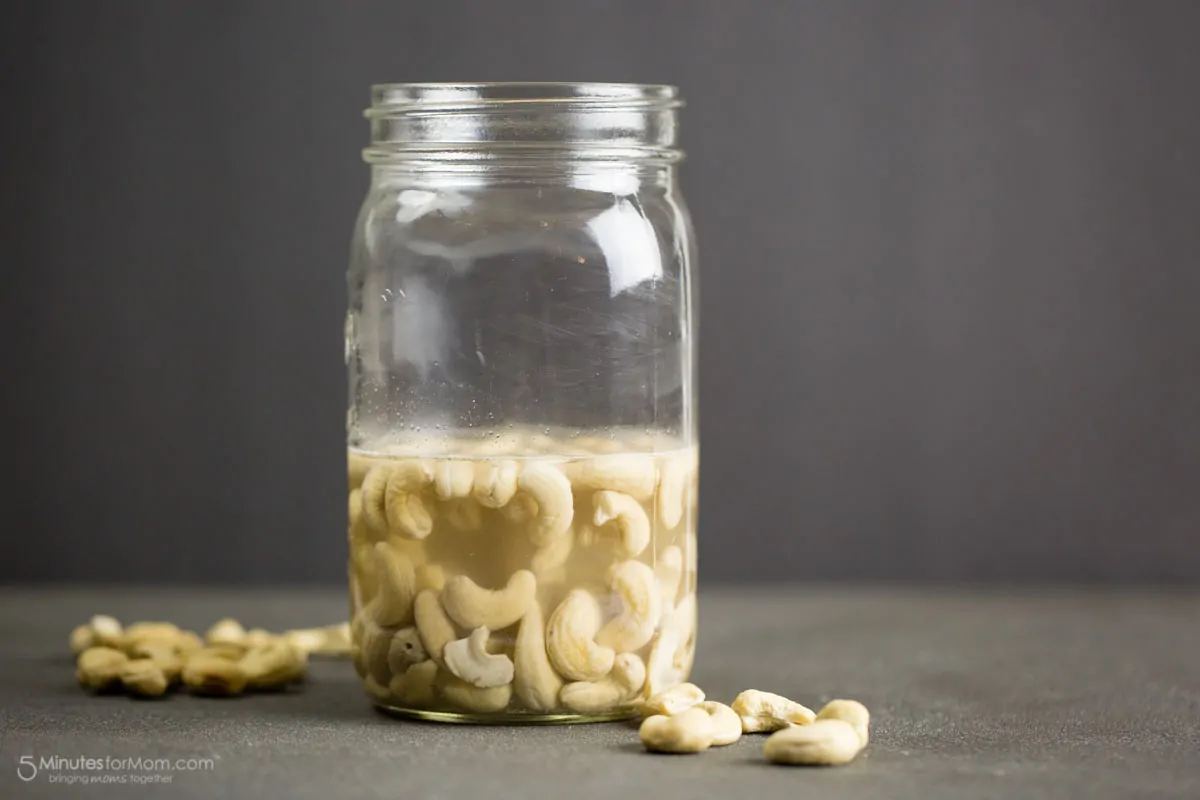 For this recipe, I decided to add tofu to my cashew cream.
After draining cashews, mix cashews together with nutritional yeast, water, lemon juice, vinegar, salt, and tofu in a food processor or high-speed blender until smooth.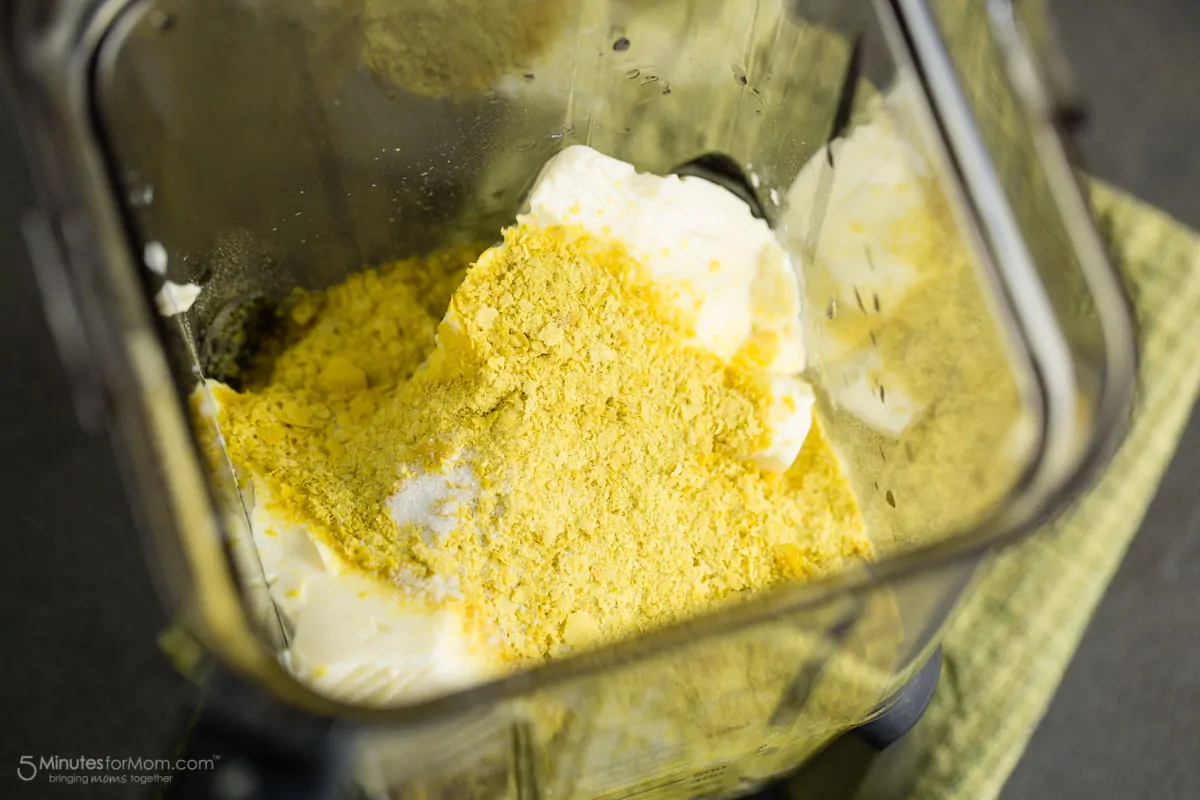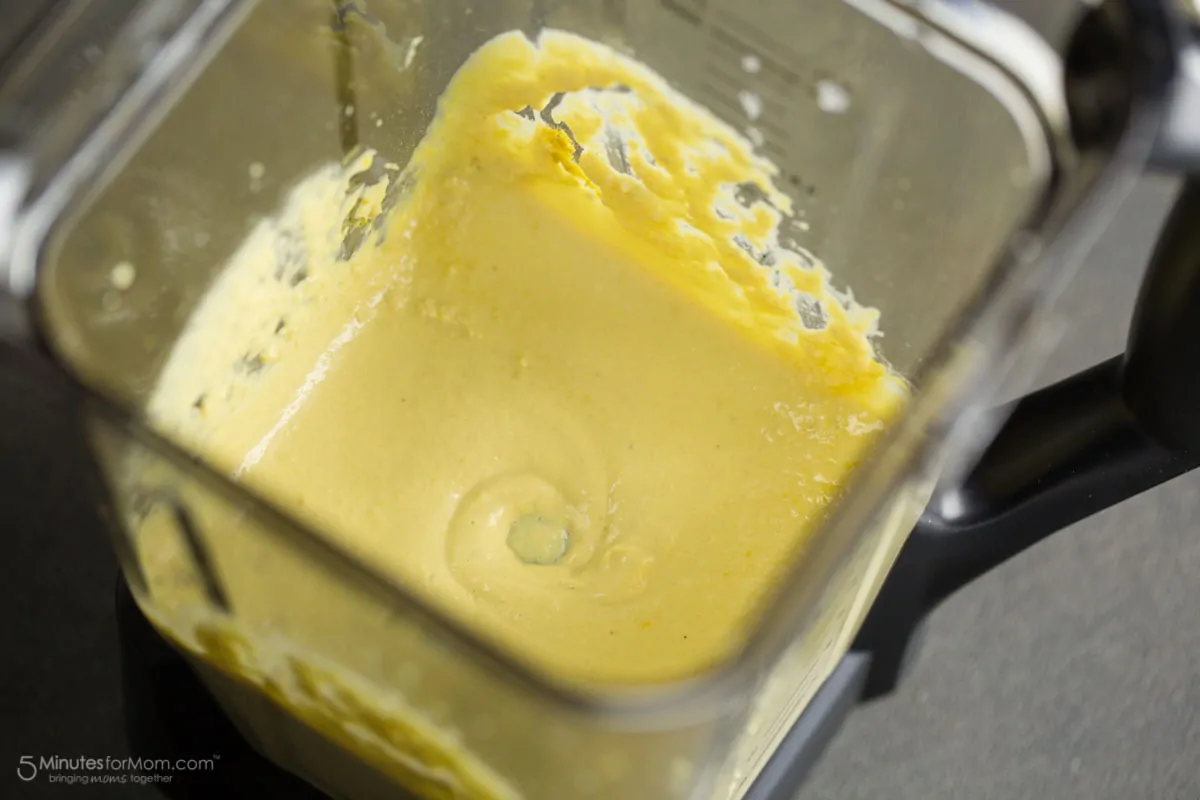 Next, wash the spinach, drain and dry thoroughly. To save time, I usually use pre-washed baby spinach. Then roughly chop spinach and artichokes.
In a large pan, saute garlic in olive oil over medium heat for one minute.
Add spinach cook for 2-3 minutes or until spinach is wilted.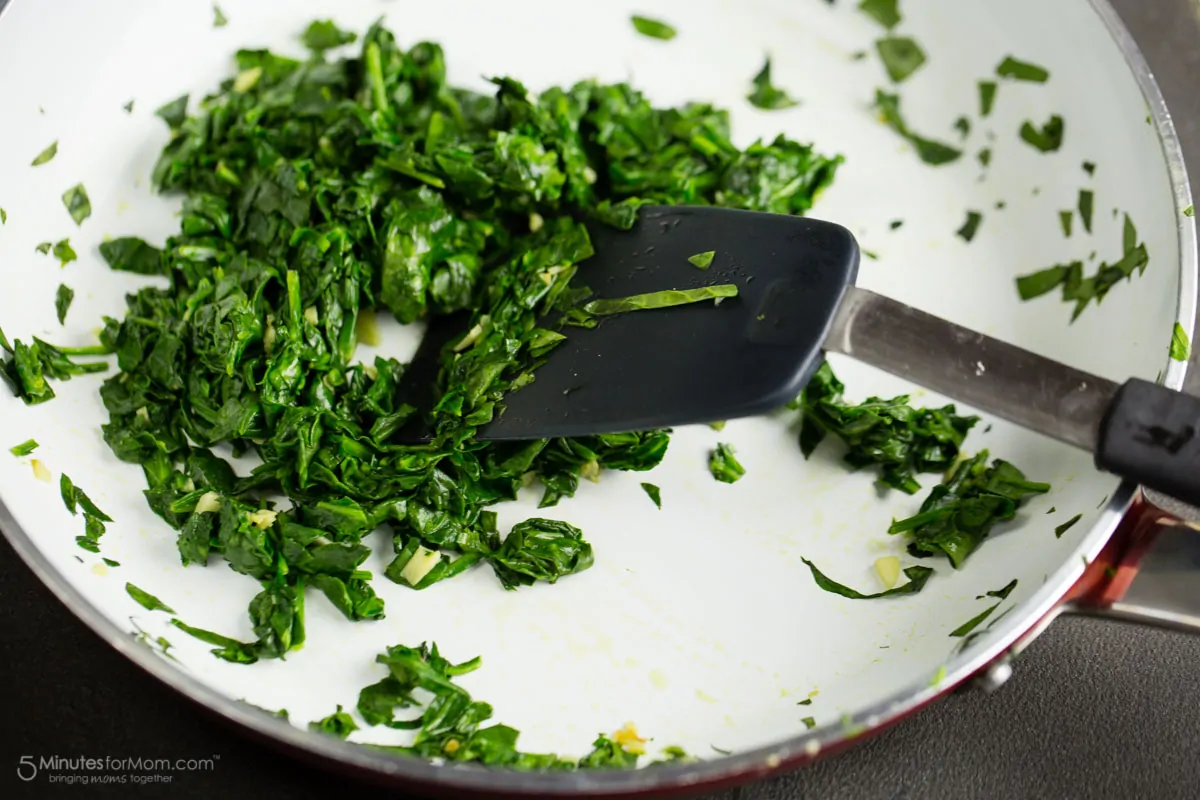 Add chopped artichokes and cashew/tofu mixture to the spinach and stir.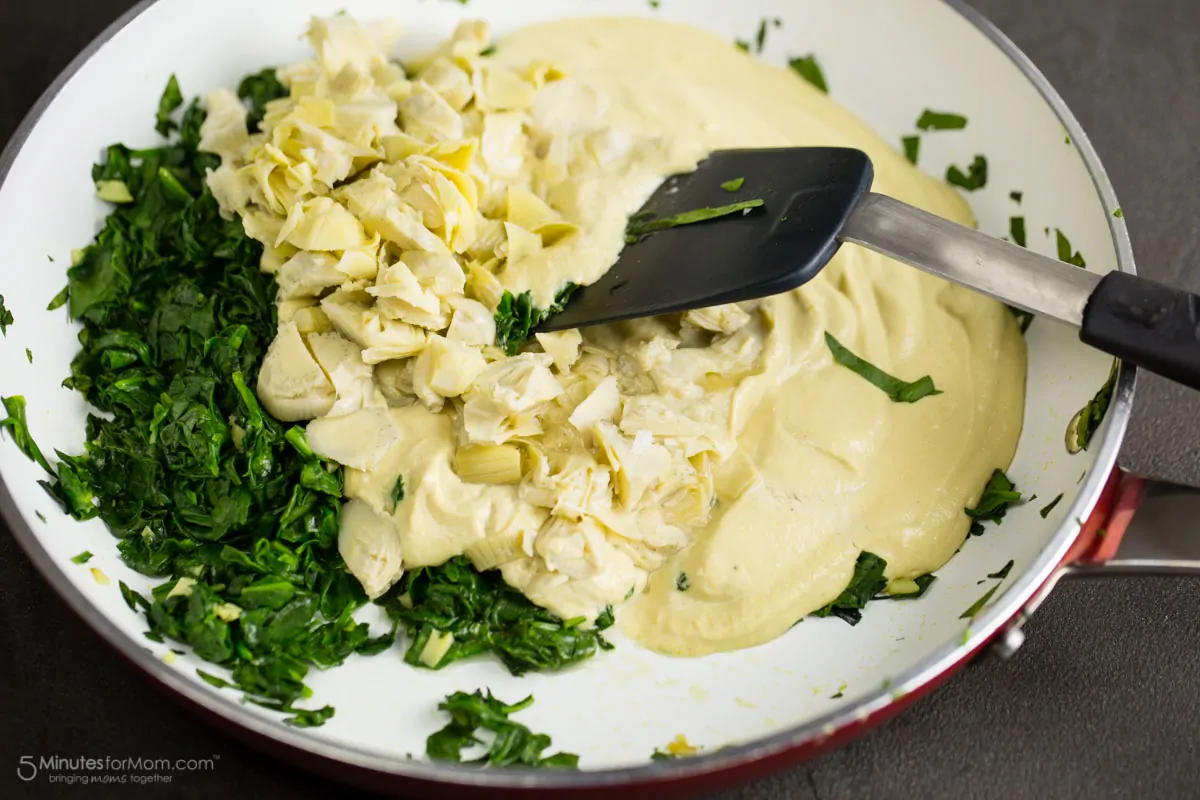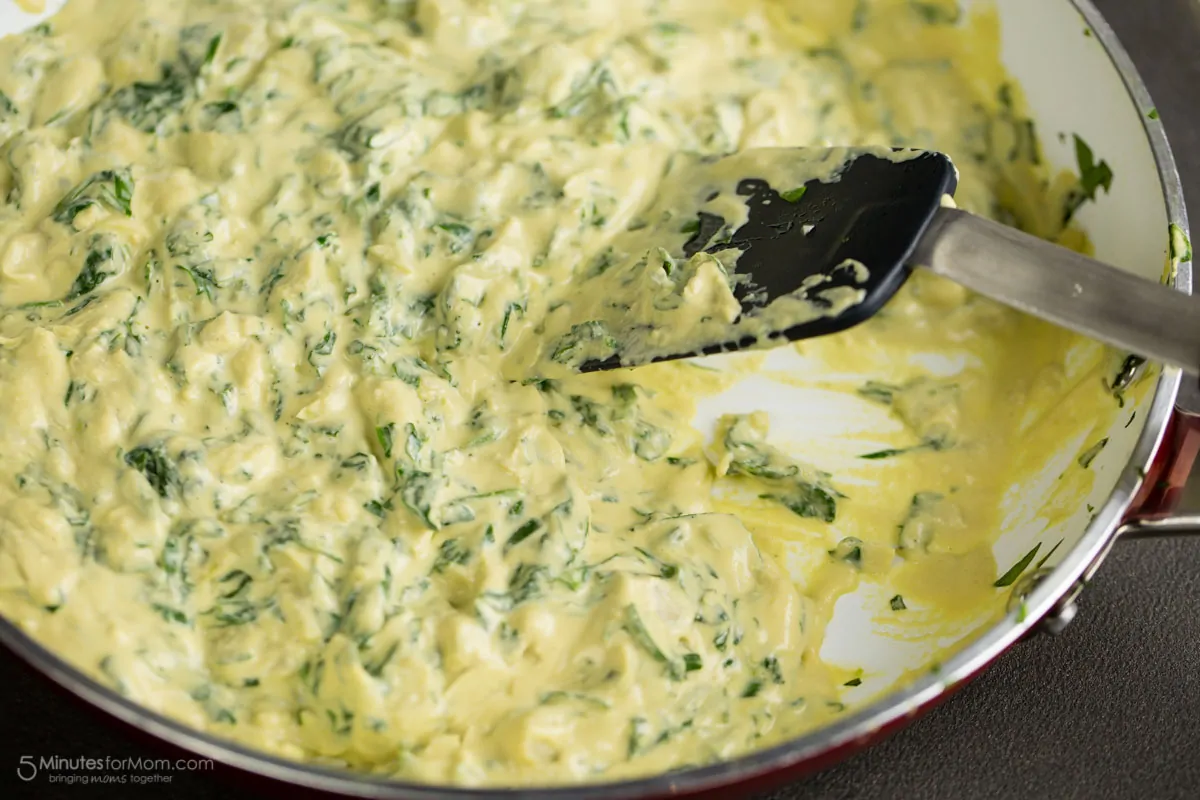 Pour mixture into a baking dish, sprinkle with paprika, if desired, and bake uncovered for 20-30 minutes.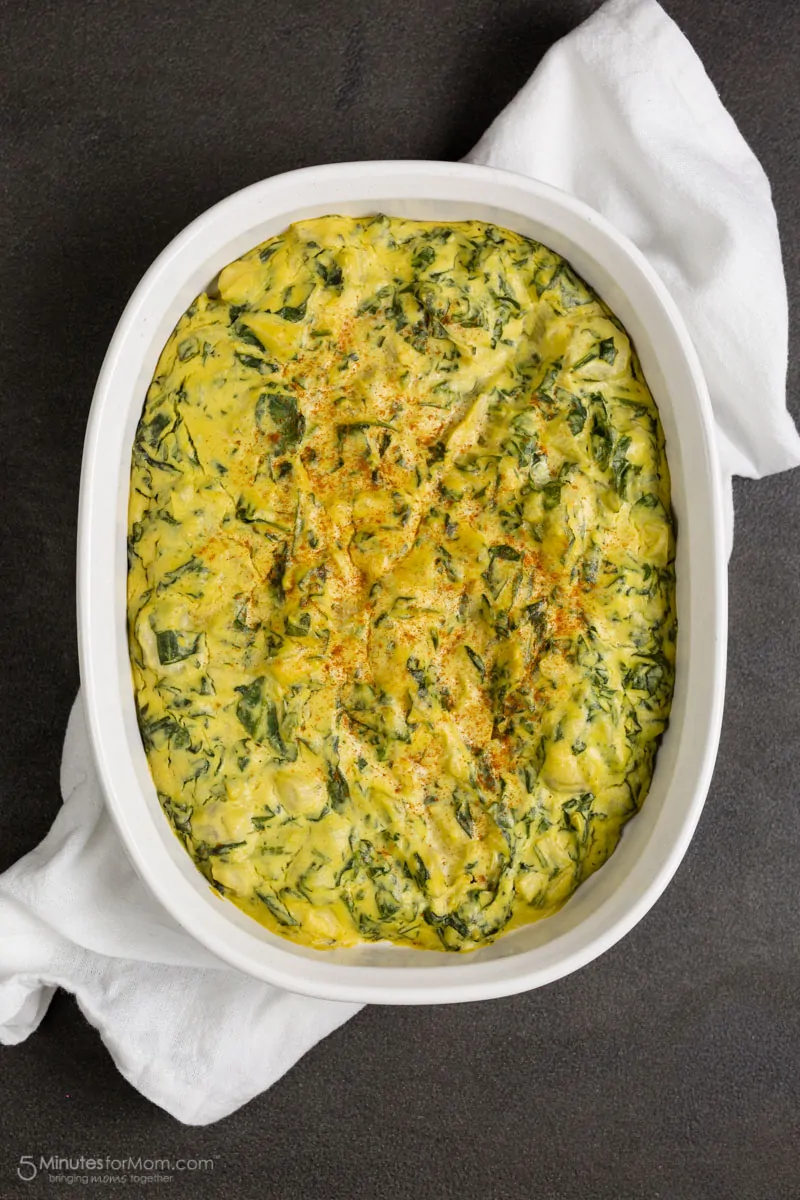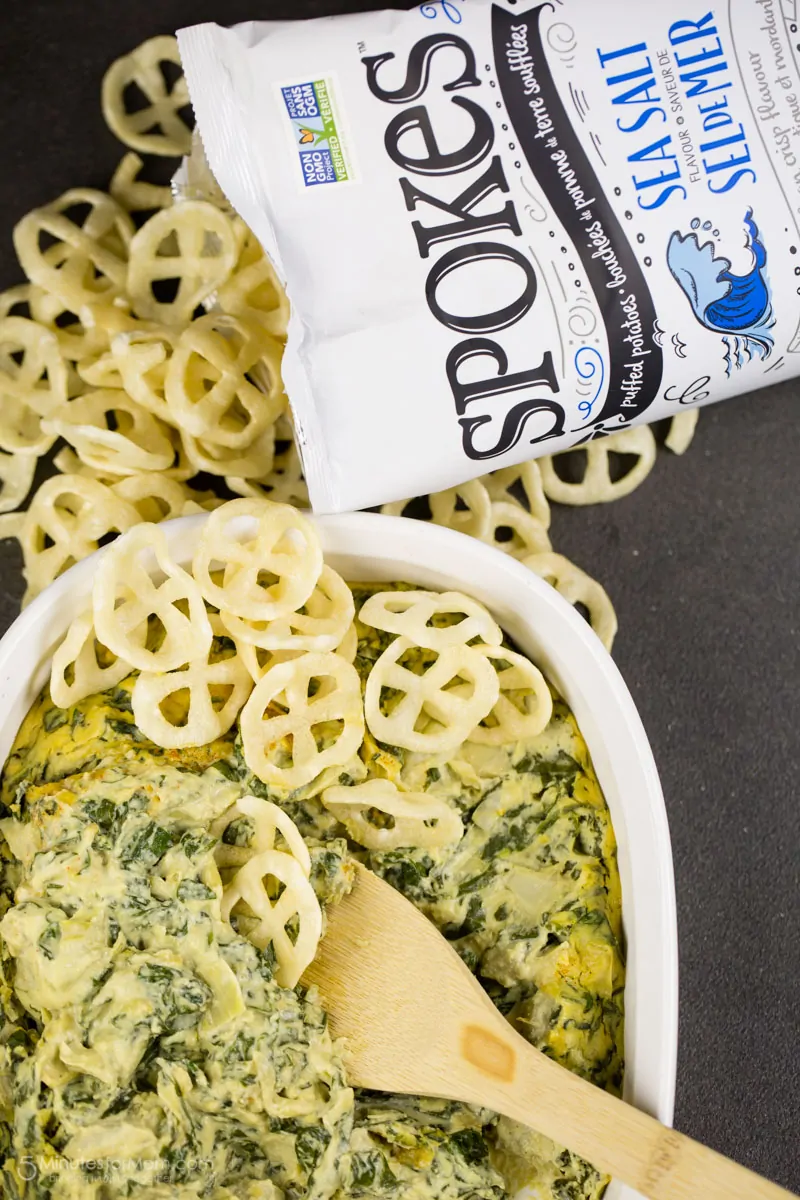 Vegan Spinach and Artichoke Dip Recipe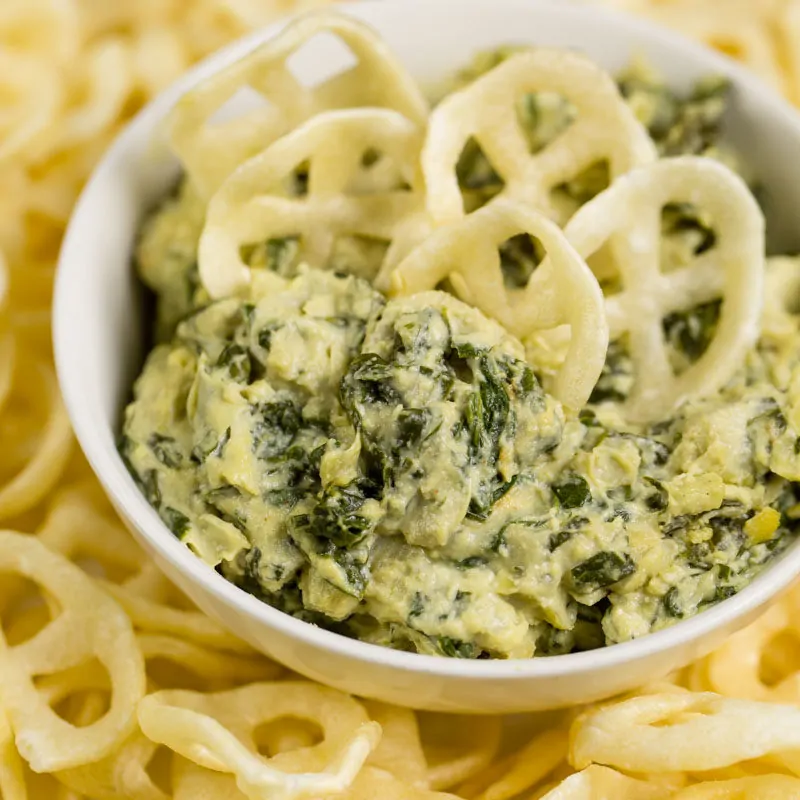 Vegan Spinach and Artichoke Dip with SPOKES Air-Puffed Potato Snacks
This creamy Vegan Spinach and Artichoke Dip pairs perfectly with SPOKES Air-Puffed Potato Snacks.
Print
Pin
Rate
Ingredients
1 cup cashews soaked and drained
400 g soft tofu
1/4 cup nutritional yeast
1 tablespoon lemon juice
2 teaspoons apple cider vinegar
1 teaspoon salt
1 tablespoon olive oil
2-3 cloves of garlic minced
300 grams Spinach fresh or frozen
1 cup or 1 can of artichoke hearts
paprika
Instructions
Preheat oven to 350F

Soak cashews in hot water for 30-60 minutes (or soak overnight)

After draining cashews, mix cashews together with nutritional yeast, water, lemon juice, vinegar, salt, and tofu in a food processor or high-speed blender until smooth.

Wash spinach, drain and dry thoroughly or use pre-washed baby spinach.

Roughly chop spinach and artichokes.

In a large pan, saute garlic in olive oil over medium heat for one minute.

Add spinach cook for 2-3 minutes or until spinach is wilted.

Add chopped artichokes and cashew/tofu mixture to the spinach and stir.

In a baking dish, combine spinach, chopped artichokes and cashew/tofu mixture

Sprinkle with paprika and bake uncovered for 20-30 minutes at 350F
Pin it for Later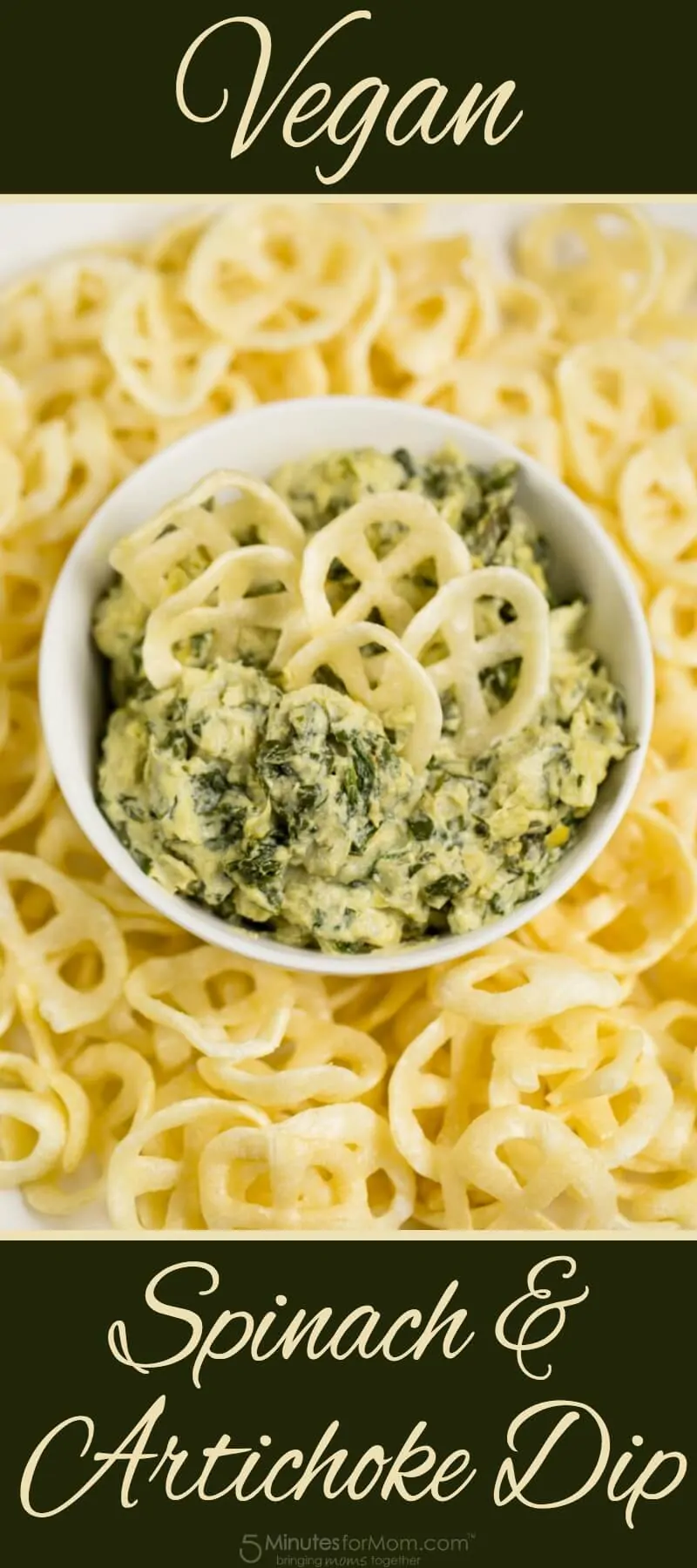 Disclosure: This post is sponsored, so extra thanks for reading and sharing.
Written and photography by Janice Croze, co-founder of 5 Minutes for Mom and Janice Croze Photography.
Talk with me: @5minutesformom and Facebook.com/5minutesformom
Pin with me at http://pinterest.com/5minutesformom/