This post may contain affiliate links. Read my disclosure policy here.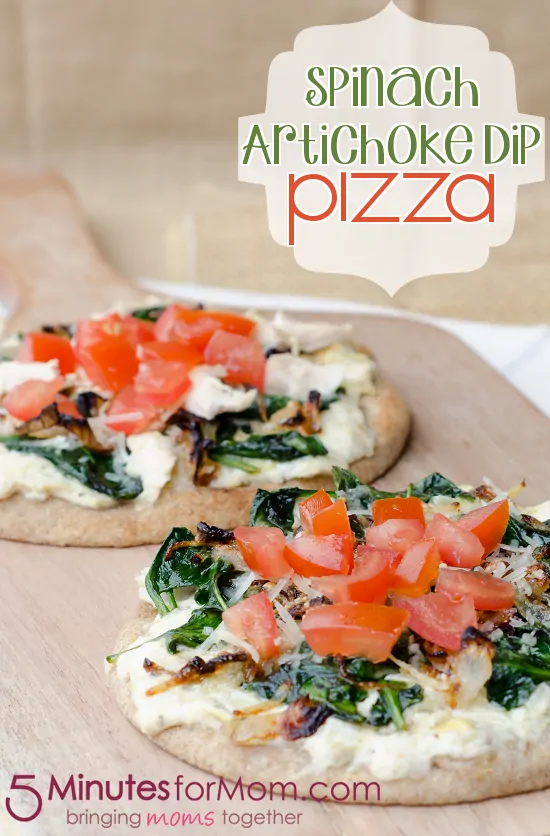 If I set down at an Italian restaurant, you can be sure of two things —
1.  My Kidlets are going to begin clamoring for chicken fingers and macaroni and cheese.
2.  I am going to order Spinach Artichoke Dip.
I love it: creamy, rich, comforting.  Light?  Calorie free?
Um… not very.
So, why would I bother to create a Spinach Artichoke Dip Pizza????
Well, because I can…. and, with this recipe, it becomes a lighter, portion-perfect, real food way to enjoy one of the best flavor combos EVAH.
(Yes, this recipe deserves some attitude and the word, "Evah."  Boom.)
Instead of the typical heavy cream cheese and rich mayonnaise, I use whole-milk Ricotta and parmesan to add creamy flavor… but for a FRACTION of the calories and fat usually found in spinach-artichoke dip.
A fraction, people.
Add a perfect whole wheat crust, fresh baby spinach, marinated artichokes, and tangy tomatoes … and you've got the perfect recipe for quiet dinner at home.  Or, cut the pizza into small pieces for an easy and crowd-pleasing appetizer.
Oscar watch party, anyone?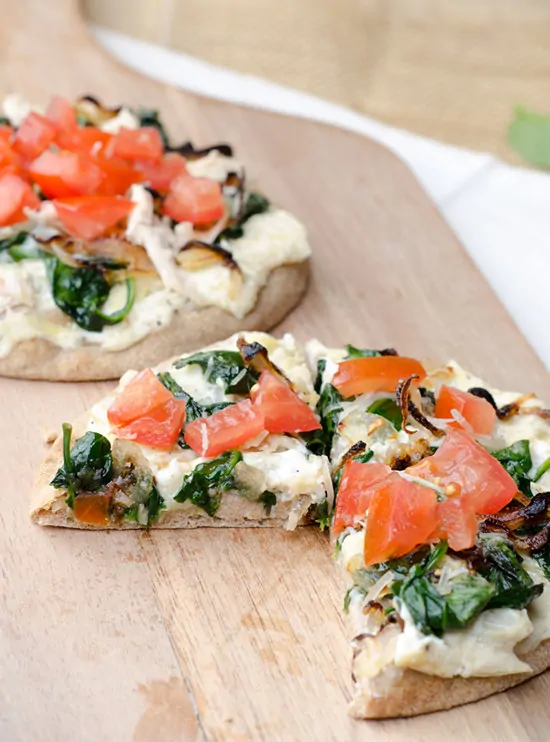 Spinach Artichoke Dip Pizza
Perfect recipe for an easy dinner at home or cut the pizza into small pieces for a crowd-pleasing appetizer.
Print
Pin
Rate
Servings: 6 slices
Calories: 338kcal
Ingredients
1 baked Pizza Crust or individual sized crust, Naan, or Flatbread*
1 cup whole milk Ricotta Cheese
1/4 cup Grated Parmesan Cheese
1 cup Marinated Artichoke Quarters chopped
2 cloves Garlic finely minced
Cayenne Pepper/Salt/Cracked Black Pepper to taste
3 large Shallots sliced into thin rings
2 tablespoons Butter
4 cups Baby Spinach
1 Ripe "Hot House/Vine Ripened" Tomato or Grape Tomatoes diced
Instructions
In a bowl, mix the ricotta cheese, grated parmesan, chopped artichokes, and minced garlic. Season (to taste) with a few dashes of salt, cracked black pepper, and cayenne pepper powder. Set aside.

In a saute pan, melt the butter over medium heat. Once melted, add the shallots and cook until softened and just starting to turn golden.

Remove the shallots from the pan, leaving the melted butter in the pan and adjust the temperature to medium-low.

Add the baby spinach to the hot pan. Let it cook undisturbed 1-2 minutes before giving a brief stir. Remove the spinach from the pan when it has just wilted and is still a vibrant green.

On your baked crust, spread the ricotta-artichoke mixture. If making individual sized portions, use 1-2 tablespoons per crust.

Top with spinach and then the cooked shallots.

Sprinkle with a bit of grated parmesan and then place the pizza under your oven's broiler.

Broil for 2-3 minutes or until the shallots have begun to get brown and the cheese is bubbly.

Remove from the oven and top with diced tomatoes.
Notes
*You can make the crust or use Naan/flatbread for the crust. I prefer a hearty whole wheat crust to balance the richness of the flavors. ** For the meat lovers in your life, add diced rotisserie chicken to the pizza. It's fantastic!
Nutrition
Calories: 338kcal | Carbohydrates: 38g | Protein: 12g | Fat: 15g | Saturated Fat: 7g | Polyunsaturated Fat: 1g | Monounsaturated Fat: 3g | Trans Fat: 1g | Cholesterol: 35mg | Sodium: 754mg | Potassium: 258mg | Fiber: 3g | Sugar: 6g | Vitamin A: 2715IU | Vitamin C: 17mg | Calcium: 158mg | Iron: 3mg