This post may contain affiliate links. Read my disclosure policy here.
This sweet and creamy kale smoothie recipe is a favorite with our kids…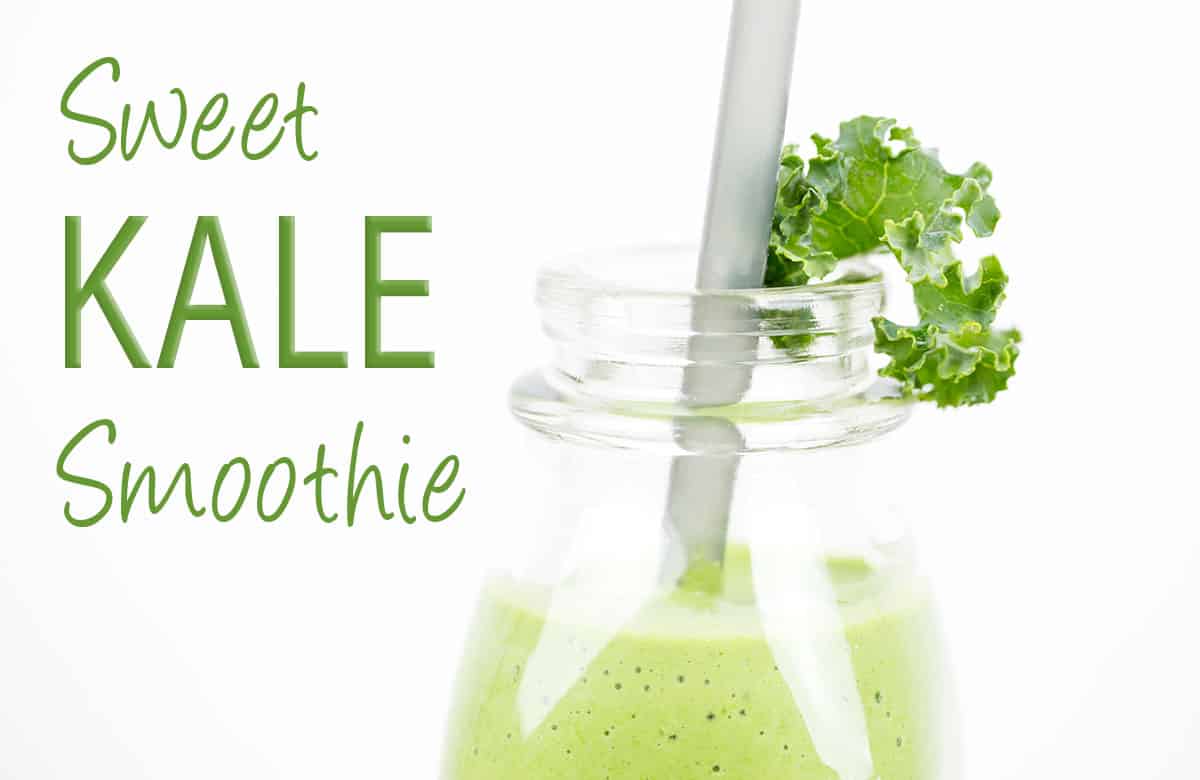 Have you ever whipped up a delicious, healthy smoothie and handed it to your child only to have them grimace and spit it back out?
It has happened to all of us, I am sure.
What seems like a great smoothie to us — packed with greens and berries and protein — often doesn't work with our kids.
The truth is — they might need a bit more sweet to cut the bitterness of the healthy stuff we try to sneak in there.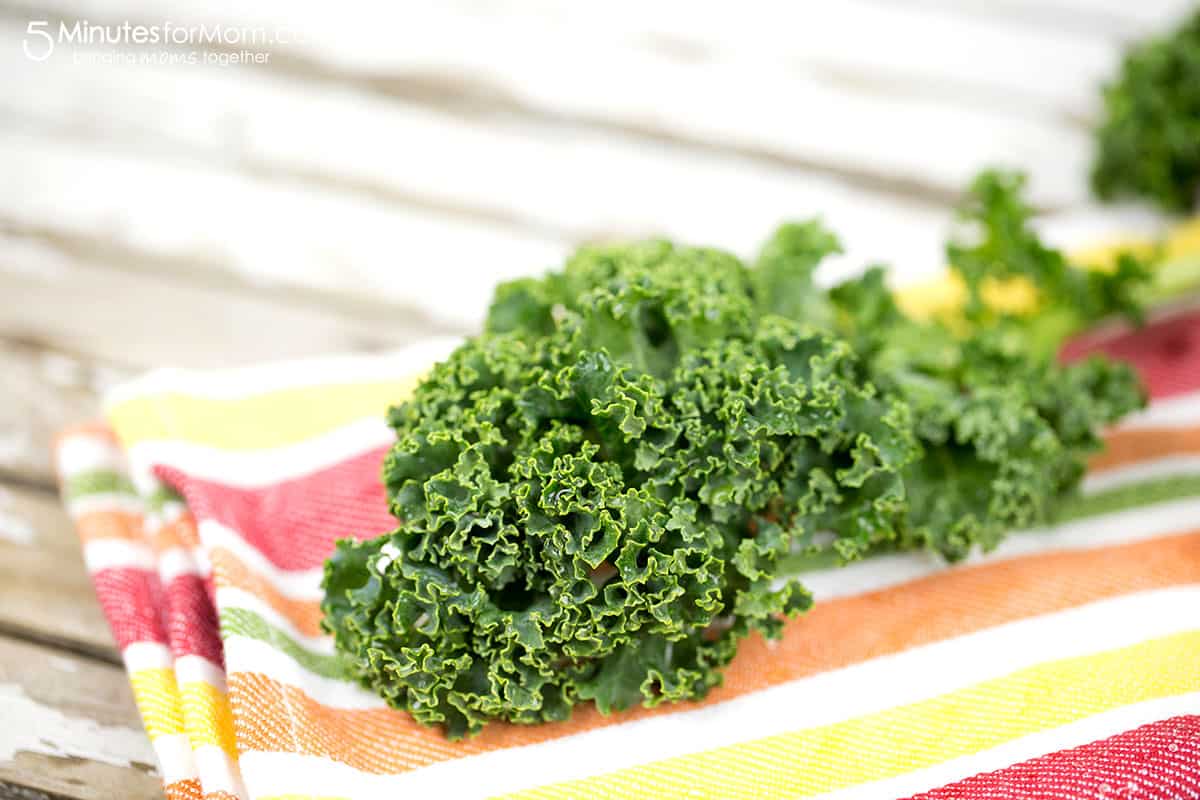 When I make smoothies for myself, I don't add sugar or any sweetened products. I stick with plain yogurt, milk or water, and get my sweetness from the fruit I add — usually berries. (I limit my fructose and so I don't generally use sweet fruit like bananas or mangoes or even fruit juice in my smoothies.)
For kids, a green smoothie with only berries for sweetness is probably not going to cut it.
But don't worry — you don't need to dip into the sugar bowl.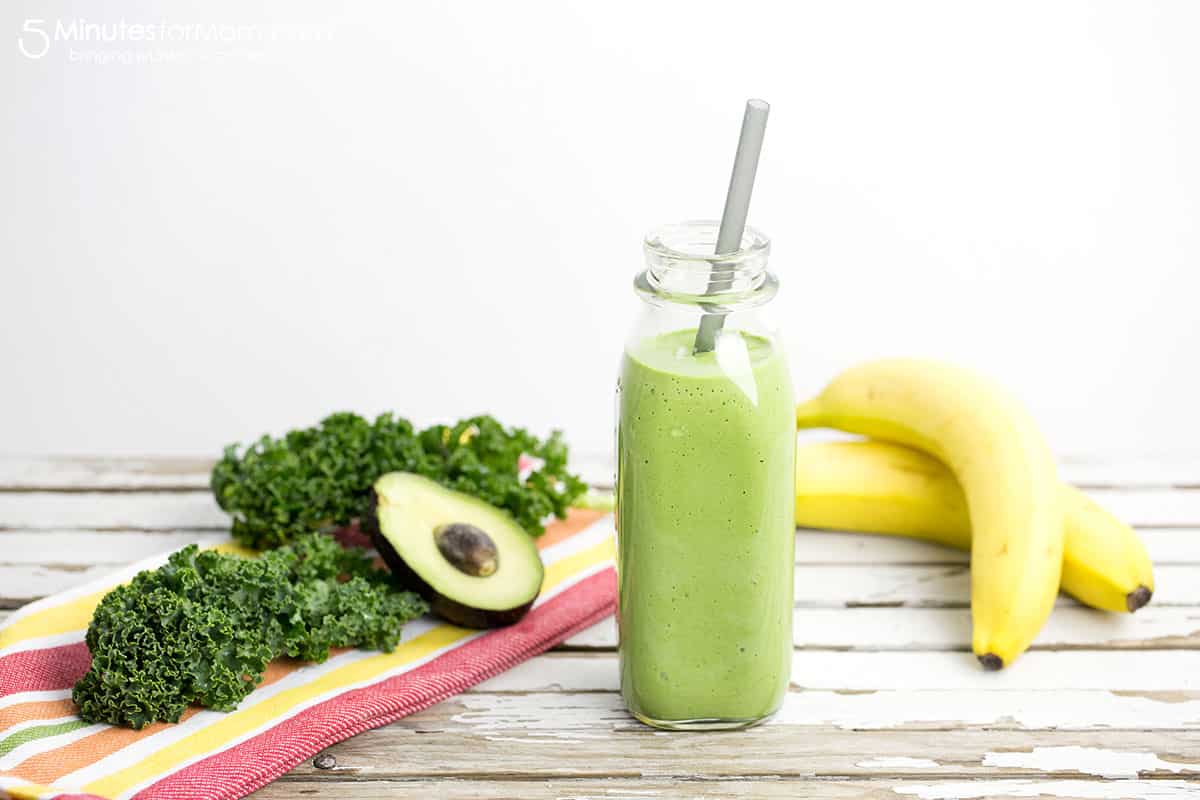 The trick to making smoothies kids will drink is adding a bit of fruit juice, along with flavorful, sweet fruits like mangoes, bananas and strawberries.
Even if you are using milk and/or yogurt in your smoothie, you can still add APPLE JUICE to sweeten it. It works like a magic ingredient, increasing the sweetness and flavor, even with just a 1/4 or a 1/2 of a cup.
And to make your smoothie extra creamy with more protein and healthy fats, add some avocado.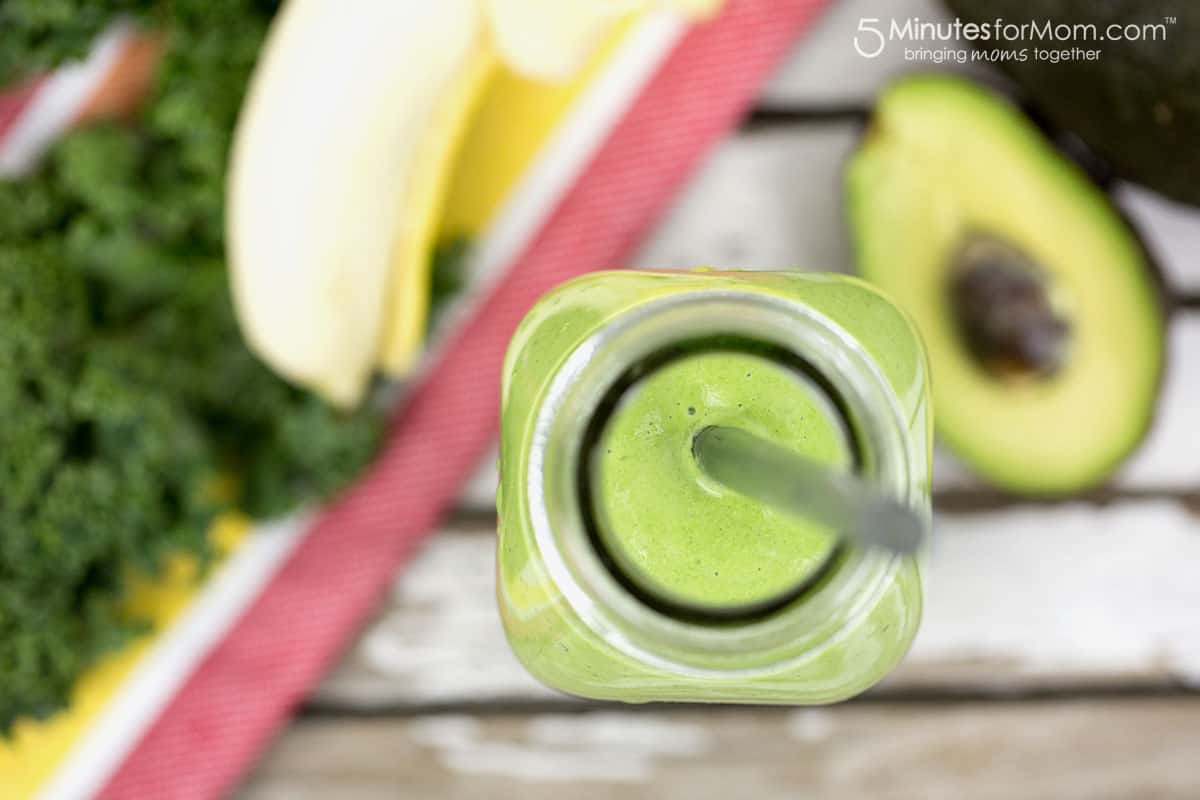 You can even freeze avocado so you have it on hand when you need it. (And freezing avocado for smoothies is the perfect solution when you have a couple slices of an avocado leftover.)
This Sweet Kale Smoothie is our go to smoothie recipe for our kids. They love it!
Bonus Tip
Since St. Patrick's Day is coming up, this is the perfect time to get your kids to try a GREEN smoothie. Some kids are turned off by the look of green smoothies because they suspect they'll taste too healthy. But on St. Patrick's Day, they'll drink anything because it IS green.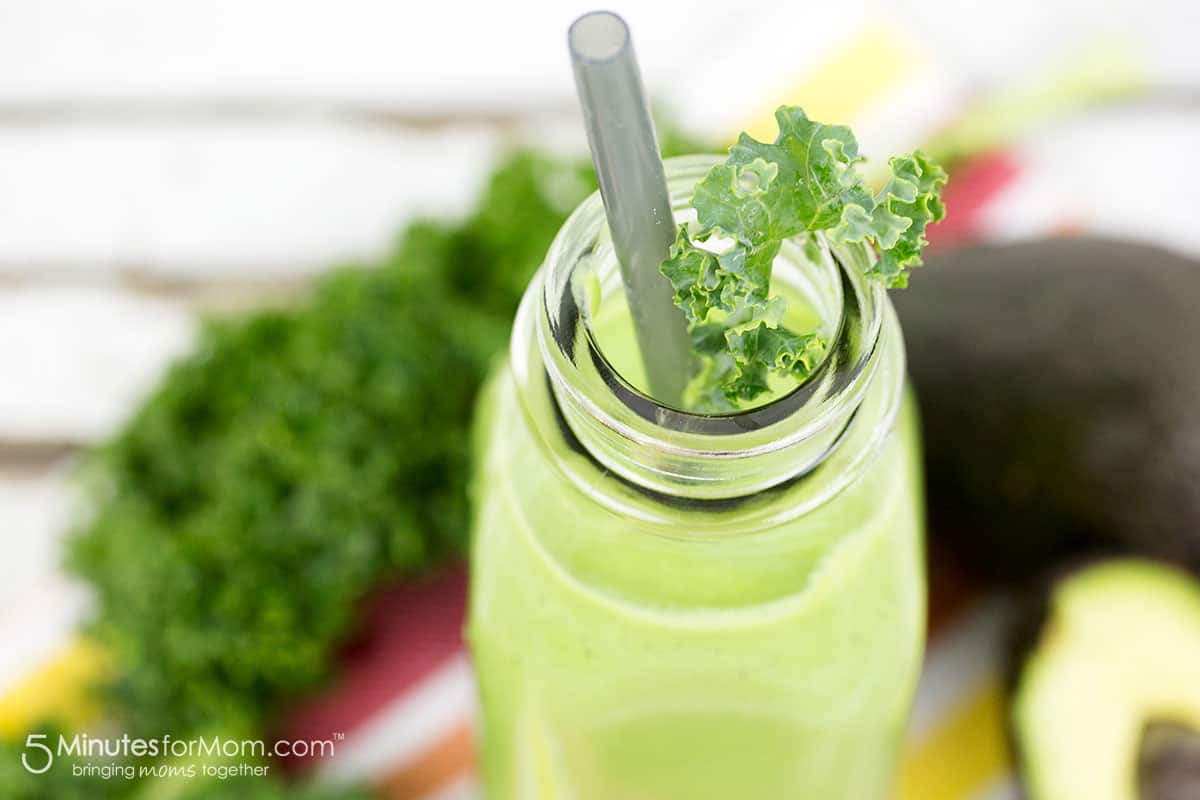 The 5 Keys to this FAST and SWEET Kale Smoothie for Kids
1. Use FROZEN kale — Did you know you can buy frozen kale? Yes — it is the fastest and easiest way to get kale into your smoothies. You will never make a smoothie without it again.
2. Use APPLE JUICE to sweeten — just a 1/2 cup of apple juice makes this smoothie sweet and flavorful.
3. Use plain Greek yogurt to cut down on added sugar — while vanilla yogurt will definitely make this smoothie even sweeter, try to use plain yogurt if you want to keep it as low sugar as possible. But, if you need it, reach for the vanilla yogurt.
4. Use frozen mango and bananas — mangoes and bananas are great ways to make a smoothie sweeter and more kid-friendly.
5. Blend VERY well — kale smoothies need two to three times more blending time than regular fruit smoothies. You want to ensure you don't have little pieces of kale visible.
[Tweet "Do you know the 5 secrets to making a FAST and SWEET Kale Smoothie for Kids?"]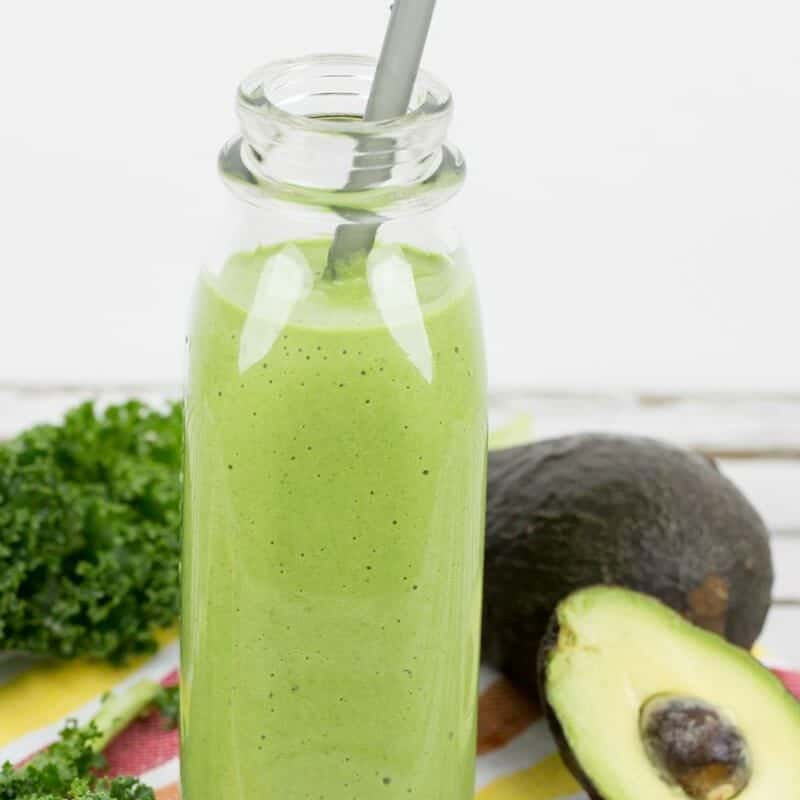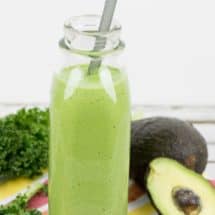 Sweet Kale Smoothie Recipe
This sweet and creamy kale smoothie recipe is our kids' favorite.
Print
Pin
Rate
Servings: 2 servings
Ingredients
4-5 cubes frozen mango
1/2 banana - frozen or fresh
1/3 cup Greek plain yogurt or vanilla yogurt
1/2 cup apple juice
1/2 cup milk
1/2 - 1 cup frozen kale
1/4 avocado - frozen or fresh
Instructions
Add ingredients to blender

Blend very well - until smooth, with no visible pieces of kale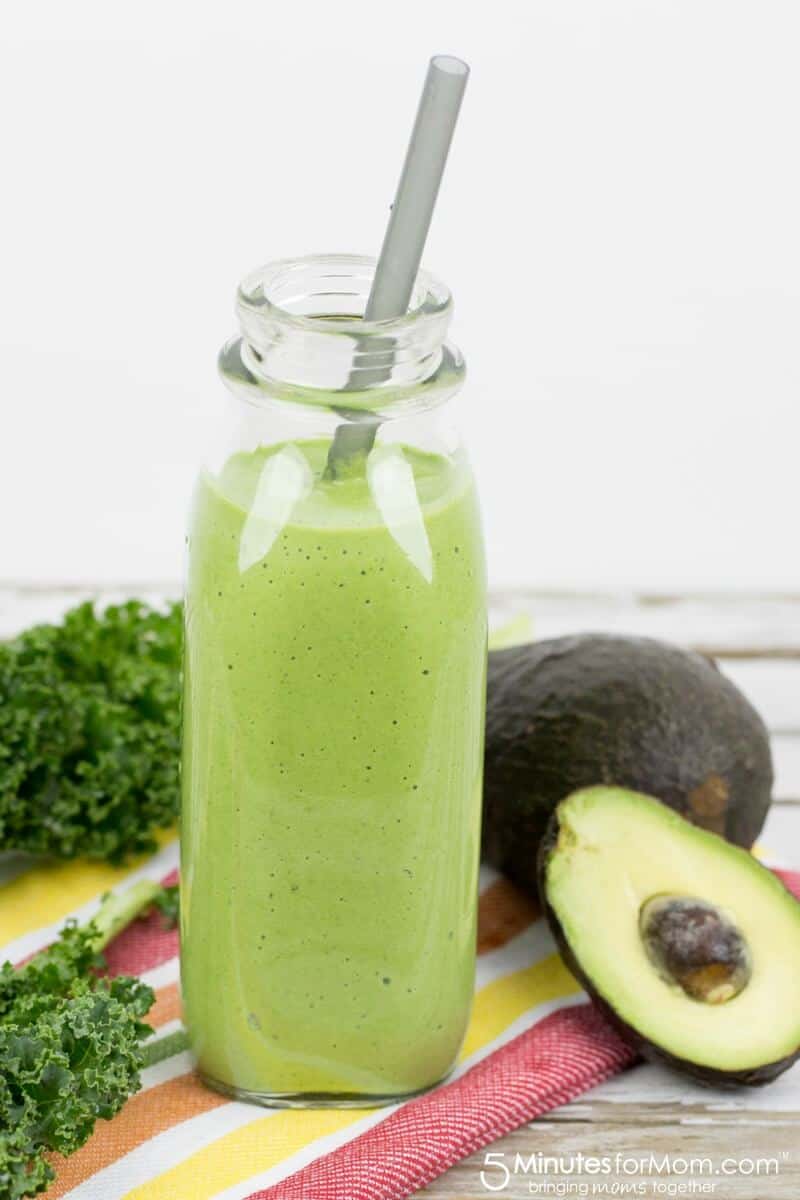 Pin it for Later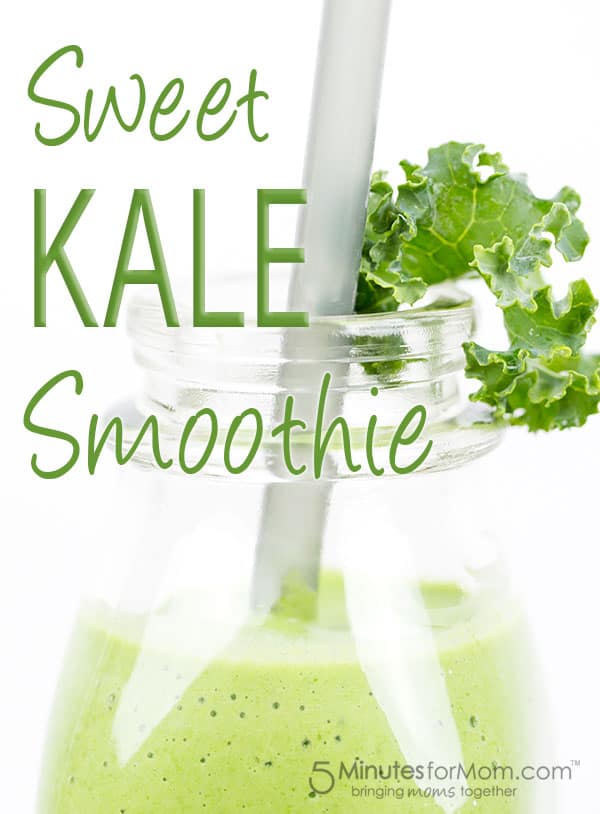 Written and photographed by Janice Croze, co-founder of 5 Minutes for Mom.
Talk with me: @5minutesformom and Facebook.com/5minutesformom
Pin with me at pinterest.com/5minutesformom