This post may contain affiliate links. Read my disclosure policy here.
This post is sponsored by Sylvan Learning, all opinions are my own.
Math is all around us and is a fundamental part of learning. Yet, many kids — and their parents — lack excitement for mathematics. So how can you and your kids get excited about math? As part of our ongoing partnership with Sylvan Learning, we're sharing some helpful ideas to inspire you and your kids to make math more fun.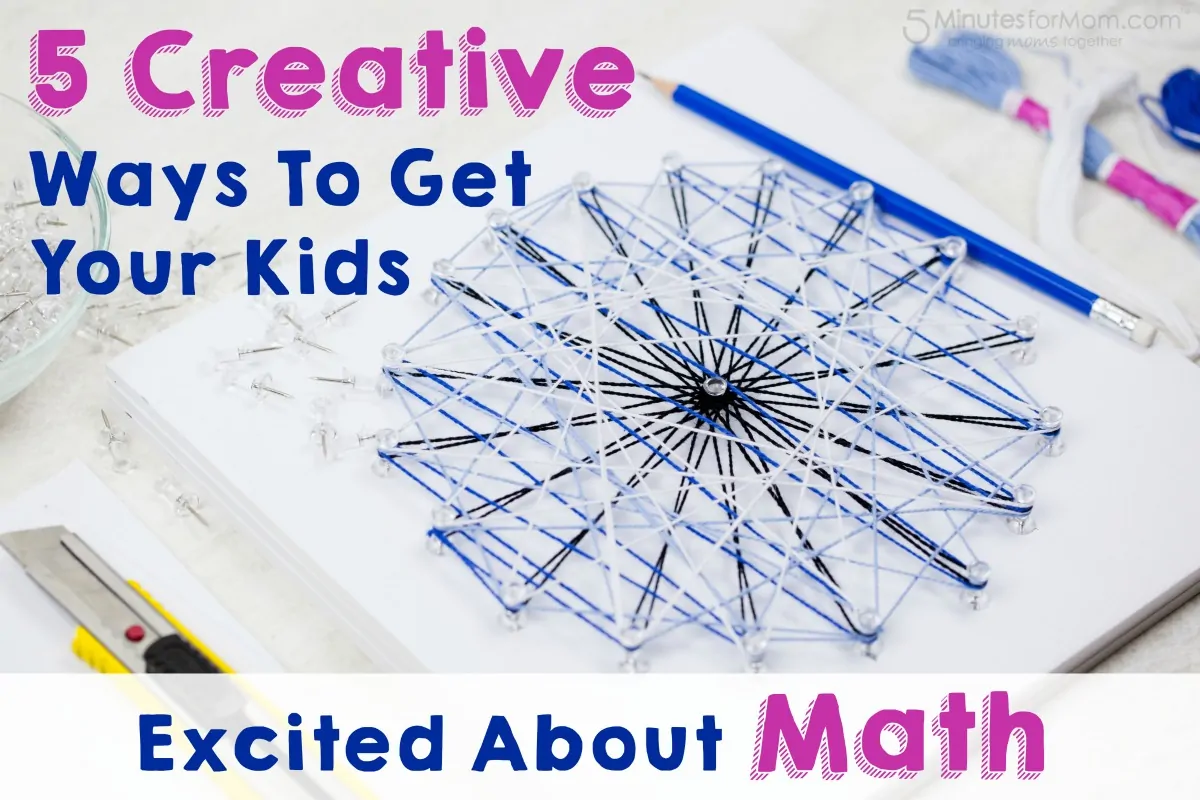 With these creative tips, you can inject some mathematical learning into family fun time and you can make use of after school time and entice your kids away from the TV.
1. Make Math Art
Math and art go together beautifully. Math art is a fantastic way to get kids who love art more excited about math, and also to get kids who love math to express their artistic side.
Our favorite math art activity is math string art!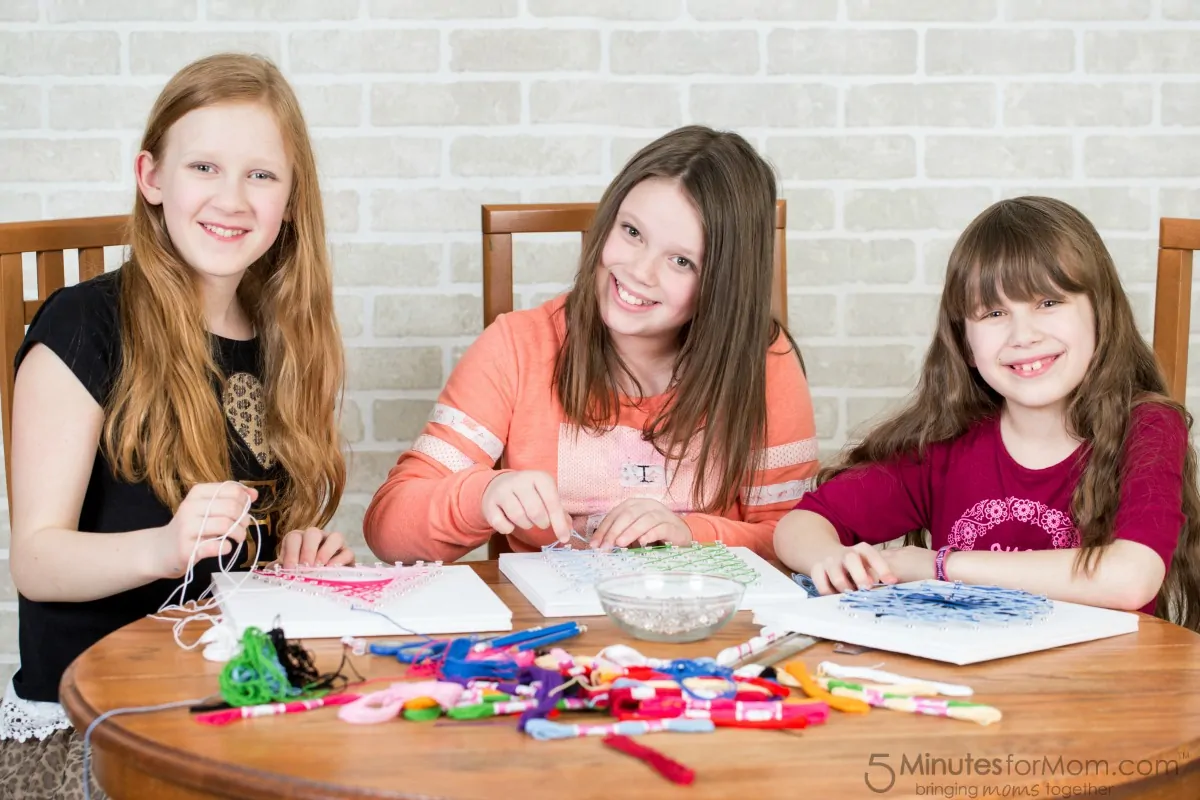 The options for making math string art are endless… and you can use all sorts of different supplies.
You can use wood and nails, if you want to get busy with a hammer. Or keep it light and simple with foam board and push pins.
You can let your kids decide on the positioning of the pins or you can give them different options such as squares, triangles or circles.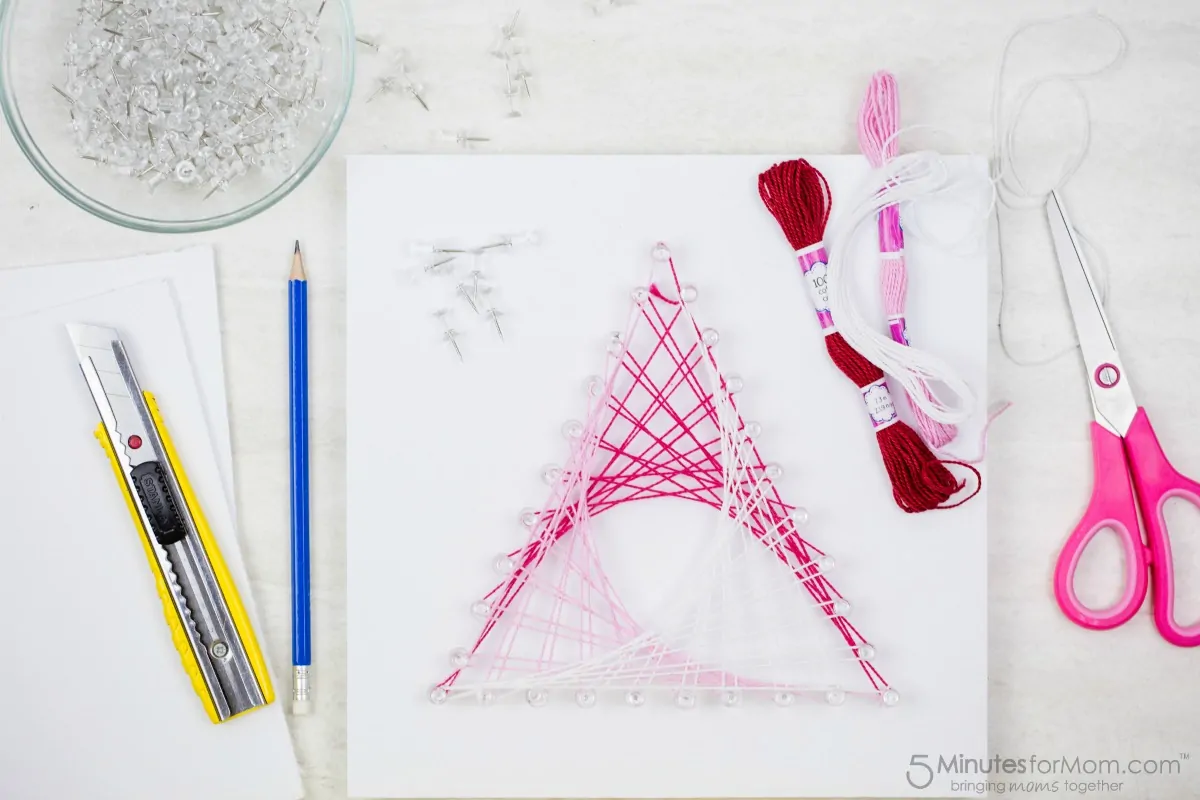 I love how you can explore all sorts of math and geometry concepts and either keep it simple or get fancy and complex. You can talk about different shapes, fractions and even get into parabolic curves.
Here are some of the math string art patterns our girls made….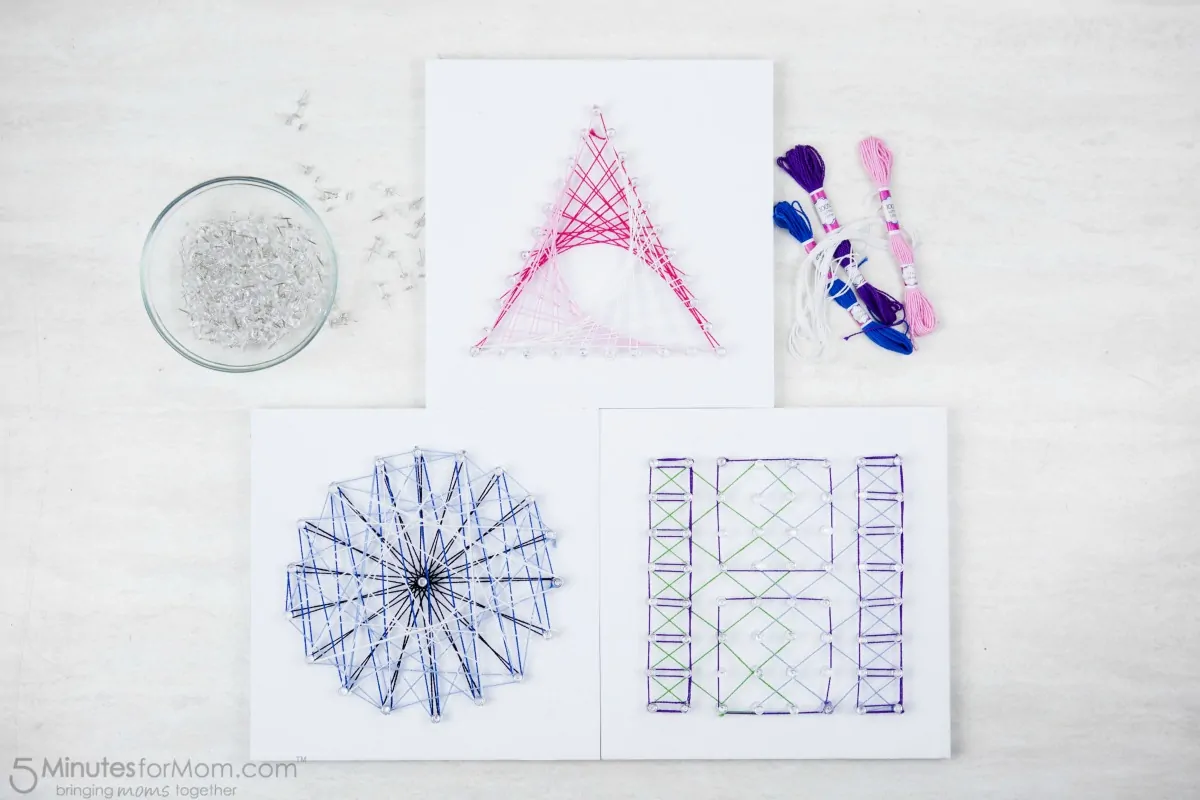 2. Take Your Kids To Sylvan EDGE
One of the best ways to help take your kids excitement about math to the next level is to enroll them in a Sylvan EDGE course.
Sylvan Learning has developed Sylvan EDGE — an innovative STEM education program, offering accelerated after-school and summer camp programs that give children an edge for the future.
Your child can join programs for Robotics, Coding, Engineering, and Math.
Last summer, our girls tested out the Robotics 101 course, which taught them how to build their own motion-capable robot using LEGOs!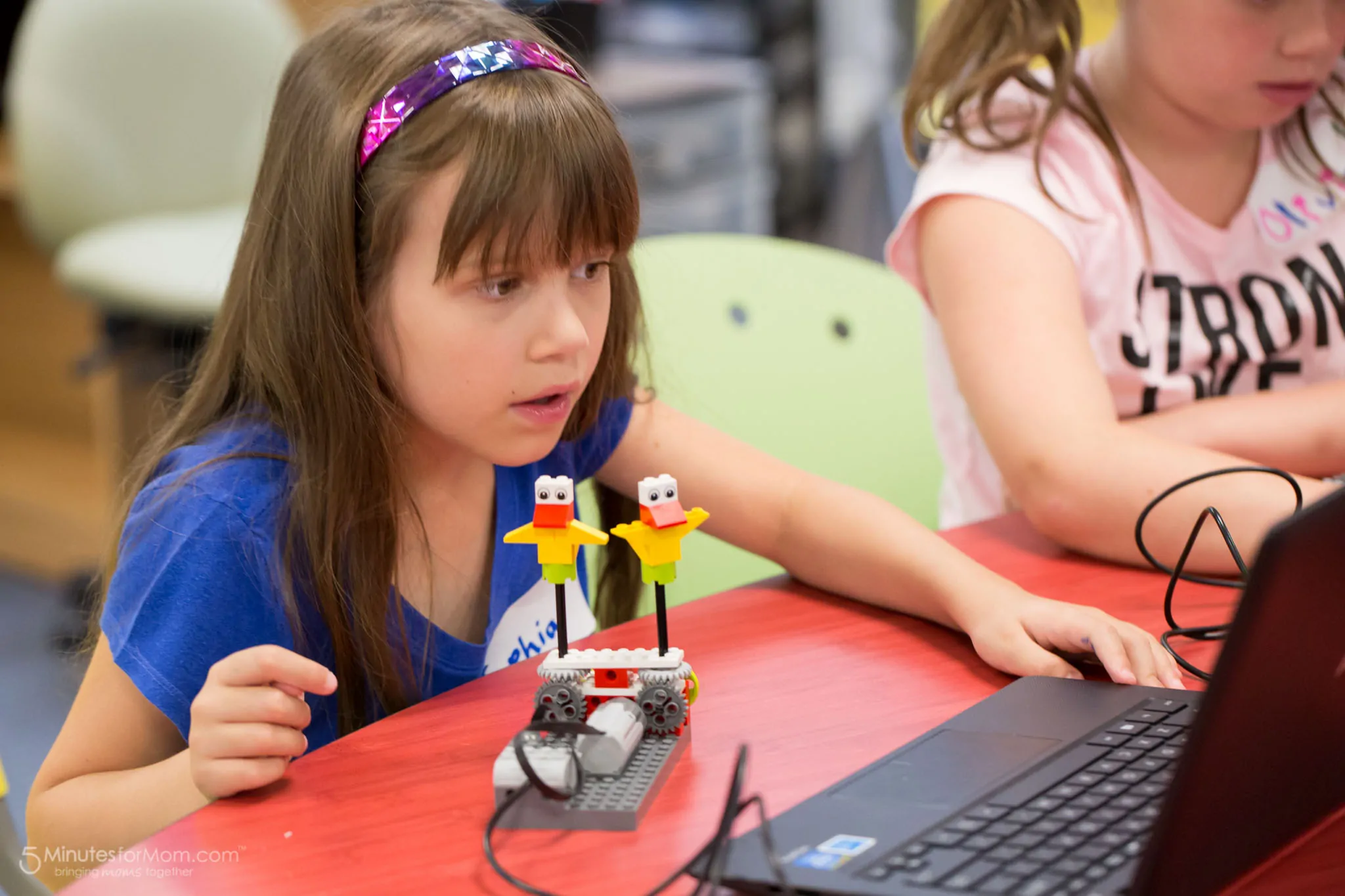 These after-school and summer programs are such an awesome way for your kids to learn with friends in a more hands-on environment that is a lot more fun than a typical school setting.
3. Play Math Games
Math worksheets aren't usually the most exciting way to practice math facts.
Fortunately, a deck of cards offers hours and hours of fun and math along the way.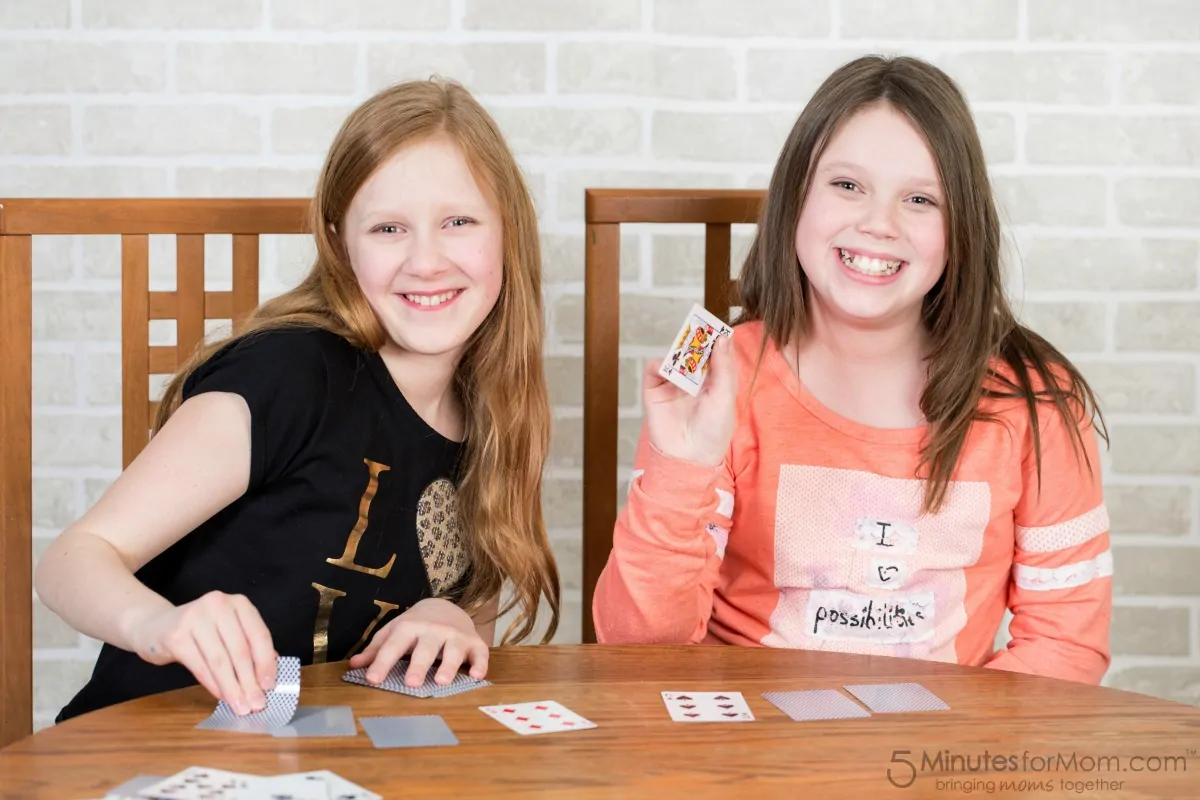 There are many types of card games you can play that incorporate math. One of the simplest is "Math War". You can adapt Math War card games for different age levels from simply comparing number values, to addition, or multiplication.
You can play the game with your child or have him/her play with a friend.
Here's how you play Math Multiplication War…
Shuffle the cards.
Deal the entire deck. Place cards face down and give each player an equal number of cards.
Jacks, Queens, and Kings have a value of 10. You can choose whether you want Aces to have a value of 11 or 1.
Set a timer for 10 minutes.
Both players turn two cards face up, then read the number sentence aloud and answer it.
For instance, player 1 draws 3 and 6, she then says 3 x 6 = 18.
Player 2 draws 2 and 4, she then says 2 x 4 = 8.
The player with the larger product wins and takes the four cards and places them at the bottom of her stack.
If both players have an equation with the same answer, then it is war.
During a "war", each player takes four cards from her stack and places them face down. They then turn over two of their cards. Whichever player has the largest product, wins all eight cards.
The winner is the player with the most cards at the end. Or if a player runs out of cards during the game, the other player is the winner.

Find more ideas for math games on our Math Pinterest Board.

4. Learn About Famous Mathematicians

Teach your kids fun facts about famous mathematicians. Depending on the age of your children, you might watch movies together, read books or research online.

Talk to your kids about the ancient Greeks such as Pythagoras and progress through the years to the famous Albert Einstein and Alan Turing.

If you have teenagers, definitely watch the recent award winning movie, Hidden Figures. It is such an inspiration!

After watching the movie, you can talk about how math careers have evolved over time. It was interesting to hear that they used to call the humans doing math calculations at NASA, "computers". When mainframe computers replaced those human "computers", job openings evolved into positions for computer programmers.

You may want to get your kids excited about dressing up as famous mathematicians. Take a look at our girls dressing up as famous women in STEM.

5. Do STEM Crafts and Activities

Kids of all ages love to build things!

There are so many ways to use math in crafts and activities… from counting and measuring to using advanced physics concepts to build structures.

Building model bridges is a fantastic way to explore math and physics while creating a toy to play with when you're done.

Here's a bridge that we made with Sophia. She had such a great time and was excited about learning how bridges are built in real life.

If Your Child Is Struggling With Math

If your child is struggling to learn math facts or understand basic mathematical concepts, try not to get discouraged, but do seek help. Some kids might have a math learning disability such as Dyscalculia. Also, if your child has ADHD, they may have trouble paying attention during their math lessons. It's important to know if your child does have an issue, so that you can get extra help.

Large classrooms at school can be tough learning environments… especially for kids with learning disabilities. Getting extra math help can really make a difference!

One of my daughters has dyscalculia and so I'm passionate about helping parents understand and learn about it. If your child is diagnosed with dyscalculia, I want you to know that you're not alone with your worries, and your child is not alone with his or her challenges.

Also, I like to remind people that math is much more than arithmetic. If your child thinks they hate math because they can't remember the times tables, lessen the focus on memorizing math facts and widen their view of what math really is about.

Personally, I started to love math in high school when the concepts got more advanced and you could see the real life applications. While I was never good at adding numbers in my head, once we moved on to algebra, geometry, and especially calculus, math became my favorite subject.

Don't let your sons or daughters get discouraged if they struggle with certain aspects of math, help them see how fun and interactive math can be.

Pin it for Later

Disclosure: This post is sponsored, so extra thanks for reading and sharing.
Written by Susan Carraretto, co-founder of 5 Minutes for Mom
Talk with me: @5minutesformom and Facebook.com/5minutesformom
Pin with me at pinterest.com/5minutesformom

Don't Miss These Posts…

How This Math App Can Help Your Kids Master Math

If you're having a tough time helping your kids with their math homework, try this math app.

How to Study and Take Notes from a Textbook

Try these ideas to help your kids learn how to take study and take notes from a textbook.