This post may contain affiliate links. Read my disclosure policy here.
Girls with ADHD are misunderstood and under-diagnosed compared to boys who often present more noticeable symptoms of hyperactivity or disruptive behaviour.
A recent survey reveals how significant the gap of ADHD understanding and awareness actually is amongst teachers, health care professionals and parents. This lack of understanding means that girls with ADHD often go undiagnosed.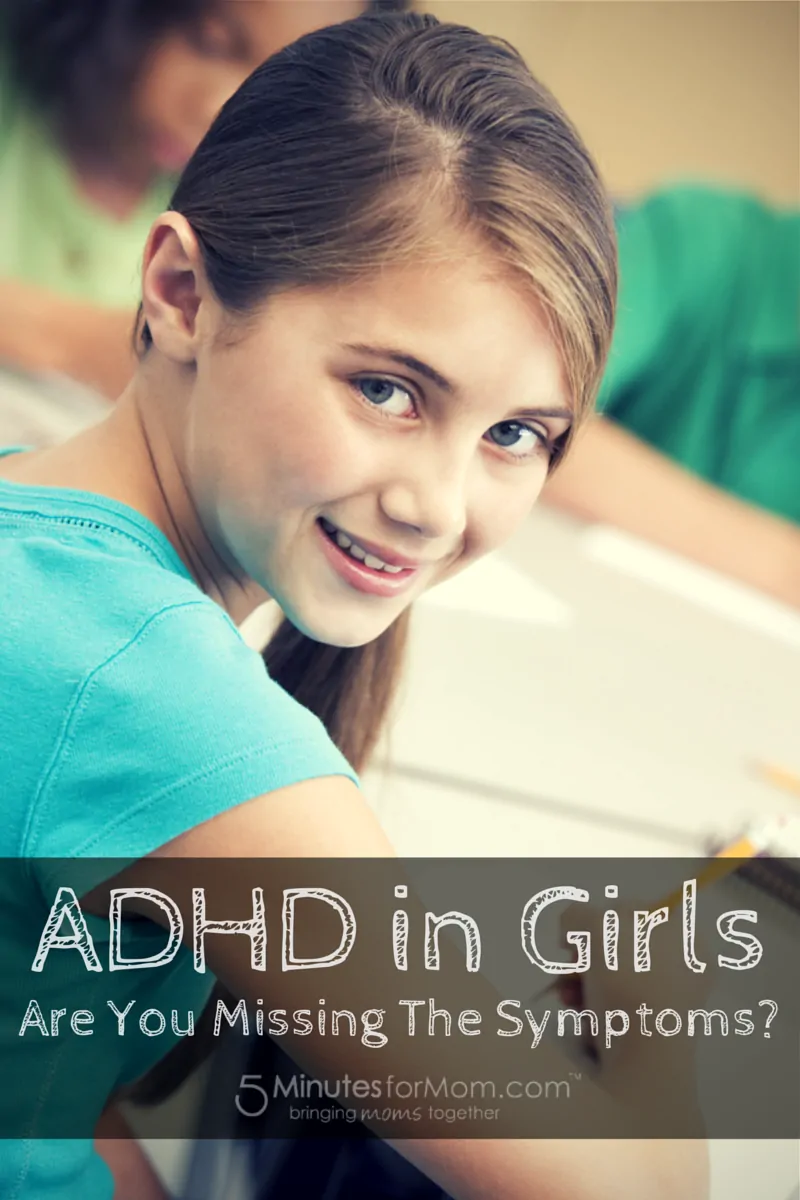 ADHD stands for Attention-Deficit/Hyperactivity Disorder. It is a neurobehavioral disorder that is characterized by a persistent pattern of inattention and/or hyperactivity/impulsivity that interferes with functioning or development.
I interviewed Dr. Patricia Quinn, developmental pediatrician, ADHD researcher and author about the survey results. She explained that ADHD is still a misunderstood condition and is under-diagnosed in girls.
There are 2.5 boys for every 1 girl that have been diagnosed. Yet when we look at adults it is 1 to 1 — it's not late onset — it's a late diagnosis.
There are three presentations of ADHD:
Inattentive
Hyperactive-impulsive
Combined inattentive & hyperactive-impulsive
Many girls only have inattentive presentation which is harder to recognize.
In her private practice Dr. Quinn commonly finds that parents of girls are less likely to notice ADHD symptoms. Even parents who have boys diagnosed with ADHD, often still don't think their girls have it – when in fact they do.
Dr. Quinn finds that teachers are more likely to give assessments of girls such as, "She's fine she just needs to pay more attention."
A sad reality is that while boys may turn the frustrations caused by ADHD outwards and act out with bad behavior, girls tend to internalize their struggles and become anxious and depressed. So tween and teen girls often will be diagnosed with anxiety or depression but the underlying ADHD may be causing those symptoms.
Survey Results
A nationally representative, multi-arm survey examining awareness, perceptions and attitudes about ADHD among mothers of tween girls ages eight to fourteen, as well as teachers and physicians was conducted online in July 2014. The survey was designed by Edelman Berland and fielded by Harris Interactive, a Nielsen company, on behalf of Shire Pharmaceuticals.
I put together some of the survey findings into the following infographic.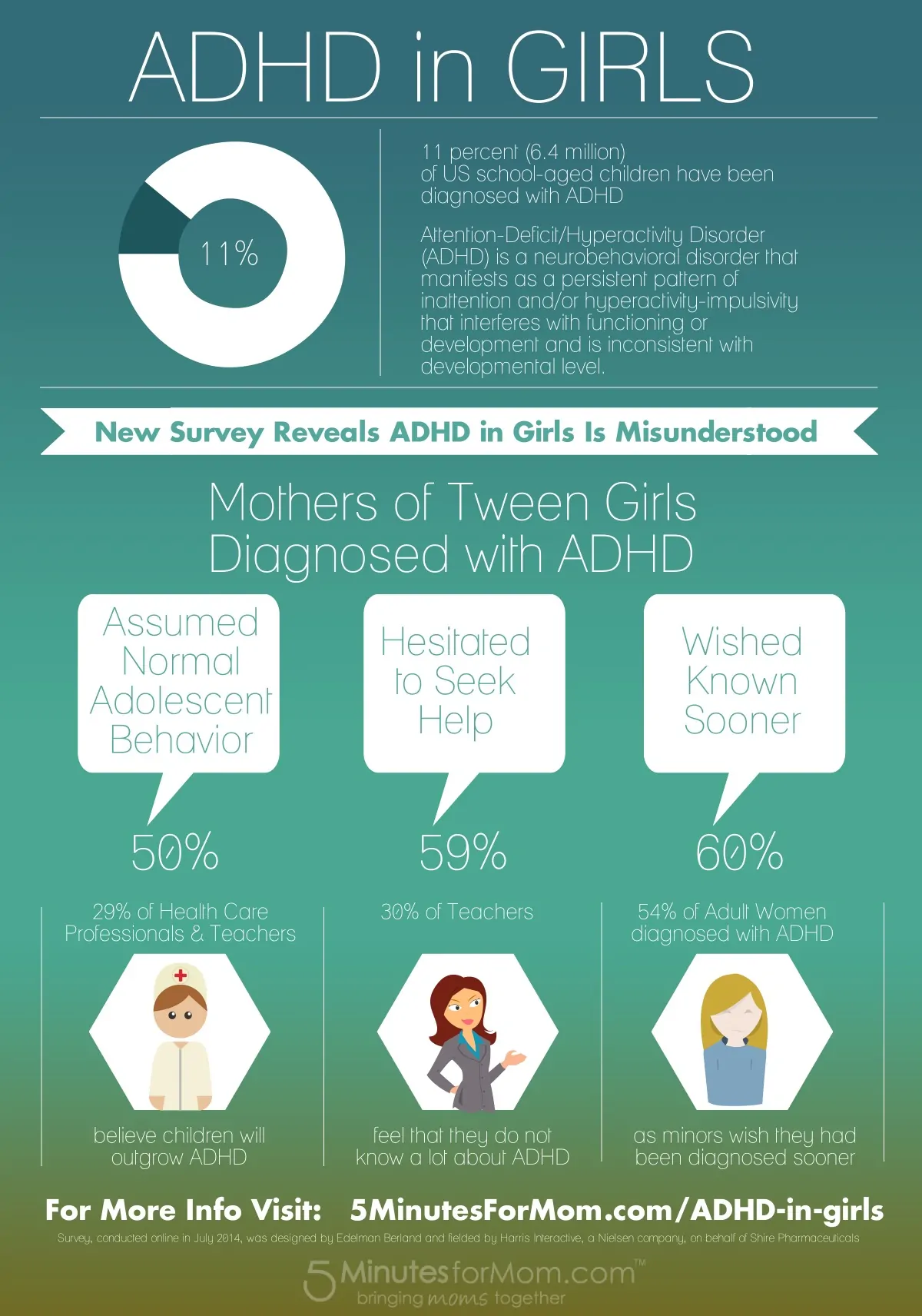 The survey confirms there is much work to be done in educating teachers, parents, and health care professionals of the full range of ADHD symptoms, what it looks like, and other important facts including that most children don't just outgrow it.
In fact, this new survey shows that 30% of teachers admit they don't know enough about ADHD.
The survey revealed:
Nearly 50 percent of mothers of tween girls who have been diagnosed with Attention-Deficit/Hyperactivity Disorder (ADHD) reported that they had first attributed their daughters' behavior to "normal" adolescent struggles.

59 percent reported that they initially hesitated to seek help from a doctor for their daughter because they thought their daughters would outgrow their behavior.

60 percent said they wish they had recognized the symptoms of ADHD earlier and acted sooner.

29 percent of teachers and health care professionals surveyed believe children will outgrow ADHD symptoms. Previous independent research based on parent report suggests that nearly 50% of children with ADHD may continue to meet the criteria for the disorder in adulthood.

Nearly a third of teachers (30 percent) felt that they do not know a lot about the condition.

54 percent of adult women diagnosed with ADHD as minors wish they had been diagnosed sooner.
Where To Learn More
One new educational resource is the website adhdchildhood.com. It has a checklist that can help a mom recognize symptoms so she can then talk to her child's doctor.
Another extremely helpful site is Children and Adults with Attention-Deficit/Hyperactivity Disorder (CHADD).
ADHD is treatable disorder but the first step is getting a diagnosis. If you are concerned, if you know your motherly instinct tells you what's going on is wrong, please seek professional help.
No website or book can replace talking to a doctor. A diagnosis must always be made by a qualified doctor who then can discuss treatment options.
What's Next
The key is helping people become informed. The survey showed mothers often did not think their daughters had ADHD but thought the behaviours were part of a normal phase. Once they are educated about ADHD, they can understand it is a real disorder.
Parents often know something is wrong, but are afraid of the myth that it's bad parenting. We need to dispel that myth as well as other myths such as the misconception that one treatment fits all. There are multi-modal treatment needs and it's about individualizing treatment and doing what is best for each child.
54% of adult women who were diagnosed when they were younger still wish they had been diagnosed even earlier. Dr. Quinn often hears patients say, "I always knew something was different." At about ages 8, 9 or 10, girls often start noticing something is wrong, but too often the diagnosis comes much later.
These women say, "Life would have been different if I'd known."
Find More Resources for Kids and Parents with ADHD
Check out our ADHD Pinterest Board…
Also, we found this book, Would You Teach A Fish To Climb A Tree? to be helpful. It's quite common for kids with ADHD to also struggle with anxiety. If you're worried about your daughter's anxiety, read our post on helping your anxious child.

Written by Susan Carraretto, co-founder of 5 Minutes for Mom
Talk with me: @5minutesformom and Facebook.com/5minutesformom
Pin with me at pinterest.com/5minutesformom
This post is not to be taken as medical advice. Consult a doctor if you think you or your child may have ADHD.
Don't Miss These Posts…
How to Study from a Textbook
Try clever ideas to help your ADHD kids improve their study habits and learn how to take notes from a textbook.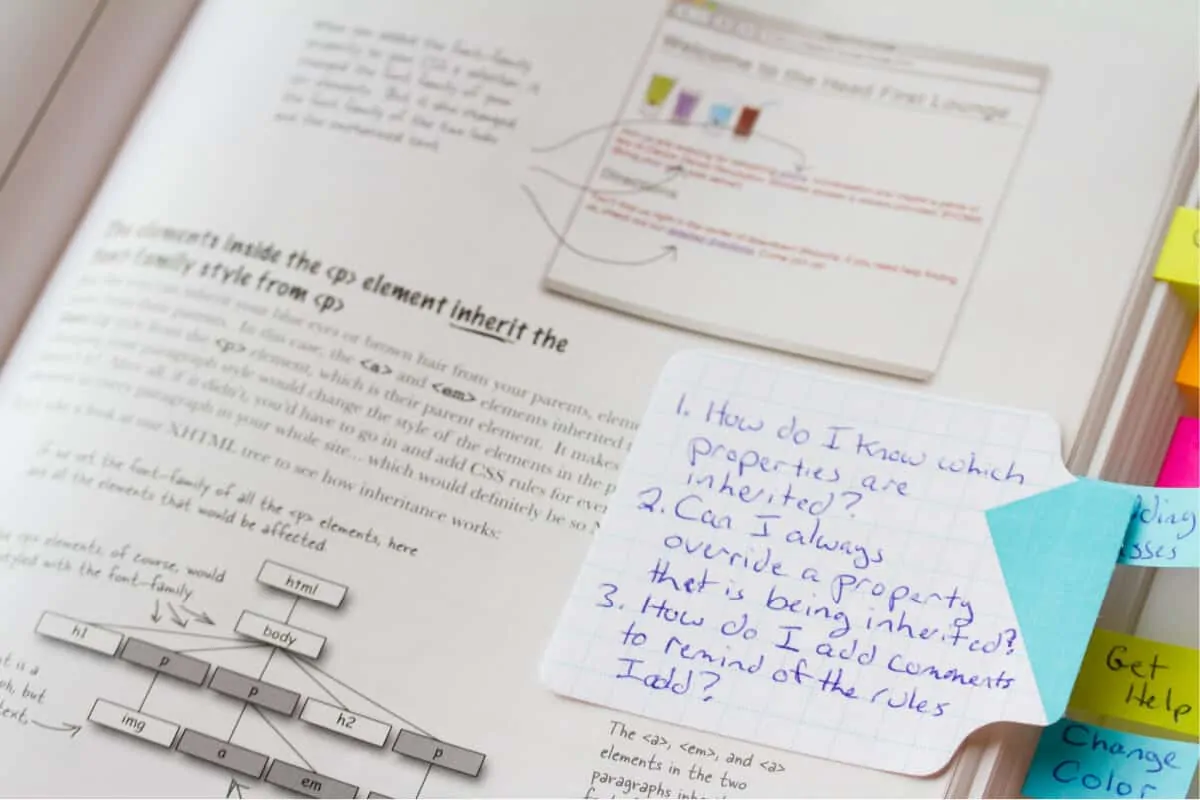 How To Help Your Kids With Math Homework
When your child has ADHD, they usually miss most of the math lessons in class. So when they don't know how to do their math homework, and you can't remember how to solve a quadratic equation, let the Photomath app rescue you.