This post may contain affiliate links. Read my disclosure policy here.
Books editor Jennifer Donovan has been thrilled to work with author Amy Blankson on the release of her new book The Future of Happiness: 5 Modern Strategies for Balancing Productivity and Well-Being in the Digital Era, which publishes April 11.
I love reading about happiness and life hacks and how to couple these with mission and purpose to live intentionally. Amy Blankson has devoted her life to researching and uncovering how technology figures into our lives.
As moms who juggle family relationships, work, friendship and self-care, does technology help us? Or does it just add to the balls we are trying to keep in the air?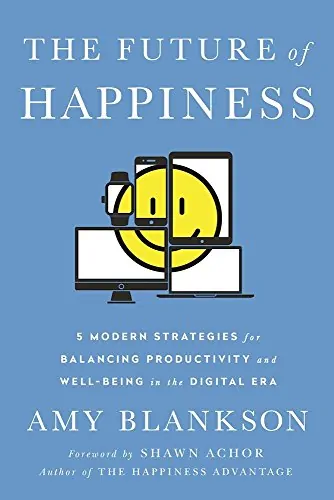 What I love about this book, and the clarifying interview that I did with author Amy Blankson, is that technology is not painted as the savior or the downfall of our current society. We choose, based on our own values, what role technology will play in our lives.
The five strategies are defined with clear real-life examples and then framed with a challenge and a strategy to implement:
Stay grounded
Know thyself
Train your brain
Create a habit of happiness
Innovate consciously
Technology is a tool. It's what we do with it that matters.
This was somewhat groundbreaking to me, because it helped me to step back and evaluate the positive role technology has had on elements of my life, and to stop blaming it — or shaming myself — for the challenges its created.
Let's apply that to several areas of our lives.
Parenting
Is there a parent out there who doesn't feel guilty about the amount of time that our children spend on screens? This is not in the book, but did come up in our interview. Amy wanted to research the guilt-inducing theory that has us all holding our heads comparing technology to digital heroin. She says that the research is not very convincing.
She also shared the new milestone that many parents note –when their child can swipe an iphone. It could be easy to criticize this, but is it worth criticizing? or just reframing?
The book encourages you as a parent to set limits and expectations, just like we do with anything our kids interact.
Friendship
Most of us — blog readers, social networkers — probably have at least one, if not many friends that began in the virtual world. Some of us may be married to someone we first met online.
Most of us probably struggle with this, because we see the true value of social media in our friendships, but we also wonder if we should be spending more time face to face and heart to heart.
A thorough reading of the book, application of the examples she gives, and thought on the matter really helped me value the role of technology in the role of my friendships, whether it's the online games I play with my sister, the way that texting helped me start up a few recent friendships, and the ability to stay a part of my college daughter's life through Snapchat and FaceTime.
Work-Life Balance
The tips I got about this from the book — about pursuing and achieving true happiness — are not necessarily technological. The biggest takeaways were about my values — my "third-prong" that grounds me and can help me decide if other decisions are best for me. The second was the encouragement to write down — and display — my goals. These goals also turned out to be more value-based as far as who I am, not necessarily measurable goals that I wish to achieve, but in the loose structure of my weekly schedule, it works quite well to define how I'm going to choose my time.
If any of these subjects piques your interest, I invite you to check out the book or follow Amy below to find out more. I have posted more of a traditional book review about why it's such a great reference over at 5 Minutes for Books. Please read it.
Follow Amy for More
@AmyBlankston
Read her Happy Tech Blog
Facebook
Pin for later