This post may contain affiliate links. Read my disclosure policy here.
Have you heard of Photomath? It's a very clever app that solves math problems… and when used appropriately, the Photomath app can help students learn how to master complex math questions.
This post is sponsored, but as always, my opinions are my own.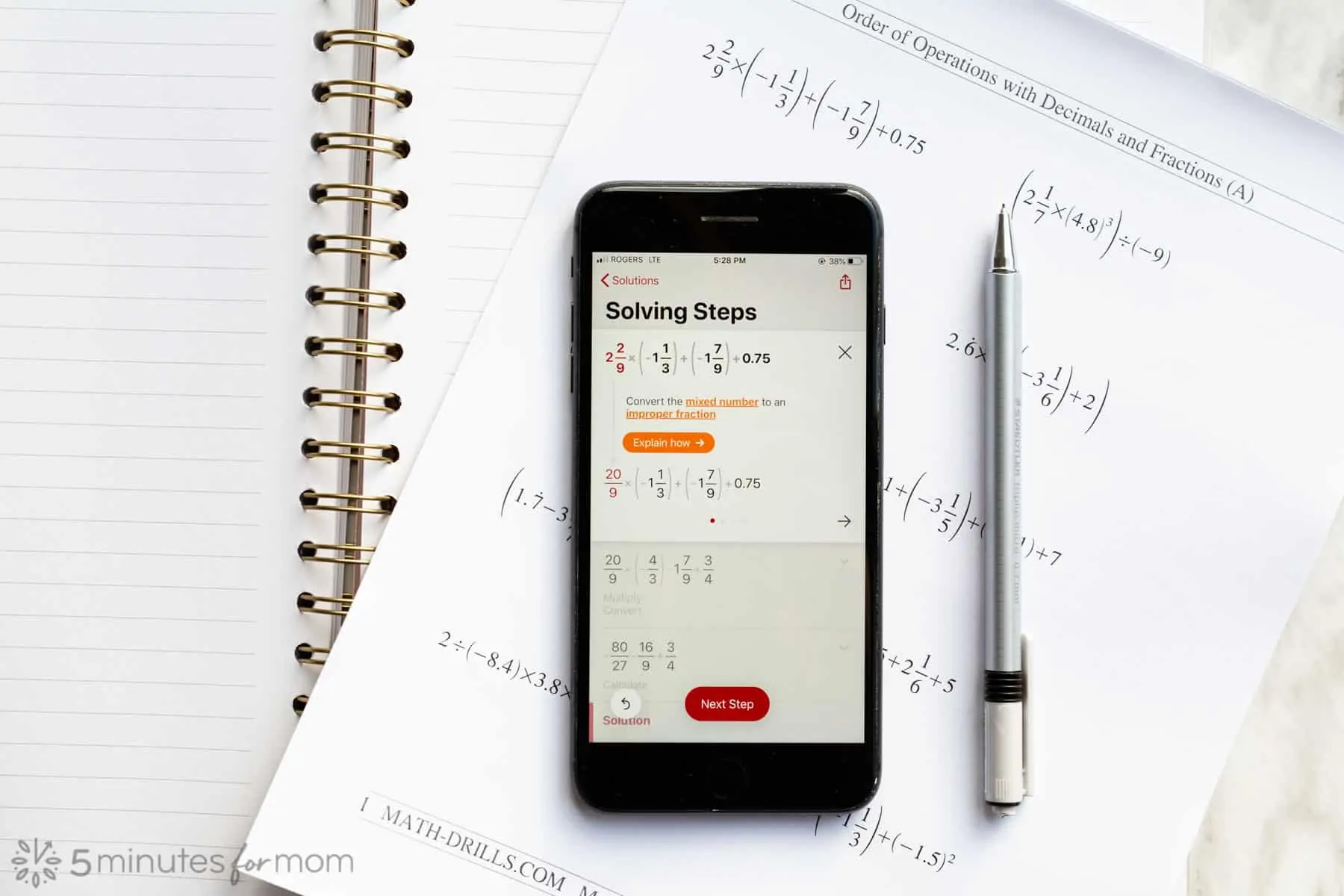 Since I've embarked on the exciting journey of homeschooling my teenagers, the folks at Photomath reached out to ask me to test their math app. I tried it out and I'm incredibly impressed. So I'm going to take a deep dive into Photomath to show you how it works and how it can help you if you're homeschooling or trying to help your kids with their homework.
In a nutshell, Photomath is a little like being able to check the answers in the back of the book. But it's way more helpful because it shows you step-by-step how to work through a problem and helps you understand why that answer works.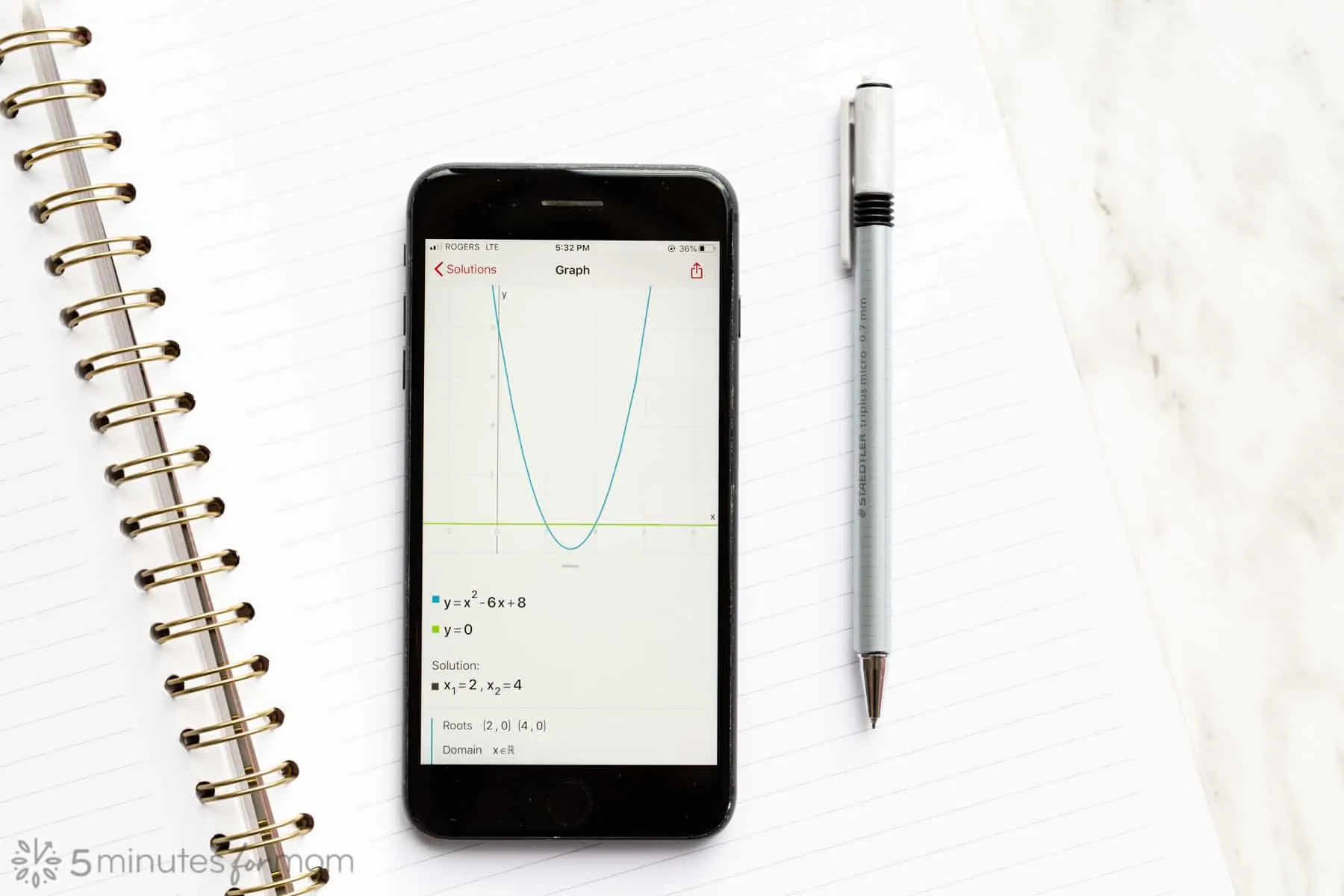 Perfect for Homeschool Moms
As I mentioned, I am homeschooling my grade 8 daughter and my grade 8 niece. I'm also helping my grade 10 daughter with her distance learning. So I will be doing a lot of high school math this year!
I actually like math.
But I still forget how to solve certain types of problems. It's been over 20 years since my last University math class, and I've forgotten a ton of stuff.
I'm thrilled to have Photomath to help me along the way.
I don't ever have to worry about being stumped by a math question. I won't have to waste precious hours of my time trying to figure out how to work out a particular math problem. If I don't remember how to solve a math question, I can use Photomath to refresh my memory.
The great thing with math homework is often all you need is a quick reminder for how to solve a certain type of problem and then all that studying you put in years ago comes back.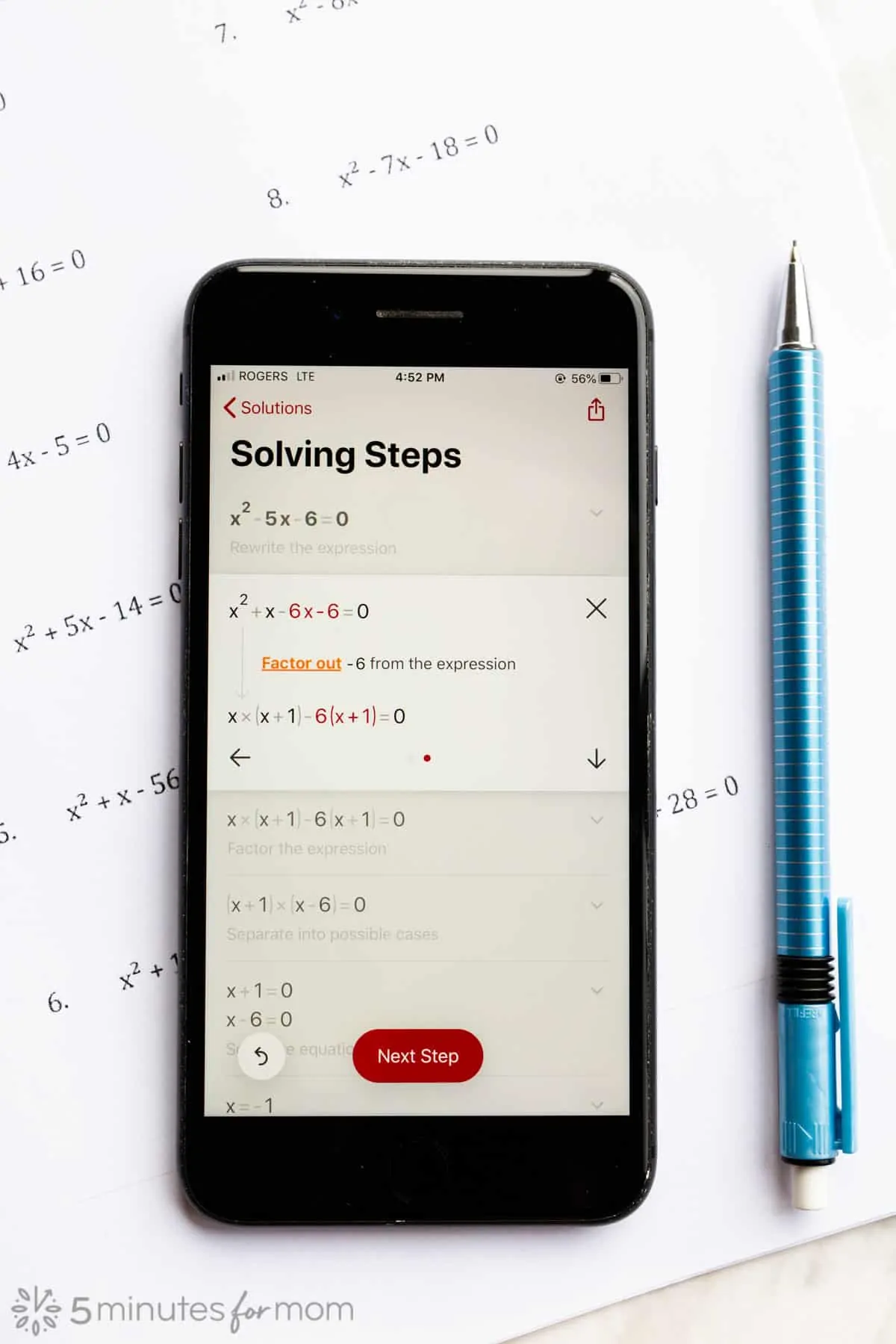 If you're homeschooling, you can print out math worksheets from various websites and use Photomath to check your child's answers. Or you can purchase one of the textbooks that Photomath supports. They show all the step-by-step solutions for a wide variety of textbooks.
Math Apps
If you're a parent who has been out of school for awhile, you may be shocked that there is such a thing as math apps that can take photos of math problems and give kids answers. And your first thought might be, "Isn't this is a way for kids to cheat on their math homework?"
As you know, the problem of kids cheating on their homework is as old as school itself. But technological advances have certainly changed the meaning and methods of cheating.
In fact, if you're the parent of a teenager, you might want to check their phone to see if the Photomath app is installed. And if they do have Photomath or another math app on their phone, you'll want to have a chat with them… AFTER you read this post.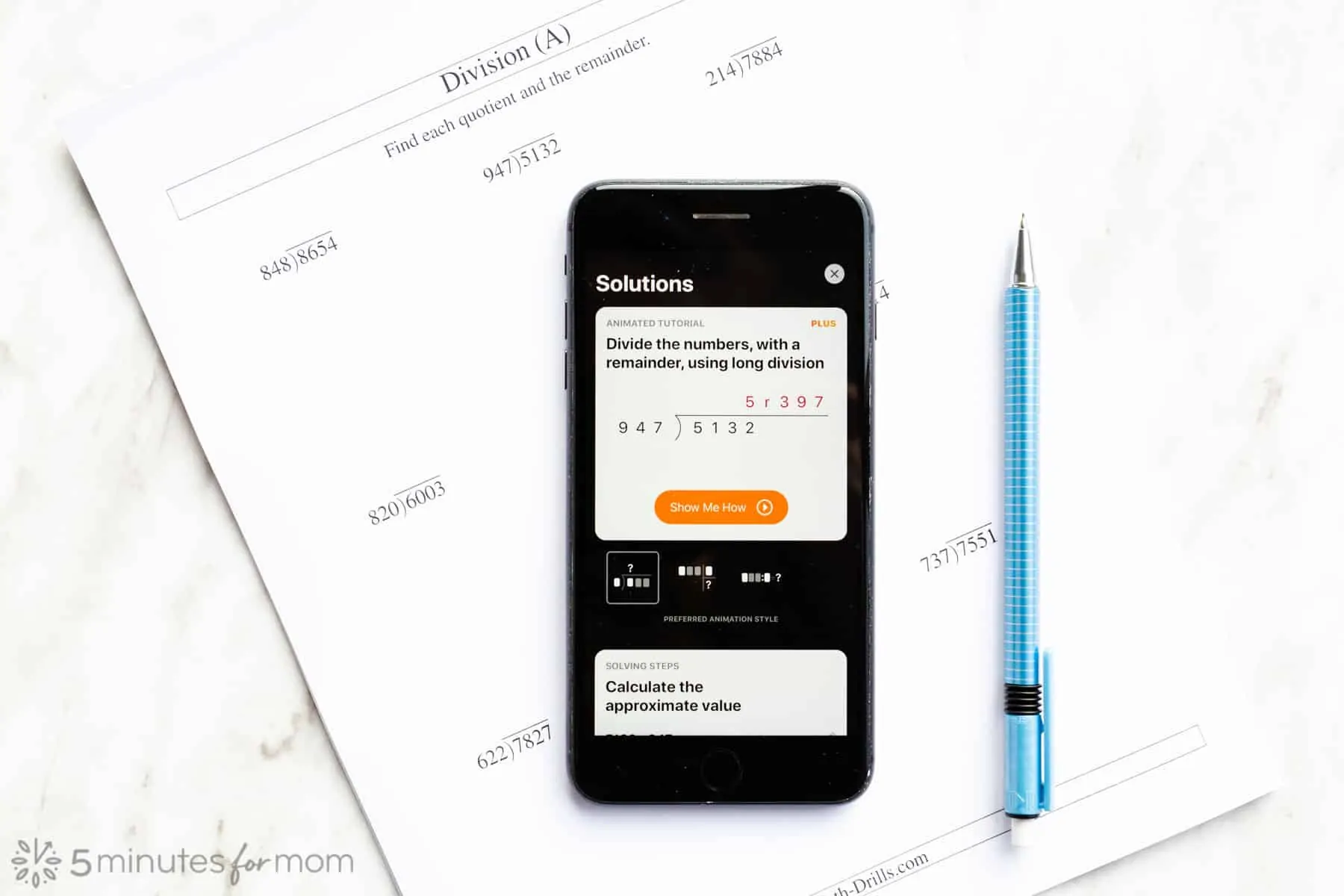 What is Photomath?
Photomath was created in 2014 and has become the most popular math learning app in the world. This app is so popular it's been downloaded over 190 million times!
As my 18 year old nephew says, "It's a lifesaver!"
Photomath uses both AI technology and real math experts to solve and explain step-by-step solutions to math problems ranging from arithmetic to calculus.
The AI programming can recognize math problems and instantly produce step-by-step explanations to countless types of math problems. And the in-house team of math experts (including math teachers) create detailed explanations to illustrate how to understand and solve math problems. They will often include 2 or 3 alternative methods to solve a single question.
Photomath even has a library of textbooks including algebra, statistics, probability, geometry, and calculus showing detailed (even colorful) explanations for how to work out solutions for each of the questions.
Invented by a Dad
Even engineers can struggle to explain math homework to their kids.
Damir Sabol was an engineer who knew a ton of math, but still had a hard time helping his teenage son with his homework.
Just like countless other parents, he found it frustrating to explain math concepts that aren't even taught the same way he learned when he was in school.
So in 2014, he created Photomath.
How To Use Photomath
It's easy to get started with Photomath…
First download the Photomath app on your smartphone.
Then you can use the free version or upgrade to Photomath Plus with a FREE 7-Day trial.
There are two ways to use the app to solve math questions:
The most common way to use Photomath is to take a photo of a math problem using a smartphone.

The app then solves the question and shows step-by-step explanations for one or more possible solutions. The questions can be typed or handwritten. You can even point your phone at your computer screen.


You can also use Photomath in Calculator mode.

You simply input or edit math problems using the scientific calculator in the app. Certain keys have a red dot that you can hold down to reveal more functions.
Do students use the Photomath app to cheat on math homework?
The obvious question is… do kids use Photomath to cheat on math homework?
Unfortunately, kids could use the Photomath app to simply look up answers for their math homework. But they can also call up their friend or copy their answers during lunch break.
The purpose of the Photomath the app is to show students how to solve a certain type of math problem. Once they see how that example is solved, they can apply the same logic to similar math questions.
The problem of kids cheating on their homework has always existed. And it would be fair to say that math homework is always at a high risk for cheating since everyone works on the same questions and (usually) comes up with the same answers.
The best way to ensure your kids aren't cheating on any type of homework is to talk about it ahead of time. It's good to have upfront and honest conversations about what "cheating" on homework looks like these days. Once kids hit middle school, they will encounter many temptations for cheating on their homework.
And you'll want to talk to your kids about the importance of doing their own work for Math and Science classes where the answers might be really easy to copy off a friend or the Internet.
These days, kids can find the answers to basically any homework question online. So you need to explain to your kids the purpose of homework assignments and why "cheating" by getting the answers from friends or online does not help them reach their goals of understanding the work.
Ultimately, most of a math grade comes from in-class quizzes, tests, and longer exams.
The only way to succeed in math is to master each style of math problem and understand the math principals behind those solutions.
Math homework questions are really just practice questions.
As students progress through middle school, high school, and college math classes, almost all their marks will come from exams. If a student cheats on their practice math questions, they won't learn the material and won't succeed on the exams.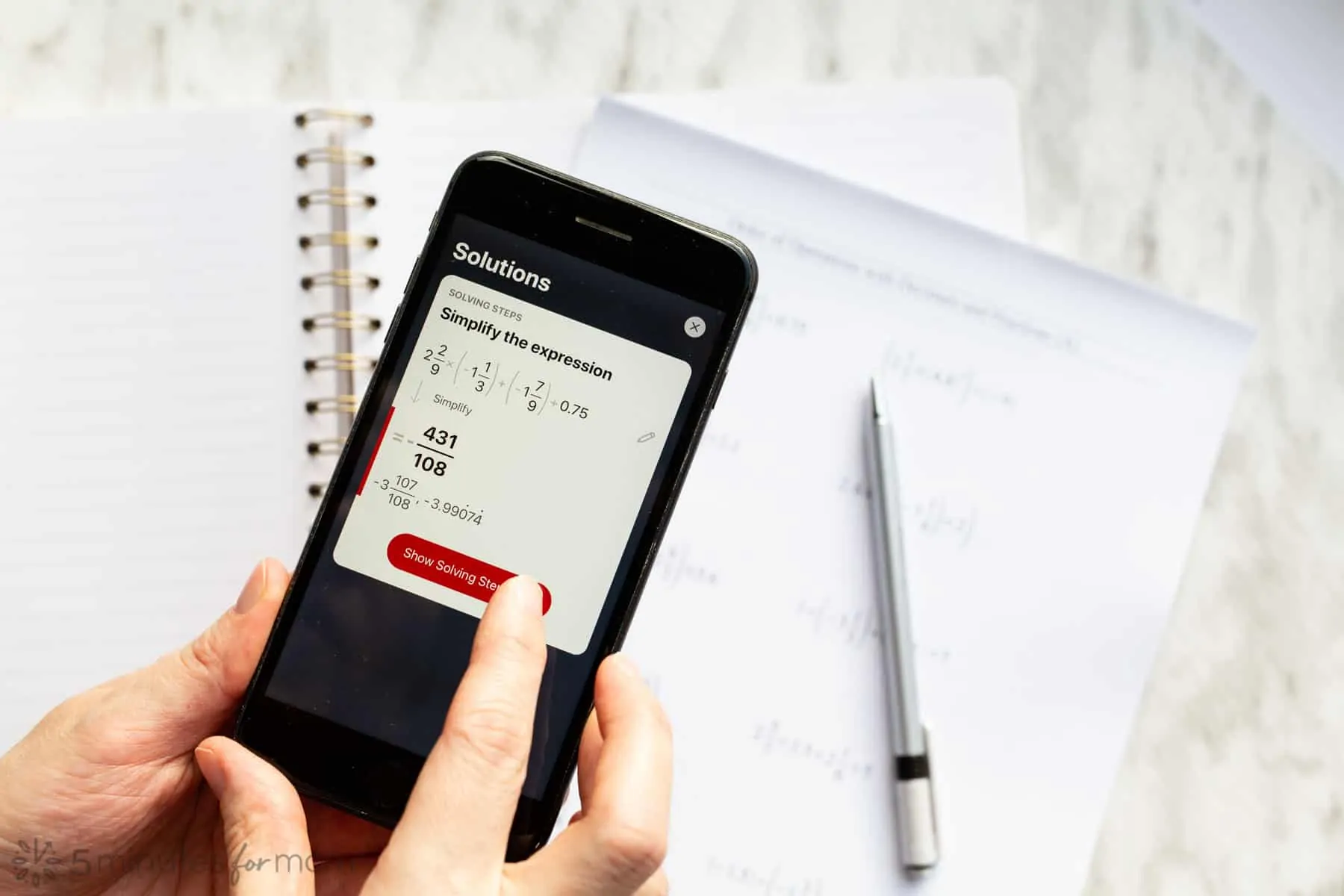 Math Is Different
Learning math is different than most other school subjects.
Studying math involves mastering various math concepts and math principals and then practicing those ideas with sample questions.
The point of math homework is to practice those concepts until you have mastered them. (And you're ready for a test.)
The trouble with math homework is that if a student did not understand the lesson at school and they do not have access to a tutor (and the math is too advanced for their parents to help), they can waste hours staring at a bunch of math homework questions that they do not know how to solve.
But now you don't have to worry…
Photomath is like having your own personal on-call math tutor!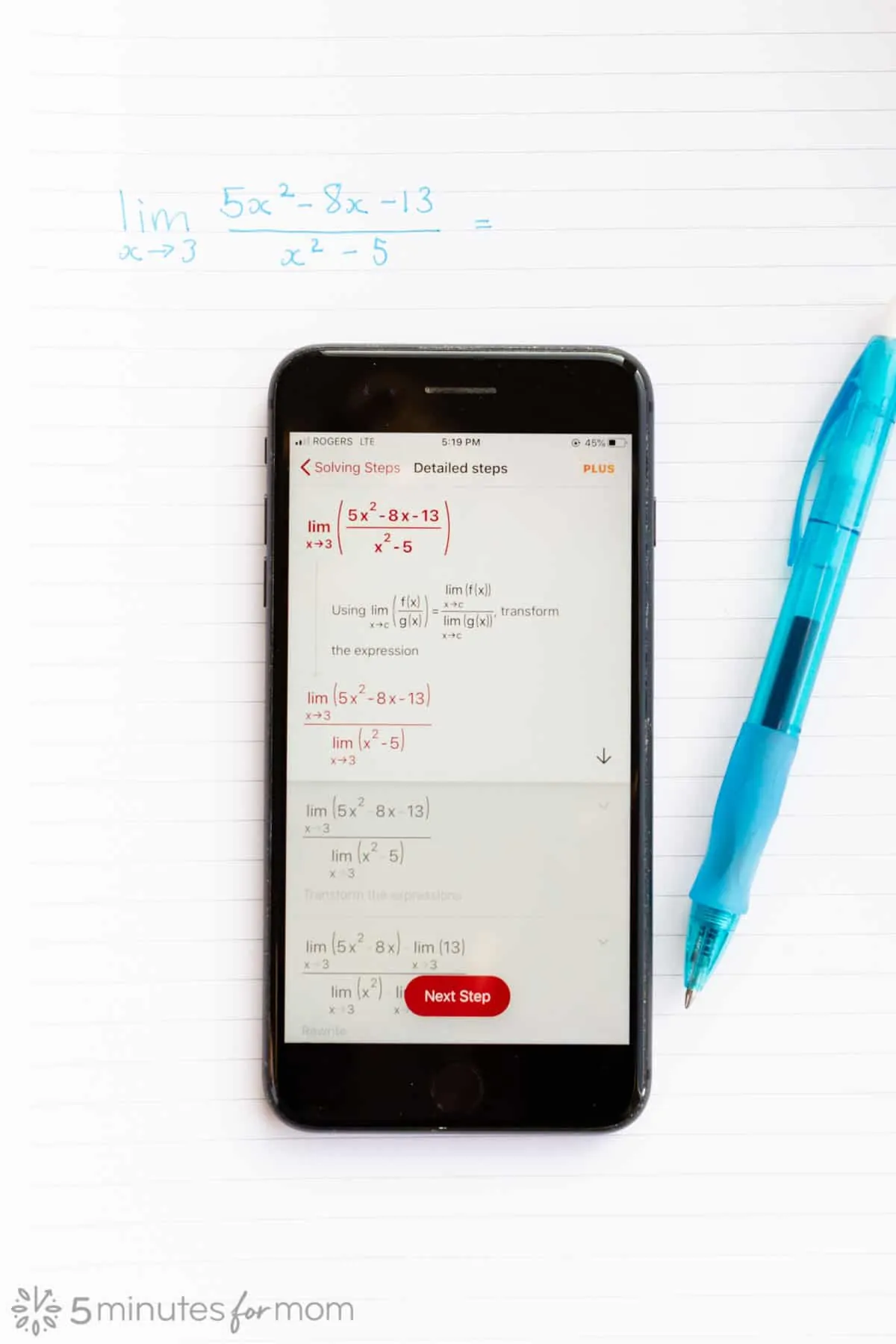 Photomath Plus
The basic version of Photomath is free… and the free version doesn't even require Internet access!
If you want more advanced tutorials and the textbook solutions, you can get Photomath Plus.
I think the real power of Photomath comes with these premium features.
Animated Tutorials

Photomath Plus Animated Tutorials are like watching a teacher work out an example problem step-by-step on a whiteboard.

These tutorials can help kids visualize and understand why they need to take each step in the solution.

If you're trying to help your middle school child with their homework, you are going to love watching these animated tutorials. You'll understand the question and be able to also show your child how to answer similar questions.


Textbook solutions

The math experts working at Photomath have created detailed explanations for over 47 textbooks. You'll find answers to elementary school, high school and some college textbooks.


Math terms and concept definitions

I like how the explanations often include definitions for math terms to jog my memory.


Additional content explaining the reasoning behind the steps

When you're reading a Photomath Plus solution, you'll often see additional material that answers the 'why' and 'how' problems are solved. These premium feature "hints" go above and beyond the regular step-by-step solutions.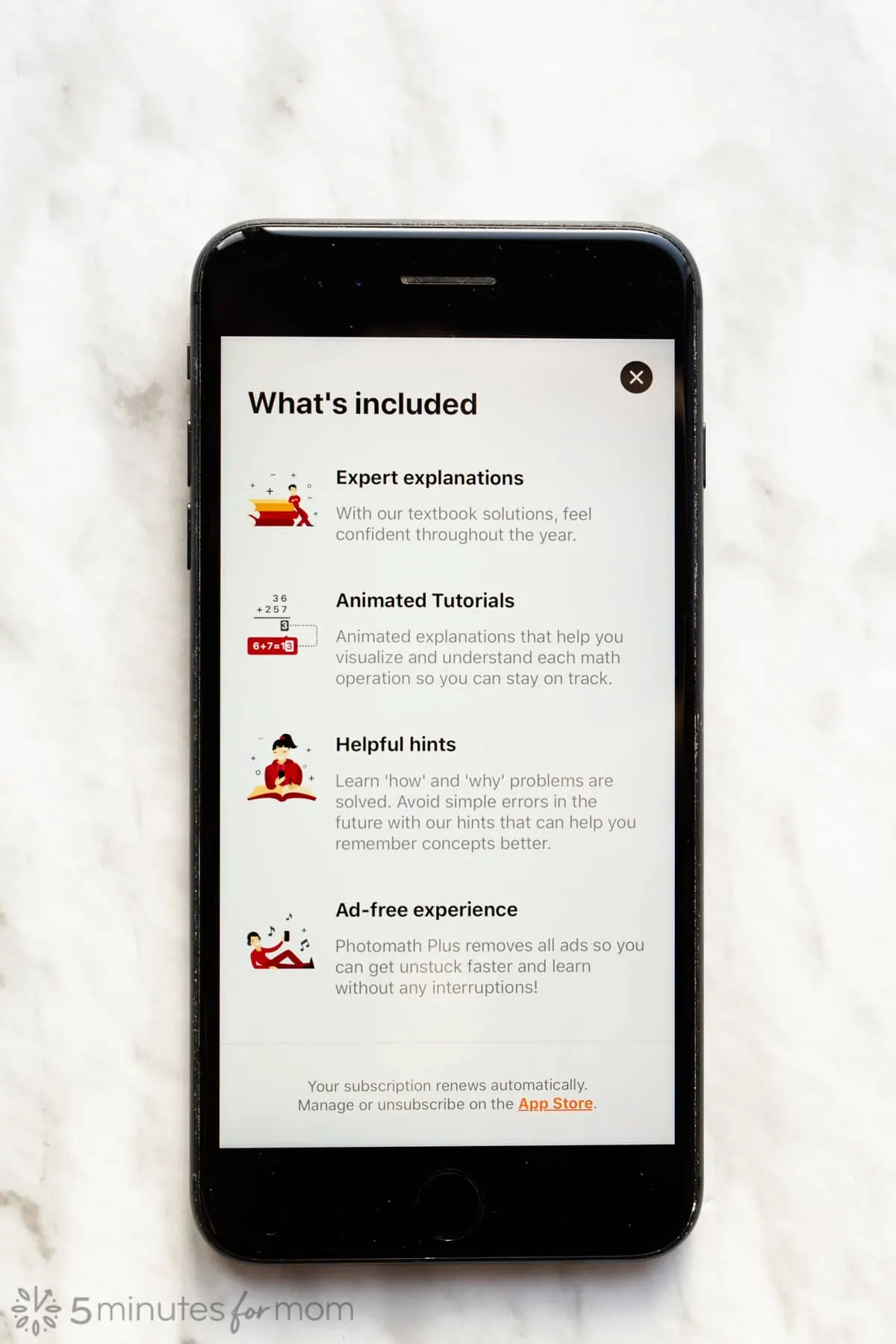 How Photomath Can Help Combat Educational Inequality
Inequality in education has always been a problem. And the pandemic has highlighted the enormous inequities and widened the gap in many areas.
It can be hard at the best of times for all students to get access to quality teaching and educational materials.
For those parents who are able to spend time trying to help their kids with homework, many of them have forgotten how to solve math problems or the new teaching strategies confuse them.
Parents and students often need help understanding and solving math problems.
But only the wealthiest families can afford tutors.
Photomath helps level the playing field by effectively teaching students how to break down complex math questions and helps them understand how to solve math problems and why those solutions make sense.
The free Photomath app gives detailed step-by-step solutions to math problems and includes multiple solution strategies and interactive graphs.
For a small fee, students can upgrade to Photomath Plus for extended solutions that have even more step by step instruction.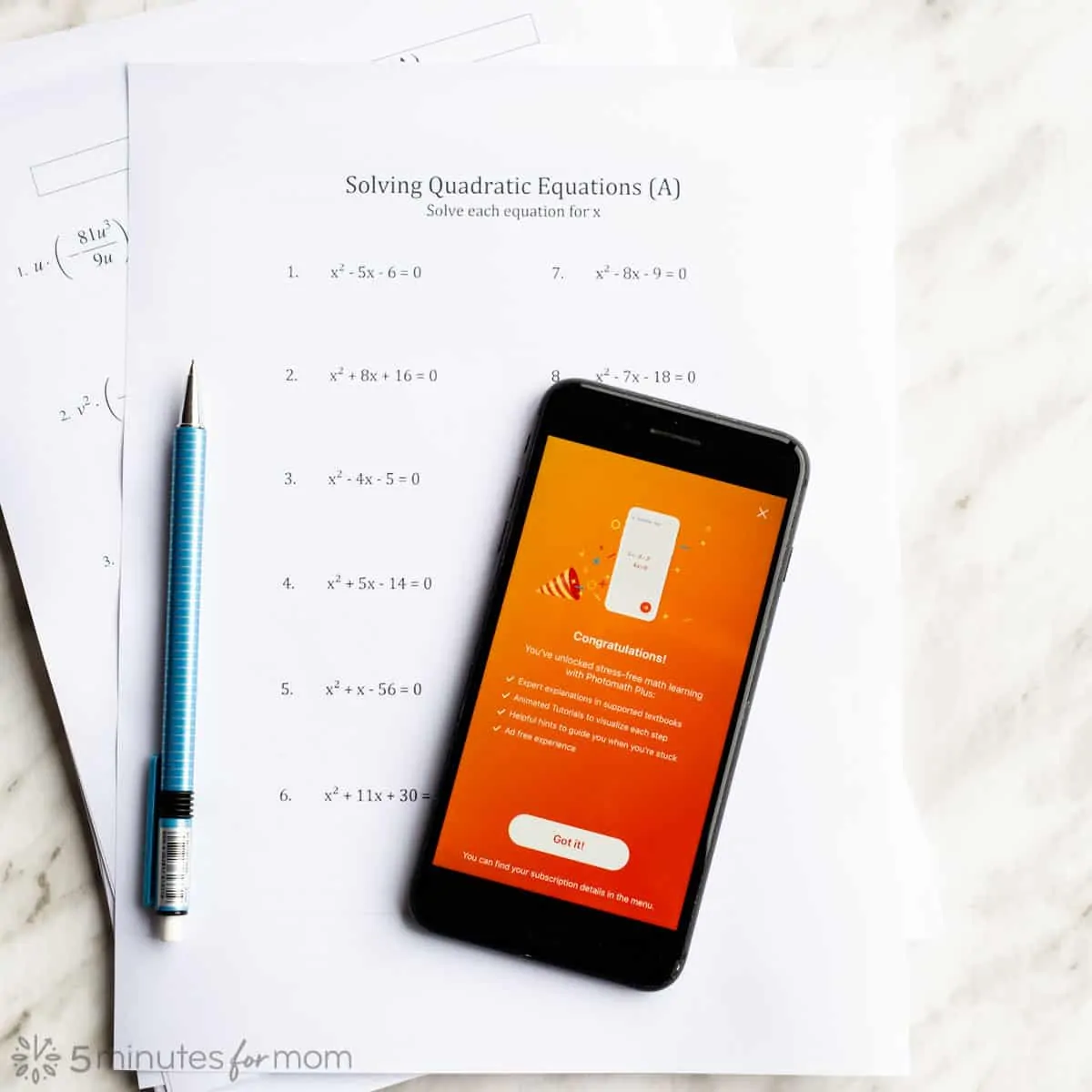 Get Started with Photomath
Okay, now it's time to get started learning…
Upgrade to Photomath Plus with a FREE 7-Day Trial
Pin it for Later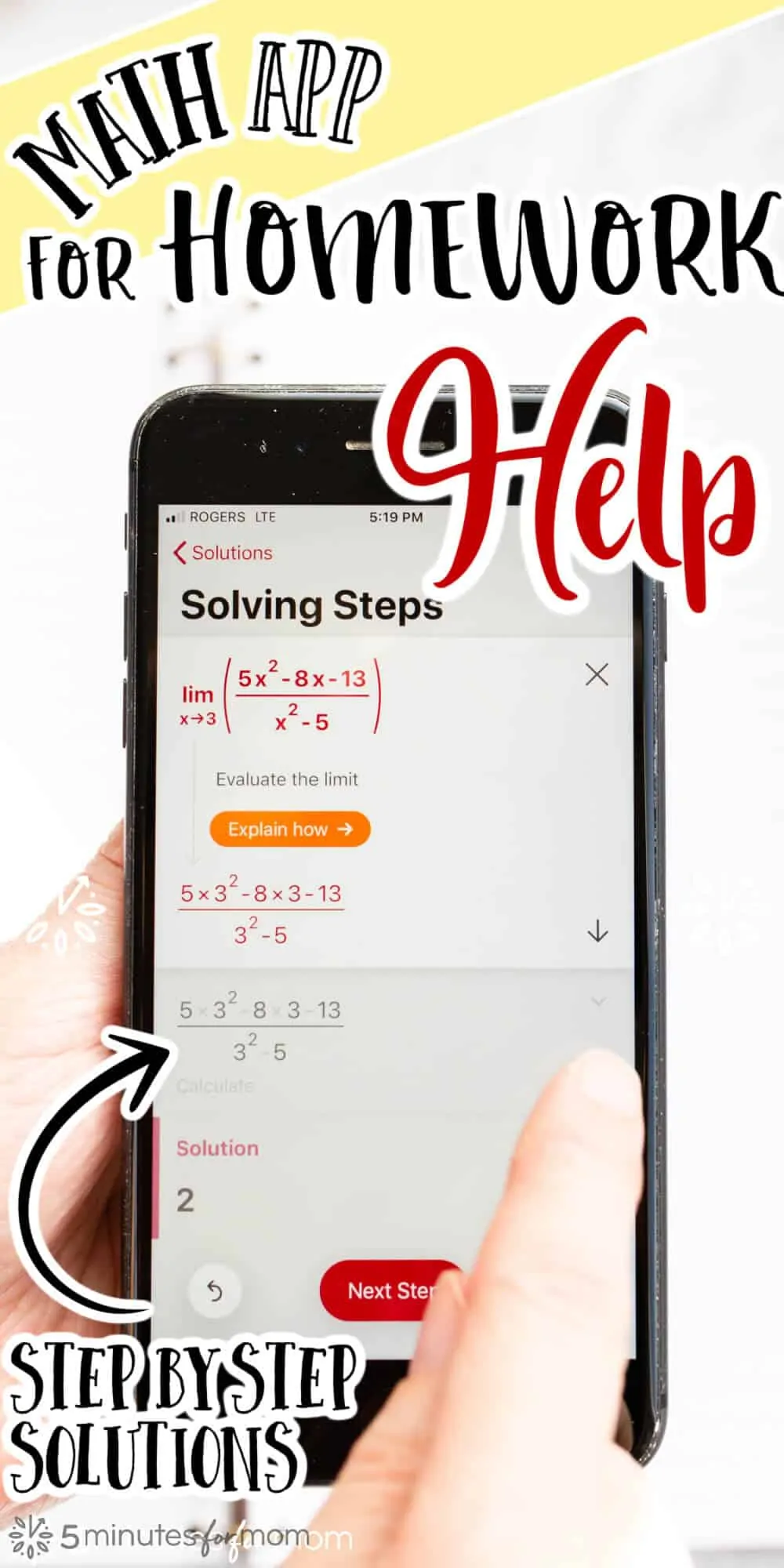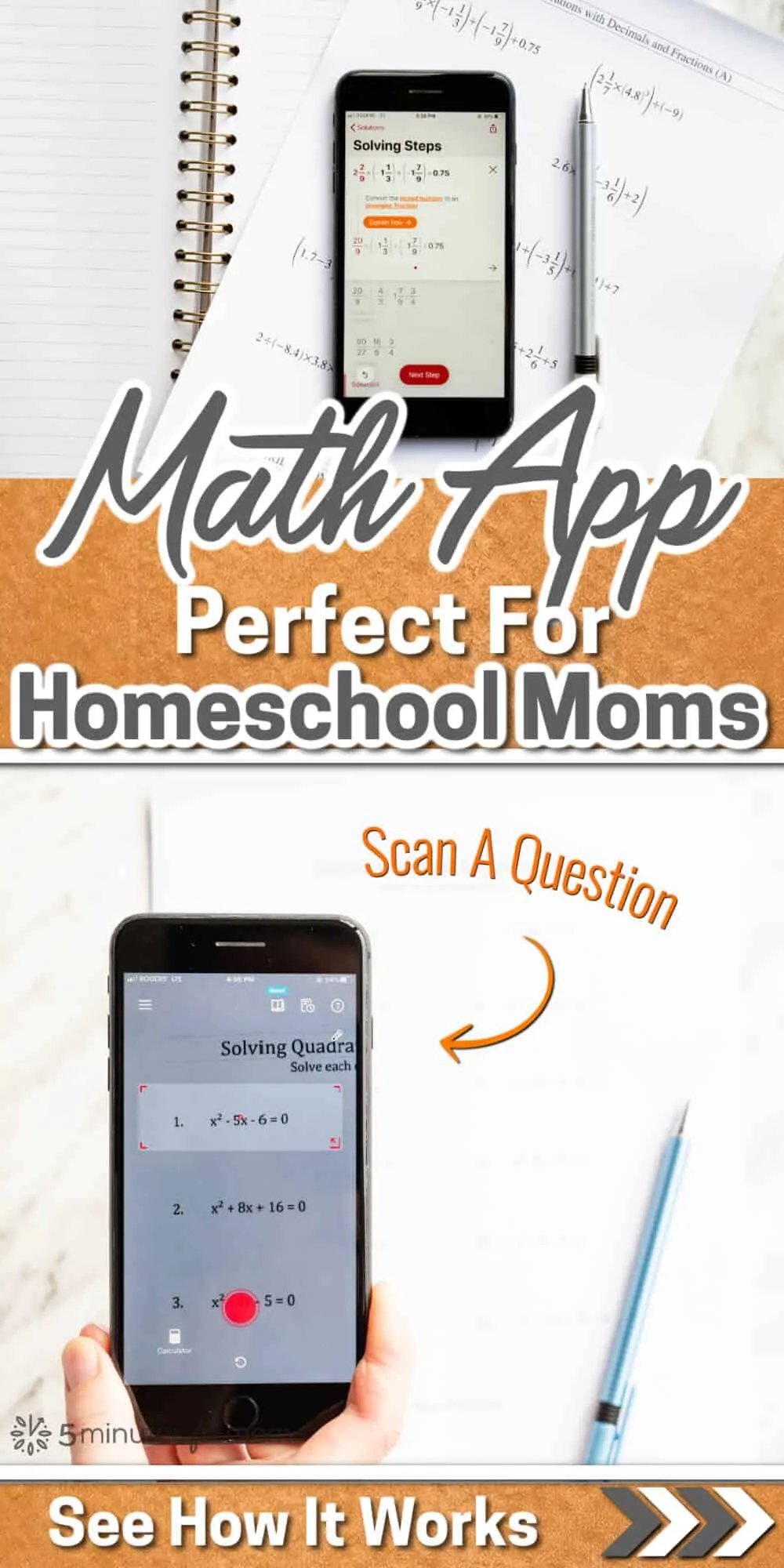 Disclosure: This post is sponsored, so extra thanks for reading and sharing.
Written by Susan Carraretto, co-founder of 5 Minutes for Mom
Talk with me: @5minutesformom and Facebook.com/5minutesformom
Pin with me at pinterest.com/5minutesformom
Don't Miss These Posts…
5 Creative Ways To Get Your Kids Excited About Math
Try these helpful ideas to inspire you and your kids to make math more fun.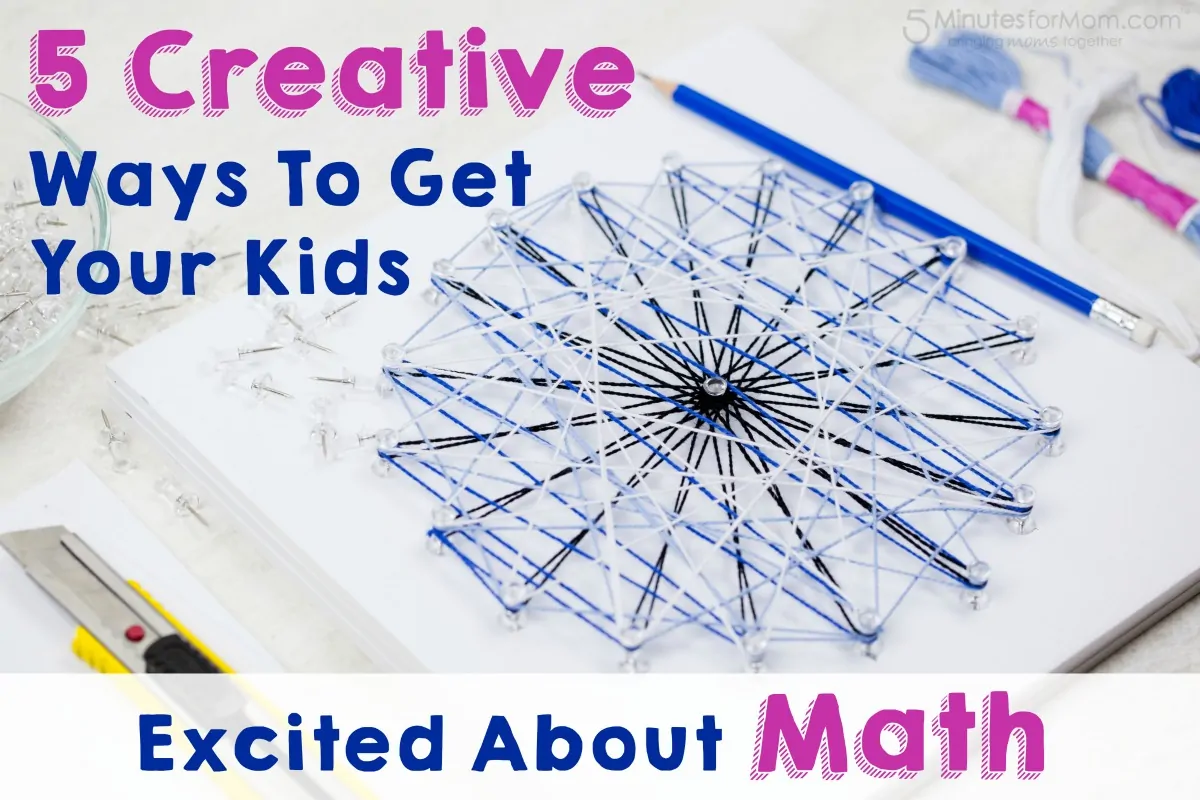 Free Resources To Improve Writing Skills
Do you want to help your kids improve their writing? Try these ideas to encourage your kids to write and have fun…