This post may contain affiliate links. Read my disclosure policy here.
Written and photographed by Janice Croze, co-founder of 5 Minutes for Mom. 5 Minutes for Mom was a blog ambassador for Blogger Bash, but our opinions and words are always our own.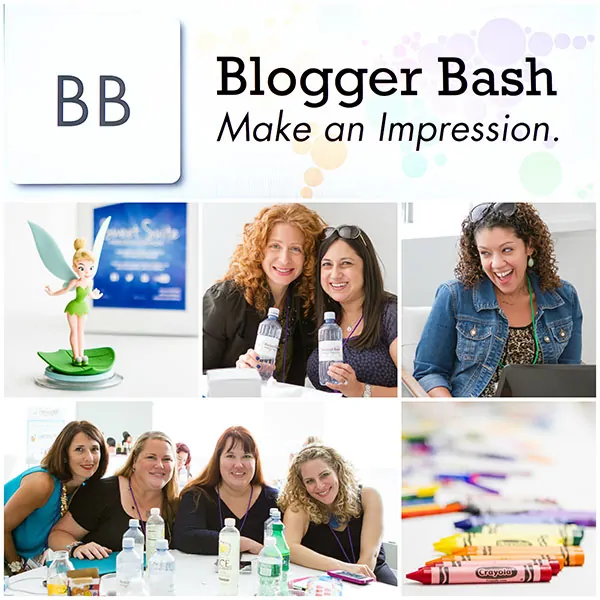 There are blog conferences and then there is Blogger Bash…
I love blog conferences. I have been to more than I can list here — as an attendee, a speaker, a board member, and a co-host.
Each one has its highlights and its benefits. But, just like I won't say I have a favorite child, I won't name my favorite conference either.
This July, I had the chance to attend a very different kind of "blog conference." In fact, it wasn't really a conference at all.
The New Party on the Block
Blogger Bash was an experiment — a solution to a growing problem…
As the number and size of blog conferences increase, so does the problem of conference burn out. Many veteran bloggers have mastered their blogging skills and no longer want to sit in lecture rooms and learn the same lessons.
There is nothing wrong with those lessons! New bloggers need to learn them. But often experienced bloggers are looking for different returns on their conference investments — namely, networking with other bloggers and brands.
So, instead of attending sessions at conferences, lots of bloggers hit brand sponsored parties and events, hoping for an environment that is more suitable for deeper relationship building.
However, some of those parties are not hosted by official conference sponsors and that isn't fair to conference organizers to have their attendees siphoned away. Therefore this "outboarding" is strongly discouraged.
What to do???
Well, Laurie Schacht (Toy Insider, The Big Toy Book), Joey Fortman (Real Mom Media), and Charlene DeLoach (Charlene Chronicles), responded with their new concept for bloggers and brands — BLOGGER BASH!
The first Blogger Bash hit New York City, July 17 and 18, featuring 10 themed parties over the course of two days — all in the same location, seamlessly intertwined so bloggers didn't have any stress over leaving one event to rush to another.
And it was a great SUCCESS!
As a Blog Ambassador for Blogger Bash 2014, I was thrilled for the Blogger Bash team that the event went so well and I was honored to have 5 Minutes for Mom involved.
Even as I dashed from room to room, capturing all the fun on my camera, (you can see more of my Blogger Bash photos on Flickr and feel free to use on your own sites,) I barely felt a bump as the event played out.
Yes, I imagine there was some backstage stress going on, but Joey, Charlene, Stephanie, and the rest of the team ensured that the events went smoothly. With ten events, tens of party hosts, and 100 brands — it was definitely a challenge, I am sure.
Are Conferences in Danger?
I wouldn't worry that traditional blog conferences are going to disappear. There is a need for education and community learning.
I will continue to attend and support blogging conferences. As I said, I am a huge fan of blog conferences. To just name a few, Susan and I always have a great experience at Type-A Parent Conference, Mom 2.0 Summit rocks it every year and this spring was no exception, Blissdom Canada continues to benefit bloggers and brands in Canada, and we love Disney Social Media Moms Celebration which we co-hosted for the first three years.
But, as the blogging landscape continues to evolve and the needs of bloggers and brands grow, I am certain that Blogger Bash will be the first of more party-centered events to come.
If you want to read more re-caps from bloggers who attended Blogger Bash 2014, check out more posts in the Blogger Bash Link Up at A Grande Life.
Looking Forward to Next Year…
I am not sure what the Blogger Bash team has planned for the future, but I am certain that with so many creative entrepreneurs out there in the blogosphere, new events will continue to spring up.
I wish the best for all the blogging events, new and old, and hope to be at as many of them as possible…
Here's to the fabulous, growing world of blogging — and hopefully I will see you next year at Blogger Bash 2015!